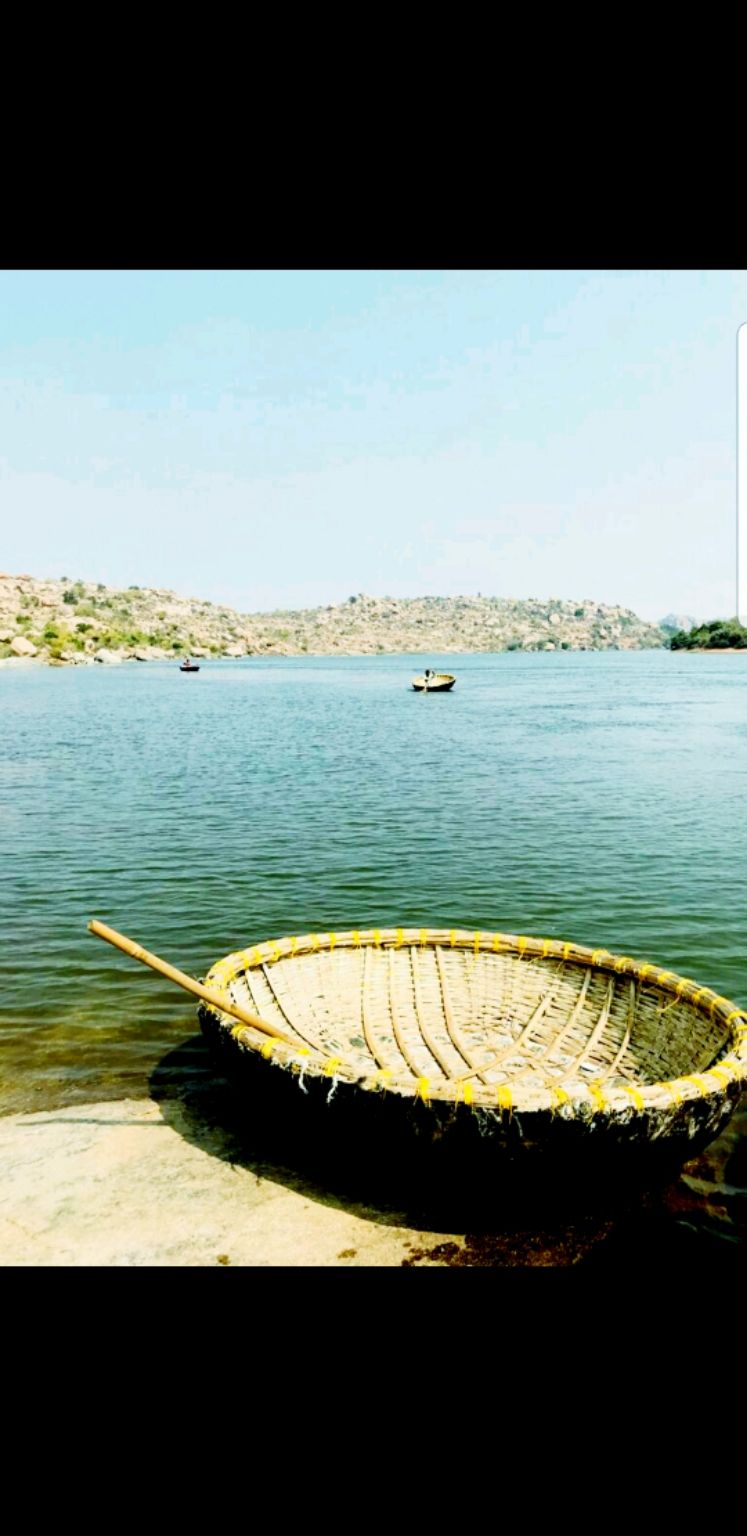 Who doesn't wanna take a break from the routine and have fun! But things don't always work out the way we want. Reality sucks and when reality kicked me harder that's when I realized that it's been a while since I was on a trip and its gonna be a while till the next one. *sulk face* But hey you know what?
You can always relive the best moments, again and again, whenever you want. Well, that's what memories are made for. So I am not gonna let this stupid reality ruin my weekend. Instead, I am gonna dive into my Virtual reality lane. Wanna take a ride along where the boulders and ruins have amazing stories to tell?!!
Yes. It is Hampi – the Happy Place!!!
If anyone asks me to describe Hampi in just a word nothing will define it better than the word "Happy". The place is so addictive that whosoever sets foot on Hampi will know for sure that they'll revisit the place multiple times. Here's my happily hippie story in the land of Hampi.
Chapter 1: The Pact
No matter what you are going through in life, a trip with your girl gang is all the therapy you need. But it is too hard to make a trip happen given that you and your best buddies are all in different corners of the country banging their heads in a different profession.
Long-distance friendships struggle and suffer more than a long distance relationship!
In the race between adulting and reality, it's our Pact which won the race! We have made this pact 8 years ago that we will all meet at least once a year and go on a trip no matter what. And that is how we started 2018 by going on this beautiful trip to Hampi.
Chapter 2: Echoes on the banks of Tungabhadra
As you dip your feet into the cold morning water on the banks of Tungabhadra waiting on the line to Tungabhadra board the boat to cross the river to reach the Hippie island, your legs can't stop dancing to the dhols and bhajans echoing on the banks of the river. A set of people started singing "Hare ram hare ram..ram ram hare hare" and from the other side of the river, we could hear the echo "Hare Krishna hare krishna..krishna Krishna hare hare". Standing in a long queue early morning has never been so fun and refreshing. As you dance and sing along with complete set of strangers, as you feel the beauty sink in you as you cross the river, as you feel more free-spirited is when you realize that this place is magic!
Chapter 3: Sticky hair and Bare Feet
We were as excited as a bunch of school kids after the last exam who were just running to play out in the sun and not care about anything at all. After checking into the guest house we planned to explore the hippie side of Hampi. We took a long walk by the Sanapur lake lost in the beauty of the boulders and the shimmery water trying to make a panoramic shot with our eyes as we climbed up and down the boulders to the banks of the lake despite the scorching sun. We just sat there in silence with our feet dipped in water, gazing at the horizon. Sometimes silence amidst a crowd is an indescribable feeling. you have to live it to feel it.
Chapter 4: The Delusional Diva
And the crazy part began as we suddenly decided to try cliff jumping. All through the way, I was manipulating my friends to be adventurous and to create a "and that's how kids mommy did cliff jumping" future story. But the moment we saw a board that said: "Beware of the crocodiles" we all created a "and that's how kids we almost missed our cliff jumping experience" story. Well, If you can't jump off a cliff hey the next safest yet fun option is "coracle ride". And that is when this "stupid memory of a song that she cannot name from a movie that she cannot name in which a bunch of people going in a coracle just drown and die" hit Preethi's mind. She was having a Final destination moment of her own and turned this simple coracle ride into a fun adventure.
Chapter 5: The Hunger Games
Like how Tom screams and shouts only after he sees his tail's been cut off, we realized we were completely dehydrated and were dead hungry only after all the crazy walks and talks came to an end. It was already 3 pm and the sun has already drained all our energy, we were stranded in the middle of nowhere and each of us running in all direction to find a vehicle to our way back to the Hippie island. After like 30 mts of the vigorous walk, we found an auto and reached a restaurant. The best part about Hampi is all the eat outs have this amazing diwan and a table style that you can lie around and relax while you order [and even when you eat :P] When everyone in the place was relaxing and sleeping in style, we were hogging at the food like a bunch of dogs that spotted a bone. Well, what's better than food in bed. We had an amazing eat while you sleep and sleep while you eat kinda meal.
Chapter 6: Magical sunset and a spooky auto ride
After recharging ourselves, we headed to the heritage site to witness the beautiful sunset on top of Matunga hills. Sitting on the edge of a cliff, watching the sunset, mingling with the monkeys, having our very own jam session we lost track of time and missed the last boat that there is to cross the river. With no other choice left, we took an auto which is going to be an hour-long ride back to the guest house. As usual, I was totally chilling with my head outside, letting the wind mess my hair, singing songs out loud in my hideous voice.And as the sun went down and as the darkness started pitching in, not knowing whether we are headed in the right direction, with a very weak mobile network my friends started freaking out. And on top of all this, the driver suddenly stopped the vehicle and started talking with some creepy looking people and my friends went crazy. They made me get down and note the vehicle id and updated our location and details to a bunch of emergency contacts. It was one hell of a thrill ride. Without my crazy bunch and their crazy thoughts, this auto ride wouldn't have turned in to a funny memory that we all get to look back and laugh about.We did reach the place all safe and sound. But I honestly have no idea how these girls switch to "final destination" mode all the time and make anything look spooky.
Chapter 7: MasterChess, Nivi and 2 dogs
We headed for dinner to this beautiful dim lit Irish restaurant for dinner. While we waited for our order to arrive, the four of us were actively involved in playing Chess while Nivi was totally scared/distracted by the dogs circling around the table. We were so engrossed in the game as if we were playing a nail-biting IPL chase by CSK. We were totally unaware that we ordered, ate and still playing Chess while Nivi was starving/ running behind the dogs or them chasing her. She is so skinny that we guess that she looked like a yummy bone on the chair to their eyes. Nobody can blame cute lil dogs.  And we ended the day arguing whether it was Nivi chasing the dogs away or the other way round.
Chapter 8: Zindagi Na Milegi Dobara
Rappelling Done right
Rappelling!! Yes, it was my idea and manipulation that I successfully dragged my friends into try rappelling. We headed with our guide Jerry on a hike to the top of a hill. As we climbed on and on and finally saw the rock that we were gonna descend, I almost fainted. It was a frigging 15-meter high boulder.Seeing that, my inner voice started cursing me. I have no idea why in my right mind I chose this instead of just watching the sunset and join a jam session just like normal people will do. As I started listening to the guide briefing us on the instructions the acrophobic inside me started whispering "you are gonna die shivi". I started pushing all my friends to go first. Even the bravest one in my gang slipped while descending. After seeing that I literally was shaking and I hid near a boulder swearing on my life that I am not gonna attempt it, not even for a million dollars. I was tempted to give it a try but at the same time, I was shit scared to move a muscle. After a while finally, I decided to do it.
This quote flashed in front of me "What would life be if we had no courage to attempt anything," – Vincent Van Gogh.
I said to myself that if not now then it's gonna be never. And that how we did have a Zindagi Na Milegi Dobara moment. Looking back at the scars have never felt so happy.
Chapter 9: The Happy Ending
It was a literal "Calm after the storm" moment. After rappelling, after going thru such a rush with our hearts beating thud, thud it was an amazing sense of accomplishment and we could feel this indescribable calmingness inside us. We joined a bunch of people who were performing a jam session on the edge of a cliff. Singing along with them, dancing to the beats, watching the sun go down and the whole world seemed nothing but magic.
When people research about Hampi, most of them ignore visiting it thinking that it is a boring heritage site or it has only temples and nothing much. But Hampi has a totally different vibe and feel to it and it all ultimately depends on how you see it. And most importantly, who needs a reason to hate any place when you are surrounded by your happy set of people.
Hampi truly is a traveler's paradise!!
P.S: Don't worry, Be Hampi!!!