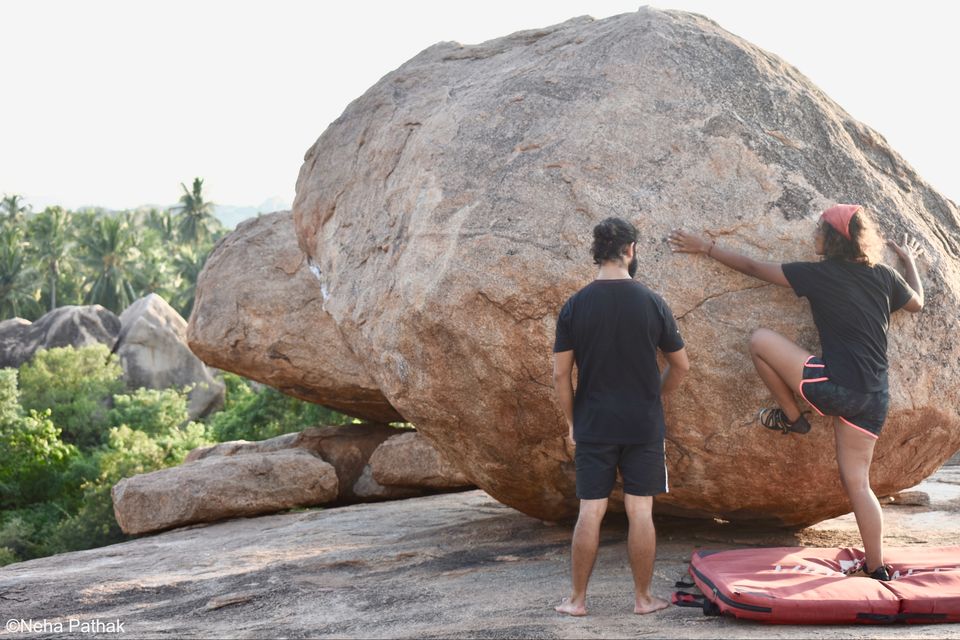 The entire landscape unfolding in front of my eyes was taking me on a journey back in time. The ruins of a bygone era were be scattered all around me. I had boarded an auto rickshaw from Hospet and I was approaching Hampi. This UNESCO world heritage site starts attracting visitors from all the world as the heat dissipates . Once known as Kishkindha, Hampi served as the capital city of the mighty Vijayanagar empire- that stretched from Kalinga in the east to Kanyakumari in the south of India.
However, I am not in a hurry to visit the monuments on the popular tourist circuit. I reach near the Tungabhadra river, and my eyes are set on what is perched over the other side. Separated from the historical part of Hampi lies Virapapur Gadde or the Hippie Island. Technically speaking, the heritage site and the Hippie's Hampi belong to two different districts. But they can be practically considered as one area from a traveler's perspective. A cheap ferry ride of 30 bucks takes me across the river. I save the more fancy option of a coracle boat ride for later.
Although the hippie island is famous for its laid back Hippie culture, there is another aspect that has drawn me and some other visitors to this place. I am here to fulfill a long standing wish (or whim). I wanted to give a shot to bouldering!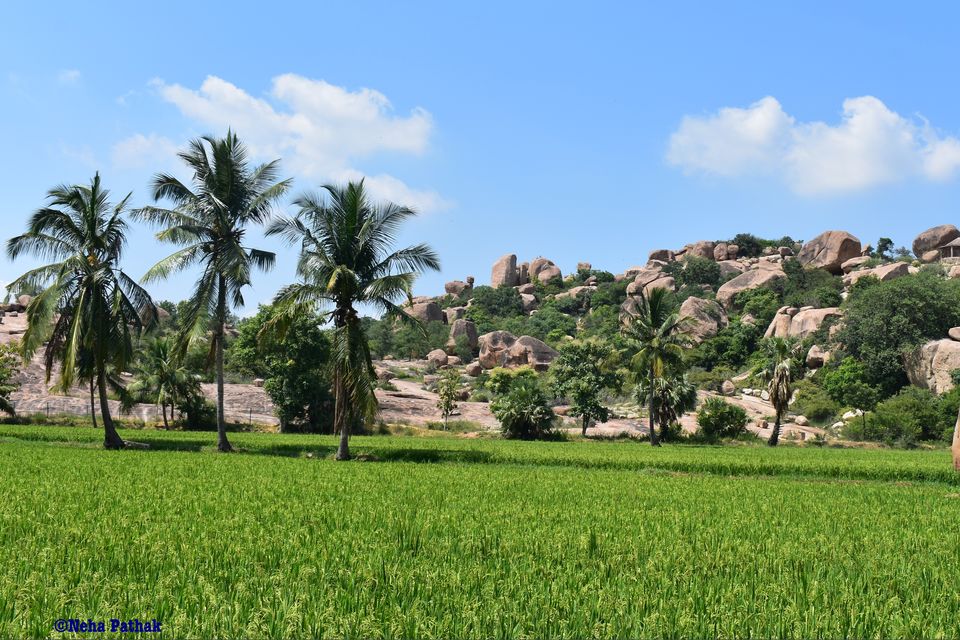 The piles of granite boulders strewn across the entire landscape of the Hampi region makes it the largest site in the world for this popular outdoor activity. While bouldering as a sport is quiet popular in other countries, it can be considered in nascent phases in India.

An attempt on bouldering
On a scale of couch potato to a fitness freak, I lie somewhere in between. I have no prior rock climbing experience- indoor or outdoor- yet I am here, executing a hare brained plan to do bouldering. Inspired by a magazine article, here I was on the Rishimukh Plateau on the Hippie Island- attempting an easy circuit under the supervision of my instructor Thimma. Thimma hands me over a small bag containing white powder as I gape at the 'problem' before me. 'This is climber's cocaine- it takes you high'. I rub the chalk powder over my naked palms- I would be need a firm grip to tackle the problem.
To the novices, bouldering can be explained as a form of rock climbing with bare essentials. There are no ropes or harnesses or a climbing wall. The route leading on top of a boulder is called a 'problem'. And boulders are graded according to the difficulty of the problem. The Font Scale is followed in India, with 3 being the easiest and 9 being the toughest. The V scale is followed in some countries.
Our endeavor begins with Thimma handing me a nail cutter and asking me to cut my nails short (long nails would interfere with my fingers while trying to secure a hold on the rocks). After the nail cutting ritual, I put on the climber's shoe that tightly constricts my toes. This would help me gain a good foothold on the boulders, informs Thimma.
My instructor starts by explaining some basic moves. So a crimp is a small edge where I should place my finger tips and pull myself upwards. Whereas a match is a move where my hands or my feet would be placed on the same hold on the boulder. Our hands dusted with chalk powder, we start our adventure by climbing a small boulder on the plateau. Thimma goes first, showing me the moves, and then comes down so that he can keep moving the crash pad along with my position on the boulder. The 'crash pad', as the name suggests, is to prevent any injury in case I fall down. I try to mimic Thimma's move, but alas, I could not copy his ease! Somehow I manage to reach the top.
Soon we are joined by a group of energetic climbers from Chennai. Climbing enthusiasts generally practice indoor wall climbing in their cities and come here from time to time to test their mettle on the granite boulders. In some places, indoor bouldering avenues have also started coming up. Infected by their energy, I go on attempting more boulders of grade 3 to 4.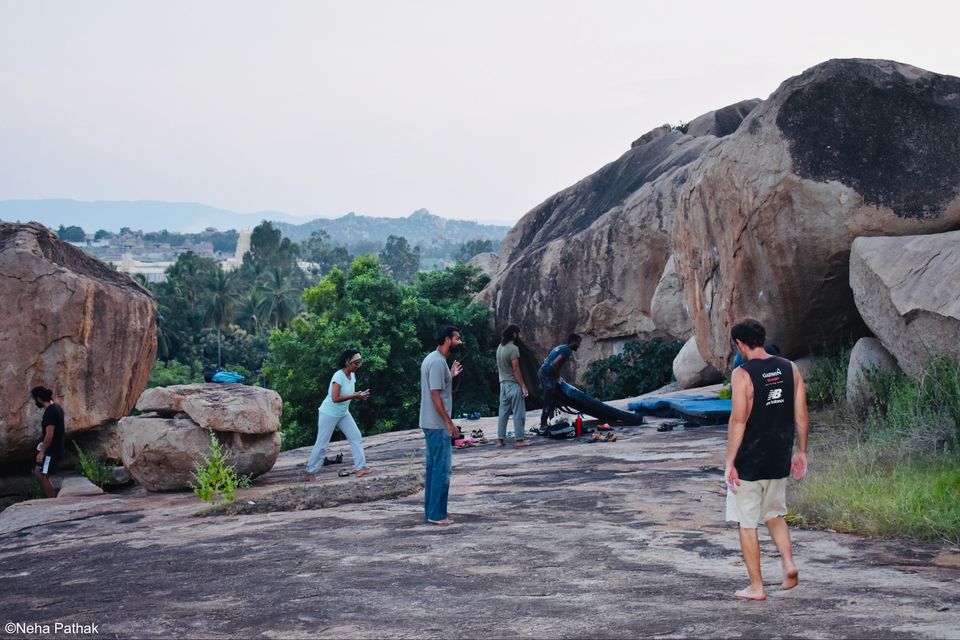 From my experience I can say bouldering requires a good upper body strength (which I lacked). First timers should expect sore arms and finger tips for next 20-30 hours. I start struggling at grade 6 while the experts carry on swiftly. After 1.5 hour of hyper activity and climbing 8-9 easy boulders, I realize that bouldering is a sport that requires strength and practice. Thanking my instructor Thimma, I decide to call it a day.

Before leaving, I walk up to the upper reaches of the Rishimukh plateau to catch glimpses of the setting sun. Content with my day, I start walking my way back to my accommodation.
Recommendations-
• Bus and train connectivity is till Hospet. I had opted for an AC sleeper bus of VRL travels from Mumbai (Rs 1700 for one side). It was comfortable and reached the destination on time. Hampi can be reached from Hospet over an auto ride that would cost you around 200-300 INR. To reach Hippie Island from Hampi, cross the river by paying 20-50 bucks for a ride on the motor boat, or enjoy a ride on the coracle boat for 100-150 rupees.
• The vast expanse of a variety of boulders across the entire area of Hampi makes it a boulderers' paradise. We would recommend beginners to start the adventure from Hippie Island. Here, one can easily find instructors, jam up with fellow climbers, and rent gears easily.
• Beginners should try only under supervision of an expert. Follow the instructions strictly. It is possible to sustain some injuries despite falling on a crash pad.
• Thimma's Climbing Shop charges Rs. 600 per person, where you will be provided climbing shoes, crash pads and chalks along with the expert guidance of Thimma. It can be located just after entering the market area of Hippie Island, after arriving from the ferry. A couple of other shops are also there, charging the same amount of money for their services.
• A stay at the Goan Corner is ideal for bouldering enthusiasts. Apart from a good budgeted stay and great food, one can rent crash pads from here and meet other climbers.
• The ideal season to go bouldering is winters (November to March). It is not possible to do bouldering in rains as the rocks would be slippery, while the high temperature in summer and post monsoon would bake the rocks.
- Tried, tested and written by Neha Pathak