They say good kids don't step out after midnight but the dead of night is when the magic comes alive. As the city sleeps, the night crawlers emerge to reclaim their city. It's their turf until the wee hours of the morning. The sleepless that are up at 3 am and 4 am, the party animals, the auto drivers or taxi drivers that appear as godsends late at night and the late night strollers out to chance upon some beautiful sight they haven't seen before. It's a different place by night and those who have been up to see it, know it.
Forget the swanky hotels with their silverware, ambience and table napkins. The only ambience you'll get here is in the form of the aroma of drool-worthy food being cooked to perfection in front of you. Greasy street food which makes your soul sing and your waistline expand generously. Fulfilling and wholesome, helping people quell the rumbling in their stomach or unsteady hands feeding their humans to help sop up that extra shot of tequila. There are no pretensions here, the only cutlery you'll use are your hands, these street stalls won't stand a sanitary check but the food is earnest and real and oh so lovely.
Here's a glimpse at how the world feeds after hours, groggy, sleepless but satisfied with food decisions that we'll regret tomorrow.
London
This bagel shop with its flickering neon sign announces that it's open 24 hours and has been feeding hungry mouths since decades. Booze saturated people spilling out from swanky East London clubs by brick lane invariably halt at this busy little corner for a tempting bagel.
If you're looking for an orderly queue, you won't find it here. The mob of people craving for a meaty bagel has established a sense of chaos.
The classic here is the salt beef bagel, heavy with thick chunks of meat and sliced gherkins slathered with bright yellow mustard. There are other frills you can add to your bagel such as cream cheese or smoked fishes. It's what'll save you from a savage hangover the next morning.
New Delhi
Thundering music and flamboyant clothes paired with loud conversation - 'Dilwalon ki Dilli''s food is as generous and hearty as the city is. For those craving some good ol' butter chicken after the stroke of midnight, you'll find many corners awake and dishing out food to the hopeful.
Moolchand's parathas in Lajpat Nagar won't sit easy on your stomach, you'll wish you hadn't but in this moment you're just digging in. The hot paratha with a blob of butter leaving a glossy path behind it goes so well with the creamy dahi.
Ganga Dhaba in JNU is always crowded with students debating loudly over chai and pakoras. The food is cheap and fits the junk profile correctly. Trees wave gently in the darkness as a side of sauce encroaches upon a samosa on a wobbly paper plate.
Meanwhile, at Patel Chest in North Campus, a chaiwallah puts on yet another batch of chai in a well-used and streaked aluminium pot. There's egg bhurji and the ubiquitous maggi which always takers amidst the youth. They huddle in a group with the food in the middle. Everyone's trying to grab at the one lit cigarette to take a drag along with a sip of their chai. The small mountain of food is demolished within minutes.
Hong Kong
Sun Hing stands aglow amidst a clatter of teacups, conversations and sounds of enticing food being created. The self-serve eatery hosts all kinds of crowds; expats checking out the local culture,smartphone-toting youngsters in denims and the wise with their peppered hair,solemnly focused on their food.
Armed with lime green chopsticks, groups dig into steaming har gow (shrimp dumplings) and siu mei (shrimp and pork dumplings) with jasmine tea. Owing to the self-serve concept diners make their way to a towering stack of bamboo steamers for char siu bao (plump barbecued pork buns).
Sun Hing's lau sha bao, however, is conspicuously popular. Soft egg custard buns which are torn open to find the golden goodness of a semi-liquid yolk sitting pretty in the center.
Reykjavik
A bright red stall known as Baejarins Beztu hot dog stand has been in the sumptuous pylsur-making business since 1937. Bill Clinton has gotten a pylsur here and so has Metallica artist James Hetfield and so has Charlie Sheen followed by Kim Kardashian.
It takes an exceptional pylsur to pull celebrities out to Iceland to sample one of these. Maybe that's why the queue here snakes all the way around the square.
You can choose from a lamb or beef-filled hot dog with generous helpings of sweet mustard, ketchup and remoulade topped with crispy fried onions or raw onions. If you want it all, then ask for 'eina með öllu' which translates to 'the one with everything' to get the true Icelandic pylsur experience.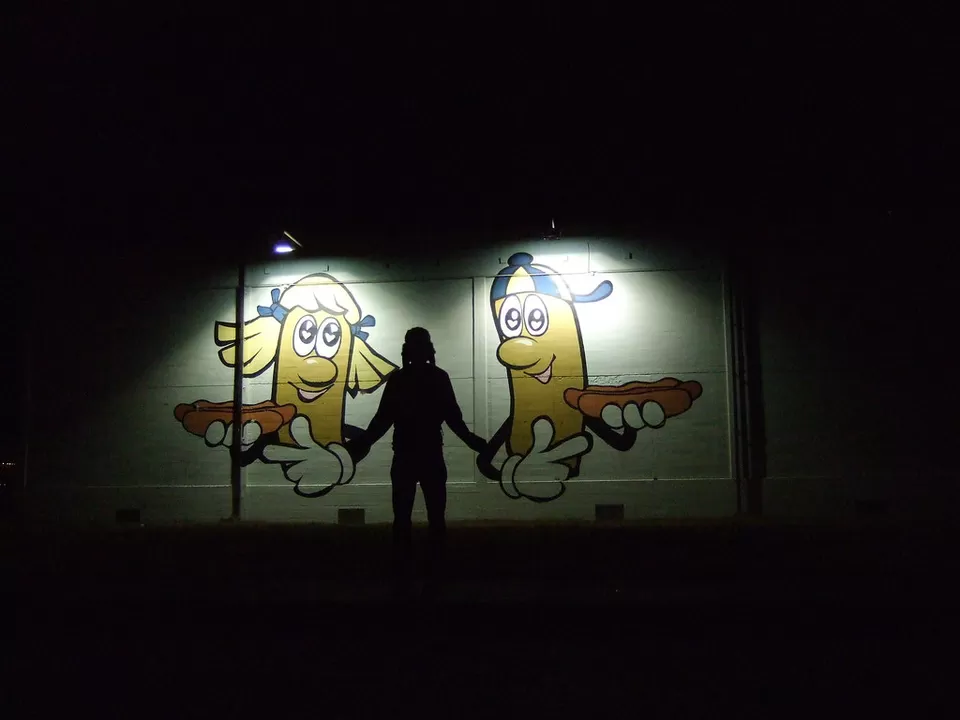 Mexico
It's 3 am in Mexico city and the parking lot of El Borrugo Viudo is congested with cars. Waiters in white crisp caps and aprons scurry to cars bearing small, hot tacos to cars' occupants who dig in greedily.
Cooks inside chop up tender, fall-apart beef with surprising speed and dish out al pastor and suadero, both containing cow's midsection dressed up with cilantro and salsa verde.
The de lengua (cow tongue) and de ojo (eye) tacos are hot in demand. There's a side of lemons to squirt on to your taco to pack an extra punch.
Mumbai
'The city that never sleeps' lives up to its name because of the food that keeps the people there up and ticking. The party animals in their ritzy party gear, the late night strollers, the one-drink-at-a-bar colleague and the sleepless looking for a late night snack, all converge at food points around Mumbai which stay open to dish out fatty but fulfilling food. Bademiya in Colaba is a night-eats stalwart since India's independence and lures in customers with its aroma of melt-in-the mouth kebabs.
It stays open till 4 in the night, handing out orders to a throng of people. Baidi roti, seekh kebabs with rumali rotis and raw sliced onions are wolfed down as fast as they come.
Meanwhile at Churchgate station omelets sizzle on tawas and are quickly enclosed in soft buttery pao to make a filling omelet pao which would make the hardest egg-naysayers recant their own words.
Next to a silent Orlem Church, a Goan cart fast runs out of stock. Its sausage pao is a roaring success but its steak sandwich, beef chili, potato chops and Cafreal masala also have takers.
The soothing, hair-riffling breeze at Bandstand would go perfectly with a late-night cup of coffee. Enter the coffee seller on a cycle. Armed with a flask of coffee and small cups, they cater to hollow-eyed caffeine junkies. The coffee is oversweet as always but paired with the breeze and the sight in front of you, it seems just right.
Madrid
Marked 'permanently closed' by Google much to the approval of its client base, the whole setup has a speakeasy vibe about it. A grumpy bouncer asks what you want at the door to which you are supposed to say "Vengo a comer" which means simply, "I've come to eat."
What you'll find is an inevitable Beatles song being belted out on the piano by a head-banging Beethoven imposter, heaps of carb-laden spaghetti loaded with store-bought Parmesan cheese and people woozy from several gin-tonics.
There's also fabada and chorizo with lentils with an upbeat staff and an even more upbeat crowd with spaghetti sauce stains about the mouth.
The after hours are not for tucking yourself comfortably into bed. It's for finding that new food haunt, it's for late night contemplation over a cup of chai and for conversations that may well be forgotten in the morning, Where are you getting your fill tonight?
Are you a fellow foodie on the hunt for a tasty treat at night? Tell us about your favourite food haunt in the comments section below!
Reach out to people with your stories here.