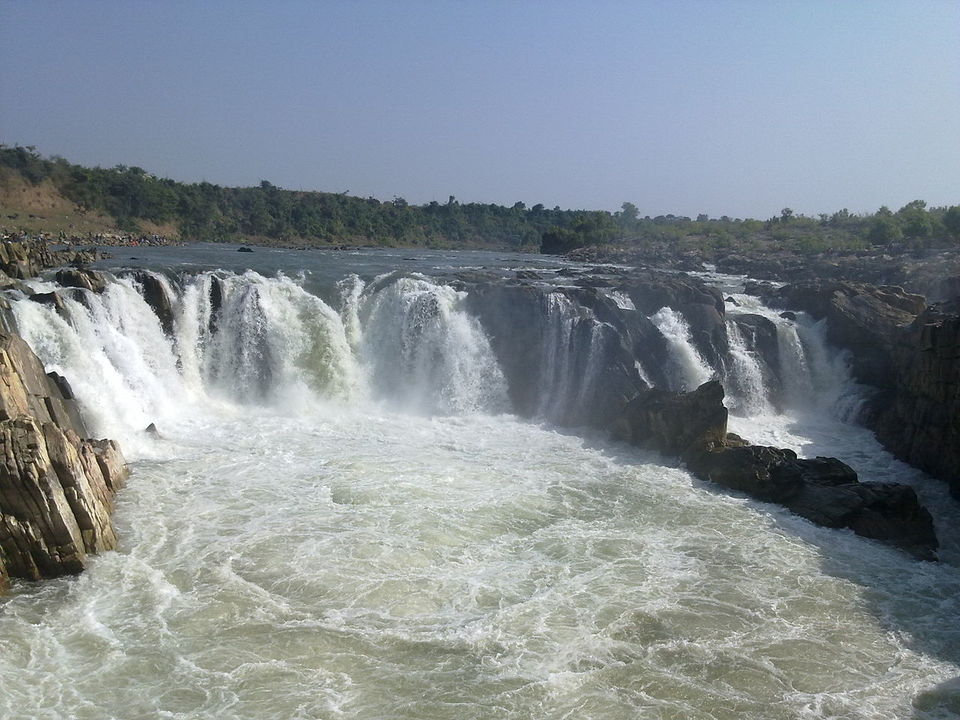 If I were to make a list of inconsequential towns, Jabalpur would be in the top ten. When people leave, they don't come back to Jabalpur. They get their parents to move out of the city and buy houses in Nagpur, or Delhi, or Indore, or Bhopal even. No one wants to live in a city that has no jobs, little exposure to outside world, whose theatres when they play Hollywood movies, they are only the popular ones, and most of the time, dubbed in Hindi. No La La Land will be played in this La La Land. This city has only witnessed migration. It is a city that is living in the past, it's a large village of amicable people, an uncle who grew up here but was settled in Singapore, once said to me. And it is exactly that. It is a place where if you got caught in rain, a shopkeeper uncle will make you sit down and feed you chai. But it is not a place that is a major tourist attraction. Most of the people who come here have grown up here and have family living here and the rest are visiting Bandhavgarh national park, which is 169 km away from Jabalpur and therefore is the closest city with a functioning airport. So then the question is, why am I talking about this city at all, and why should you be reading about it?
The number one reason on my list is the Khoa Jalebi that you get here and absolutely nowhere else in the whole wide world. This sweet concoction of khoa, a dairy product made of dried whole milk, sugar syrup, loads of ghee, and tekhur (East Indian Arrowroot) is a dessert that originated in Jabalpur. This lip-smacking jalebi was the invention of Harprasad Badkul, who moved to Jabalpur from a neighboring village in the 1880s, sold two sacks of tobacco and started a sweet shop. He and his wife had hit a golden formula, which would reap benefits to the future generation, for years to come. The Badkul family runs the business even today, but if you ask them how this genius dish came into being, they will tell you that the secret died with the inventors. So we will have to make peace with the loss of such information, and dig our teeth into these hot, deep brown, syrupy treats, and moan.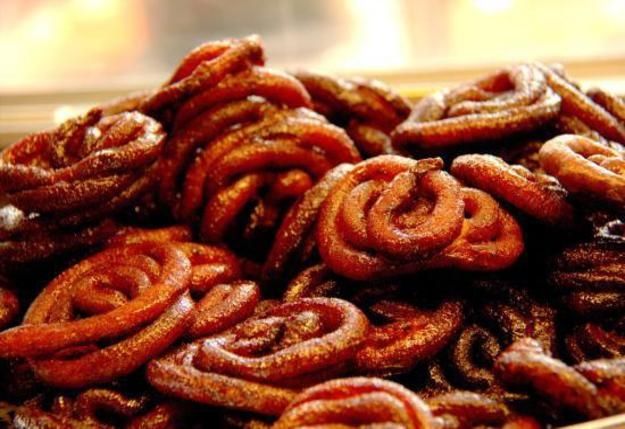 Image Courtesy: trihobo.com
The second reason is the river Narmada, and its many ghats. Narmada which flows like blood through the veins of the city has several picturesque banks, but the most beautiful of them all is Bhedaghat, which also is the name of the village it is situated in. This place has a waterfall, which is known as the Dhuandhar, a name given to it because of the smoke water creates as it falls from a height flows away to quieter banks. Surrounded by marble rocks that keep the river company, this place is nothing short of heavenly. Not far from the falls is the bank of the river where you can go for a boat ride. If you go in the day, the navwala who also doubles up as your tour guide will you show you rocks that look like cars, and ask you not put your hand too deep into the water, you might make a comforting meal for a crocodile. If you, like me, are a Bollywood enthusiast, then this trivia will excite you, if you don't know it already. It is in this particular bank that Kabir Bedi pushed Rekha into the water, only to be half eaten by a crocodile in Khoon Bhari Maang. It is here that Hritik Roshan fought with the VGA crock, in Mohanjo Daro. And it is here that Kareena Kapoor danced to Raat Ka Nasha Abhi, while remembering Shah Rukh Khan's Asoka. If you go on a boat ride on a full moon night, you get to witness the silent conversations of green river, the moonlight, and the rocks that contain the two. The marble shines beautifully on such a night, and the water sparkles, just for you, as you glide through the river under the star-studded sky. Now tell me you don't want to witness this?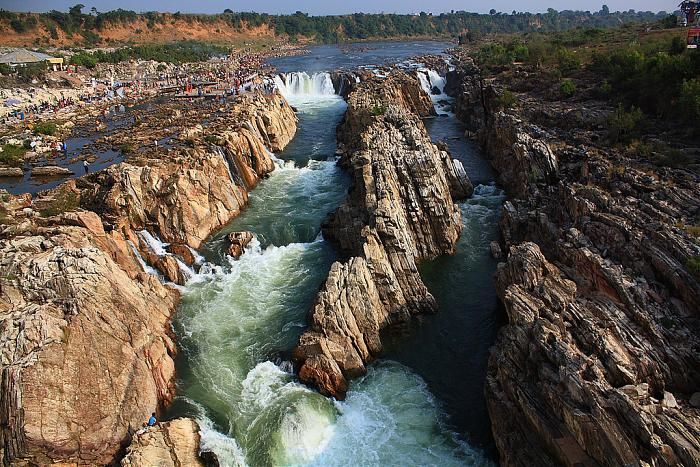 Image Courtesy: Wikipedia 
The third reason, and perhaps the most eclectic one, is this particular brand of soda that is native to Jabalpur. It is known as Simplex Masala Soda, and it has a distinctive cumin-esque taste that sets it apart. This mildly sweet, great for your digestion, soda is produced by a local company and can be found in almost all general stores. But since it is not available anywhere, you have to come down to Jabalpur, and be amazed. It tastes like nostalgia, if nostalgia was a fizzy drink.
When you ask around about the places to visit in Jabalpur, the locals will ask you to witness the marvel that is the balancing rock. On 22nd of May, 1997, a high intensity earthquake hit the city, and because the city is surrounded by rocks, a lot of them were displaced, expect for one. One rock that managed to restore its balance stands on the tip of another rock, and the local find it rather fascinating. If you aren't too into rocks that know their stuff, don't visit this place, but go to the Bargi dam reservoir that now also has a ferry ride facility. The reservoir's clean blue water that mimic the ocean noises are nothing short of a treat for your eyes. And if you plan this well, you can take the ferry to Mandala, get down, and head straight to Kanha Kisli National Park. When visiting the heart of India, how can you not visit its jungles?
Jabalpur has a few other attractions to offer. For those of you who haven't visited the Khajuraho temples, and for those who hold endless fascination for such architectural sites, there is a Chausat Yogini temple, and dotting its walls are 64 yoginis. Built in 10th century AD by the Kulchuri Kingdom, it is one of the oldest heritage sites in India which in itself makes it a must visit place.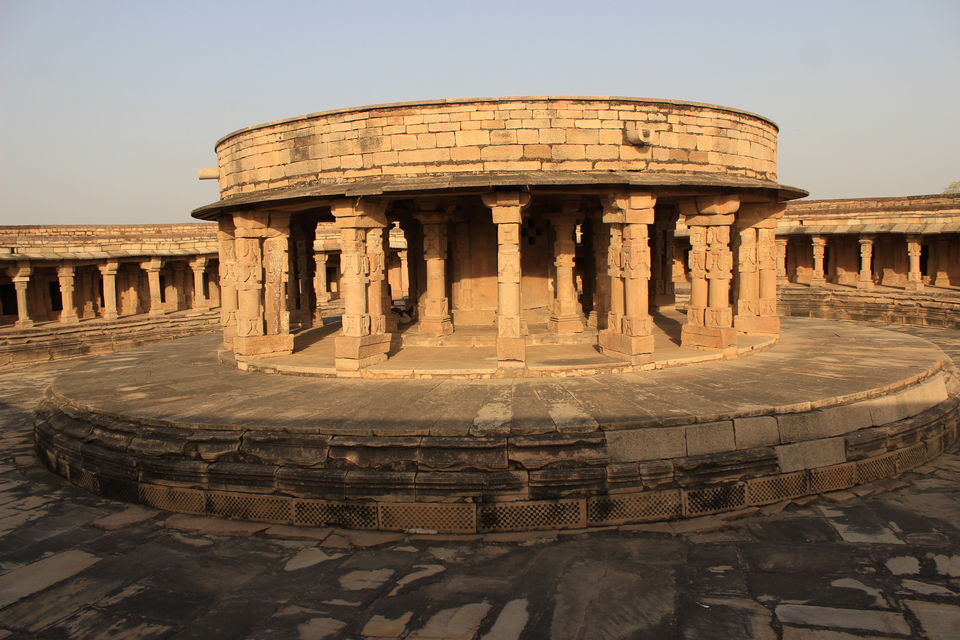 Image Courtesy: Wikipedia 
Jabalpur isn't one of those places that will ever feature on your places to see before you die list. You, in all probability, will die without seeing it, and no one will blame you. But if you do decide to visit, and I hope you do, you will discover a quintessential small town of kind people who will marvel at your big town experiences and your perfect English, who are still listening to the party music of the '90s, who know how to open their hearts and their houses to you. It's a place people often pass by to go to better and more popular places. It's a waiting room for travelers, but a beautiful one, that you must explore.