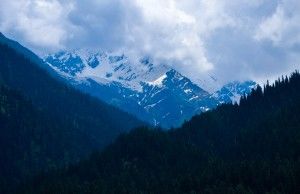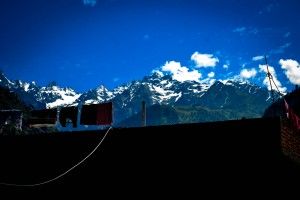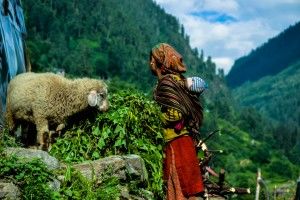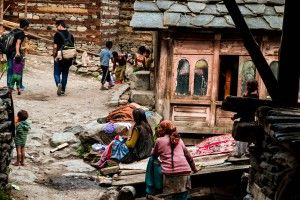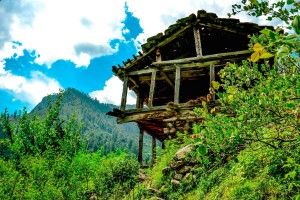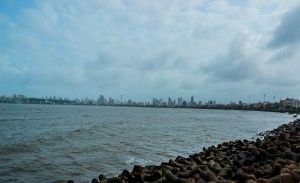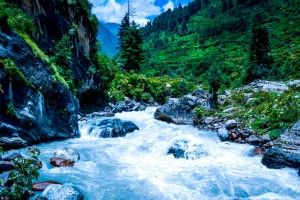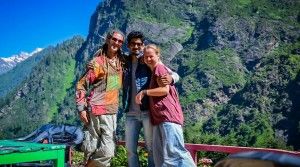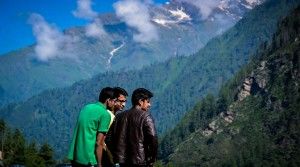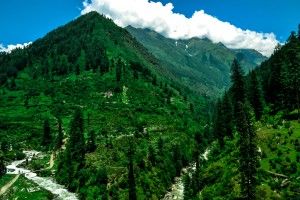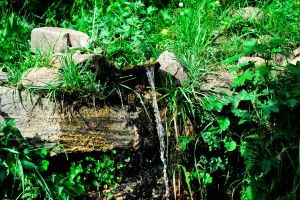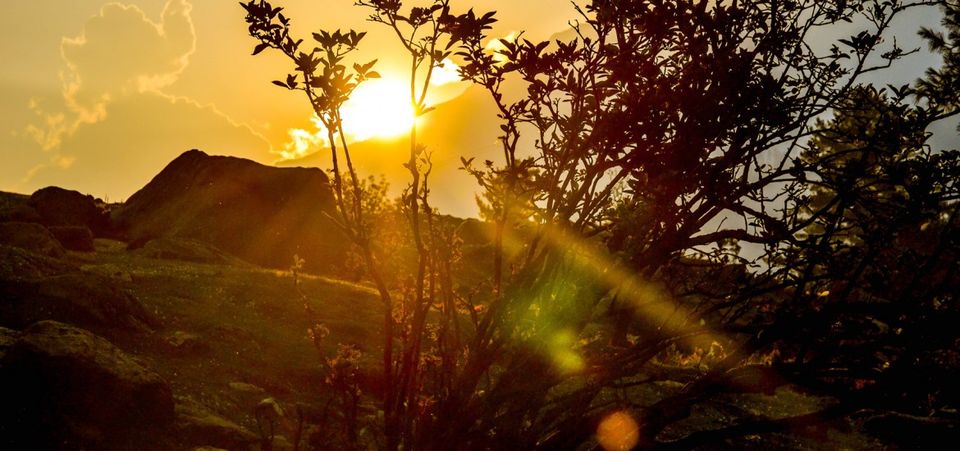 High above and humanity below, I felt a oneness feeling with my surroundings; I slowly ventured out from the shell of ordinary to the realm of extraordinary.We put aside our bags and laid on the grass; it was the sunset time in Kheer Ganga. The fantasy land in my expectations finally untangled.
Kheer Ganga was a life changing the experience for me. The tales echoed by the sky hugging mountains of Kheer Ganga was nothing less than fascinating. Throughout my venture, nature endowed my eyes with some spectacular views. The journey which was spread over 10 ten days were full of twists and turns and I was lucky to be gifted with the beginner's luck (If you had read, The Alchemist, you know what I meant). Travelling solo, but never felt so; I met a handful of colour characters with their epic stories to tell.  Right from my utter stupidity of missing my reserved train from Ernakulam which later turned out to be the best of starts. Pulling off a 48-hour train journey in a general compartment all the way till Delhi added some serious endurance and proved me it's just a matter of what you choose to be. The collection of events and people who I met in that 48 hours changed many a perception of mine. The trains catch the very essence of all the people of India ranging from the rich to the poor, from the wise to the foolish, hostile to convivial,you could probably see all kinds people in there. The good, bad and the creepy that's the way the Indian railways work. Rumbling through the heart of the country, the stories whispered by the Indian railways are sublime.
From chaos to total harmony, the luxurious Delhi-Kalka express took me to Chandigarh after two straight days in a general compartment. A sound sleep and the classy Dhaba food revived my body and the next day I left for the Kasol mountains. The majesty of the snow-capped peaks of the Himalayas made my heart beat faster.
KHEER GANGA- A BACKPACKER'S PARADISE
HOW? , WHEN? AND WHY? //
Let's start with how?
Considering Delhi or Chandigarh as the starting point of the journey, the only way to reach Kheer Ganga is by bus or private vehicle. You have to board a Manali bus and have to get down in Bhuntar, from where a taxi or a local bus is available to Kasol. The frequency of buses are high and it takes approximately 12 hours from Delhi and 8:30 hours from Chandigarh. For this same reason, it would be preferable starting the journey from Chandigarh as 12 hours straight in a bus from Delhi can be gruesome. Trains are in plenty from Delhi to Chandigarh and boarding a bus from sector 43 in Chandigarh looks very convincing. Sector 43 is the main bus terminal in Chandigarh and there are local buses, cycle-rickshaws, and auto-rickshaws available from the vicinity of the station.
On any day, I would suggest a day journey to that of a night journey to Kasol. As seen in many Bollywood movies, the route and sceneries we cross are ethnic and it is not very smart to miss that, mentioning the beautiful Parvathy River surpassing  the mountains is the perfect built up to your Himalayan expedition. For a night journey, boarding from Delhi or Chandigarh won't make much difference since we will sleep through the night. A day journey consumes a day but it's worth  every bit.So if have the luxury of time,then it will be better to take a day bus or else night bus will do fine. Not to mention the flair of a local Punjabi Dhaba in Chandigarh; Have some super tasty food and then buckle up. The whole journey will be a treat to your eyes (from the time bus enters Himachal) and will fuel your curiosity.
 From Chandigarh to Bhuntar and then a taxi ride to Kasol. The last bus to Kasol leaves at 5:30 pm from Bhuntar. So unless you are travelling with friends it's economical to find some company to Kasol; you will most probably get one from the bus. The taxi ride will come around 900 bucks, the distance is around 30 km. Kasol is lively till midnight and there are a lot of hotels in Kasol to crash for the night.
Since we reached Bhuntar late, we took a taxi. I was lucky enough to find Preet and Sushil bhayya who were also heading to Kasol from Chandigarh. They knew the place better, Hindi too.
It was a full moon night and the sky was in her full glory. It was a picture perfect night for Werewolves to go wild and run down some vampires. The stars felt more like spots on the floor of the heaven.The Parvathy River gently cutting through the forests beside me, the rhythmic motion of our taxi and the gentlest of winds running across my face, I was feeling it: The Sublime Solitude.
Only one side of the Kasol valley gives the view of the distant ice-caps and from the room we took, the view was something like this.
Stunning isn't?
Well, now just picture a full moon somewhere on the top of those ice-caps now and that was the sight which stole my sleep. As the night unravelled, I got enraptured by her beauty. Well, many hotels don't give you this view.
 Well, I am dropping the phone number of this hotel and well to be sure you could call them and pre-book a room. Strictly mention a room facing these icecaps on the top floor, so that you could have an unforgettable night in the Kasol valley.Feel free to book this hotel, you won't regret; worth a penny. So it's a win-win situation for all paths of travellers.
Hotel Name: KRISHNA PALACE
Phone No:   91-01902-273011
91-01902-273012
91-098570-83001
Price: 900 /- per room for two people is the room; extra bed available for 100 bucks, well 4 people can definitely buckle up.
Well, the people there are soo friendly and in fact, everyone speaks English and they will guide you in the case of any doubt. One more bonus, they provide excellent tea there, at one stage I lost count of the glasses I had.
Now coming back to Kasol, the tripper's paradise. If you are from South India, probably this would be one place on your bucket list, to visit Kasol was there in your mind for long now. Cheers! finally, you are gonna see that dream of you blossom. Well, hash and parties will be one thing that will be flowing through your mind instinctively and what else can you do here. Let me tell you.
 Apart from forging your own trails, here are some already forged ones in the Parvathy Valley,
The Kheer Ganga Trek.
A trek to the village of Malana -( high road for high life )
A day in Manikaran and the ecstatic street shopping.
A small walk to Chilal. It's 2 km from Kasol.
If you are partyholic, every now and then they organise some parties: mainly in Kasol and Tosh Valley.
Well if you really what to catch some breathtaking views of Himalayas and enjoy some real solitude then never stop there, Kasol can't give you that. It was clearly evident that many come there for hash and most of them end up in Kasol itself. Well, you deserve more than that: You have to do things which you never dreamt of doing, explore news roads, forge your own trail and view things which no one had seen before.
Well if you are lurking the pure lush of an adventurer, well Kheer Ganga trek is what you are looking for.
From Kasol, every half an hour bus are available to Manikaran from where you can easily get to Barshani in a bus, traveller or taxi. The traveller will do just fine with 100 bucks per head. The trek to Kheer Ganga starts from Barshani via Tosh Valley.
The trek can be done in a span of 5 to 6 hours( 13kms) depending on your speed and number of breaks. Throughout the trek, your eyes will be gifted with some mesmerising views and you will thank yourself for making this journey. The ever amazing landscapes and the alpine meadows are bound to give you that adrenaline rush which you were seeking in the first place.
So here is a short checklist of basic stuff: well to be well prepared.
GOOD BACKPACK.
NECESSARY CLOTHES, JACKET.
ONE PAIR SHOES, EXTRA SOCKS AND A PAIR OF CHAPPEL.
GOGGLES.
BASIC FIRST AID. ( Just a few tablets for headaches, fever or any stomach problem: just be prepared for the worst )
COUPLE OF PLASTIC BAGS.
CAMERA ( Preferably not a one attached to your phone; well it's awesome if you can switch it off for two days, you don't need it trust me)
ONE PEN AND A DIARY ( We never know when the poet or the writer in you turns up, a good chance he might when you are up there; so be prepared with the tools)
BACKUP PHONE AND CHARGER.( No network for phones there except BSNL and please keep your camera in charge, the power turns up only after 6 p.m.)
DRY EATABLES AND WATER. ( You have some shops during the trek, but it's costly; so preferable to fill up from Manikaran or Barshani)
TORCH, LIGHTER, AND KNIFE.
If travelling solo: well the best way to do it in fact; then a couple of travelogues won't be a bad option either. If you have binoculars and a sleeping bag then it's an added bonus.
Looks like you are all set; Kheer Ganga is waiting.
Go. See.Explore.
The trek provided a panoramic view of the mountains and it will complement our eyes with some spectacular views. Our mundane eyes which are so used to the monotony of city lives will be over the moon.
The trek starts from Barshani. Kheer Ganga is an easy-moderate trek and even people without any trekking experience can prepare their backpacks. Start by 9-10 am so that even if it take you 6 hours or more, you will be on top by sunset. The ever beautiful Alpine Meadows and the apricot trees will fuel your curiosity beyond your imagination.
 For some reasons, Americans made sense for a while: they said, that you shouldn't catch the glory of a place in your lenses, it has to be felt and left, it made sense, real sense. This solo ice-clad jammed right in between two tropical mountains is one of the few magnificent sights when you start the trek, you go further you get stunned farther.
 Initially, we mistook it for an unbelievable house( from far :D), but it was a stable for horses and donkeys.Each step is full of uncertainty with  every alley leading to somewhere exceptional.
There was one small stream of water; a narrow one flowing through a small piece of bamboo. We unloaded our bags and I kept my head in the stream, suddently I felt the fibres in my body realigning, it was so rejuvenating. I never felt anything like that before in my life, it was cold, not the kind of coldness you get in your refrigerator, it was natural cold and from the state of being tired suddenly our spirits were uplifted, those water have some magical powers, they were soul lifters.
Sami bhayya asked me, "Arvind what if whole of Parvathy and this small string of water has the same origin".
"It would be the most beautiful thing ever and everything in this mountain have the same soul, so their origination as well may be from a single source", I replied.
 The local village we came across during the trek, reminded me of a scene from Batman Begins, Bruce Wayne comes across such a village during his climb to the base of the League Of Shadows.
From that village came the best click of the journey,
The little princess who made my day even more beautiful.
Where humanity and ecology live in awe.Had it ever occurred to you at least once that you have to go somewhere far away from all the drama and all those things that pull you down, forcing you  to do things which you don't like to do. A day away from our days,  where we don't need to keep pace with anyone  , a day where we can dance to the music which comes from within, in a way searching for the true reason of our existence.
 A trek for us, a routine for them; a click from  the day of a bovine localite.
My camera couldn't capture enough of this realm.
I felt so much loved, perhaps this was one music for my soul that had left muted for all these years. Now it's full on in full power.
 Rudra Nag- The checkpoint before KheerGanga, the challenging part of this trek starts from here; the last 4 km are gonna test you.
The forest gets thick from here as well as the trek, but we will be supplied with the purest of oxygen which our body was deprived  all these time.
IF THE BUSY SHOPPING STREETS OF YOUR CITY IS A COMMON SIGHT, TRY THE LONELY ALLEYS IN THESE MOUNTAINS ,THE RESULT WE MAY NEVER RETURN OR EVEN IF YOU DO WE WILL LEAVE BEHIND A PART OF US HERE.
Most apt time to go over is from March-Oct. From October last the snowfall begins and there won't be any tents or hotels in Kheer Ganga; well if you are a grade-1 traveller owning tent and mobile kitchen then I don't see any reason why you can't make it. During this time solo travelling is not advisable, at least, one bad-ass partner like you would serve well.
There are quite some cool restaurants in Kheer Ganga, where you can have good food and buckle up for the night as well.
Kheer Ganga is in her own league; when technology is taking over the ecology slowly, where great inventions are made daily, a man should not forget to hover in the bliss of nature.
THE HOT WATER SPRINGS OF KHEER GANGA
 After the mighty climb, it's the most relaxing feeling that you can think off, when you get rewarded with release from all your pain during the trek and stepping yourself into the hot water springs and getting yourself rejuvenated. It's an experience worth feeling rather than talking about. Kheer Ganga is magical and worth all the pain one had to endeavour while making the holy expedition. The sun setting down at a distinct horizon and all the mountain peaks shining on; that is you getting high on life.
 The Magnificent hot water springs of Kheer Ganga: Will be one of the most relaxing moment of your life. 
There are mainly 5 hot water springs in Himachal and without a doubt, Kheer Ganga is the best. What separates Kheer Ganga from the list is that you have to endeavour a 5-hour trek before feeling her warmth. The other hot springs are much more commercialised and what Kheer Ganga offers is priceless: Peace and Pure rejuvenation. Getting high on hash in one thing, well everyone is most welcome if you want to get high on life. Let's get some adrenaline rushed into our systems.
 My Kheer Ganga experience can't be put forward in a line or two, the first step to the climax; all the way up and down It was nothing short of spectacular.The three wanderers who were an integral part of this journey. Met as strangers and left as brothers; Sami, Tushant, and Harsh made my trek a memorable one. It has them who planted the idea of writing in my mind and fueled me to make my Dent in this world.
Wanderlust !!!
Sure I will do my part .
The next day they left and I decided to stay back for a day  and my story just got better.
THE SHIVA POWER
The serene Shiva Temple which is located 50 metres from the hot water springs gave me real goosebumps. The aura of the agarbatis and music they had will take you to a faraway dimension. Unlike other Shiva Temples in the country, this one is unique in a way. Here we can actually get inside the temple and sit beside the Shiva Linga and meditate.All of the Himalayas is amazing- but I am sure our beloved Shiva on any day would love to waver his Chillum from here because you can really sense it here. The cosmic energy is simply unbelievable. The air was electrifying and there I was transcending time.
KHEER GANGA- THE HISTORY
Eons ago, Karthikeya, our Shiva's younger son came to Kheer Ganga to do tapas. Legends say he was here for a thousand years, Shiva and Parvathy occasionally came to see him and she used to make Khir for them (rice pudding) and hence the greyish colour of the Parvathy River is because of this fact. That's the myth behind the Kheer Ganga. There is a cave which was 15 minutes above this temple where Karthikeya used to take guard during heavy rains; I went there the following day and the view of the entire Kheer Ganga was magical.
The Karthikeya cave and the breathtaking view of the shiva temple and the hot water springs from up there.
WHAT THE MOUNTAINS ECHOED
The day progressed and it was the most memorable day of my life. Like a free nomad I wandered and went where my heart wished. In the pursuit, I made great friends, a companion in Jaganathan- the dog which turned out to be my guardian. My quest for adventure, for answers, to love without bounds and barriers, hit was a homecoming feeling . I saw the Kheer Ganga sunset with Jaganathan, we walked for some 30 minutes away from the fuss and there we were, just me and Jagan; we sat down near a rock and I kept the music track Water Down The Ganges.
The glorious mountains with their tip touching the clouds and the silver mist rising from the mother earth merging with the golden rays of the sun. My soul which was wandering nowhere came back to me and at 13,051 feet above sea level, my heart was filled with gratitude for the heaven.Jaganathan – You are one of the greatest creations of nature and your love is unconditional.
I fixed my lens point towards the horizon where the sun was slowly taking its shelter behind the mountains,where I saw something spectacular. It was not just the sun and the mountains that made the picture special, just close by those mountains there was a cloud which resembled Lord Ganesh face. They had a striking resemblance ; it was as if lord himself was waving his tusk at the shiva mountains.
Now just imagine, in Kheer Ganga ,where Parvathy flows beside the Shiva Mountains , the Karthikeya rock and finally the Ganesh cloud, the whole family were there with me .
An unforgettable night , I had dinner with some of my new buddies-  Cornelia and Hugo ( from Germany and Spain) and their stories were nothing less than mind-blowing.
After everything left for their tents and rooms; It was me, the night sky and The Alchemist( A best-seller from Paulo Cuelo) thereafter.
The Alchemist is written for people like us: all those souls who have a dream and want to achieve what they were destined for, so that they can make their dent in this world. This book is all about that and it will raise our spirit above all the doubts and fear.
The man need not fear the unknown if he is capable of achieving what he wants and what he needs. This is one my favourite quote from the book and it all made sense to me; all the way throughout my journey, that intense desire to travel, to unravel strange places, make friends with the strange people,to immerse myself in the glory of nature and to roll under the stars. Alchemist is a book for dreamers.
Every paragraph had something I could connect with any of my travel episodes and the intense cold felt less cold. The Himalayan Night Sky! The night of the Alchemist: The pure exilir of life.
The lullaby of the mountains soothed my ears and universe filled me with euphoria.Your journey is your alone, you can always write beautiful stories, the only questions is are you ready.
As someone great once said, at the end we are not going to memorize the hours spend in the office, so stop thinking and climb that goddamn mountain.
Some person who never gave up once said, there was never a night or a problem which could defeat sunrise and hope. The Kheer Ganga sunrise splashing colours on the mountain.
Morning bath in the hot springs was special, I stayed as long as I wished. The morning chimes from the shiva temple and the intrepid mountains around; it was magic around me.
I joined Nele and Hugo for breakfast, the day before when Hugo saw me clicking his picture he asked me to refrain from that and kindly asked me to delete his picture ( coz i clicked it without his notice), after an eventful day, before trekking down, he said we should click a picture together.
THE DOWNHILL TREK- I CLOSED MY EYES AND I CAN LEVITATE!
"After doing a time-travelling act"; I descended downhill after paying my tribute to the mountains. One day before Kheer Ganga was a mystery and now it is beginning of a new journey. The tranquility of Kheer Ganga kept calling me back.
How I time travelled . It's easy actually ;).
https://www.cloudwalkerpro.com/13-time-travelling-promise-kept/
During the trek down, I saw many more scenic views which missed during the ascent. Rumbling through the alpine meadows, singing my lungs out; Kheer Ganga electrified my soul. In between the rail, I saw two roads diverging; one was the route which we took the day before,in fact all the trekkers took that route and the other was going up and looked less travelled.
Two roads diverged in the woods, and only one thing came to my mind, a poem by Robert Frost, The Road Not Taken. I took the one less travelled by, and that has made all the difference, the closing lines from this poem gave me all the confidence I deprived. The Less travelled road often leads to the beautiful destination until that day it was just a quote or a stranger's experience for me but that day changed everything.The stunning trail offered something that nothing else had offered me before: The feeling of a King, 50 feet up and down was the golden wheat plant and the trail was narrow that only one person can walk at a time. It was me, the mountains and the birds all the way.
I flyed with the wind, the earth beneath looked amazing, and glibly I got lost in the hidden alley of the mountains. I felt my feet lift off the ground. For the first time, I could levitate.
The  trail which led to that unforgettable sight.
 I witnessed something beautiful, a click which would have changed my life forever. Beautiful things never ask for attention and what I witnessed along this one hell of a trail was nothing less than that. I kept my camera inside, I didn't,t want any distraction, all of a sudden everything became so silent.
https://www.cloudwalkerpro.com/15-road-not-taken-incredible-trail/
Finally, the trail joined the other main route and in no time, my Kheer Ganga episode reached its finale.
It's never a goodbye; Kheer Ganga was a life changing experience for me and I will keep my promise, I will return.
So, don't miss out on this epic trail, it's a road made for villagers and It starts at the beginning of that village; yeah the same village in between the trek, the arrow shows downwards, but if you are really looking for something extraordinary then follow the upward trail.
A DAY IN HOLY MANIKARAN
Reaching Manikaran after the awesome Kheer Ganga episode, I decided to call the day off there.
The Manikaran valley is situated at the other side of the river and a hanging bridge connects it to the outer world. Once I crossed the bridge, the entire scenario changed. It was a festive mood and there were people everywhere mainly the heavyweight Punjabi families who got on from shops to shops. The other side of the bridge was where travellers came and went a lot more in a  silent zone. Once you cross the bridge it's like a Punjabi get together, most of them travel with the joint family and the picture was an 180-degree reverse, I felt like I got dragged from my meditation to a rock band concert.
Friends, don't forget the hanging bridge, it's very significant. It's a Sikh pilgrimage on one side and a tripper's paradise on the other. Two different paths of life and I was lucky enough to walk both. Go to Kheer Ganga, enjoy the serenity and the beauty of Himachal and take the hanging bridge to immerse yourself with local people, local shops and one of the most beautiful Gurudwara in the country.
The Holy Manikaran Gurudwara.
Everything in Parvathy Valley is about Shiva, well as it is supposed to be I guess. Where ever you go, you hear Har Har Mahadev!!
The 360-degree view of the mountains and the surpassing Parvathy alone makes Manikaran an important addition to your itinerary.
 Things to do in Manikaran
Throw yourself into the frenzy Manikaran Streets; Psychedelic parties are one thing and but the local flair and the culture is what no travellers should miss.
Have some great food from the small riverside hotels. They may lack the luxury which you get in cities, what luxury they provide is the luxury of the experience. Think of it, having food from the banks of the mighty Parvathy, that's the sort of luxury that waits for you here.
Go on a shopping spree on the busy Manikaran Street. People of all age group will find something that will catch their attention. Shopping here is far better economical than shopping in Kasol, you get the original stuff for lesser money.
Look out for some original Ladakh stones. They are exclusive to the Ladakh Mountains. Each stone has its own unique purpose and they are believed to be sacred here. Above all, they are damn beautiful and will give you that zeal of a traveller. They are way cheaper here than the much more commercialised Kasol.
Busy streets of Manikaran; a must go for all happy hippies.
Now let me tell you the best part, Gurudwara give you free food three times a day and you can buckle up in Ram Mandir without giving a penny. 
 A note to remember: Kasol shops are costly compared to Manikaran; since people stay around Kasol more often, they tend to buy goods from there. Go Manikaran, all it takes is just a 5 rupee bus ticket to reach Manikaran from Kasol and the reward is a bag full of stuff with an economical budget.
 Euphonic Parvathy!!
Many people trek to Kheer Ganga one day and descents the very next day. I would never recommend that. It has to be done in a   period of 3 days: one day treks up, one whole day in Kheer Ganga and one day downhill.
The PIN PARVATHY route- A worthy Extension!
Well for my hardcore trekkers out there you could consider the Pin- Parvathy trek. Well don't get me wrong, it's one of the most challenging Himalayan treks in the country. Spread over 11 days, the trek starts from Barshani and ends in Spiti. Kheer Ganga is the first base camp for the backpackers heading to Pin Parvathy. A 100 km long trek will take you to the place where the Parvathy River originates. Sounds exciting right. The Kheer Ganga is just 15kms and if you can pull off this Pin Parvathy trek, then you will have some moments for life-long and a mind-blowing story to tell your us.
 When we follow our heart we free ourselves of labels and we lose control of possessions willingly. We will begin to love the unfamiliar and to trust strangers. We trade a role for reality and we own only what we can carry. We find better questions than answers. The rain, the wind, and nature herself will be our ravens. The richness of knowing people of new places, where ever we set our for, we unknowingly leave  a small part of our along the trail. 
I wished I could stay long there,but I couldn't. When I thought the best part of my journey was behind, I met a guy in the journey to Delhi. He got many names, he was from Israel. Out of all the names, my favourite is the Batman. His life was eventful and insanely screwed up, his stories were unreal,dramatic and jaw dropping.
https://www.cloudwalkerpro.com/20-met-batman-israeli-maestro/
I reached Delhi met my friends who came there with the dream of cracking the IAS exam, stayed with them for a day. Getting back with our tribe is always fun. My first metro ride was exciting helped to throw away  the memory of losing my phone the other day night in the bus.
The nest day I left for the flawless Mumbai in a journey which defied all the concepts of physics  I know, in one of the world's most extreme railway journey. Time always flows in Mumbai, her vibe I fell in love with. The Nariman Point in Mumbai which will always have a special place in my heart.
Nature loves courage (The Alchemist) and the when you do that the life will never be the same again.Sail away from the safe harbour and catch the trade winds in your sails.
Kheer Ganga experience will leave you speechless, then it will turn you into a storyteller; let this just be a beginning. When we step into the arms of nature , we all get more than what we seek.
A JOURNEY OF A THOUSAND MILES STARTS WITH A SINGLE FIRST STEP!!!
This post was originally published on 'CloudWalker'.