Are you planning a five day backpacking trip but don't know where to go? Have always been the fan of the 'Ye Jawani hai Deewani' and want your trip to be the same as Bunny's? Or let me put it this way 'kya tum udna chahte ho, daudna chahte ho, girna bhi chahte ho, bas rukna nahi chahte?'. Too dramatic, eh? But you get my point right?
Tell me, do you want your trip to involve that adrenaline rush, the adventure, mountains, snow, treks and for all of this you have saved just 3-4 thousand rupees?
Say no more, this is the trip you want to go to- a trip to Kasol. A trip to Kasol does not end at Kasol itself, but it actually is Kasol-Malana-KheerGanga-Manikaran-Tosh.
This article is for all those people who are planning to go to the Parvati valley, now or in future, to help them plan their trip the perfect way with least of the money involved, or for the people who have been there, to relive those memories once again. Also, this article will also be a good read for all the people who follow such posts on instagram-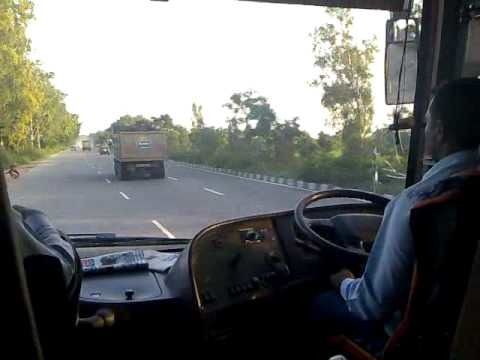 Yet once again I am back on my keyboard trying to pen down the memories of a ten day holiday i went on. the memories i made along with five of the best of my friends when we went on a trip to Kasol, which as they say is a heaven for the stoners (which indeed it is though). Other than that, the place offer all the explorers out there some awesome treks.
Starting from the beginning, we left from Chandigarh in the 7.30 am bus for Manali, from ISBT Sector 43. We did not book a sleeper or a Volvo, but a Haryana Roadways bus which was actually more fun.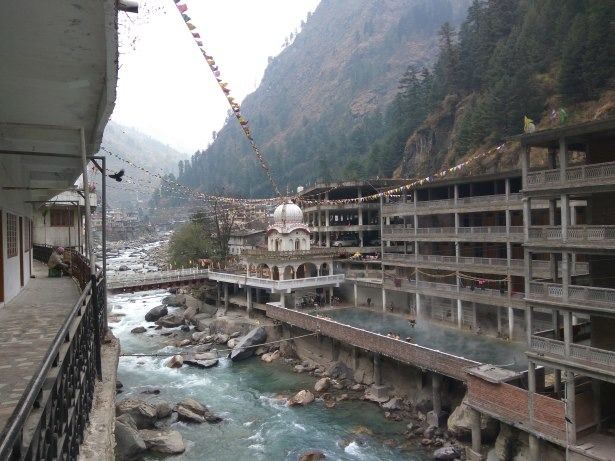 It took us a whole day though because of a traffic jam somewhere near Bilaspur but anyways we deboarded at Bhuntar from where we had to take a local bus to Kasol and Manikaran.
Local buses are a great place to hear the stories of people without being involved. Its funny how we judge people, knowing fully well we should not, but yet we enjoy doing it with our best of friends.
I overheard a conversation between a group of people, two were girls and four were boys. They looked like they were the regular visitors of Kasol.
Guy 1: Maine to keh diya ghar pe shaadi tabhi krunga jab Endeavour dilwaoge. Fortuner bhi chalegi, agar dilwa dete ho to aap jisse khoge bina shakal dekhe shaadi kr lunga.
[All laughed]
Girl 1: Kaisi se bhi kr lega ek car k liye shaadi tu?
Guy 2: Car hogi to dusri pata lega na. [laughs]
Guy 1; Ek rishta bhi aaya ek ladki ka. Bole papa ko ki Audi de denge, but papa ne mana kar diya.
Girl 2: Kyun?
Guy 1: Ye bolke ki Audi to dilwa doge, humare ladke se petrol dalwaya ni jayega usme.
[All laughed]
Besides this, some other stories as well, we talked to some residents who were in the bus, about the culture there, places to see and other things, and trust me, people love it when you ask them about themselves, about their hometown, about their cultures and their traditions.
Finally, we reached Manikaran, the sun had already set. We straightaway went to the famous Manikaran Gurudwara and asked for accommodation there. With minor formalities, they gave us a room, which was better than any other room we would have taken in any hotel. And you must be knowing accommodation in a Gurudwara is free, although you should donate some amount of money if you feel like or else you could do seva there, and trust me, it feels so good to serve in the langar or do any kind of service there. it makes you feel more human you know, the feeling which is so rare to be felt these days.
About the room was big enough to accommodate all six of us, had a balcony having one breathtaking view, Parvati river flowing beneath us and the garam paani ka kund besides the river which was more like a swimming pool (find it in the picture below and you will know)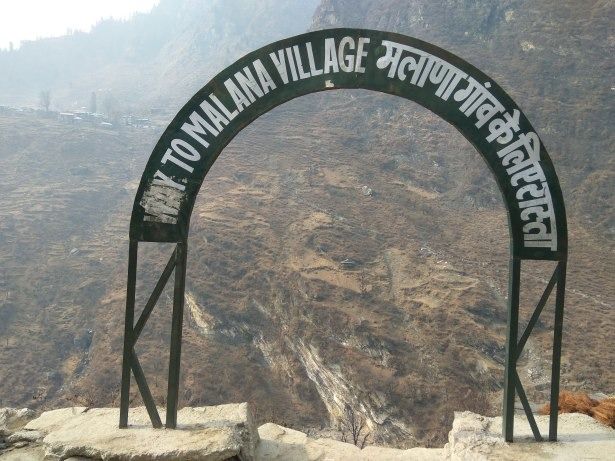 We ate langar in the night, and left for the market.
Manikaran is a very small town, i mean literally. It had a market stretching over just 200 meters of length i guess, and besides that, a Gurudwara and Ram Mandir and that was it. But yet, its beauty lies in this fact only, with the fact that it was small with a very little population and hence a very peaceful place. You can hear the melodious sound of river water splashing on the rocks all the time from anywhere in the town.
Later in the night when we were sleeping, one of us woke everyone else up and showed us the forest fire, we sat for one long hour just watching that forest fire through our window, little did we know it was common there, and then dozed off like that only.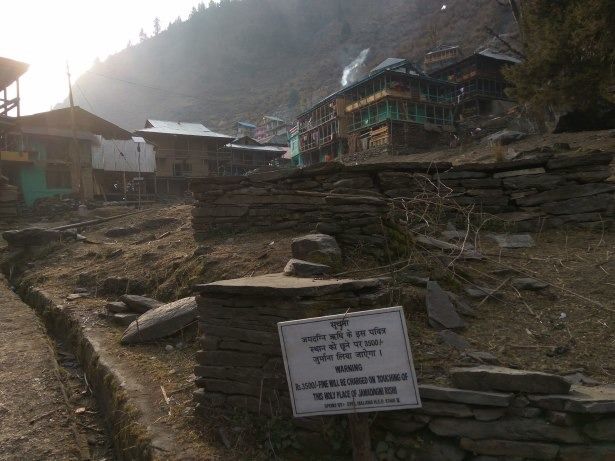 We left for Malana the next day, starting off our day with awesome Aloo Parathe with dahi from a dhaba at Manikaran Bus stand. It took us half an hour to reach Jari from where we had to book a taxi to go to Malana. From there it took us another hour to reach the base of Malana, and we had to trek the rest 5 kilometers for the village that felt like we time traveled to 100 years back.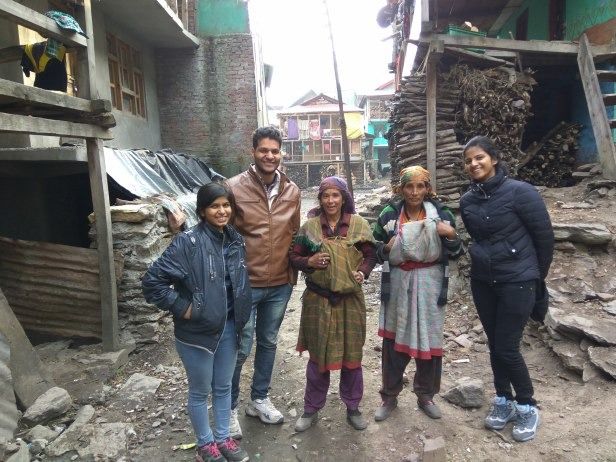 I have a reason for writing this, and that is untouchability which still prevails there, not the one which was abolished after formation of our independent India's constitution though which was caste based, but according to people there, all non Malani people are inferior to them and thus, are untouchables. Infact, there is a fine for all the travelers coming there if they touch anything, equal to an amount which they will need to sacrifice a lamb for the purification of the thing we touched.
Another interested fact being, they make you sign a form stating that no government interference is allowed in any dispute arising(if) in the village and their decision will be final in such cases.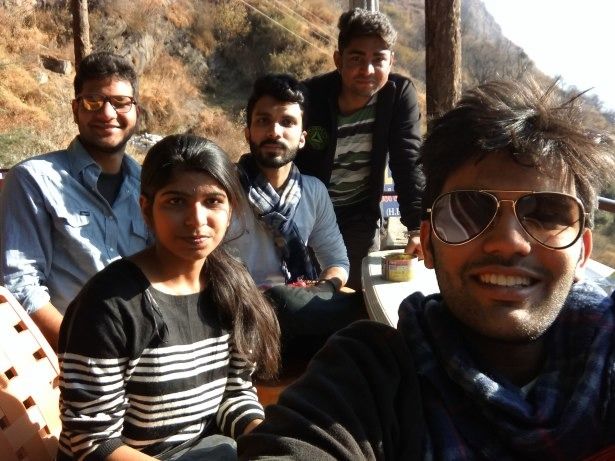 About Malana, it was a very peaceful place, completely isolated from any other civilization, their only source of income being the woods they bring from down the hill, and of course Hash.
Despite being the untouchables, we did not feel uncomfortable there and had a really good time. The people there are actually very welcoming despite of all the facts stated above, and also photogenic. While being clicked for this picture, one lady said "Ye photo dikha ke batana ki aise dikhte hain Malana k log".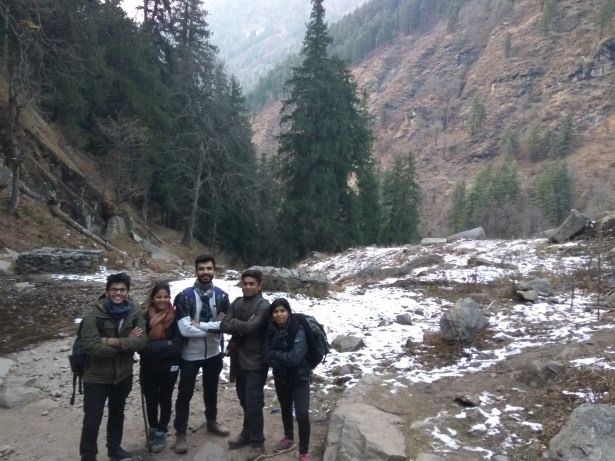 We went through the village, there is a cafe- 'Dragon Cafe' at the top where we spent two hours. Ambiance there was awesome, we could play our own songs on the speakers, food was also good.And by food, I mean the Maggie, Chai and Noodles.
It was already late so we had to leave, night had already started to set in. In no time, we traced our steps back and reached Gurudwara by the night.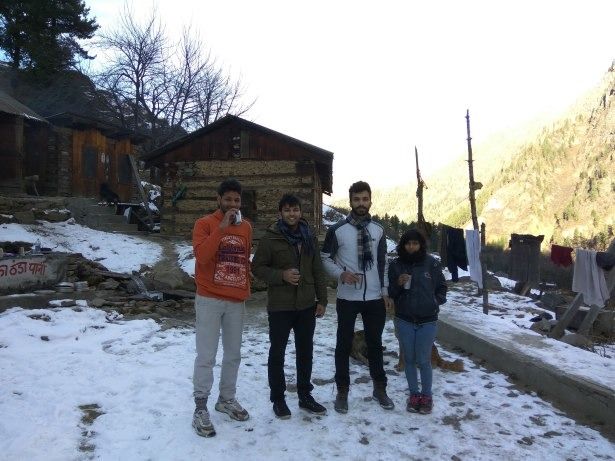 Next day, we left for the trek to Kheer Ganga after the breakfast of our favourite Aloo k Parathe with dahi again.
The trek to Kheer Ganga is around 12 kilometeres from the base Barshaini. From the base, one way goes to Tosh and other to Kheer Ganga and Mantalai lake (the origin of Parvati river). There is a sweet shop (the only one), try Rasgullas of there, we just loved them.
Also, a tip for the pros, just check out the trek of Mantalai lake, which is 82 kilometer from Barshaini each way, and that is definitely gonna be the next trek I would go on. Imagine trekking for 6 days straight, mostly alongside the river, or in the core jungle, sleeping in the tents, eating the minimal food available. This is my kind of trek I can say.
Anyways back to the trek we actually went on. (:D)
First 6 kilometers were easy. We had fun on the way, stopping wherever we wished to, clicking pictures and just laughing the hours away. After 6 kilometers, there were some cafes where we had our lunch. Try the daal and butter roti there, they serve it deliciously good. It was cold, but the day was sunny which I actually slept sunbathing in.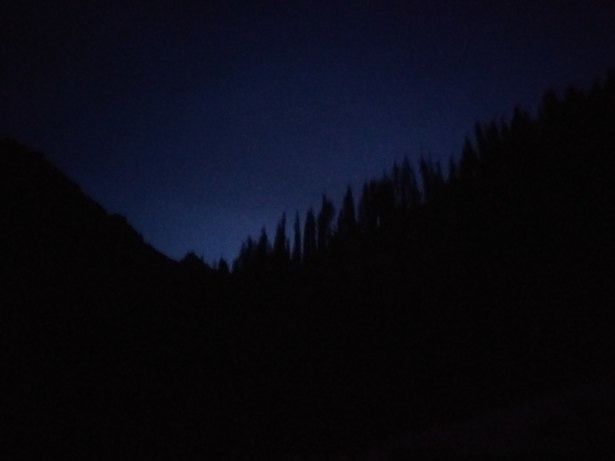 An advice: We did a mistake of taking a 2 hour break after first 6 kilometers assuming that it's easy and it would take another 3 hours at max to cover the rest, what we did not know was that the real trek starts from there only. And trust me, you don't want to be in that jungle after dark. It gets really dangerous after the sun has set.
The slope was quite steep after Rudranag Waterfalls from where the core jungle starts. Moreover because of the snowfall just a day before, it was very slippery and was really difficult to make out the way. Every way looked the same and there was nothing with which we could be sure that we were heading in the right direction, moreover it was getting dark. Unsure of ourselves, we continued assuming the way up to be the right one.
When it went dark, we had to turn the flashlights of our phones on as it was not at all possible without that to tread even a single step because the snowfall did take place a day before and it was slippery AF. Thankfully we had enough battery in our phones, what if we did not?
We reached at about 8 in the night. Man, it was freezing out there.
Let me try to help you visualize what i saw and what it felt like. As soon as i took a turn during the trek, i could see few lights from the structures what looked like huts, 7-8 maybe. But as soon as i looked up in the sky, i was dumbstruck, literally. It was like there has been another layer of sky between us and the sky we usually see. I could see each and every star in the sky there is, and it was the most beautiful thing i had ever seen in my life. I don't seem to have enough words to describe how it felt like. We could not even make out the constellations as there were so many of them, so bright.
As we walked ahead, those huts were actually cafes where we could eat and stay at Rs 150 per person. There were mattresses and blankets, for around 30 people in one hut. Also, there is a dharamshala at the top, which has 6-7 very small rooms (about the size of a double bed) which i highly recommend, and they charge you just Rs. 300 per room with dinner included.
By the time we got there, it was freezing out there. The rooms were quite small, i guess about 6*7 feet. We could not be more happy as we were tired and we were excited and we were fortunate enough to get those rooms. We had food, went to a cafe down and chilled there for sometime, quite literally.( ???? )
Those cafes (See the pictures above) were really good, they did not have any concrete walls except one. People come there and do whatever they want, they paint on the only wall, or they sketch it on a sheet of paper and put it up there. We could play our songs there, we were provided the angeethi to sit around for. Most of the people were completely stoned, and it seemed like the dope was in the air of Kheer Ganga. We sat around the angeethi with 15 other people already there for around an hour before leaving.
Did you know that Lord Shiva is believed to have meditated there for 3000 years in the Kheer Ganga?
After an hour or so, we went back up to our rooms. There were 8 blankets provided per room and still they were not enough. Anyhow everyone fell asleep, and i was the only one with my eyes open wide. So I decided to go out and explore the night as well.
Next morning, as i was already awake, woke everyone else up to witness one of the most beautiful sunrises we have ever witnessed. We sat at a place watching sun coming out of the snow clad mountains. It was a breathtakingly mesmerizing scene Every part of it was so awesome, we just loved it.
We went to the Parvati kund after the sunrise, dipped ourselves in the hot water, got our pictures clicked and left for Barshaini and to Kasol after that. Below is a picture that makes me feel nostalgic, sipping the black tea after wrapping ourselves up in our clothes after taking the hot water bath in bone freezing wind and minus degrees temperature.
By the evening we were in Kasol. Having booked a room there, we slept like a baby after the awesome Israeli food of the town.
From my experiences, I know one thing. Wherever you go, try to find the old part of the town rather than the newer one, because the old part is where you will actually know where you have come, the culture and the cuisine there. Take Manali for example, you have not really visited Manali if you have not really been to Old Manali after crossing the bridge over the Manalsu river. Similarly, old Kasol is where there are awesome cafes and people who are more kind towards travelers.
Next day, we rented Enfields to go to Tosh.
My advice, DO NOT rent a bike there as you won't have much to drive. Kasol to Tosh is just 20 kilometers, we had to rent because we did not have time to go into taxi and trek for two kilometers as we had a bus in the evening.
Tosh is a very small village, similar to Malana but yet different. Barshaini, which was the base for Kheer Ganga is also actually a base for Tosh too. You can trek 4 kilometers to Tosh from Barshaini or the another option being, the bikes.
We had a really good time in Tosh, which is really a very beautiful village, with a lot of cafes with awesome ambience. Being there, I felt the urge to stay there for atleast 15 days, doing nothing but sit by the river with a book and a coffee.
We sat by the river, with Maggie in the plate, sipping tea and talking about things, things that do not matter but little did we know, we were creating memories, memories so beautiful that they will always make us smile.
And another awesome journey marks its end.
This post was originally published on A Public Diary.