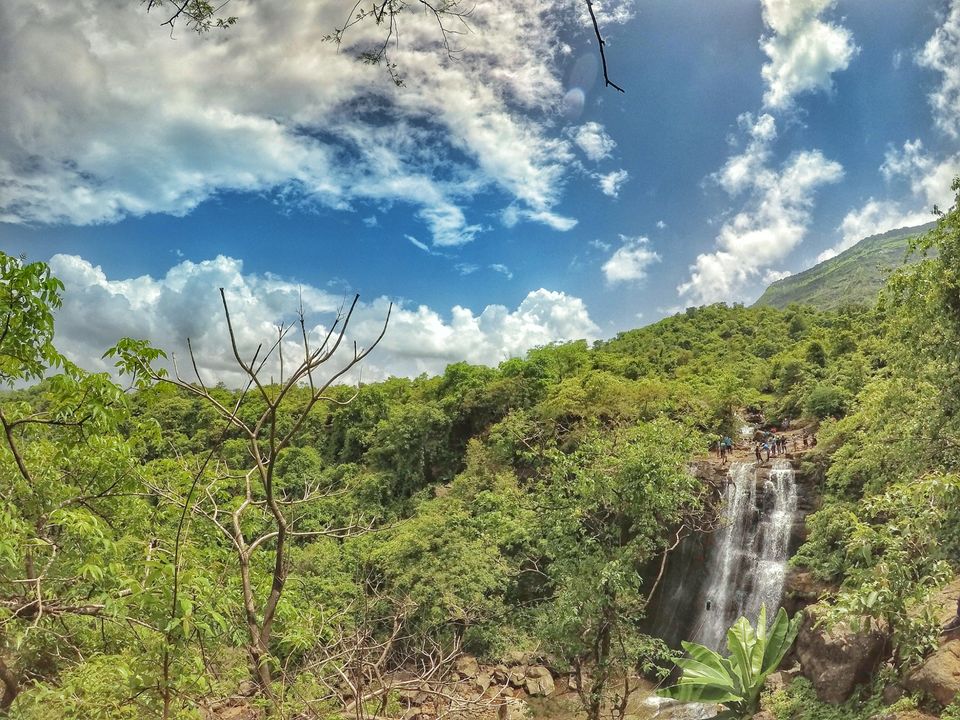 Mumbai-Kalyan-Bhivpuri
Finally the day arrived we were waiting for past few months. Yes, waterfall rappelling at Bekare village. This was going to be our 1st waterfall rappelling so specially I was little excited about this kickass adventure.
We have planned 1 day trip as destination was not more than 2.30hrs from Mumbai. There are two options to reach bekare village, 1st is took a local train from C.S.T.M. (Mumbai) to bhivpuri station and you can get autorickshaw easily from station to village on sharing basis. 2nd is by road ( recommended),if have your own vehicle take Mumbai -Kalyan - bhivpuri route. As I love road trips and driving we took 2nd one and started our journey at 7 in the morning. As it was Sunday I think every Mumbaikar was on the road to enjoy rain and they were also heading towards Karjat , Lonavla , Matheran. Yes , these are the famous places for waterfalls, treks specially in monsoon.
We reached Bekare village around 9.45.
Here you can park your vehicle for free known as base camp. There are 1-2 small shops where you can get snacks like vadapav , misal pav.
After brunch we headed to words waterfall which is small trek of 30-40 mins from bekare village.
There are some Suggestions I want to mention--
1. Carry extra pair of clothes and good trekking shoes.
2. Carry cover if you want to take DSLR photos either action camera is the best option as you can't expect when it's going to rain.
3. Book your rappelling slot 1-2 week before. contact no of Dinesh Singh
9821261849/79977363359
Ask discount on group.
While heading towards waterfall you can get wonderful view of mountain. That trekking path is filled with greenery everywhere. How can I forgot to mention natural watery ways with selfi,chitchat. The foggy weather was everywhere as we were about to reach waterfall. That sound of waterfall mixed with birds and greenery gave me goosebumps. We reached at rappelling point near about 11 in morning.
Very next second we started playing in water, cold white water.people over there were really enjoying.after 30 -40 mints enjoying in water , we decided to go for rappelling." Is it safe ?" , question came in my mind when I saw other people getting ready for thrilling adventure. But here I want to tell you guys, it's completely safe. These highly professional and trained staff will give you complete equipment details which you're gonna use in rappelling. After Half hr safety equipment session we gear up.
I choose hard side where water flow was high.
And adventure started.......
It's very challenging when you reach middle of the waterfall. Those 2 mins were very tough as I was not able to see anything other than white water.
We have done our rappelling by 1 at afternoon. Omg, what an wonderful experience for the first time. Sometimes u won't know how , what it is until you get experienced.
After completion of our adventure we handed over all given safety equipment to them and started return journey to bekare village. This thriller , lifetime adventure will cost you around 1000₹ to 1200₹ including rappelling, safety equipment and professional fees and snacks on site. Believe me folks, it's "paisa vasul" event.
Finally it's time to go home with lifetime kickass experience.
Here it reminds the famous quote " life is like waterfall, it is always moving and there is always an uneven flow to it".