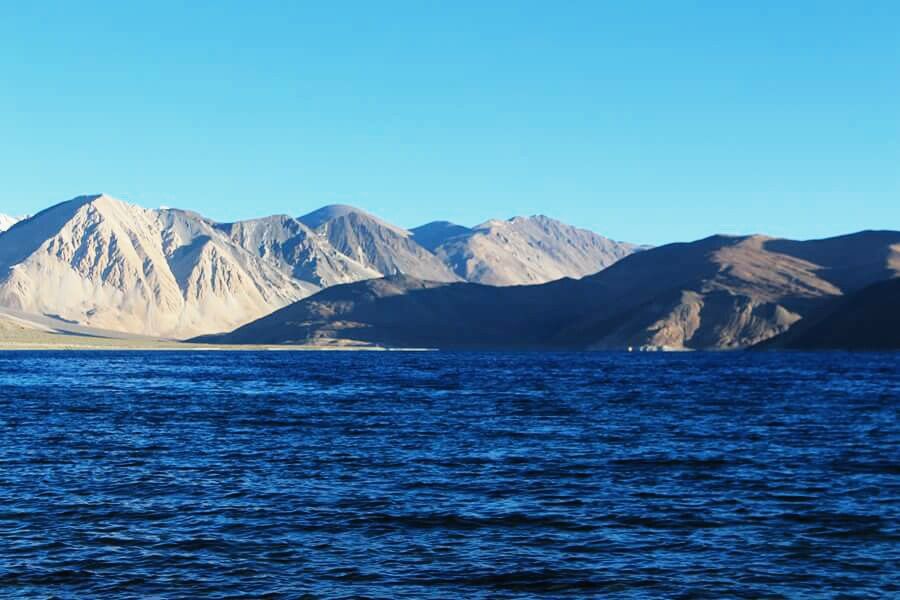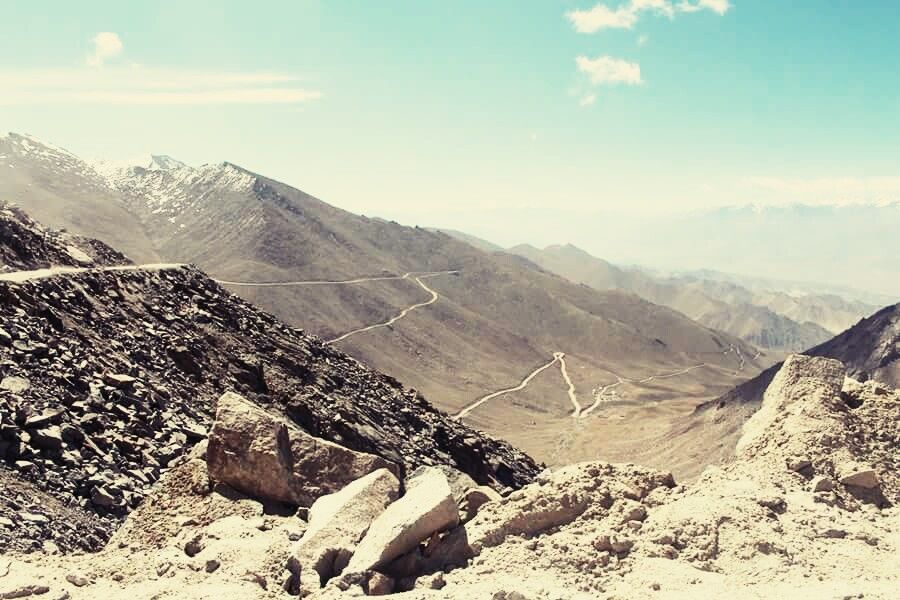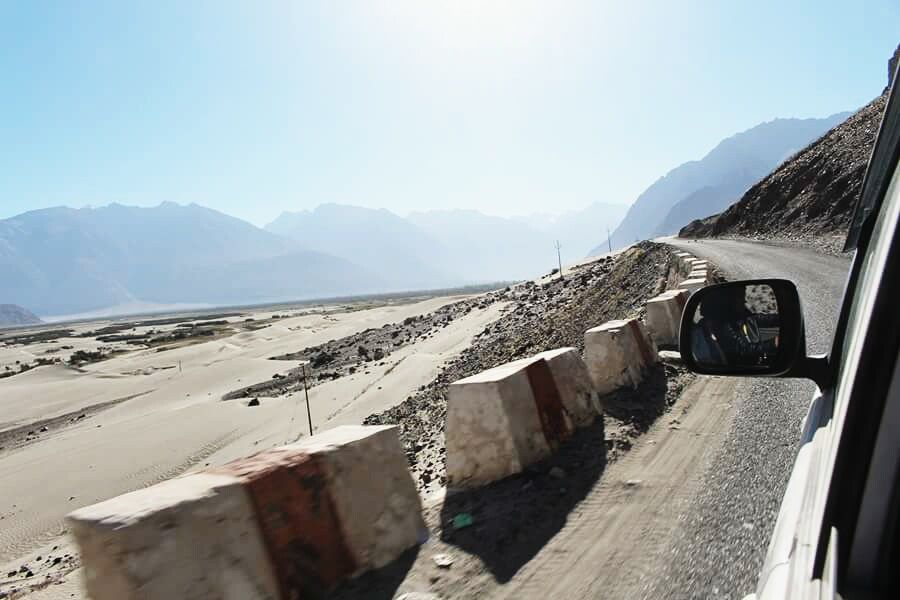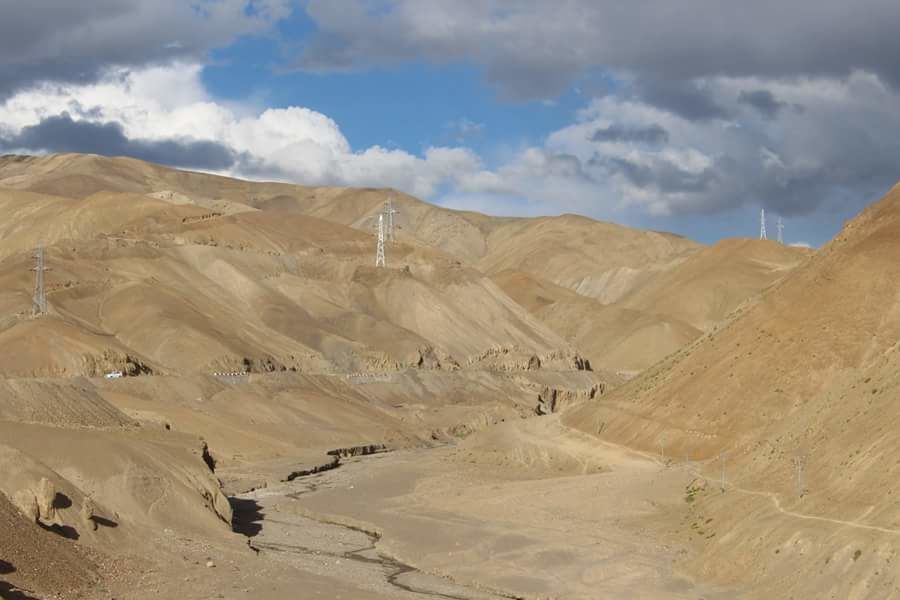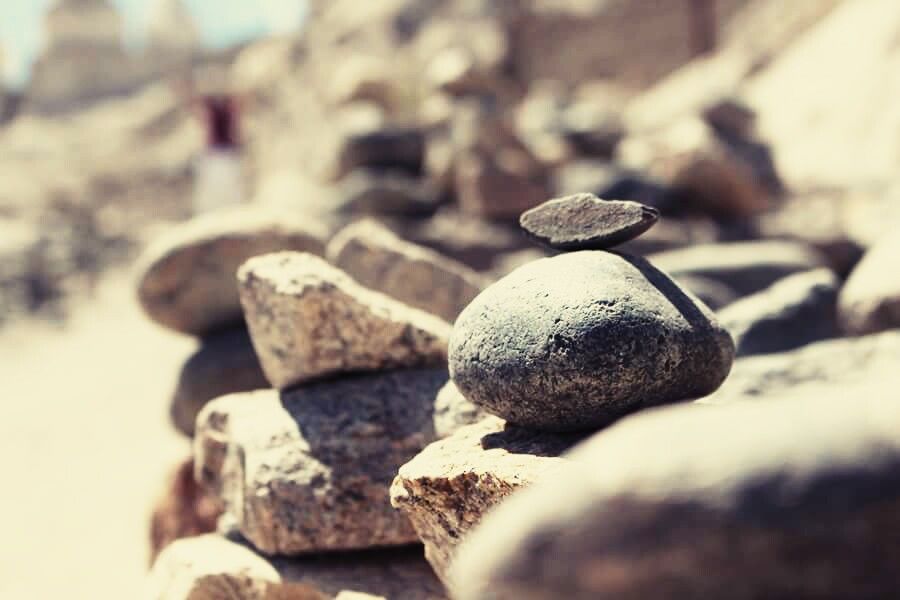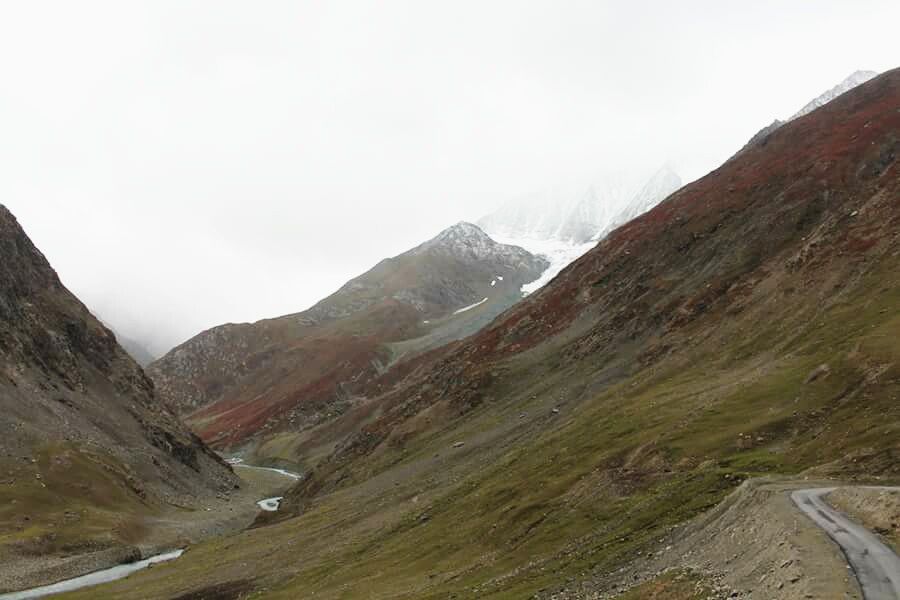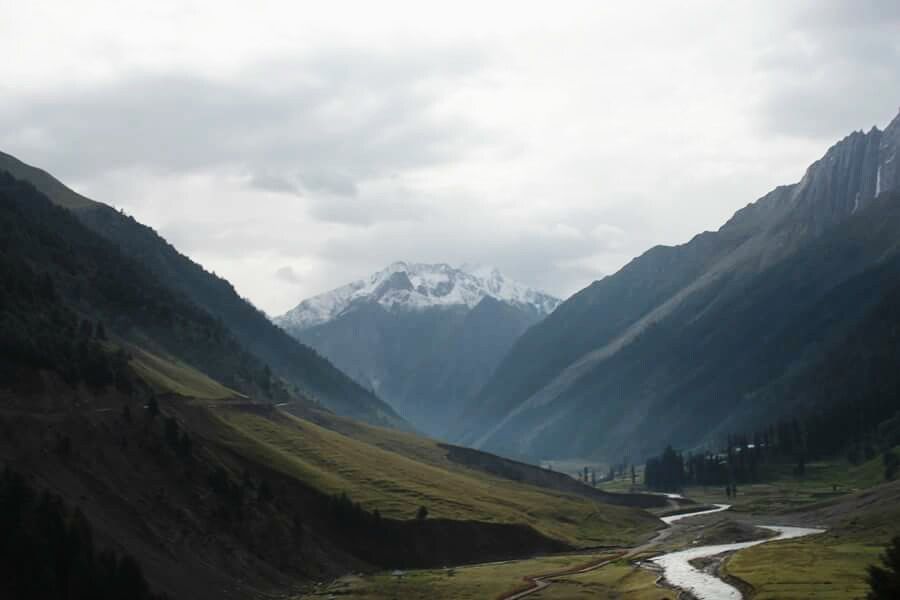 Blog written by - Debashish Baidya
Photographs courtesy - Niranjan & Hemant, along with some selfies clicked by me ;-)
I found this statement written on a T-shirt, when I was steering my way through the Shanti Stupa Market. Yeah, I bought it. 'Ladakh' was written big in the front and 'I was there' at the back. Proudly I bought it to show off to people that I have accomplished something in life. Something big and extraordinary!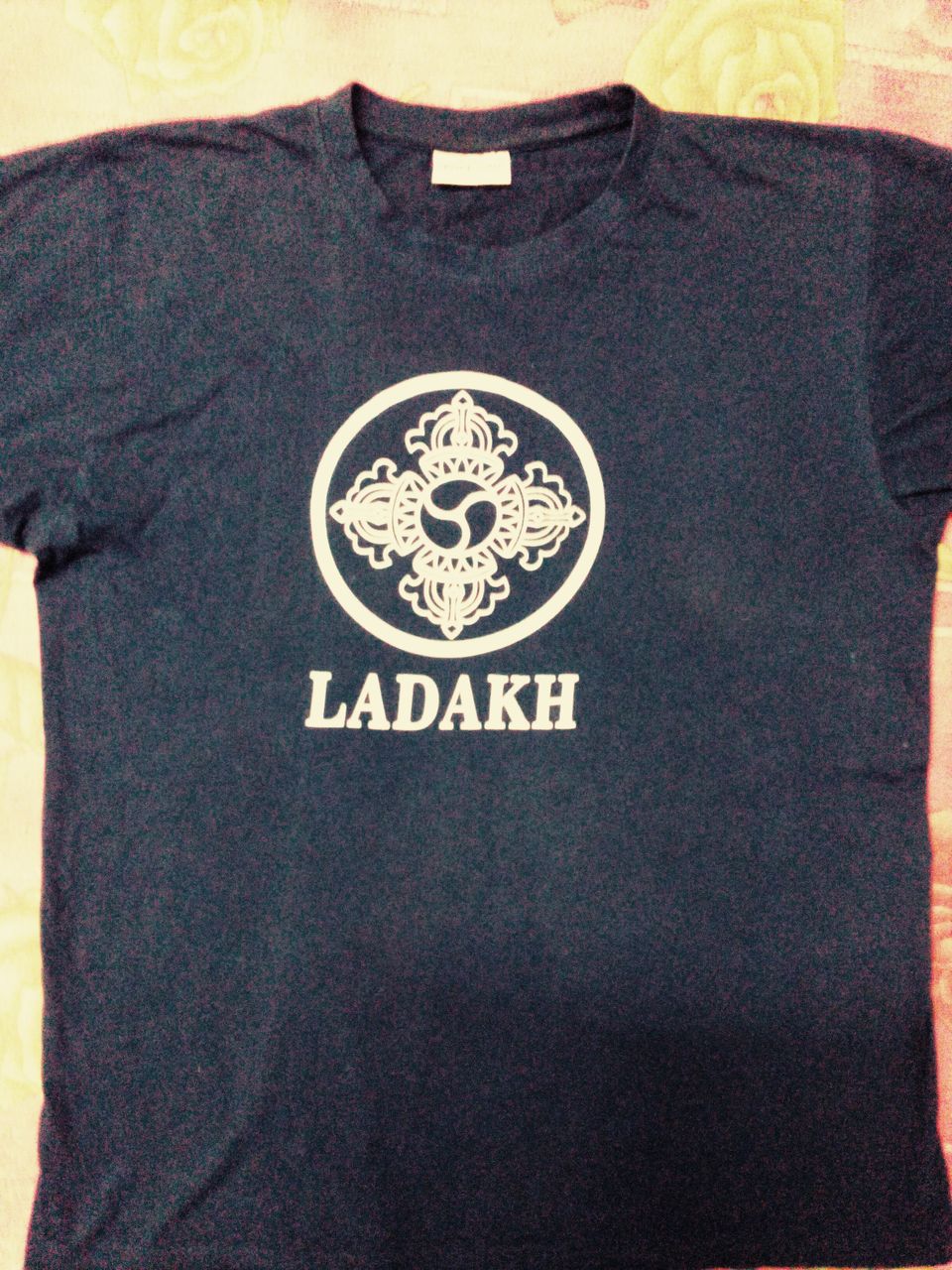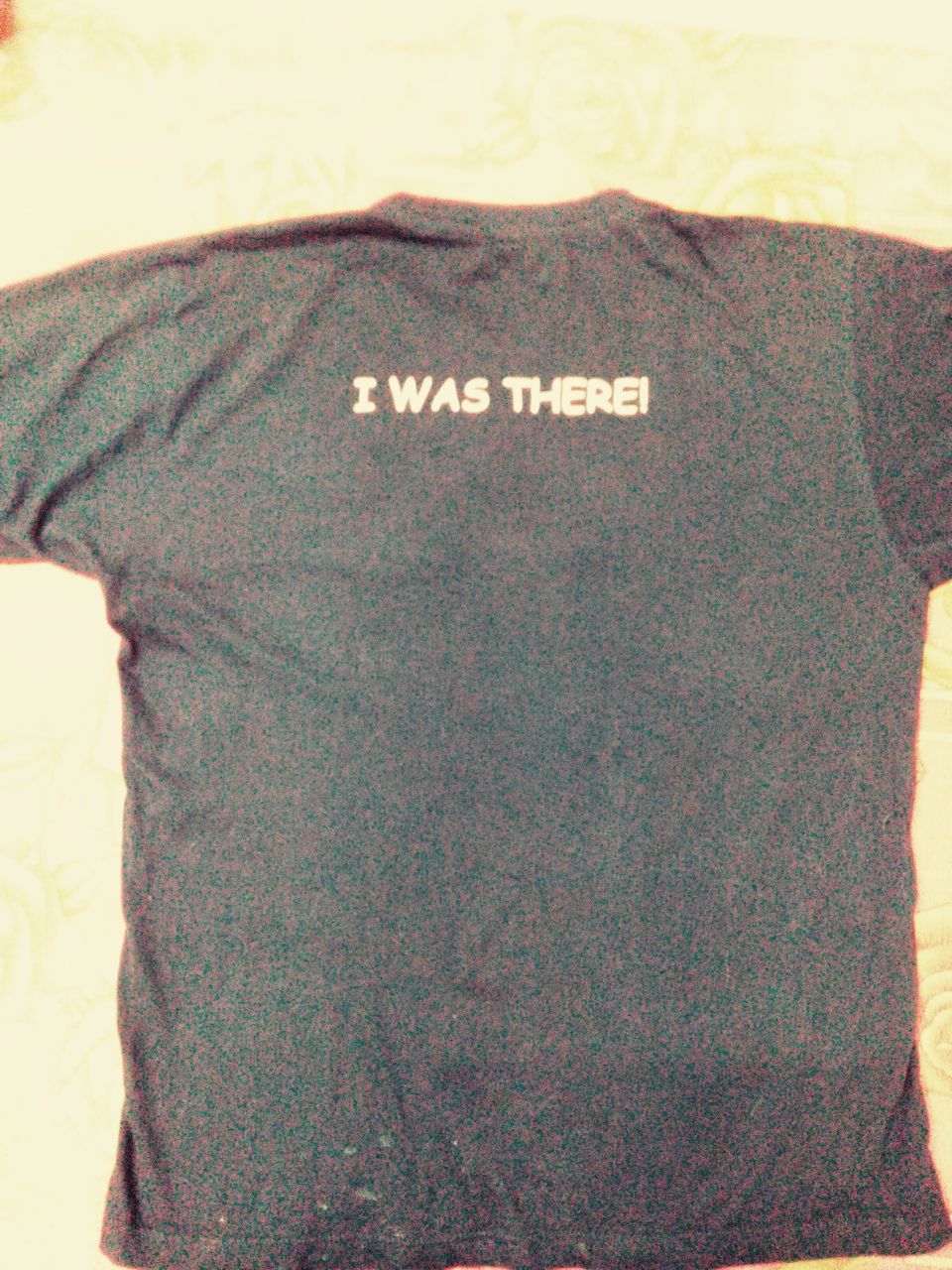 How it started?
Well, Ladakh had been in my mind since the time people started talking about it. Whether it were casual conversations with friends, or blogs by travellers, I was all ears and eyes when it came to Ladakh (or Leh as you may call it). The place came with a big hype, and had a tendency to grab attention.
And then, one day the inevitable question popped,
"What am I waiting for?"
The mind was clear now. Absolutely no Confusion.
Very next moment, I created the WhatsApp group and added my friends. I remember the group title that we kept - "Let's get Leh'd".
The discussion continued for many days, but we were not quite getting anywhere as far as making a plan was concerned. And I was starting to lose my mind. With each passing day, difficulties started to show up. My friends started to back out and I was left with only one guy for this dream journey that all of us had in our minds for eons. One week later, he also took the exit door. I couldn't believe this was happening.
I knew one thing though. "I have to go, no matter what".
No I did not go alone (wish I could) :)
The next day, I happened to find another group with similar dream. Three of them – Hemant, Niranjan & Ravi based out of Hyderabad came in contact and this time it worked out pretty well. The day came and I arrived at New Delhi Airport with my big bag pack. I met my friends who also arrived at around same time. Below is the travel itinerary that we were supposed to follow,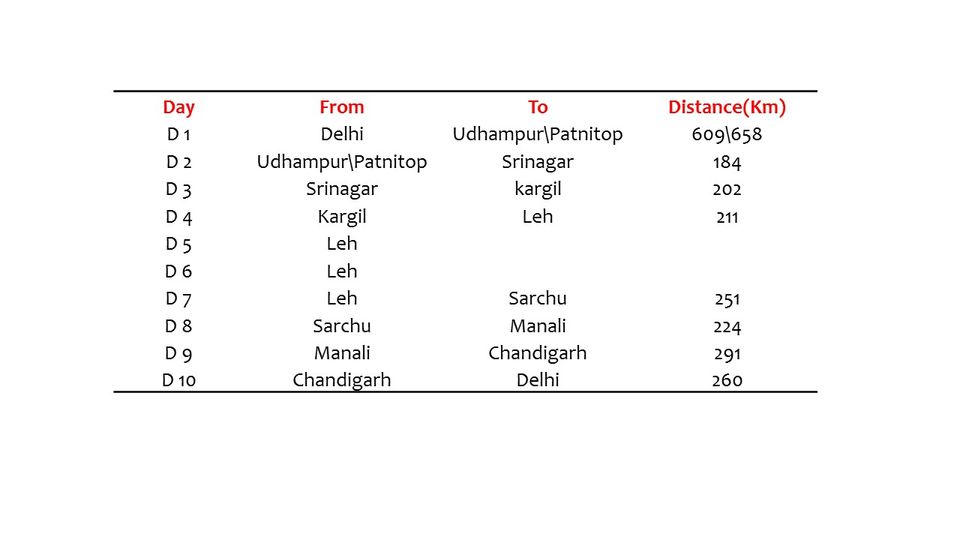 Ladakh or Leh, is famous for lot of things. To start with,
Breath-taking landscapes, high altitude passes, local people, their dialect and food, travelers seen cruising on bikes/bicycles, trekking camps, Buddhist monasteries, etc.
But as lovey-dovey as it may sound, let me also tell you the tough part,
- Rough roads especially on mountain passes (if you are not a professional driver, or haven't been used to driving on rough terrains, then maybe you should skip the idea of self-drive).
- No roads at some ghat sections. This one is doable, but tests your patience as you can't go faster.
- A risk of rock slides at any time. And yes the hills are not covered with trees, to provide any kind of obstacle.
- Lower oxygen levels, which may give you run for your breath. You can't exert or work much. Best idea is to sit at one place and relax as much as you can if you don't want to catch a headache, or get high altitude sickness.
- Extremely cold. This is the biggest hurdle. Even 2-3 layers of pullovers or jackets might not help.
The places in Leh, to look forward to are Nubra valley, Pangong Lake, whole lot of Buddhist monasteries and the stunning mountain passes. But to zero down to select few places will not be fair. These are just some destination points where people cruise on their bikes, cars or bicycles to reach. But the road itself to Leh presents many scenic encounters and eye rolling visuals. For us, it was Srinagar and Sonamarg from where all the fun began. All this while in Punjab, the weather was scorching. The moment we entered Srinagar and then Sonamarg, the temperature dropped almost exponentially, as if we have been pushed inside a refrigerator.
Nonetheless, the breath taking landscapes, lush green mountains, residential houses with people looking out of their window frames, and all the shops lined up to sell jackets, pullovers and gloves, kept us captivated. We also witnessed Army trucks parked or moving on road.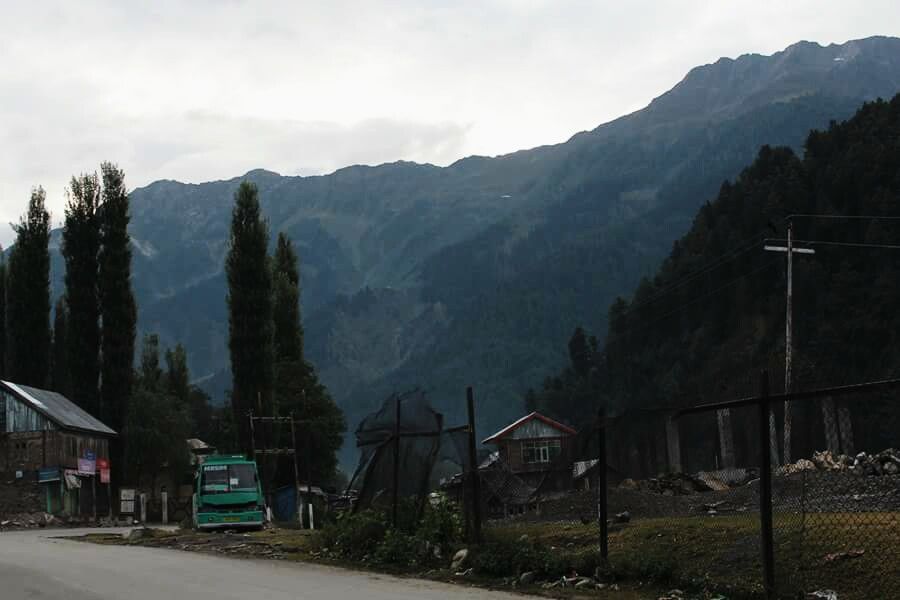 *The above picture is taken at Sonamarg. A beautiful small hill station you reach after crossing Srinagar. The start of a splendid road ahead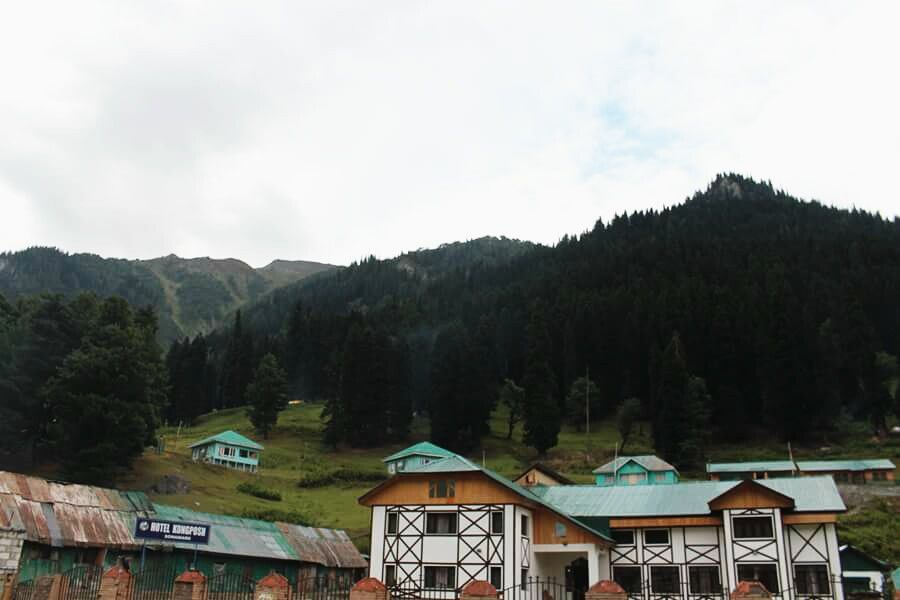 *Sonamarg again, the houses and the people on the road side looked so little in front of the gigantic mountains. It gave a feeling that how trivial we humans and are problems are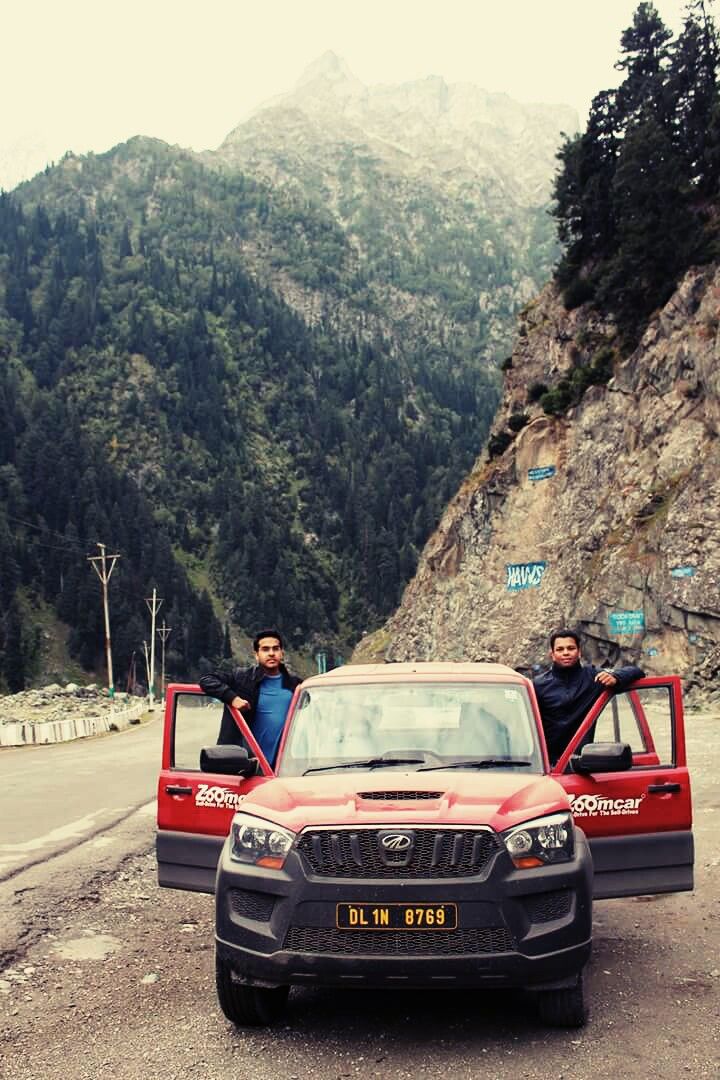 *That's Niranjan and Hemant with the Scorpio from Zoom cars. We stopped to take some snaps of the dashing red colored SUV, while getting out of Sonamarg. This vehicale had indeed saved our lives in many occasions.
As we drove ahead, we crossed Dras and Kargil sectors. Indian Army is ruling these places. Green colored trucks are seen transporting supplies and army jeeps patrolling all over. Kargil as you would remember, is the place where the 1999 armed conflict with Pakistan army took place. The area is highly sensitive as terrorists sightings is a common phenomenon.
One thing is certain about these two places if you spend time here, you will feel the pulse of patriotism vibrating in your blood stream.
While we were moving in Dras area, we stopped at one of the base camps to look at it from a distance, and what a mesmerizing view it was. The base camp was located on an open land area, between two hills in a very civilized manner. The houses, garages and warehouses looked small in size and all could be seen at once. It was morning time, and the sunlight was not touching the camp due to the hill, but could be seen moving gradually towards the camp, as time progressed.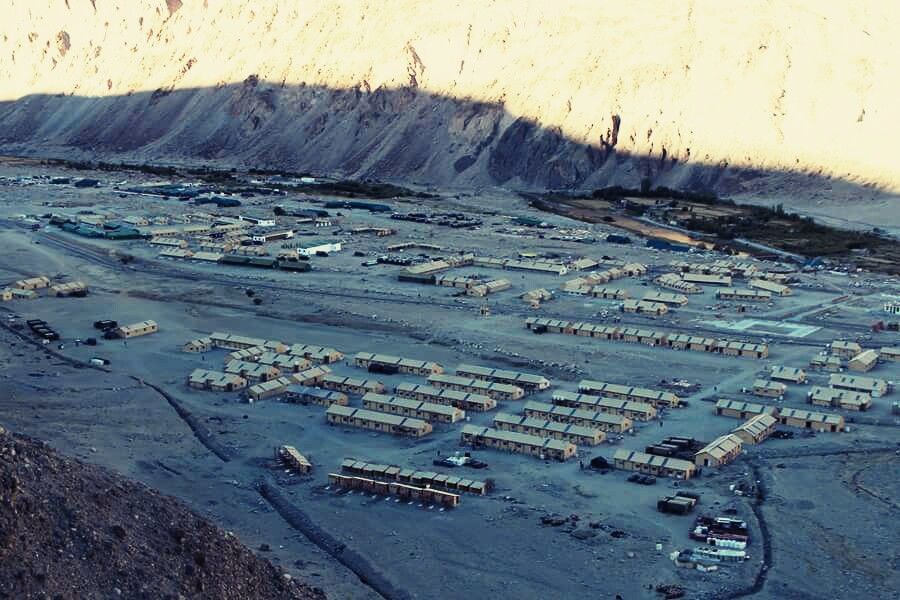 *Army base camp at Dras sector. A big salute to all our brave soldiers and the strength they display. Proud to be associated with such a powerful army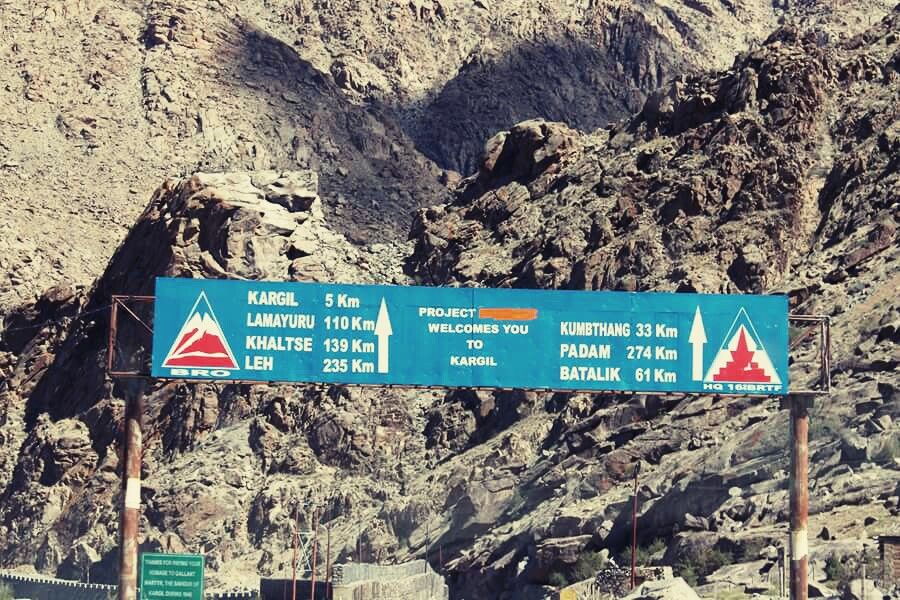 *Post Dras, on our way to Kargil. Was eagerly waiting to see the war memorial that we had heard about
We were moving with quite a speed, and within no time we entered Kargil sector. The roads improved, driving became a leisure experience, and the Sun had come over our heads. Our eyes started searching for the war memorial and alas, there it was. Heart started throbbing faster as we parked the vehicle inside. Finally we were at the war memorial.
War memorial looked wonderful, but this one scene blew my mind and my heart skipped a beat the moment I saw it.
Have tried to capture it in a picture, but watching it live takes it to another level.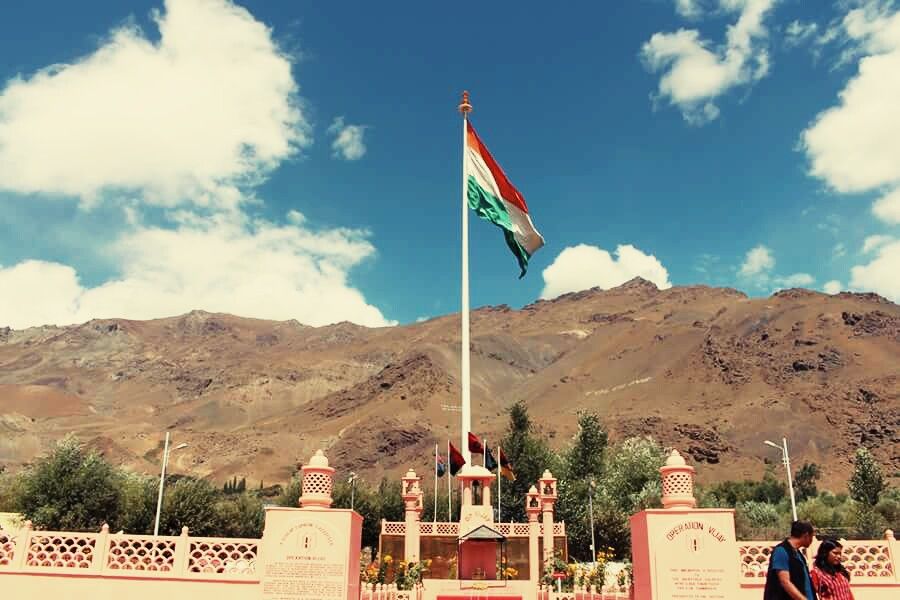 *The Indian Flag fluttering in the air at the 'Kargil war memorial'. Truly a mesmerizing moment when I saw it live with my naked eyes. The hill which you can see at the background is 'Tololing'. One of the hills that Pakistan army captured. Tololing is also written big in white paint on the surface of the hill. Can you see the hazy white text?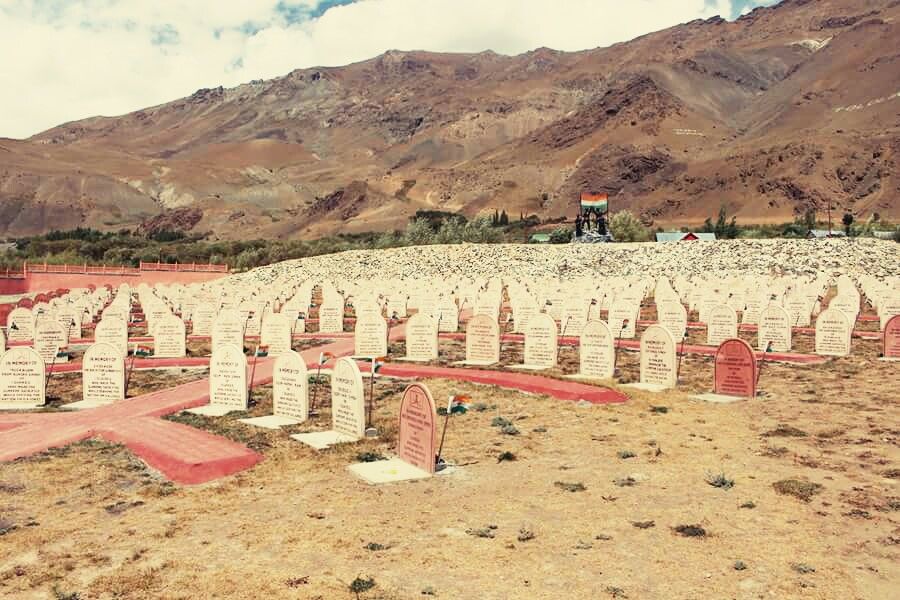 *The graves of all our brave soldiers at Kargil war memorial, who laid their lives combating against the Pakistani army in the Kargil sector. It was called 'Operation Vijay', and how it's such an apt title as we went on to defeat and re-capture enemy posts
*Video taken @ Kargil sector. Check out the army vehicles moving so boldly one after another.
After crossing Kargil sector, we crossed many valleys and ghats before reaching Leh. One mountain pass that has remained prominent in my memory is the 'Khardung La pass'. It presented lot of challenges, one of them being its altitude and the oxygen levels that practically didn't exist. We started taking deep breaths, but it was difficult. I remember having developed headache and nausea. At that moment, I was only praying that somehow I make it to Leh in a sane condition. It so turned out that I was wrong.
Nonetheless, we had fun. Wasn't that the agenda?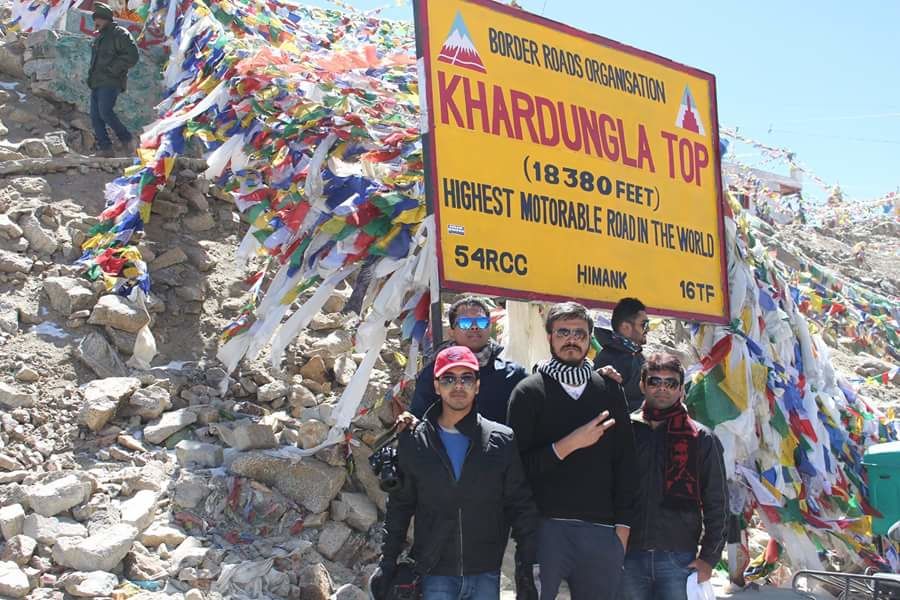 *Khardung La pass. Claimed to be the highest vehical access point, 18380 feet as it is boldly written. And yes, that's me in the center with my friends, looking all normal on the outside, but with uncomforting health situation. Oh, did I mention, it was around 5-6 degree? Yes it was cold and quite getting unbearable as the day progressed towards dusk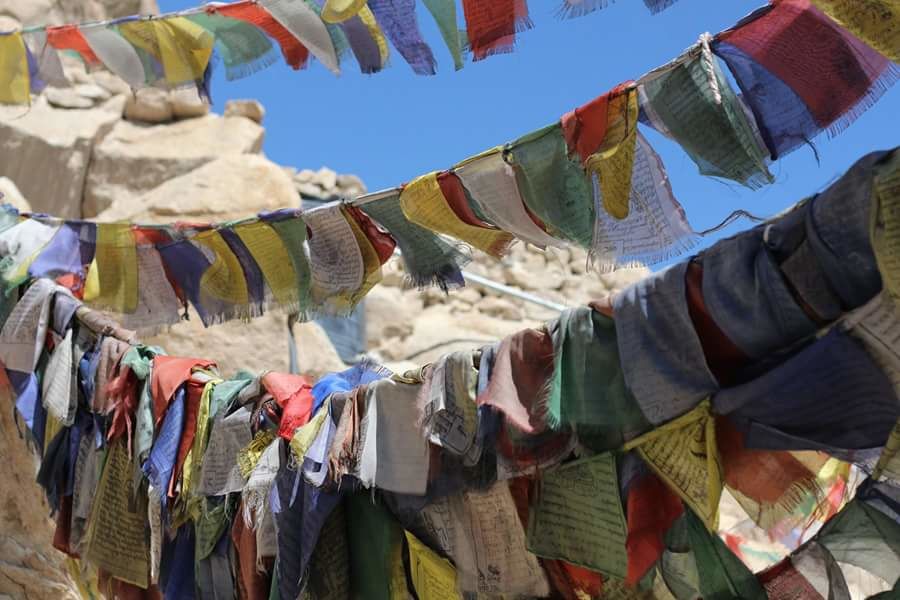 *You might have noticed these hanging flags in the earlier picture. These are 'prayer flags' that local people hang in their houses, temples, monasteries, shops, vehicles, and on almost every possible thing that they could find. A Buddhist ritual and a way to offer prayer to Lord Buddha
I remember one unexpected incident that happened with us while we had almost reached Leh (some 25 kms more to cover). The sun was down, it was dark and we were moving downhill with only our vehicle headlights as source of light. The ghat had already drained us, and under no circumstances we were asking for anything adventurous, least of all our vehicle breaking down. And guess what, that is exactly what happened.
All our dreams of reaching the hotel fast and crashing on our beds, were thrashed.
We had to stop the vehicle as the engine got heated. And after checking, we found that the coolant was over. Huh! Why on earth did that happen? Coolant doesn't get over in just three days of drive. It's a rarity. But it did. All I can say is, you can imagine the road we experienced. Even the powerful scorpio had to plead for mercy. :(
Anyways, wish I had a picture of that moment. It was dark. We could see the stars from the inside of our vehicle. We couldn't go and remain outside for long as the breeze was chilling and frightening. After a long wait of around 1 hour or so, we started our vehicle and reached a fuel bunk.
And then we finally reached our hotel in Leh at around 11 pm, followed by some fine wining and dining. Post which we had to call it a day. Phew, what a day it was.
Next day we quickly dressed up, had our breakfast, and marched towards Nubra valley. We were told by our hotel staff to not miss Shey Palace and Thiksey Monestary which were to fall in our way.
Shey Palace was a simple place. It had multiplicity of houses coming together to give a very raw look and feel of the place. Yet, it offered some great architecture work, especially the Buddha Statue inside, and the dragon effigy. There was a roof top as well, as you walked up the stairs. Wind blowing strong and people taking photographs. You could see the whole of Leh from there. The view inside the palace, and from the palace was both mesmerizing.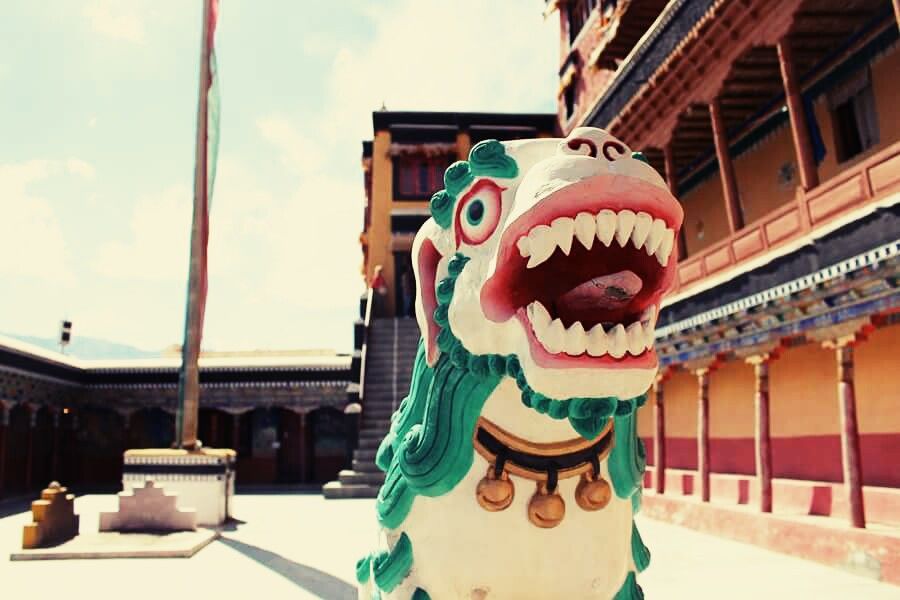 *Shey Palace in Leh. Beautiful architecture, eye catchy art work on walls, a riveting statue of Buddha inside and local people and Buddhist monks sitting casually and not seen to be speaking much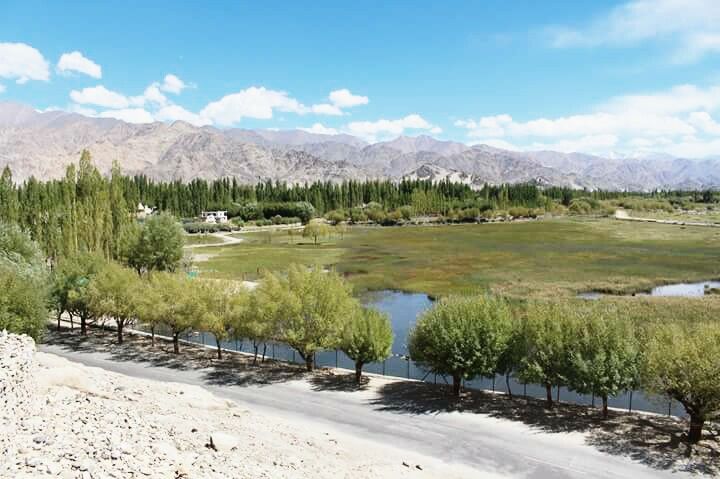 *View from Shey Palace. Can you notice the deserted mountains? I hardly saw any trees on them
*Thiksey Monastery – Another marvel with unbelievable architectural achievement. Almost similar like Shey Palace, but this monastery was bigger I believe. We just glanced at it on the crossing. Did not stop and spend much time here. Had to reach Nubra valley on time
So we headed towards Nubra valley. Had heard a lot about the place, especially the sand dunes and the Diskit Monastery. The plan was to go there, stay overnight, do some bonfire with drinks, and then leave for Pangong Tso next morning. The road was great, oxygen levels were less, and weather was warm. We had hired a vehicle from local tourism agency, to visit all the places in Leh which is a compulsion actually. You can't roam around in any other hired vehicle. If you do, you may face confrontation.
So we were all stacked inside an Innova driven by our driver who had a very unusual name. Amm, I don't quite remember. Oh yah, 'Lotes' (like the flower lotus, but pronounce it with 'e'). He was a ladaki, as the local people are humbly called. We had booked him for 3 days.
After 3-4 hours of drive, we finally reached Nubra. And our eyes popped out of amazement!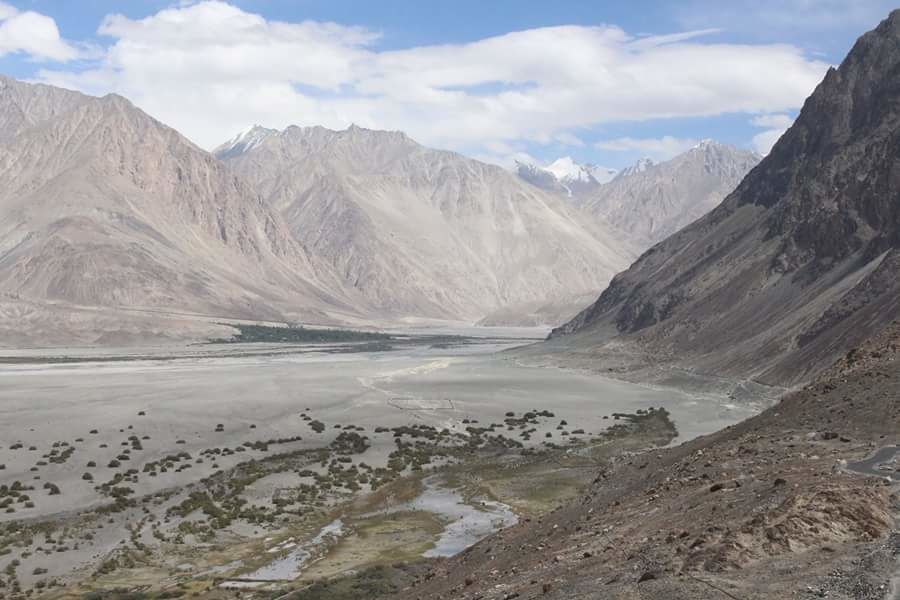 *Nubra Valley – A heaven like place covered by hills and sand.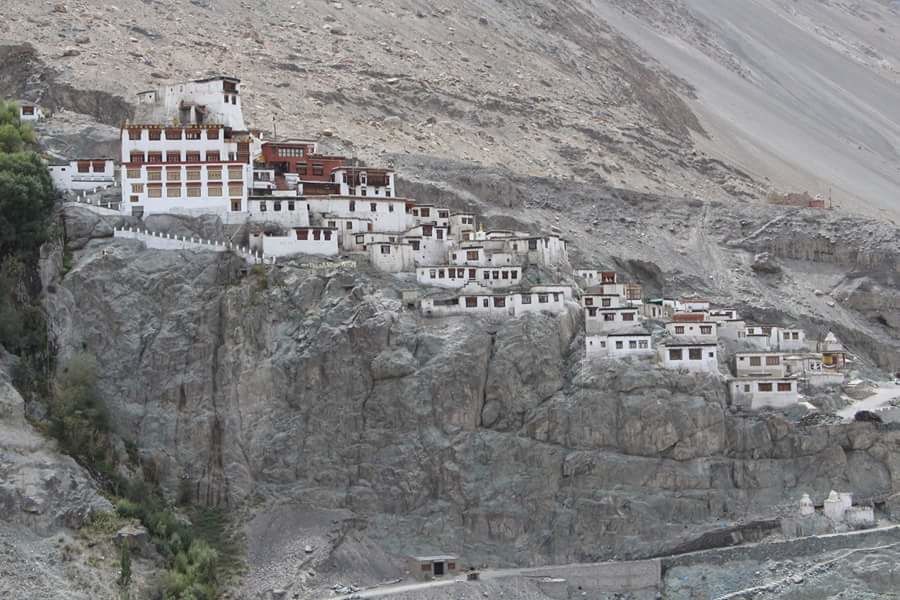 *We spotted houses in Nubra valley. Hats off to people who manage to live in such harsh conditions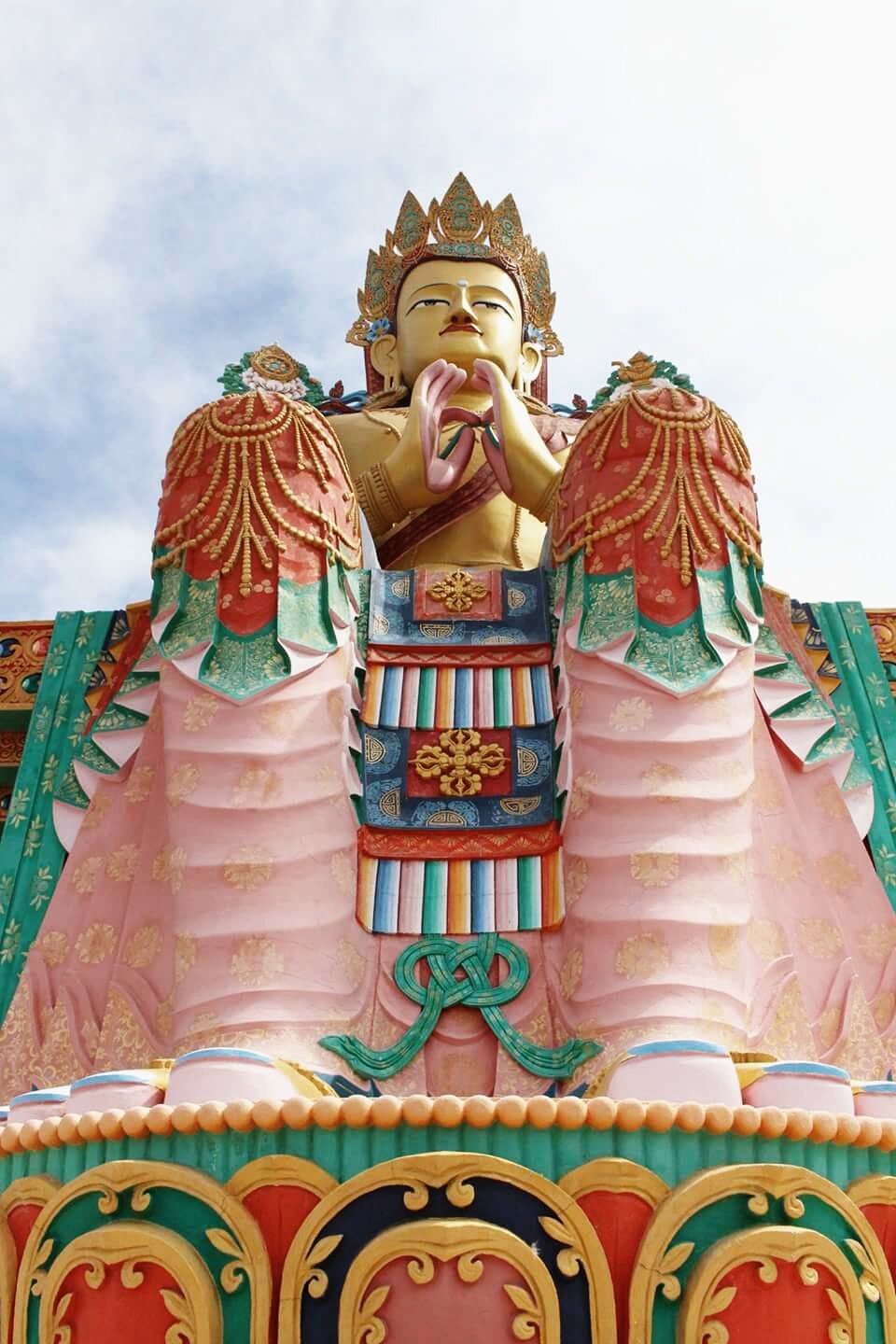 *Buddha Satue @ Diskit Monastery - This was the most amazing thing I saw in Nubra. A big Buddha statue in the monastery, which was placed in the center. The statue was around 25-30 meters. Yes it was huge, and you will not believe your eyes when you see it. The thing that caught my attention, was the appearance of the statue. It was not the usual Buddha where he is draped with orange robe and shown as a sage. This one depicted his princely days when he was ruling the kingdom in Kapilavastu (now somewhere in Nepal)
After Diskit, we headed towards Sand dunes. This had got the most hype of all. Though all of Nubra was covered with sand, but this particular place had it in enormity. And there it was! We had reached the place. Sand, sand and sand everywhere complimented with some trees and a small river making its way through. We parked our vehicle and just roamed around casually.
Within no time, who went where and when, I couldn't tell. That area was so huge, that people were just strolling and getting away from each other. I could see my friends Niranjan and Ravi far away in the sand doing photo shoots, while Hemant could be seen running towards the trees. Maybe he spotted some scene there, to be captured.
And I kept looking at the mountains and the thick bed of sand that lay at the bottom, subtly also hearing the sound of water coming from the flowing river.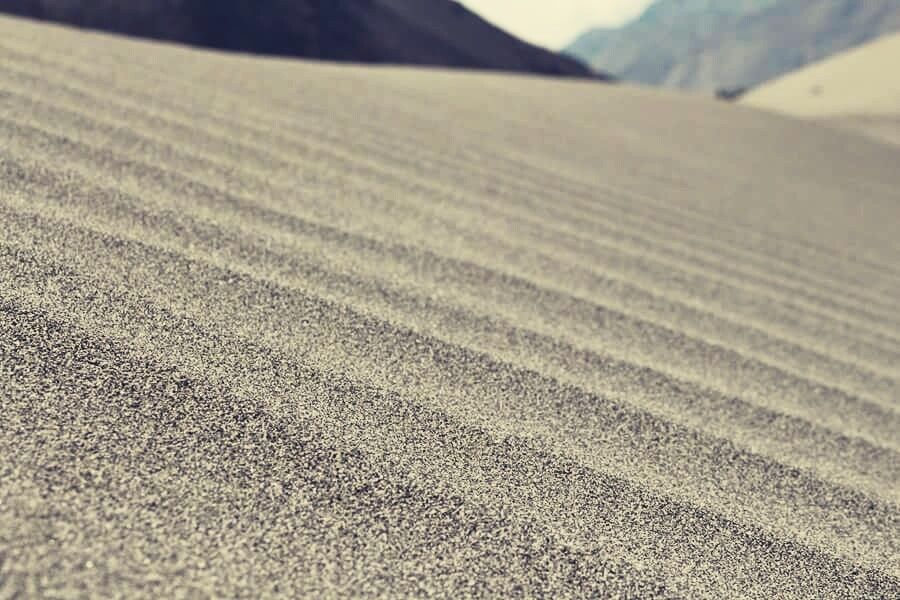 *Sand Dunes at Nubra. It was an unusual experience. People said, the sand desert was the result of wind cutting the mountain rocks finely, and the cut particles accumulating at the bottom as sand. Interesting right?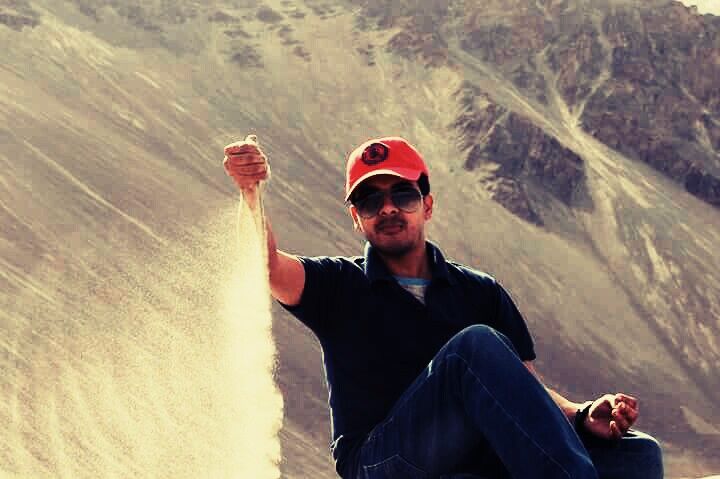 *Sand Dunes – Niranjan just checking the wind direction I guess, and Ravi capturing it just right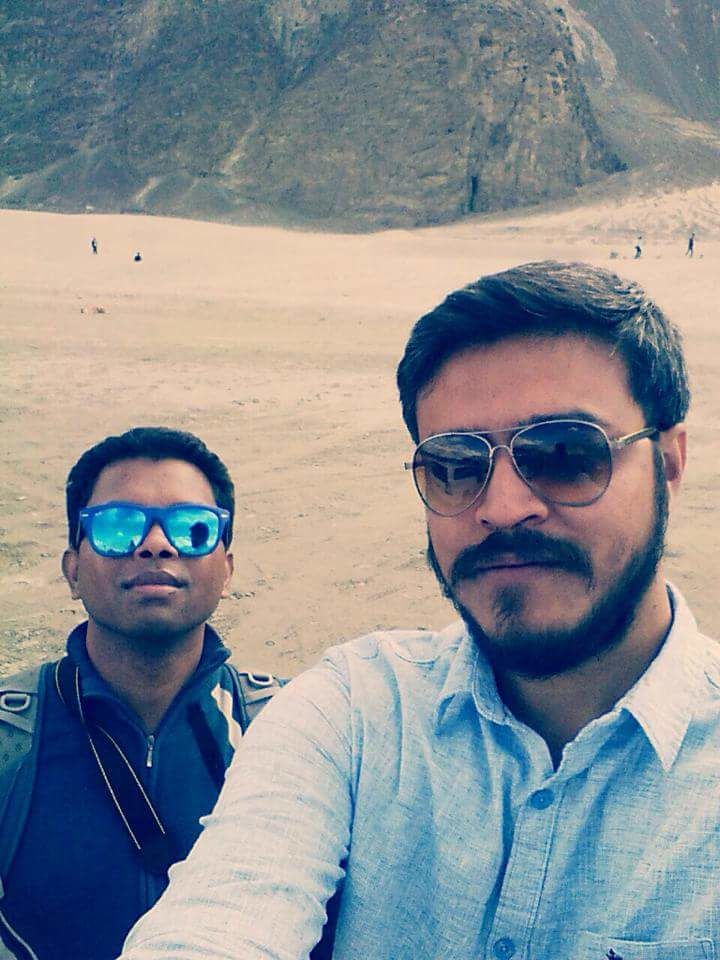 *Hemant & me. Finally managed to get hold of Hemant for one selfie. Looks like some other planet we have landed onto. Isn't it?
*Nubra. A silent valley
That night we spent in one of the camps in Nubra, listening to music, talking with people, drinking, and soaking the heat from the bonfire. It was cold, and we were all wearing our jackets, gloves and yet shivering a bit. Maybe we needed two three more pegs of whiskey ;-)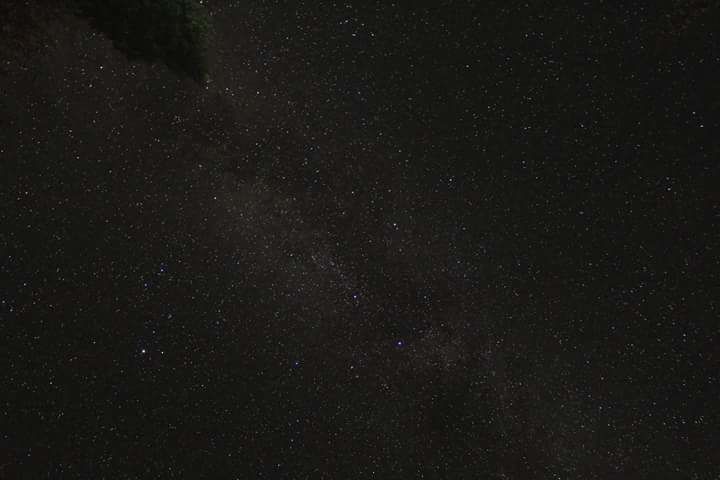 *That night at Nubra camps, we witnessed a clear skyline. The stars were sparkling bright, creating a spellbinding visual. Keep scrolling down this blog, to see an unbelievable feat that we achieved with the stars at Pangong Tso
Pangong Tso was our next destination, around 200 kms of drive, and as planned we left Nubra camps next morning.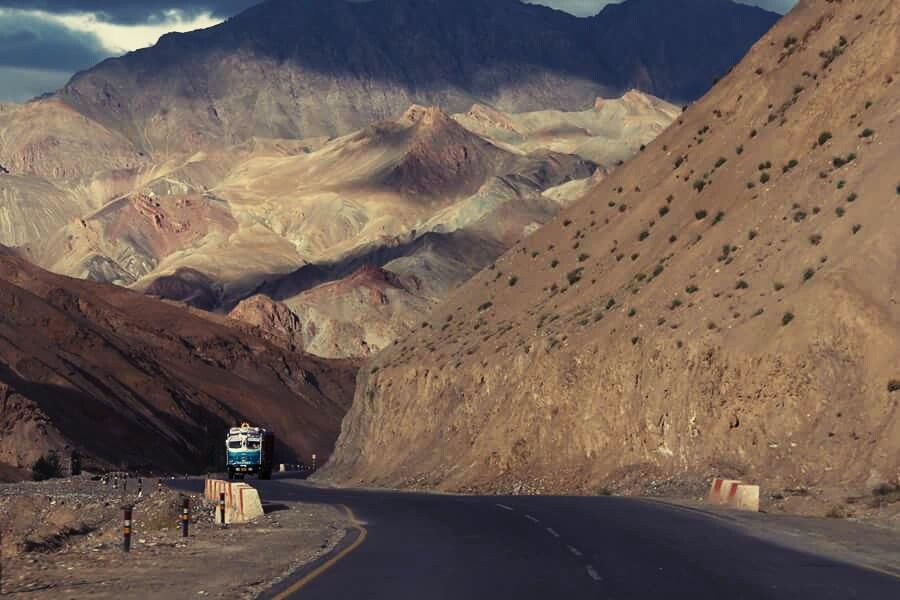 *Somewhere on the road after crossing Leh. We were heading to Pangong Tso. And yes it was a stormy day, with dark clouds covering the sky. The tenor was evil and frightening, if I have put it bluntly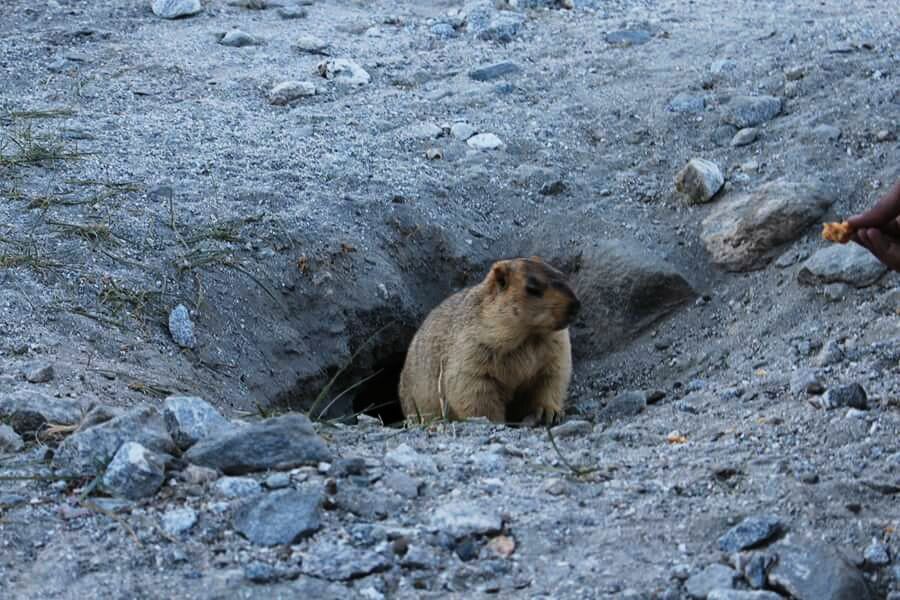 *A very rare breed of animal we found when we reached close to Pangong. It's called the 'Marmot'. These creatures are only seen in mountainous areas
We reached Pangong Tso at about 7 in the night. It would have been 6-7 hours of drive through hilly terrains and rough roads.
Pangong was extremely cold, because temperature being one thing, it was windy too. And it was when we reached there, we realized that Nubra was nothing when it came to cold. Pangong took cold to another level, and used us 'humans' as test cases.
Except Hemant, who went on to declare that he wanted to take bath as he was tired from the road journey. On hearing this, we were like "What the…?"
He was not quite listening though and was adamant, but eventually he changed his mind as he realized the unkind atmospheric condition and the camp staff throwing all possible reasonable questions at him. I remember one of the staff people asking him "Bhaiya, paagal ho gaye ho kya?" Translation for our English readers, "Sir, have you gone mad?"
As the night progressed, the sky went darker, the wind came stronger, and my friends took out their cameras. It was time to try some photography skills with the stars. The thing which my friends could not achieve in Nubra, they were confident of achieving it here in Pangong.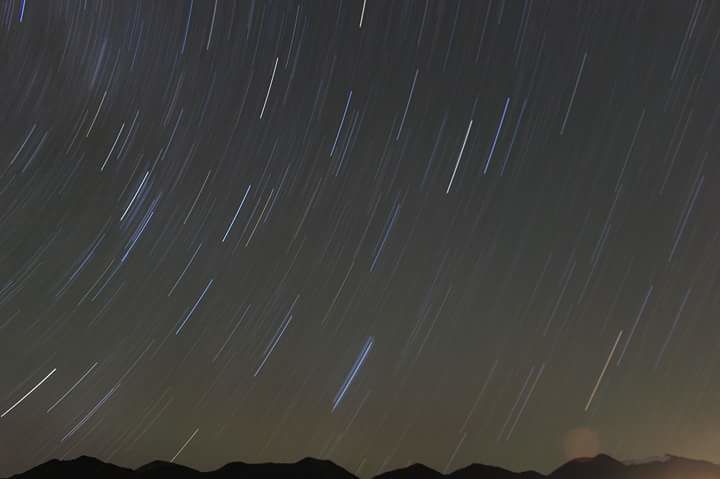 *So here it is. Star trailing @ Pangong, captured from our cameras at night. This happens when you capture the path of a star by lowering the shutter speed of the camera. You can google it to know more on how it is done. Can be a bit challenging for me to explain this technology :)
The cold was unbearable and we were continuously sipping on tea, and handling our cameras at the same time. The tea was not helping us enough but. We needed something heavy and strong than that. But unfortunately we couldn't get our hands on it anywhere in Pangong. I hope you guessed what I am referring to here. ;-) I leave this space for your imagination and guess work.
I do remember my situation, it was not good. I was stuck to my chair with both my hands inside the jacket pocket and the fast teeth-biting making sounds like a woodpecker pecking a tree, while I gazed at the stars. The situation was not convincing and I decided to sleep off as I could not take the cold anymore. Also the thought that I have to see the lake next morning, drove me to bed.
And the next morning, presented such enchanting scene which reinforced this belief, that god do still exist in some parts of this world.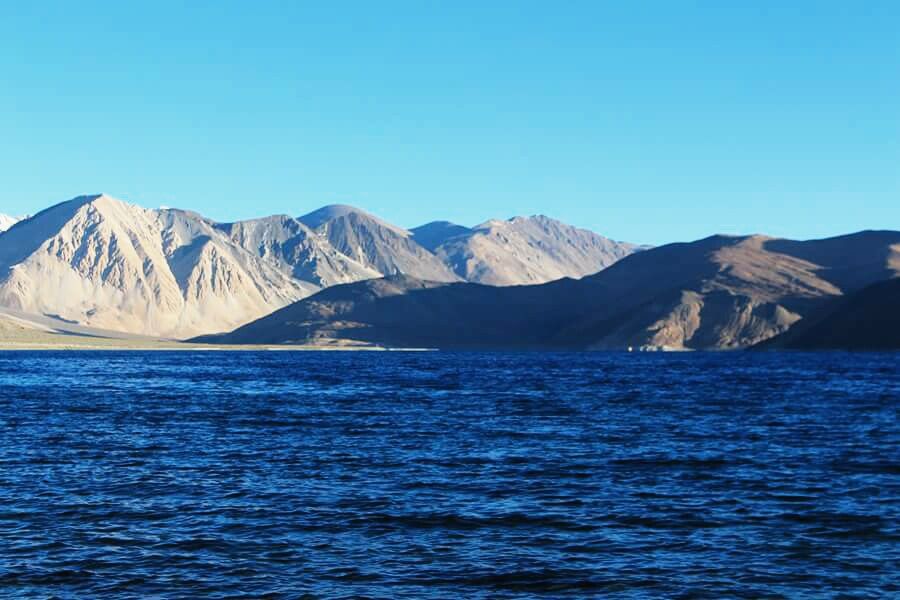 * Pangong Lake next morning. 25% of this lake falls under India, 75% under China. I was speechless!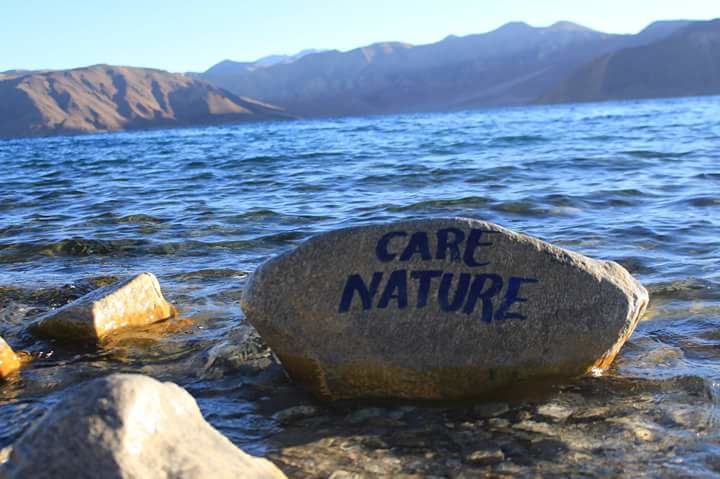 * Do we?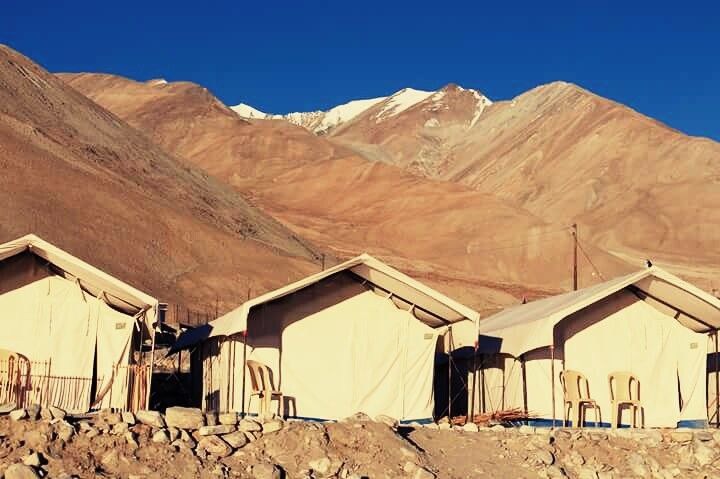 *Our camps at Pangong. It was freezing cold and I remember having bread omelette prepared with local spices/flavours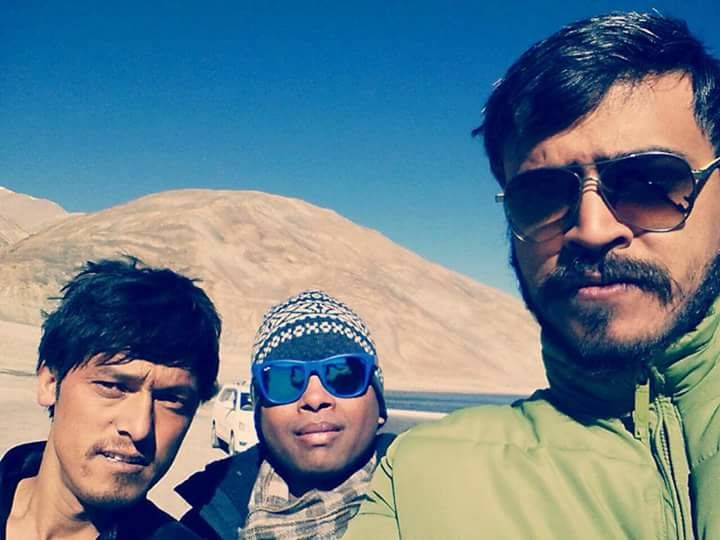 *That's Lotes (our driver), Hemant and me. Picture taken near Pangong Lake
This was it. Time had come to march back home. We were back at our hotel in Leh at around afternoon and switched back to our Scorpio. It felt good to come back at the driving seat as we said bye to Lotes and the hotel staff.
Our return journey was via Himachal and Punjab. We were to cross Lahaul Spiti, Sarchu, Keylong, Rohtang La and then finally Manali, before we were to enter Punjab. We had planned to take this route at a faster speed as we had ran short of time. But I am guessing god didn't like this plan of ours. We faced many obstacles, one of them being at Lahaul Spiti -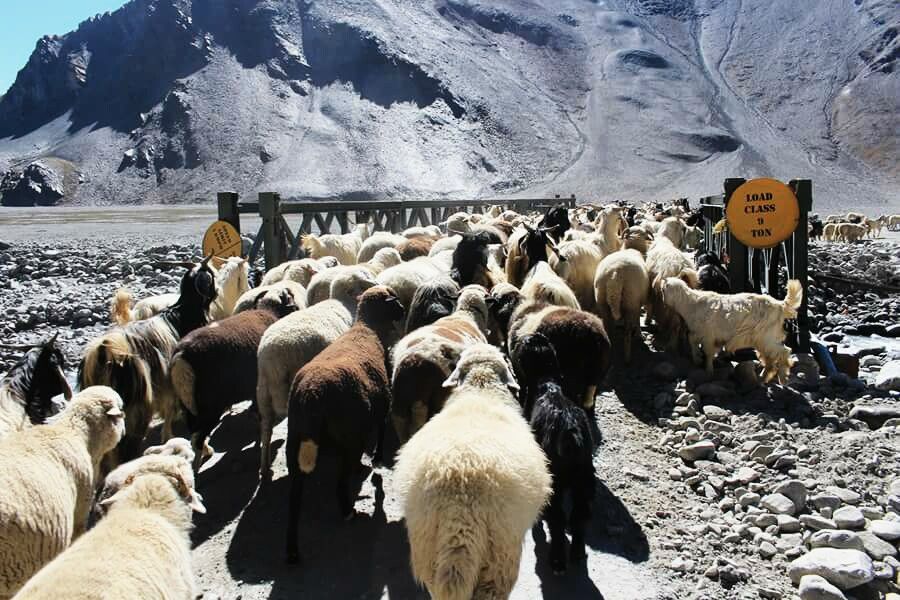 *Infinite number of Sheeps blocking our way. And we were stuck there for long. Slowly and more slowly, we moved. It was taking time. And while we drove, we also had to see the sheeps for their safety. This section was certainly taking time, but we kind of reassured ourselves that this is again part of the road, and we have to enjoy this. The 'scene' was unusual, getting added to the list of already so many unusual scenes that we had encountered in this trip
Eventually we crossed that section, and cruised along the road.
This route via Himachal is very memorable for two places which are till date stuck in my head, one is Sarchu (Jispa) and other Rohtang Pass.
Sarchu is a small village where we had to stay put at night. We managed to find a small camp placed on the lap of hills, where we spent our night and I remember hogging on that maggi like a mad man, because we hadn't eaten in a while. The place was windy, freezing, and was not some hanky dory kind of experience where you can roam around, chill out and enjoy the surroundings. It was brutal to the core and we had no option but to somehow try sleep off the deadly night.
Next morning we woke up. Yes we survived and I was glad. We were all inside our Scorpio, and before leaving I looked at the camps with those thankful eyes, and said bye. This camp was truly blessing in disguise.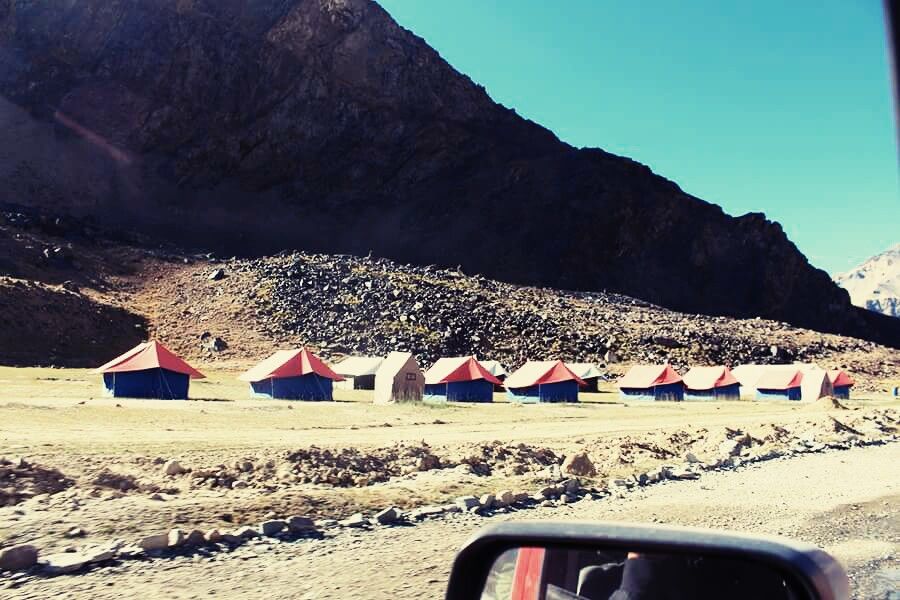 *Next morning @ Sarchu Camps. We were leaving. Goodbye and thank you for saving us that night!
After Sarchu, we crossed Keylong which was a beautiful scenic experience. We witnessed Snow Mountains, clear skies and trees. Yes finally I saw tree covered mountains. This was an indicator that we were in Himachal Pradesh. And yes, the place offered a lot of oxygen. It was like giving water to a person who walked a desert and was deprived of water for days. We inhaled and inhaled, and kept inhaling with all our capacity. :)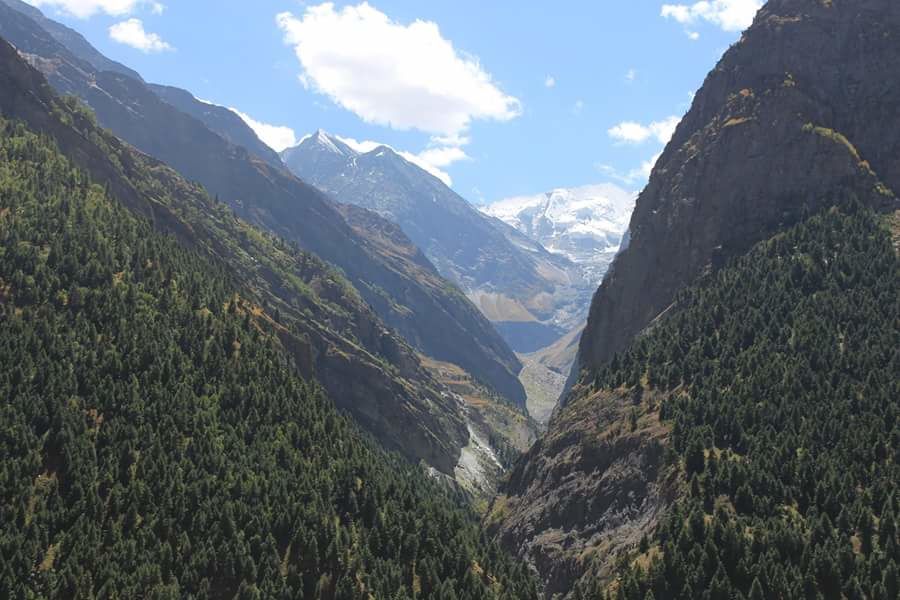 *Keylong. The tree covered mountains made my day
Rohtang was our next destination, and was not easy too. A narrow rocky road, and we had to drive uphill. It took us 5-6 hours just to cover some 20 kms. That time we understood the importance of the word 'patience'. After Rohtang, we then finally reached Manali, where we spent the night.
Chandigarh was our next pit stop day after, and then Delhi. On the 4th day of return journey, we were back at the same Delhi airport from where we had started 10 days ago.
We spent some couple of hours in the airport drinking beer and chit chatting, as we waited for our departure time. And when the time came to say goodbye, I could see the joy on everybody's face. A sense of satisfaction could be felt and a deep acknowledgement in our hearts that this adventurous road trip was not an end
but a start of, many more to come.
Frequent Searches Leading To This Page:-
Best Time to Visit Ladakh, Places to Visit in Ladakh, Best Tour Packages for Ladakh, Top Ladakh Tour Packages for Family, Top Ladakh tour packages with price, Budget Trip Packages for Group to Ladakh, Things to do in Ladakh, Ladakh Holiday Tour Packages