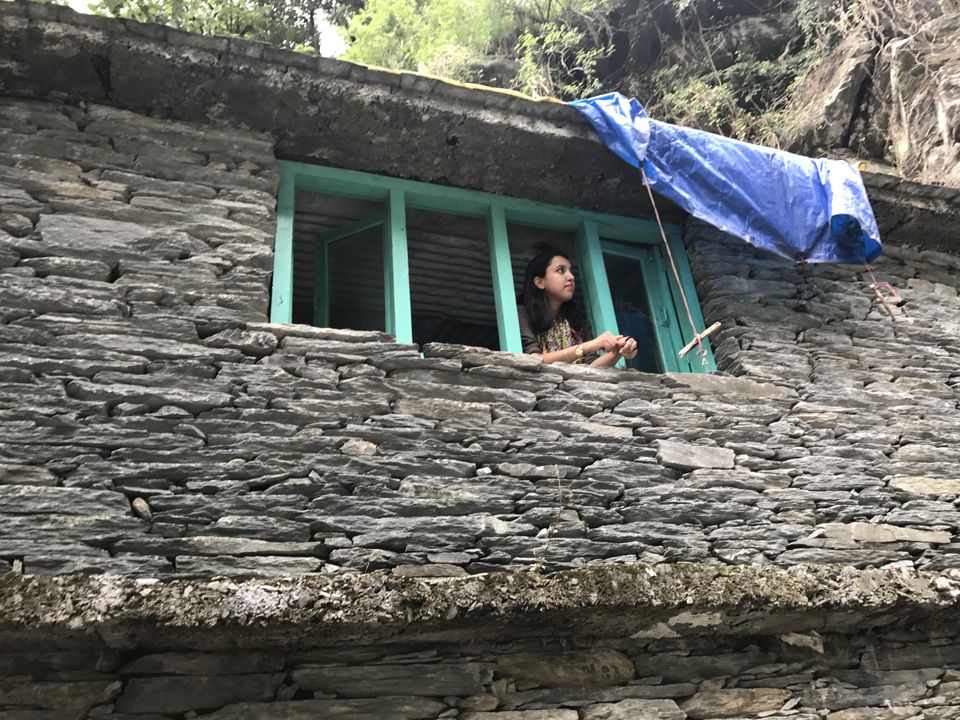 If trekking is not your type of vacation, McLeodganj still has abundant vacation chill for you. The Triund Trek is very popular amongst trekkers which offers scenic view of Dhauladhar ranges but McLeodganj is not just all about it. A small quaint hill town bustling with tourists definitely has it's charm which attracts all kind of vacation seekers to this place.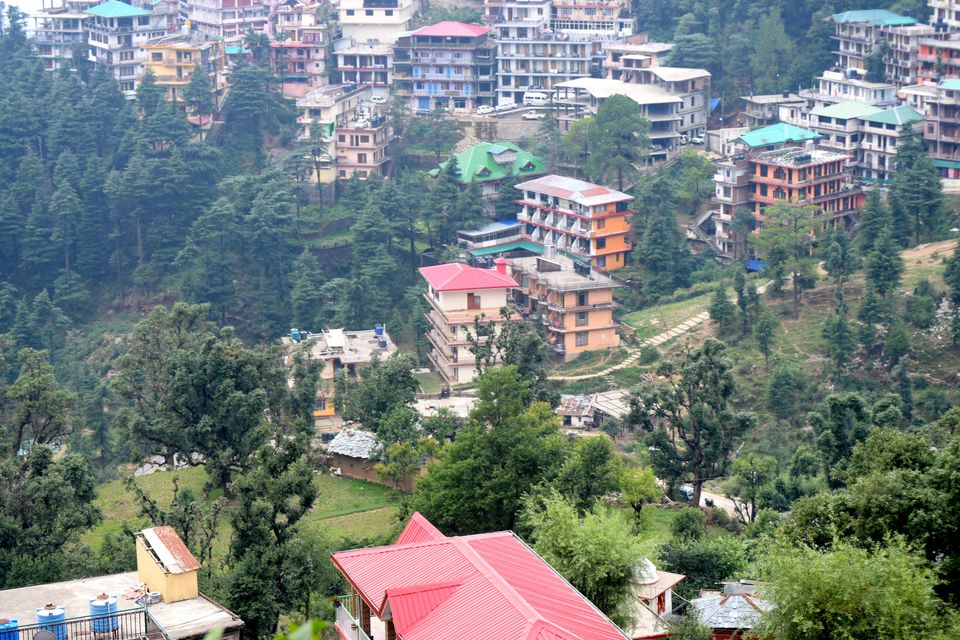 Day One 23.06.2017
After walking down for around 10 minutes shops on either sides of the road marked the beginning of the McLeodganj market. The shops are so decked up with colourful artefacts, decals, woven textiles, handmade prayer posters, bells, clothes and all sorts of jewellery that it looks like a fair. Walk along the road to see this beautiful stuff and you may pass by a couple dozen monks on the way. The vibe of the place is rather pleasing inspite of all sorts of sounds here. I guess that is what makes the mall roads of hill towns so special.
The Kalachakra Temple is situated in the main street itself and is a beauty to look at with all the intricate and colorful work on it. Rolling the prayer wheels and making a silent prayer I was out looking for food options.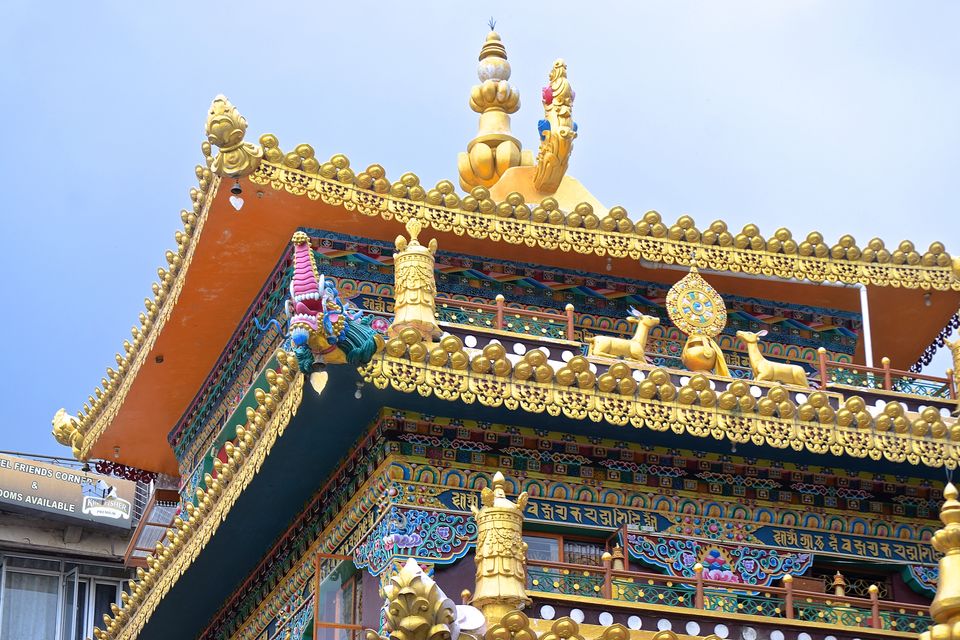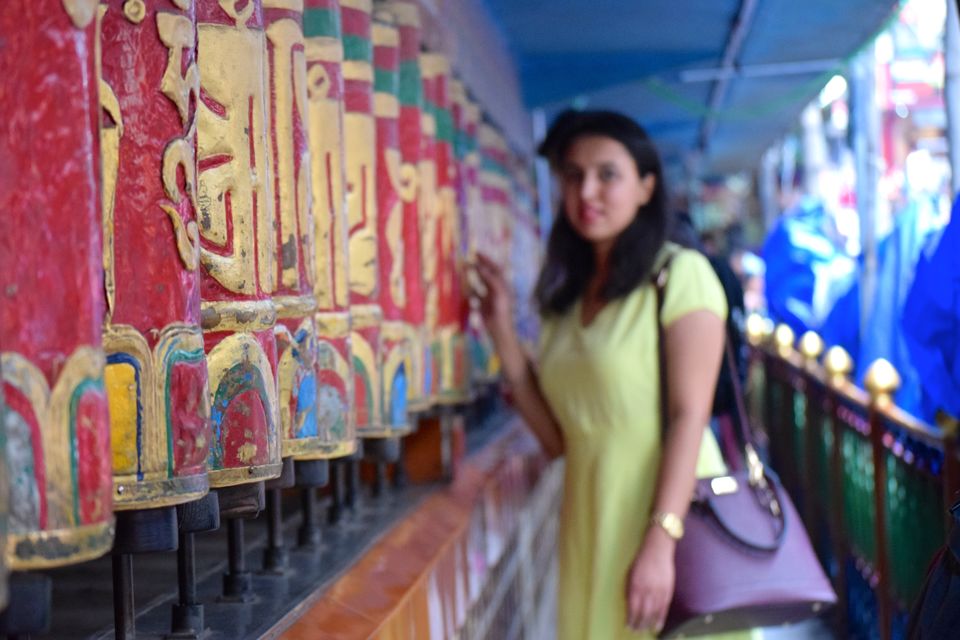 At a stall, a lady was busy spreading hot sauce on something that looked like an omelette and I went to her but both of us couldn't understand each other's language. The owner of the nearby shop was generous enough and translated our entire conversation. It was a vegetarian spicy snack called 'Laffin' and I would recommend it to everyone who loves spicy snack bites. After checking out a few cafes I settled on the one playing live music and it turned to be a very memorable and extravagant experience. "The Cafe"(which also happens to be it's name) serves delicious non vegetarian food, has a live band playing the most nostalgic songs, serves Bira (which is not available everywhere yet), and has a lovely woman as your host. All this gave me enough reason to wind down the day with gratitude towards the place.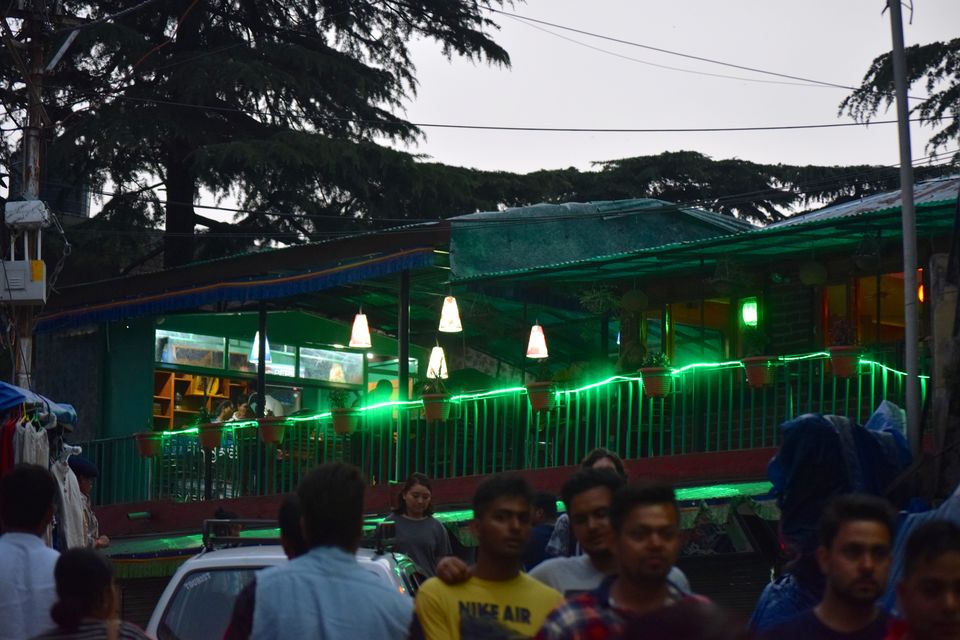 Day Two 24.06.2017
I am quite obsessed with my morning tea which sets the energy of the day. A high point for me was having my morning tea out in the hotel balcony with splendid views of the high mountains and weather Gods were generous enough for the drop in temperature. Plan for the day was Shiva Cafe.
After getting ready I ordered breakfast at a 'Chilly Beans" which didn't turn out that great for extremely slow service. Spirits high, time for Shiva Cafe! It's a small cafe with hills onto one side and waterfalls on the other, which sprinkle a fairytale charm on this little man made pretty hideout. The walk from Bhagsunath to this cafe is just 1.3 km and can be a tad tiring owing to the terrain but it's completely worth the effort.
"Life shrinks or expands in proportion to one's courage" and this dose by Anais Nin, which I am glad I read somewhere, was what took me to me to a thrilling experience. Just ahead of Shiva Cafe lies the purest version of Bhagsu waterfalls with fewer people. You obviously have to jump on and off huge rocks for getting there but if you really want a little solitude and want to gaze at the generous beauty of nature, take that leap and happiness is bound to come.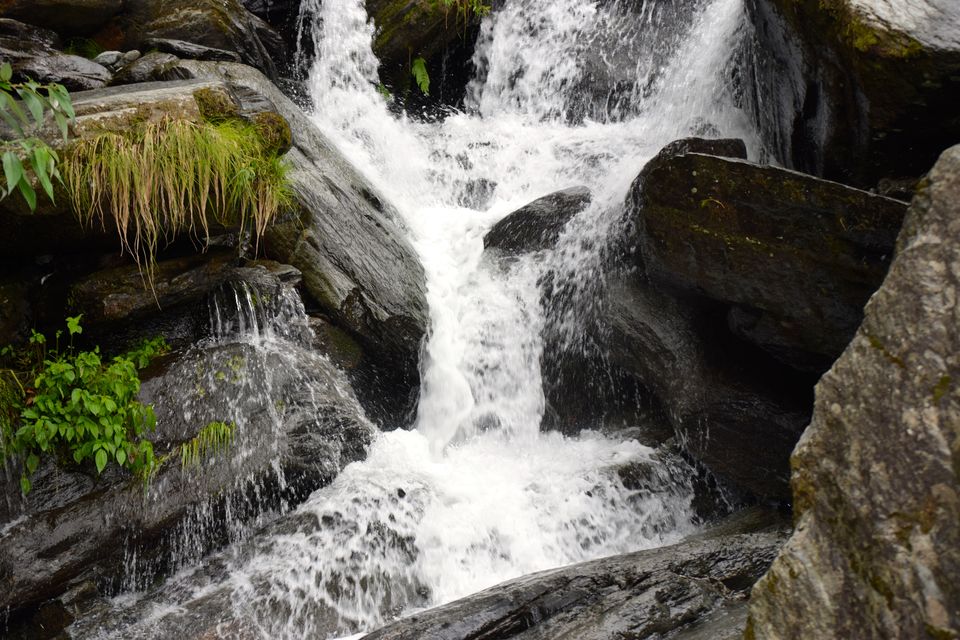 Shoes that won't slip are essential for the climb, and carry your drinks along because it's the most chill place to enjoy them. Just be considerate enough to give back to nature by bringing down the waste plastic back to town to dispose it off. After heading back to the hotel, it was time for relaxing the sore muscles. A stroll in the market and dinner at hotel marked the end of the day. A glimpse of the climb and time spent gazing at the bounty of nature: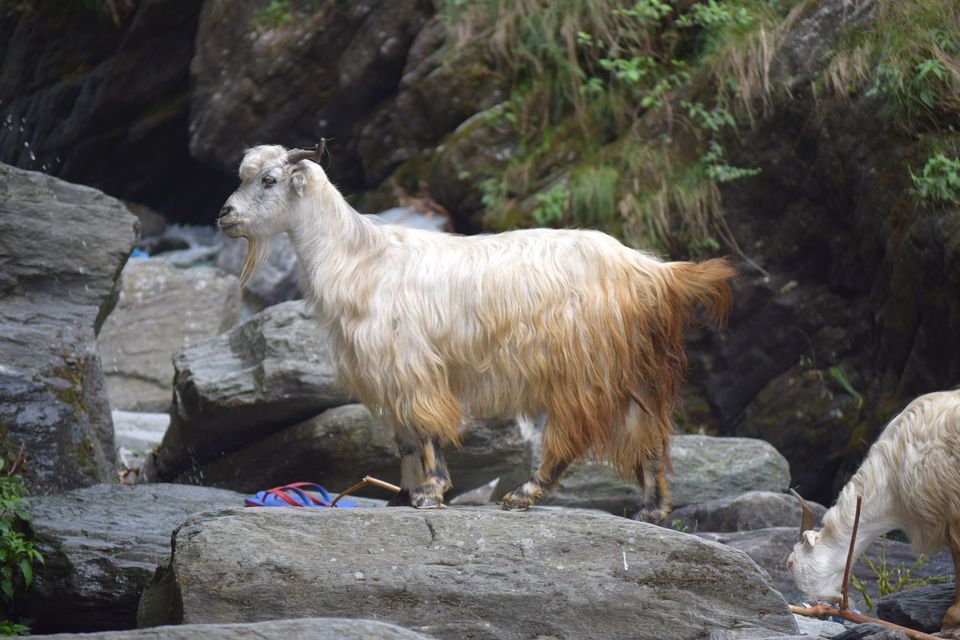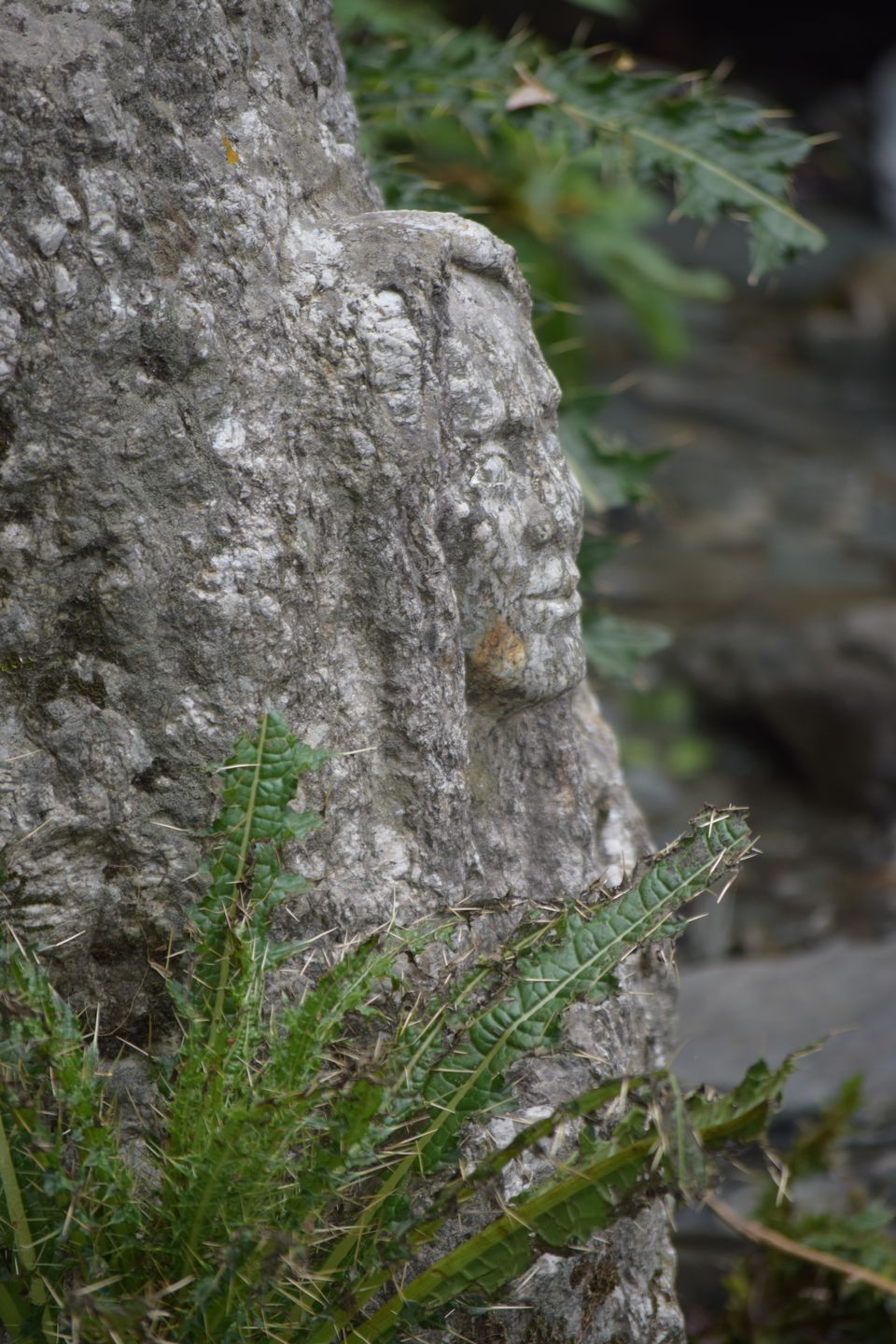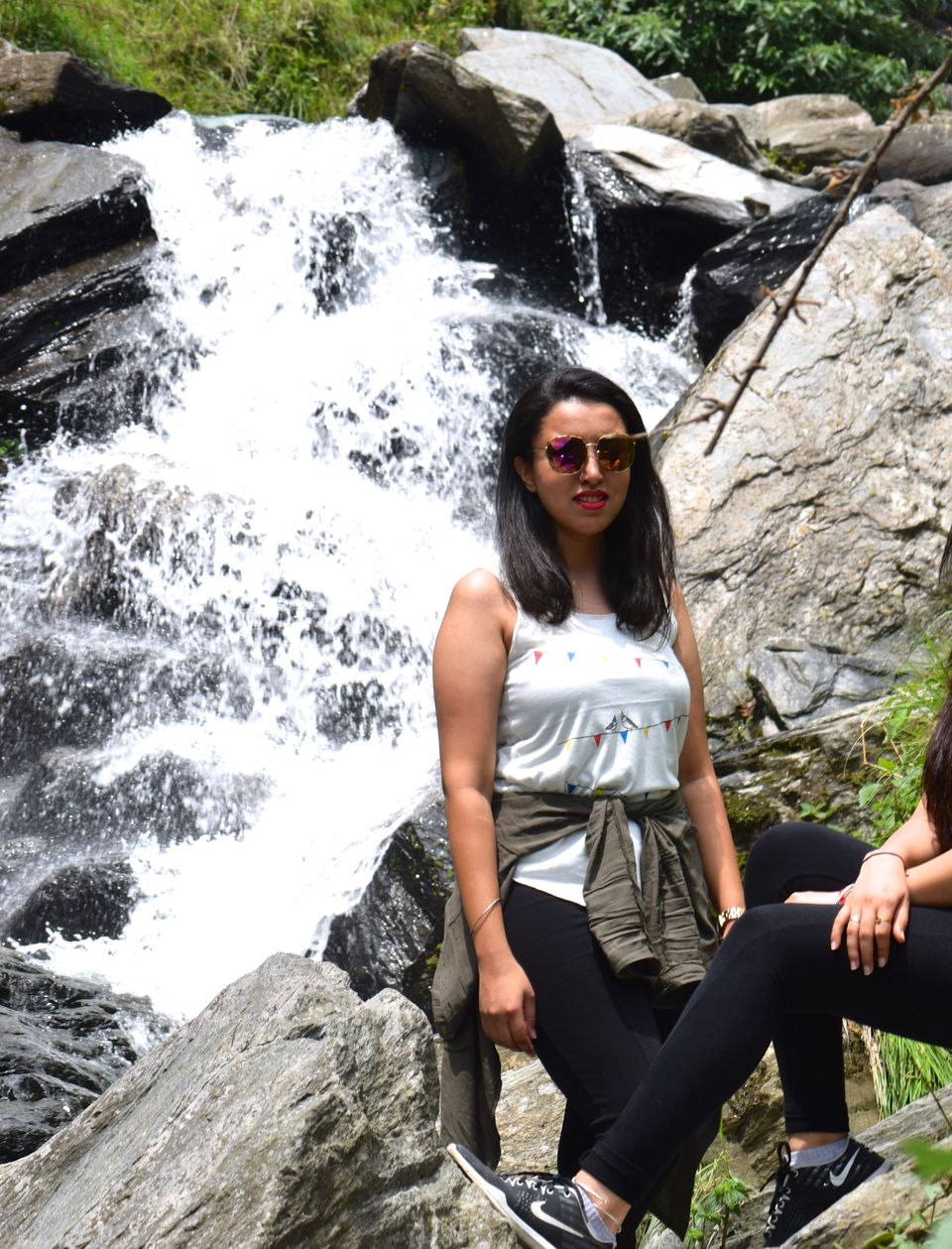 Day Three 25.06.2017
Little Lhasa or Dhasa are other names for McLeod Ganj, because of its large population of Tibetans. The abode of His Holiness Dalai Lama, this place also houses Namgyal Monastery and Tibetan Institute of Performing Arts. The Tsuglangkhang Temple or the Dalai Lama's Temple is the most important Buddhist place in town. Rolling the prayer wheels in clockwise direction is believed to be equivalent to saying thousands of prayers, and I found it rather calming.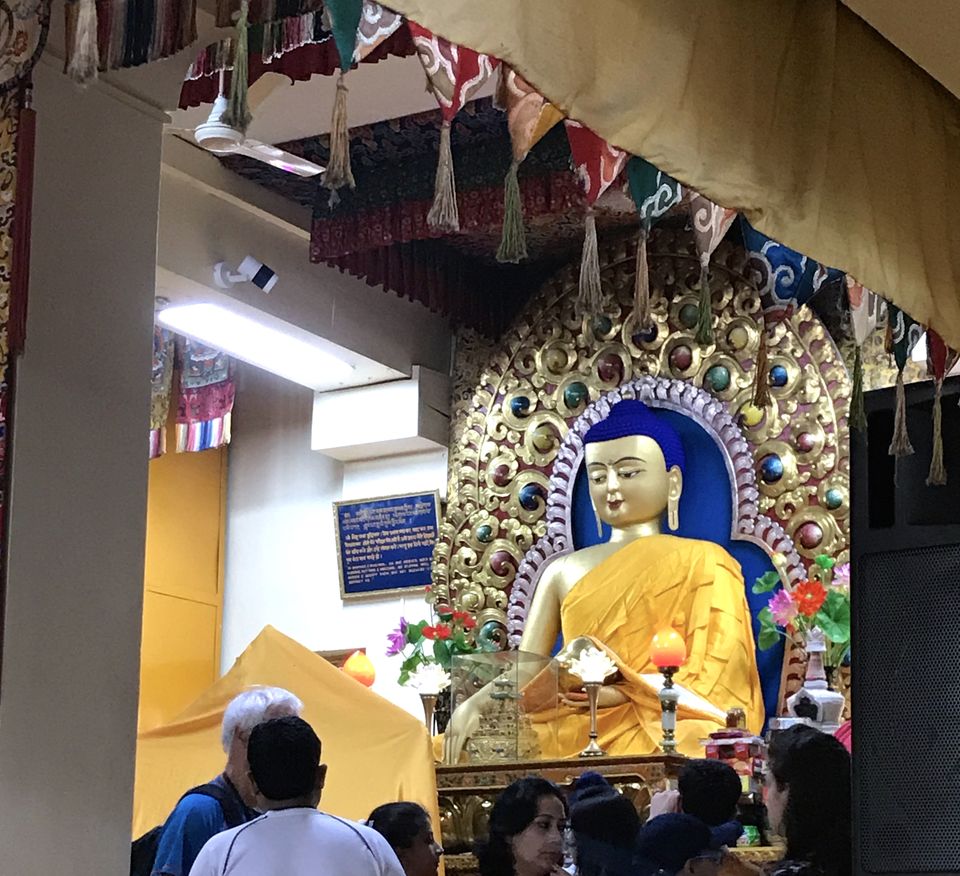 Tibetan culture has a major influence on art, craft and food of the place. Tibetan Institute of Performing Arts, based in Dharamshala, aims to preserve and promote Tibetan musical heritage and associated arts.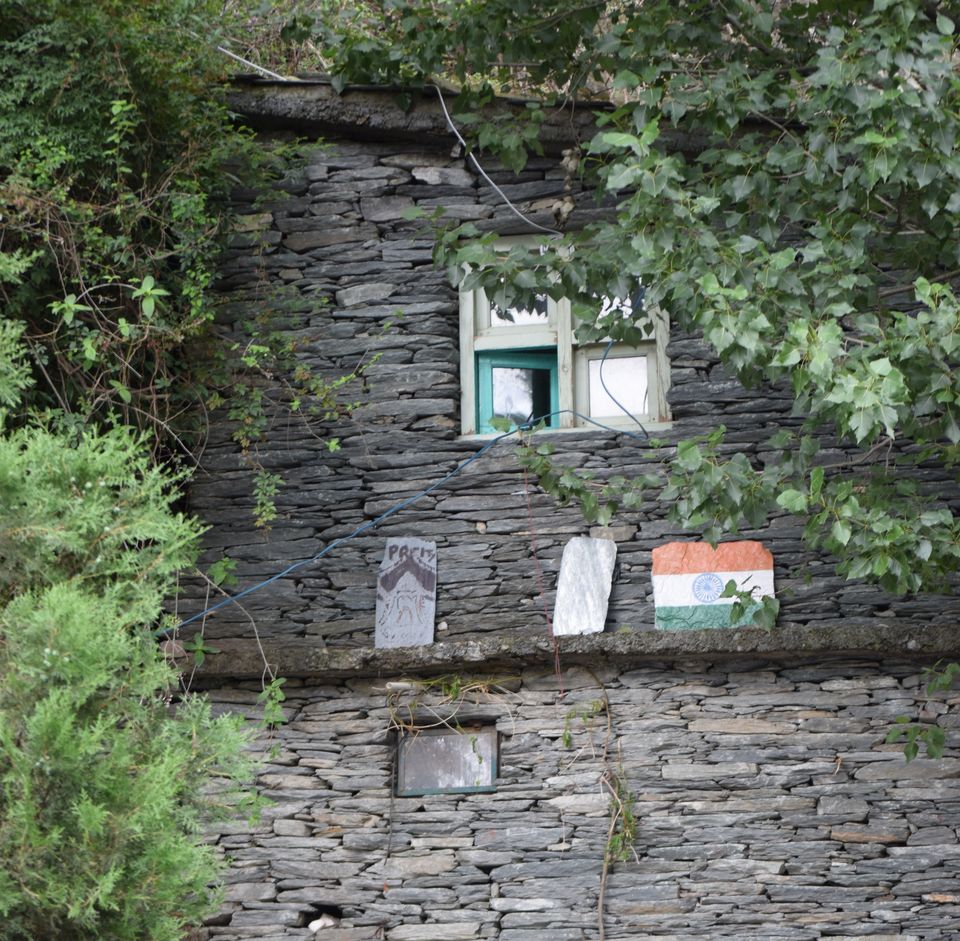 Next on the itinerary was 'The church of St. John in the Wilderness', set amidst deodar trees, built in 1852. It's beautiful stained glass windows and the neo-gothic structure makes it quite unique. It is way more beautiful than in the pictures and I was very happy to visit it. Just need to take permission if clicking pictures inside.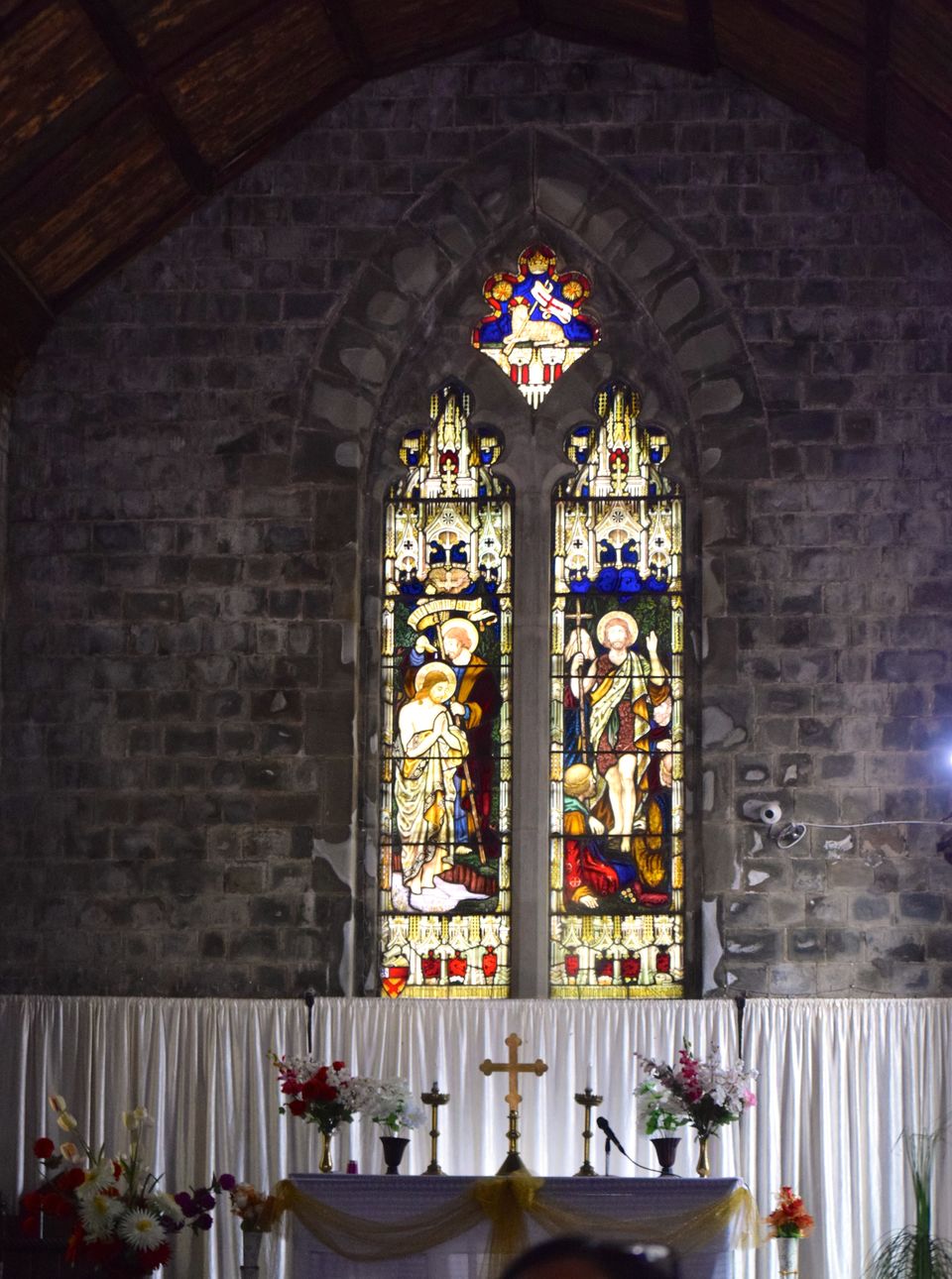 Anybody up for arealine rush? Dharamshala is the place for you to swing in the air and land like a bird with paragliding. What better to mark the end of your trip with some adventure! The downside here is only people weighing sixty Kg or less are eligible for paragliding here, which might need an improvement.
With dusk falling rapidly, it was time to head back home, with beautiful memories from this tiny gem, etched in my heart. We tend to gravitate towards nature and that is probably why such trips bring us contentment. Lord bless us all with lots of fun travels !
For more pictures follow strollbug on instagram.
Side Notes:
- Stay at Hotel Meghawan was pleasing and the food was delicious.
-Services of most of the cafe's is very slow, ask in advance if you are in rush.
-If you like your food spicy or drinks chilled, mention in advance.
Just ten minutes ahead of McLeodganj lies Bhagsu Nag with better parking options and hotel availability mostly. The place has a similar but smaller market as compared to Mcleodganj but has adequate cafes to cater to your needs. The entire town of Mcleodganj can be strolled much easily as driving here is not recommended in the streets jostling with tourists. So after checking in at a hotel and shaking off some travel weariness I went out and ate at a vegetarian street cafe (a lot of cafes serve vegetarian food only). The food here is tasty but does not quench your taste buds if spicy is your thing. From then on I had to mention extra spicy with every order at every place!