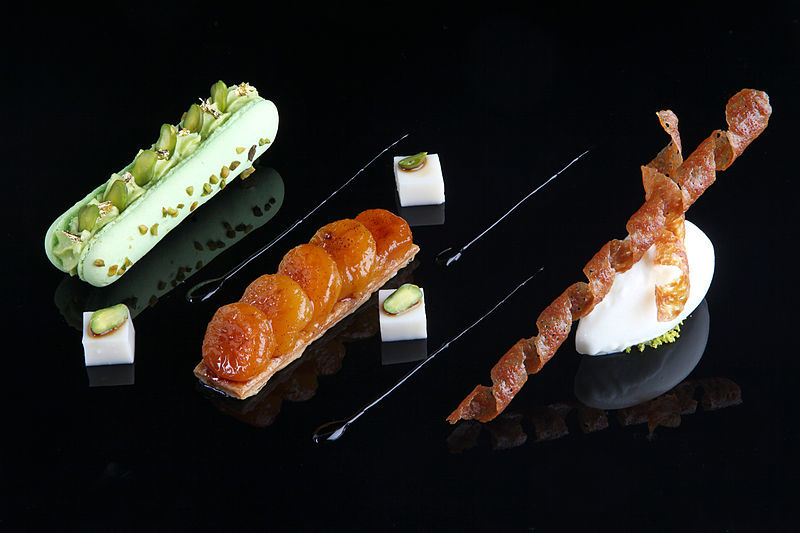 Michelin star, a hallmark of culinary excellence invented by the French, has the power to make or break any restaurant's business. There are only 2290 restaurants in the world with the prestigious star. It is easy to assume that a meal at any of these restaurants can cost you a kidney. Guess what? You are wrong. World-class dining does not always have to mean fancy food on expensive cutlery. There are exceptions.
When travelling, trying local cuisine is a must, but it can be a tiring process if you don't know where to start. So, here is a list of seven Michelin star restaurants that will take you on an extraordinary gastronomical adventure and will not cost you half of your trip.
World's first Michelin hawker's soya sauce chicken recipe earned him the star in 2016. Chef Chan's food stall turned restaurant today proudly serves 'The Cheapest Michelin-starred Meal In The World'. His philosophy that good food should be made simple and affordable has made him a global face. If you are planning to visit the place, then be prepared for long queues. The rule here is to pay for your order first and then find a table to sit.
Cost: Minimum $2.20 per meal
Cuisine: Chinese
Standout dishes: Soya Sauce Chicken Rice, Roasted Pork Noodle, Whole Chicken
Timings and location: 10:30am – 3:30pm, closed on Every Sunday; 335 Smith Street, 02-126 Chinatown Complex Market & Food Centre, Singapore 050335
Contact: +65 6272 2000, +91 8419965953
Designed to recreate the aura of traditional teahouses of the Old Silk Road, Tim Ho Wan has a global fanbase. The dim sum restaurant is known to be the most affordable Michelin-starred restaurant in the world. Every dim sum in here is unrealistically identical. The restaurant makes it a point to be consistent across all its branches in the world. Tim Ho Wan is a dream project of two seasoned chefs, Chef Mak Kwai Pui and Chef Leung Fai Keung. The original restaurant in Hongkong earned its Michelin star in 2010 and thereafter opened several branches across the world.
Cost: Minimum $3.80 per meal
Cuisine: Chinese
Standout dishes: Dumplings, baked buns and steamed beef balls
Timings and location: 10:00 am – 9:30 pm; Closed 3 days for Lunar New Year.
9-11 Fuk Wing Street, Sham Shui Po, Hong Kong
Contact: +852 2778 1226
Hamo is a Korean speciality restaurant with one Michelin star. The restaurant has kept the traditional Jinju-style cuisine alive. Its dishes dish is served in a Korean earthenware called onggi. Jinju bibimbap, the signature dish, is a mound of seasoned raw beef on top of vegetables and rice with a side of beef and turnip soup. Hamo was started with an idea to create good memories with good food for its guests.
Cost: Minimum $7.10 per meal
Cuisine: Korean
Standout dishes: Jinju Bansang, Jinju bibimbap, Korean miso soup with noodles and Joseon japchae
Timings and location: Lunch: 11:30-14:30 / Dinner: 17:00-21:00;
2F, 819 Eonju-Ro, Gangnam-gu, Seoul, South Korea
Contact: +82 2-515-4266
Chugokusai S.Sawada was awarded a Michelin star soon after its opening. Chef Sawada Shuhei, the man behind the success of this restaurant, wanted to bring a new perspective to the Chinese cuisine in Japan. This motivated him to start his own venture.
Pro tip: The place remains fully booked upto three months. So, if you wish to enjoy a world-class meal in Osaka, book your table as soon as you book the flight tickets.
Cost: Minimum $9.70 per meal
Cuisine: Korean
Standout dishes: Nagasaki seafood stir-fry with Chinese vegetables, Crispy Kaoridori Chicken from Tochigi and shirako mapo tofu
Timings and location: Lunch-11:30 am-1:00 pm, Dinner-5:30 pm-9:00 pm; 4-6-28 Nishitemma, Kita-Ku, Osaka
Contact: 06-6809-1442
Jai Fai has the best seafood dish in Bangkok. Loved by locals and travellers alike, this street-side restaurant is run by Supinya Junsuta, who found her love for cooking much later in life. The restaurant received its first Michelin star in 2017, making it the third street food stall in the world to receive a Michelin star. The place is always crowded, but you can watch the 73-year-old hawker cooking for her customers in her signature goggles and black beanie. Compared to other street stalls in Bangkok, Jay Fai is a pricy stall.
Cost: Minimum $12 per meal
Cuisine: Traditional Thai (seafood)
Standout dishes: Crab curries, crab omelettes, drunken prawn noodles and dry congee
Timings and location: 1:30pm–12am; 327 Samran Rat Intersection, Phra Nakhon, Bangkok, Thailand
Contact: +66 92 724 9633
Known for its authentic Kaiseki meals and top-notch service, Ginza Ibuki is owned by experienced chef Sadahisa Yoshizawa. The place opened its gates to the world in 2010, and since then there has been no turning back. The restaurant also has counter seats for people who want to enjoy the traditional dining experience of Kaiseki cuisine. These seats with a kitchen view are in huge demand, so booking here is needed especially for the counter seats.
Cost: Minimum $12.70 per meal
Cuisine: Kaiseki
Standout dishes: Crab curries, crab omelettes, drunken prawn noodles and dry congee
Timings and location: 1:30pm–12am; 327 Samran Rat Intersection, Phra Nakhon, Bangkok, Thailand
Contact: +66 92 724 9633
The 40 years old restaurant will take you back in time with its traditional Chinese decor. The restaurant serves carefully prepared Cantonese dishes wits distinct flavours. The six-storey building showcases the work of the renowned calligrapher Chi-Chi-Yun. Owner Chiu Jing-hei believes in serving quality food and fine dining experience at affordable rates.
Cost: Minimum $13 per meal
Cuisine: Cantonese
Standout dishes: Peking style duck, fried shrimp, fish head soup and crabs.
Timings and location: 11:00-14:00, 17:00-21:30; No. 46, Hengyang Rd., Zhongzheng Dist., Taipei City Taiwan, R.O.C
Contact: +886 2 2381 7180
Think we missed out on something? Tell us about it in the comments below. Or write about it here on Tripoto and earn Tripoto Credits!
Explore the best of travel inspiration on Tripoto Instagram!
Be a part of the largest online community of travellers on Tripoto's Facebook page!