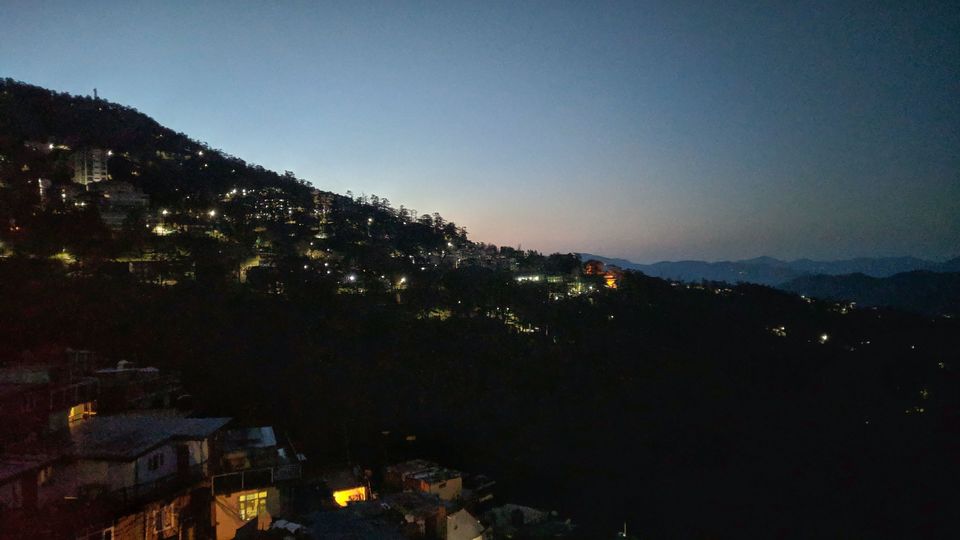 As on every Friday, we all flatmates were relaxing after the college lectures were over. We were excited as we were going to watch some marvel movie in cinema which we had booked our tickets for, out of nowhere one of my friends jumped into our flat as he wanted to join us for the movie night. While having evening snacks, we noticed the weather was great, so my hopped on friend suddenly uttered.. Bros what about some nightout trip to some nearby station. We thought nothing and packed our bags in an impulse. Luckily, en route to the bus stand we got the notification for our movie tickets, but we cancelled them! 😂 We were so focused on our night trip that we didn't even planned even the place where we were heading to next, not to talk about packing up our clothes or amenities 😌. Anyways, it was 7 in the evening we had reached at the Chandigarh 43 ISBT, fetching some bus to nearby stations like kasauli some morni Hills, but all we could find out was a bus to shimla. There was no way to go back to home, we were so enthusiastic that we had even canceled our tickets for it. So we got ourselves the tickets for solan as shimla was a bit far away amd couldn't be 'tripped' in just a night. As we climbed above in the mountains, hunger was on the top and temperature was at the lowest on that January weekend . Reached solan by 11, the air was chilling at 1°c and town was eerie, we were all alone on the roads of solan. The first thing we were finding was an accommodation and some food too, we didn't had dinner that time since our journey had started.
Shimla is the Summer capital of Himachal pradesh.
Not leaving every stone unturned we found a small roadside dhaba by 1 in the morning, after threw as much food as we could. Again we got back to our room finding operation, but couldn't get any. One of my mates had a surgery of leg who couldn't manage to walk anymore in that chilling temperature, we didn't even wore layers for warmth P. S. Unplanned trip was going to be worst yet. We went to the bus stop for getting some bus to shimla or some warmth whatever. Waiting for bus in the open chilling air was gordian knot for us. Luckily there was an auto rickshaw parked roadside we quickly hopped into it, like tightly packed, which was the only option to get warmth in that situation. After 2 hours bus came and left, it was so late for us to get into that bus and realizing that we were asleep. Now there was no sleep sticking around us in that cold. After an hour the bus came, we hopped into it. Slept in the warmth for an hour till we reached the shimla, which was even more cool than solan was. The trip was becoming a cold nightmare for us. We didn't Bargain for the room tariff, all we wanted was a sound sleep and a warm blanket over us, for next 6 hours we let anyone disturb us in the hostel. We checked out by 12 noon and grabbed for hoodies from the market. Wandered in shimla, enjoying the charm of The Ridge and narrowed gullies of markets. Couldn't go to the jhaku temple as our 'leg surgery mate' couldn't coop us with us for it. But we enjoyed it alot, we all had come to shimla first time. After having lunch and all we now wanted to enjoy even the toy train journey which was also a key highlight for shimla-Chandigarh trip. Except to get a stay in solan, luck was always on our side, as we got the train tickets too in such a rush of tourists. Waiting for the train, we exchanged the clicks of each other amd posted each and every selfies of us on instagram. Toy train was the best highlight of the trip where as the spending our night in that auto rickshaw in freezing temperature was the worst one to make our nightout a #badtrip.