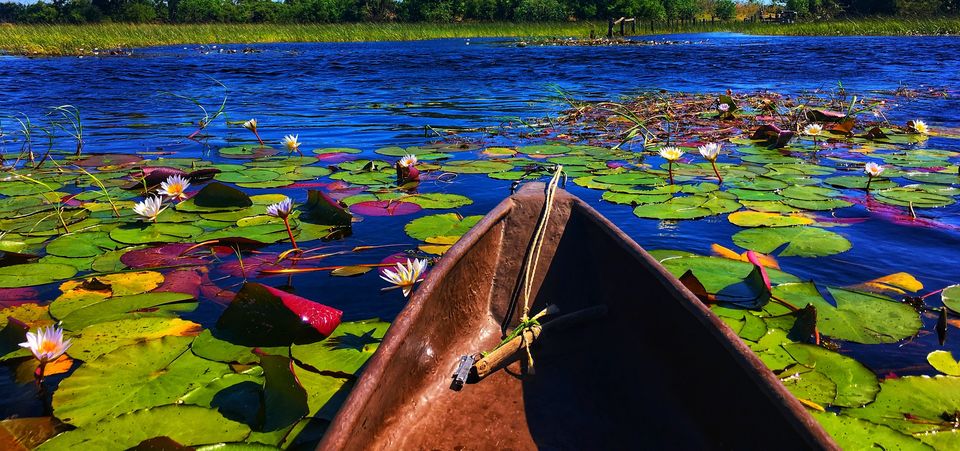 This delta lies in Botswana..
But, what's Botswana? Is it a country? Where is it?
I get asked these questions very often!
So, if you're asking them too, don't worry, just read on!
Botswana is a sparsely populated Southern African country that is landlocked. It borders Zimbabwe, South Africa, Namibia and Zambia (through the Zambezi river).
This country is home to the Okavango Delta!
It's hard to believe that crystal clear waters exist in the middle of the basin in the Kalahari desert that dominates this African nation!
Here are the essential details on the Okavango Delta:
What is the Okavango Delta?
One of the world's largest inland deltas, the Okavango is welcomed by tourists almost all year round, though winter is the peak season.
All the water reaching the delta is ultimately evaporated and transpired and does not flow into any sea or ocean!
Now, how cool is that?
What's special?
There are a few not-to-miss experiences, if heading to this beauty:
1. A Mokoro ride among water lilies: Piloted by skilled rowers using a simple stick through the colour-changing pristine, sandy yet shallow waters, the 'mokoro' (a small boat that accommodates only two passengers) is common man's way of commuting across Delta's channels & tourists' way of discovering wildlife in a unique experience with this oasis.
2. Don't miss the bush walk: It is offered by most rowers who double up as tour guides. These are intimate encounters with a variety of wildlife as close as 30 feet to giraffes, elephants, wildebeests, warthogs & Botswana's national animal – Zebras commonly spotted.
And, mind you, you have nothing but a stick for protection.
This one is not for the faint-hearted!
Here's my experience of the Bush Walk:
3. How about an aerial view of the Delta? If you can let your purse strings a little loose, try the scenic flight over this UNESCO World Heritage site, you won't regret spending those extra bucks!
Here's my experience of the flight and all the other details on the Delta that you need to know:
Tsamaya Sentle! (Go well! as they say it, in their language - Setswana)