How to reach?
You can catch direct flights to Pondi from Metros (Delhi) which will be slightly costlier. However, if you are travelling in double occupancy then catch flight to Chennai which will cost you nearly Rs 3000-3500 per passenger one month in advance. From Chennai Airport, take an OLA to Pondicherry which will cost you not more than Rs 1800.
Pondi is located at 2 hours & 30 minute panoramic drive from Chennai airport connected through East Coast Road (ECR) and the journey is a treat to your eyes. The landscape running along the Bay Of Bengal to your left and flashy coconut trees running on the right has beauty for the eyes. Don't miss out the authentic freshly cooked Idly, Dal Vada and Dosa served on small stalls along the highway. Believe us, you can't find anything delicious than these.
Where to stay?
Accommodations are available at slightly higher rates if you are booking through MMT or Goibibo. We recommend you to pre-book an airbnb. We booked "Tamarind Tree Family Guest House" located at 2 mins walk from ECR with Serenity Beach at 5 mins stroll from the house. It is a nice spacious 2BHK property with a wooden swing to cheer you up all the time available at Rs 3500 per night.
History and Culture:
Pondicherry (akka Pondi) also known as French Capital of India, have recorded histories that predate the colonial period. Puducherry, formerly known as Pondicherry, was formed in 1962 out of the four former colonies of French India (Pondicherry, Karaikal, Yanam, Maheand).
Pondi is a blent of culture and leisure. For every local, their day begins by worshipping the land of their home. We could see women making Rangoli right ahead the entrance door on streets. These beautifully decorated geometric and artistic patterns with white borders & vivid colours add natural happiness to your day the moment you see them. We felt, as if the people here thank mother earth what all it has given and also a welcoming gesture for visitors to the city.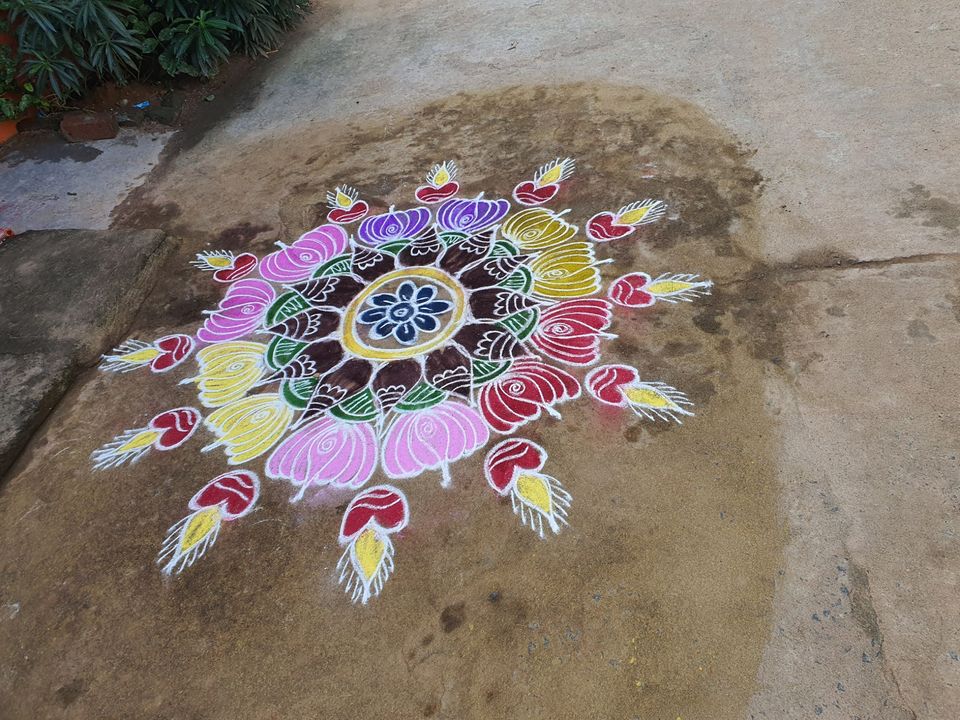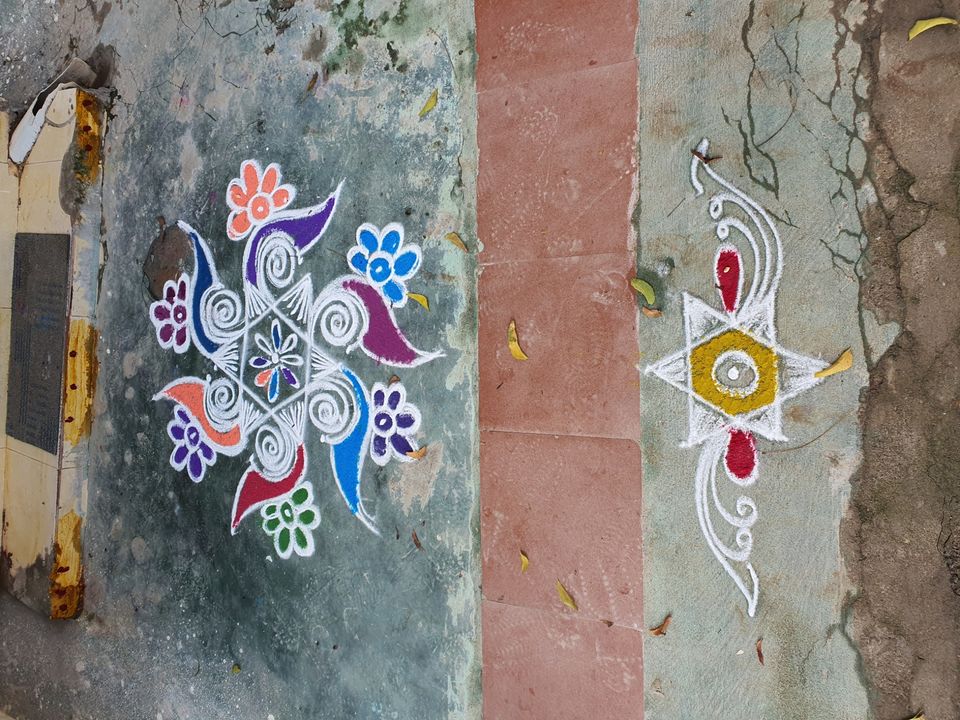 Day 1
You should reach and settle down at the property at-least by noon, so plan for an early flight to Chennai. Complete your breakfast along ECR which will cost not more than Rs 100 for two. YAY!!

After freshening up, pack your bags to embrace the history of this place at White Town also known as French Quarters. You can reach there by taking the local bus from ECR which will cost you Rs 20 for two and then walk down some 300 metres to the destination. Full of statues, numerous cafes to dine out, white-yellow-grey painted buildings and a marine drive like sea view, what better can you expect. High waves smashing the shore and dark black rocks on the beach is a view to die for. We believe that place is blessed with an everlasting invisible windmill because the wind here always keeps you cool.
The Sacred Heart of Jesus, Gothic styled basilica church has 100 years old history marked by a special postal stamp and postal envelope released to celebrate the centenary year. It is one of the most visited Christian pilgrimage spots. The rare stained glass panels that depict some episodes from the life of Jesus Christ and saints of Catholic church are the main attractions of the church. The beautiful church has chandeliers on the inside and statues of evangelists, describing their lives, have been erected outside.

Enjoy your meal by the sunset and be prepared for dinner at Café Des arts. This café is an art in itself with amazing French cuisines and various photogenic images on wall, you can just spend a happy evening around. Sit and relax yourself by the sound of waves knocking the rocks down and natural water sprinklers caused by the wind. It'll be difficult to find a spot to sit near beach here as this place is hugely crowded.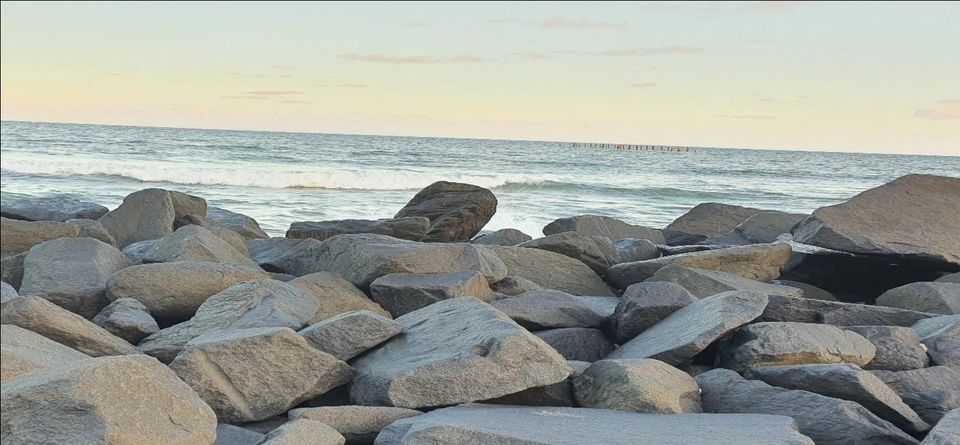 Go Back home early as you have to prepared yourself well to wake up early tomorrow for sunrise serenity. Refer public transport to travel back as private auto would cost you Rs 200 for 5km (not worth it to spend when you can reach at much cheaper rates).
Day 2
Wake up Guys, 5:00 AM. The Sun is about to shine, Hurry! Precautions: Tone your body with oil/UV protection lotion and pack clothes for sea bath. Walk down to serenity beach which is 5 mins walk from the property, select a spot to sit and enjoy the view of staggering sunrise with clouds blocking the sun and yet it emerges amidst the silver lining, shining out loud. What a beautiful experience. Beaches here are clean, natural and do not vomit plastic unlike "others" probably because the place is less touched by human "intelligence". You can see the fishermen preparing their boats to catch only source of livelihood "sea food" while the women waiting for them to return to segregate caught species into variants of price. You can enjoy the waves and bath into sea for a playful time. Just at the back, you may find café serving you good breakfast of your choice within Rs 500 for two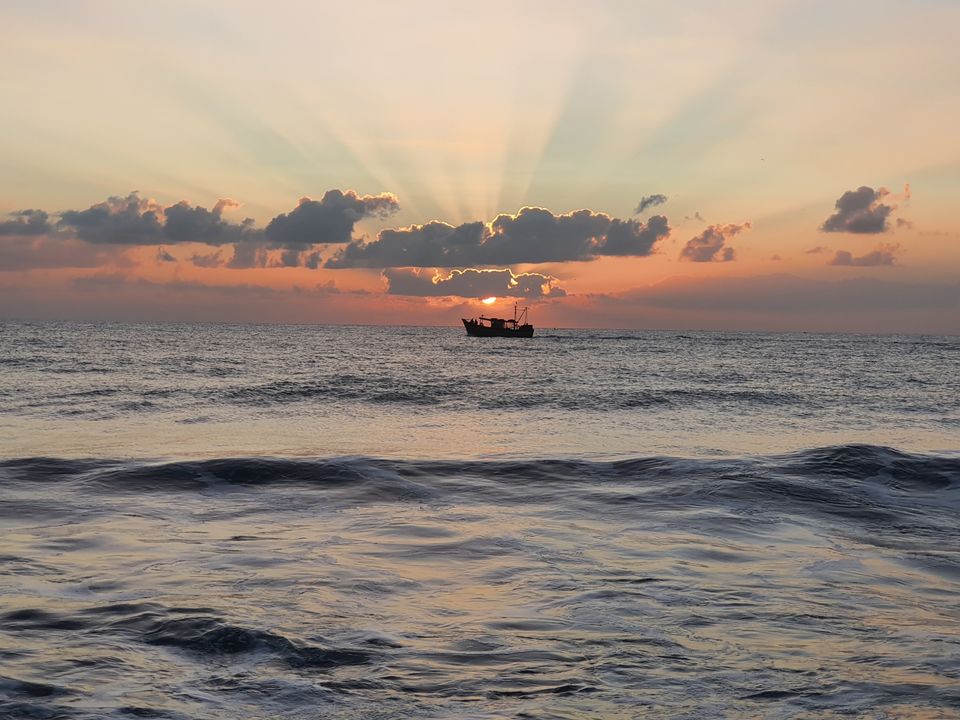 Return back to BnB by 9 o' clock, bath properly, moisturize yourself and head towards Auroville which is 6 km from the stay.
For those who don't know about Auroville, let us help you know in brief.
Auroville is (founded in 1968) an experimental township in Pondi where men and women of all countries are able to live in peace and progressive harmony, above all creeds, all politics and all nationalities. The purpose of Auroville is to realize human unity. The town is known for its Matri mandir, a round beautiful structure in the Unity Park. Free visit to the mandir and a documentary is available for all the visitors to understand its history. There are several guest houses, Auroville beach and meditation center with the town. But visit to town is allowed only through special tickets which are available on individual basis in person. There are various great cafes serving delicious food in and around the town. Personally we feel that the town is over hyped and entry for Indians is restricted to some parts of the town like Guest houses for stay. Even the Unity Park is in good for a picturesque place. You may choose to skip this visit. However, since we need to cater to all kinds of travelers we must inform you about the possible visiting options.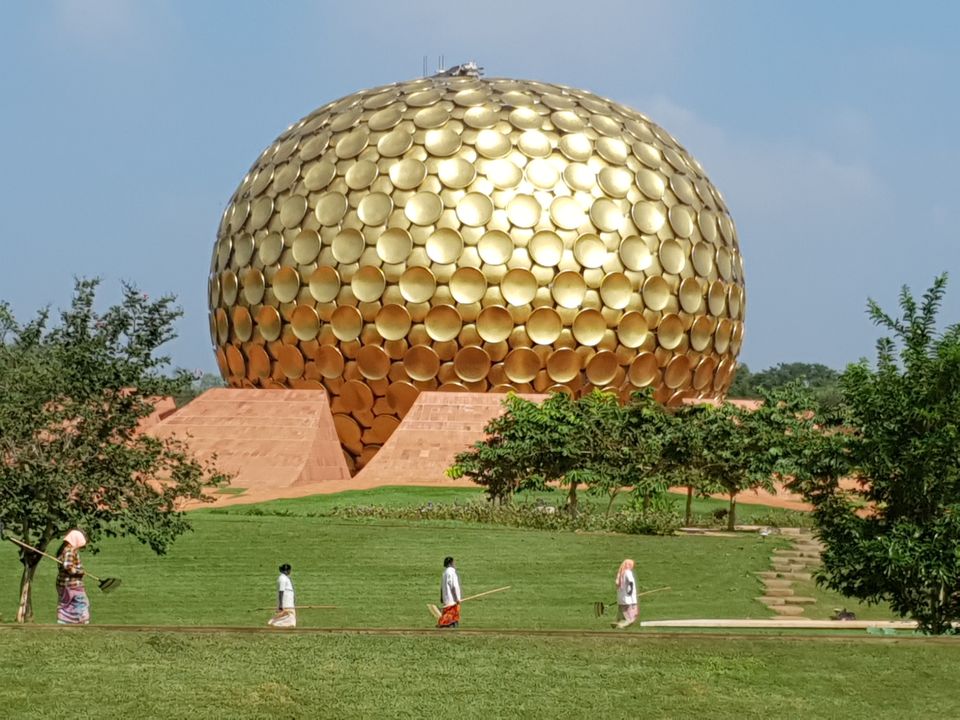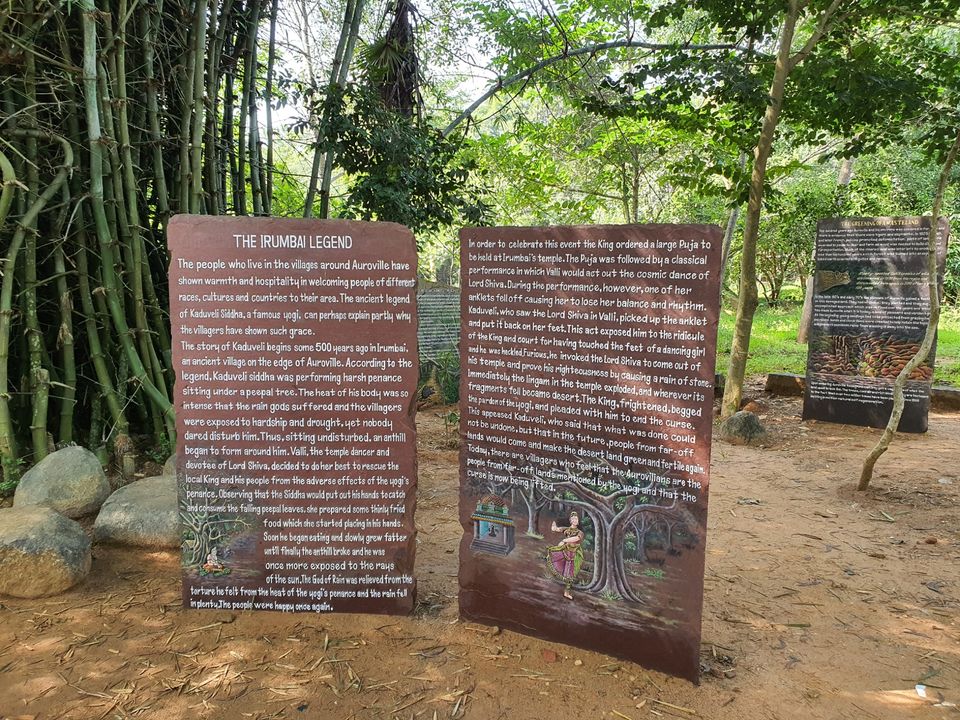 Simultaneously, you can cover Sri Aurobindo Ashram, Museum, Arikamedu Temple, Botanical Garden. Spend a relaxed evening by cycling around the city rented @250 per day. Choose a café of your like as by now you'll be able to judge what suits you best there due to abundance.
Get you at an hour to your ease and walk for fresh Coconut water to the ECR. Prepare to head towards Chunambar Boat house. This serene town situated at 8 Km from the BnB is visited by Tourists for its Beach, which is known as Paradise Beach.
With pristine sand and crystallised water, it is a perfect place for one to spend a day out playing water sports and bathing in the sun. A short cruise is also organized for the visitors which gives them a fantastic overall view of the serene beauty of the waters. One can also spot dolphins playing around in the water making it a must-visit for the nature lovers. A large number of huts spread across the beach provide shelter in rain and strong wind and sometimes shade during the sunny day. Total cost witnessing the paradise is nearly 700 for two.
You have food stalls to treat your tummies but quite expensive serving Okayish food. Try thriving on coconut water available only at 50 bucks. You have water sports, Volley ball and other things to enjoy a playful time.

Visit and shop around white town while coming back to your home. You may visit promenade building for Bay of Budha serving good Dimsums or relish near rock beach. Pack your bags before you sleep for return journey via Mahabalipuram to Chennai Airport
Get ready by 8:30 AM, book an Outstation Ola to Chennai city via Mahabalipuram it will cost you around INR 1700. Mahabalipuram situated at ~100 KM from Pondi, it takes you around 2 hrs to reach there. Again the view during drive is majestic.
Mahabalipuram also known as Mamallapuram, is an ancient port city in the Kancheepuram district of Tamil Nadu. Mahabalipuram has a rich history and heritage that is well-preserved to date. Being one of the oldest city in India having glorious past, Rathas (temples in the form of chariots), Mandapas (cave sanctuaries) and shore temple most carved out of living rocks. Mahabalipuram is known across the globe for the UNESCO World Heritage Site 7th and 8th century Hindu Group of Monuments.
Early morning is best time to reach there, you may plan a day stay (depending upon the availability of time) to enjoy to enjoy spectacular view at shore temple- two structure standing facing the sea. It's heard that there once existed more than five structures so spectacular that it invited the envy of the gods who unleashed the sea on it. A few submerged structures remain in the area, making way for some truth in the myth.
The Mahabalipuram Lighthouse with a circular masonry tower made of natural stone became fully functional in 1904. India's oldest lighthouse built around 640 AD by Pallava king Mahendra Pallava. It was a busy port during 7 century AD. Bonfires were lit even at that time to aid the mariners.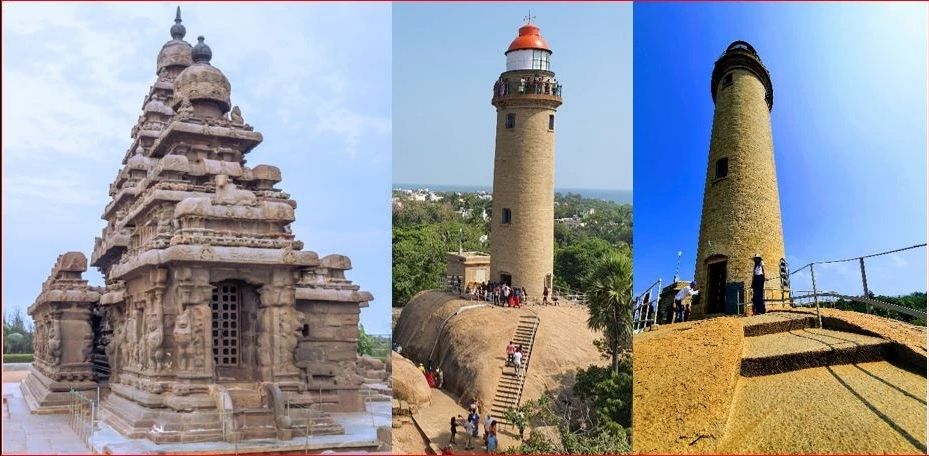 Panch Rathas: Magnificent stone structures, each carved out of a single huge boulder. There is one structure each for the five Pandava brothers, significant characters of the Indian epic Mahabharata. Each monolithic structure showcases intricate carvings and fine work of art by the skilled artisans of the 7th century.

Now it's time to bid adieu to Mahabalipuram and proceed to Chennai, if you have time, do visit to Kalpeshwar Temple at Chennai and if you can try visiting in ethnic wear say Lungi for guys and they have amazingly fresh flowers for girls around. Lungis are easily available around shops starting from 200 to 400 bucks. Take help from the shopkeeper to help you wear it and walk high headed around the streets in Tamil style. Beware of shoe lifters around the temple so park them safe to the paid counters ONLY.
Try to book book late evening fight for your city and leave for airport. On your way back, you'll be carrying a big smile on your face and suit case full of memories. BON VOYAGE…..
Do's
1. Book flights to/fro from Chennai and take a road trip from Chennai to Pondi
2. Use Outstation OLA/UBER as it is cheaper than local Taxi
3. Must Visit places: Paradise-Serenity-Rock Beach, Cafe - Des arts, XTASI & Bay of Budha
4. Prefer Breakfast at the street stalls serving affordable authentic south Indian food
5. Carry Umbrella, Sunscreen, Shampoos & Body Wash (to save yourself from hard water)
6. Souvenirs to bring - Handmade lantern lights for home decor, leather items
Don'ts
1. Don't use auto for local travelling. Prefer rented car/bicycle/bikes
2. Beware of sunny afternoons and prepare your sightseeing accordingly
Budget
Total spends for 4 day trip would cost you nearly Rs 18K per person inclusive of all.