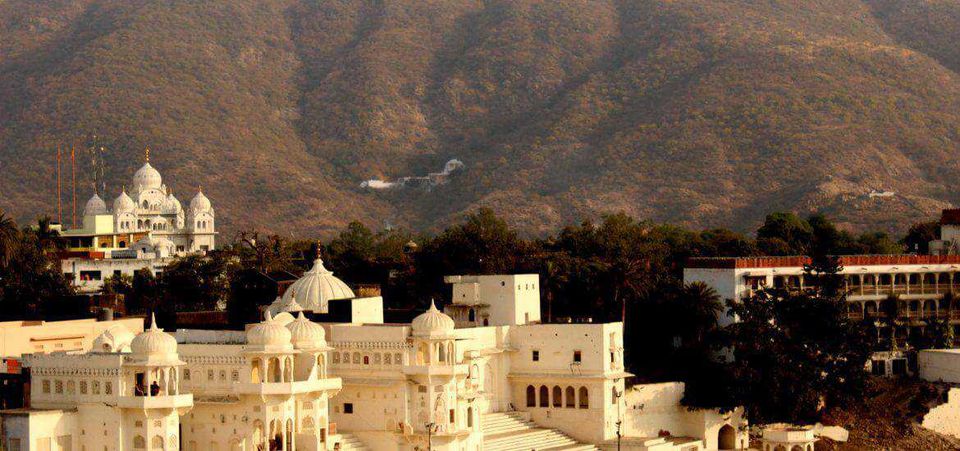 Pushkar gave me enough reasons to fall in love with it - easily accessible from Delhi, cheap place to stay, quaint locale and heartwarming people. Catch the early morning Shatabdi from New Delhi to Ajmer. Get in a bus for INR 20 or book an Ola for INR 250 to reach Pushkar from the station. A weekend getaway from Delhi in just 5 hours!
Pushkar is a very sacred place, situated in Rajasthan, India. For someone traveling to this place for the first time, it is essential to note that you will encounter a number of priests and staunch believers of Hinduism. You must always take off your shoes while walking along the Ghats and avoid nudity/embracing a lot publicly.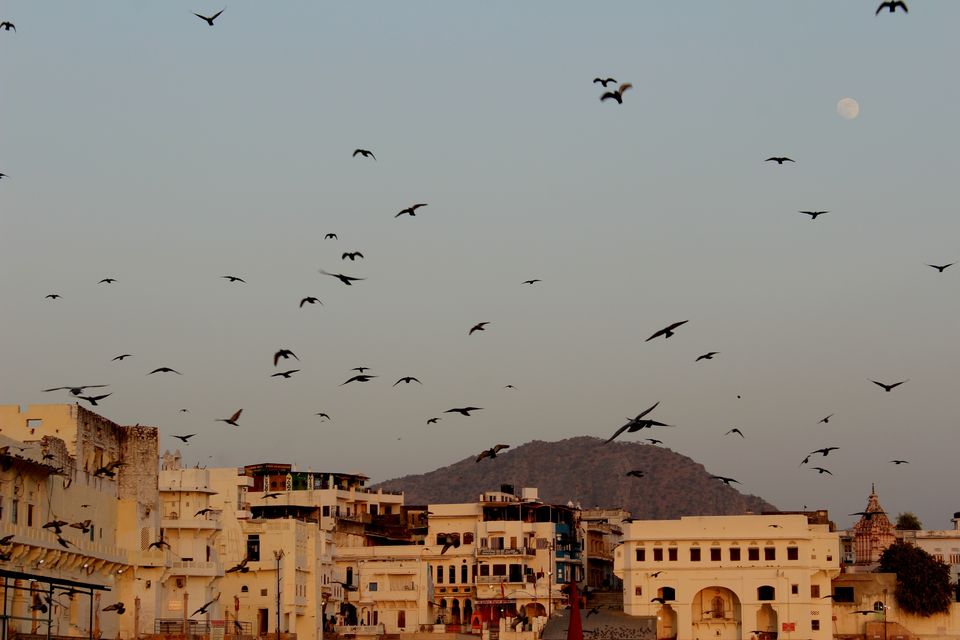 Pushkar offers a beautiful experience around the lake. Around 5:40 pm, it is filled with enchanting music, a gripping view of the Arti being performed by the Sadhus and a surreal calmness. You can head over to the Veraha Ghat which is known for the evening Artis. Usually, you can see the ritual at most of the Ghats around the same time.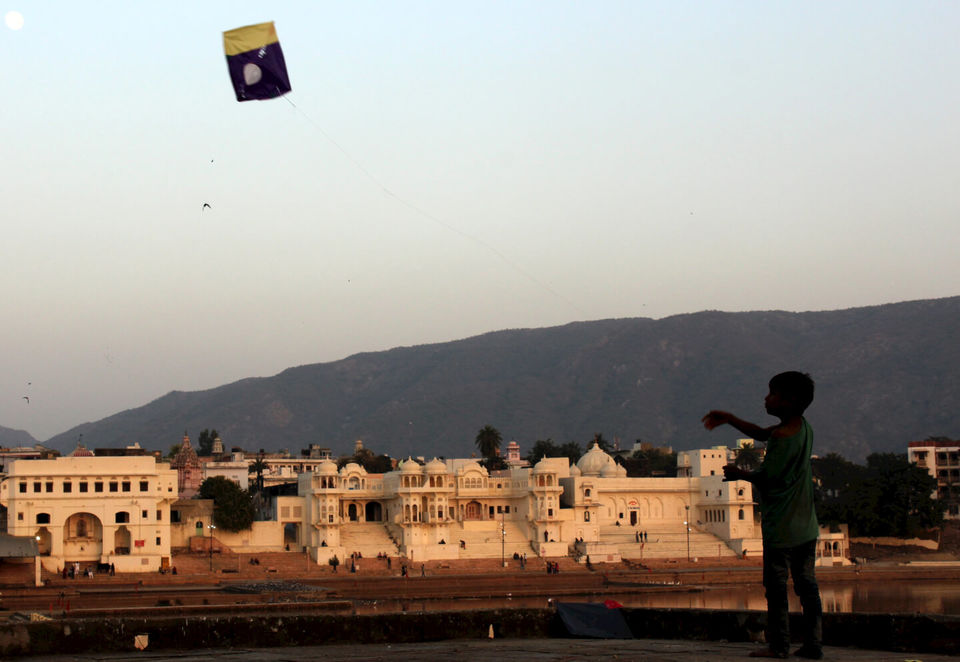 I stayed in Pushkar for almost 4 days/3 nights. And I did not realize where time flew by. I nicely parked myself at Mama Luna Guesthouse. This one is located very close to the Lake and is managed by a group of very hospitable people. You can make the booking online well in advance just to be safe or can explore once there. Pushkar has cheap lodging, making you shell out as low as INR 300 per night for a lakeside stay. Do not expect lavish rooms and dining. It caters to budget travelers, providing the basic amenities. They have a rooftop restaurant also. I had sandwiches for breakfast once and the usual coffee and tea and it cost me INR 200.You can walk down to the market area and the lake in less than a minute from this Guesthouse.
Some of the best eating places to definitely try out:
Lake View: This by far was my fav. Ravi, the guy who manages the place has ensured that everyone falls in love with it. I must have probably spent one entire day at this place soaking in the sun, enjoying the buzz around the lake and just chilling and reading my book. Food is also freshly prepared. Do try the mangofee pie;I think I never heard of such a thing before.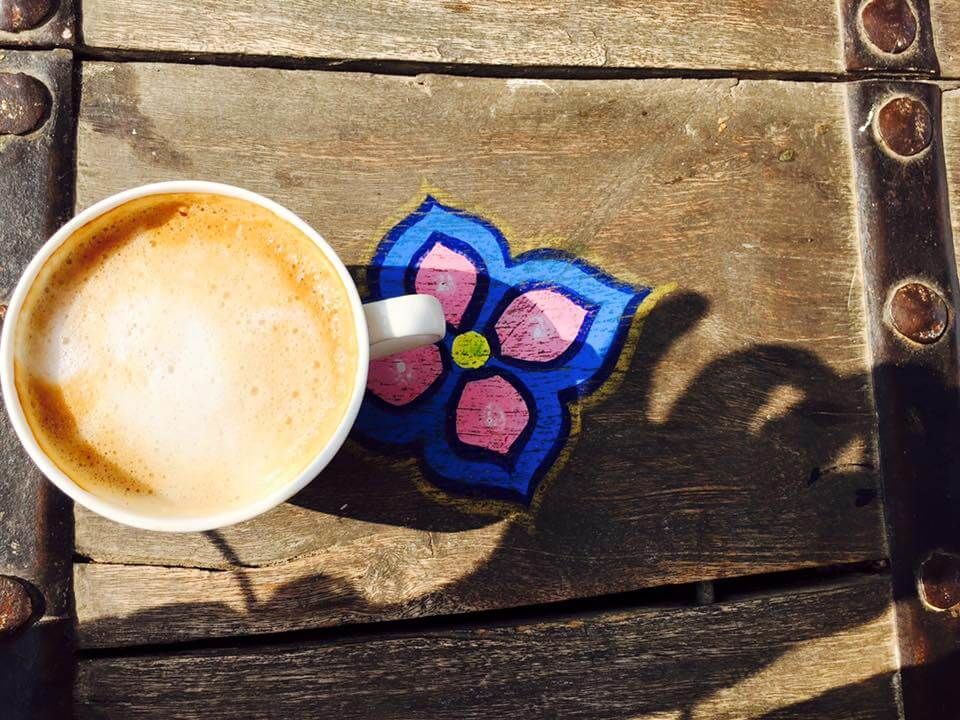 Cafe Derby : This one is a rooftop cafe on the Uturn Hotel situated on the Veraha Ghat. Amazing lake view. A dinner here is a must. You will surely enjoy the moonlit sparkling lake water.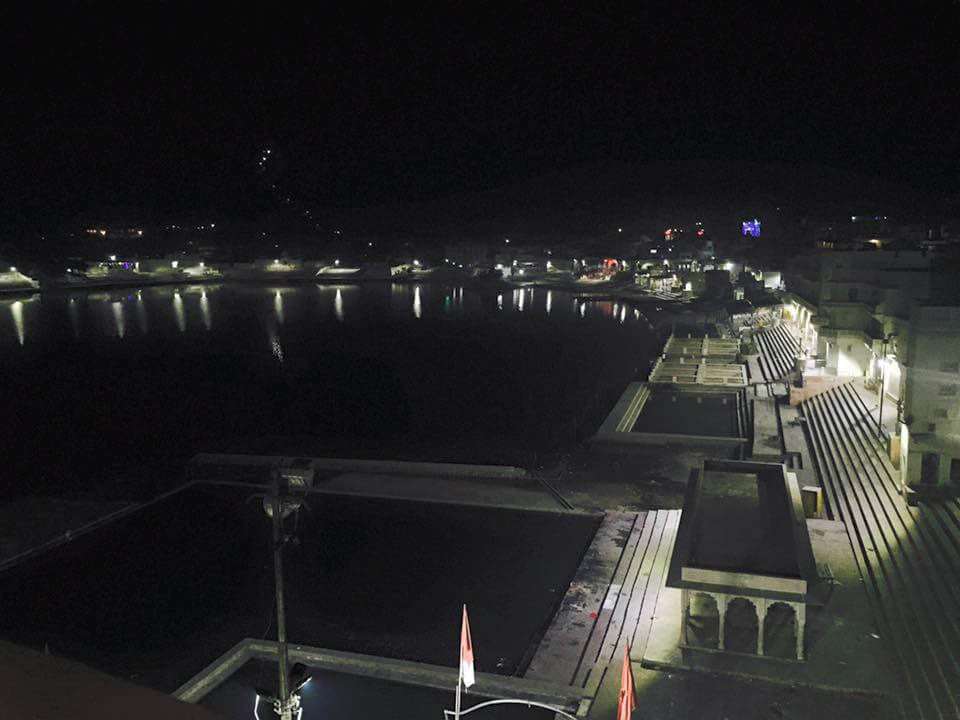 Honeydew Restaurant: This is snuggled in a cute cozy corner on the main bazaar road , owned by Saleem bhai! The most amazing thing here is the old tape recorder that still plays loud and clear.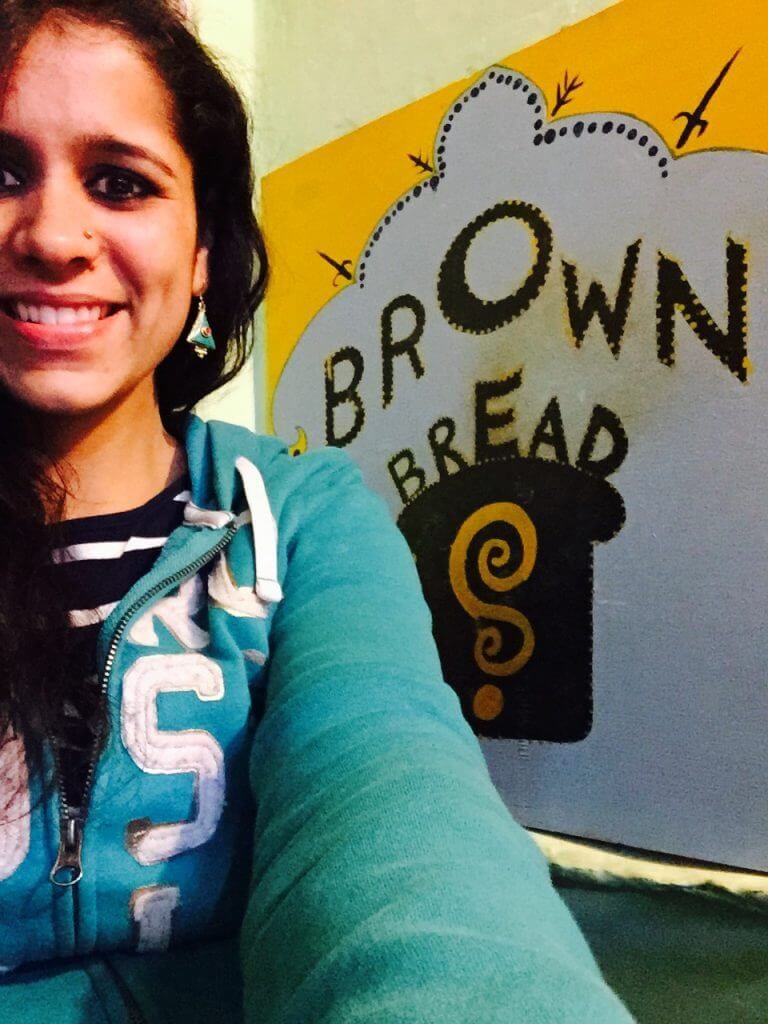 Sunset Cafe: Also situated on the ghat, it is a very lively place. You can enjoy the local folk music here.
Sun & Moon Cafe: One of the lonely planets recommendation; serves fantastic Indian food. If you feel like having some hot rotis and fresh home made rajasthani spiced up food, head over to this one. A very chiller rooftop too. You will not feel like getting up from here. This one is near the Brahma Temple.
Laura's Cafe: Delicious Spanish food. Loved the home baked bread.
The amazing mithai wallas : Do try having some kachoris with kadhi and jalebi in the breakfast. When in Pushkar, eat what the locals eat! A famous delicacy here is the Malpua as seen being made by the guy in this photo.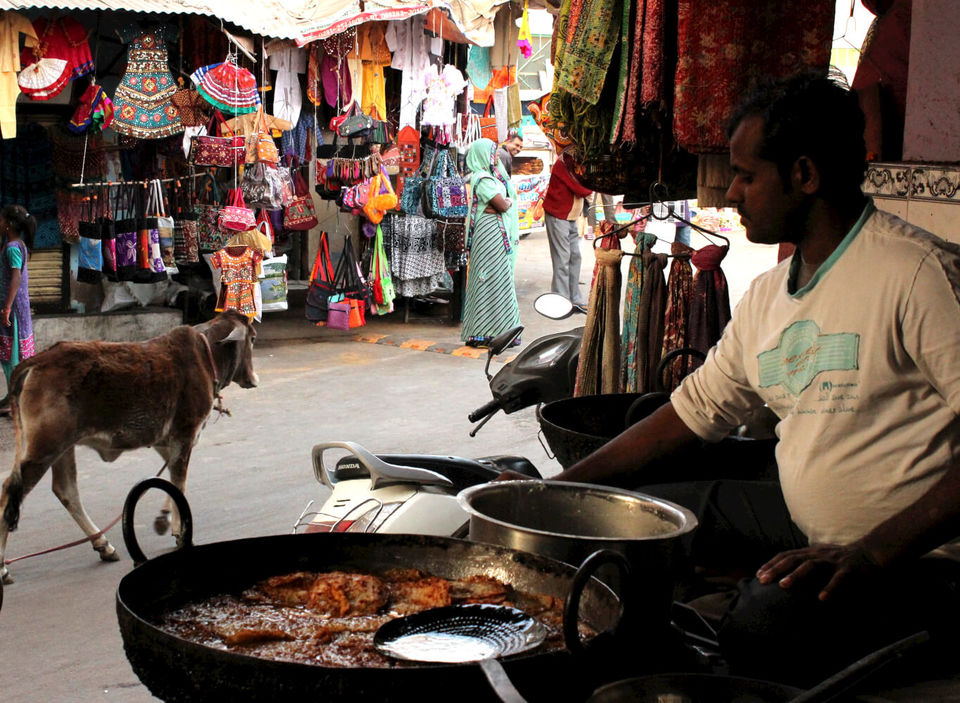 Up for a hike in Pushkar?
Plan an early morning hike to Savitri Temple. But before that do attend the early morning arti at Brahma Temple. On a usual winter morning, it happens at 6 am. Once done with the arti, head out to Savitri Temple. You have to start walking from the Brahma Temple itself and take the adjacent road to Savitri Temple. The hike will take about an hour. Try reaching the top before the sun rises to enjoy the most beautiful view! Be careful of Langoors. Do not feed anything to them. You will absolutely enjoy the breeze at the top.
The colors of Pushkar
Pushkar is a colorful town. You can walk the entire length of the town, enjoying the chaos and the daily noise and the cows and dogs and.... colorful shops and camel leather products all around. People inviting you for some lip smacking Rajasthani meal. People frying good fatty food, from dawn to dusk. 9 in the night and the town is sipping on some hot streetside kesar milk. An enchanting hustle bustle surely.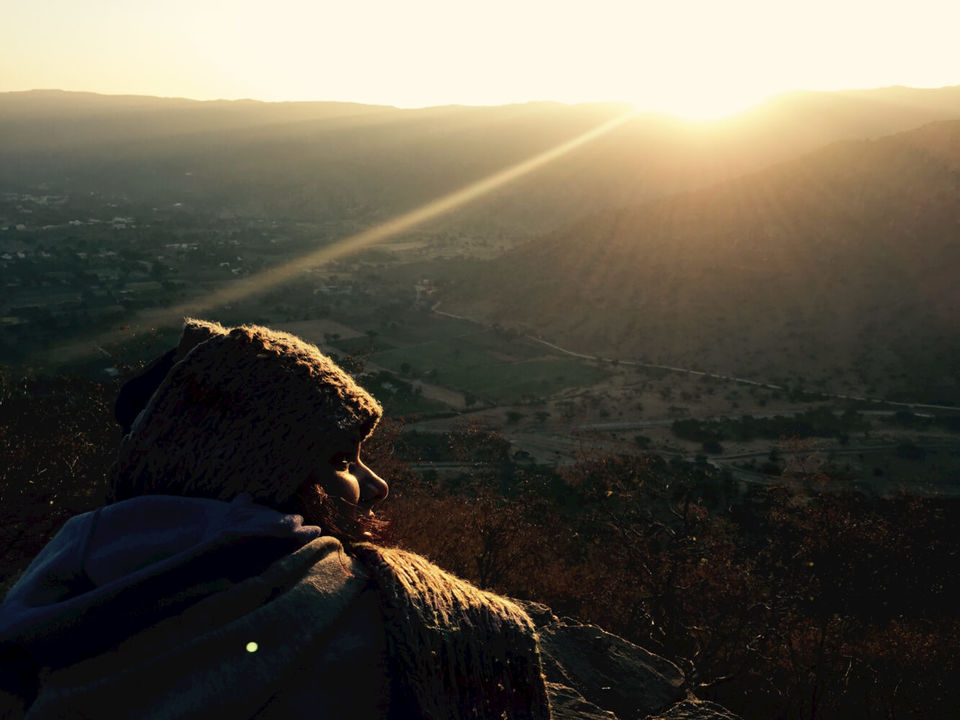 Enjoy your stay at Pushkar folks. Keep traveling, keep collecting good memories!