Udaipur is meant to be one of the most romantic destinations in India. People plan lavish "Destination weddings" & honeymoons in Udaipur. No wonder, people are skeptical to visit it alone.
But I would say, why to restrict yourself just because people have tagged a place as "Romantic". I visited Udaipur alone & never felt alone even for a minute. So single or couple or group of friends, "Lake City" is for everyone.
If you are traveling from Mumbai & if you are comfortable traveling in bus then I suggest you opt for overnight bus ride as it would save a lot of travel time. I had booked a seat with "Gujarat Travels" which is an A/c sleeper Volvo & was a very comfortable ride.
"To awaken alone in a strange town is one of the most pleasant sensations in the world" said a traveler.
So here I was, alone in strange city with my travel diary in hand, calculating distance from bus stop to my hotel on Google maps so that I can negotiate on rates with the rickshaw driver. Finally after a bit of haggling, I was on my way to my accommodation in "Greco House." So as my ride began, this is how the conversation took place between me & my rickshaw driver:
Rickshaw driver: Mam, which hotel in Lal Ghat?
Me: Greco house
Driver: No, which hotel?
Me: Greco house
Driver: Where is it?
Me (very skeptical now): Lal Ghat as I told you (You said you knew the place)
Driver: No mam, any landmark
Me (searching my diary for address and landmark): Near Poonam Haveli
Driver: Ohh there!! All foreigner stay in that area. Are you traveling alone?
Me (Mind running quickly as I do not want to repeat mistake I did earlier): No, I am not alone my parents would be joining.
Yes, the first rule of traveling is never to tell anyone "You are alone".
Experience at Greco House: I should say that room was extremely small (considering the money I spent on accommodation, I was not disappointed) but yes I was a bit uncertain about how I would spend my day here as I feel claustrophobic in small places but I was relieved when I went for lunch. The view from the lunch room looked like this: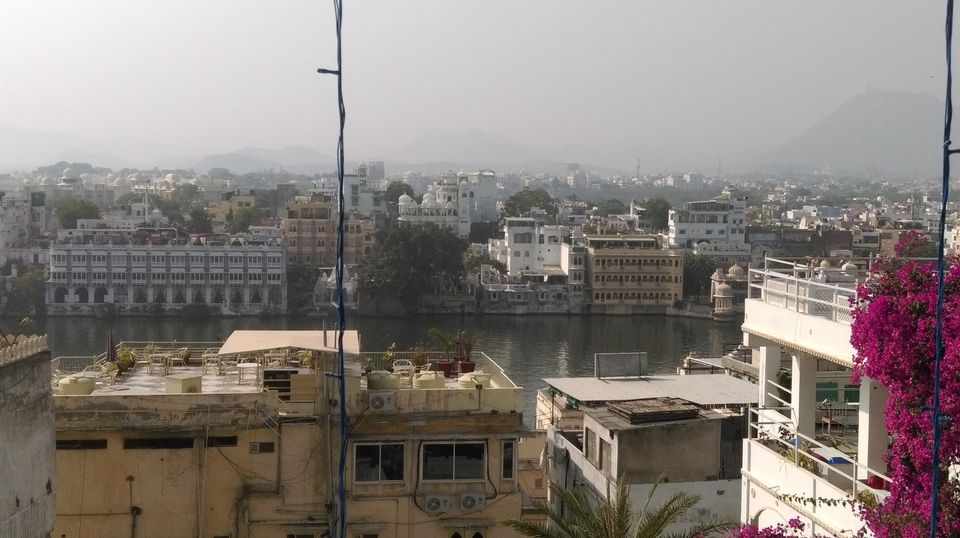 And the view from terrace area looked like this: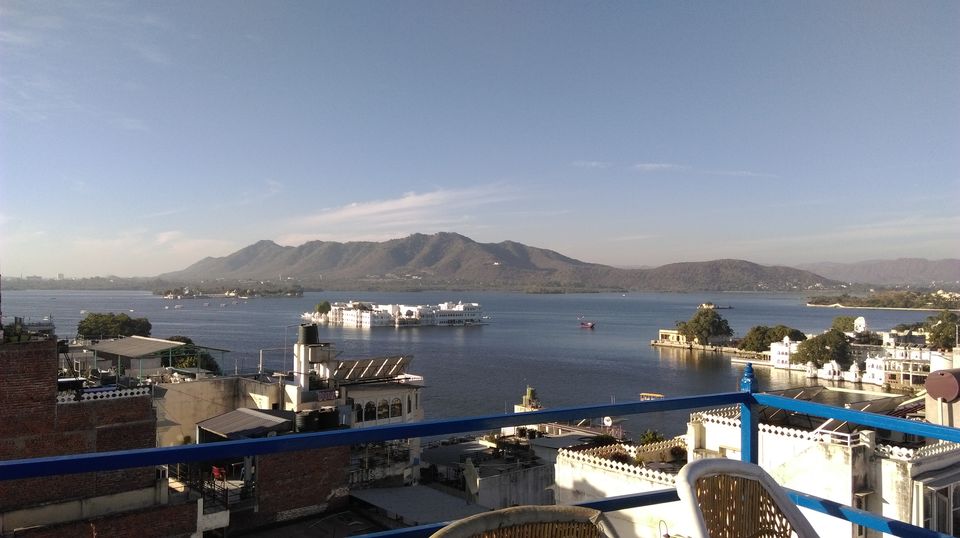 So the result was, I ended up spending most of my time at Greco house on Terrace & lunch area & the investment in the place felt like completely worth it. Especially when you rise up to this beautiful view from the window: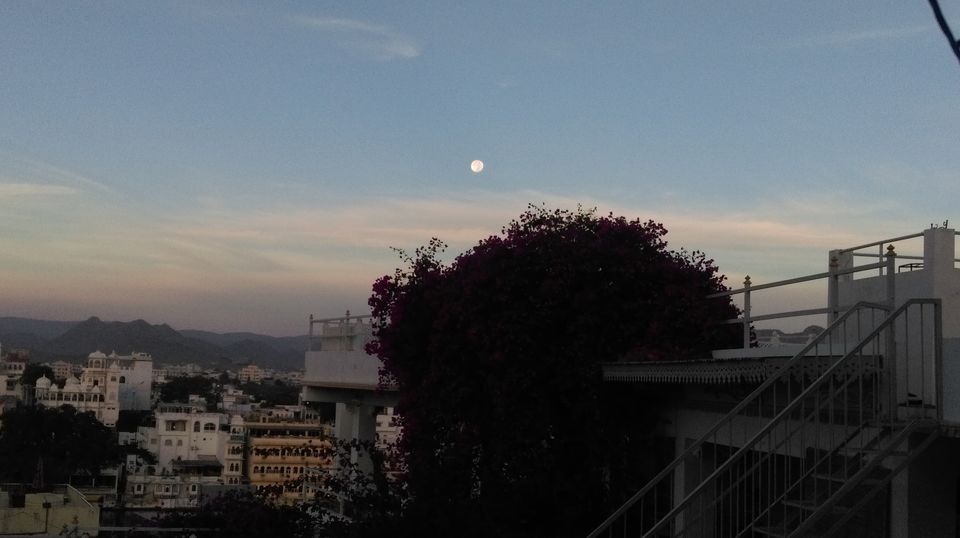 The manager & staff were extremely helpful & food was delicious. Extremely yummy!! Finger licking yummy!!!
Tummy full of delicious food & mind full of exciting plans, I headed off to visit Bagore ki Haveli & Gangaur Ghat, had snacks at Café Edelwiess & enjoyed a fun-filled puppet show in Bagore ki Haveli in evening.
Next two days were spent roaming around palaces, understanding aristocratic way of life & hogging on delicious food.
It was exhilarating to go through the history of Mewar dynasty. To walk through the palaces & rooms where kings & queens once lived (Palace where king & queen still live). Visit to City palace, Jag Mandir, Monsoon palace, Jagdish temple was all amazing & you can read about my entire Itinerary "here" but I would like to share a different side of Udaipur right now.
Udaipur is filled with budding & established artist. If you are an artist then you can immediately feel it in your surroundings. The entire city is filled with Graffiti, painting/photo gallery & leather stores. I also saw a café where few customers were allowed to paint the walls of café.
One evening as I was roaming around the streets near Jagdish Mandir, I decided to visit one of the art galleries called "Square". Trust me, art work over there was breath-taking. Each painting had a story to tell & I was tempted to know more. Realizing that none of the paintings were signed, I asked the owner about who the artist was. The owner informed me that all the paintings were done by variety of local artists. None of them was signed as few people do not like it but if a request is made then they call the artist and get the paintings signed.
You can find such shops all around Udaipur and each artist has its own specialty & painting style but one thing Udaipur is known for is "Miniature Painting". You can find many shops that display miniature painting & they sell it for as low as Rs.10. It is a wonderful skill & the shops are filled with sign-boards saying "Learn painting by so & so artist".
So my story goes like this:
I completed my visit to Saheliyon ki Baari at around 10 in morning & was off to visit Shilpgram village around 5 kms away when a guy started following me. After about 4 hours of stalking, I managed to get him off my track (Or so I thought). Oh yes!! If you are woman, traveling alone then you might meet such idiots once in a while but important thing is to be alert, keep your cool & ask for help from people you can trust.
It happened so, that the guy was following me for about 4 hours now and as I was enjoying my delicious meal sitting in the Café of 1559 AD (As the dining area was full, the manager accommodated me in Café), I saw him again. I asked the staff in the restaurant for help, asking them to shoo him off but alas! He had already ordered food & they couldn't ask him to leave. Then I had a better idea, as soon as I finished my meal & was out on my way to City Palace, I asked the manager what the stalker was doing. Manager informed me that they are settling his bill, I narrated the entire story to him and requested him to delay his settlement, so that it gives me time to find a rick & leave. The manager was extremely helpful & gave me his number to use in case of emergency. Yes, as I have mentioned in my earlier blog too, everybody is not bad & you meet all kinds of people when you travel. You should know whom to trust.
I caught the first rick from out there (which was a share rick) and asked the driver to drop me at City Palace but he dropped at some unknown street & asked me to go up the stairs, which would lead me to city palace. In spite of my bad experience earlier, I did as he said & ended up inside Jagdish mandir, which I had dropped of my "Places to visit" list since, was not very keen on visiting a temple. As I was sitting on a bench, gathering my thoughts & thinking of what all happened since morning when a man came to me and said,
Man: Hi Mam, how are you?? Where are you from??
Me (still recovering from stalking experience & trying to avoid contact with any guy, shouting): LEAVE ME ALONE
Man (Now scared & confused): I am sorry Mam, I am care taker for the Jagdish Temple. I am sorry
Me (feeling bad now): Ohh!! I am sorry. I didn't mean to be rude.
Man (understanding something is wrong): Mam, everybody is not bad. No problem in Udaipur.
Me (Nodding)
Man: My name is Ishwar, I am an artist. I paint. You can see all my paintings in my store and I teach painting.
Me: Okay (Thinking that yes, there are many artist here, even the diary seller)
Man: I can teach you miniature painting in 4 hours.
Me (suddenly excited, jumping to my feet): Oh!! Is it?? What if the person doesn't know how to paint? Can u still teach them in 4 hours?
Man: Yes, Yes I can still teach in 4 hours.
Me: Let's see your gallery.
He took me to a narrow passage beside Jagdish Mandir which led us to his house cum art gallery & he proudly displayed all his art work & also few of his teacher. I was amazed at the intricate detailing that each painting had & was excited that I could learn a few techniques. Again uncertain of whether he could teach me such fine detailing in such short time, I asked him if he can really teach me. He assured me he can. All excited, I fixed my four hour session with Ishwar before leaving for Jaipur.
I met him at 6 in the evening next day & spent four hours in his art gallery learning about art of miniature painting. His passion was visible in his patience & dedication. He spends months & months perfecting every detail in his paintings. Yes, you heard me right, he showed me paintings which had taken around 7 months to complete. He loves to paint Radha Krishna. The fact that he is a person of compassion can be seen in all his paintings. He showed me a painting of elephant fight & asked me what did I see?? I looked at it for a moment & realized why he asked me so. The thing is, he is so kind that his elephants didn't seem angry at all. It felt as if they were happy fighting & enjoyed what they did. Just as Ishwar enjoyed what he did. Yes, Ishwar cannot paint anything pertaining to war & hate. His paintings are a reflection of what he is. Simple, straightforward, full of skill yet down to earth & extraordinary in its own way.
After four hours of our session and help from Ishwar, I managed to paint this beautiful camel.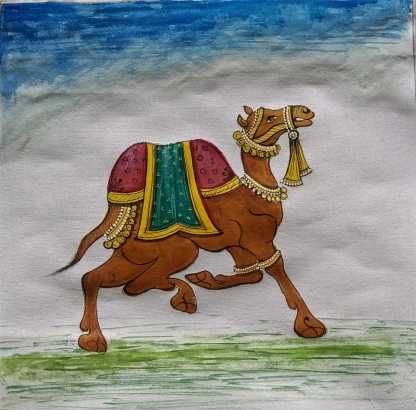 Bad thing/experiences do lead you to good sometimes. This time it lead me to the thing I love. To something that I never thought I would do, I did the thing that was "Off my list"
Painting was not the only different thing I did on this trip. This was the first time I actually shopped during my trip (since all the leather diaries & paintings were so tempting that I couldn't resist), I took the rope-ways (though not very big) and hitchhiked on my way down the monsoon palace (Met a beautiful family who were kind enough to give me a ride down the road as I was getting late).
The best thing about traveling to a new place is that it becomes a part of you. Somehow somewhere it exists always within you and that is how it is meant to be and that is when you have truly traveled.
So what are you waiting for?? Go pack your bag & explore a new place today. Happy traveling!!
Do leave your comments or ping me if you want to know more. Always happy to help!!