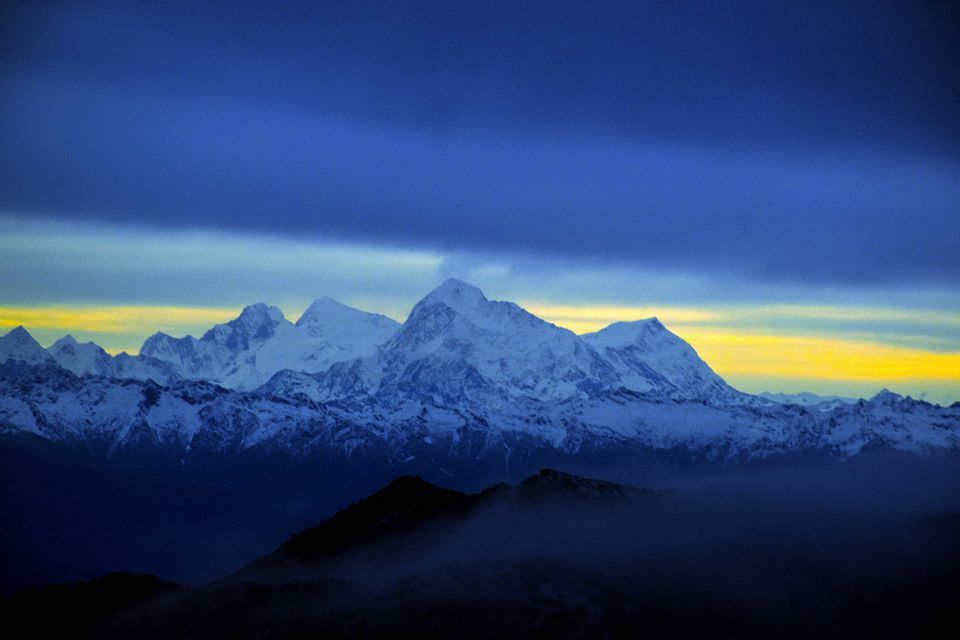 Sandakphu is the highest peak in the district of Ilam, Nepal and West Bengal, India at an altiude of 11,930 ft. It is the highest point of the Singalila Ridge in Darjeeling district on the West Bengal-Nepal border. The peak is located at the edge of the Singalila National Park and has a small village on the summit with a few hotels. Four of the five highest peaks in the world, Everest, Kangchenjunga, Lhotse and Makalu can be seen from its summit.
Itinerary
Day 1 : Kolkata to New Jalpaiguri(NJP)/Siliguri
We three friends planned a 4 Day Sandakphu Trip and boarded the train from Sealdah Station(Kolkata) on 4th April,2019 night.
Day 2 : NJP/Siliguri Janction to Manebhanjan
Reached Siliguri Janction on 5th April,2019 morning around 10 A.M.( Due to some work in the railway track the train was going to NJP via Siliguri at that time. So we get off the train at Siliguri Jn. ). We hired a Qualis for one way trip at INR 2500/- and started for Manebhanjan via Mirik - Pashupati Nath Market - Sukhiapokhri Route. Reached Manebhanjan Bazar around 2 P.M.

Manebhanjan to Tumling
Manebhanjan is a very small mountain township on the border of India and Nepal at an altitude of 7,054 ft. This is the place from where the popular Sandakphu trek/trip begins – the gateway of Singalila range. There is a small booth in the main market area where the Land Rover booking takes place. The Land Rover Association now allows Bolero also to ply along Sandakphu Route. So a Bolero was allotted for us at INR 7000/- (Fixed Price) for 2N 3 D instead of Land Rover as the same may not be available at this moment.
We took permit from the Forest Department office for entry to Singalila National Park. The office is located on the road side just before the uphill route starts from Manebhanjan. There is an entry fee to be paid as well as camera charges are there. After completing the formalities, we headed towards our next stop Tumling(14 Km) from Manebhanjan by Bolero.
The sky looked gloomy and foggy. It seemed, Manebhanjan got a spell of shower before we came. As we proceeded further from Manebhanjan it was started drizzling. The drive from Manebhanjan is quite steep at some places although road from Manebhanjan all the way up to Gairibas has been converted to a concrete road. So it's a smooth ride up to Tumling our next stop via Chitrey – Lamay dhura – Meghma.
Chitrey is a small village located 3kms from Manebhanjan, at an altitude of 8,340ft. When we reached here,the cloud covered the entire road. Hardly anything was visible. I took some photos of Chitrey Monastry in the fog.
Lamaydhura is hamlet located further 3 Km from Chitrey at an altitude of 8,792 feet. Due to cloud/fog and incessant rain nothing was visible at this place.
Meghma another small village located at the border of India and Nepal, and about 3kms from Lamaydhura at an altitude of 9,514 ft.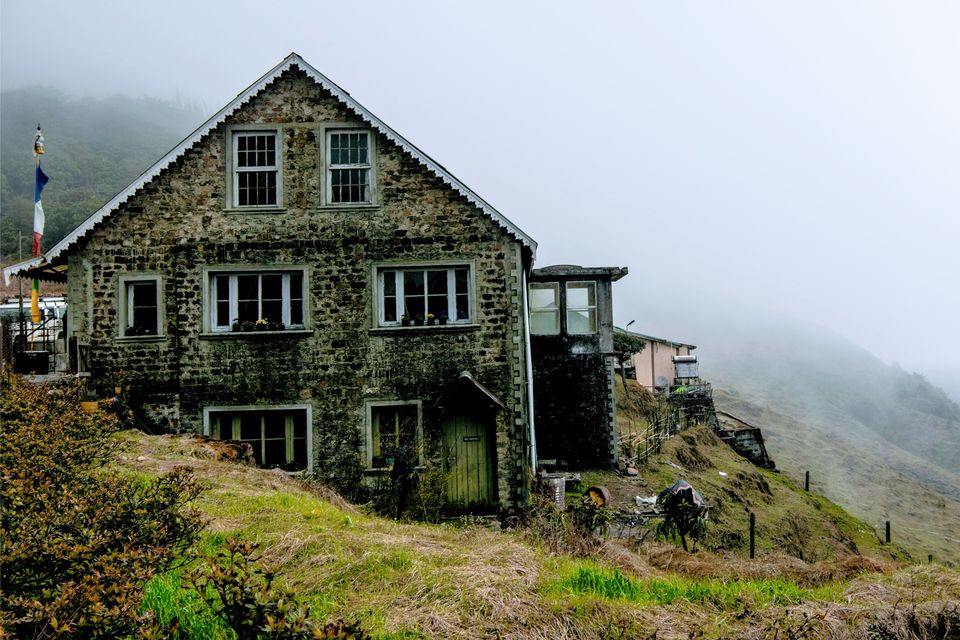 Around 4.30 p.m. we reached Tumling. Another small village located at an altitude of 9,600ft. Sidhartha Lodge was booked ( @ Rs. 1700/- per night for 3 bedded room) beforehand for night shelter. The room was cozy with attached bathroom and had solar powered light/electricity up to 11 p.m. So there was no problem for charging electric gadgets.
It was heavy cold. After getting fresh, we wrapped ourselves with warm clothes, had a bowl of hot Wi Wi and came up on the road.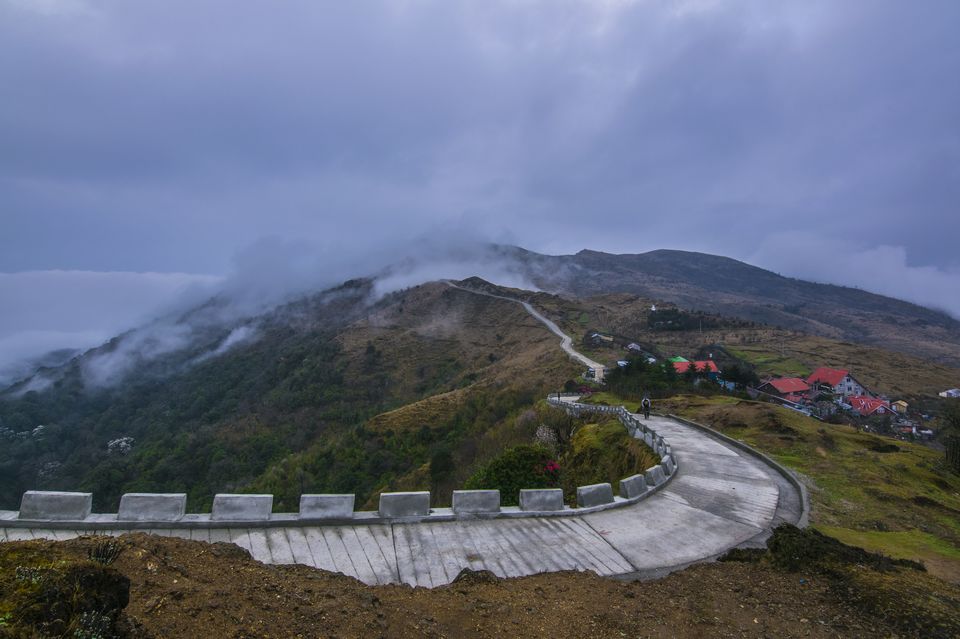 The view was spellbounding.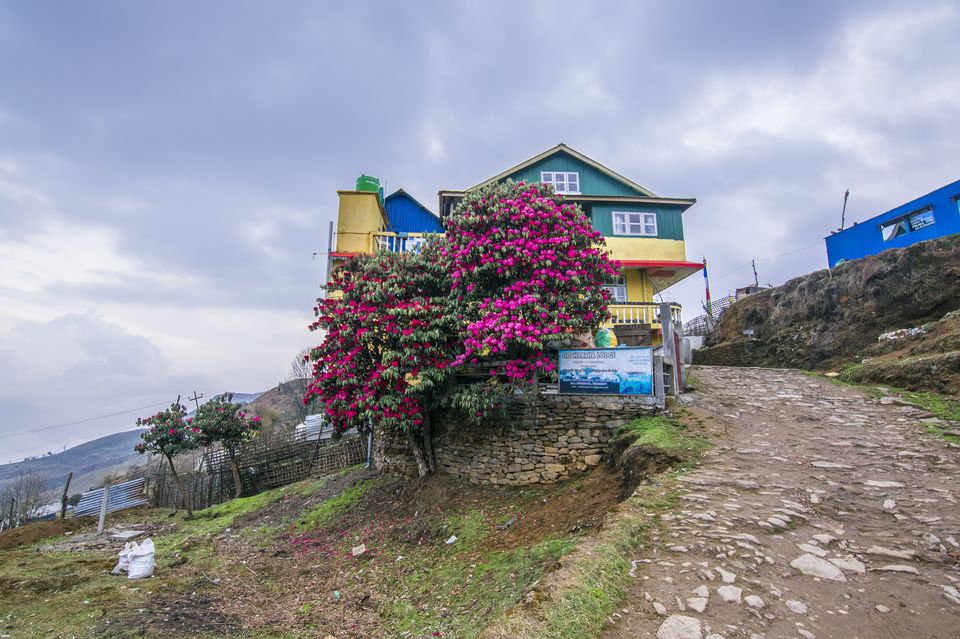 The feeble mobile network was available here that helped us to call at home. As the night fallen we stayed back to our room.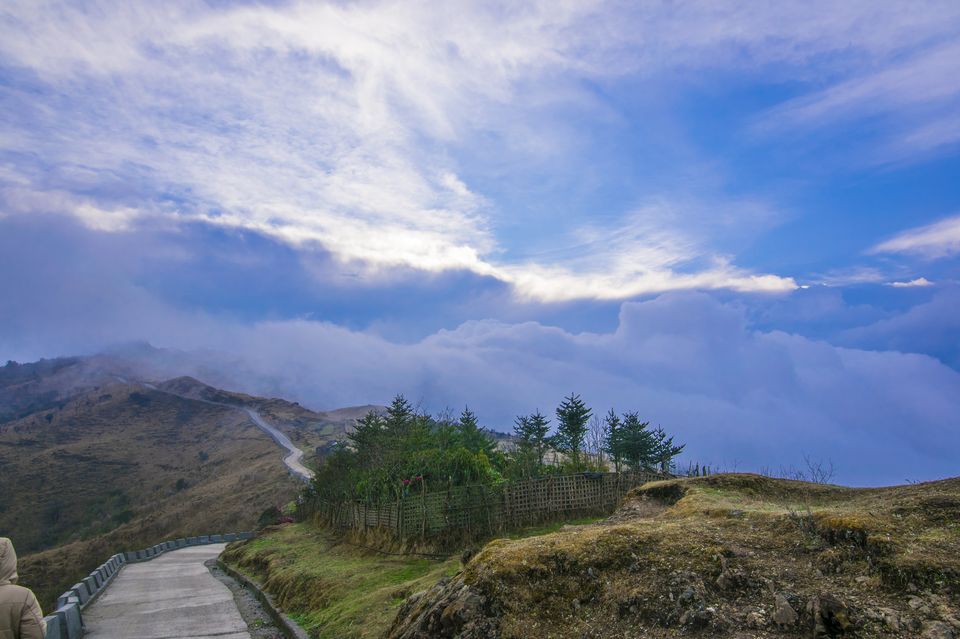 We were told that dinner was served around 8 p.m. The food was very testy and quantity was good with a dessert. We really enjoyed the food. After taking dinner we went off to bed.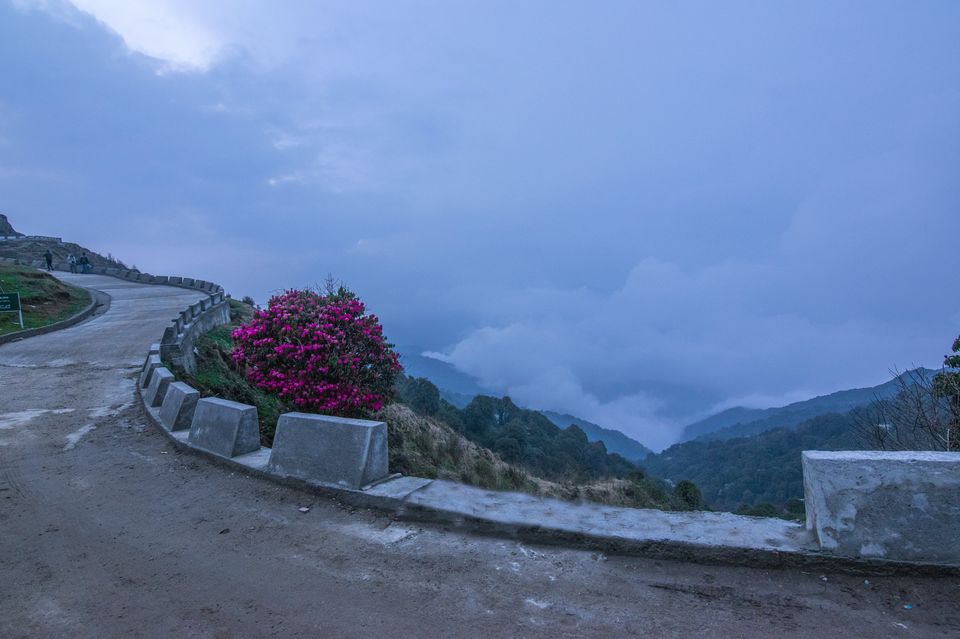 Day 3 :Tumling to Sandakphu
We woke up around 6 a.m., after having very sound sleep at last night. Morning was very cold. After getting fresh and doing the morning business, we came out on the road again. The weather was much better than yesterday. After sometime the sun started peeping out of the cloud.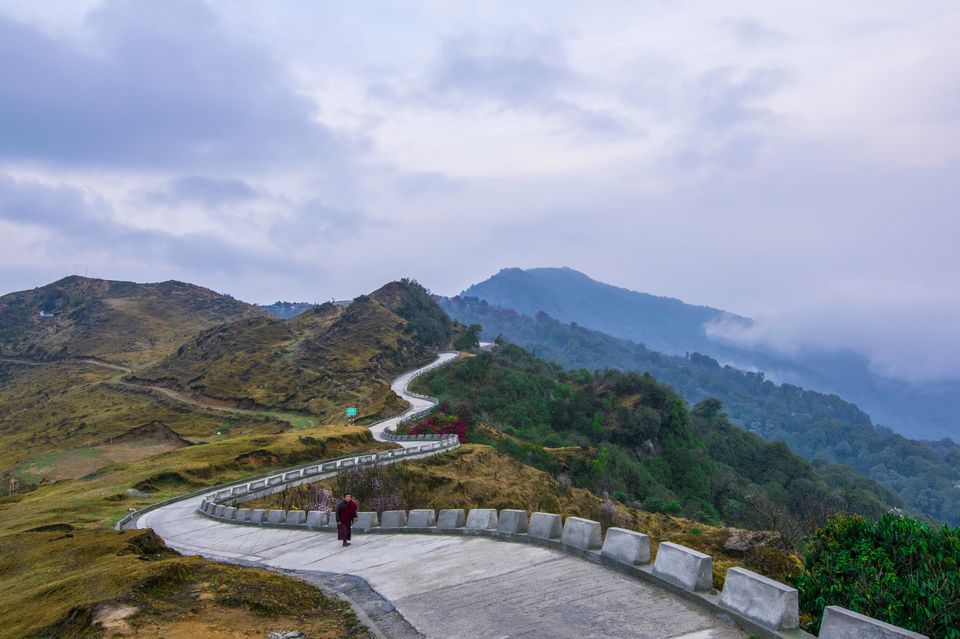 There is a stupa near the lodge. We went up on the stupa and got some awesome cliks.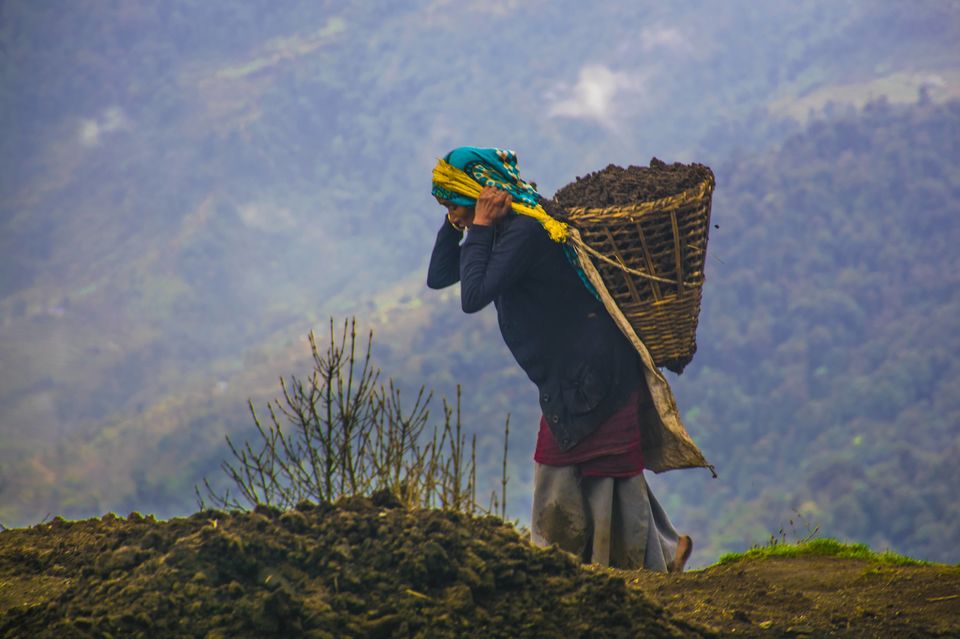 Beautiful Himalayan birds were chirping in the full bloomed rhododendron trees.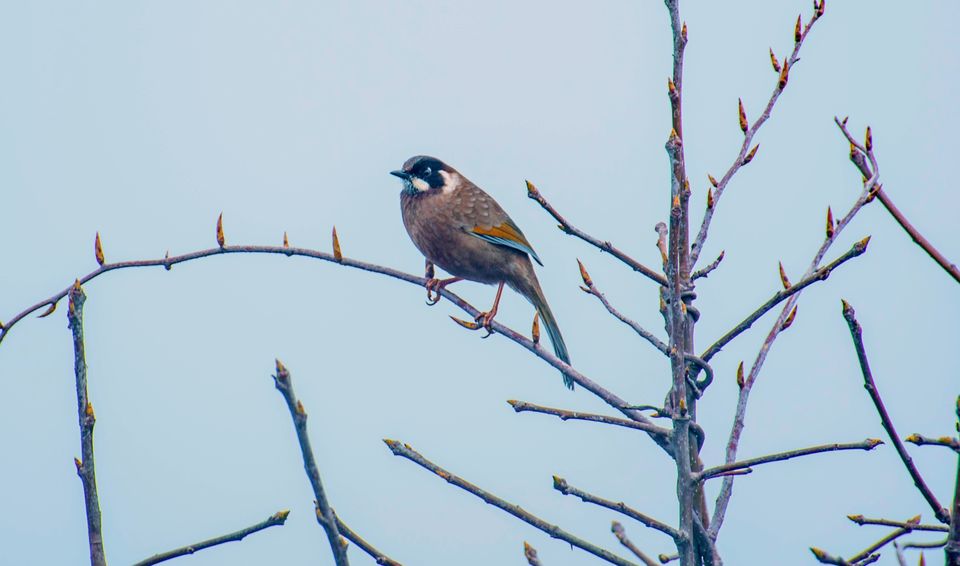 But after sometime the cloud covered the entire place. We did not see the Kanchan till know, not a glimpse of sleeping Buddha. We had our sumptuous breakfast at Siddhartha Lodge while raining outside.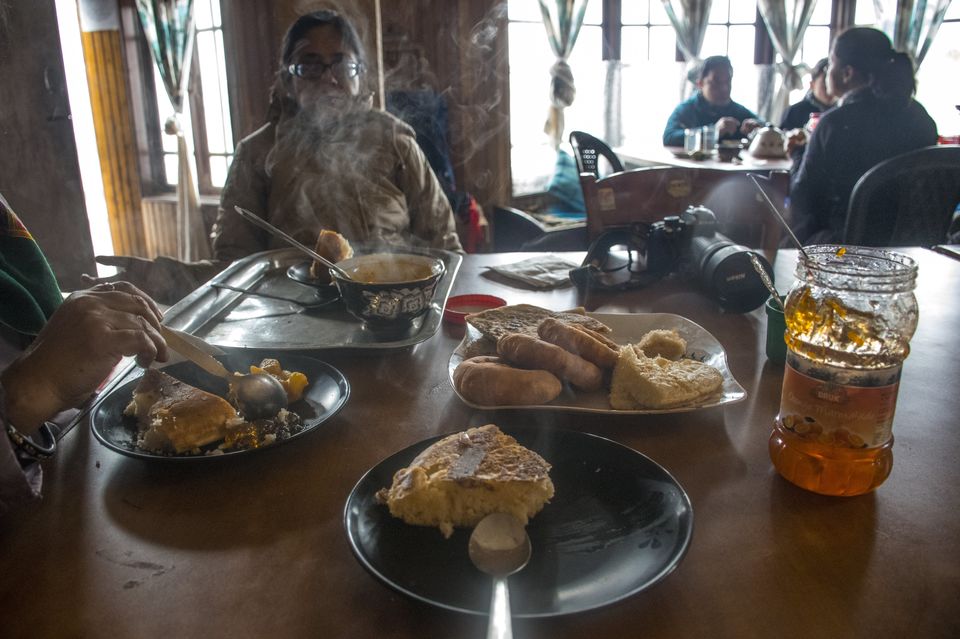 We hit the road again around 9 a.m. Soon after Tumling we enter the Singalila National Park .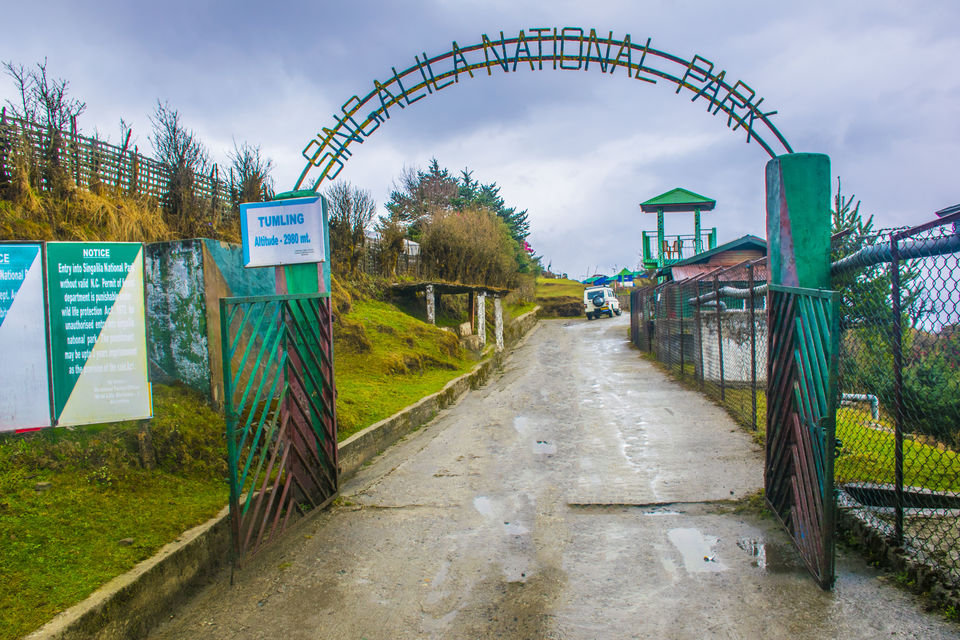 Full bloomed Rhododrendon trees were found here and there along the roadsides, hill slopes.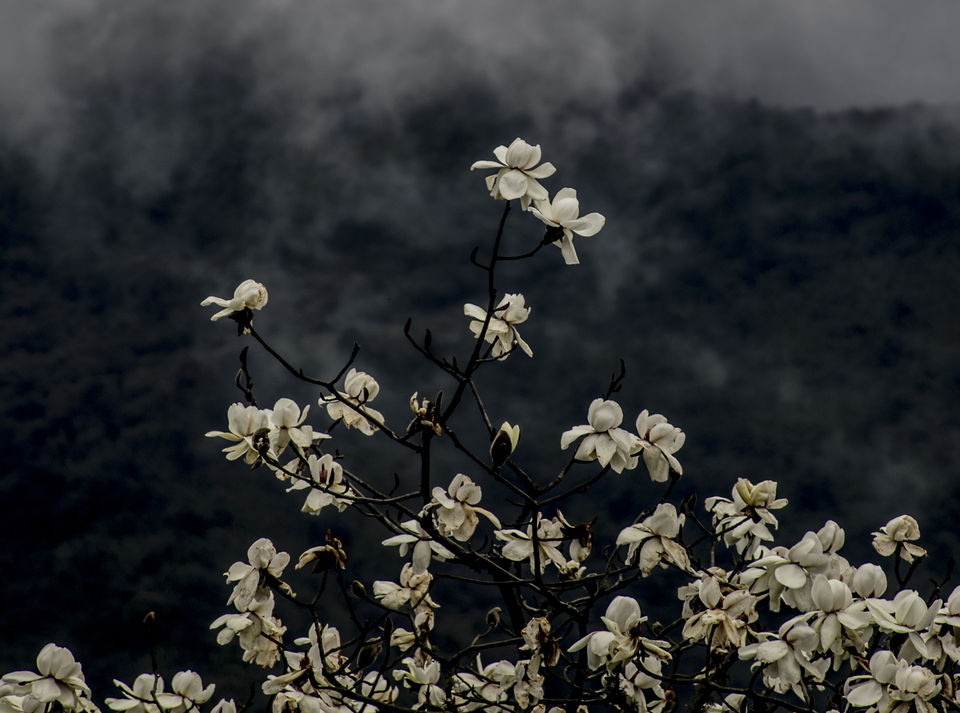 Also found some other flowers magenta coloured, red rhododendron, Magnolia Grandiflora etc.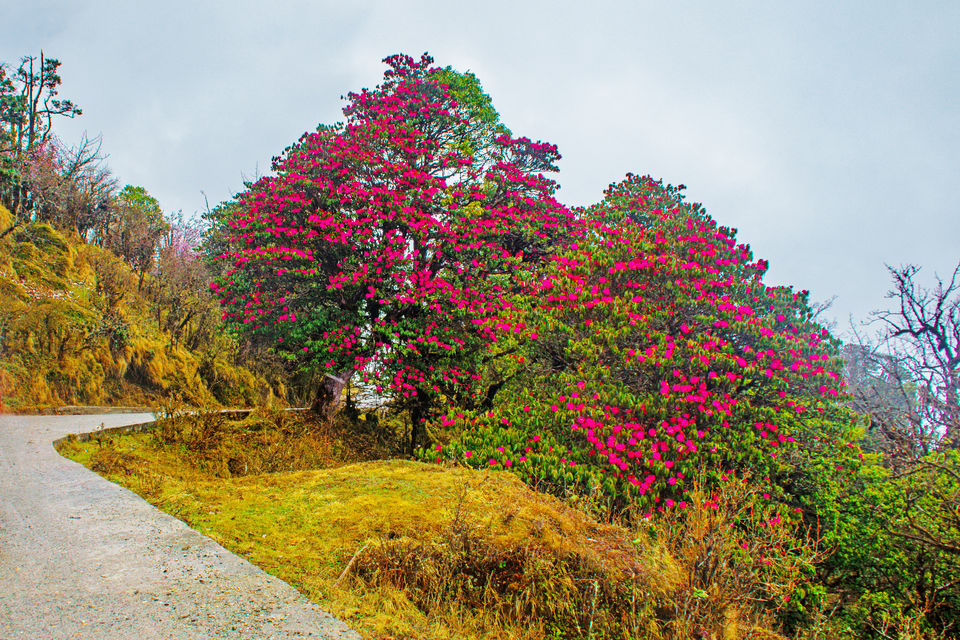 We took photos of the flowers.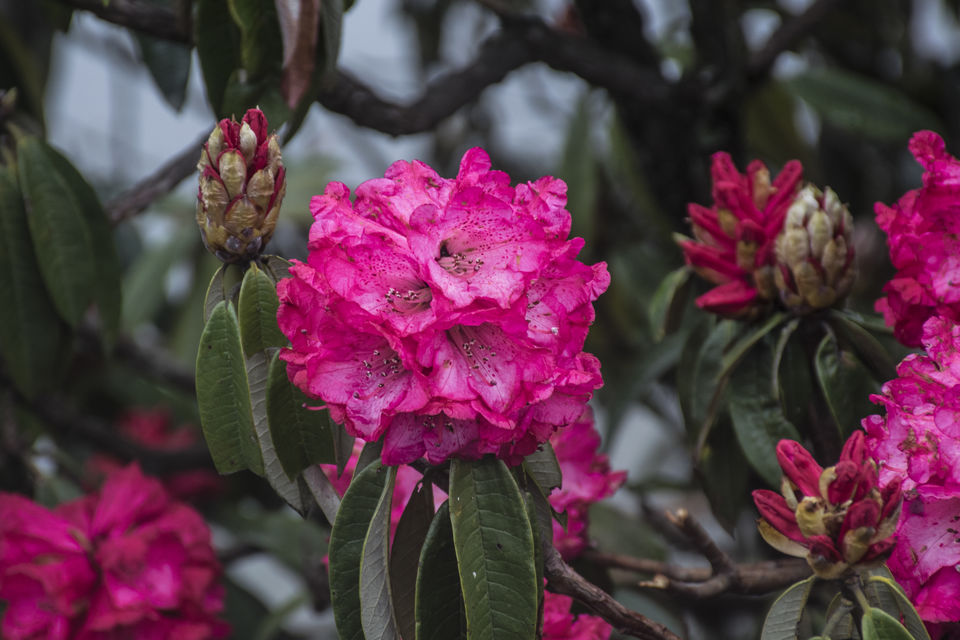 Weather was getting really bad, it was sarted dizzling again. Visibility becomes very low due to cloud and fog. Our driver sanabhai was skilled at hill driving and we kept on moving through clouds and rains via Gairibus. Kalipokhri, Bikheybhanjan. But we could not take photos of these places due to heavy rain. After Gairibus the path was rocky with steep hairpin bends. Around 11.30 we reached our final destination- Sandakphu ( 20 KM from Tumling) – and stayed hotel Sherpa Chalet(Rs. 4500/- for 3 bed room inclusive of food for a night ).
Sandakphu is at an altitude of 11,929ft, on the summit of Singalila range and at the paradise of trekking. We felt heavy cold and came to know that the temperature was below 0 degree C. It was still raining.
Suddenly to our utter surprise, the little pieces of snow flakes began to come down. What a magical sight.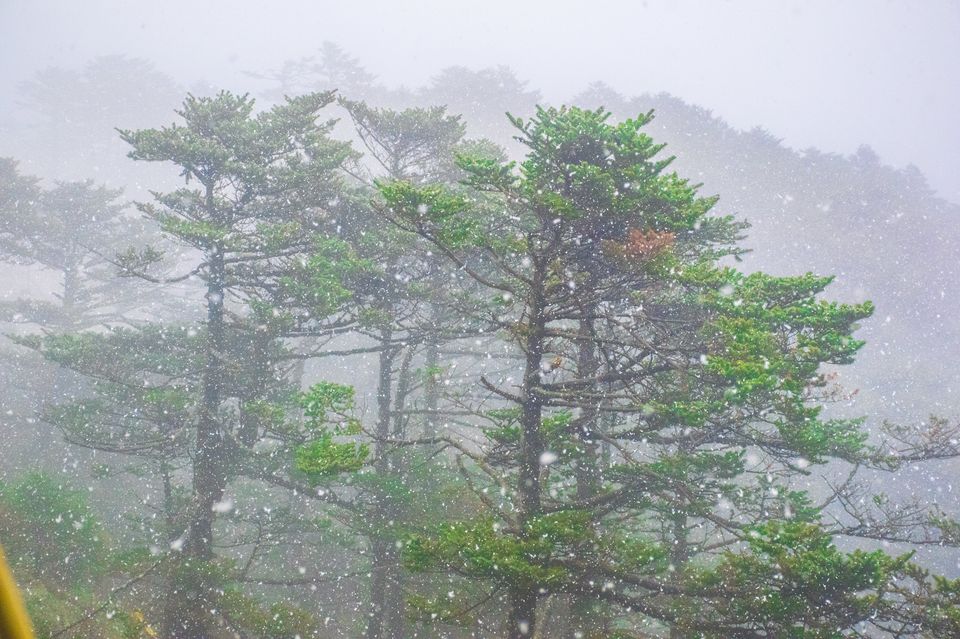 After an hour the snow flakes got settled on the tree tops, roofs and lands and form a light dusting of snow.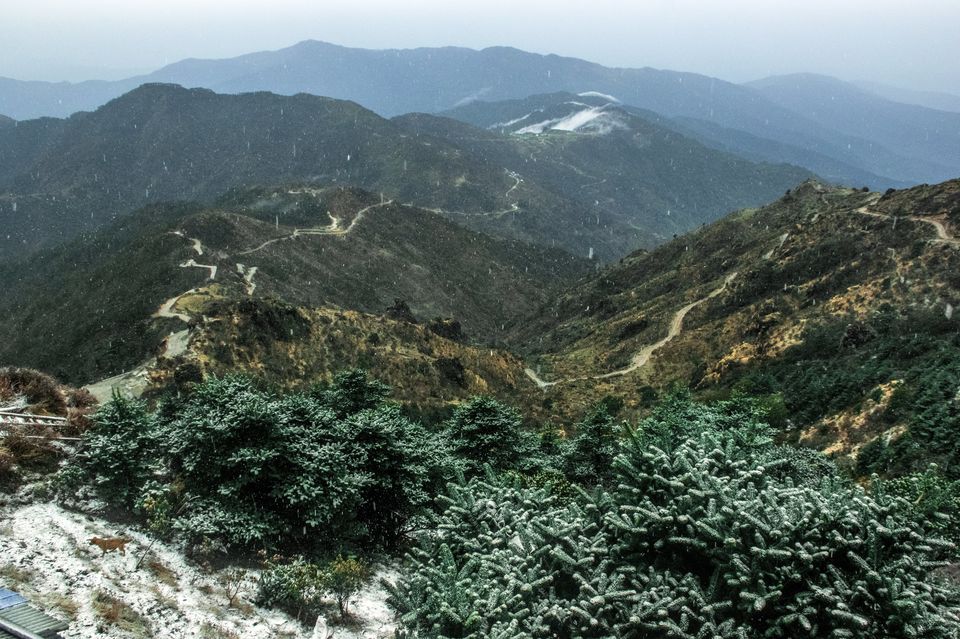 The gradually lands covered with white blanket of snow.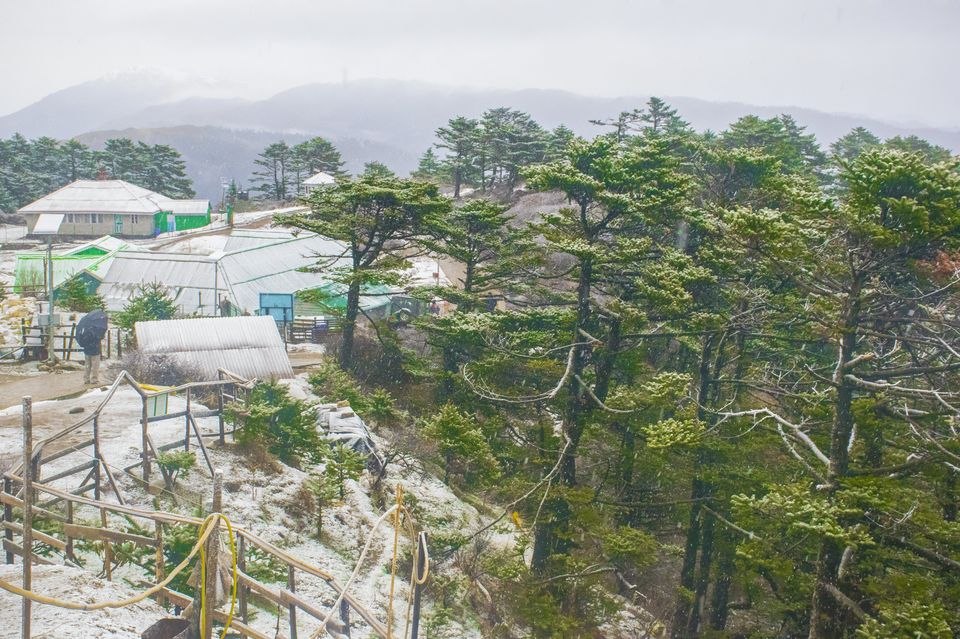 We had our lunch around 1 p.m. Food was good,we were hungry and it was finished in no time.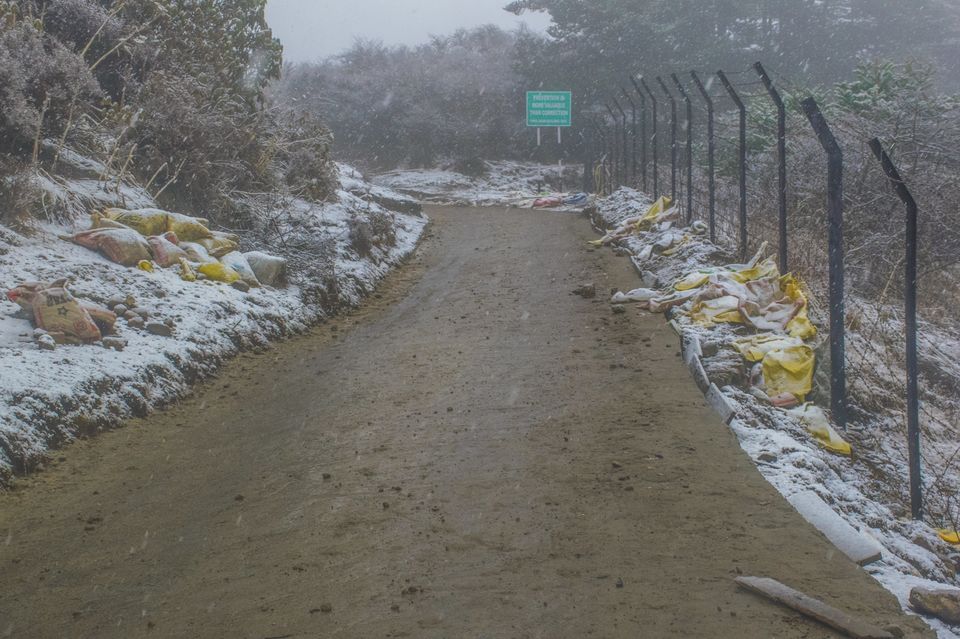 Then went to the room to take a midday snap as it was kept snowing outside till. In the afternoon, the snowfall ceased. Weather cleared out a bit . The cloud began to settled between the mountains. It looks amazing.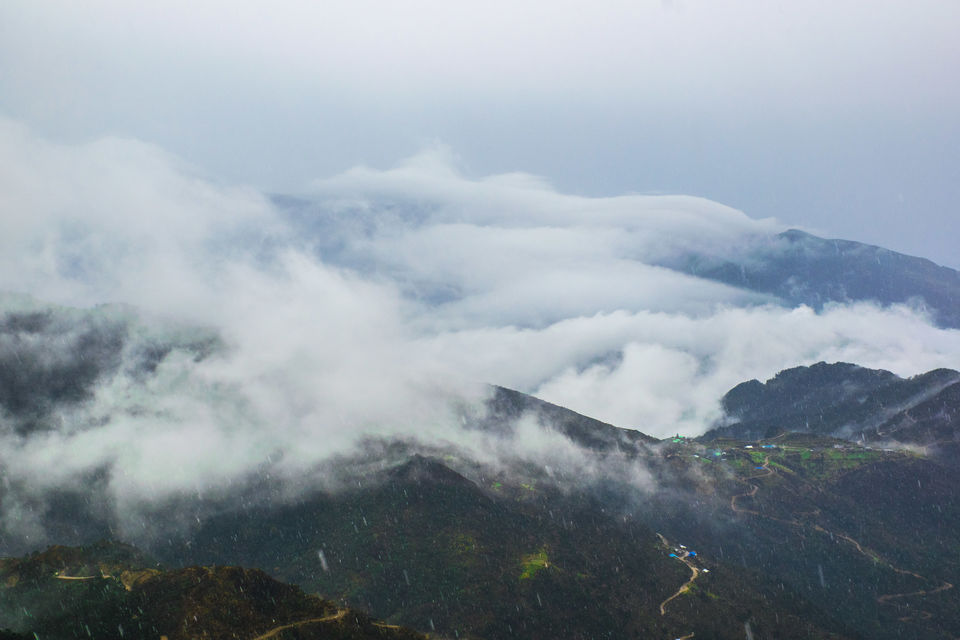 one or two Landrovers were still coming up.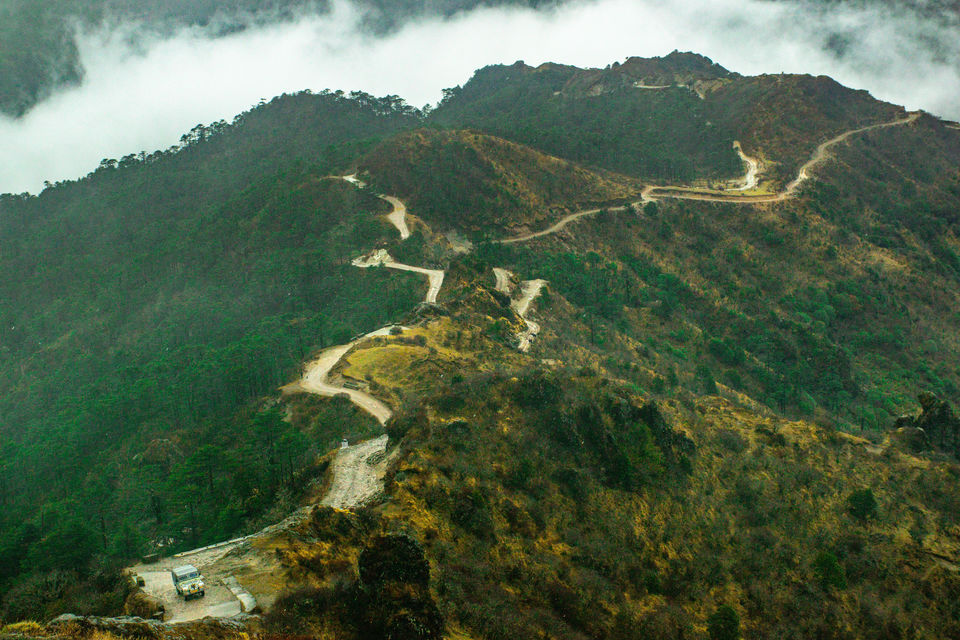 Suddenly the cloud disappears and we got the clear view of three highest peaks of the world... Mt Lotse, Mt Makalu and Mt. Everest. It was a wonderful sight, awesome feeling, could not express in words.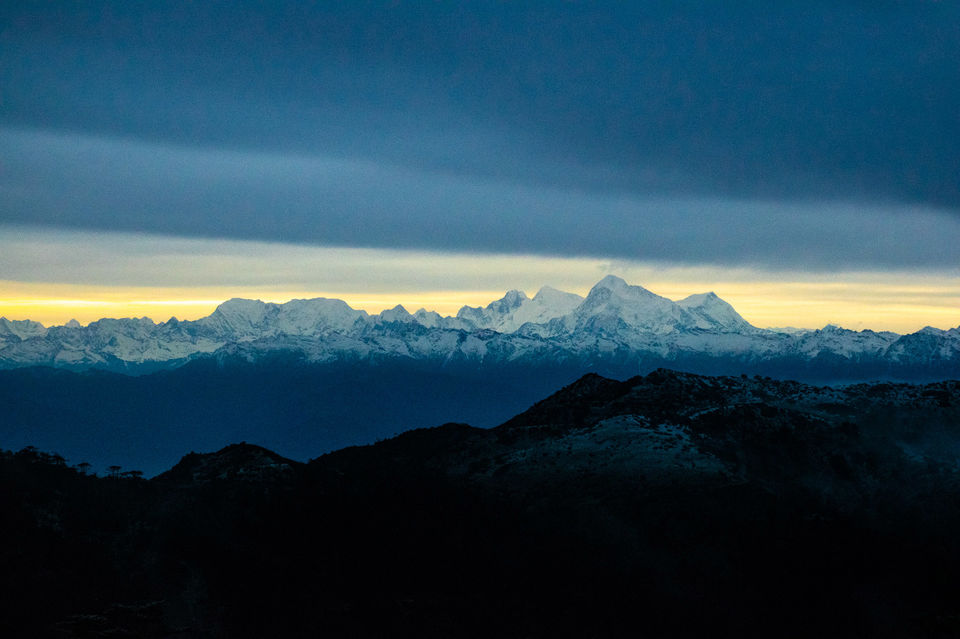 But cloud made Sleeping Buddha still invisible.After having evening snacks,we chit chat for sometime. Night was very very cold.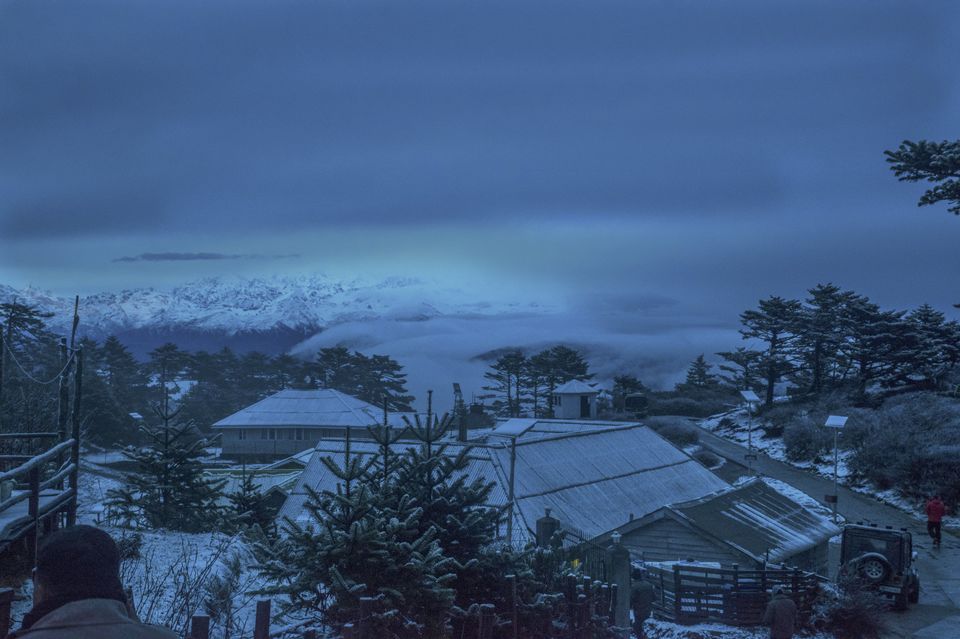 The dinner was served around 8 p.m. and after taking dinner we slipped in to our bed.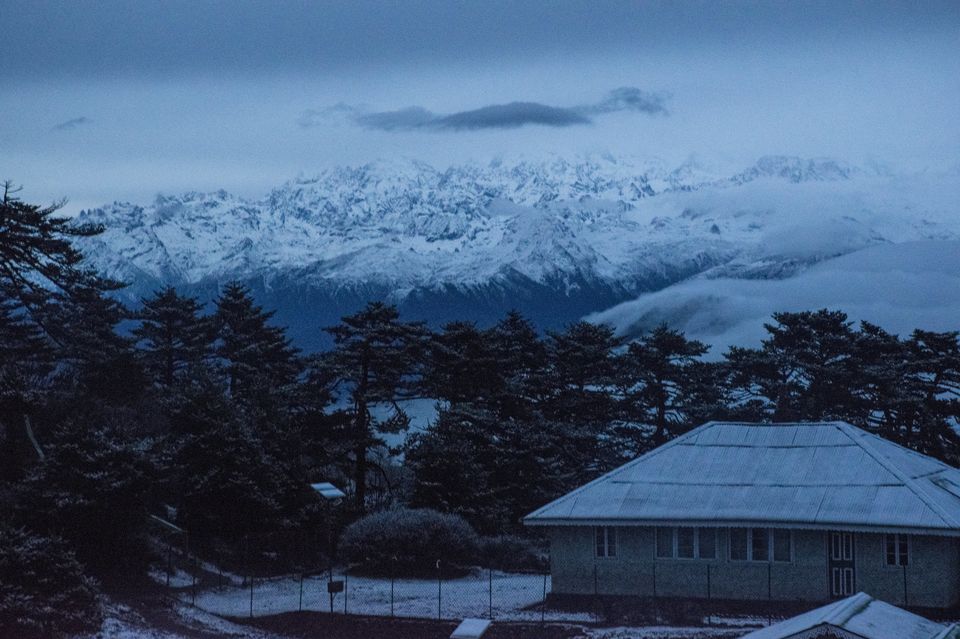 Day 4 : Sandakphu to Manebhanjan
We were shivering the whole night. Don't know why but we three could not sleep at all. Around 5-45 a.m. we left our bed as the day light came out . Outside weather was as disappointing as the earlier 2 days. Cold wind was blowing strongly. Clouds were coming down. Nothing was visible. We laid on the bed again, nothing to do.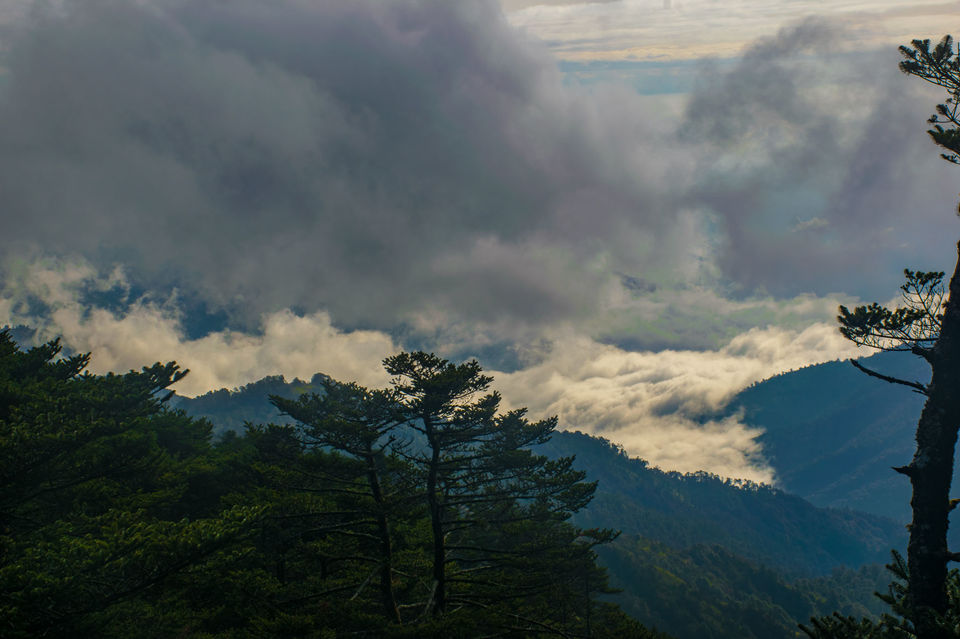 Around 7 a.m. weather became quite clear but our bad luck we could see only the partially visible Mt. Kanchanzangha .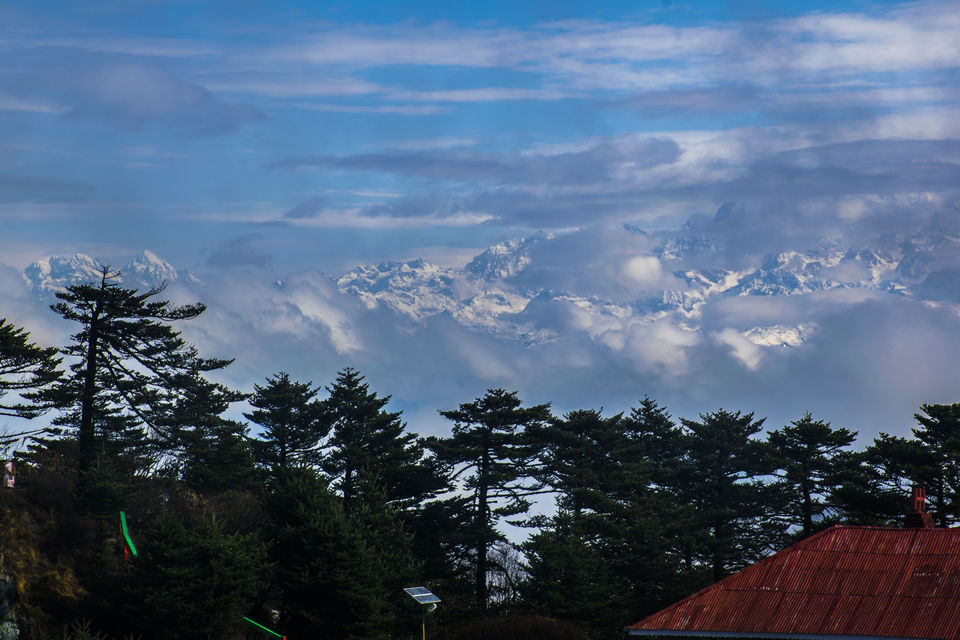 We started to pack our stuff as we had to leave by 9 a.m. After taking breakfast, we started descending by Bolero. Weather was much better. The day was almost sunny but peaks vanished behind the cloud. We took photos of Jhaubari, Kalipokhri, Meghma, Gairibus that we missed while going upward
Jhaubari is a small village 6 km from Tumling at an altitude of 9,186 ft. This place passes through Nepal.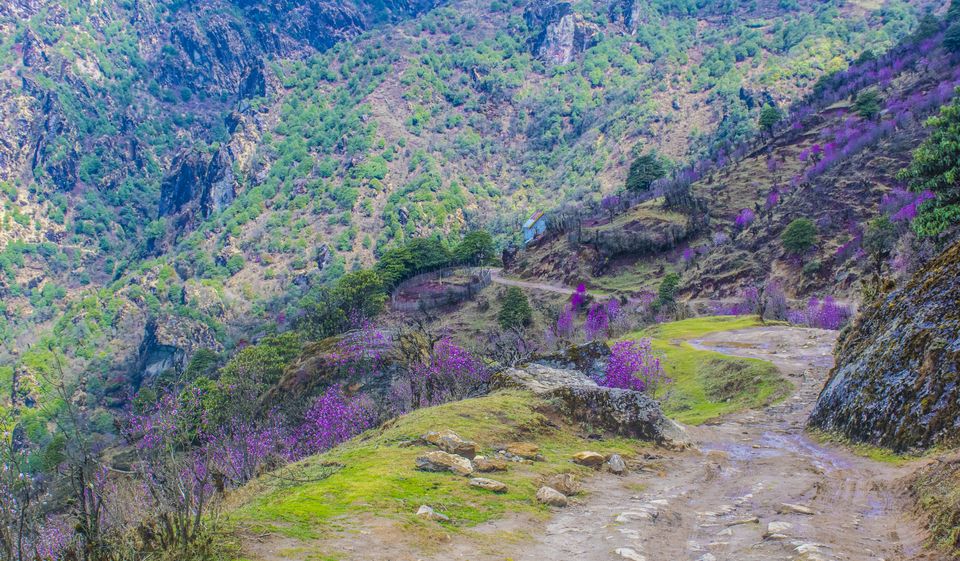 From Jhaubari one has to take a right turn towards Gairibas. It is further 1 km ahead and located at an altitude of 8,600 ft.The landscape around is picturesque with pine trees and lot other plantations
Kalipokhri is 6kms from Gairibas at an altitude of 10,400ft. Kalipokhri is so named because of a pond or a water tank filled with black water.
The small lake is considered sacred by the local villagers.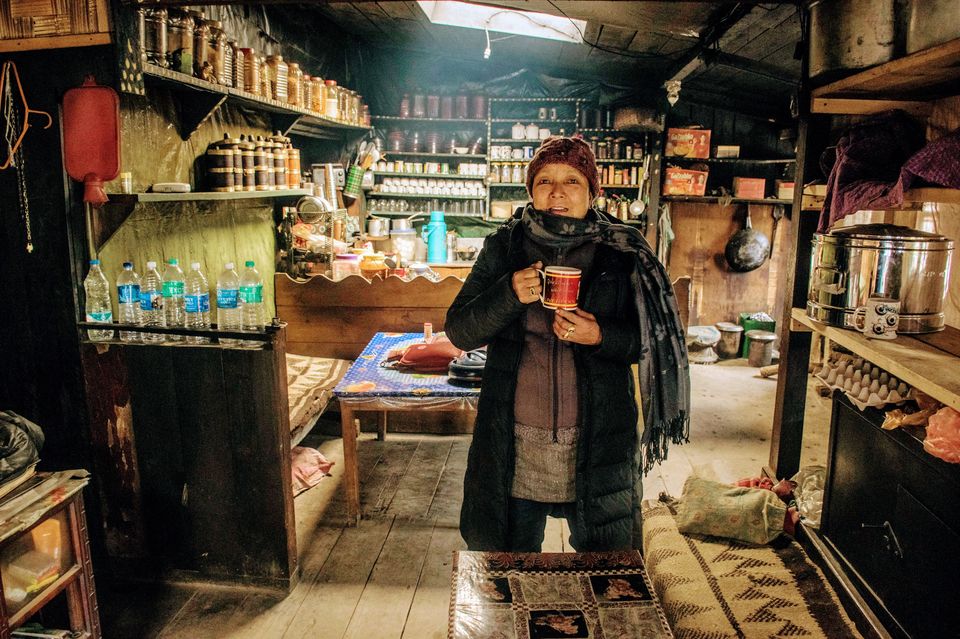 Bolero dropped us at Manebhanjan around 3 p.m.It was raining then. We took lunch at roadside hotel and booked a Innova for NJP. Boarded a train for return journey to Kolkata.
How to reach – reach New Jalpaiguri/Siliguri from Kolkata by train ( there are plenty of trains available )or reach Bagdogra airport by flight from Kolkata. Take a shared taxi from Siliguri /NJP or book cab to Maneybhanjan ( 4 hr).
The route which followed :
Maneybhanjan --> Chitrey --> Lameydhura --> Meghma --> Tumling/Tonglu --> Singalila National Park --> Gairibas--> Kalapokhri --> Bikheybhanjan -- > Sandakphu ( Total 32 Km).
Where to stay
There are several places to stay along the route. GTA (Gorkhaland Territorial Administration, erstwhile DGHC) lodges and trekker huts are available at places like Tonglu, Gairibas, Sandakphu and Phalut. You will also get private lodges and huts at Meghma, Tumling, Jhaubari, Gairibas, Kalipokhri and Sandakphu.
In Tumling where many like to stay overnight, Shikhar Lodge is a good choice. Another nice accommodation is Hotel Siddhartha. In Sandakphu, I prefer the private lodge Sherpa Chalet, Sunrise Hotel(Best). Remember all these are basic accommodations. There is no electricity at these places and the lodges use solar lights for some hours at night. So do not expect luxury amenities like TV etc. However cell phones do work for most part of the route.
What all essential things to carry –
A raincoat/umbrella, a warm jacket, muffler, gloves, woollen caps and ear guards, enough other warm clothes, a good pair of shoes, torch with enough batteries, tissue paper, sunglasses,moisturizer, lip guard, hand sanitizer, tablets and ointments, coca 30 ( a medicine required for the breathing problems at high altitude), paracetamol, medicine for hill diarrhea, digestives, dettol, band aids, cotton, geoline ( water purifier, though packaged water at every point is available).