If you never see the Taj don't worry another option in Maharashtra it is in Aurangabad its call Deccan Taj it is the most family friendly place to visit with your family and friends.
About BIBI-KA-MAQBARA: it is the mausoleum of Rabia-ul-Durani alias Dilras Banu Begum Wife of Aurangzeb. This mausoleum constructed by Prince Azam Shah in memory of his mother during 1651 and 1661 AD. This monument designed and erected by Ata Ullah a Hanspat Rai an engineer.
It is standing in the centre N-S side and E-W. Baradari and pillared pavilions are located at the centre of N-E and W part of the enclosure wall. Inside Mughal 'Char Bagh' pattern available it increasing its beauty it is an amazing layout of the garden. The high enclosure wall is raised with recessed pointed arches and bastion at regular intervals is provided to cut down the monotony.
The mausoleum is built on a high square platform with four minarets at its corners which is approached by a flight of steps from three sides. The monument is found to the west of the main structure, which was a later addition done by Nizam of Hyderabad it is encased with marble up to the dado level above the dado level it is constructed of basaltic trap up to the base of the dome it later again built of marble.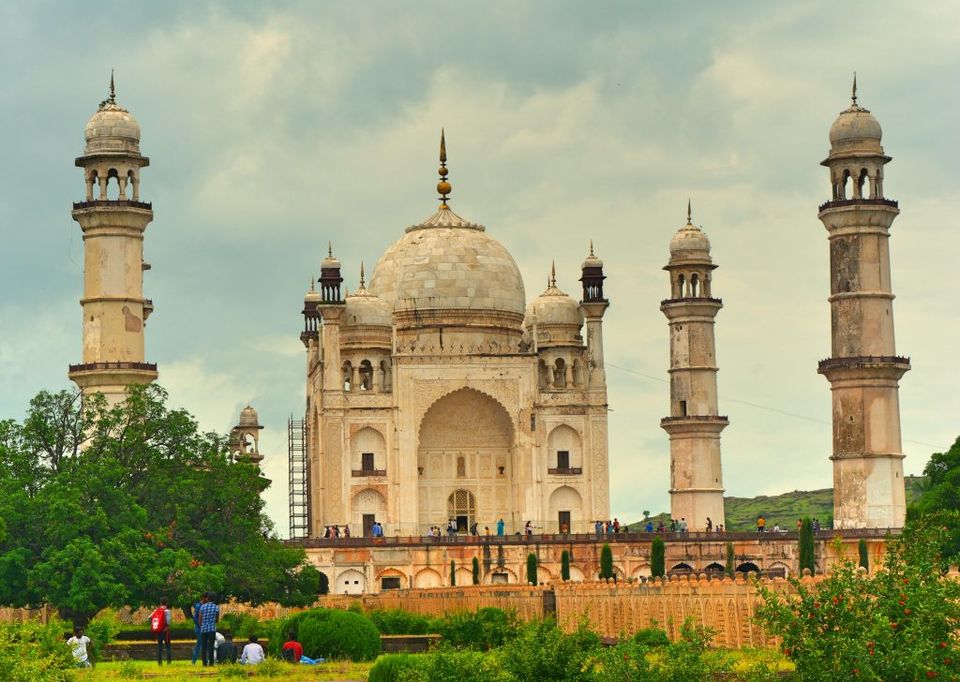 Some travel tips at MAQBARA: during peak season and weekend there have too many rush or long queue for getting tickets.
Ticket price: for Indian tourist (Rs 25) each person and Foreigner tourist (Rs 300), Extra charges for a professional camera.
Opening time: Sunrise 7 AM to 10 PM open every day.
How to reach: By local transport rickshaw private cab or MSRTC Volvo bus but it is only morning time available from central bus stand it is Aurangabad Darshan bus service Volvo bus service available Rs.315 including Ellora.
Best season to visit: July to February if you visit in summer so carry the umbrella with you early morning to till evening it is too much heat; temperature near about 43 degree Celsius. Use full shirts to protect from sunburns, carry the water bottle along with you.
Other things to you know: No food allowed inside the monument.
Face the problem by local tourists if you foreign tourist they ask for selfie or photos with you or asking for where are you from and about yourself. Some time beware of thief take care of your valuable things.
Tourist facilities: Near no cafeteria available but there have a delicious healthy street food like corns and verities of fruits available if you plan to visit take your heavy lunch before you visit.
No clock rooms.
Guide available.
Washroom available.
Parking availability: Parking space for two-wheelers, four wheeler, buses and travels.
Wheelchair available for differently abled people.
some memory of my childhood and college life: it is my hangout place all time because if we getting boar during school lectures we are bunk lectures and visit these place and also same during MBA period we are playing here kind of games like Football, cricket, Haati ki Sond, truth and dare. After finishing games taking launch here with friends during the kite festival we are here to celebrate these festivals.
In my childhood, my family celebrate my birthday in MAQBARA it big relation with this monument it is my fevrioute place for any time.
I know very well about these place my school is near only half km. So it is the too much friendly spot for me there are many secrets story, I heard in my childhood its very funny and scary stories I cannot share with you. During the summer there are many mangos tree it is a free treat for visitors at that time but nowadays it is under observation.
Inside garden is very maintain by Archaeological Survey India department you can seat, play, capture the moment any angle it is the 'Shaan' of Aurangabad and Maharashtra you must visit with your families, friends.
It is in Begumpura: why its call means it is a name of Dilras-Banu-Begum and on these bases its call the Begumpura.
During the Diwali Padva here celebrate the 'Sagar Festival' and also 'Sankrant festival outside the area' (KITE FESTIVAL).
Four adorable Minar one round Ghumat it is too huge we can see all over the city it is on Ghati hill if enter from one of 52 gates that is 'MAKAI' Gate you can see the height of road.
Here pass one river it is called Kham River its close distance from these place you can also see the defence wall.
Nearby places: After watching MAQBARA take some break and plan to visit near places.
Aurangabad Caves: It is only (3 km) from Tomb here have some waterfalls during monsoon and two Buddhist caves.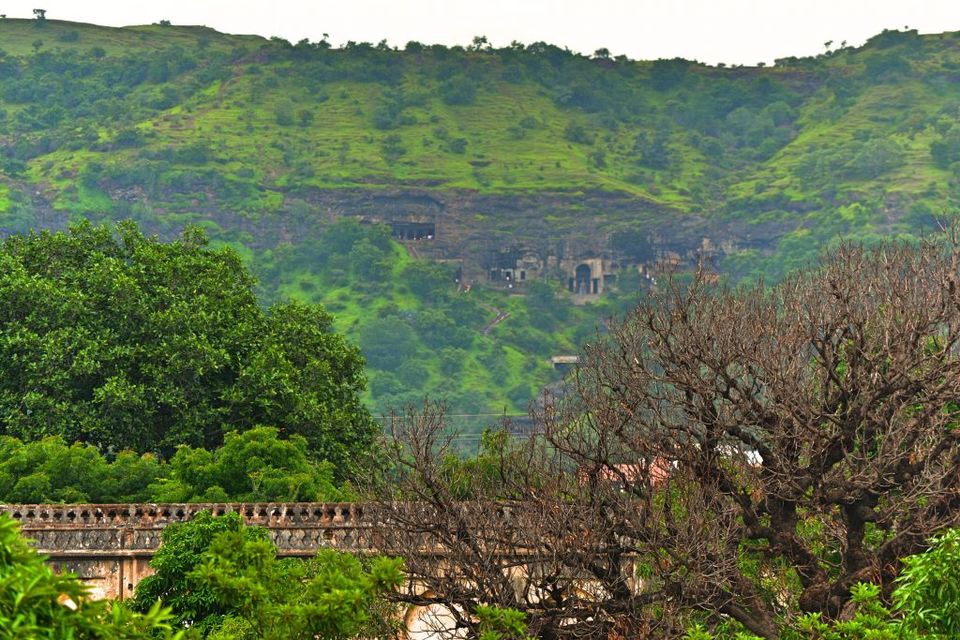 Soneri Mahal: It is only 2 km from Deccan Taj here the museum of the old palace there has the old treasure like antique paintings, guns, cannon, coins and many more you must visit.
Pancahkki: It is a water mill built by Malik Amber period it best water management example put by MALIK AMBER.