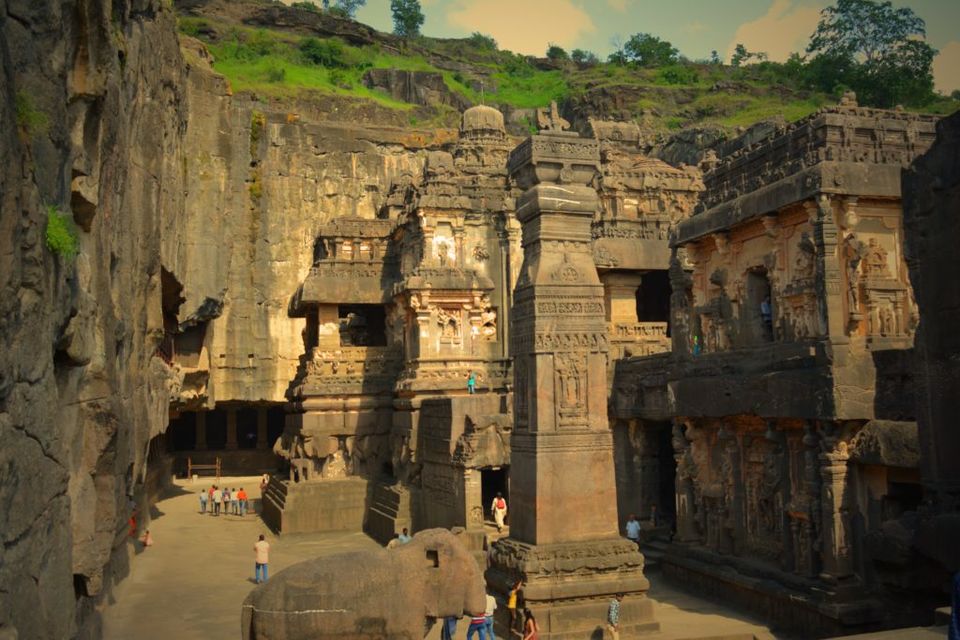 Ellora: Is located into Aurangabad district state of Maharashtra it is also known as Verul caves it is a very popular national heritage of India, during 1981 the (United Nation Education Social Cultural Organisation declared has world heritage site because of the unique architect of these all caves. Ellora cave carved into Satmala Parvat Range (SEVEN MOUNTAIN RANGE) of verul ghat Sahyadri Mountain Range.
Ellora were carved during a period of 600 years almost 5 th century AD to 11 th century AD as per History.
It is the place you can see or experience the three different Indian religions monasteries and shrine stories at one place at Verul and it shows us to our past present and ancient stories through by caves statue & artifacts.
There are 34 caves in Ellora based on Buddhists, Hindu and Jainism story all caves are attached into one mountain in linear management. Cave 1 to 12 are based on shrine and monasteries located at the southern site.
Cave no 13 to 29 it is based on Hindu religion temples and ancient stories it is located in central portion site.
Cave no 30 to 34 it is based on Jainism temples & stories.
How to reach: Ellora caves it is located into Aurangabad Maharashtra state it is 29Km from Aurangabad city via SH52 required time less than 50 minutes.
From Pune to Ellora 257Km via Ahemad Nagar Highway.
From Mumbai to Ellora 341Km via nashik highway NH 160.
From Nashik to Ellora 174Km SH30.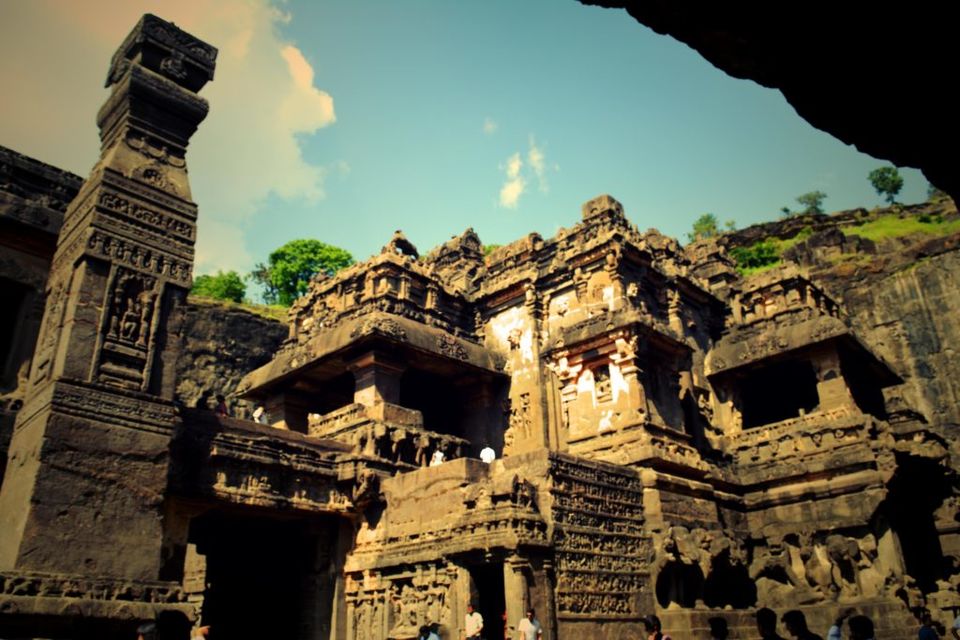 Transportation: from Aurangabad to Ellora caves many Transportation services available like state transport MSRTC frequently buses available and private taxi services available special Volvo bus for Ellora 'Darshan' it is morning time from Aurangabad central bus stand the ticket price for per person 450/-Rs. Up and down fair its cover BIBI KA MAQBARA & ELLORA CAVE and for Ellora Caves by private taxi only 50 R.s only for one side fair the government busses also available which is non-A/C the fair cost is only 45 R.s for per person.
Nearby station: Daulatabad railway station and Central bus stands of Aurangabad.
What to do: Must do explore the all 34 caves if possible, must see water fall it is exact north side of cave no 21 called Sita Nahani fall, must see cave no 16 along with guide.
things to know before you visit to ellora caves.
Carry a water bottle along with you. Wear shoeless shoe or sandal. Carry some snacks the distance of cave is approx 2 Km so if you carry some snacks with you it gives more energy to explore the caves. Be aware of monkey thieves. Start to travel in the morning time because there are many too many places to explore along with Ellora. Accommodation available there starting just Rs 999/-.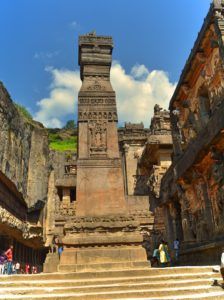 Dhwaja Stambha.
What to eat: There are many restaurants available for lunch & dinner according to your choice you can try Marathi meal or Rajasthani Thali here.
Best time to visit: best time to visit Ellora cave is during monsoon to winter it is best time to explore the Ellora cave during summer time it's too hot kindly avoid to visit summertime temperature goes 43 Degree Celcius.
Closing and opening time (day): ellora cave open 6 AM TO 6 PM.
Tuesday closed must aware about this thing if you plan to visit Ellora caves close on Tuesday.
Ticket price: ticket price for a domestic tourist it is only 40/- Rs and foreigner tourist 600/- Rs per person and a special discount for SAARC & BIMSTEC Visitors.
Additional charges for professional camera and guide service charges 1500/- Rs for one to five people.
Facilities available in ca ve: toilet, washroom, drinking water, wheel chair available for different abled people and internal transport service available for cave no 30 to 34 and 17 to 28 no cave, parking available outside the cave.
If you have limited time must see Cave no 16, 10, 21 or 32.
Mix memorabilia: what to buy for mix memorabilia with you here are many handloom shops available must visit and see the amazing art work on clothes it is speciality of Aurangabad.
Do not do these things in ellora: please don't take selfies in some risky points.
Don't touch & play with statue and mounuments.
Don't throw garbage inside the monuments please use dust been.
Ellora Caves No 21 Story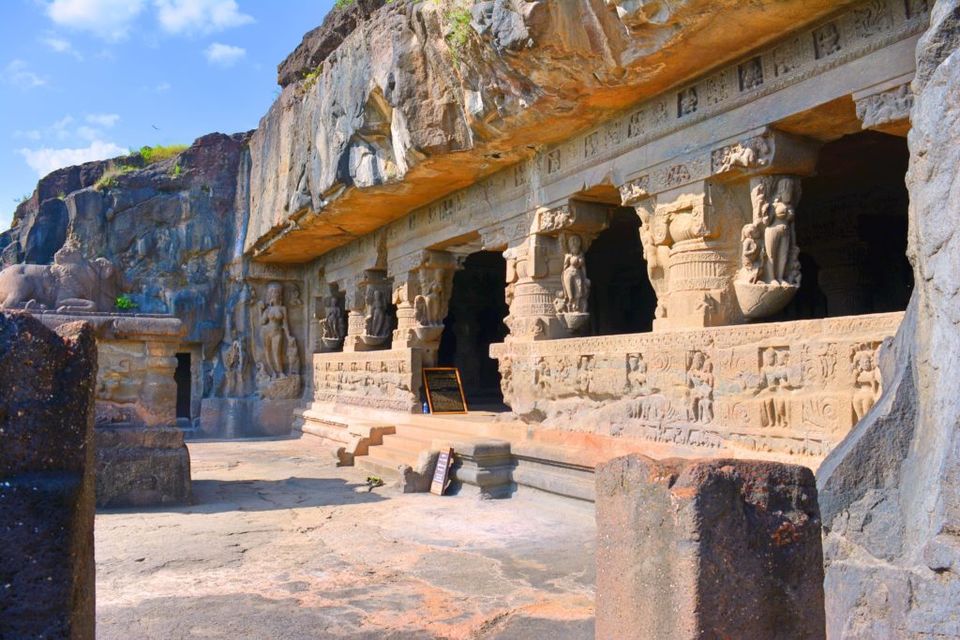 Cave no 21 it is called Rameshwaram temple dedicated to Lord Shiva based on shiv Mahima stories. This cave carved in the 7 th century the whole temple full filled by artifacts of Hindu god and goddess, the temple front area has open space courtyard and there as a statue of Bull called Nandi the ride of Shiva.
In front passage entrance gate there are two popular rivers of India artifact present there on left side the holy river and right sideriver it is very popular river of India Ganga as per Hindu ancient story Lord Shiva is the Progenitor of Ganga river Yamuna river ancient story she is the sister of Yama the god of death and daughter of Sun so it is not river for us it is the goddess of India.
Inside the temple the lord shiva linga .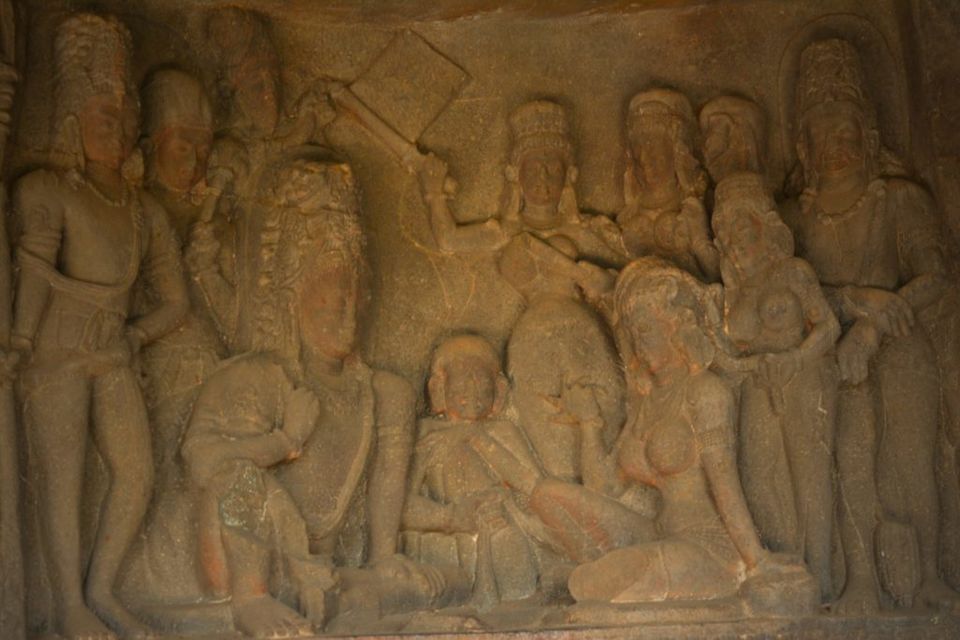 The story behind this picture in this picture Lord Shiva and Goddess Parvati the wife of god Shiva playing a dice game with Parvati goddess under the bird watching of Shivagan means a family of Lord Shiva. lord Shiva Marriage Ceremony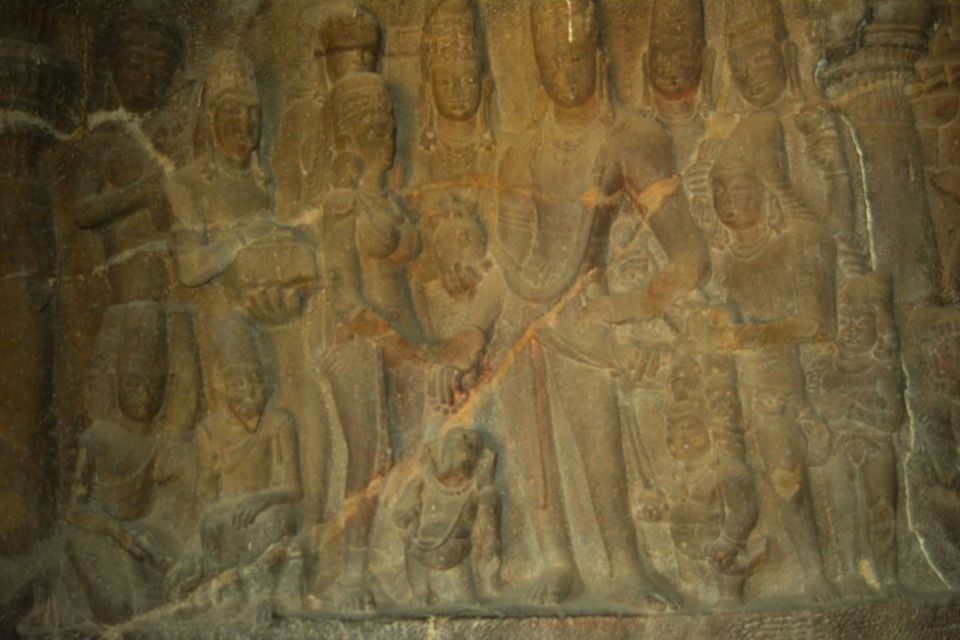 The story behind the this picture it is the lord shiva whole marriage ceremony carved in this artifacts in presence of Shivgan and all Devgan (the group of god) the important things on this picture in marriage ceremony unexpected presence of his son the lord Ganpati you could see in this picture and the Brahma Dev (the creator of world ) play the role of Pandit it is to unique artifact you must visit and experience in cave no 21. Ellora Caves Ravan Story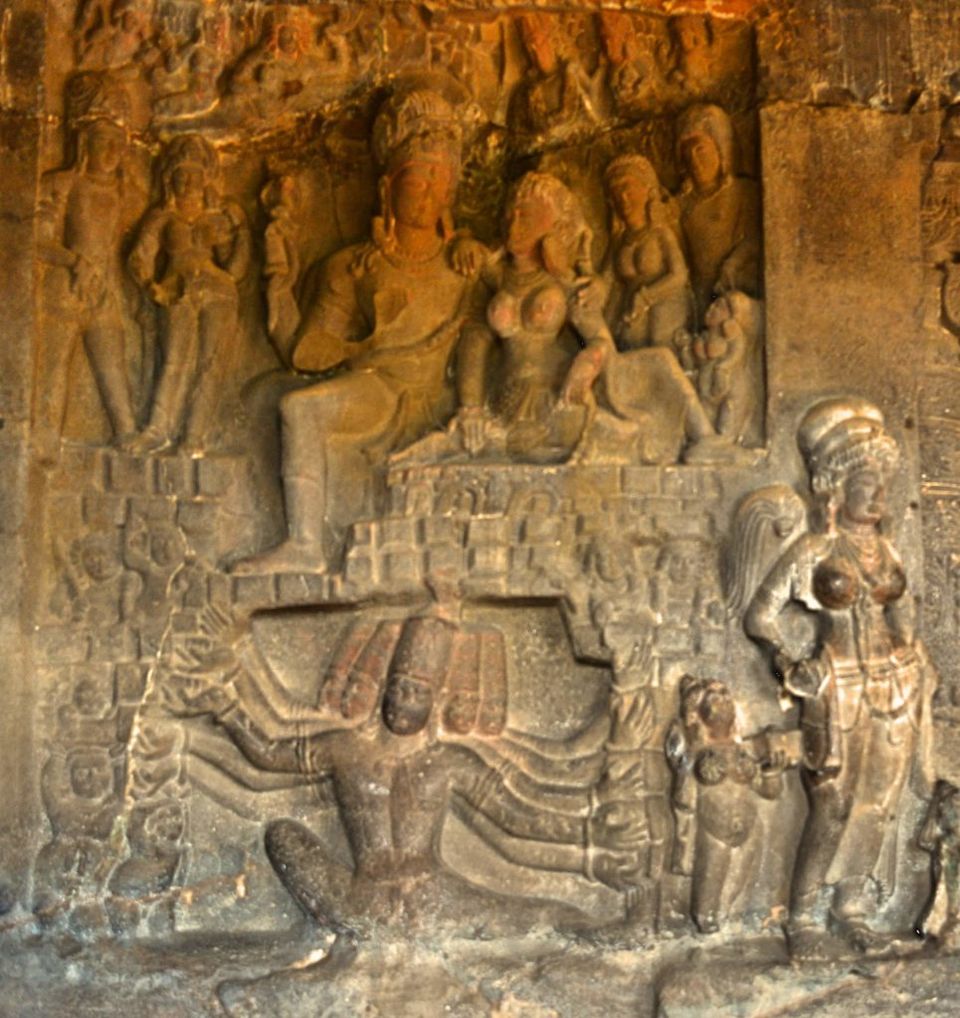 story behind this picture the Shiva and Parvati seated into Kailash parvata, the home of Lord Shiva and Parvati along with Shivgan in this picture the downside the Ravana (Ravan it is one of the greatest devotees of Lord Shiva ) in this story the Ravana shake the Kailash parvata because of Ravana wants the kailsha along with Lord Shiva why he demanded the lord shiva whole story behind this artifacts the Ravana mother Kaisiki daily do the prayer of Lord Shiva one day Ravana see and tell her why you should do this kind of prayer wait I'll bring the original kailasha along with Shiva and that's the reason he shakes the Kailash parvata and demanding Lord Shiva but Shiva impressed his worship and give him their own Atmalinga and now it is in Gokarna Karnataka.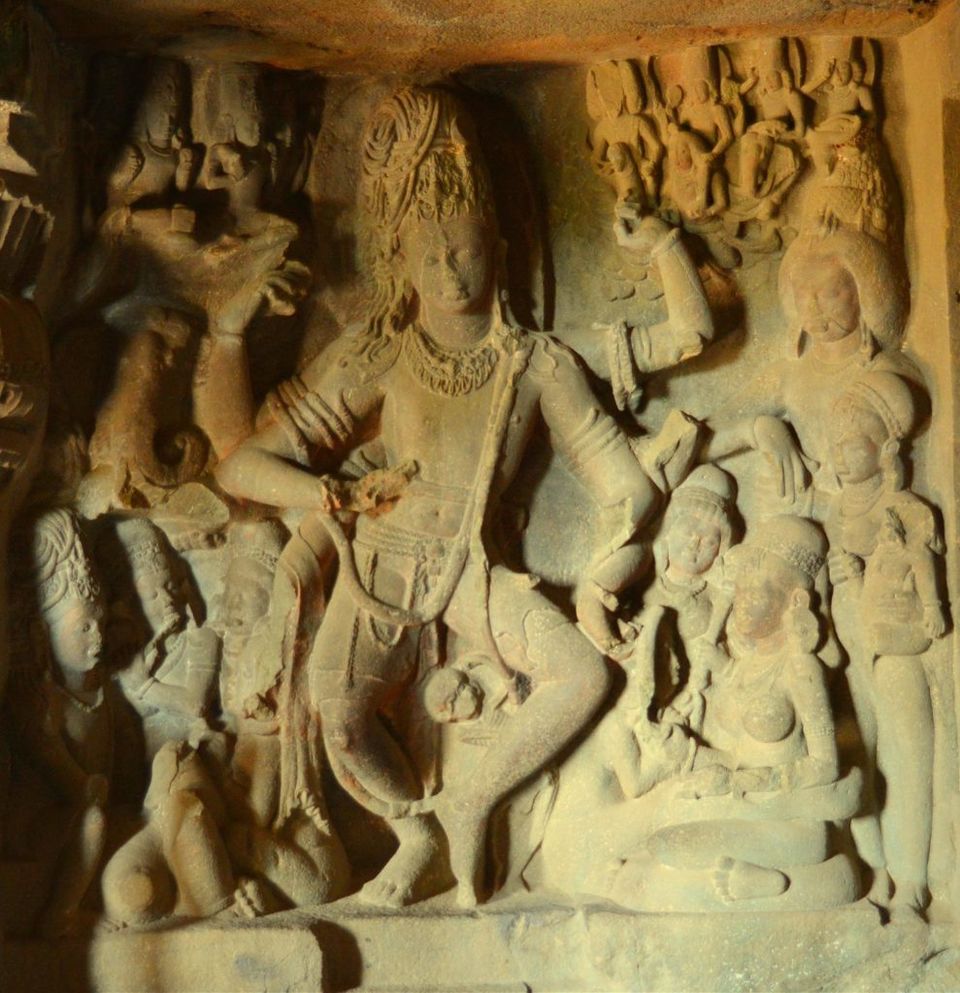 The story behind this picture the Lord Shiva Nataraja Mudra the shiva is dancing and playing an instrument in their hand in front of shivagan it is a kind meditation it is a very whole process to find our soul and show our happiness in form of Nataraja this artifact you could see in cave no 21.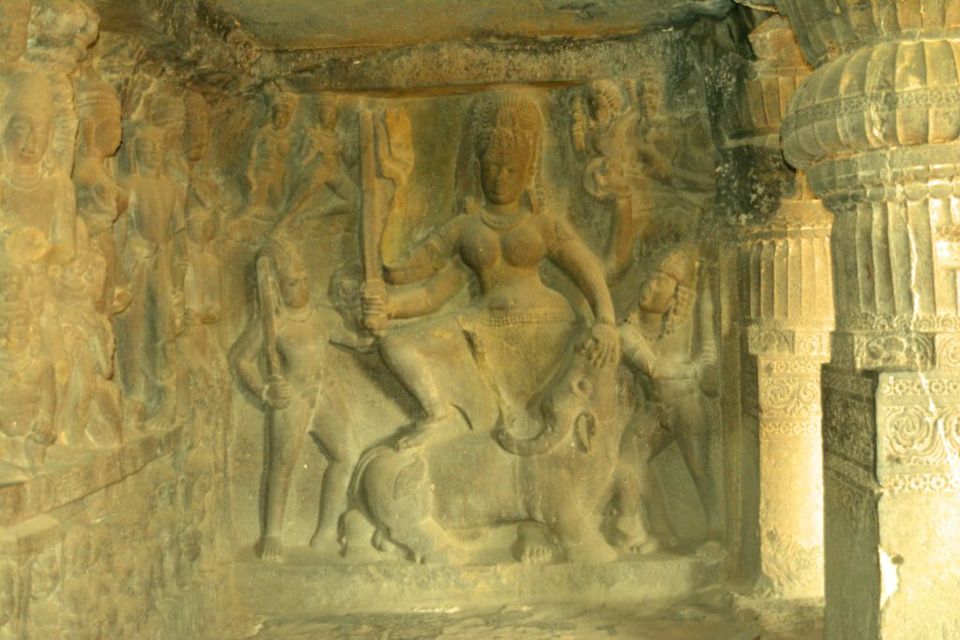 Story behind this picture the goddess called Ma Durga it is form of goddess Parvati (the wife of Shiva)in this picture you could see the goddess fight with Mahishasur (Mahishasur is the Demon who's half part is animal (Bull) and half part is human) the goddess beat this demon and killed him by her power & weapons and after this war her called Mahishasur Mardinin goddess.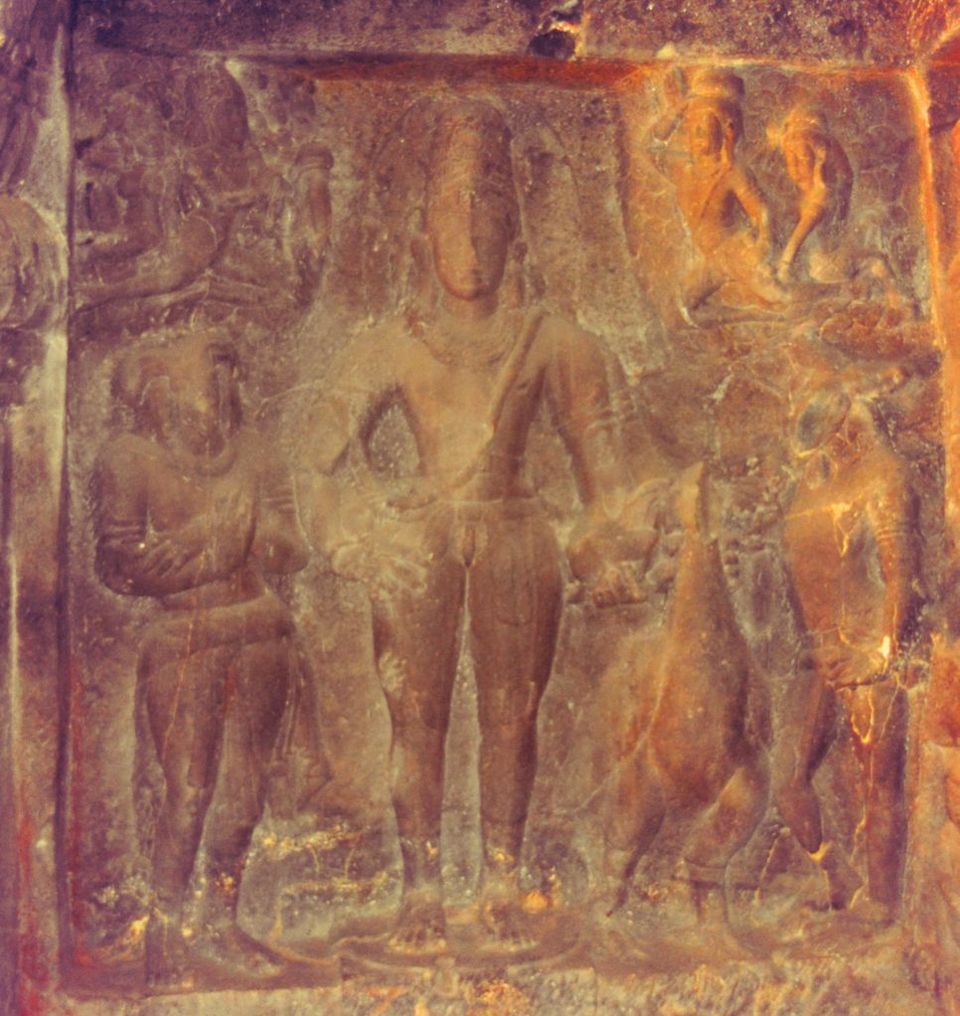 The story behind this picture the artifact of Lord Kartikeya the son of Lord Shiva and Hindu god of war it is also known as Morgan the Kartikeya stand with his ride peacock it is in cave no 21 and Elephanta cave. Ellora Cave no 12th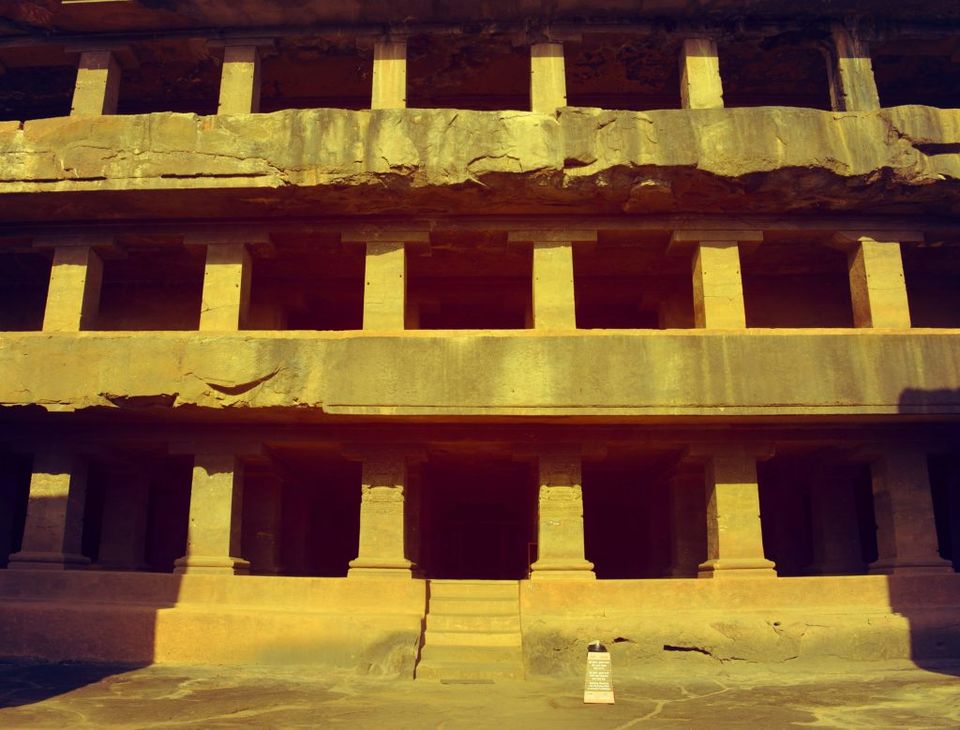 Cave no 12th it is the Buddhist Monasteries called Teen Tal means the structure is kind of hostel type the three-floor building inside this monasteries the artifacts of god Buddha at Garbhagriha god Buddha preaching posture on a lotus throne. Caves no 10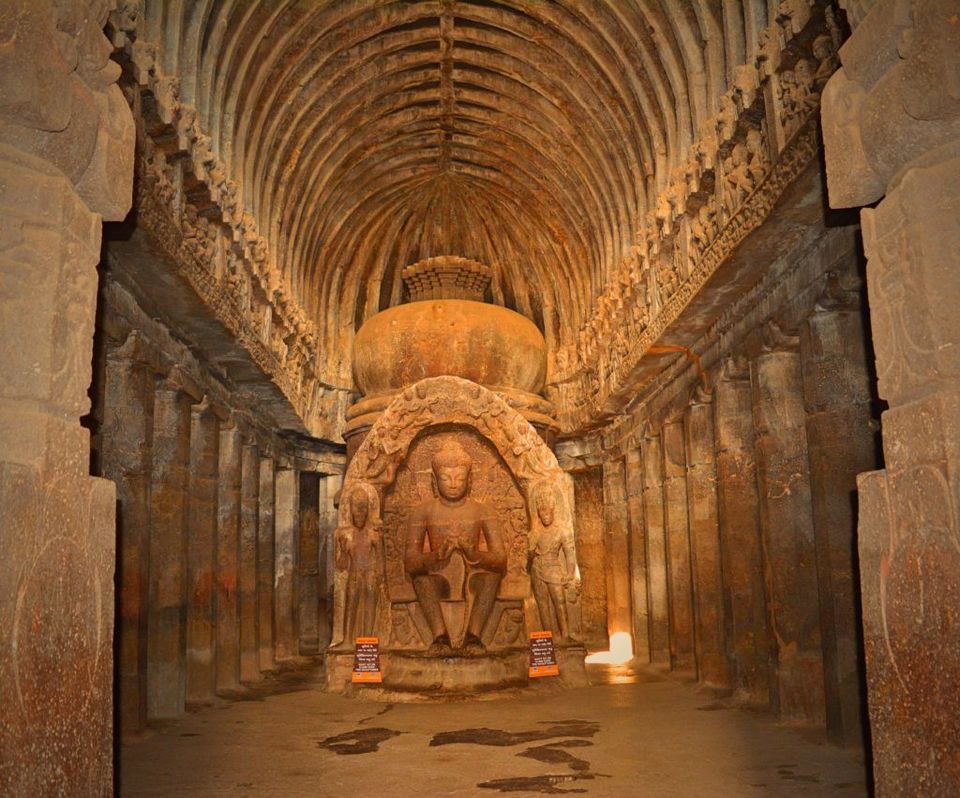 It is the cave no 10th dedicated to Lord Buddha the cave has two floor called cathedral-cum-monasteries it only one two floor Chaityagriha of Ellora cave. The main hall has 30 pillars chain It is stupa of Lord Buddha seated into preaching Mudra with two Bodhisatva right and left side in the image. The specialty of this cave is Music gallery in echo hall if you sound loudly you experience the reverse echo sound it is the specialty of this cave you must try.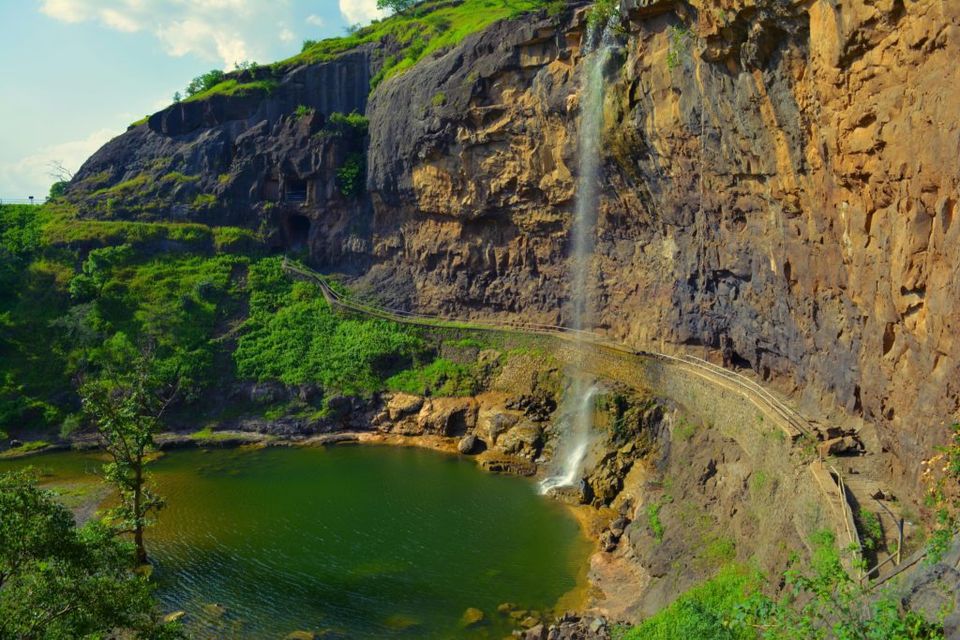 Sita Nahani waterfall it is the route of Yelganga river it small river of Ellora Verul village called yelganga it is the exact north side of cave no 21. Ellora caves no 16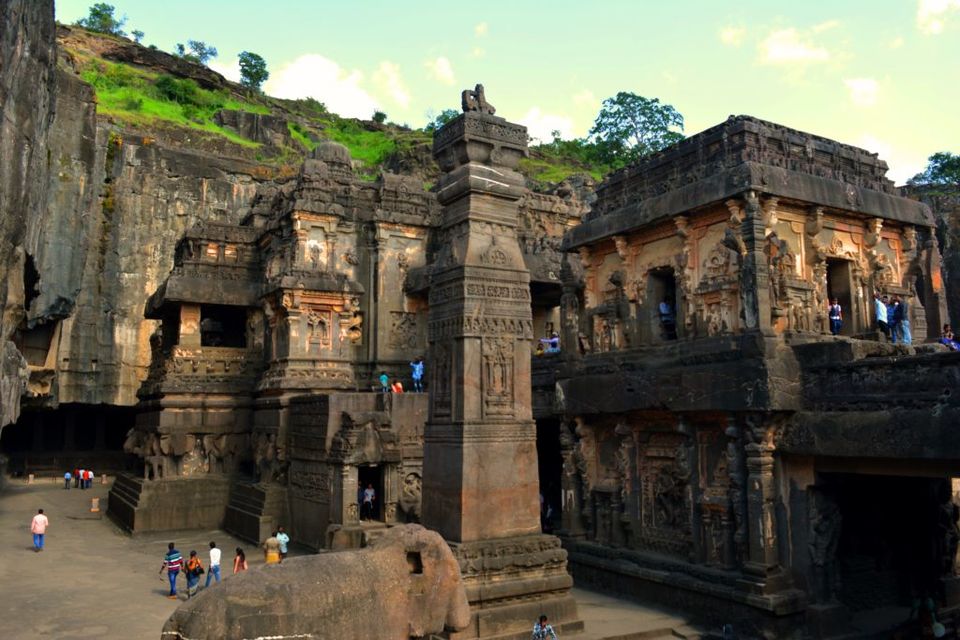 Cave no 16 called Kailash Temple it is the home of Lord Shiva and Parvati this temple excavated by chisel hammer specialty of this shrine is it carved from top to bottom first built pinnacle and then the bottom of the shrine I think it is the only temple has built in this style.
It is rock cutting temple the work of this cave start in 8 th century under Rashtrakuta king Dantidurga dynasty Krishna 1.
This temple required more than 200 years for completion to whole temple.
Inside the temple some painting you could see in ceiling wall with statue of goddess of Annapurana.
This cave dedicated to Lord Shiva and inside the courtyard, you could see the , Mahabharata, Vishnu and Bramha story mention in Shiv Purana.
When you enter the shrine in the front courtyard the biggest statue of the goddess you can see, called Gaj Laxmi Goddess statue it is the goddess of wealth.
The courtyard there are two pillars called Dhwajstambha one is left the side and another one is right side in the courtyard behind the temple the number of elephants you could see in the back side wall.
Left side wall the carved the Mahabharata story and another side of cave Ramayana story carved by artists.
The main temple has Nandi Mandap an inside the Garbhgriha the statue of Lord Shiva called Shivalinga.
Ellora Caves Nearby places: Grishneshawar 12th jyotirlinga of Lord Shiva: it is the 12th jyotirlinga of Lord Shiva shrine it is less than a few minute distances from Ellora caves.
The temple found some south Indian influence architecture style and structure. The grishneshawar temple built in red rocks stone.
The verul temple was reconstructed by Maloji Raje Bhosale of Verul grandfather of Chhatrapati Shivaji Maharaj in the 16 th century and later again by the queen of Indore Rani Ahilyabai Holkar and there is one Water Kund (water tank) you must see it is also amazing Indian architectural Example built by Ahilyabai.
Devgiri Fort: Devgiri fort it is on the way of Ellora caves if you plan to visit Ellora must ad in your bucket list to explore the this fort I specially recommended to you please see this for and then visit Ellora caves so plan to visit morning time because if you start journey early morning so you have time to explore these places read full article of Devgiri fort guide to Devgiri Fort by me. Pitalkhora caves & Gautala wildlife century: 49Km from Verul it is also the best place to visit and if you want to experience wildlife so Gautala is the best place and it is only 38 Km from verul try to visit during monsoon time. Banibegum Garden: Hamal wadi khultabad it is an open garden with influence by Mughal style Charbagh pattern and architecture, Banibegum it is the wife of Azam Shah's son of Aurangzeb. Mombata lake viewpoint. Mahismal Hill station: it is the paradise of Aurangabad it is only 18 Km from verul if you want to experience monsoon and greenery so it is the best place during monsoon time. Bhadra Maruti Temple: Bhadra Maruti temple it is the very old temple of Lord Hanuman the son of Wind means (Pavanputra) it is the very popular temple of Khultabad when you visit this temple must eat the famous street food called sweet 'KHAJA'. Aurangzeb Tomb: it is located into Khultabad village the king of Mughal called Aurangzeb tomb in Khultabad. read my previous blog Ajanta Caves.