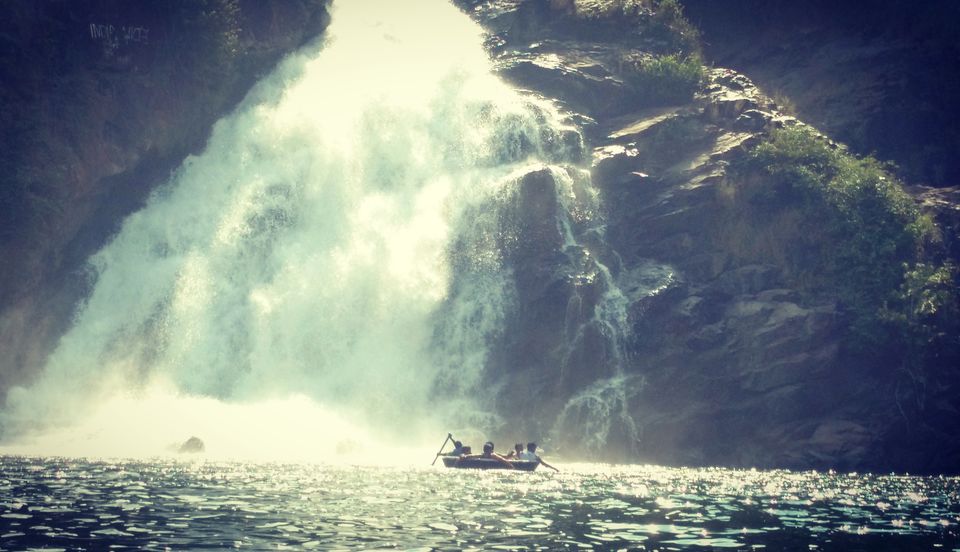 It's Sunday... And it was tough waking up !!.. A ringing phone welcomed me to November. It was 6 already, so I had to hurry to join my friends who were set to go south. Got myself ready in 15 minutes and drove to my house. There I boarded the Zoom car, Mahindra xuv500, destined for Shivasamudra Bharachukki waterfalls.
This trip was planned in a short notice, as our initial planning for coorg went horribly wrong :p . We started off at 7:30, picked up everyone, there were 8 of us from the company.We took the route via nice road, even though we lost navigation at places, we were greeted by places left untouched by human intervention.They were green and stayed beautiful alongside. The roads were perfect all throughout the drive. On the way, somewhere near pandavapura, we left the vehicle behind and went trekking. Time was not an issue, as we were brimming with energy and music added a topping to it ;). The excited us, cleared up thick grasses, crossed the water streams and climbed rocks en route to the hill top. And yes..., it was beautiful!!.. Stayed there for another 15 minutes, and continued with the car.
Shivanasamudra or Shivasamudra constituted of two famous waterfalls, Bharachukki and Gaganachukki. On the way you get to see the kaveri river flowing in full glory. We reached the falls around 1, didn't waste much time and got into the round bamboo boats. It was 100 per head for us eight , and the guy took us underneath two falls. Spent about 5 mins under each falls and we were drenched pretty soon. None could stay right underneath the gorgeous falls without envying its beauty. So we clicked and captured the moments, to treasure it. On the way back, the sailor bid farewell by spinning the boat and made us roar.
Being completely wet, we stayed there for sometime to let it dry.Meanwhile we took a group pic and got a scanned copy of it. Since it wasn't the monsoon, the niagra look alike feel wasn't offered by the falls. We headed back around 3:30, on the way back came via Channapattana, the land of Toys. We purchased some artistic toys.Reached banglore around 8:30, had a luxurious dinner and headed home for the bed :). Peace.
Tip - Try visiting during may-august. Get extra pair of clothing. Get some food on the way, u get snacks and drinks at the top,nothing heavy.
P.s - One day trip for around 1200 per head.