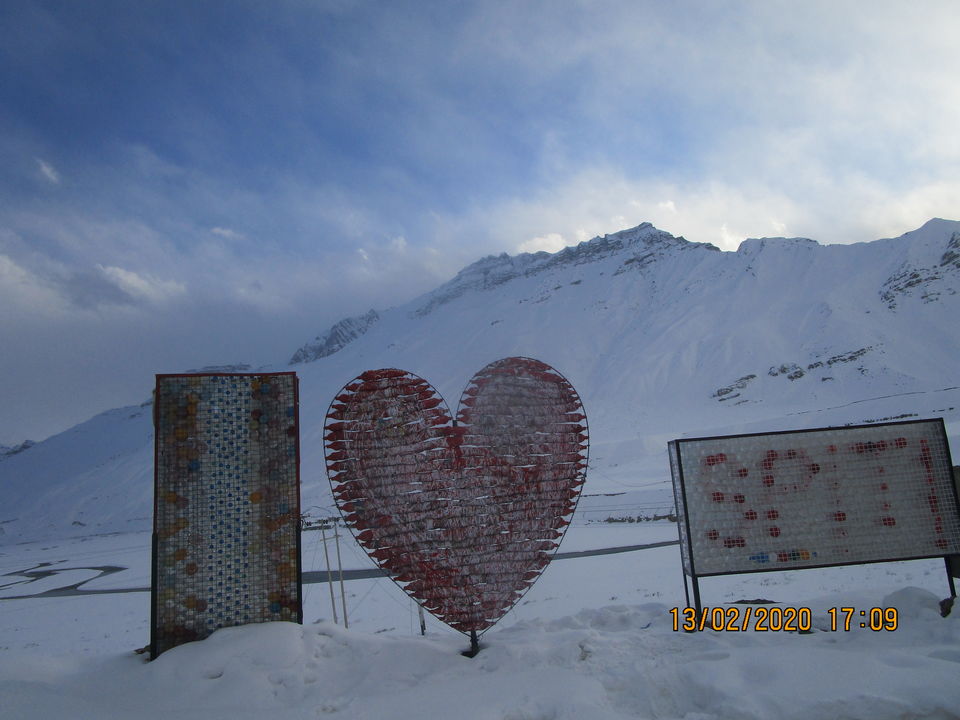 Spiti Valley, Himachal Pradesh
(Note: I am neither a travel blogger nor a photographer or Promoter. I am just sharing my Spiti travel experience with you as a Travel enthusiast)
Nov '19, Solo Travelers group had Meet-up in Delhi, Central Park and someone floated idea for Spiti In Winter. It was very much excited for me and I started working on it. Many times, I did post enquiry in this group and got many references, all of them, were offering more or less same price for the trip. Finally I decided to go with Solo Yolo (Saurabh Ahlawat). The reason to go with him was.. he was constantly in touch with me and always discuss on Medical concerns and safety. He always insisted me to go with review on his FB page. During my trip, I realized that my decision was right to go with Sunny. As per promise, he used to check our Oxygen level twice in a day and provide medicine accordingly. They have oxygen cylinder and required medicine with us during whole trip.
How to Access:
This is accessed by Road only. Train is up to Shimla only (from Kalka to Shimla Toy train). Route is as follows: 1)Delhi- Shimla (Overnight) -->2) Shimla – Kalpa (Night Stay at Kalpa Mansion, Kalpa) ---> 3) Kalpa – Nako- Tabo (Night Stay at Namse Homestay Tabo)---> 4) Tabo – Dhankar- Kaza (Night Stay at Solo Yolo Homestay, Kaza, next 2 nights here only) 5) Langza- the Fossil village (Hikkim and Komic road was closed) 6) Key Monastry and Kibber (Chicham Bridge and Pin Valley Road was closed due to snowfall) ->; 7) Kaza to Kalpa (Night stay at Kalpa) --->>; 8) Kalpa to Shimla then finally overnight journey from Shimla to Delhi.
What time to Visit:
You can visit anytime, every time it has its own charm. Summer has totally different view than Winter. In winter, it is completely white blanket of snow. Mountains are fully covered with snow. Generally, Snowfall starts in Nov. December is also an ideal time to visit. January can be avoided as regular snowfall and maximum places and roads get blocked. Feb is also an ideal time to visit. Later half of Feb, temperature getting warm. Chitkul (Sangla) and Pin Valley can be accessible at the Feb end or March starting.
How to prepare for Trip:
One should be medically fit for this trip. I used to do morning walk and exercise in the morning in Delhi December and January cold. Regular check-up of BP and weight. Regarding clothes; visited Decathlon and did purchase as per their advice i.e. Normal inner Thermal, fleece and one down jacket, thermal trek pants, waterproof snow contact hiking shoes, waterproof or water repellent thermal gloves (-20C) and woolen shocks etc. If you find it costly for one time, then you can rent it also. I did with "Sharepal.in".
Necessary Things to Carry:
Please remember that there is very cold, temperature can go up to Minus 22C. Water gets freeze and there will not be electricity sometime. Forget to bath, we will not have water for morning 1st job. We must be out of our comfort. There is No Toilet with water. They use Dry Pit without water. Apart from our Warm clothes, there are few important Personal accessories to carry are as follows: 1) Wet Tissue paper and Dry Tissue paper 2) Sanitizers 3) Cold Cream 4) Lip Balm 5) Sunscreen 6) Led Torch light.
Medications: One Strip of Diamox, normal medicine for headache and fever, motion sickness, High Altitude sickness and any personal medication advised by the doctor.
Don't forget to have UV Protected and Polarized Sunglass with you. This is must to carry.
For Photography purpose, have colorful glass and colorful windcheater.
To be Medically fit during Trip:
Spiti is at high altitude. Generally, Travelers get Acute Mountain Sickness. In order to avoid this, once you reach hotel, don't go to bed immediately. Just keep luggage in room and roam in hotel premises for at least 15-20 min. Later keep engage your self with people to talk or any activity and keep yourself active. Do morning walk for 15-20 minutes. It will keep you active and assimilate with local weather and temperature.
To be Continued……