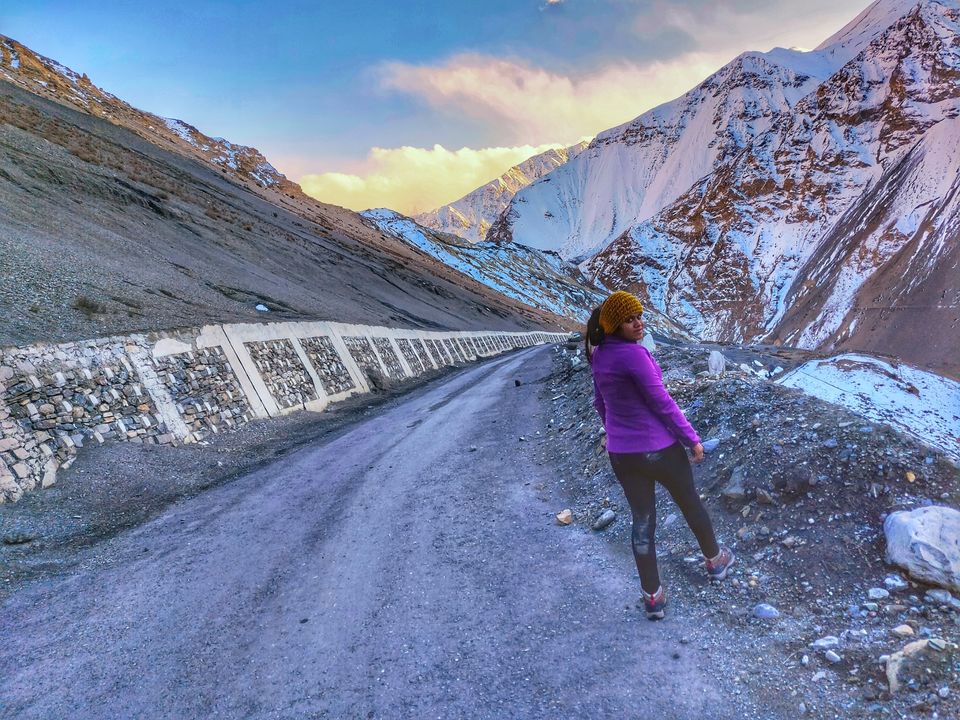 Ah...Spiti Valley.
Spiti is my all time Favourite destination to roam and this is My all time happy Place. Spiti Valley has my heart ❤️ I mean what i can say more about this place, literally I left my heart there. This place is so beautiful like more then heaven.
So, let's talk about this place (My Happy Place).
I traveled my first Solo winter Spiti Valley Trip in February'19.
I was just dreaming about this place before i visited.
Mostly people celebrate February with their loved ones because February is a Love Month.
So i decided to celebrate the love Month with my Love Spiti Valley.
And I planned my journey to do solo trip to this winter wonderland.
I completed my First "Winter Spiti" Trip In February'19
And Obviously Had an amazing and extreme experience.Met so many good faces on the trip.
Now spiti is Literally My Love ❤️.
Winter in Spiti is extremely harsh and temperatures are known to sometimes fall to -25°/-30° Celsius. Spiti in the winters is frigid and there is no running water in the taps.
While travelling to Spiti in winters, the most obvious thing is the snow and glaciers on the road/highways.. but is it very common here, So don't ruin the experience by clicking pictures all the time. Enjoy the journey while u traveling to Spiti in winters.
So as i was traveling to solo that's why before traveling I made a rough route plan, total number of days, approximately expanse etc.
I Started my trip from Delhi to Kalka by train ( I took kalka mail) and from Kalka to Shimla By toy train (shivalik super deluxe express). in winters i wanted to experience the toy train that's why I chosen this way to reach shimla. else u can go directly shimla by taking a Volvo from Delhi.
Next day around 11AM in the morning i reached Shimla.
after reaching shimla meanwhile the next bus departure time was 8'0 clock in the evening so i decided to stay some hostel for half day to taking rest.
so i stayed in "Thira Hostel" which is near lakkar bazar, private parking, Shimla. i paid 300/- for half day.
On the same evening From shimla i took HRTC to ReckongPeo, which took almost 10hours to reach Peo.
Next morning i reached Peo and As i got updates that on the way to kaza before pooh some landsildes happens so roads are blocked and have to wait till road gets clear.
so i stayed in some "Roof Cafeteria Hotel", at ReckongPeo. Which is situated in the main market with having such a mesmerising "Kinner kailash" view.
Next morning I woke up this amazing view and the temperature was around -11º Celsius. it was so freezing but i enjoyed the weather. I met with 2 guys in the same hotel they're also traveling to the same as i was, so we booked a private taxi and decided to move ahead. around 12PM we left from Peo and reached Pooh till where the highway was closed. so i stayed in pooh at PWD rest house for next 2 nights due to heavy landslides on the highway.
after 2 days we get updates about roads and everyone start moving towards kaza. so we travelled till Tabo in a "pickup" and By evening we reached Tabo and stayed in Tabo with the locals in some homestay.
Next morning after breakfast i explored the old Tabo monastery , which is almost 1000 years old.
The original monastery was severely damaged in the 1975 in Kinnaur earthquake.
this monastery is completely made by MUD it's really very hard to believe that it has tinny beautiful windows, stairs and small doors. You can spend Your time there with Monks. You find peace there.
Around 10'o clock i moved ahead for Kaza and i took a lift from a "Pick up" Wale Bhaiya, As hitchhiking is very necessary thing when u travel to Spiti Valley. and around 2'o clock i reached kaza.
the roads was covered with full of snow. drive was amazing with beautiful snow capped mountains.
in kaza i stayed with "SOLO YOLO Homestay" for 2 nights. they provided me comfortable hospitality with good quality of food. staff is so nice and helping. rooms are very clean and beautiful.
Next Morning I booked a Private 4×4 for the local sightseeings beacuse complete routes are covered with 2feet snow. I only reached till "Key Monastery". the time when i was traveling there routes are blocked Due to heavy snow on the roads. that's why i only visit the key monastery and it was a worth for me.
* Key Monastery is a very famous monastery and attraction point for the tourist. It is the biggest monastery of Spiti Valley and a religious training centre for Lamas. The stunning Key Monastery is over a 1000 years old and is also the largest monastery to be found in the entire Spiti Valley. This beautiful monastery is very picturesque view.
I met with little cute monks there. The Key Monastery is an active training school for the lamas who all staying there. Lamas Learn about the relics of the ancient Buddhist Religion there.
while coming back to kaza i explored a small Rangrik Village. Rangrik is a small village located about 6 km from Kaza across the Spiti River connected by a small bridge. You can see a different view of the key Monastery from rangrik village.
I spent alomost 20mins there because in -15º it was very hard to standing outside.
By evening i back to my Homestay, had dinner and went to sleep. oh it was my last day of my winter spiti journey.
Next morning the same "pick-up wale bhaiya" picked me from kaza and dropped me Shimla. it was so amazing journey with lot of random people. I met so many amazing faces in the entire journey. Got unforgettable experience for life. learnt a lot things while traveling solo it was my first time solo travel to Spiti And i Got life time experience with this journey.
How to Travel Spiti Valley In Winters:
Winters are little difficult in spiti but not impossible. you can easily reach till Kaza through taking local HRTC buses.
and from kaza u need to take a private 4/4 for the local sightseeings. Taxi will cost u around 5000/- for a day. you can cover all the local kaza places in a single day if weather allows you.
How to reach KAZA:
The only way to reach Kaza (Spiti) in the winters is by road from Shimla via the NH-22 highway through Kinnaur.
You can Take a direct Bus (HRTC) from Shimla to ReckongPeo then ReckongPeo to Kaza.
it takes around 18-20 hours.
My Social Handles:
Instagram: resh_mahawar.
Facebook : Resh Pooran Mahawar.
YouTube : Resh Pooran.
if you have any query and question regarding winter spiti trip feel free to contact me.