Welcome back to my blog and welcome back to Kerala, rather Tamil Nadu this time. The scenic beauty of some places in Tamil Nadu made me Awe Struck.
So Finally, we left from Allepey's backwaters and started our journey towards Madurai.
On the way to Madurai we saw many grapes gardens and I got overjoyed like a kid, coz, I was seeing it for the first time. We visited one of the gardens, and bought some grapes, as there were many shops around.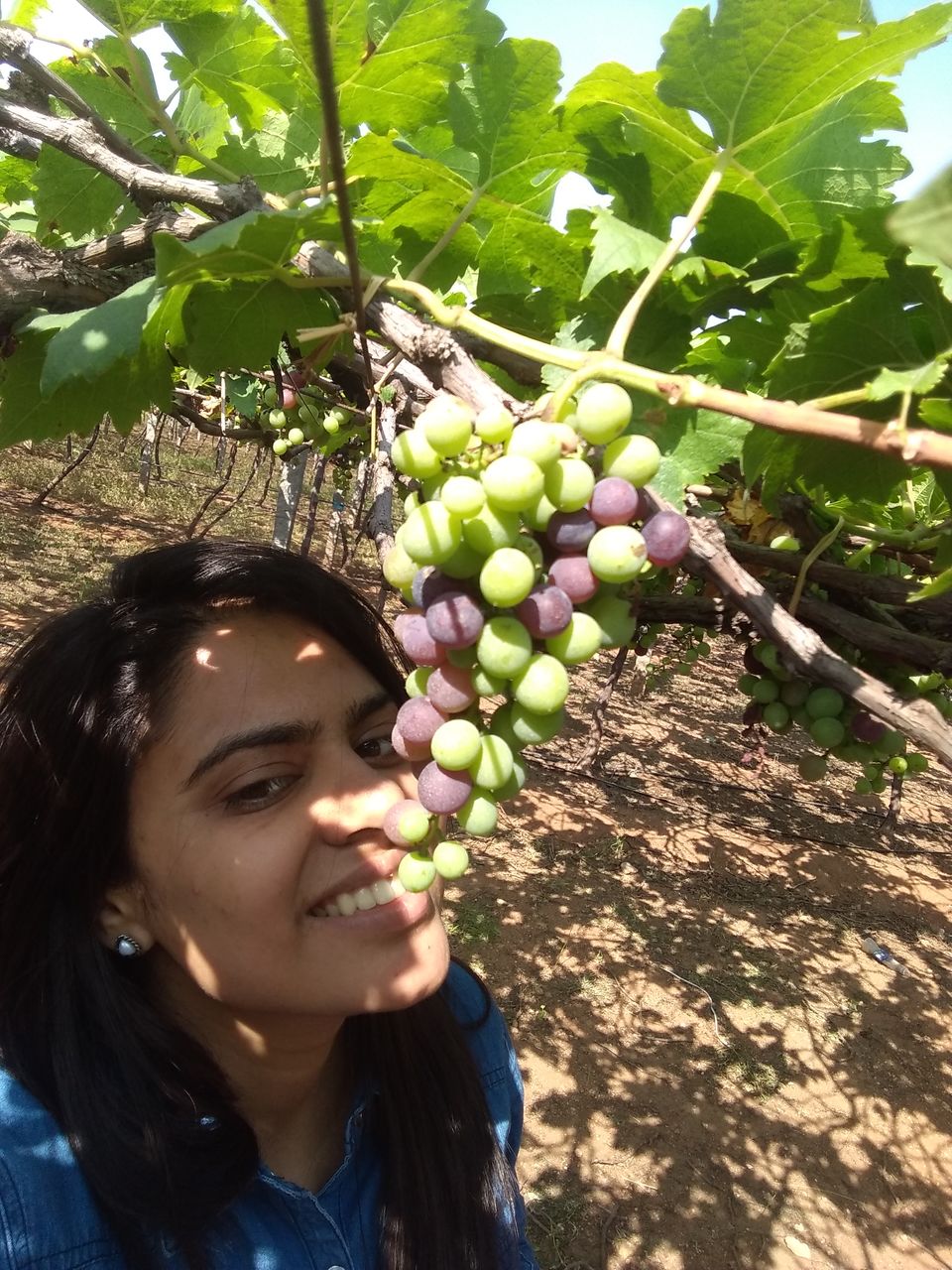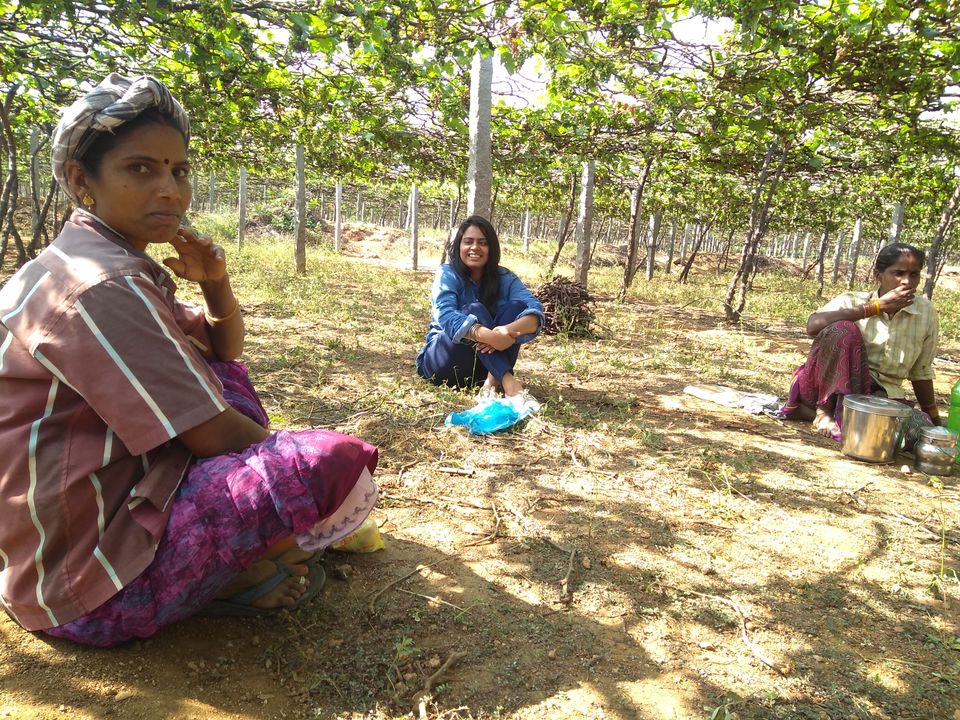 On reaching Madurai, we freshened up and left for some silk saree shopping as, Madurai is known for it, and did good amount of shopping 😊. The next morning we were all ready to visit goddess Parvati…….Meenakshi temple it was.
Meenakshi temple is dedicated to fish-eyed, triple breasted Meenakshi Amman/goddess Parvati. Besides being a beautiful architecture, this temple is also a place where couples come to get married and I too saw, many beautiful couples getting married, in there.
The timings of temple were:
Morning: 5 am to 12.30 pm
Evening: 4 pm to 10 pm
After visiting the temple we left for Rameswaram, and that turned out to be my favourite place.
We stayed in Shri Mahaprabhuji Bethak Lakshmankund for three days and it was a nice and calm place. After reaching we freshend up and visited Ramanathaswamy Temple, it is a Hindu temple dedicated to the lord Shiva. It is also one of the twelve Jyotirlinga temples.
Temple opening hours:
Morning: 5 am to 1 pm
Evening: 3 pm to 9 pm
After the temple, we visited Agniteertham. It is believed that devotees can atone their sins by taking a bath in the holy waters of Agnitheertham. Agnitheertham is connected to Lord Rama and Goddess Sita after their return from Lanka. Lord Rama after rescuing Goddess Sita from demon Ravana had visited this place while on their way back to Ayodhya Kingdom.
According to some belief, childless couples, if bathe in its water and offer prayers to Lord Shiva, are blessed with children. Many devotees come here to pray for children. It is also visited by devotees to pray for the peace and moksha of their ancestors and to perform rituals after the demise of their loved ones.
After having a good north Indian dinner and Kadak south Indian Filter coffee, we were all tired and dozed off peacefully.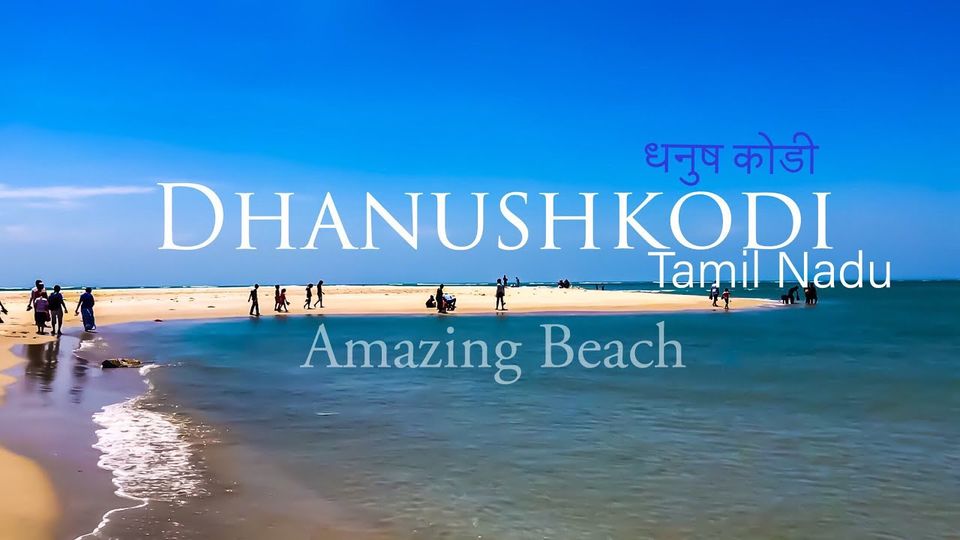 Next morning, we visited Dhanushkodi beach. Dhanushkodi is the land border between Sri Lanka and India. It is around 15 km away from Sri Lanka. It was a super clean beach, super windy and extremely beautiful, and the water of the ocean was slightly bluish and all the time that we spent there, was so serene and also, I wasn't able to just get enough of that view. You just cannot miss this place at all, it is now my favourite place.
Later we went to see Pamban Bridge, a railway bridge, which you can see from the road. This rail bridge can be raised to let ships and barges pass through. Although, not sure about the timings when you can see that.
Next day, we left for kanyakumari, but on the way we visited APJ Abdul Kalam's memorial and it was a truly inspiring memorial tour.
"Dream, dream, dream. Dreams transform into thoughts and thoughts result in action." This and many other sayings, and the deeds of APJ Abdul kalam just makes us wanting to know more about him.
After the memorial, we headed towards Kanyakumari and on the way, we took a short halt at a beautiful village. At one of the localite's home we went for loo and found something overwhelming. I could hear the sound of the ocean from the backyard of their home and when we went just few steps from their backyard, we see a clean and serene beach with no one present. I was overwhelmed to see it.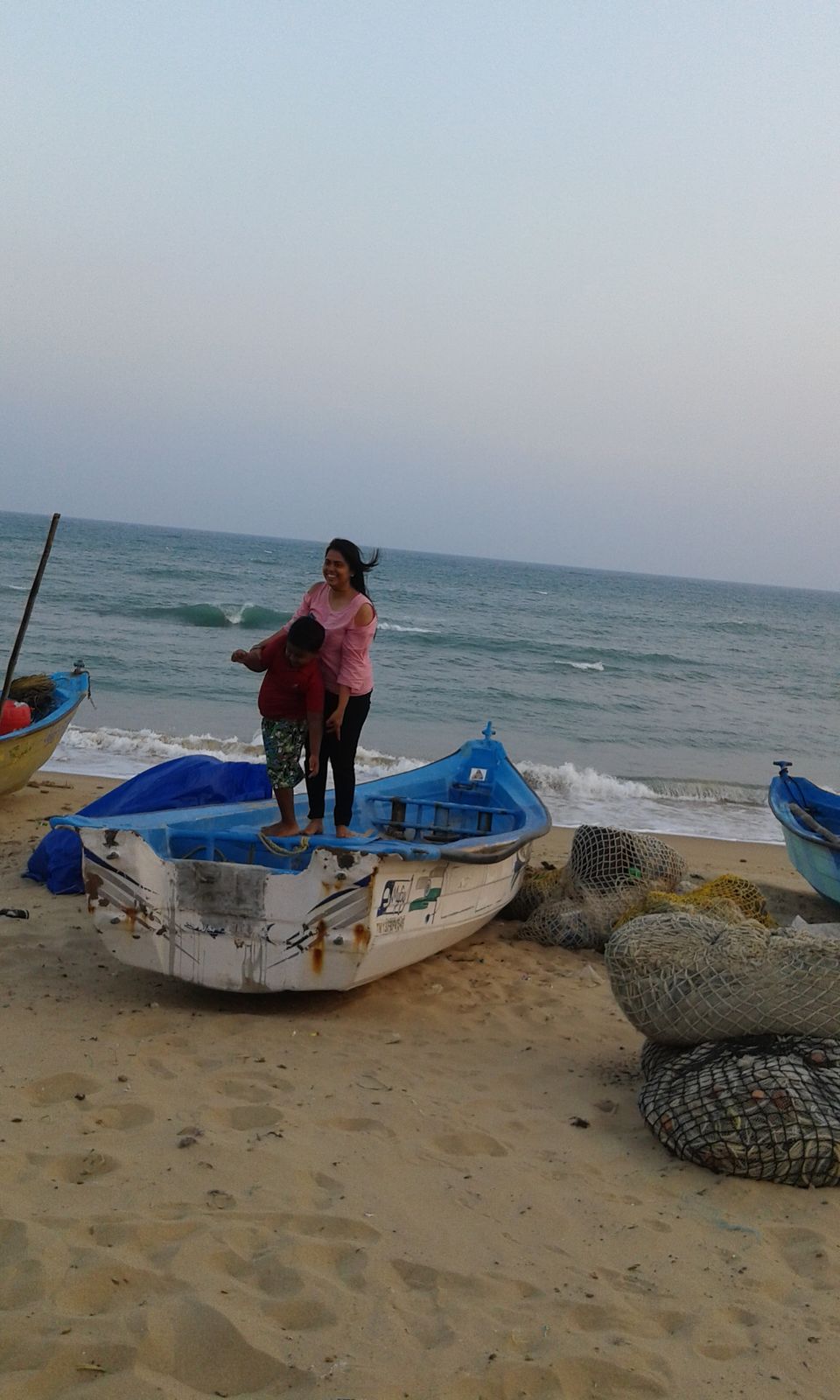 There was a cute little boy at their home who accompanied me to the beach and I was surprised to see such beautiful beach, and no crowd at all. There were many tiny homes on the shore and many kids just playing around. Didn't feel like leaving that place but had to.
Finally, we reached Kanyakumari, after a long journey and stayed in Vivekanand Kendra. The food in the canteen of this place was super cheap and was good. The place was peaceful and beautiful.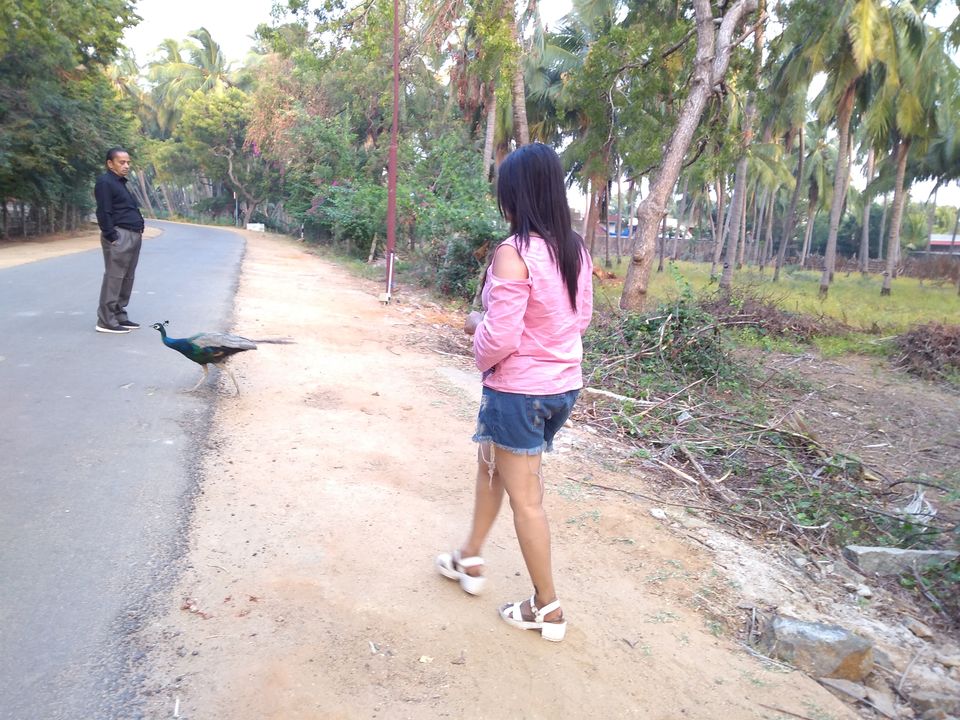 The next morning we woke up early to see sunrise at a beach that you can walk to, from inside the kendra. On the way, we saw many peacocks and was a delightful walk. We enjoyed watching sunrise, clicking some pictures and back to our rooms to get ready and leave for Swami vivekanad rock memorial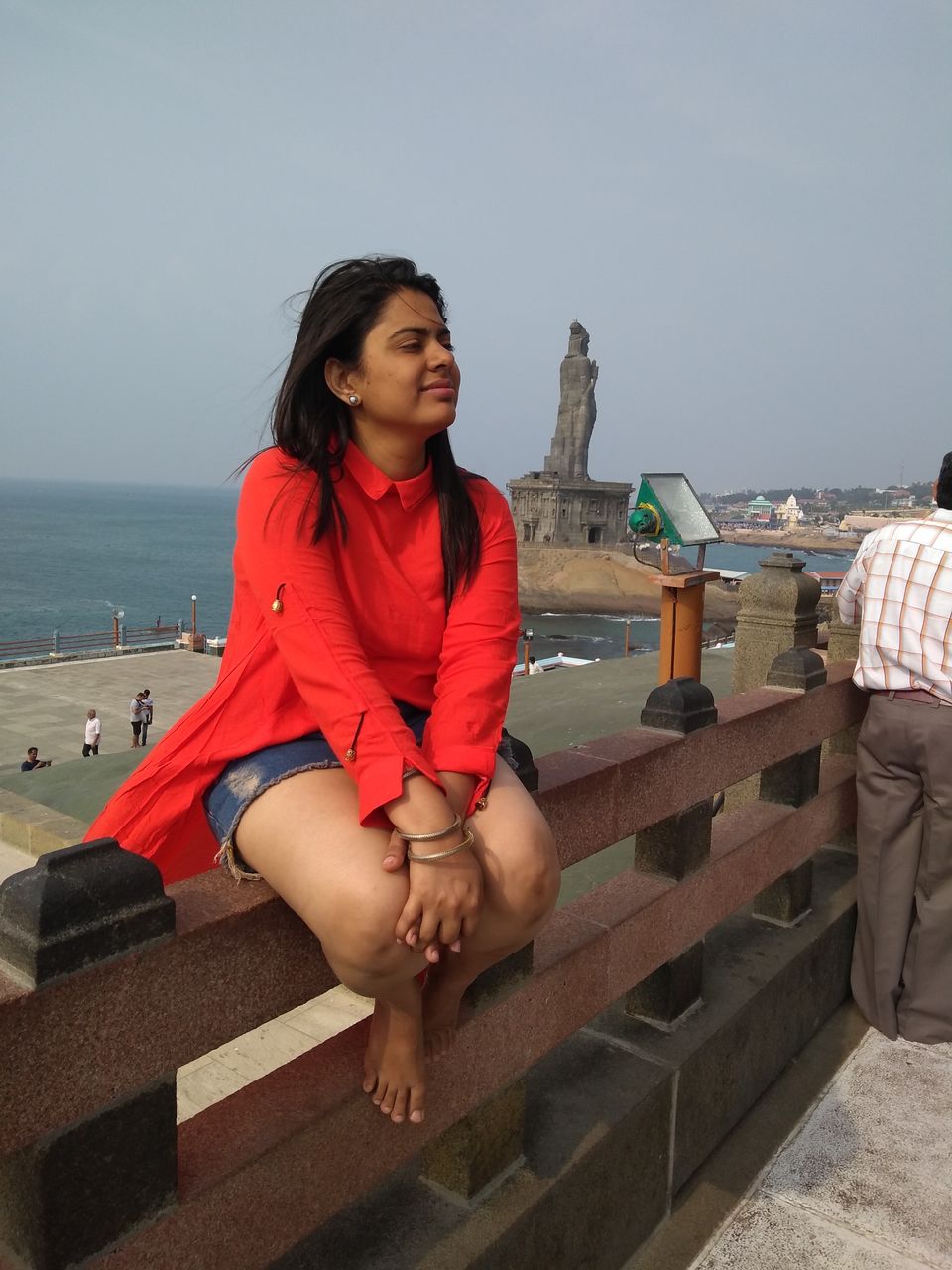 To visit the rock memorial, you will have to take a ferry. The ferry takes around INR 35/- per head (special around 169/- for less waiting) and after you reach the rock, pay more INR 20 per head to see the memorial. Stay your quality time at the meditation centre. Bookstore is available next to it. Photographs are not allowed inside. Opens from 8am to 4pm. Again, a beautiful place to visit. I enjoyed my time there.
After that we visited the kanyakumari temple. This temple is dedicated to Devi of Kanya Kumri and must visit if you are visiting Kanya Kumari. Is near to sea. Is closed during 12.30 pm to 4 pm. Males have to remove their shirts and have to enter the temple bare chested. One also needs to remove the leather accessories while entering the temple.
Kanyakumari is located at the meeting point of three different bodies of water — the Indian Ocean, the Bay of Bengal and the Arabian Sea. This spot is known as Triveni Sangam, which is a breath-taking view.
Next morning, after good breakfast and a hot cup of coffee we headed for Kovallam(back to Kerala). Before Kovallam, we visited Poovar Island, it was indeed a heavenly place. There is a mini boat ride of about 2 hours which will take you through some of the very beautiful sceneries - mangroves forest, exotic birds, floating restaurant and cottages, golden sand beach and coconut island.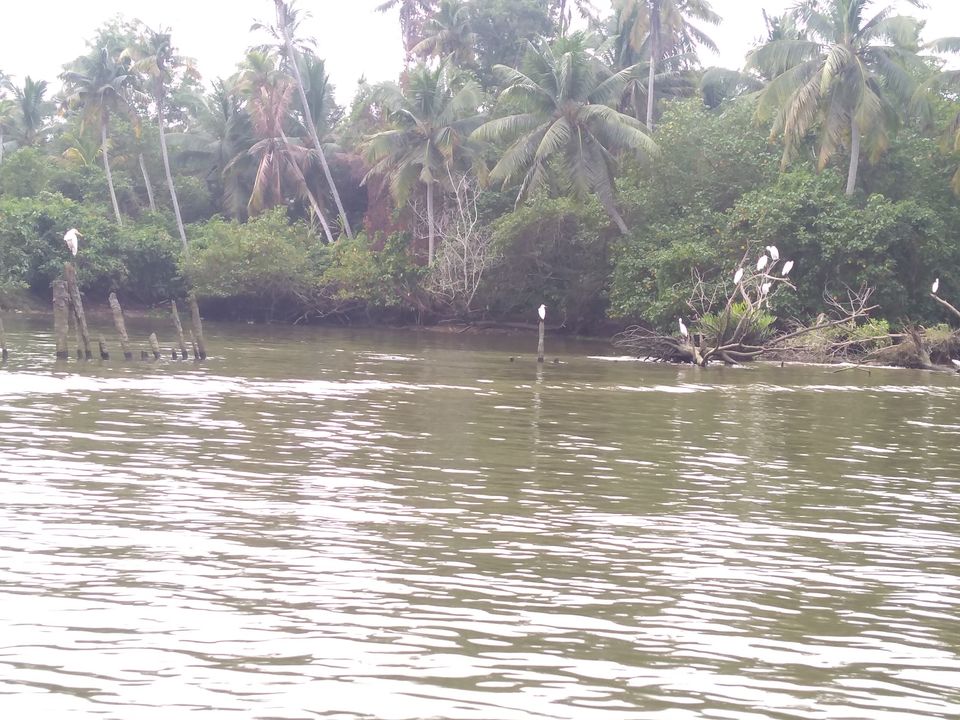 Also there is a point where the backwaters meet the sea which they call the Sangam. The Golden sand beach is one of the points that will be covered in this boat ride, they will drop you on the beach and give you some time to enjoy the view and take some photographs.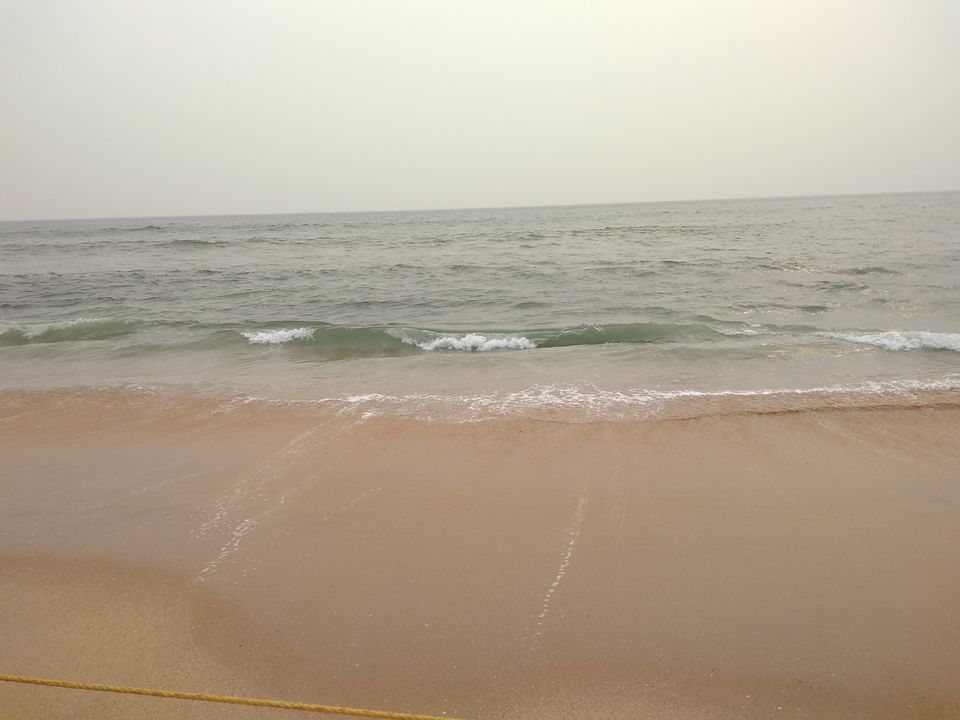 One of the most amazing views you will see. You can hear the sound of waves even before reaching the place.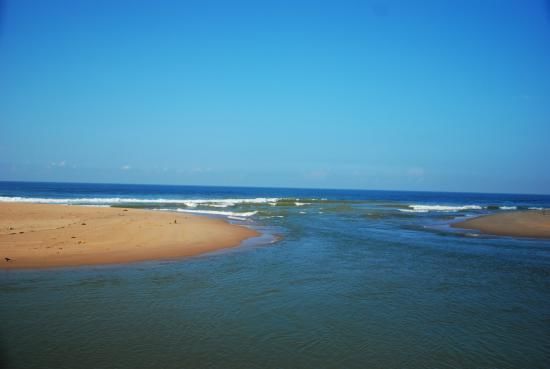 On the sand you feel like you are a on a very small island with water all around. One side you have the serene calm water and the other side sea is raging madly. It's a must have experience.
Now after Poovar, we headed towards Kovalam and checked-in one of the hotel near the beach, although I do not remember the name. Again….a beautiful place and, more than Indians I saw foreigners there. This is the only place where, we took a dip in the sea and were able to enjoy doing so, to the most. Clean beach, good food, good crowd and so, all in all, a good place to visit.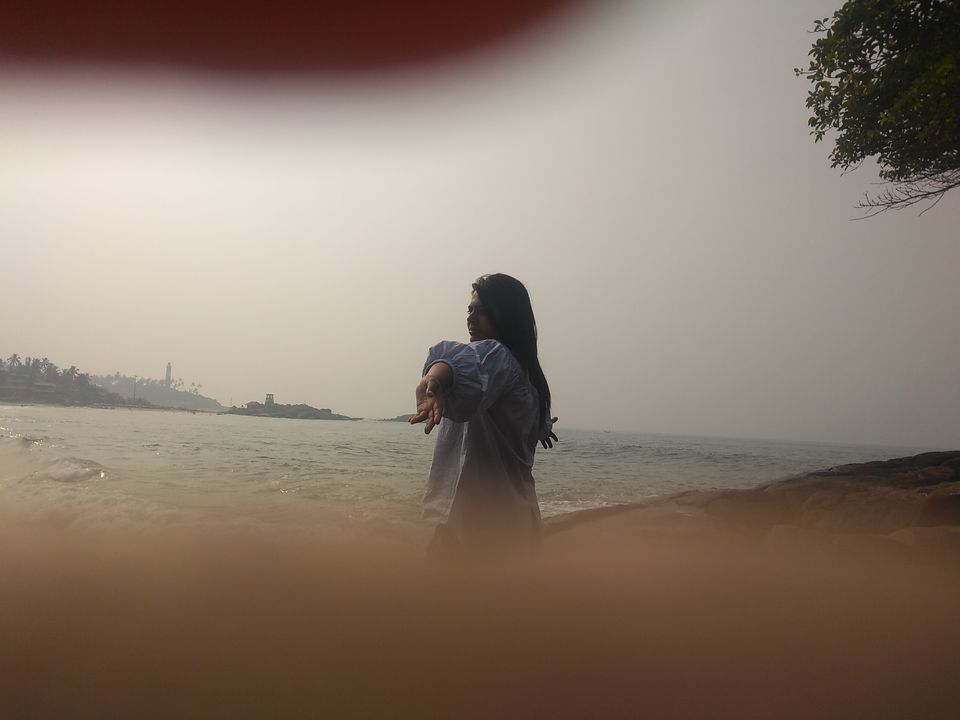 Next morning, I woke up early and went for a morning walk alone and it was soooo peaceful and refreshing. After getting freshened up, we left for our next and the final destination i.e. Trivandrum. The first place in Trivandrum that we covered was Sree Padmanabhaswamy Temple. The main topic of interest at this temple is the talk about its vaults and what makes the temple the richest temple in the world! It is said that the Padmanabhaswamy Temple treasure vaults holds fortunes enough to save the world from its various issues.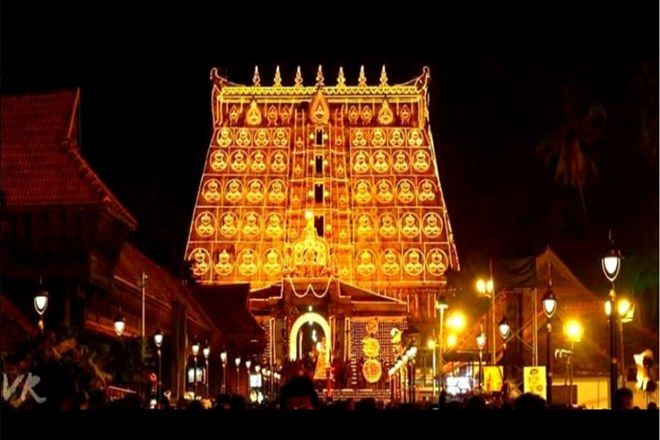 There was a long queue for the darshan, but the management is quite good and co-operative. For people who have genuine issues like some disability or senior citizens, the ones who could not stand for long in a queue, could skip the queue and are allowed to go inside, by taking permission/letter from the office there.
For gents - U have to buy dhoti from there Rs60/ each. and u can wrap that dhoti over your pant/short/jeans. tshirt or shirt is not allowed. you have to take off t shirt or shirt and go bare.
For ladies, best is saree, and if not saree, wear churidar or anything long and over that again you have to wrap around the dhoti.
The timings were:
Morning: 3.30 am to 12 pm
Evening: 5 pm to 7.20 pm
Later we checked in, in a hotel near to the airport, as we had our flight for Mumbai, the next day. The nearest beach was Shanghumukham Beach, which was clean and nice. We had the last authentic south Indian dinner, near the beach and were not too happy about ending the trip, but ended it at a happy note, with the hope of a next beautiful trip soon. Next morning we boarded our flight and said goodbye to Kerala and Tamil Nadu.
The total cost including all the transport,stay,food and flight ticket from Trivandrum to Mumbai costed me around 14-15k per person (approximately).