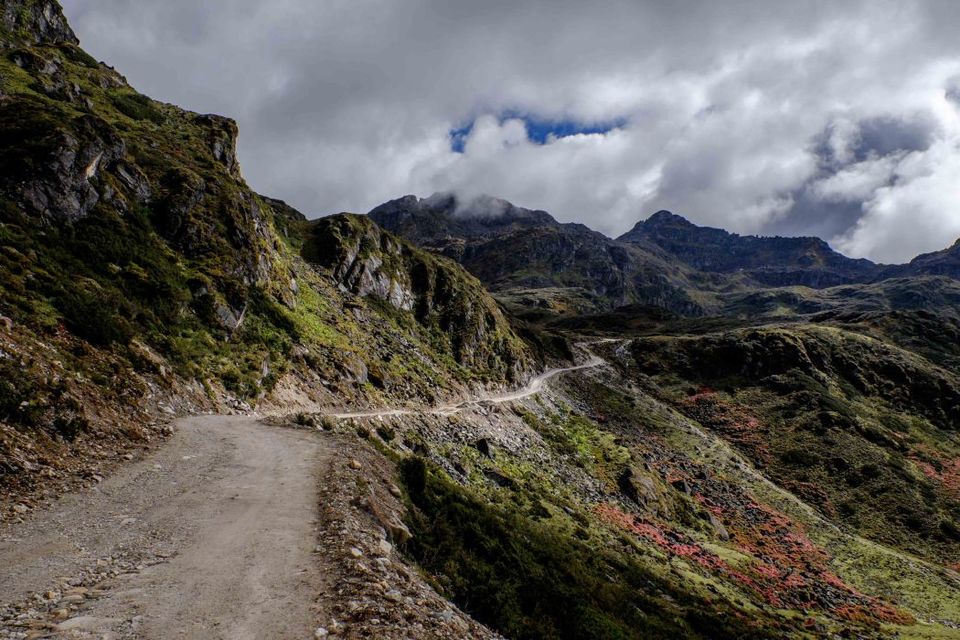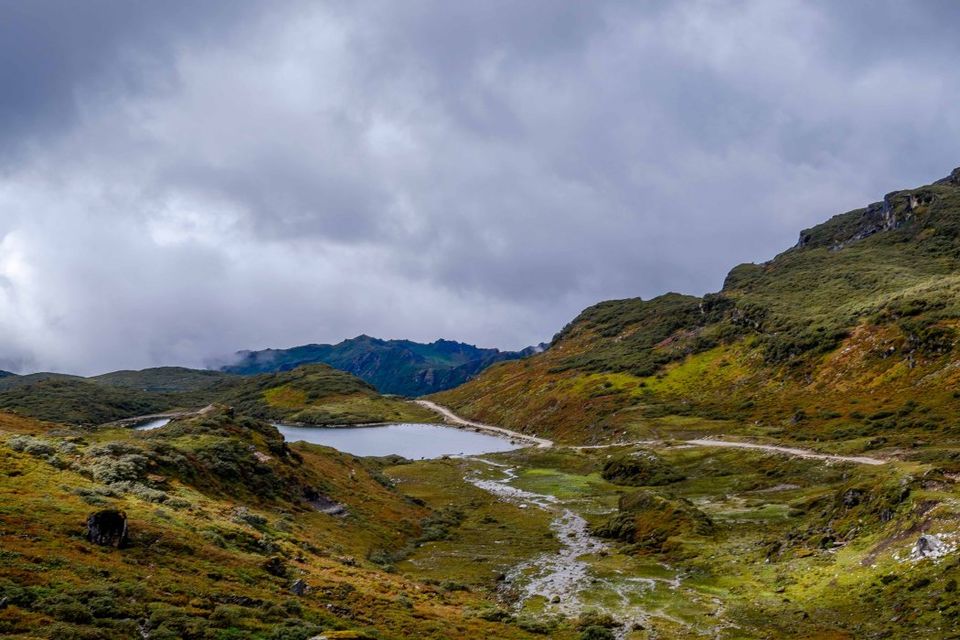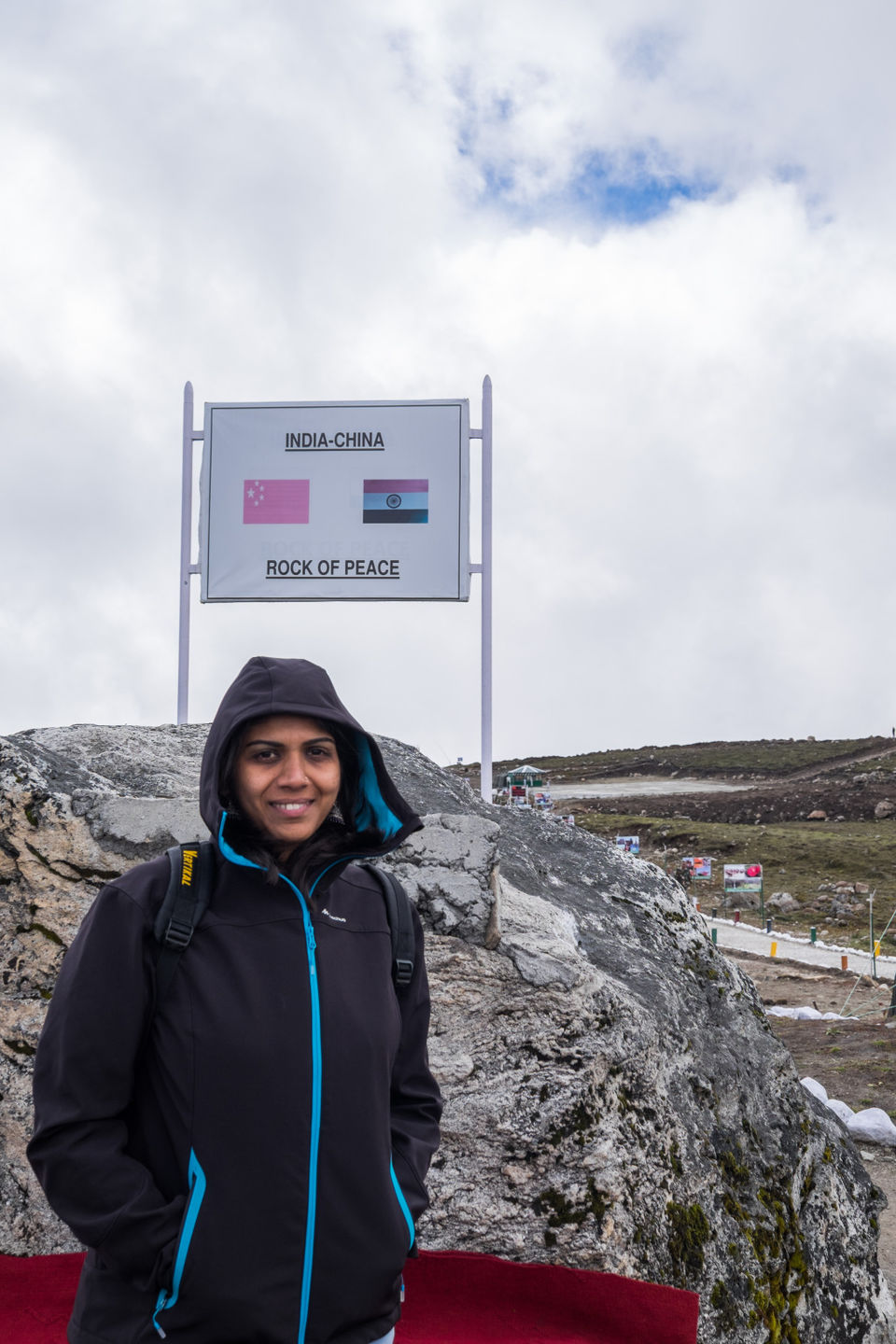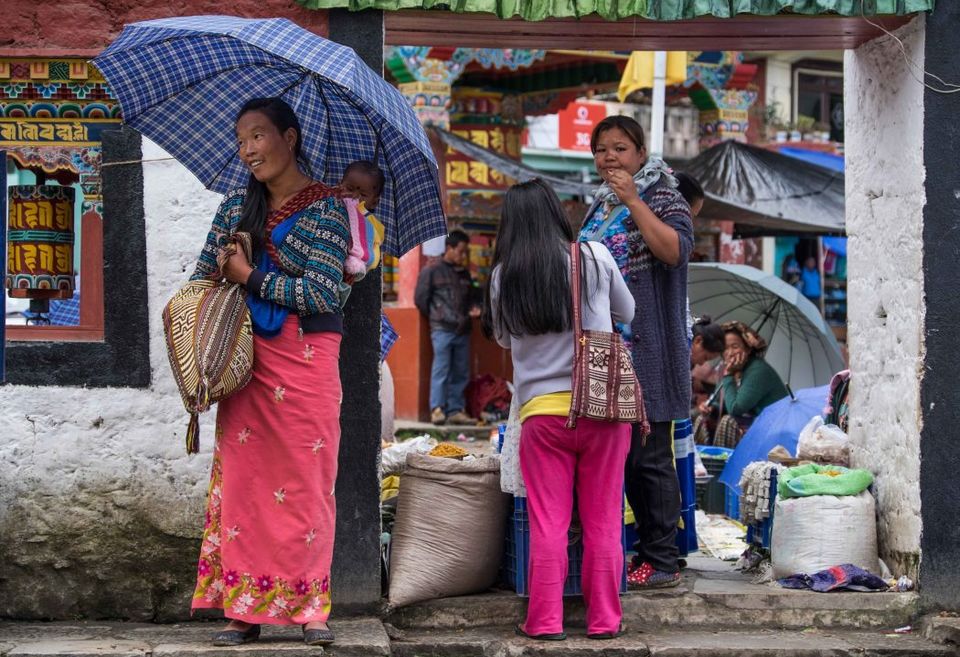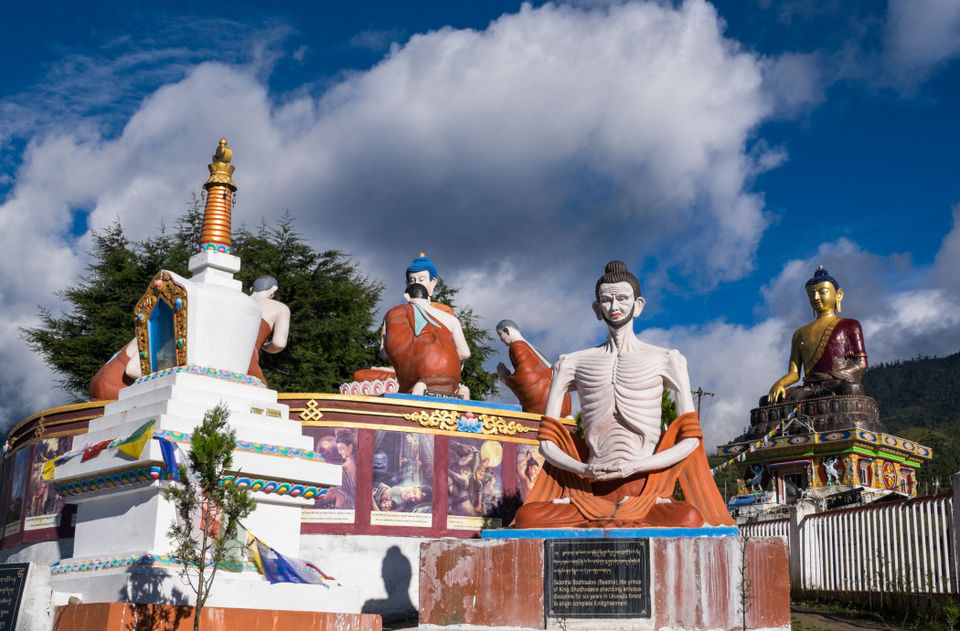 Small and slow, Tawang is one of those places in India which is technically a town but has the feel of an old village. Though it does boast of having branches of three of the countries largest banks. It is essentially the place you go to on the way to Bumla, which is a border between India and China, or to visit Asia's second largest monastery and take in the chilly mountain air.
The average Indian traveller hasn't yet been to Tawang, getting here is an ordeal, and the average foreigner who might know about the place comes in the deep winter for the hot springs.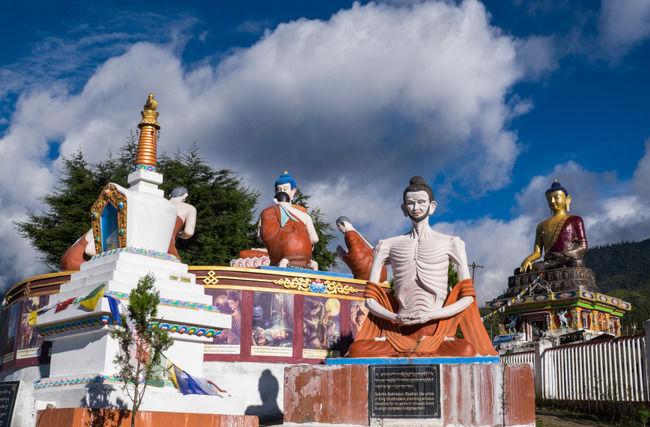 The Statues of Lord Buddha overlook the town of Tawang. The little Chortan you see here tells the story of the life of the Buddha in beautifully illustrated panels, on your way up to the massive golden statue you see in the background.
But Tawang has a certain charm that you might not find in most places across the country, with its old village feel, small wooden houses, and tiny roadside eateries that sell momos and chow-chow. Most of the roadside eateries call themselves 'Hotels' giving it a grand feel.
Walking around the main market you see little children on their way to school, older women in more traditional clothing going about their business, and the locals opening up their shops and restaurants. There are shops and halls that advertise snooker tables, which seems to be a favourite pastime for the young men around. One interesting sight that hits you immediately, is that each village or town we have passed by or stopped at has an inordinately large number of liquor stores, sometimes more than any other type of store.
While we got many explanations for this phenomenon, none seemed satisfying and we were content to remain slightly stupefied. One supposes that in this bitter cold, a little bit of alcohol goes a long way in warming the insides.
In Tawang.
The day here begins at about 7am, with the sun coming up by 5am, and ends at 8pm. By 6.30pm you find the mist has rolled in and it is difficult to get around without a torch, and if you are hungry after 8pm, the options are severely limited. We highly recommend the Tak Restaurant, run by the quiet but informative Dorji, who is happy to whip up a mean beef thain-thuk, a hot soup made with beef stock, small pieces of pasta and vegetables, guaranteed to not only fill your stomach but warm you up from the soul.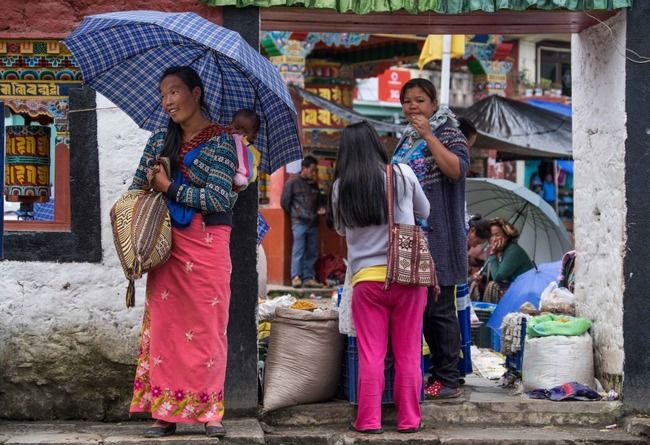 One of the "must do" things in Tawang is a visit to Bumla, which is the Indo-China border. You need to get a special pass from the Office of the Deputy Commissioner, which takes about a day, as there are five army check points you pass through to get to the border. While getting the pass is not difficult, you simply need to fill a form and provide government id, like many things in India it takes time and is rather tedious.
The road up to the border was worse than what we had experienced in the two-day drive to Tawang, though the scenery more than makes up for it. At times it feels as though you are driving into nothing, and the road looks like it is about to fall off the mountain, when you suddenly turn and are greeted by yet another breathtaking sight.
The beautiful drive up to Bumla.
Every few kilometers you encounter a crystal clear lake, each one more beautiful than the previous. Tawang district, we were told, is home to 108 known lakes. At times the water in the smaller lakes was so still and clear, it took us a moment to realise that we were staring at a perfect reflection, and not the grass and flowers itself. Travelling with two photographers and the beauty that surrounded us ensured that each section of our drive took just a little longer.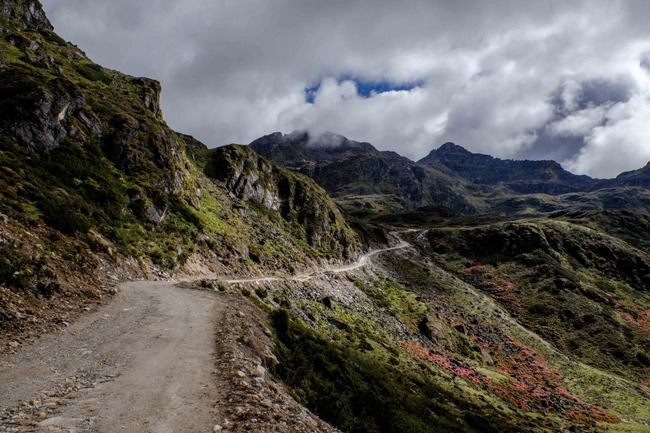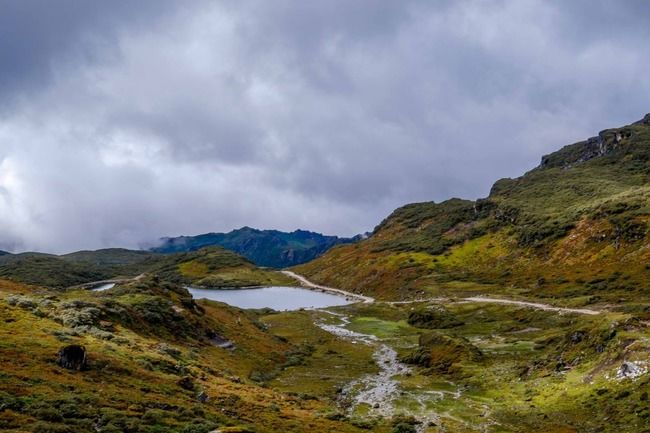 One of the many picturesque lakes we passed on our way up to Bumla.
All the army personnel stationed in each check point were extremely courteous and polite, and more than willing to chat with us about life 15,200 feet up in the world. We stopped at one checkpoint for about a half hour and were given tea and biscuits in one of their huts. On the drive back we stopped at another check post to enjoy some hot and spicy samosas made and sold at the army canteen.
Tata Sky dishes are abundant and one of the barracks had a large flat screen tv along with their other communication gear to keep them entertained during the long, cold, peace time winters. Once you reach Bumla, you are escorted by a jawan the last few hundred meters and he tells you about India's relationship with China at the border. Through a telescope we saw the first check posts on the Chinese side, and were duly informed that technically at that moment we were standing in China, a few feet over the LAC!

That's China! Pretty cool :)
Unlike the border area in Sikkim, here there is no fence or endless barbed wire wall that separates the two countries, there are only markers on the mountains in each direction which are respected by both sides. Every year six major joint events are held during important dates such as each countries independence and other similar occasions, which involve cultural activities, food, music and dance.
The local communities are allowed to attend from both sides and these events are conducted with great fanfare and joy. It goes a long way in ensuring that the border area is kept friendly and the soldiers, who are stationed for up to three years at a time, have a chance to display their skills and hospitality.
Ambika and the Rock of Peace. The Rock of Peace lies on the LAC, half of it in India and the other half in China.
Standing there at the border, taking photographs at the 'rock of peace', you experience a sense of pride and gratitude for the men and women who serve the country, and a feeling that perhaps lasting peace with our northern neighbour is not impossible.