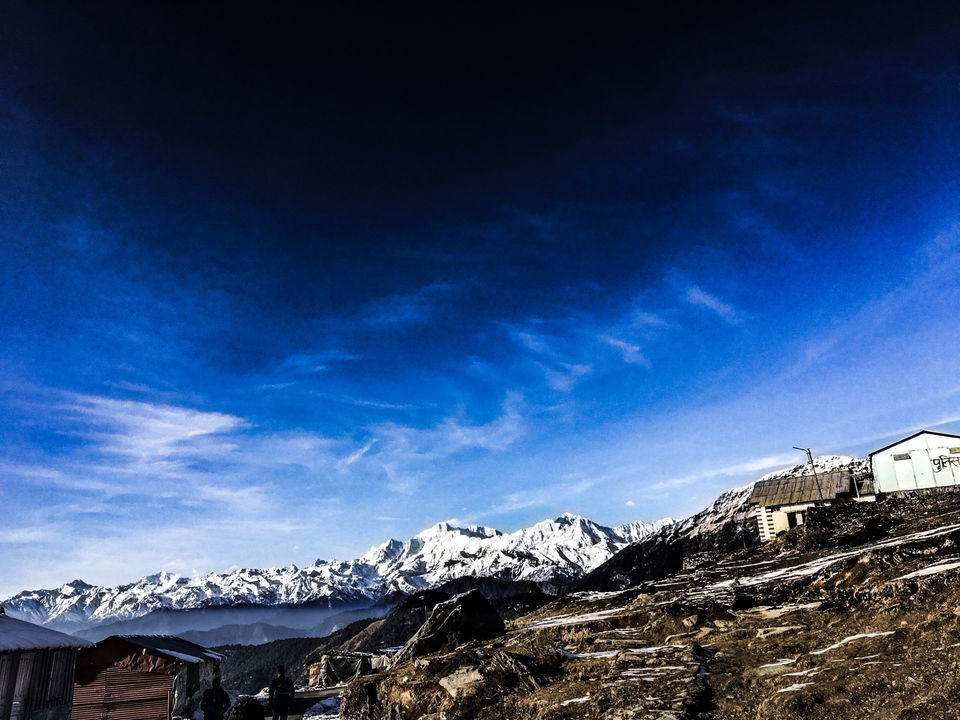 IIt's almost 1 year now and nothing much has changed as well . In this very month last year an unplanned trip was made , with the hope to do the Tungnath and Chandrashila trek . The freezing cold January's of Uttarakhand when Chopta and Chandrashila experienced heavy snowfall , it was quite evident that a travel enthusiast like me would never miss such an opportunity and the thought that this will be my first winter trek made it more interesting . Tungnath is the highest Shiva temple in the world and is the highest of the five Panch Kedar temples located in the mountain range of Tungnath in Rudraprayag district in the Indian state of Uttarakhand. The Tungnath (Lord of the peaks) mountains form the Mandakini and Alaknanda river valleys. Located at an altitude of 3,680 m (12,073 ft), and just below the peak of Chandrashila, Tungnath temple is the highest Hindu shrine dedicated to Lord Shiva .
As i mentioned that it was an unplanned trip so there was no early morning travel , no equipment and no trekking shoes ( which i would soon be regretting while walking on snow ) . It was a road trip including a winter trek and for the love of driving i was the only one driving all the way from Dehradun to Chopta . We started our journey from Dehradun at 2:30 pm . From Dehradun to Rishikesh its a normal plain road . The real adventure lies when you start driving on mountain roads . Beautiful mountain scenes and ample of greenery though one should be concentrated on the roads as well . After traveling for about 3-4 hours we reach Devprayag ( where the Alaknanda and Bhagirathi River meet to give the name Ganga ) . The sangam of the two rivers is quite visible and you can park the car and take pictures . You would be driving along the river for almost your entire journey up to Rudraprayag .
The distance between Devprayag and Rudraprayag is approximately 70 km and takes about 2 hour to reach depending upon the traffic and landslides on the way . For those who love to drive , the roads are in good condition but driving in mountains is a challenge . After driving for 6 hours we finally reached Rudraprayag which was our first stop and last stop before Chopta . We found a budget hotel ( all 4 of us are students ) in Rudraprayag and had our dinner in nearby DHABA . Temperature at Rudraprayag was bone chilling . Next morning a good 90 km drive was waiting for us to reach Chopta .
The next morning at about 8 am we started the Day 2 of our journey driving from Rudraprayag to Chopta . On our way we could easily see mountains covered with snow .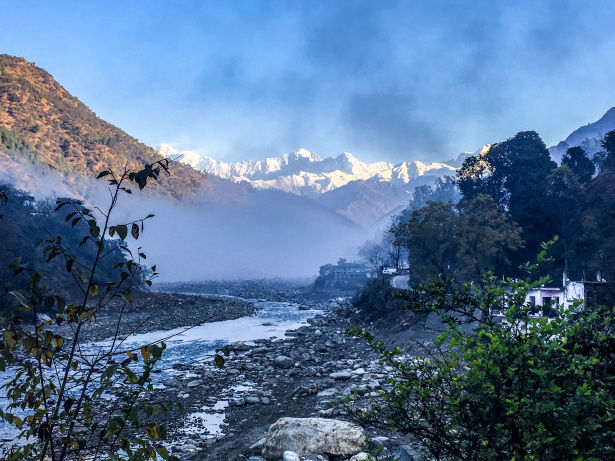 When nature provides every thing at one place. RIVER , MOUNTAIN , TREES . GOOD MORNING
We took a halt on our way to Chopta . The place was all white . Everything was covered with snow , water was frozen and the temperature very low . We had maggi and tea for our breakfast .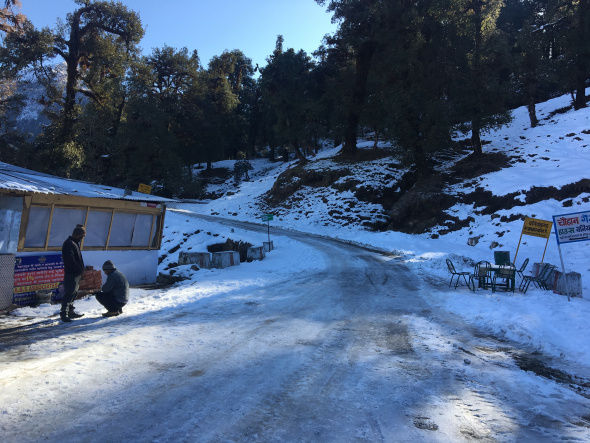 BANIYA KUND . That's the way to Chopta . All frozen and completely white . On the left is the "CHAUHAN HOME STAY "
The road had a white blanket of frozen snow over it . And driving on it is a very difficult task .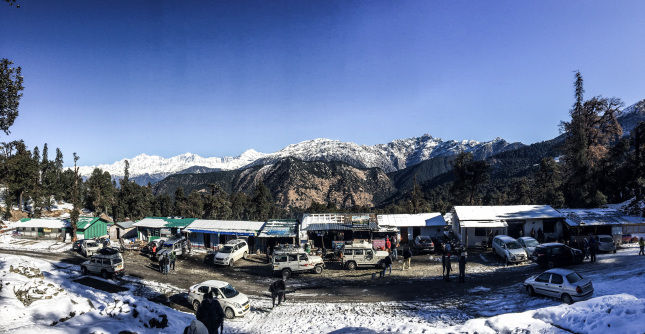 After 20 mins we were at the starting point of the Tungnath Trek . There are few shops as well . A REALLY IMPORTANT ADVICE : If you ever think of doing a winter trek keep an ample amount of water with you .
All set to start our trek and there come the forest guy asking to register ourselves and pay an amount of 150 bucks . The path of the trek seemed to be like a white carpet . With snow melting from the trees and droplets pouring down . My first winter trek seemed to be lovely . I couldn't stop but just keep on clicking . The place was quite and you could hear the chirping of birds .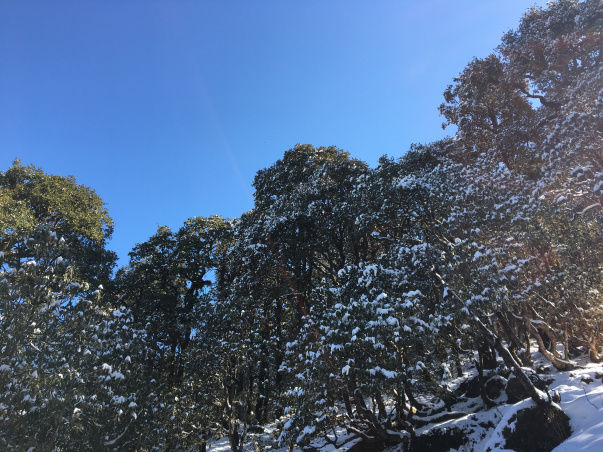 Can't get a red carpet but this one will just go well with me . WHITE CARPET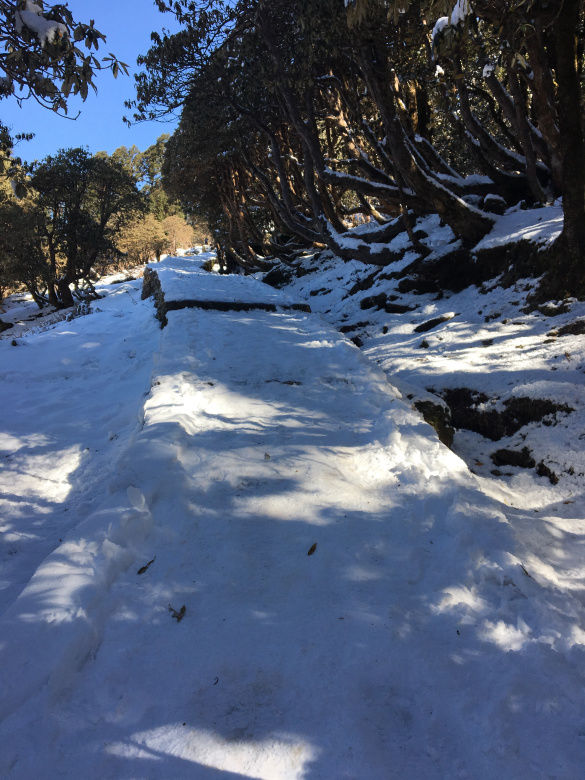 I have never seen something like this .
To be frank , everyone labelled this a moderate trek , but when there's snow it's soo not "moderate" . The difficulty level is slightly high and as you scale up the amount of oxygen also gets reduced . It's a 6-7 km trek up to Tungnath Temple and 2 km more to Chadrashila Peak which is also one of the summits . Chopta is also known as the Mini Switzerland and the reason being this .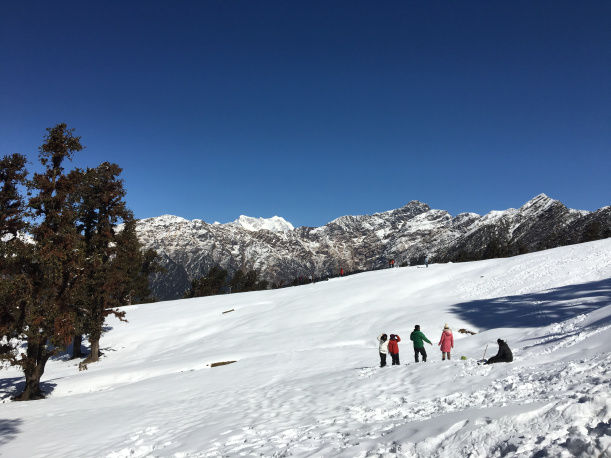 Covered by snow and that's the reason ????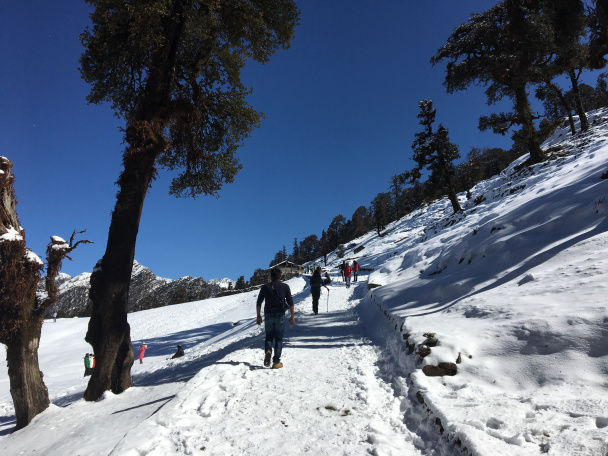 They will all remember this one heading to Shiv Ji highest temple on earth .
I started normally the view was also motivating me to reach the temple and finish what i started . But after one hour of trekking i felt i was over weight with every rise the oxygen level got reduced . But with nature and my fellow trekkers motivating me there was no looking back . Taking my own time i started walking slowly so reduce the exertion level .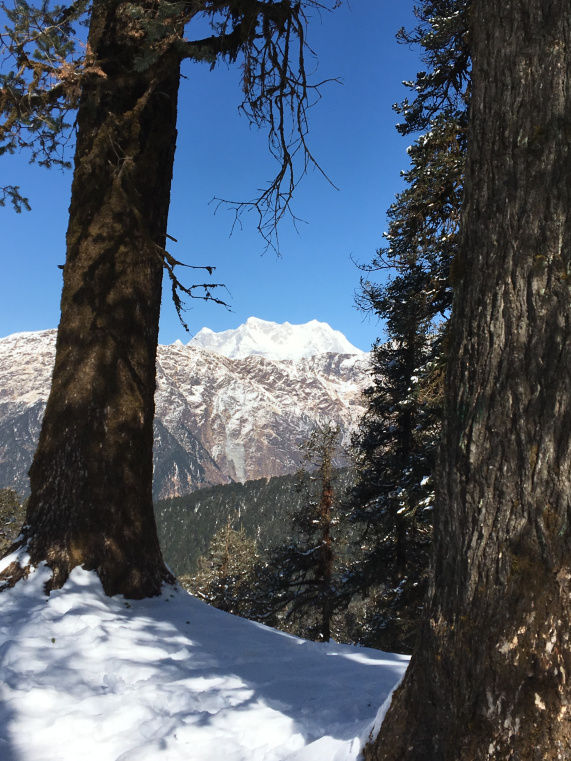 Surrounded by snow covered peaks .
After reaching a certain height there were only few fellow trekkers along side me . They were helpful in sharing almonds which they said will give the required energy . There group was from Pune and that says a lot about the trek . With every step the temple seem close yet far. But the pictures seem to come out great .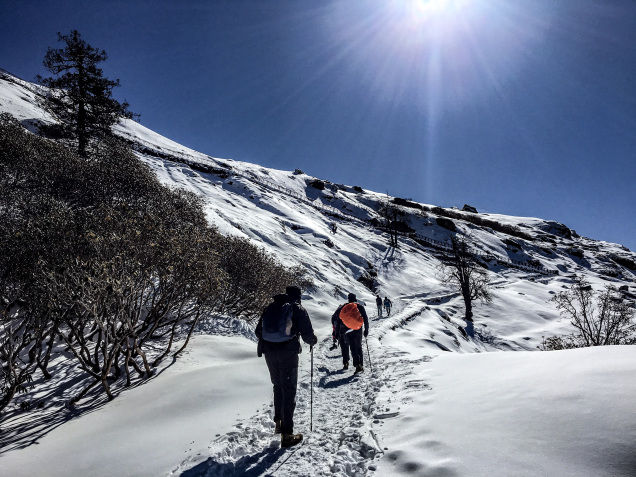 I believe this click captured the best moment of the trek .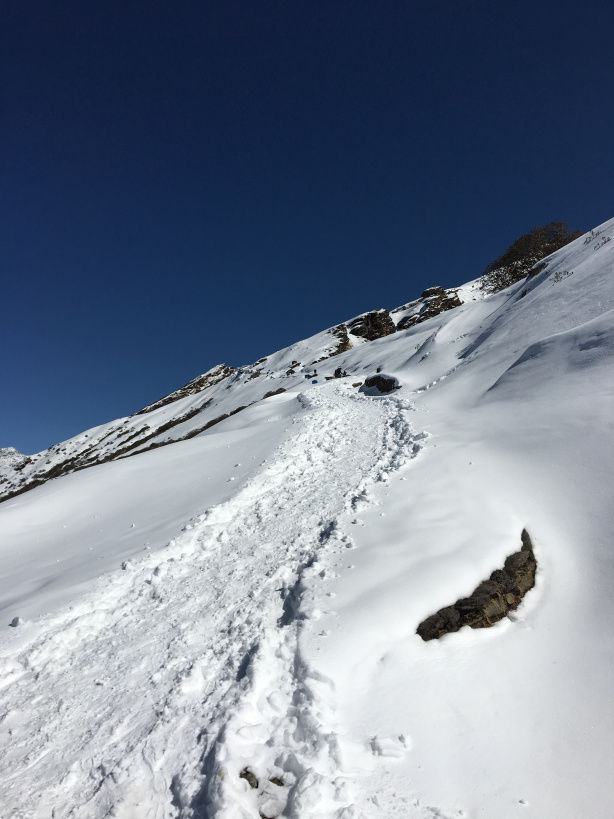 Places you fall in love with ❤
After all the hard work , driving about 200 kms , trekking for 3 hours you are about to reach your destination and this destination turned out to be my motivation . Knowing that there was few km to cover there was ample of energy within me . I was curious to see what the view is from the Temple and i must say it was worth every breath , worth every time i thought that i can't reach the temple . But to all odds and to myself I DID it.
THE WAY TO TEMPLE . Jai Bholanath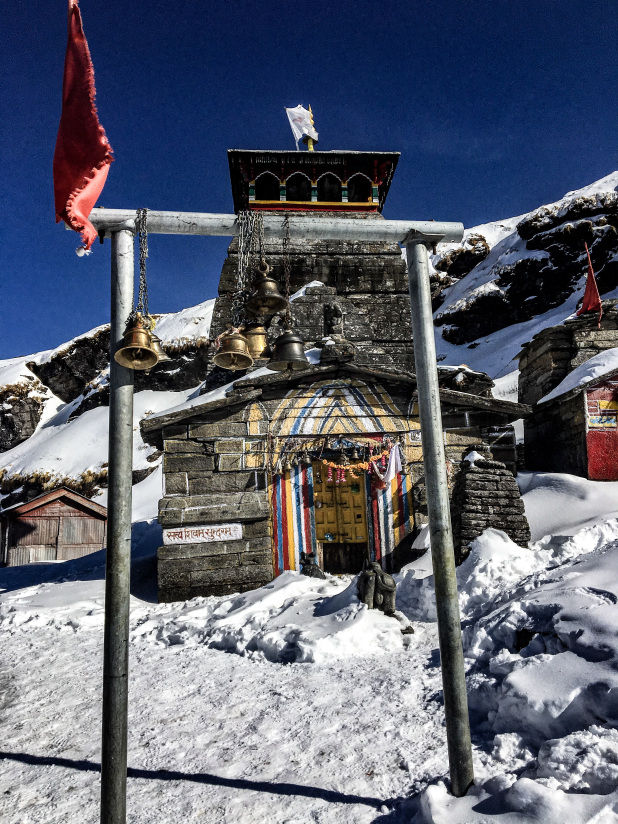 Welcome to the Tungnath Temple ❤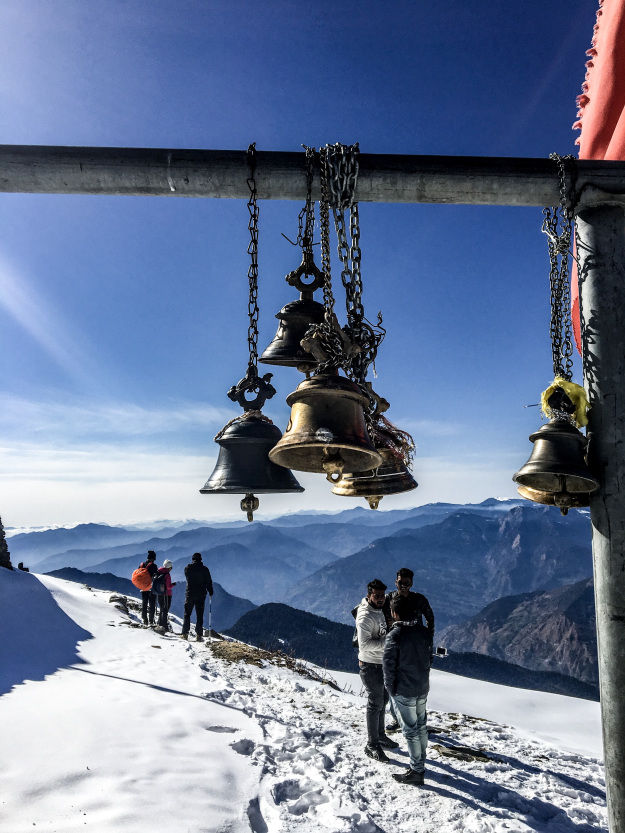 Lord I am here ????
I wished to trek up to Chadrashila peak as well , but there was excess of snow and we weren't equipped well to trek up to the peak. I hope to do the Chadrashila peak trek again and that to during the bone chilling temperature .
Thanks for stopping by ????