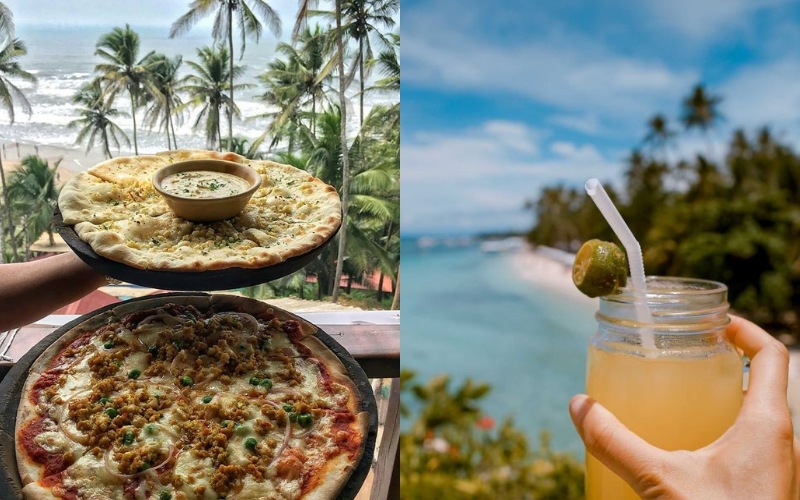 You don't go to Goa to stay indoors. Undoubtedly, one of the best ways to CHILL in Goa is with an expertly mixed cocktail in hand and a breath-taking view in front of the eyes.
Here's a list of the best places in Goa which pair exquisite drinks and lip-smacking dishes with brilliant vistas.
Imagine bonfires by the beach, crazy cocktails, chilled bear, open beach and gorgeous views of the sunset and moon rise! Sound's LIT? Initially known as Jojo's Sundowner, at the northern end of Palolem beach, Sundowner has everything that you dream of in a boho beach-side café.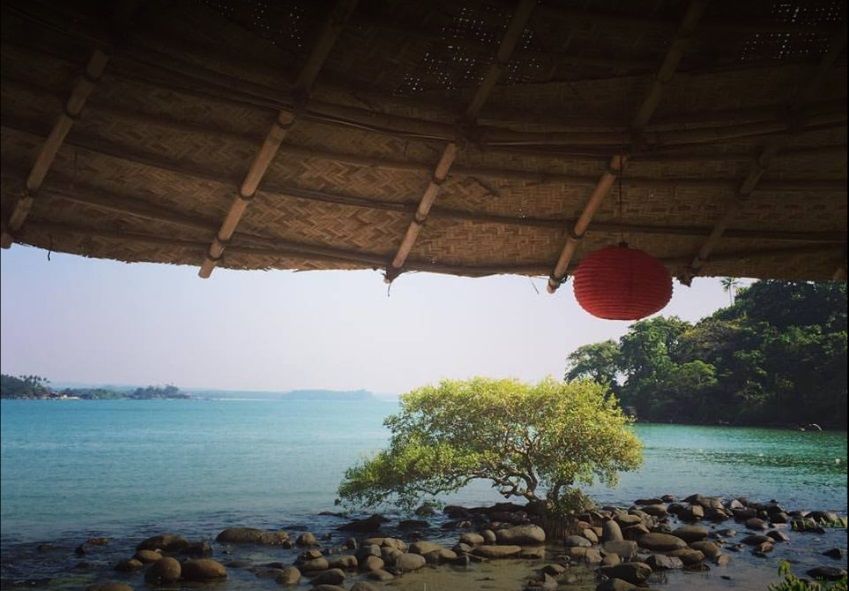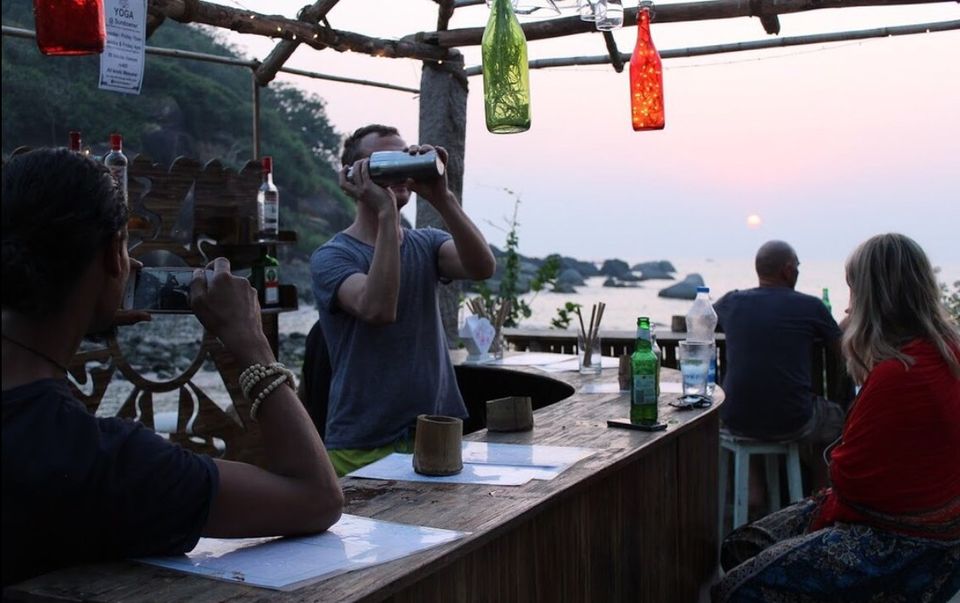 USP:
You can walk down to the rocks where the beach ends for a time of solitude or dance away to their electrifying beats on Friday nights. Or just attend one of their full moon parties for a FAB time!
Must-Try:
1.) Super chilled beer with stone oven-baked pizzas
2.) The best Pina-Colada in the world along with Tapas.
3.) One of Hemant's Mojitos (they're the best in town!)
4.) Their cucumber cooler is an awesome sundowner after a hot day at the beach.
However, since the place is just by the beach it is open only from October to April. In fact, in times of high-tides, they offer you a free boat ride back to land.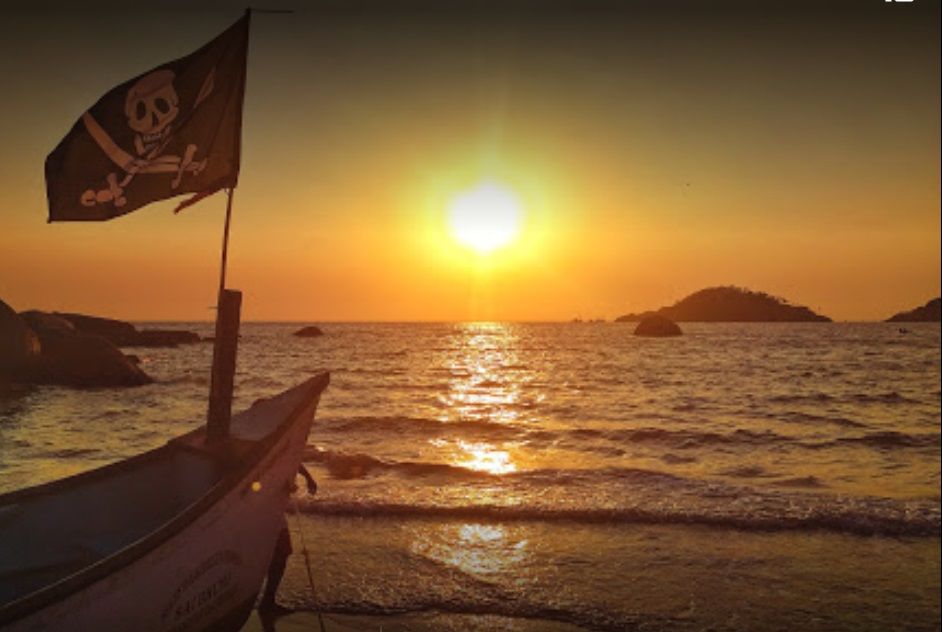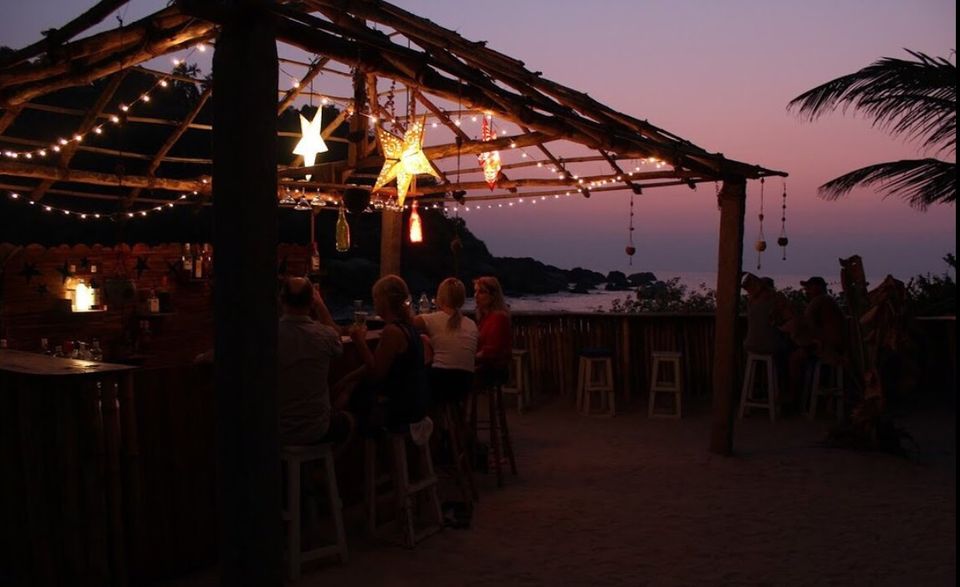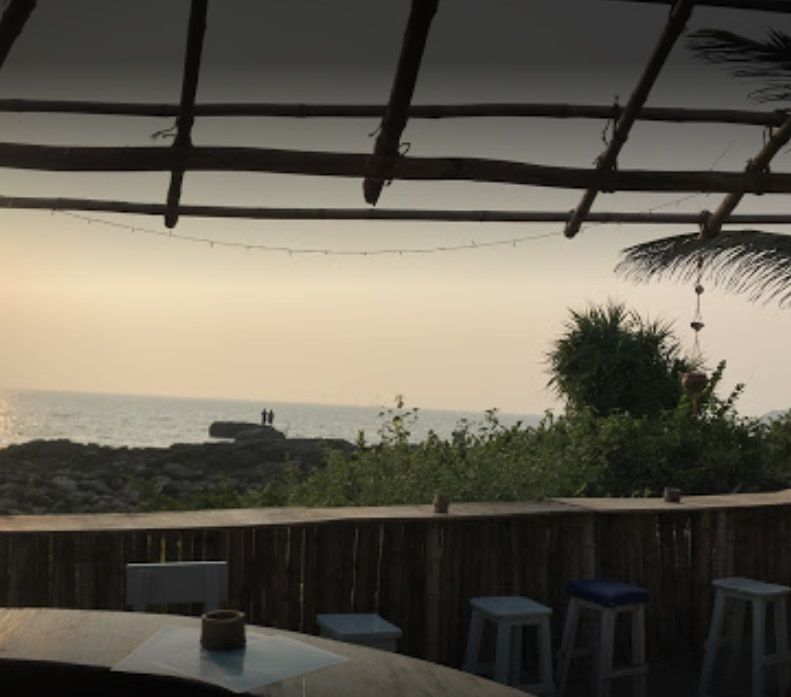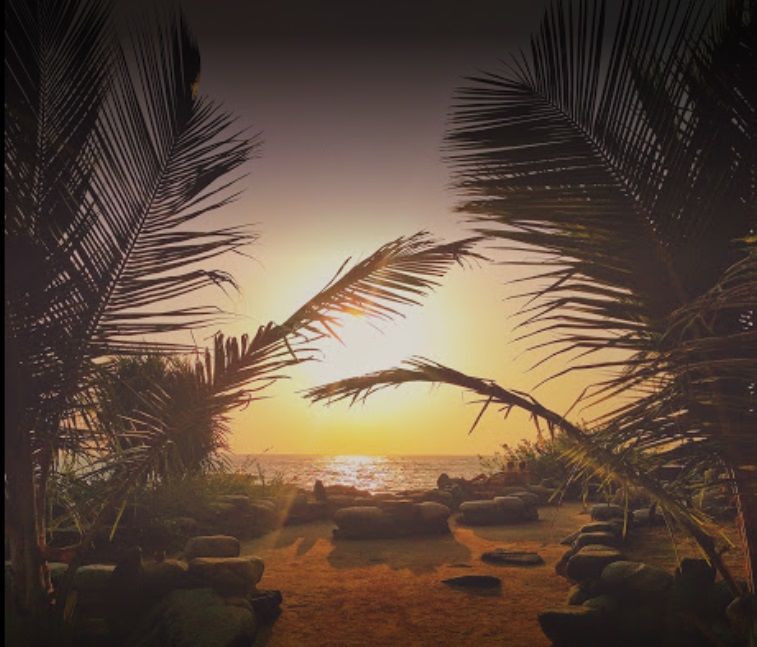 Where: Hira Smruti, Sawant Wade, Palolem, Canacona, Goa 403702
Cost: 800 INR approx. for two
Contact: 7887567384
The open-air ambiance, the cool breeze, the clear blue sky, swaying palms, the lush lawns and the sparkling tide of the river Zuari add a romantic setting to this restaurant.
USP:
Perched atop a cliff, Bay 15 is perfect for soaking the sun, candid conversations, slow dancing to the the live music and soft gushing waves. Plus, if you have a special occasion or want some privacy, you can call ahead book a cozy cabana all for yourself. Let's just say cheers to that!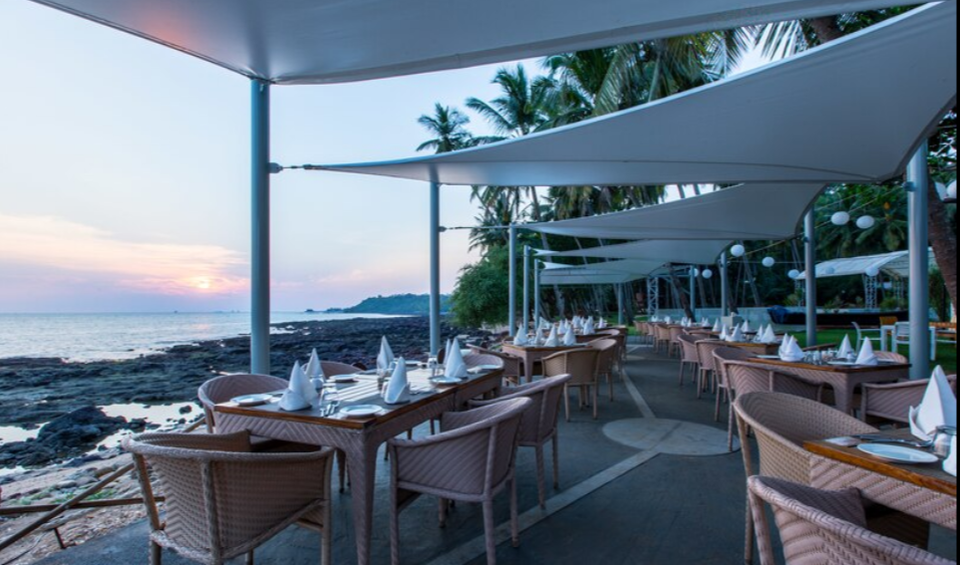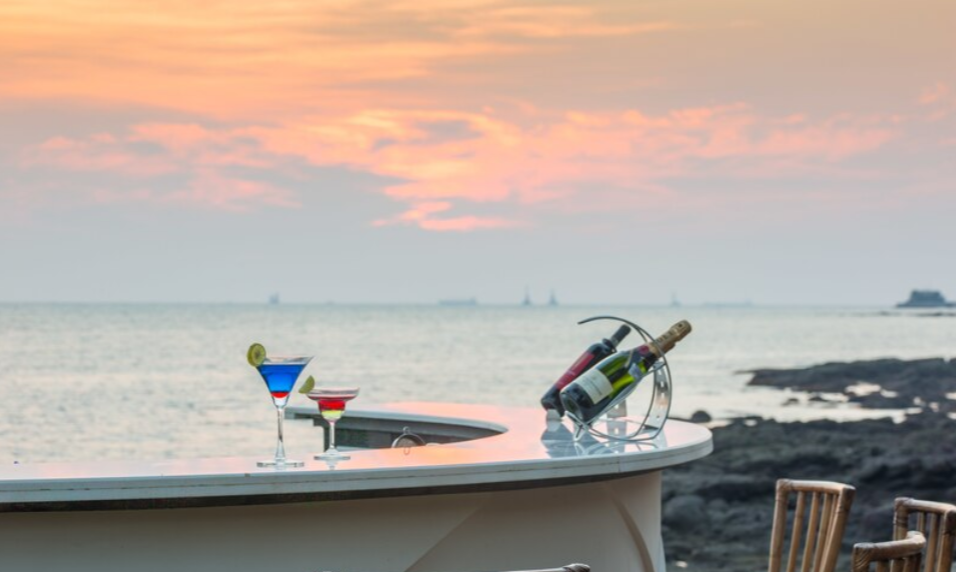 Must Try:
1.) 'Luscious Martini' which is made with vodka, citrus, fresh watermelon, peach and aromatic basil leaves. One of their best-sellers.
2.) If you're looking for something powerful, the Bay15 Margarita is kick-ass. (Seriously!) Imagine tequila shaken with citrus, red-bell-pepper and pineapple juice?
3.) In case you really want to try something more local, order Gianna's classic cashew feni.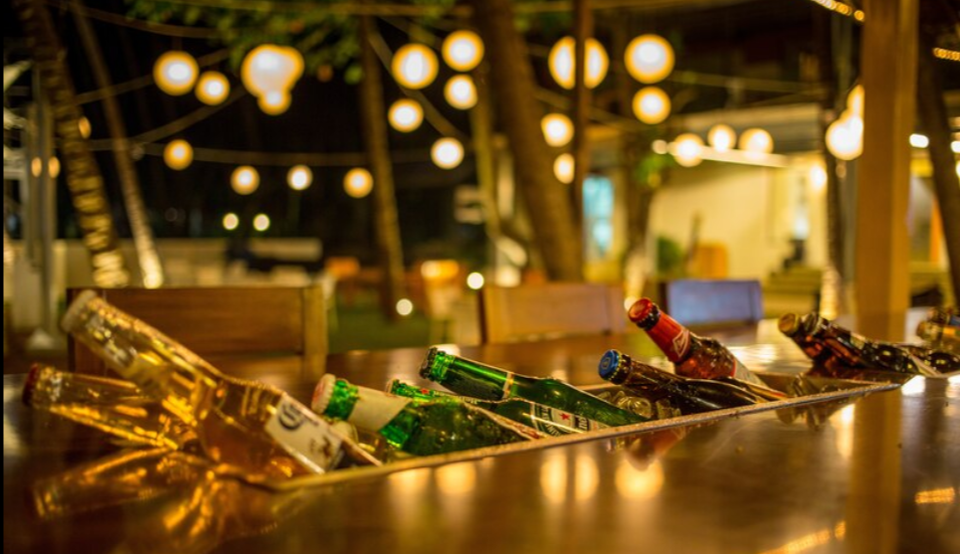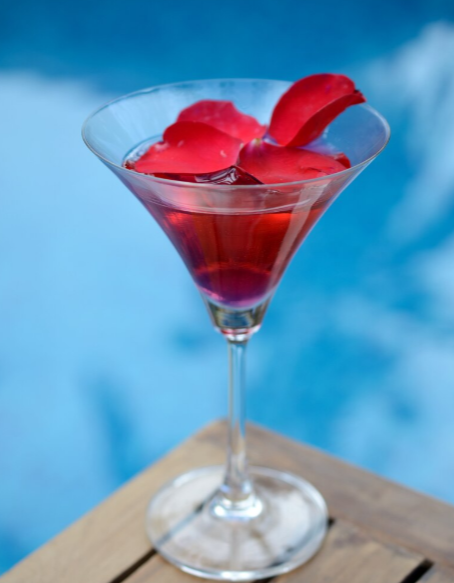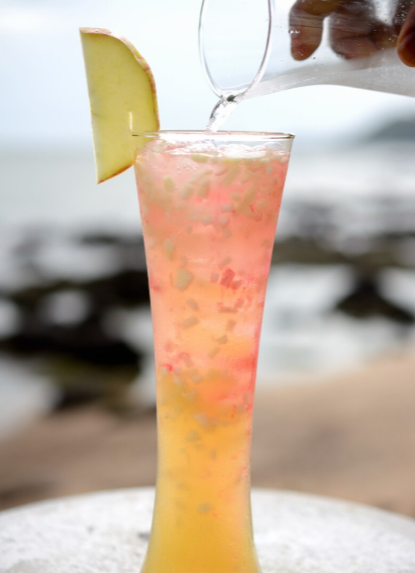 Where: Odxel Beach Dona Paula, Panjim, Goa
Cost: 1,500 INR for two
Contact: 73501 46000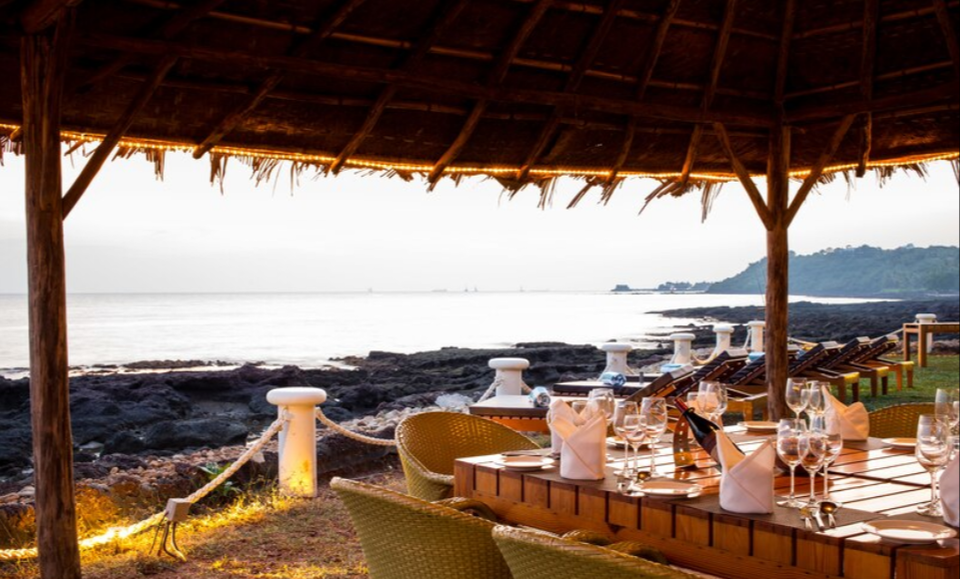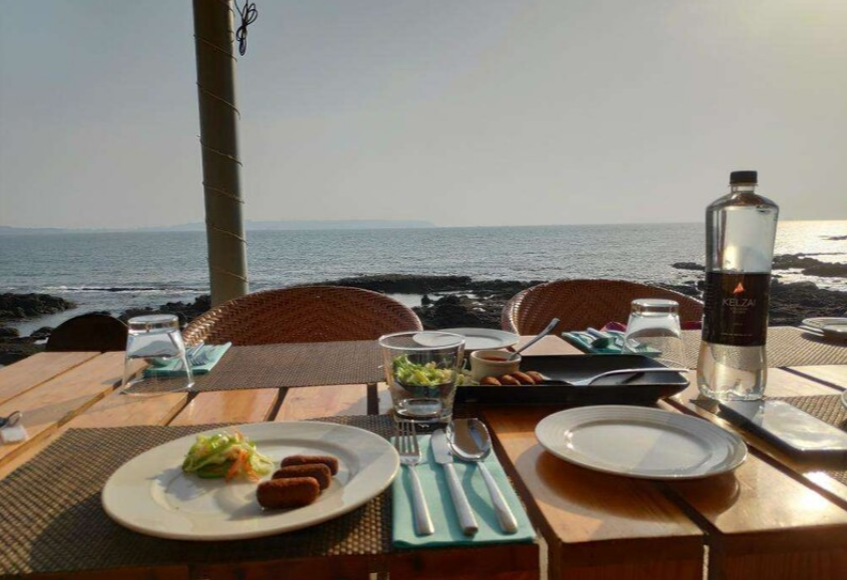 If you're looking for a quiet place, tucked away from all the noisy crowded places, some place with a rustic charm, where you could just watch the sun dip over a glass of wine, look no more!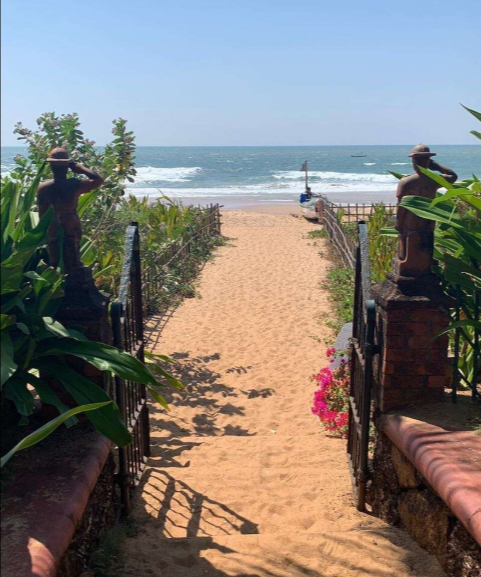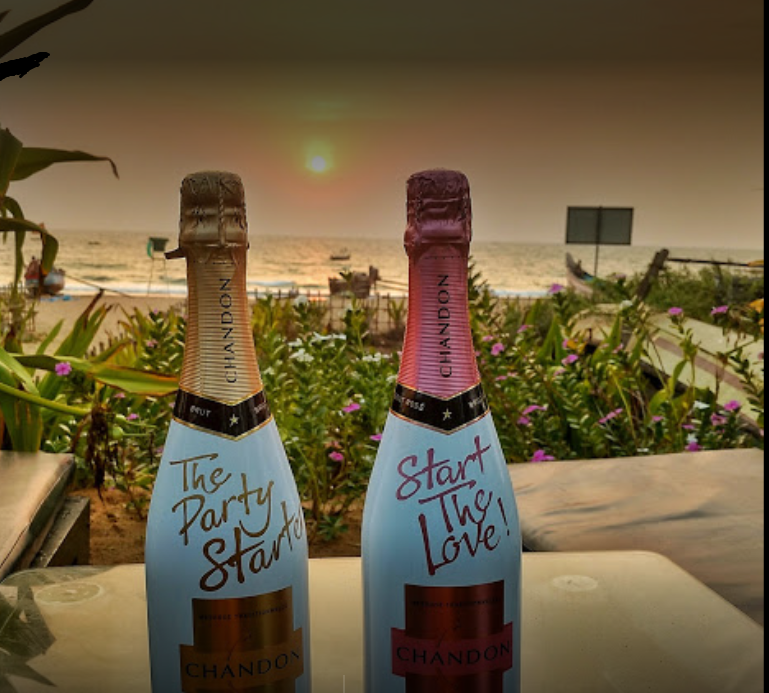 USP:
With rave reviews, scrumptious dishes and perfectly made classic cocktails this is definitely a hidden gem, located by a gorgeous beach side. The restaurant also has two really sweet pet dogs called Chai & Biscuit.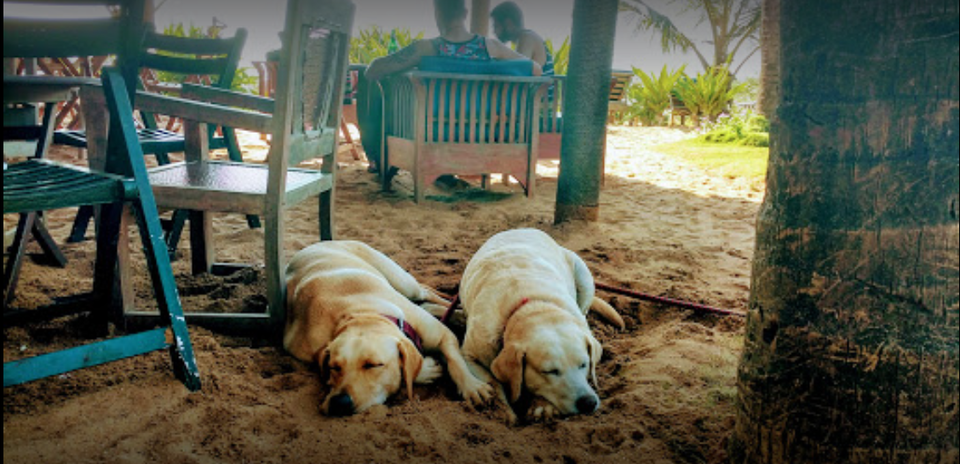 Must-Try:
They have a wide-range of cocktails here, really creative and delicious.
1.) Mojito with a twist
2.) Tamarind Margarita
3.) Some exquisite Sangria (try both red and white).
3.) Melon Mojito mocktail for your teetotaler friends.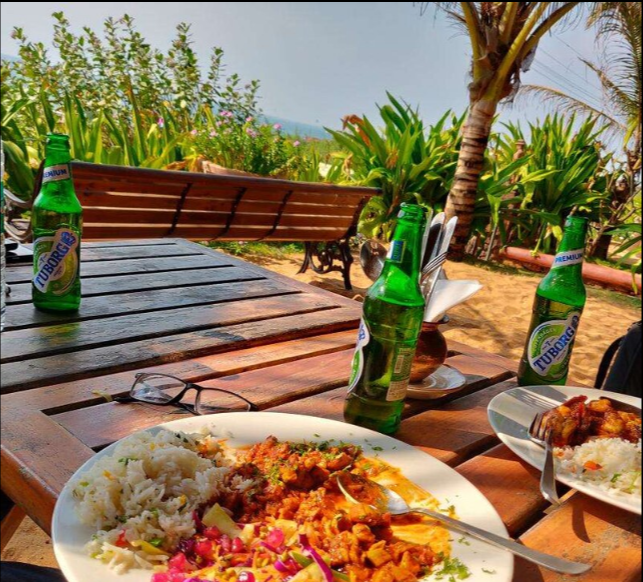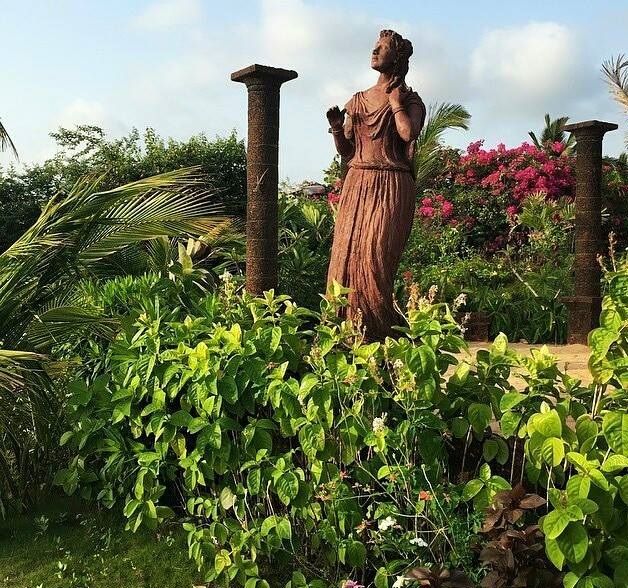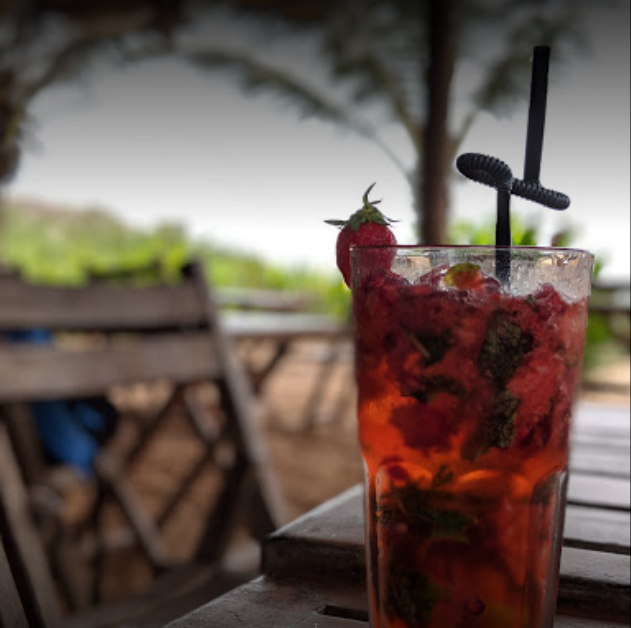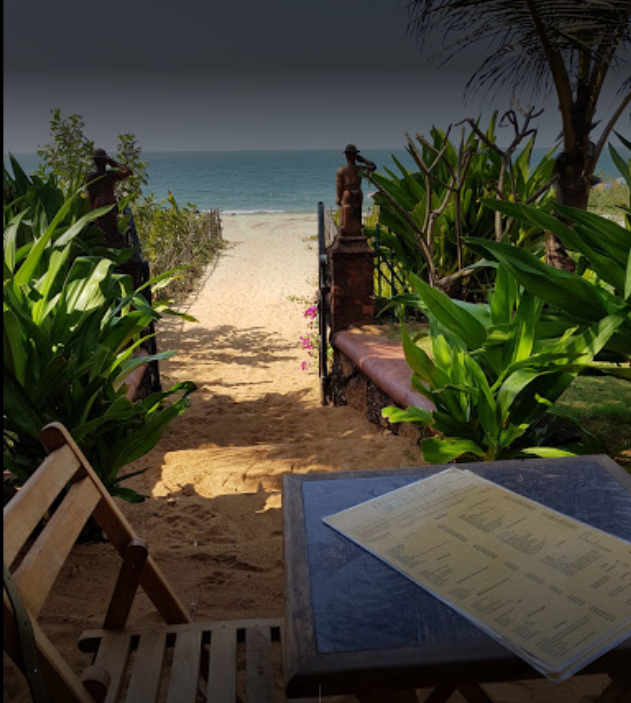 Where: Holiday Street, Gaura Vaddo, Calangute Goa
Cost: ₹2,500 for two people
Contact: 9922279265, 9823685020
Remember this photograph of PC, Nick, and Parineeti from their Goa vacay? Well, they were in Pousada.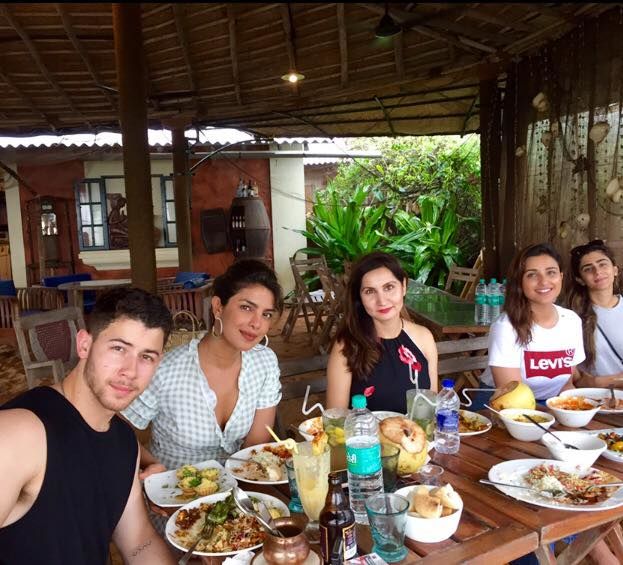 A little piece of Greece in the middle of Goa. The combination of great music, waterfront location, enchanting sunset view, makes Thalassa one of the most happening places to grab a drink.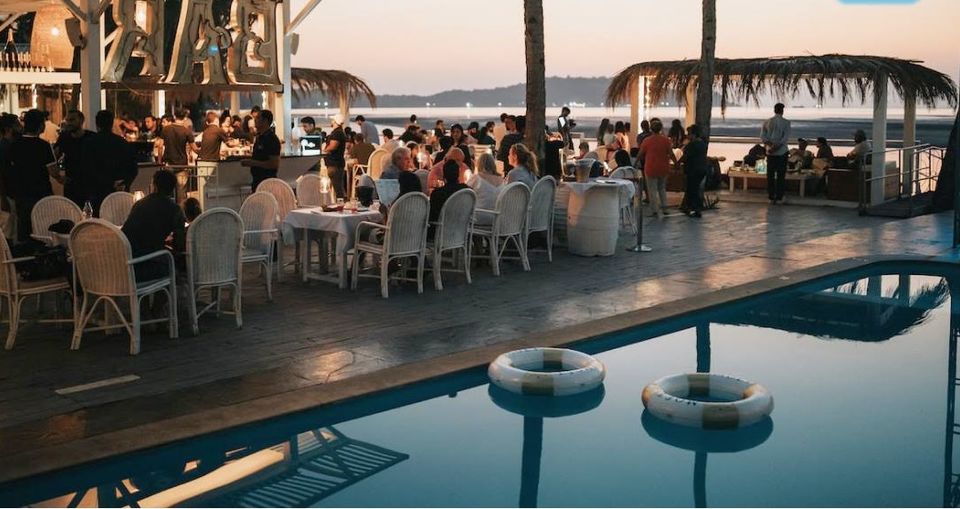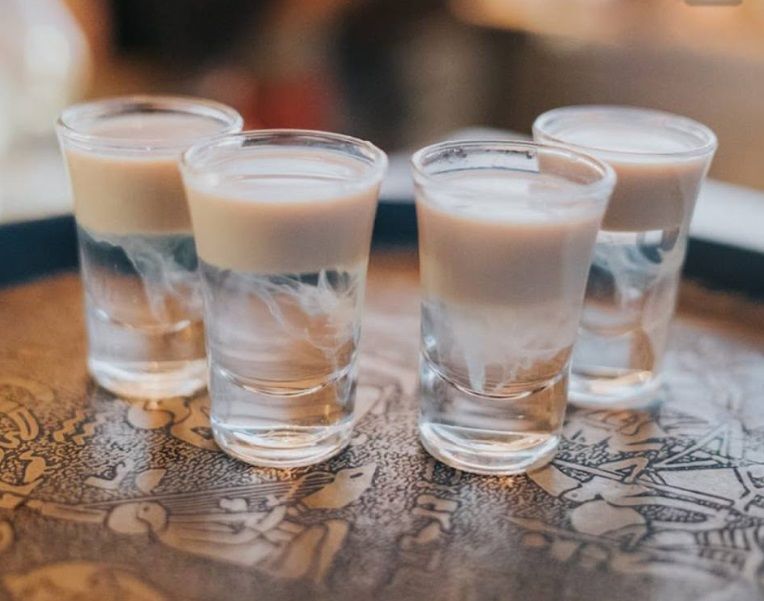 Over the time this restaurant has become one of the "must visit places" in Goa and that's the reason, it's super packed most of the times. So, don't forget to reserve a table before your visit.
USP:
Santorini inspired vibes, Greek style decor and ravishing sunsets by the beach, traditional Greek dance performances, fire spinners, greek plate smashing (oh yes! there is a fun greek tradition of breaking plates after watching sensational performances), neon dancing and similar live gigs.
Must-Try:
1.) The Irish Coffee here.
2.) The 'Devil's Hand-Shake', a twist on the dreaded Tequila classic, the drink is a pleasant mix of fruits and tequila! Lets say cheers to a hell amazing time with the Devil.
3.) If you are feeling wild, down some shots with buddies, order the "Slippery Nipple" or just act fancy with your girl-friends and create your own Sex and the city vibes with a round of their strong Cosmos.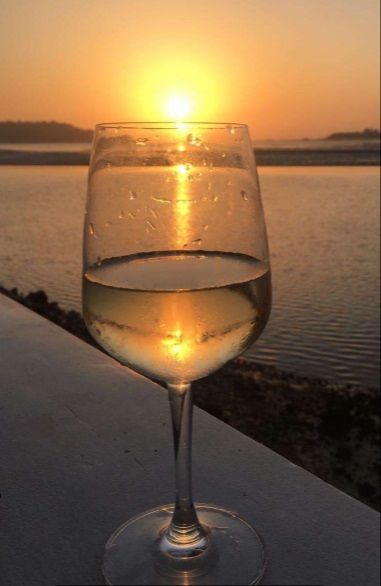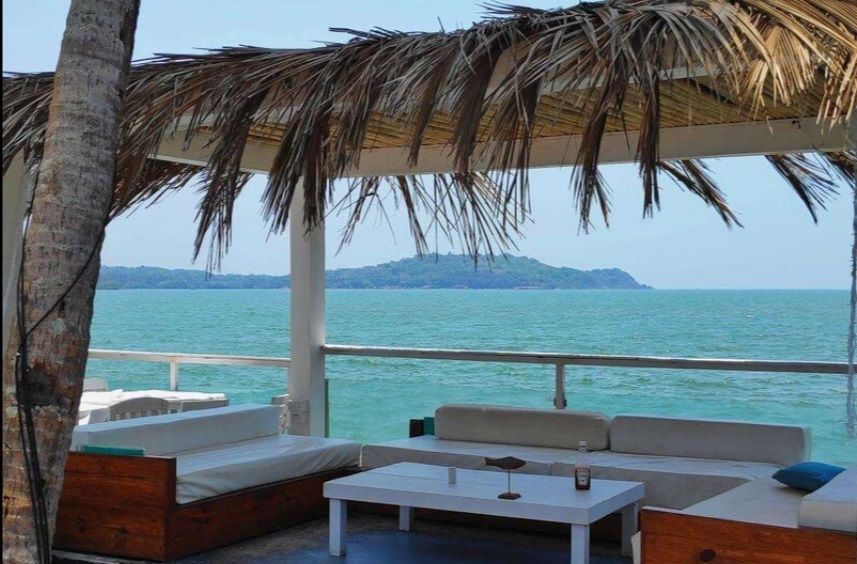 Where: Near Teso Waterfront, Plot 301, 1, Vaddy, Siolim, Goa
Cost: 2,500 for two people
Contact: +91 9850033537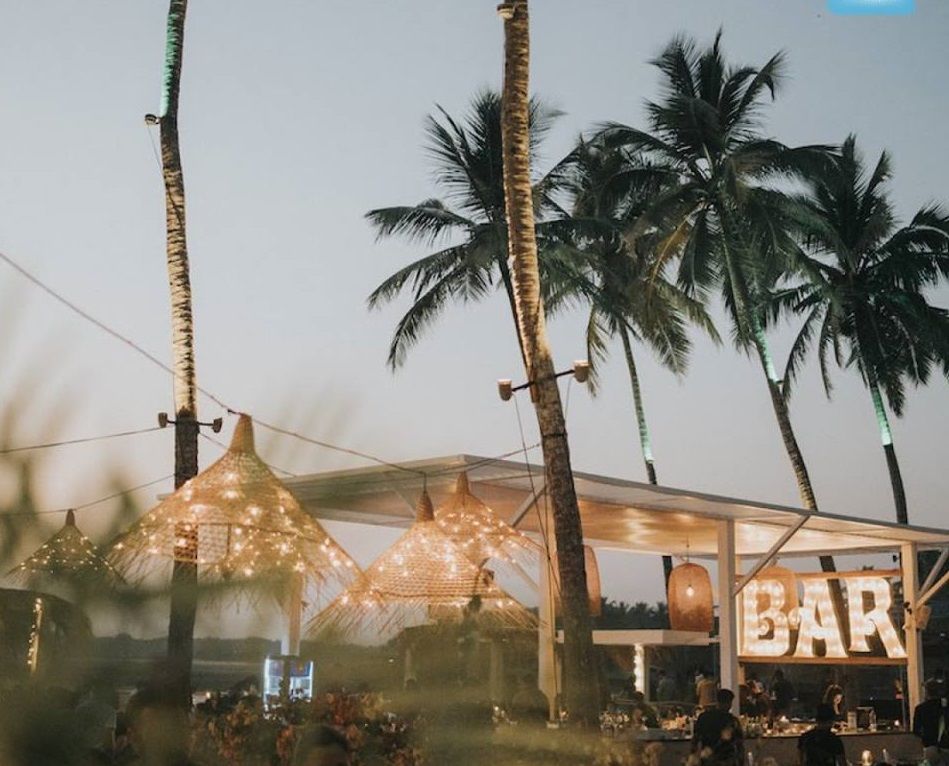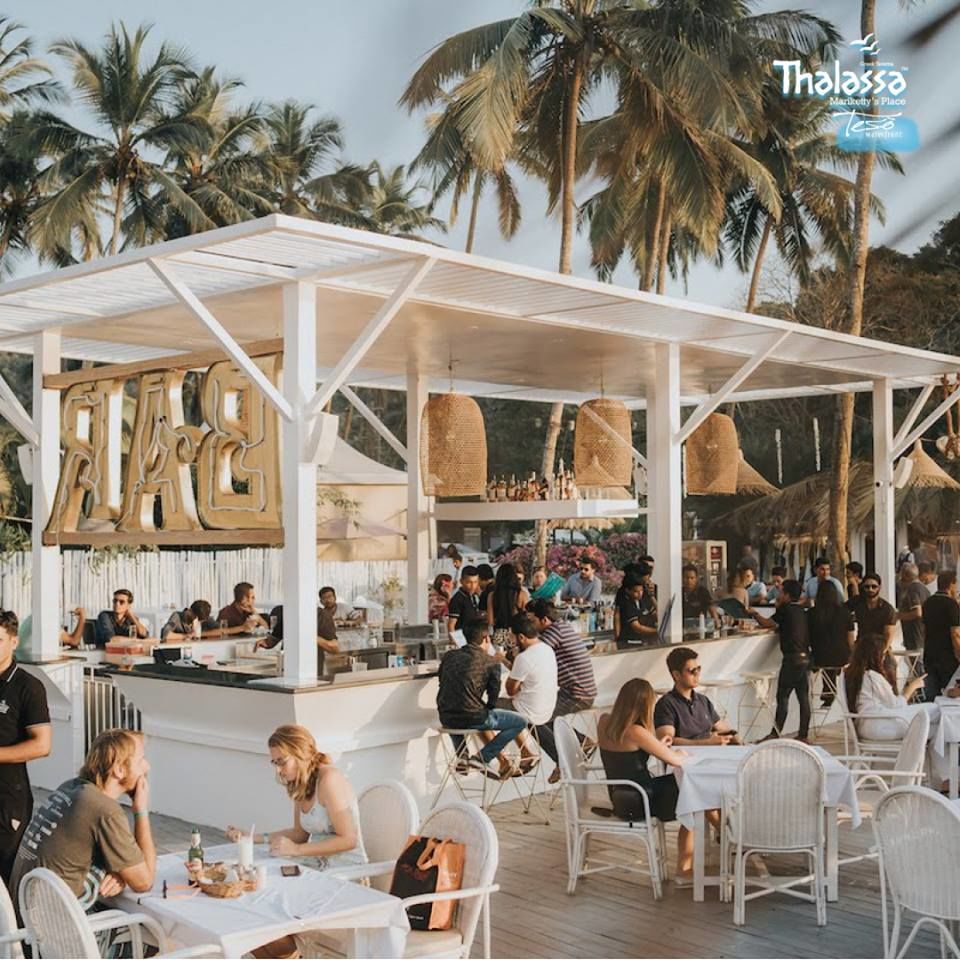 Just like its name, this place is right on the docks where the fishermen park their boats. In the late evenings, one can watch the golden reflections of the surrounding lights quiver on the water.
USP:
Overlooking the beautiful River Sal, set against the backdrop of the Goan Cavelossim Village, happening music, delicious food, amazing margaritas and martinis - this place scores high on its CHILL vibes.
Must-Try:
1.) Hand blended frozen Melon Margarita, a flavourful twist on the classic is a knockout!
2.) The Cranberry Martini is delicious, but if you feel like experimenting try their "Spicy Tini".
3.) Lady In Red, a combination of Smirnoff with pomegranate and mint.
4.) Their Bloody Mary is kick-ass.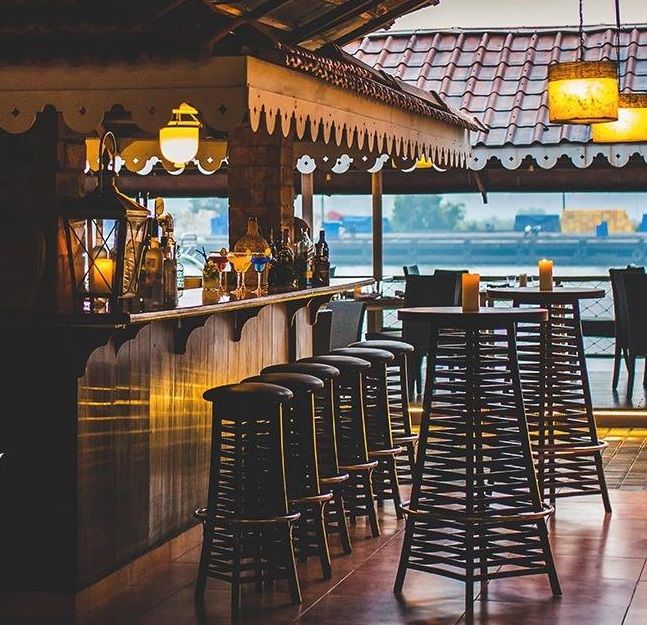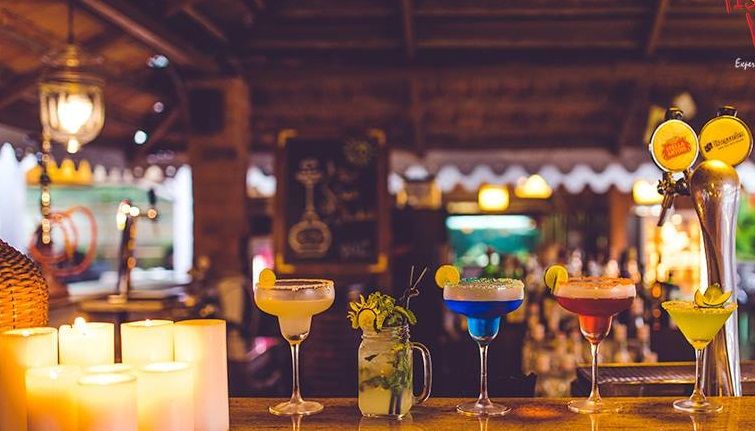 Where: Before The Leela, Mobor, Cavelossim, Goa
Cost: 1200 INR for two people
Contact: 9011018866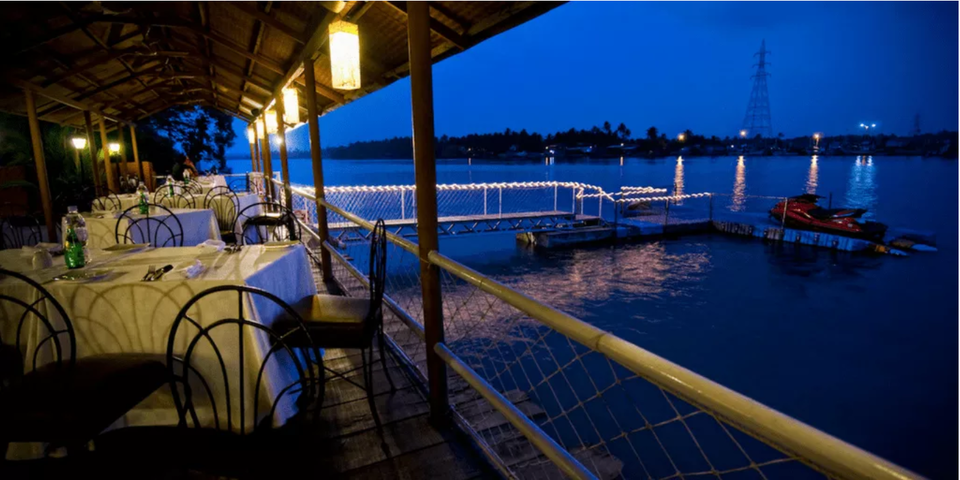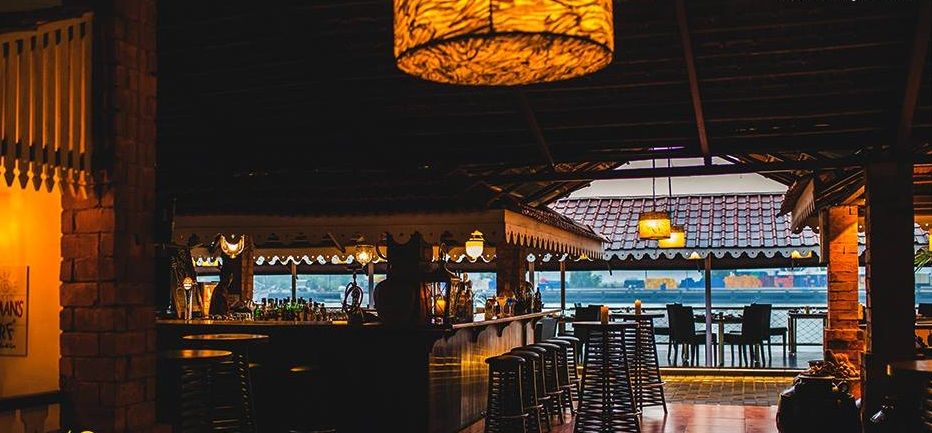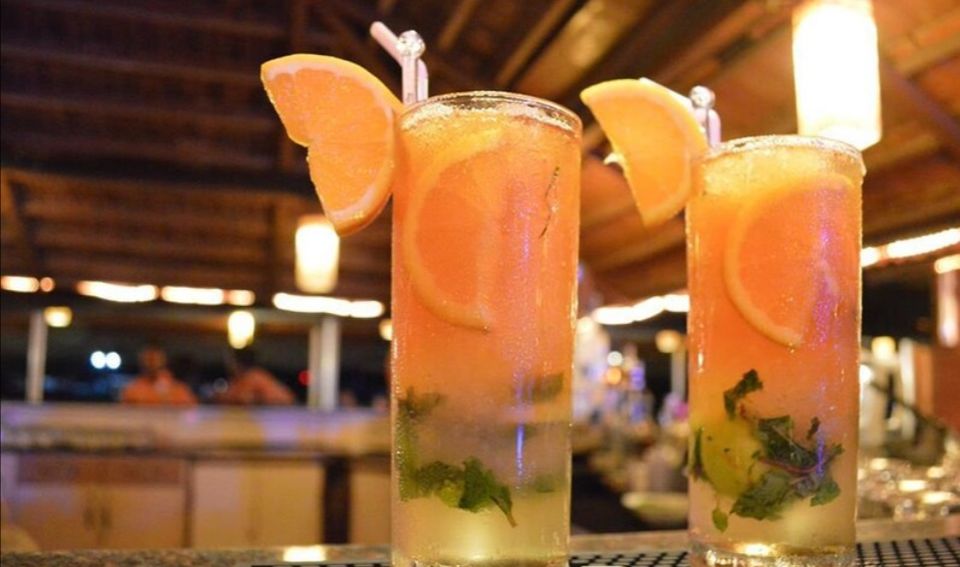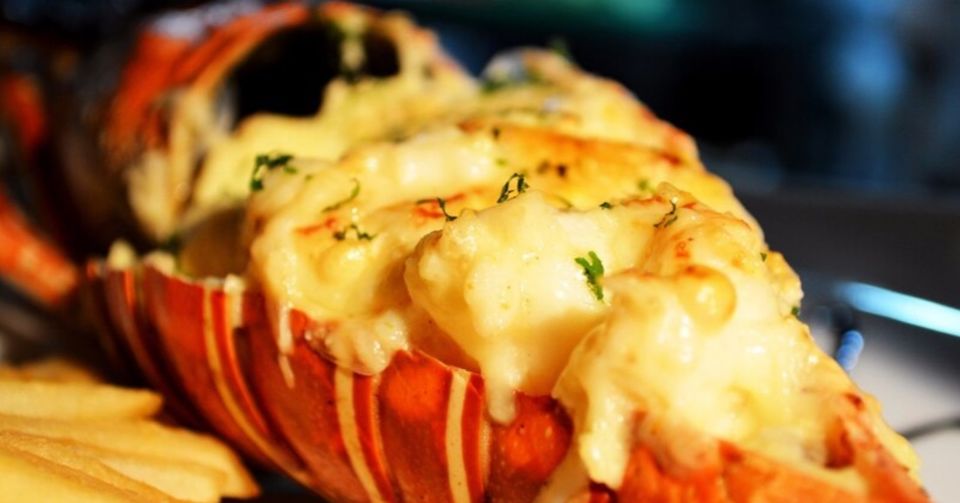 If you can't fly to Bali, drive to Goa and head to this sexy alfresco restaurant for the same tropical, boho vibes and catch the striking sunset and stunning views of palms, sky, sand and sea.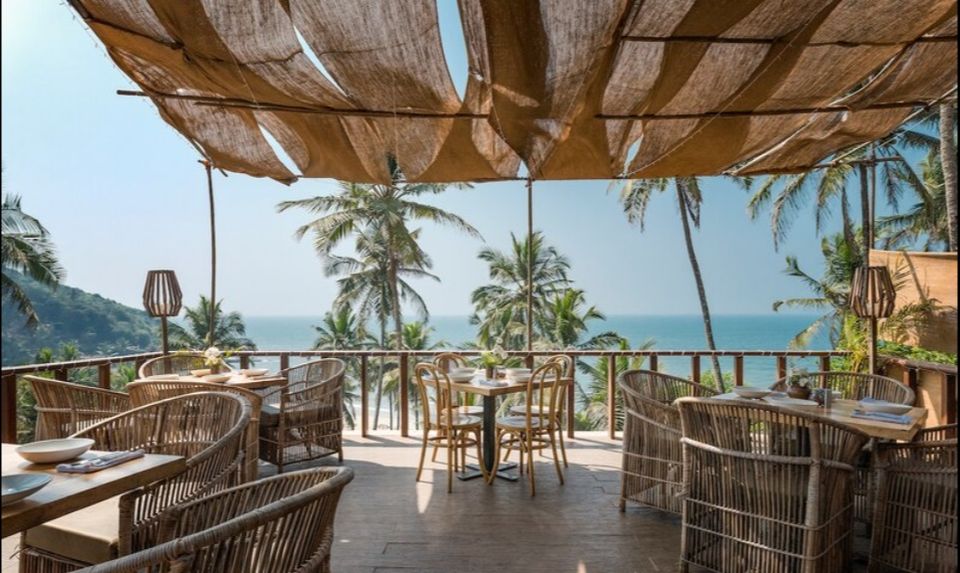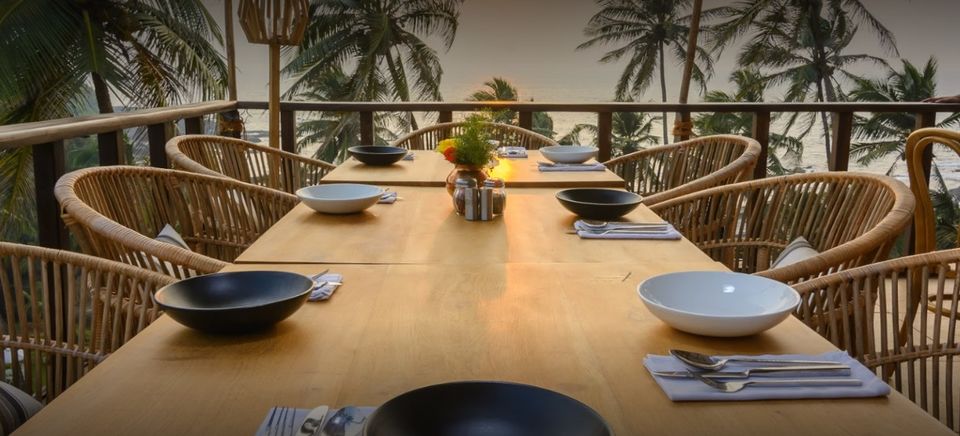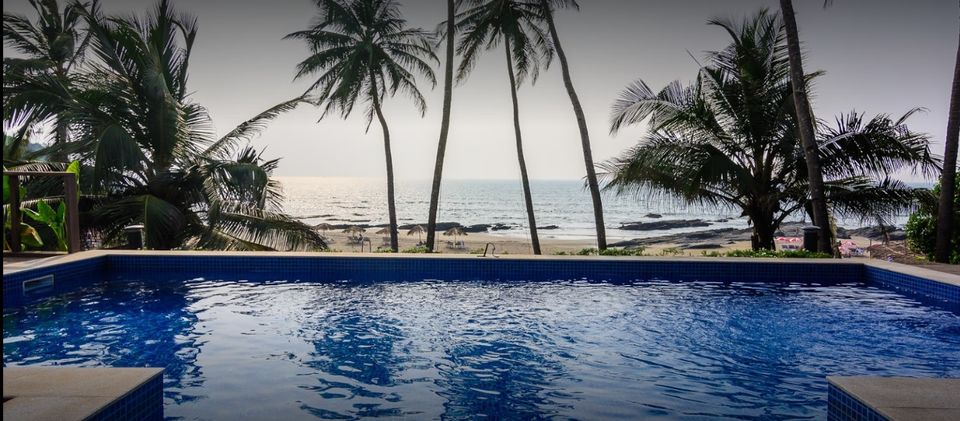 USP:
Opened by MasterChef Australia contestant Sarah Todd, the menu as well as the interiors have been given a very boho feel with the usage of wooden and bamboo furniture in the restaurant and bar, set atop the cliff. The restaurant also has a stunning installation of LED lights showing the constellation of Scorpio. It overlooks the Ozran beach in North Goa, having magnificent views of azure waters beyond.
Accompanying their splendid views are the splendid concoctions put together by Australian bartender Nathan Ford. If you're a wine-love they have an extensive range of international wines reds, rosés and whites. Their cocktails are super Instagram-my too!
Must-Try:
1.) Kiwi Blueberry Mojito, one of their best-sellers.
2.) Exotic Coconut sorbet champagne float that is a blend of sparkling wine with made in house coconut sorbet.
3.) Captain espresso and Fresh Orange Mimosa don't just taste fab they make awesome pictures too!
4.) Spicy Mango Martini, a sharp touch of chilli and a flat mango texture punched with a but of lime to add to the citrus.
5.) Plum Kokum Whisky Sour and Beer Mojito (one of their hot-sellers)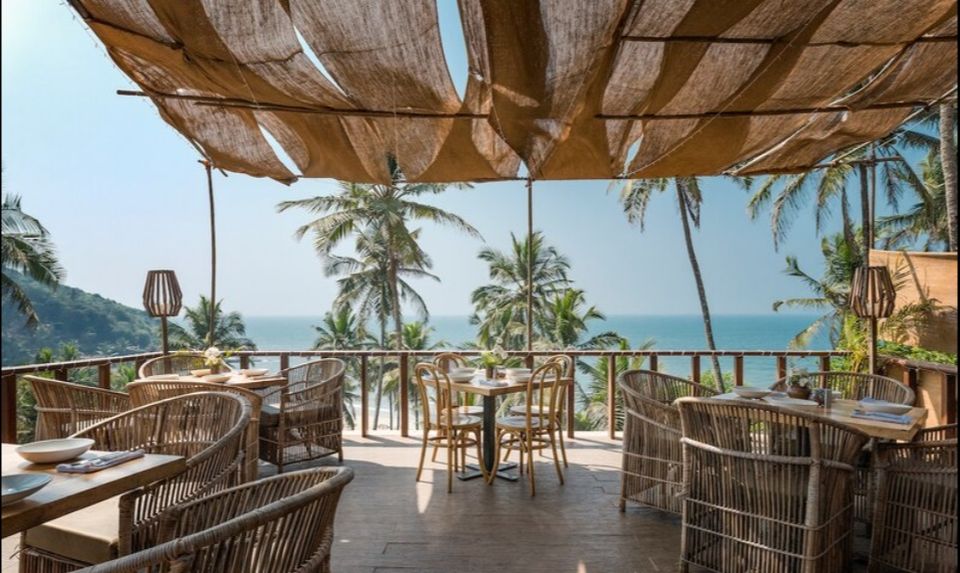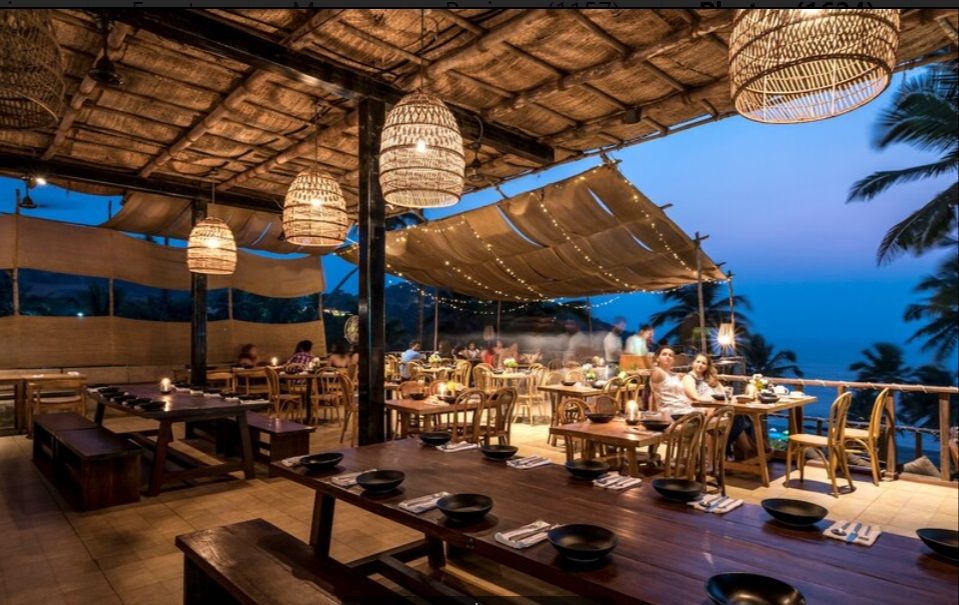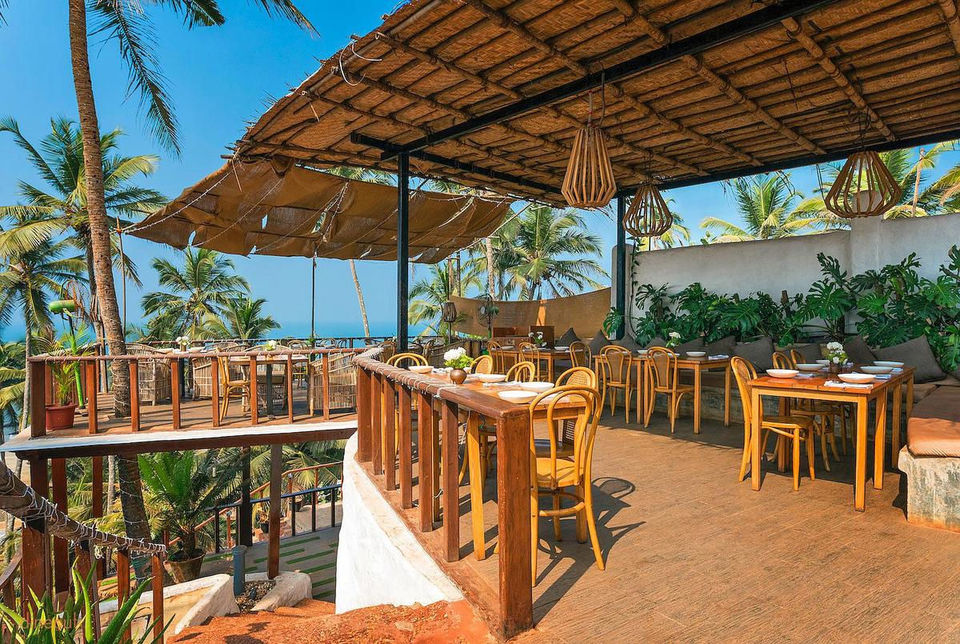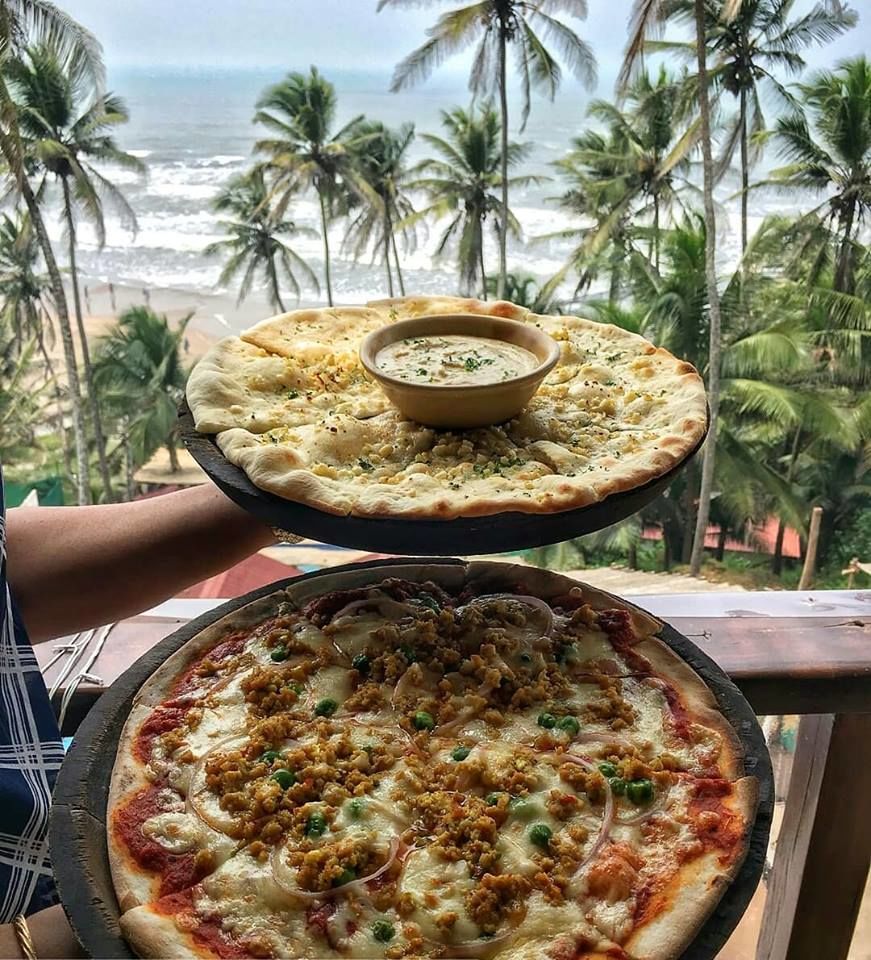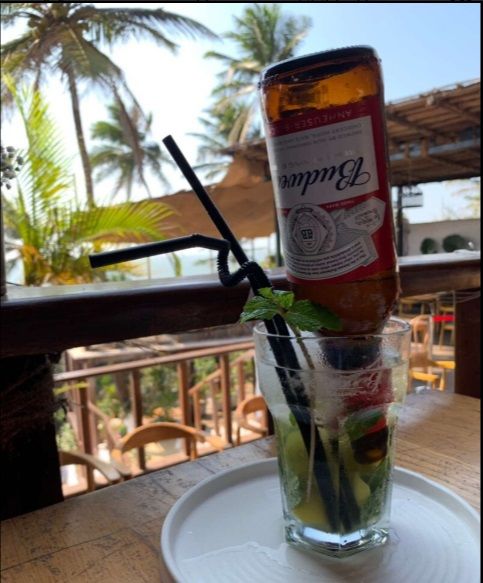 Where: Small Vagator Beach, Ozran, Vagator, Goa
Cost: 2,500 INR for two people
Contact: 073500 11528
The enchanting weather at this cliff-side restaurant, some powerful cocktails and a killer view of the Ozran beach are the best way to unwind on a Goa vacay.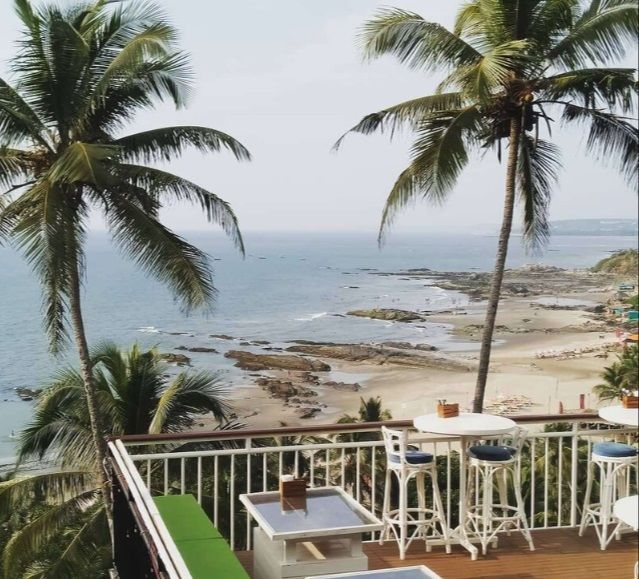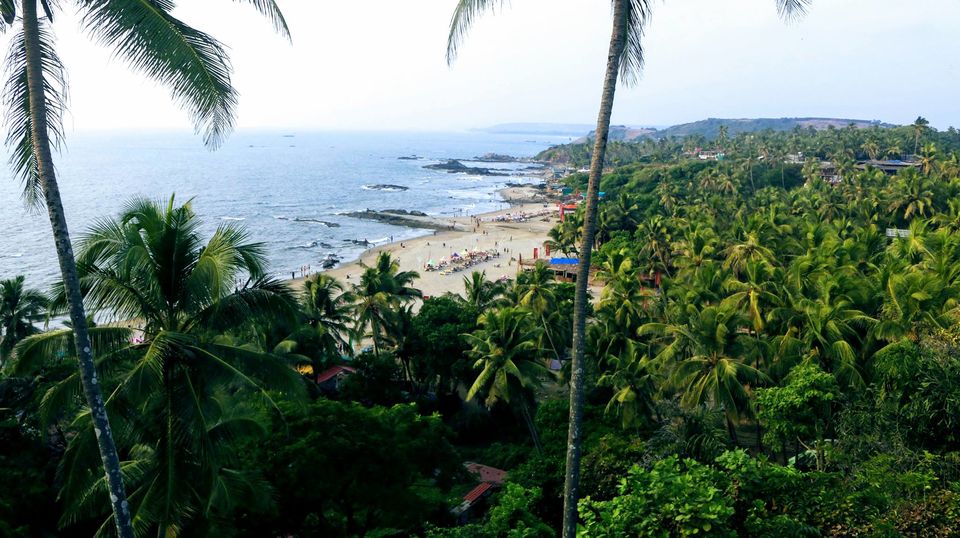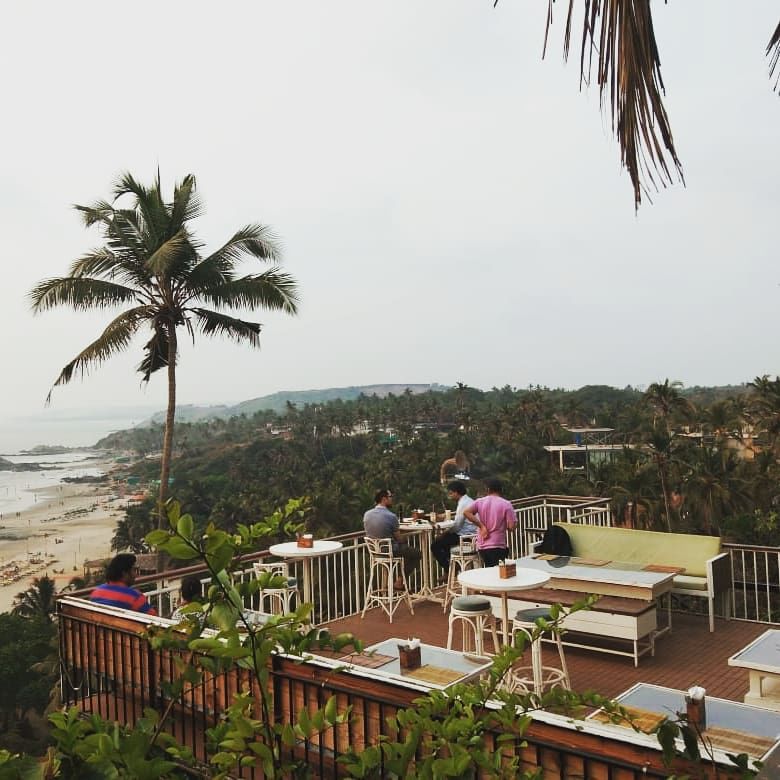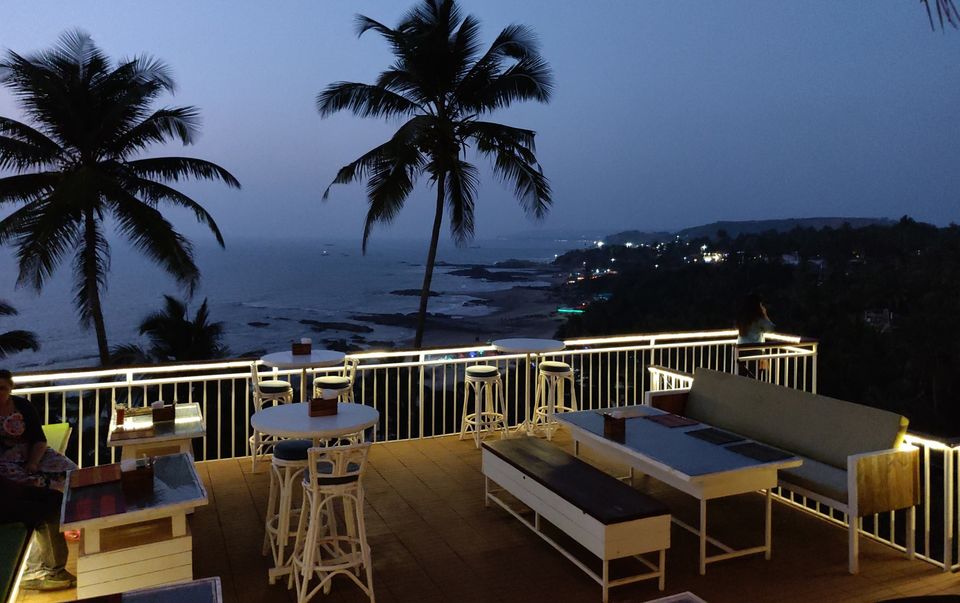 USP: 
You can literally hear the waves crashing as the cool breeze wafts around you, with colour play of the sun, the sea and the sky this eatery is #InstagramGoals. This place is known for it's sunset vibe with cocktails.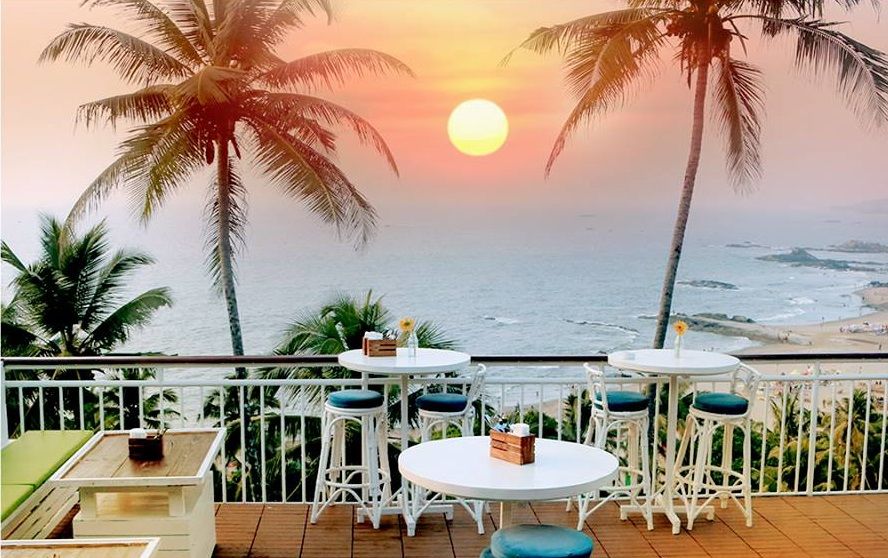 Must Try:
1.) The bartender's Whiskey Sour has a fan following.
2.) Tea infused rum, made with Old Monk and Kashmiri Kahwa, green apple and cinnamon syrup.
3.) If you're into something strong try the Hika Mizu Ginger Beer with all spice berry infused rum, mint bitters, black coffee and soda.
Where: 11, Ozran Beach, Vagator, Goa

Cost: ₹1,200 for two people

Contact: 9326441820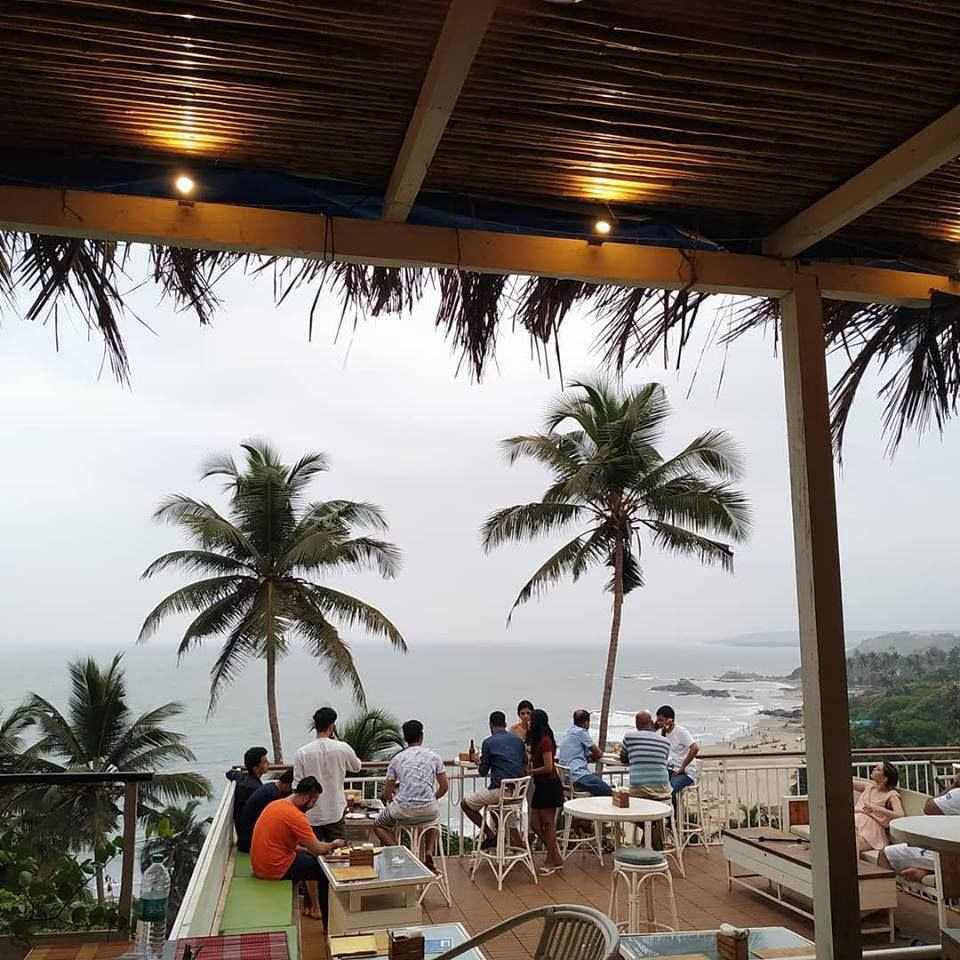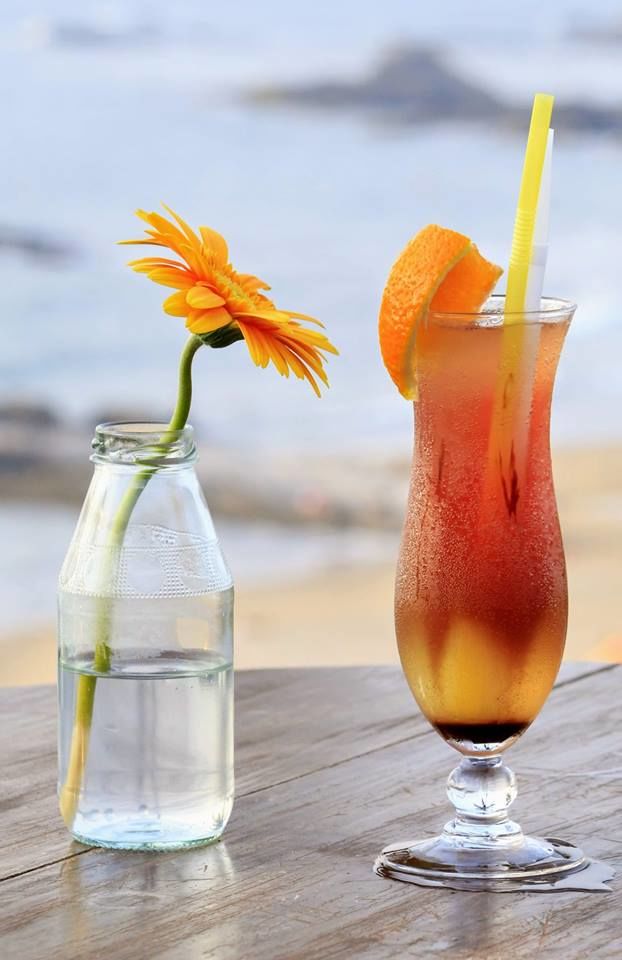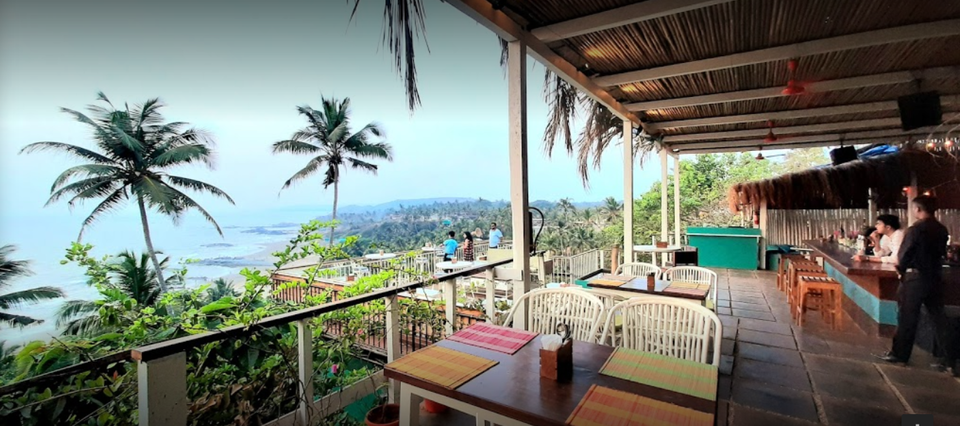 Pro-Tip: Since most of these places are quite famous, it's recommended to make a reservation especially if you want a table by the waterside.
Is your phone full of pictures taken on your last trip? Post them here to earn Tripoto credits, which you can redeem for free holiday packages and travel vouchers.