"Mountains are the cathedrals where I practice my religion," ~ Anatoli Boukreev.
To find the true soul of the Himalayas and to feel its true essence, one must go exploring deep in the mountains. The famous hill stations such as Manali, Kullu, Nainital, and Mussorie, are flooded with tourists from the plains, looking for a short-term and inexpensive pleasures. When in Manali, you might have a delusional feeling, thinking you are walking through the Punjabi mohallas in Delhi. Therefore, next time you hear the mountains calling, pack your bags and head to some place where you can escape this crowd.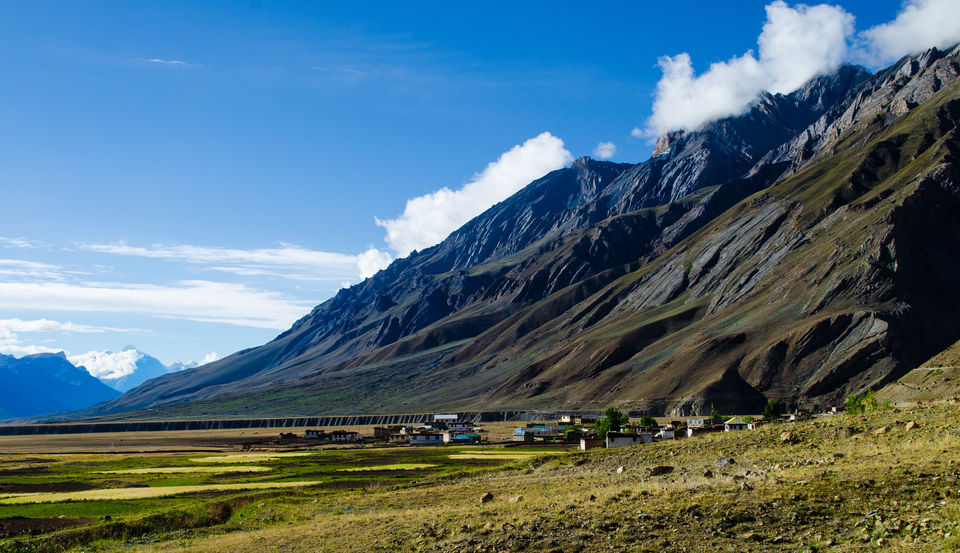 The Spiti valley is one such place; but be prepared for a very rough ride ahead. The roads in Spiti are considered to be among the most dangerous roads in the world; so while the mountains keep you mesmerised with their splendour and magic, your body might go through some very torturous curves and jerks, making you wonder what the hell are you doing there. But then, travelling would be pretty boring without the muddy, stony, rough tracks; narrow roads; glacial waters gushing through your path threatening every minute to take you down along with them; sharp hairpin bends; and yes, zero network connectivity unless you have a BSNL connection.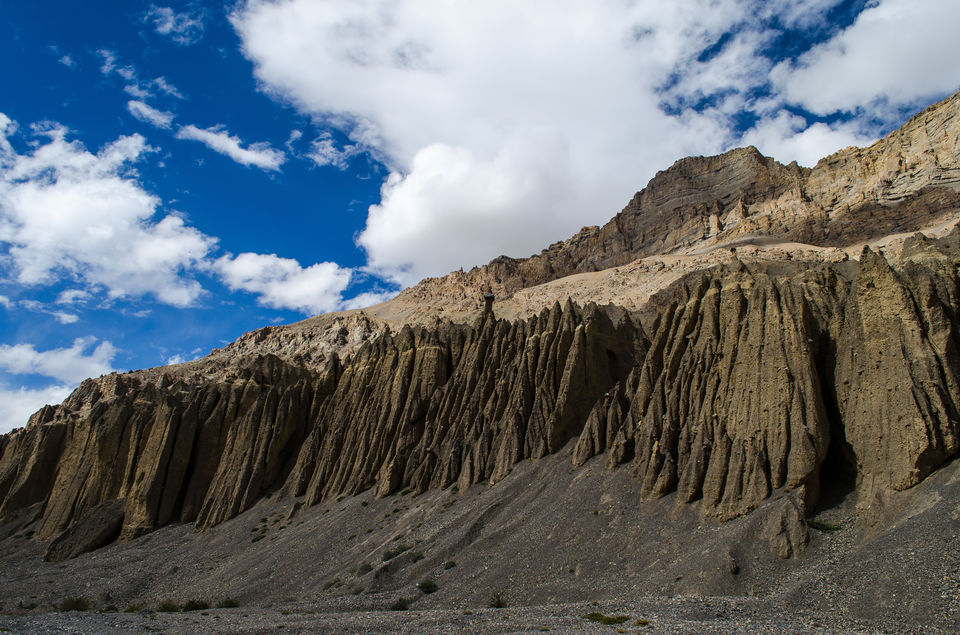 There are two ways to reach the Spiti valley: one via Manali and Rohtang pass, the other via Kullu, Aut, and Jalori pass. If you haven't seen the beautiful Kinnaur region, then taking the Jalori pass route would be a good idea. Even if you have seen Kinnaur, Jalori pass would still be a better option, in order to avoid the massive traffic chaos at Manali, caused by large numbers of trucks, tourists, and revellers trying to visit the Rohtang pass. A permit is required after crossing Manali to enter the Lahul-Spiti valley, if you go via the Rohtang pass, which is again a long wait in that chaos. So, in any way, head for the Jalori pass.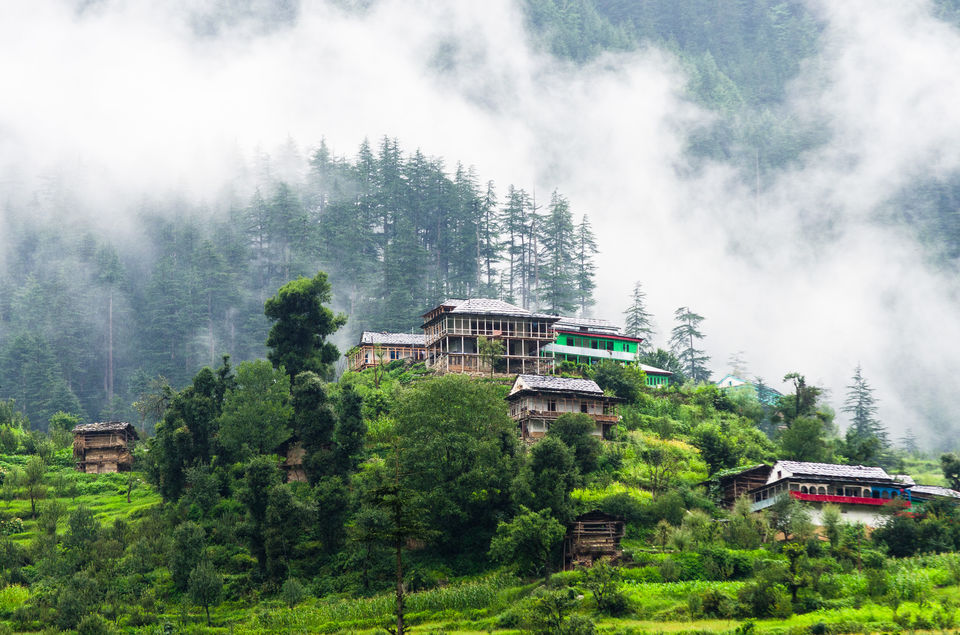 Jalori pass is almost 112 km away from Manali and takes 4-5 hours to reach and if you start early you can reach before lunch. If you have enough time on hand, make a night halt at Jibhi, a pretty Himalayan hamlet, where you can explore the forests that surround it, or you can simply sit in your balcony and watch the clouds at play. Next day start early morning and head for Sangla via the Jalori pass. Sangla is almost 210 km away from Jibhi, and in the mountains this is quite a bit of a distance to cover in one day. It takes almost 10-12 hours to reach Sangla, with lunch and tea breaks in between. The route to Sangla once you reach Rampur-Bushahr turns scenic, and once in Kinnaur it is cooler and prettier. In Sangla, there are many hotels, so finding a place to stay should not be a problem, though you can always book in advance. A little away from the Sangla town are the various luxury resorts, such as, Banjara camps, among many others, which are right beside the Baspa River, and these have Swiss tent accommodations for those looking for a camping experience.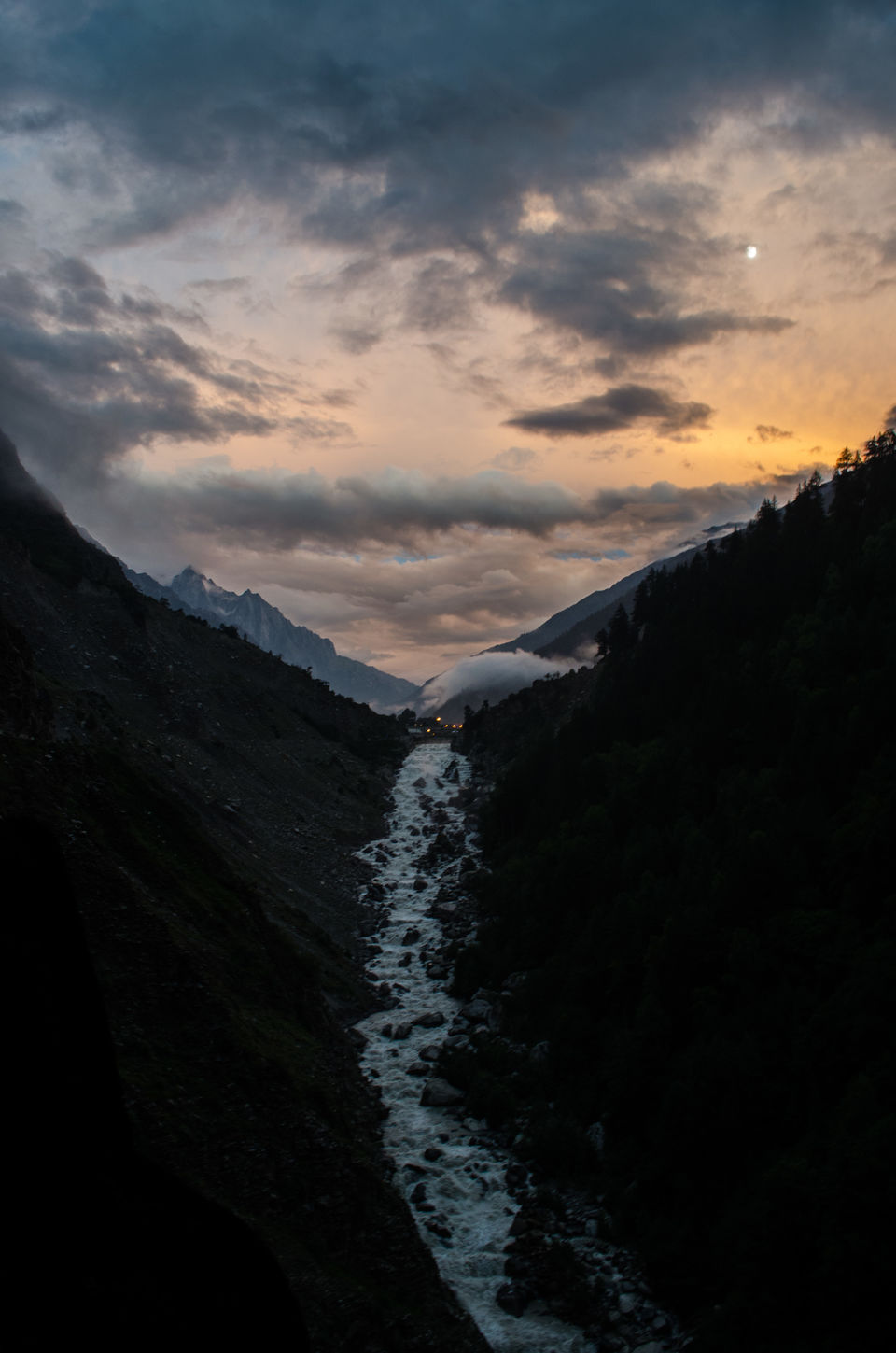 Next day, early morning, head for Chitkul. The road that takes you there is rough, but the surrounding beauty keeps you enthralled. You will see glacial rivers coming down the opposite mountain slopes, bright pink fields of buckwheat, bugiyals full of green grass and boulders, stretches of wild flowers, mountain streams, clouds that seem to fly with you, snow peaks, and ever-changing shapes of the mountains. Sangla to Chitkul is around 55 km and takes around an hour to reach. The place is very close to the Tibet border, has a small village surrounded by towering peaks and gentle slopes full of small white and yellow flowers with the Baspa River flowing below, and is idyllic in its setting. After spending some hours exploring the place, you can come back to Sangla, and after a short rest, spend rest of the day exploring this town and the villages around it, or take some of the walking trails popular in this place.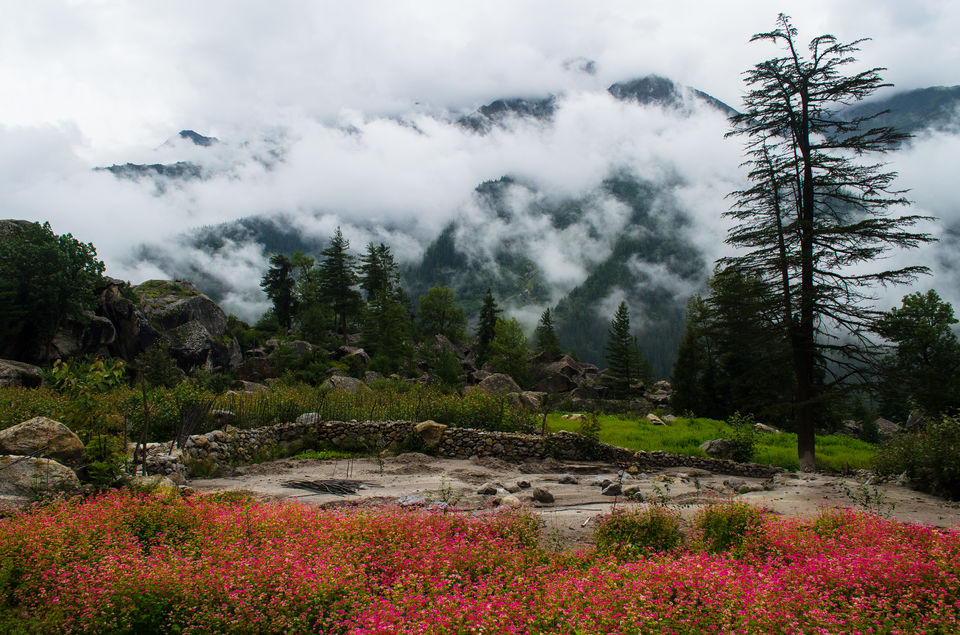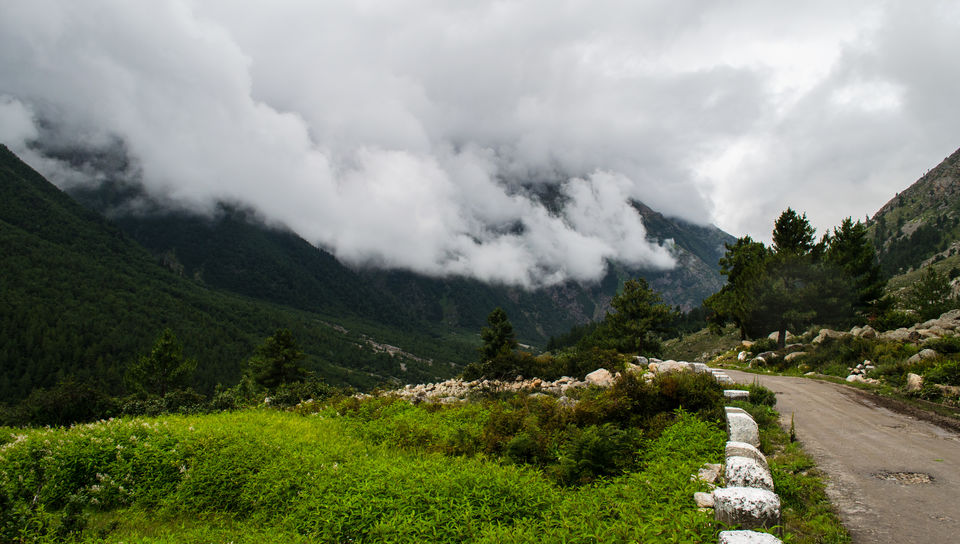 Early morning, the next day, the trip would start for Spiti. Since the journey is a long one, you should start pretty early, right after breakfast. Your next stop can be either Nako or Tabo, preferably Tabo. While Sangla to Tabo is 190 km, the rough tracks and treacherous roads make driving difficult, and it takes almost an entire day to reach Tabo. In Sangla the rather violent Baspa River, which was always by your side, will leave you at Karcham, and you will now have the river Sutlej with you. The landscape is beautiful in the entire Kinnaur region, as you move across Recong peo, Pooh, and Khaab. As you inch towards the Spiti valley you will start noticing a slow change in scenario, with the mountains slowly losing their green cover and turning barren with rocky faces. The Lahul-Spiti valley starts after crossing Namgia, in the Kinnaur district, and this is the place where the Satlej meets the Spiti River. One crosses a bridge and enters the Spitiland! And Voila! The scenario changes completely! You leave behind all the good old tarmac roads, the pretty green mountains, and you enter an enchanted desert land of rocks of every imaginable shapes, sizes, and colours; something which is impossible to explain or even visualise, unless one visits Spiti.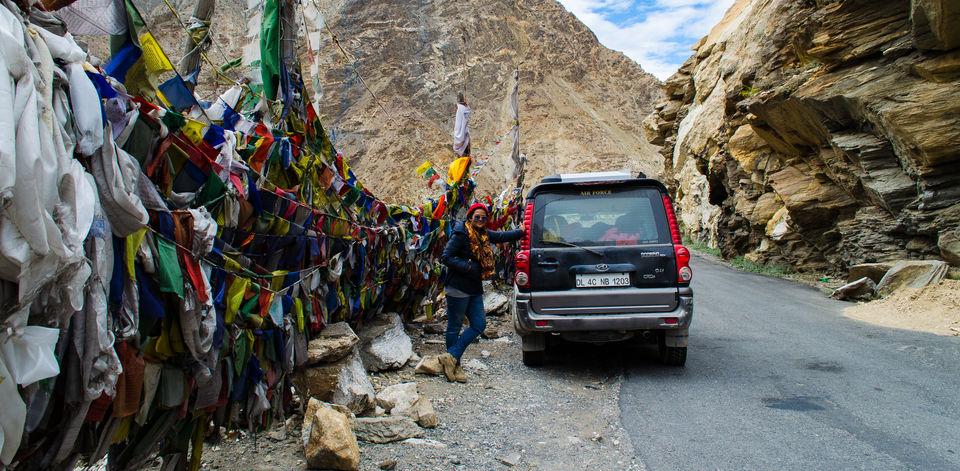 After entering Lahul-Spiti, in Sumdo it is compulsory to report at the ITBP check-post to get their permission for entering the valley. Thereafter no such permissions are necessary. Before you reach Sumdo you cross a well-known village called Nako, where there is a monastery and an artificial lake. Preferably you don't stop here, and continue with your journey, as there are more beautiful things ahead. After Sumdo and before reaching Hoorling, you can take a detour and follow a rather lonely and beautiful road that leads you to the Gue village and monastery, which is located very close to the Tibet border. The mountains that surround this small village have varying stones and colours that give it a charming fairy tale look. The Gue village monastery is famed for holding India's only known natural mummy, the desiccated body of a monk that is around 550 years old. From Gue, you will have to follow the same path back to the main road, and continue up to Tabo, which you will most likely reach late in the evening.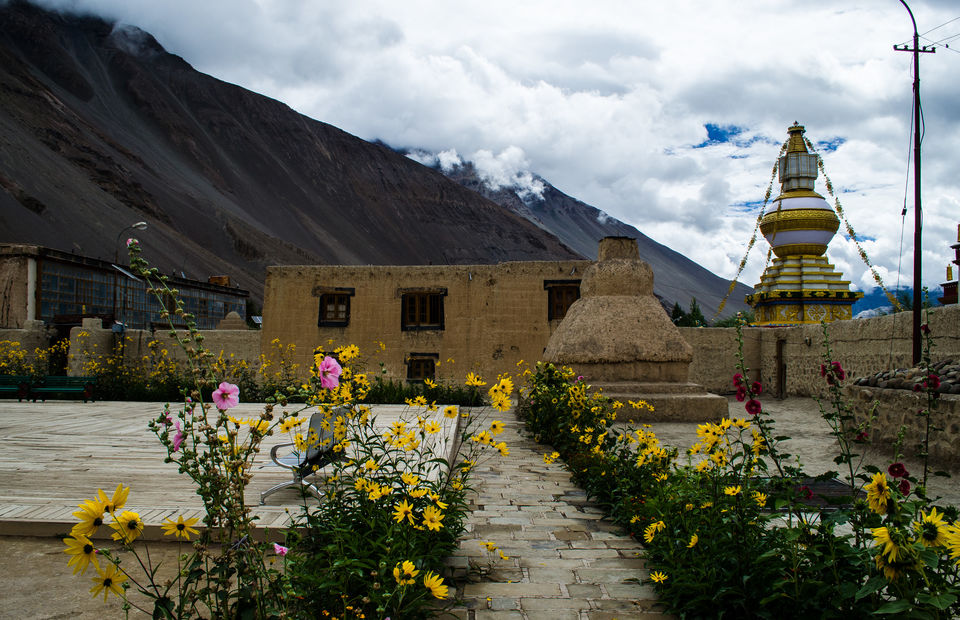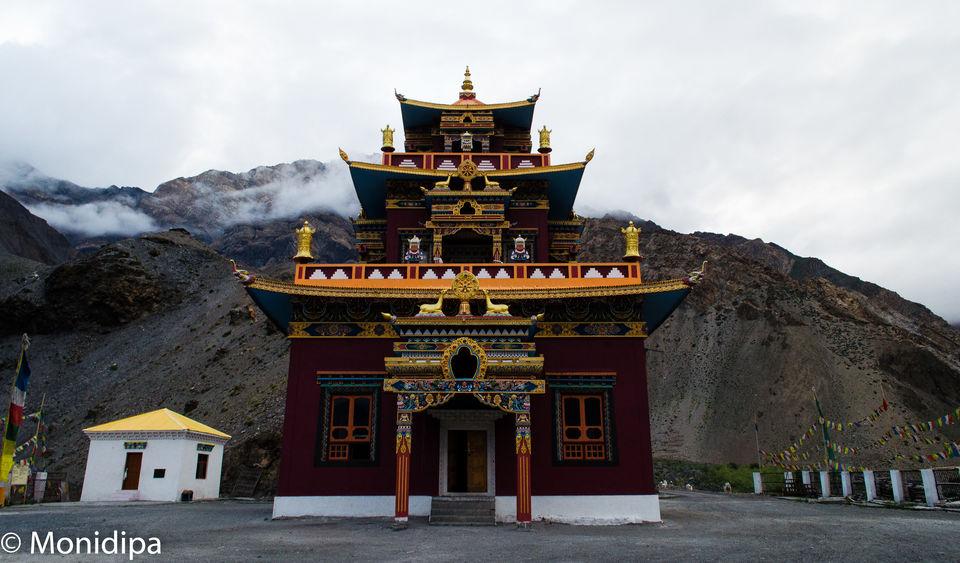 Tabo is a small sleepy town, at a height of 10,760 feet and has a 10th CE mud monastery and many old caves where the monks stayed and prayed. The monastery walls have beautiful centuries-old frescoes; however, photography is not allowed inside the dimly lit rooms in order to save these paintings. Once the monastery and caves are explored, you can start your journey towards Kaza. The scenery between Tabo and Kaza is beautiful with the road constantly getting a view of the meandering Spiti River and its valley below. From Tabo, Kaza takes around 2 hours to reach (around 45 km), so you can take the spiralling road up that will take you to the Dhankar monastery, an early medieval structure.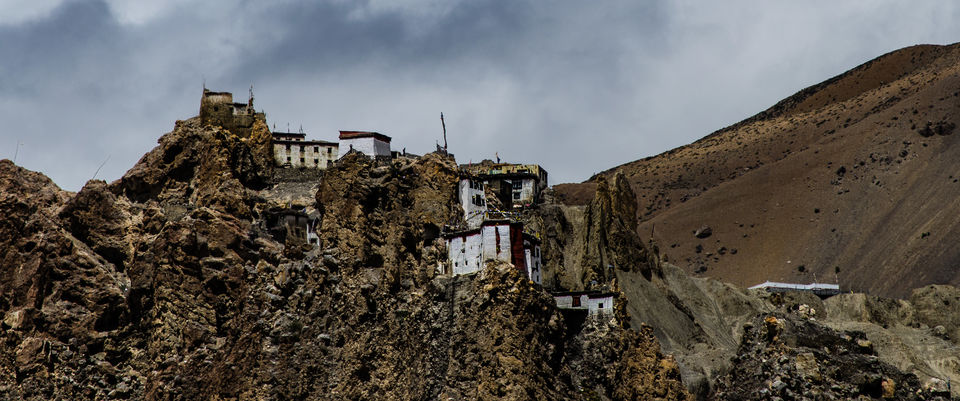 Dhankar was the old capital of Spiti (before the capital was shifted to Kaza), and it consists of a monastery perched on a high cliff top, and a large village built on a bluff that opens out into the main valley, ending in a sharp cliff. The view from top is indeed breathtaking, with azure blue sky, patches of orchards and yellow mustard fields lining the hill-sides, lighting up the barren mountains that surround the monastery.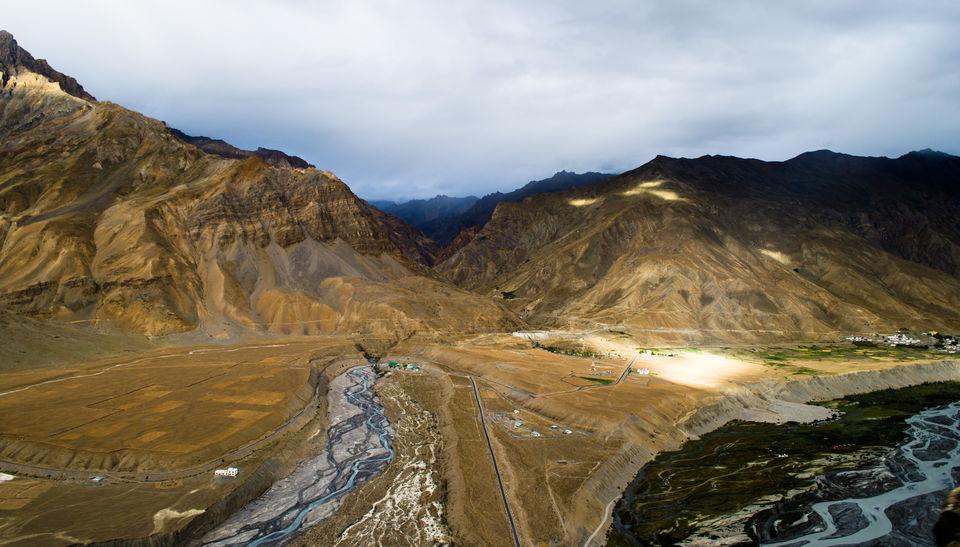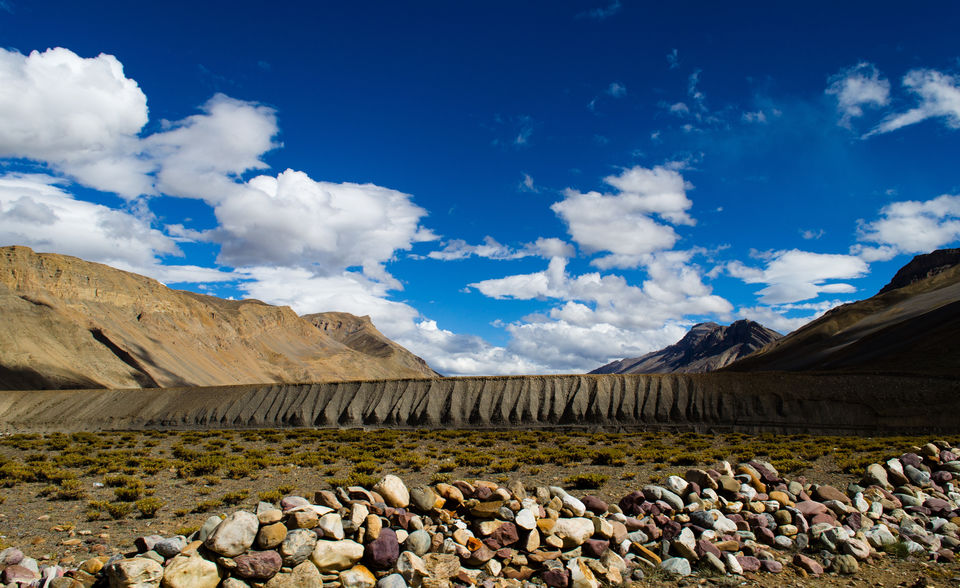 From Dhankar, Kaza is just an around an hour away. It is a rather pretty but congested town on the banks of the Spiti River, a place full of tourists who are on a hurricane tour in Spiti, missing out on most of the beautiful places in this land, in their mad rush to finish the tour. Another place near Kaza, known as Ramrik has few home-stays (though expensive ones) where one can stay to avoid the travellers rush. Next day you can follow the curving roads that will take you uphill to the beautiful villages located at high altitudes, such as, Langza, Komic, Hikkim, Kee, etc. Komic which is the highest motorable village in Asia at 15,027 feet, has a very well maintained 11th CE monastery. Exploring the villages is an adventure by itself, seeing how people live and farm at such high altitudes; also the views are breathtaking at all times.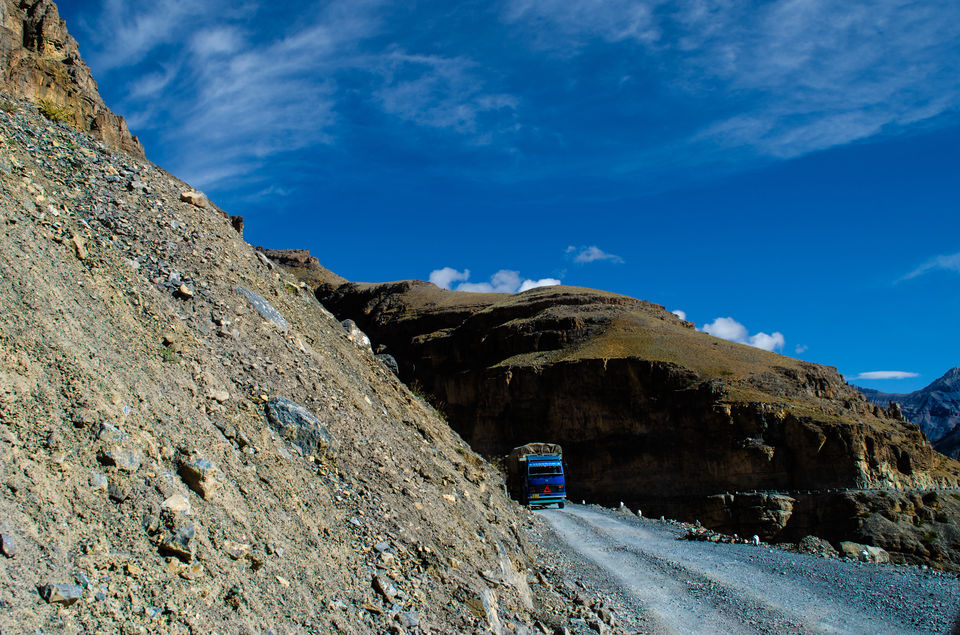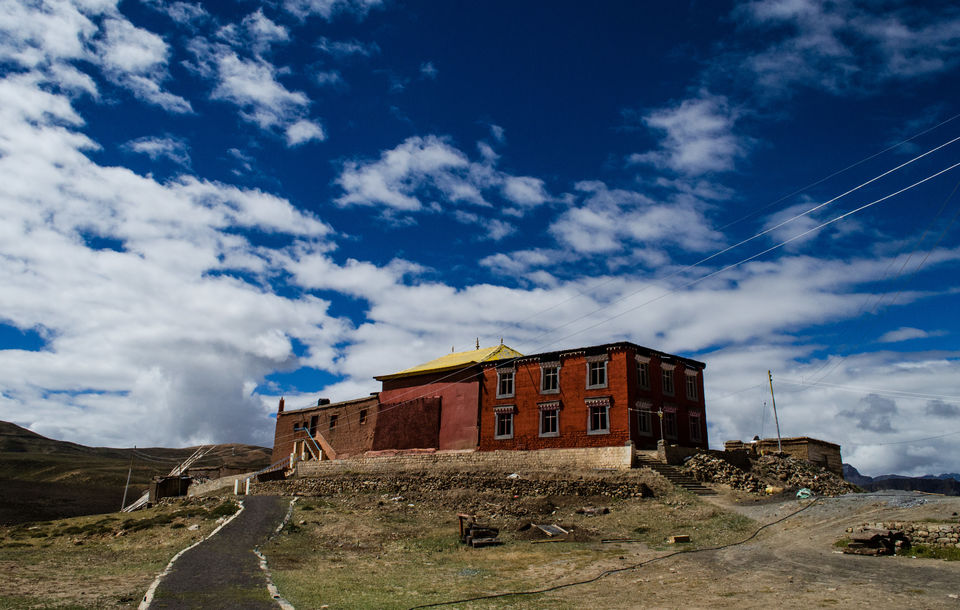 You can start very early next morning to either go back to Manali via the Kunzum and Rohtang passes, or you can take another detour to visit the enchanting Chandratal Lake, situated at almost 13500 ft. After Kunzum pass, which is the highest pass in this route, if you take the bifurcation from Batal you will soon find yourself in the camping site near Chandrataal. You can rest a bit and visit the lake in the late afternoon, which is around 3 km away. The car has to be parked in a place marked for that purpose, and from there the lake is a short and leisurely walk. Besides the main moon-shaped blue lake, which is the starting point of the famous Chandra river (that later becomes the ChandraBhaga also known as Chenab, after joining Bhaga river in Tandipule near Keylong), there are many other smaller water bodies. A camp stay in the camping site is a must in the Chandratal Lake, if you want to enjoy the tranquillity of the place and also want to view the lake in early morning light.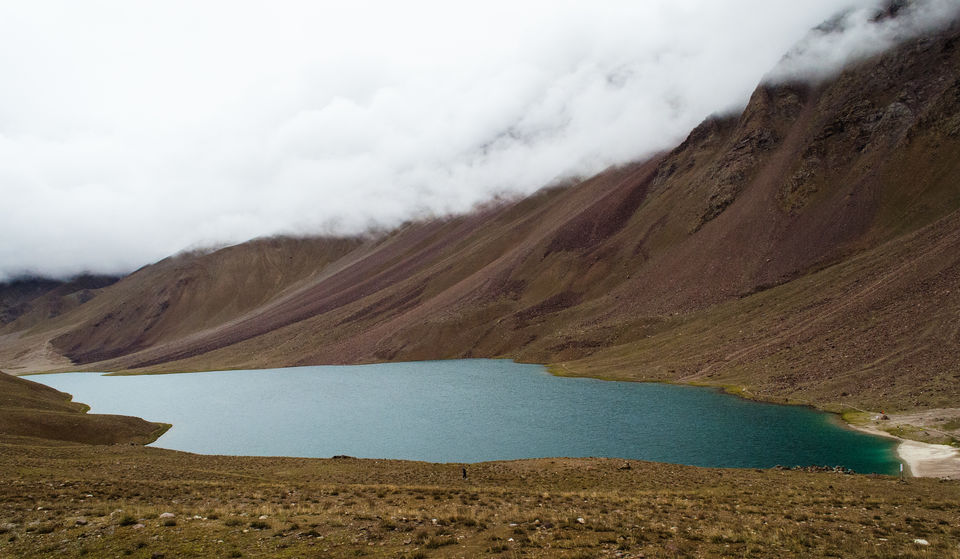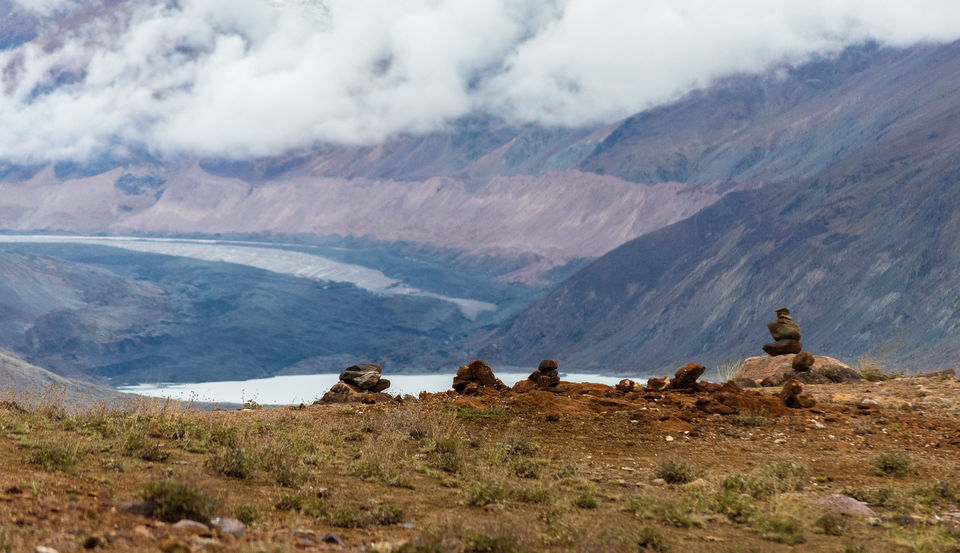 The next day you can start your journey back towards Manali that will take you across Batal and Chattru. The roads between Batal and Chattru are covered in stones, large boulders, and mud, with glacial rivers flowing freely across the mud tracks. So it is advisable to start very early from Chandratal to avoid the melting snow waters that gush down heavily in the later part of the day, making driving a rather risky business. Once in the Rohtang pass area, you will notice the change in scenario with the arrival of lush greenery, much to the relief of your eyes. However, you will also notice the sudden increase in traffic and human activities, signalling the nearing of civilisation and crowded hill stations. After crossing the Rohtang pass, in another one or two hours your mobile phone will again start pinging, and you know you are back to earth, after a brief stay in heaven.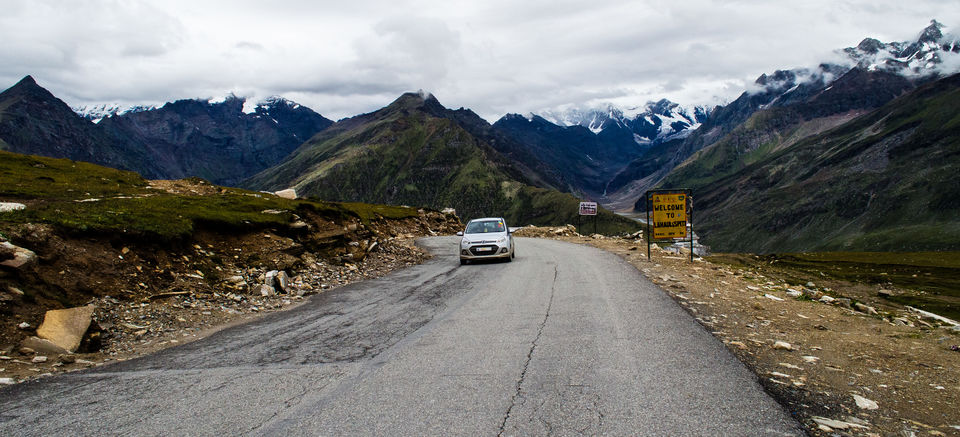 Things to remember:
Lahul-Spiti roads are almost entirely made of mud and stones with very little signs of tarmac anywhere. Therefore, hire a car that is capable of travelling through such roads. If you prefer taking the buses, there are private buses available, but one must note down their timings carefully as their frequency is pretty low. Staying a day at Manali or Kullu in the beginning, and later in the various towns in Spiti is essential for acclimatisation, as the entire trip moves through very high altitudes. Spiti region opens up for travellers in May- June, but even in August-September these places are pretty cold, especially in the evenings, hence it is necessary to carry a jacket and light woollens. Carrying light snacks for the entire trip, and drinking water or any fluids at regular intervals is a must to avoid dehydration as Spiti valley is a dry area. Filling up fuel is a headache and you will have to tank up in Karcham or Recong-peo, as the next available place with a fuel station is the far-off Kaza. Camping anywhere in Chandratal lakeside areas is strictly prohibited, and the forest authorities levy a steep fine if anyone is caught doing so, therefore, be a law-abiding citizen and stay in camps within the allocated camping site. Last but not the least; since there is zero network connectivity, your mobile will turn into a medium for only taking pictures, so while in Spiti, forget the earth and earthlings for few days, and enjoy your brief stay in heaven!
mountains India travel Spiti photograph mountainscapes adventure himachal pradesh