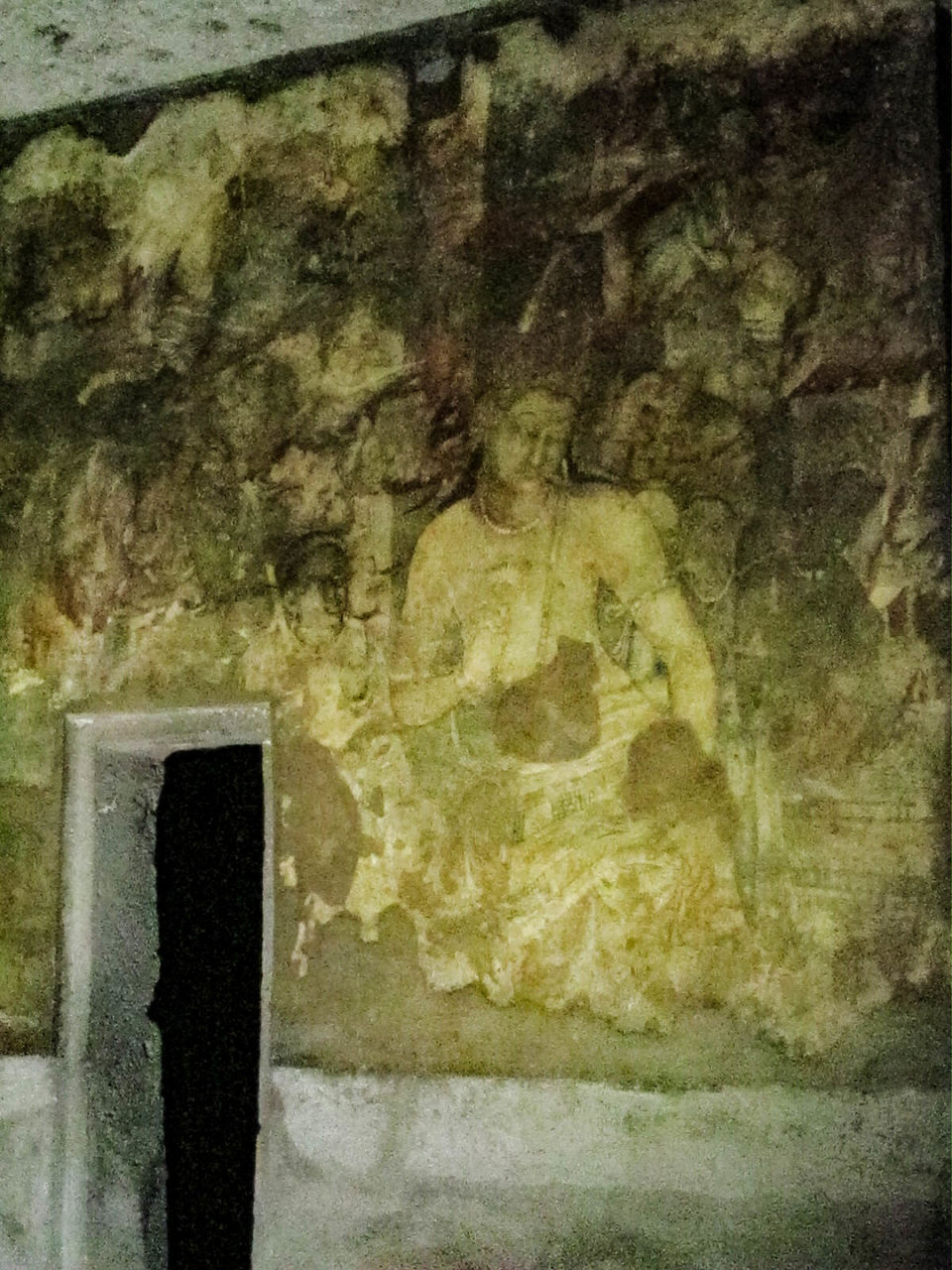 "Eisa dekha nahin khubsurat koi, jism jaise Ajanta ki murat koi" meaning if there is anything beautiful it is comparable to Ajanta sculpture (From song Afreen Afreen).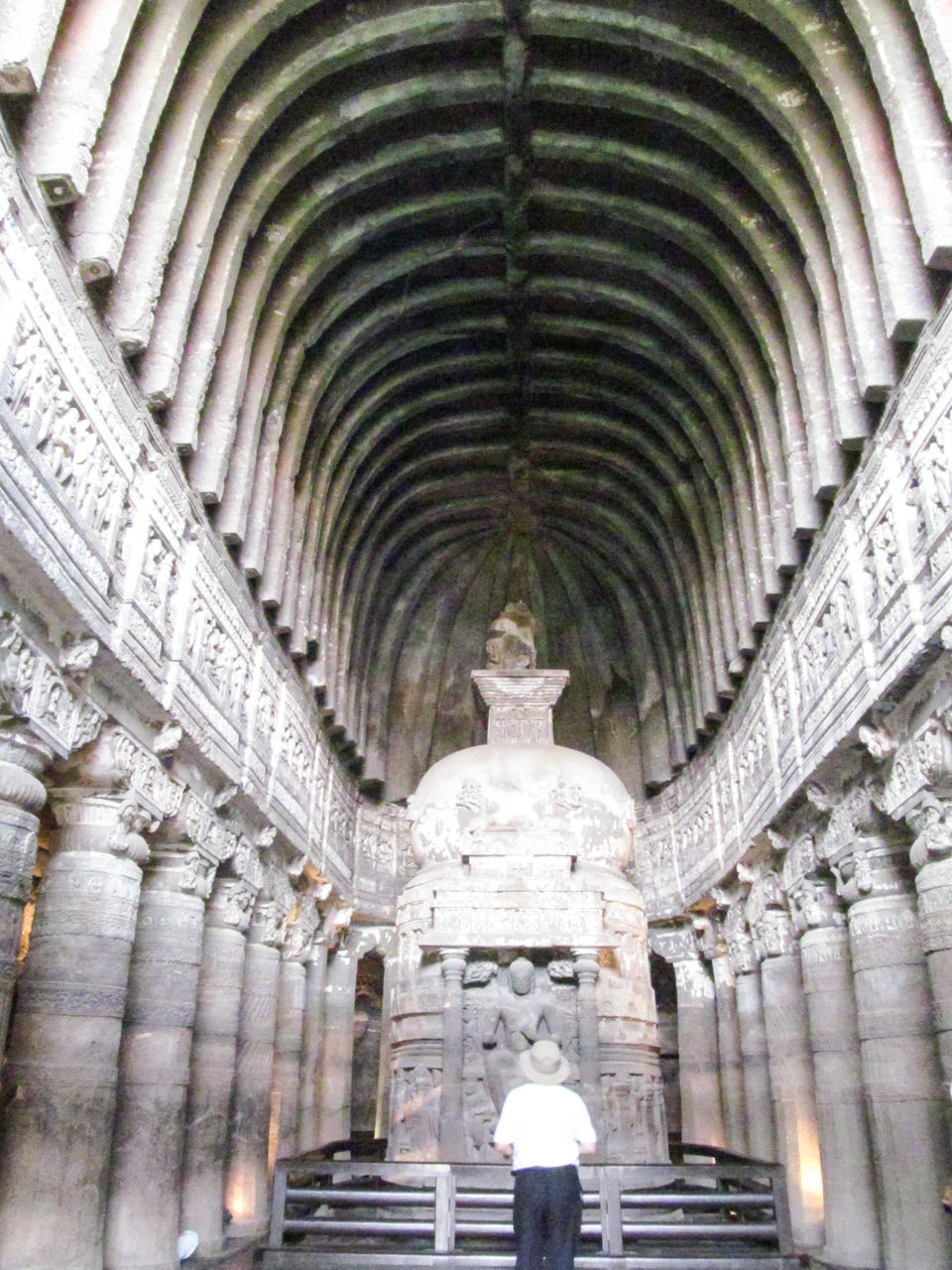 The traveling itinerary was already chalked out and we took Pune bound Duronto express and dropped at Manmad station to shorten the journey to Aurangabad. Manmad is 2 hrs from Aurangabad and convenient if you want to save some time reaching Aurangabad. The glimpses of Ajanta sculptures and paintings started from the station. Station walls were adorning beautiful replica paintings from Ajanta and Ellora. Every corner of Manmad and Aurangabad station was decorated and will give you the thrill to visit Ajanta as soon as possible. After spending the chilling winter night on the station, our train to Aurangabad arrived at 5 am. I was tired by now after spending nights without proper sleep.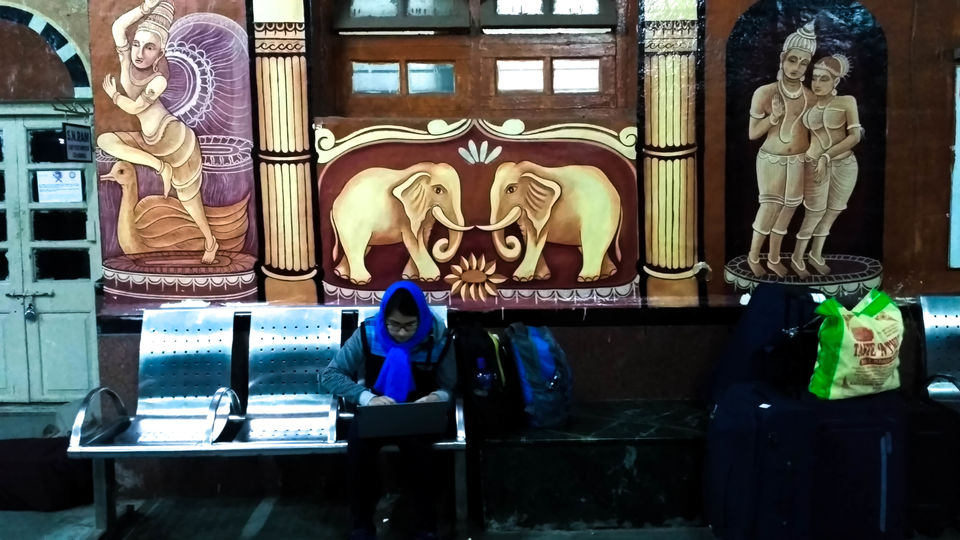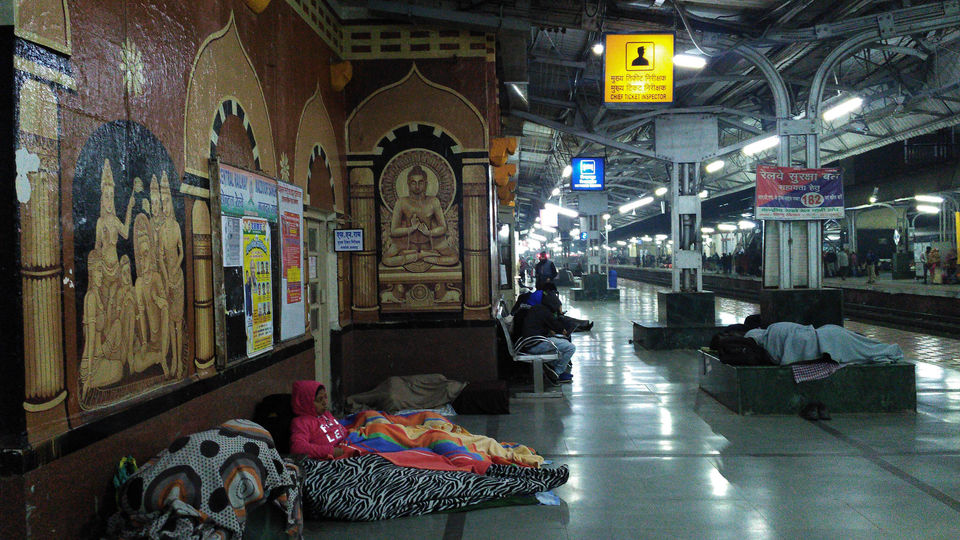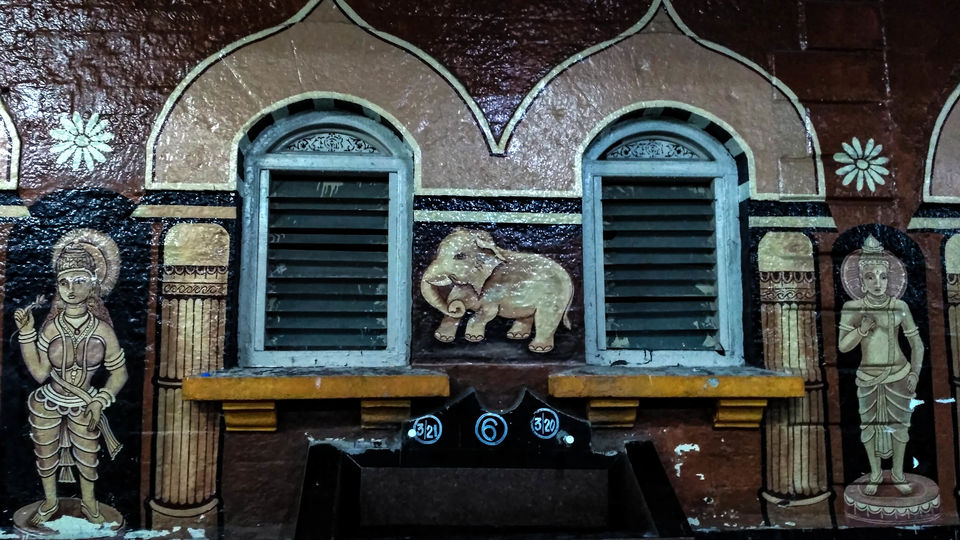 Next day our journey for Ajanta started early morning. We took state government bus and the entire morning was exciting as we were going towards our destination. The bus ride itself was a thrilling journey. After going through the city roads, we took another bus for Ajanta. This route was through villages of Maharashtra. Black soil, uneven terrain and can also see the cotton plant cultivation for which the region is famous for. The fun was the bus ride, continuous tickling due to the bad road and we realized the bus was running through fields more than roads. The bumpy terrain, dusty outside of our window was making me very happy (maybe due to the thought that in the end I was sure I am going for some best experience). I was enjoying the ride and breaking loud laugh grabbing common villagers attention of a city girl inside the bus (bit embarrassed). They must have thought me being crazy. The landscape changed for third time and that bus was now scaling uphill. The western ghats are here. Curvy roads and deep gorges on the other side, we were near our destination.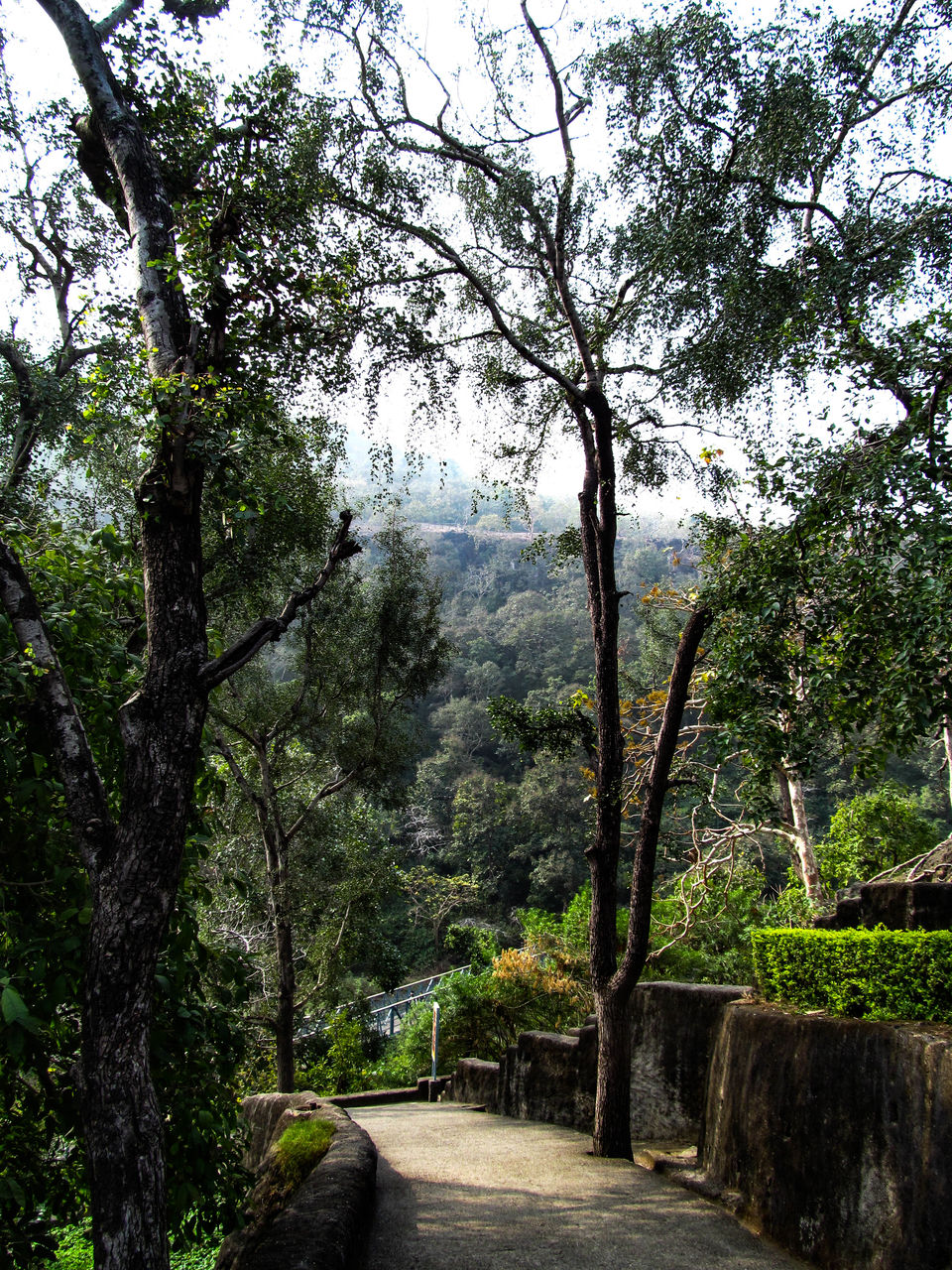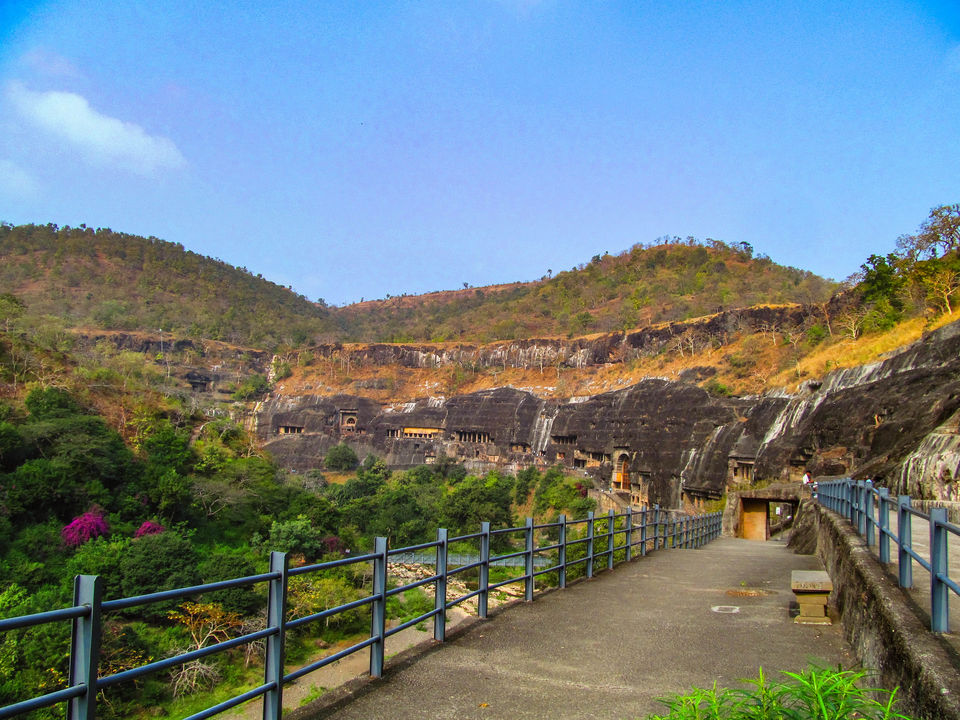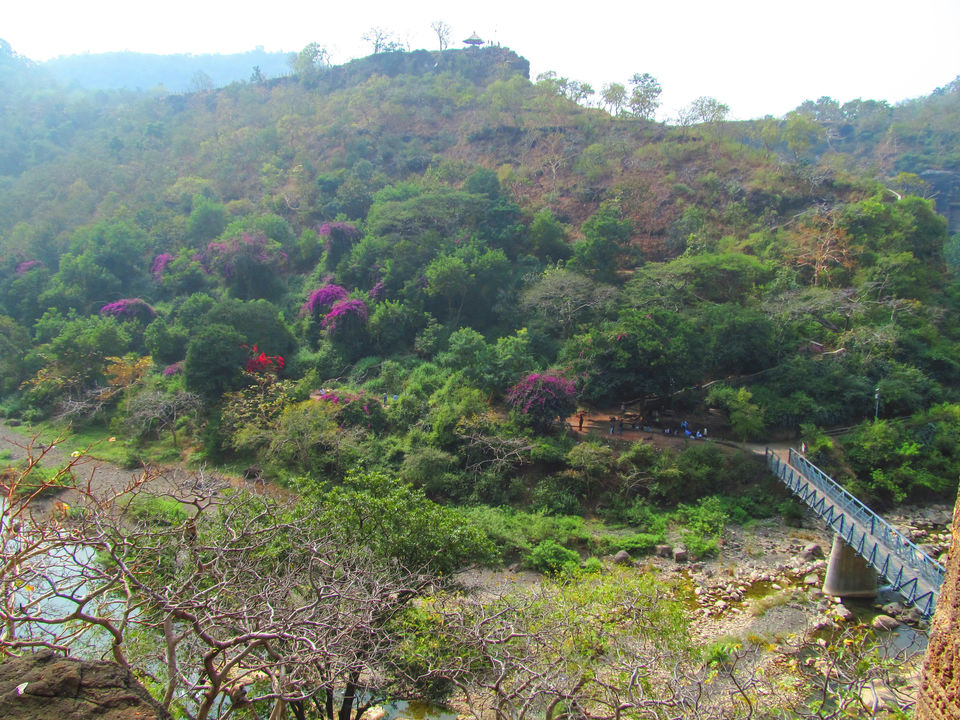 Welcome to UNESCO World Heritage site, Ajanta caves. The rock cut caves carved in around 2nd and 4th century. The caves boast of having the world's most beautiful paintings and sculptures. And it is indeed true. Cut out of volcanic rocks surrounding the river Waghur flowing through the foot of the hills. The entire region is covered with natural or native forest and many waterfalls which increases in number maybe during monsoon. There are around 30 caves which were utilised by buddhist monks for their stay and practice and sometimes for pilgrims and merchants as restroom. After entering the site, we had to take bus to reach caves which were located more inside the core area of the forest. There is a nominal charge for entry and the entire visit will take single whole day to appreciate each corner of this marvel.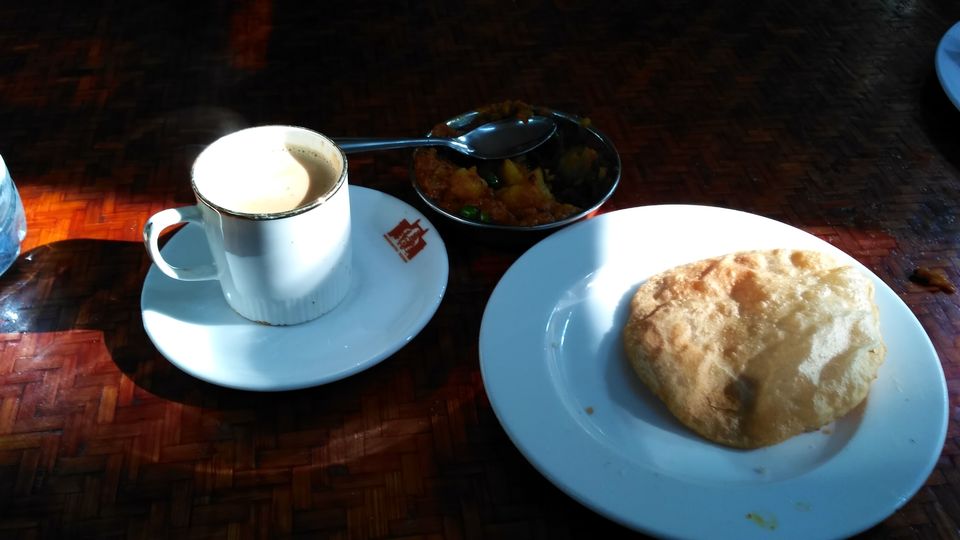 Let me take to you a time travel to ancient India to revisit its glorious history and marvelous monuments which need to be experienced once in a lifetime.
It was the new dawn, new day of the new year when I was awake the whole night and saw the day changing from dark to new sunrise on 1st January 2020. I was working for preparing a presentation for the conference to be held in Pune. Pune is a gem city with all adventure assured in one boundary. I have been many times to Pune and visited the nearby hiking spots which need another article itself. The excitement started to build when I had dropped the idea earlier to not go on this trip one day before due to workload and suddenly within 24 hour decided to make it finished when I realized I am going to miss Ajanta if I don't grab this chance. The dawn broke and I was on the way of finishing my pending work, convinced boss to consider my leave and everything got into line. I didn't had the travelling clothes with me in my hostel where I stay for now. Asked mom to pack and send me directly to station. My dear brother and my best buddies came to drop the luggage and say goodbye. It was unfair leaving them behind to this trip. Well we promised to go on a trip after I come back form Pune. But unfortunately, Covid protocols and pandemic set in before we plan anything.
Aurangabad is a small city with rich history and boast the Mughal culture still thriving. It has the second Taj Mahal, the replica of one of the seventh wonders situated in Agra. Mughal emperor built the mahal in memory of his chief wife Dilarus Banu Begum. Strikingly, Bibi ka maqbara almost resembles Taj Mahal. Built in similar structure and design will take to your past memories of Taj Mahal if you have visited earlier.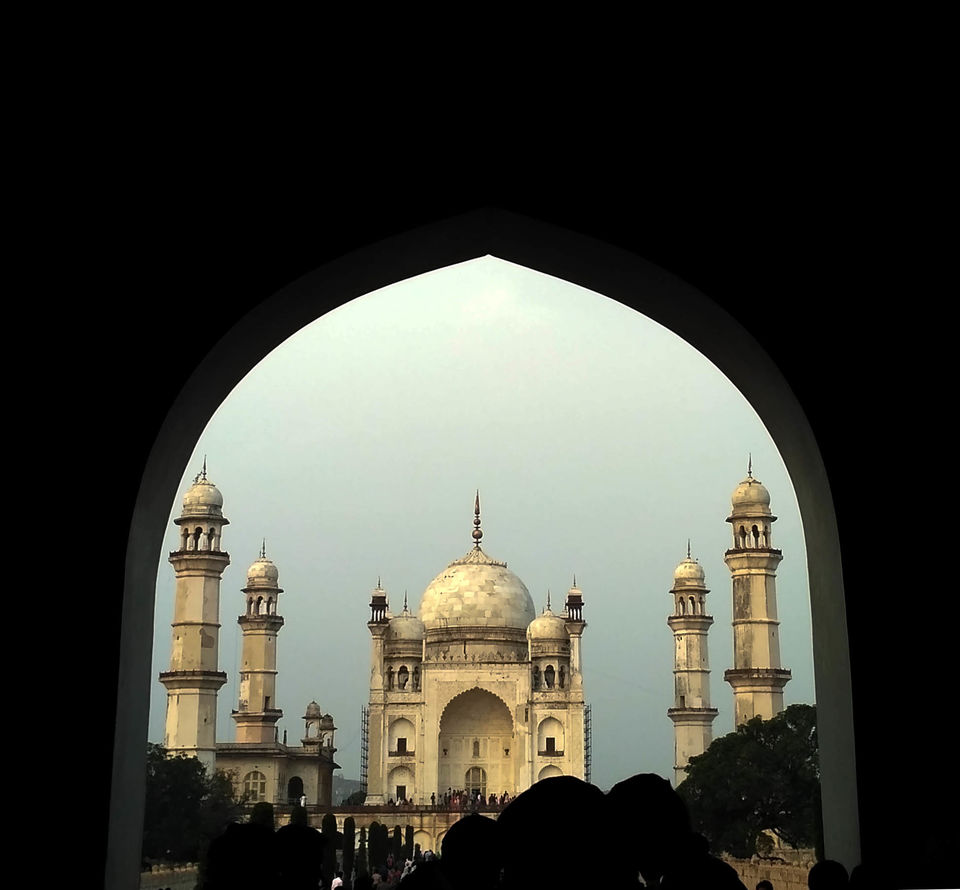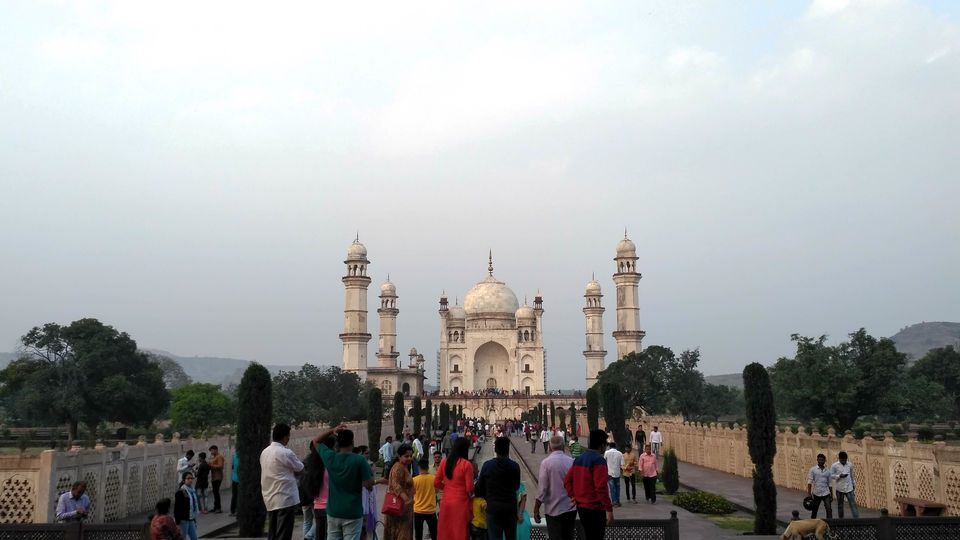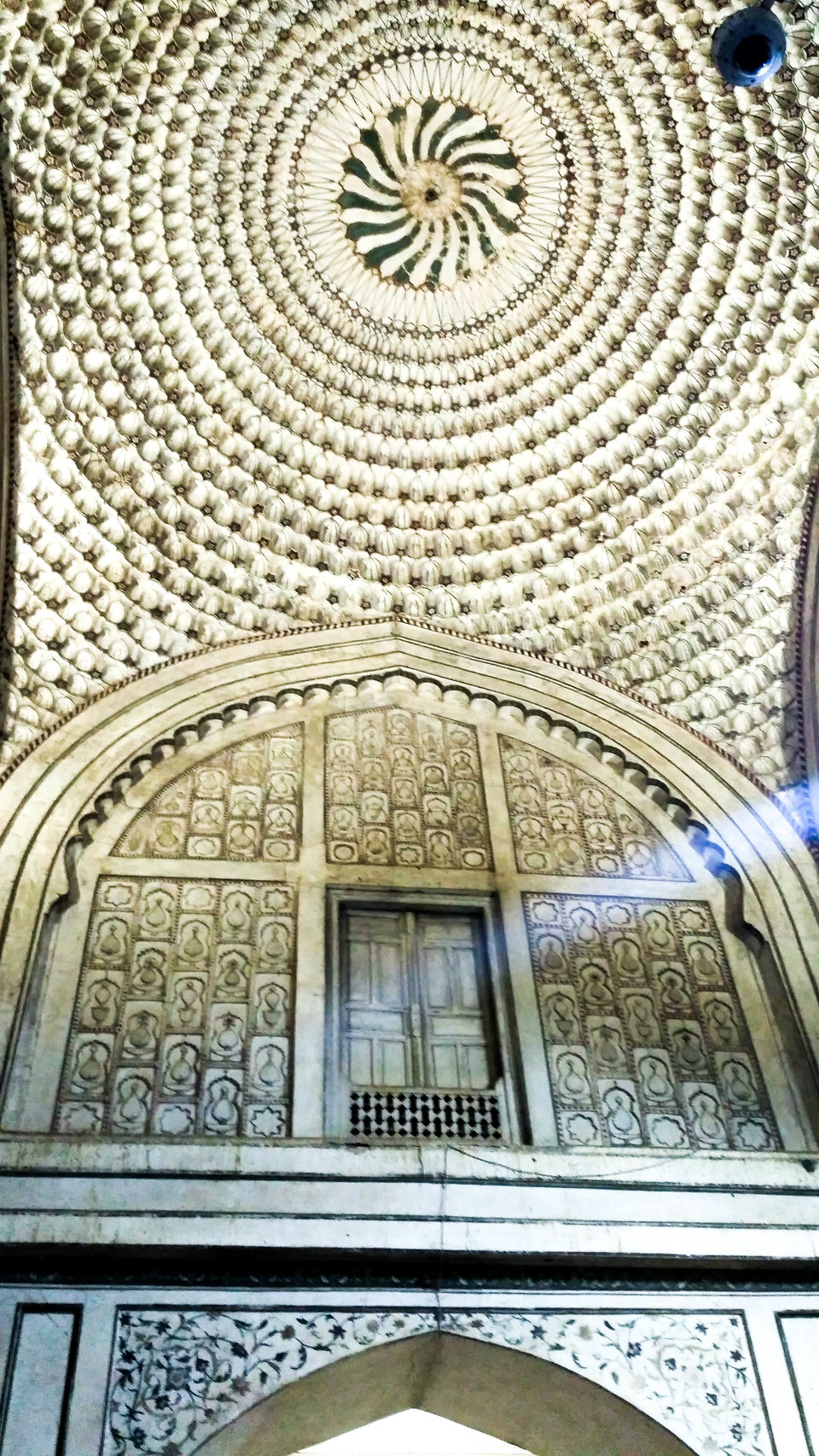 Aurangabad's food platter has the touch of mughal style foods with spicy cuisines on offer. After grabbing soulful and spicy food, we headed to Bibi ka Maqbara. On way back we went for souvenir shopping. Here you can find items made from stones and sometimes gems. The area boasts of gems found in the nearby river and mountains formed from volcanic activities in the past geological makeover era.
The caves are all numbered according to their discovery. It was discovered by a British officer who was on a hunting party. It is said the cave remained untouched for hundred of years and was veiled in thick forest. After its discovery the area was cleaned and repairing was initiated.
After a short breakfast break, you need to climb few steps to get into the site of the entire region. We climbed few steps and the entire valley came into view. The Waghur river flowing underneath and we got the site of U shaped rock hill on which caves are carved out. Starting our time travel, we were excited to be mesmerized from the vastness of the cave and beauty who build them with utmost care. Reliving to our expectation, it was indeed huge structures inside as you enter each caves. Cave number 1, 2, 16 and 17 were out of this world with its beautiful works of excellence. The walls were all painted with stories from Buddha's life (Jataka tales), teachings and lifestyle of ancient India.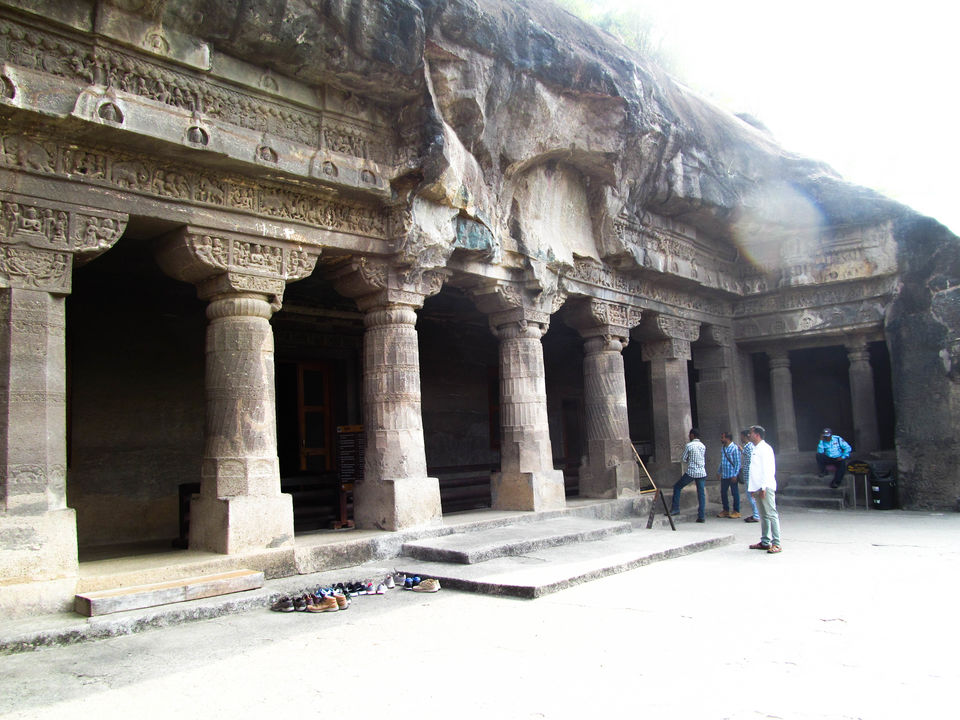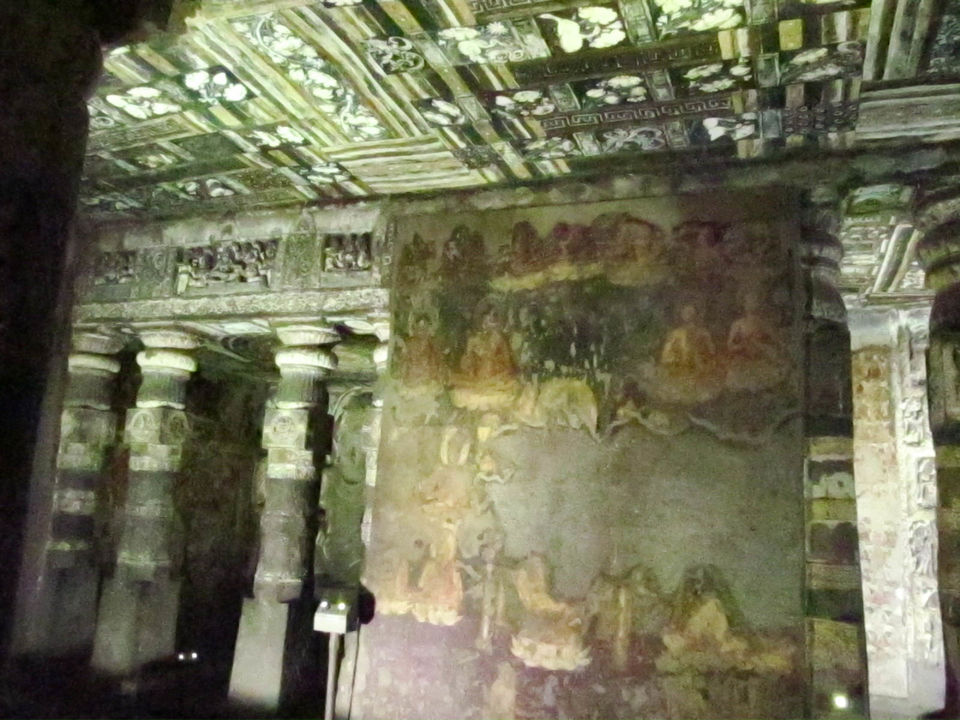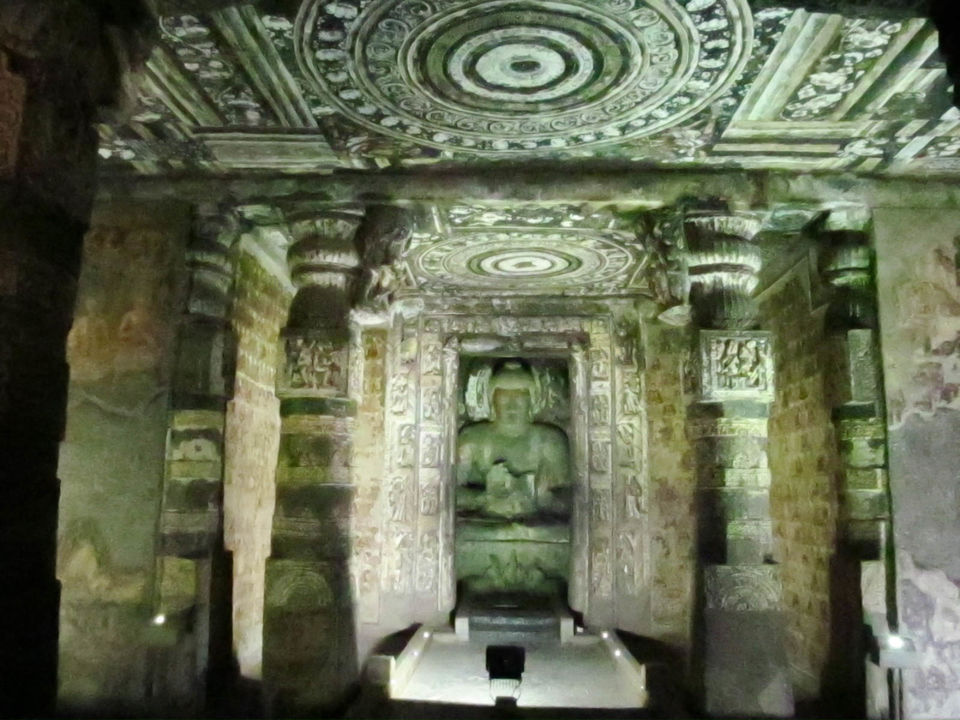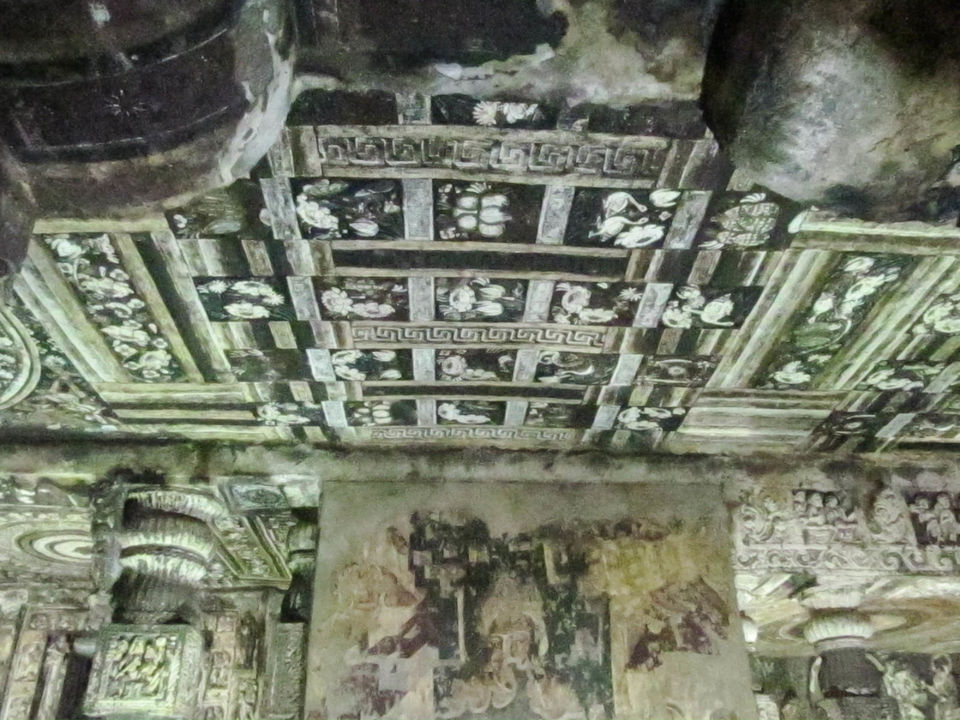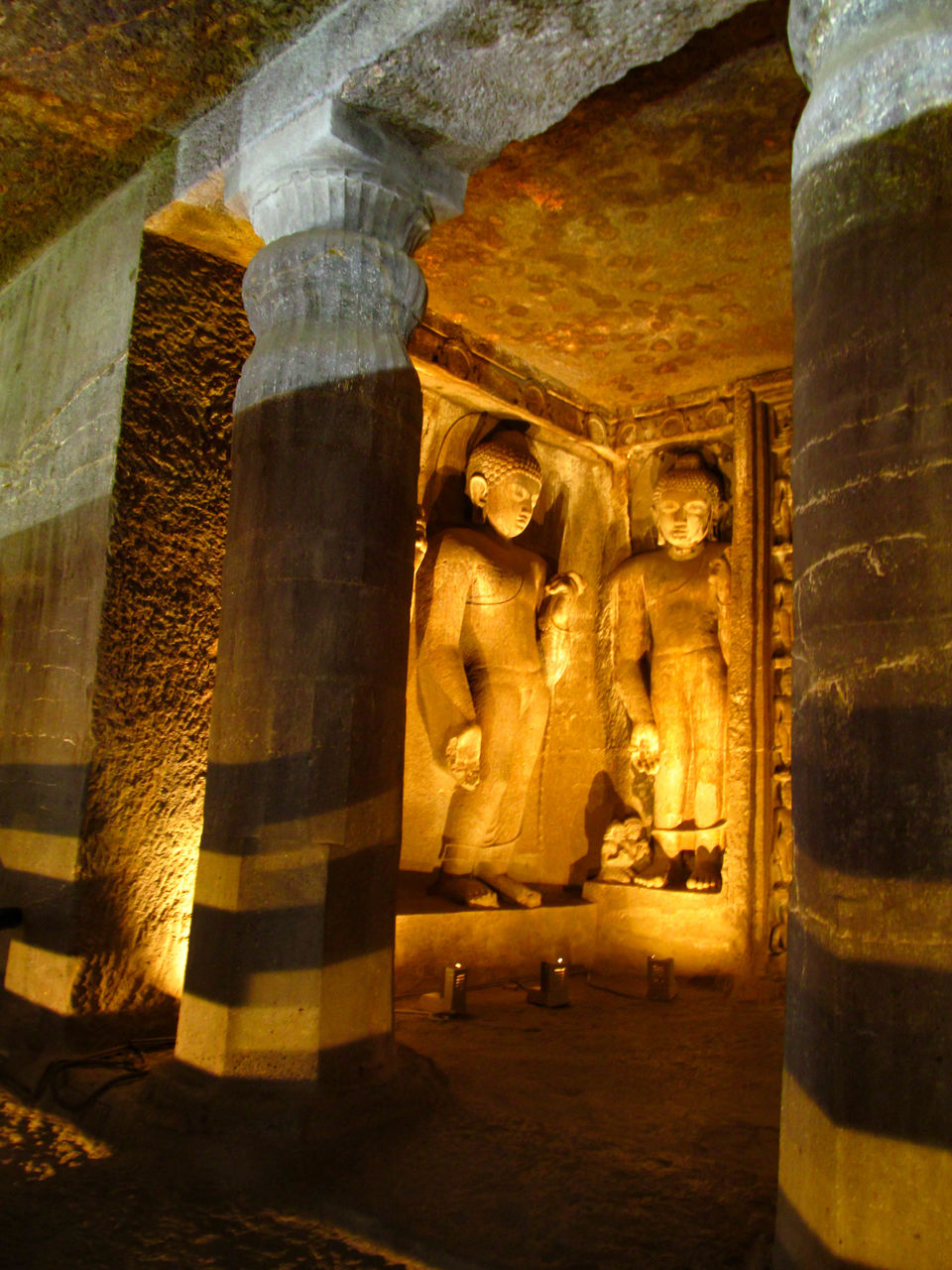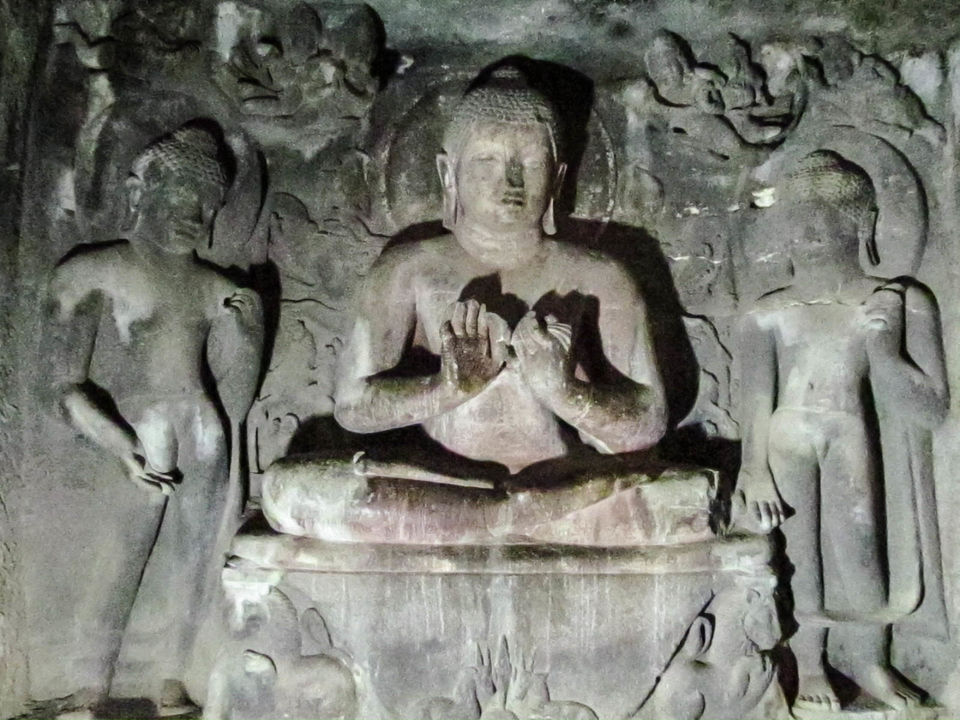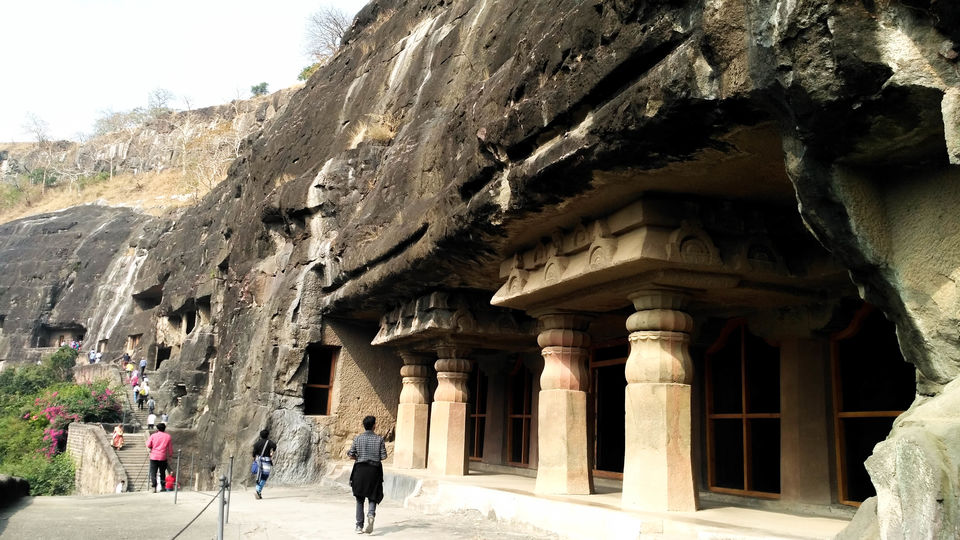 All caves were chiselled out of the volcanic rocks and hill. The walls have the evidence of lava flowing event that happened million of years ago.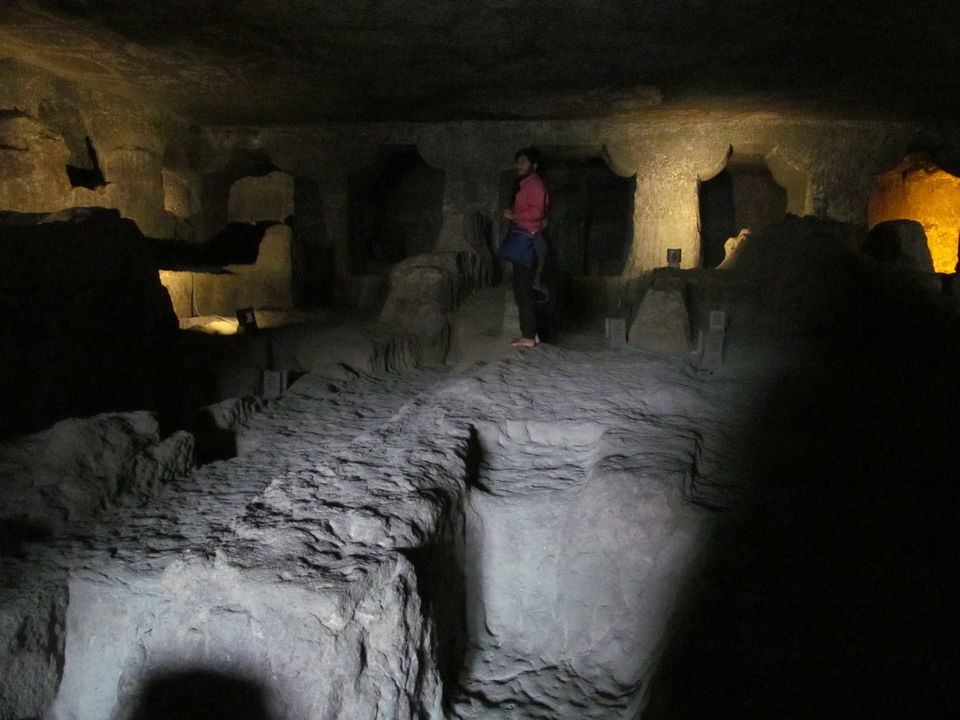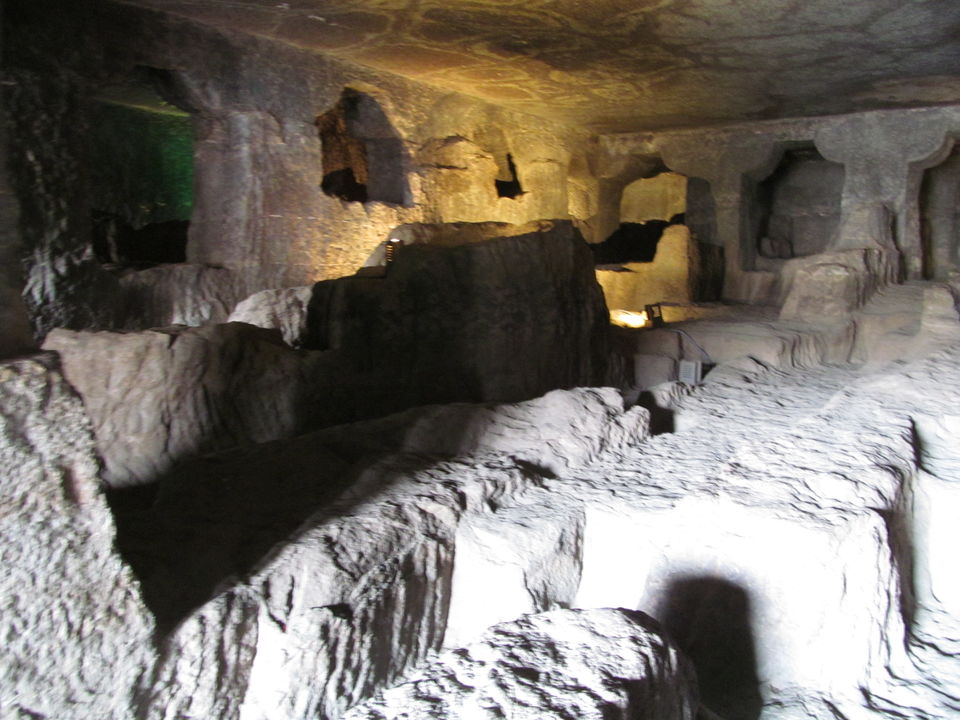 When I was inside, I was wishing if we could really stay here in the serene surrounding and replicate the spiritual environment to accomplish our goals. The murals adorning the ceiling, walls pf every corner of the rock cut caves was symbol of art and excellence achieved by humanity. Disappointment struck after realising that after many years from now this piece of works won't be able to sustain the weathering anymore and will also be victim of time. Miniature lotus to huge animal drawings to all kind of motifs and figurines were painted on the ceiling and walls. The colours were still speaking to you. The boddhisatva forms the Padmapani, whose beauty cant be ignored. The deep eyes and mesmerising art will make you skip a heartbeat! Vajrapani's eye will pass straight through your heart and you may fall in love with the beauty.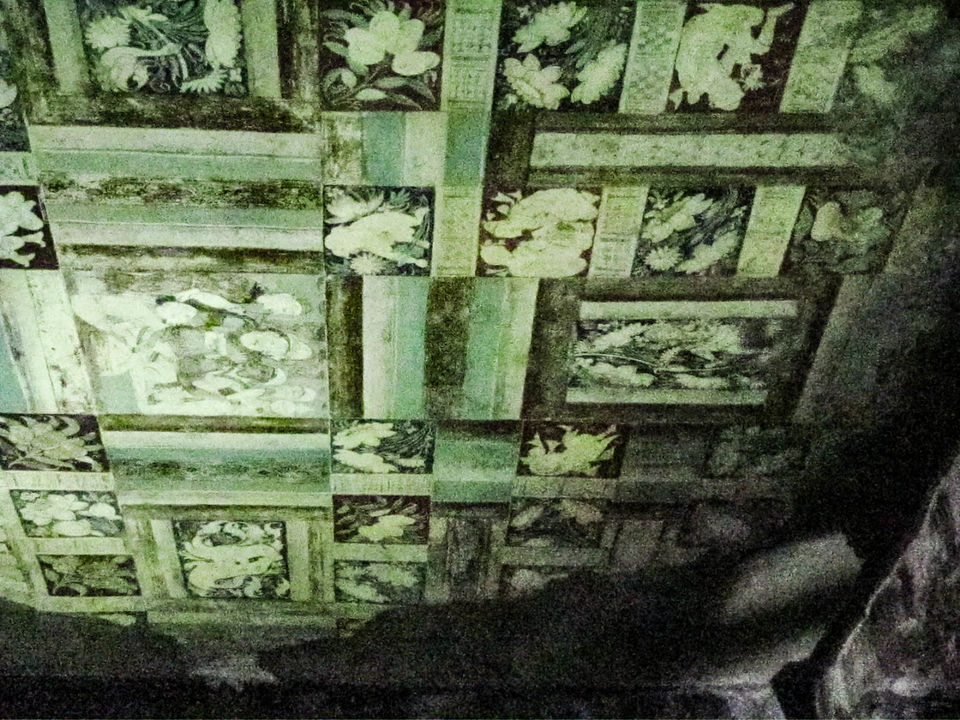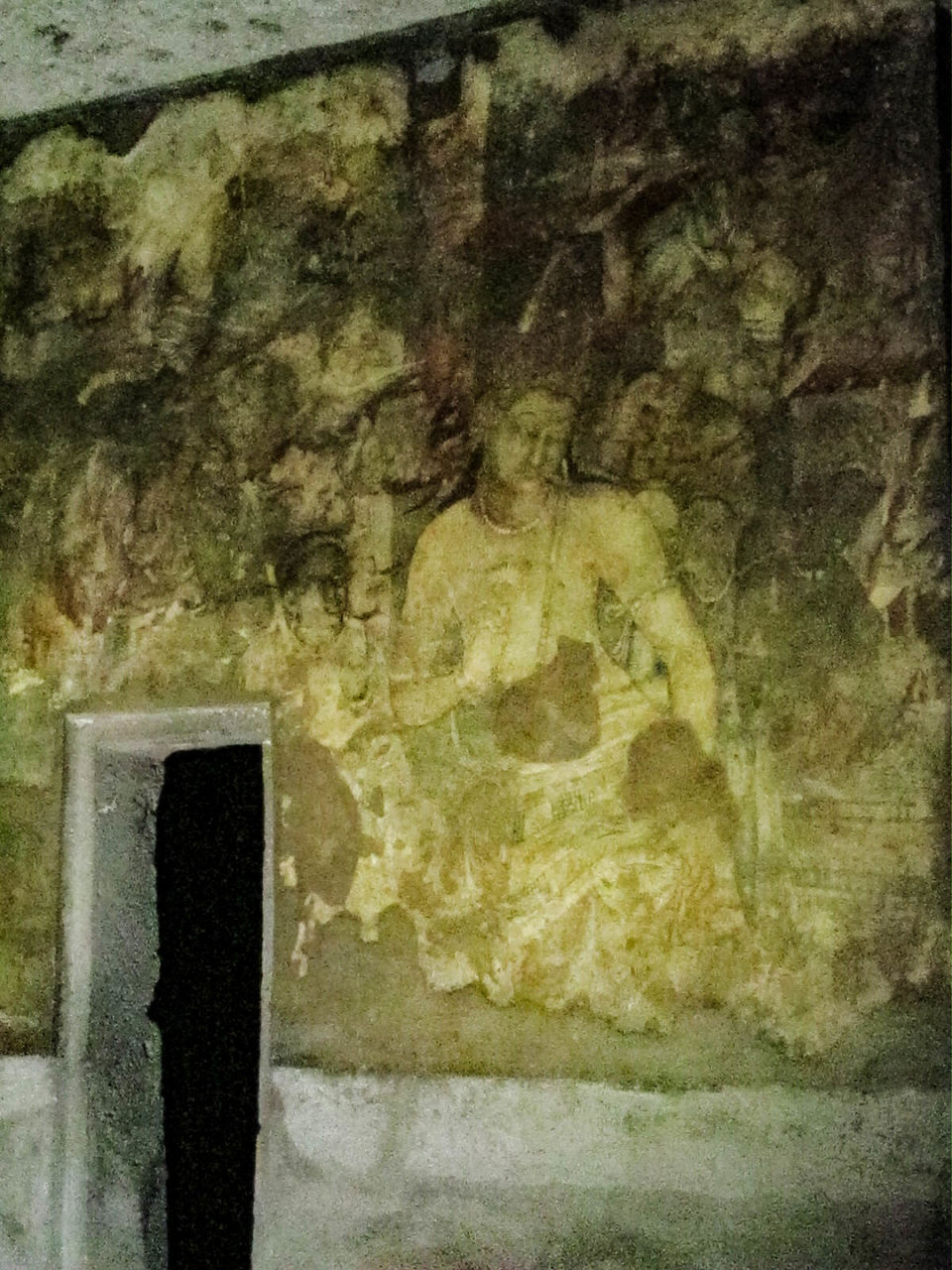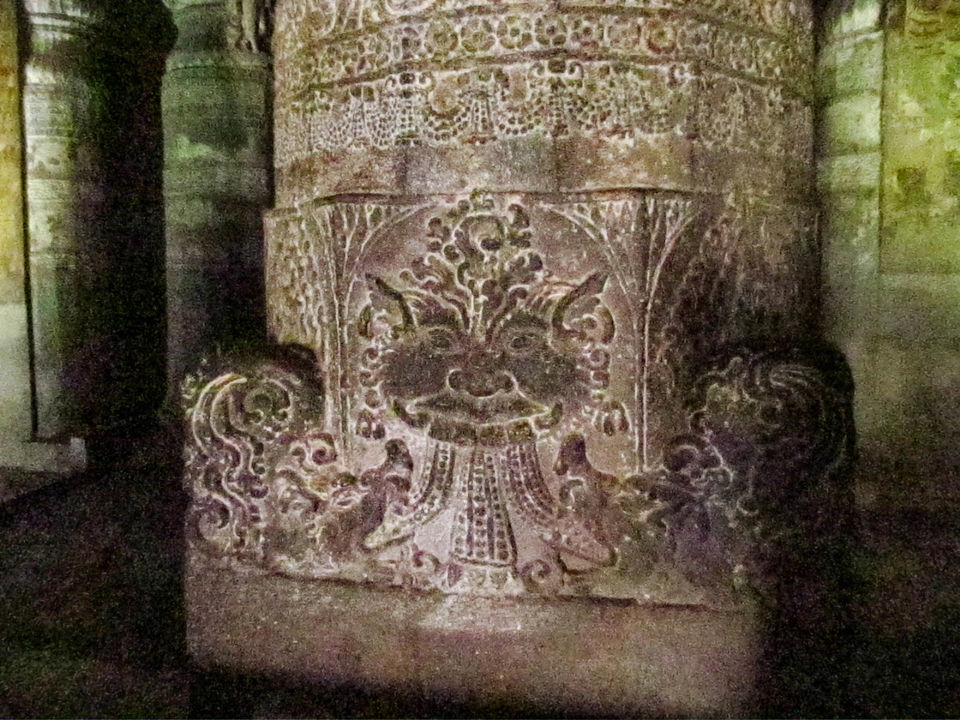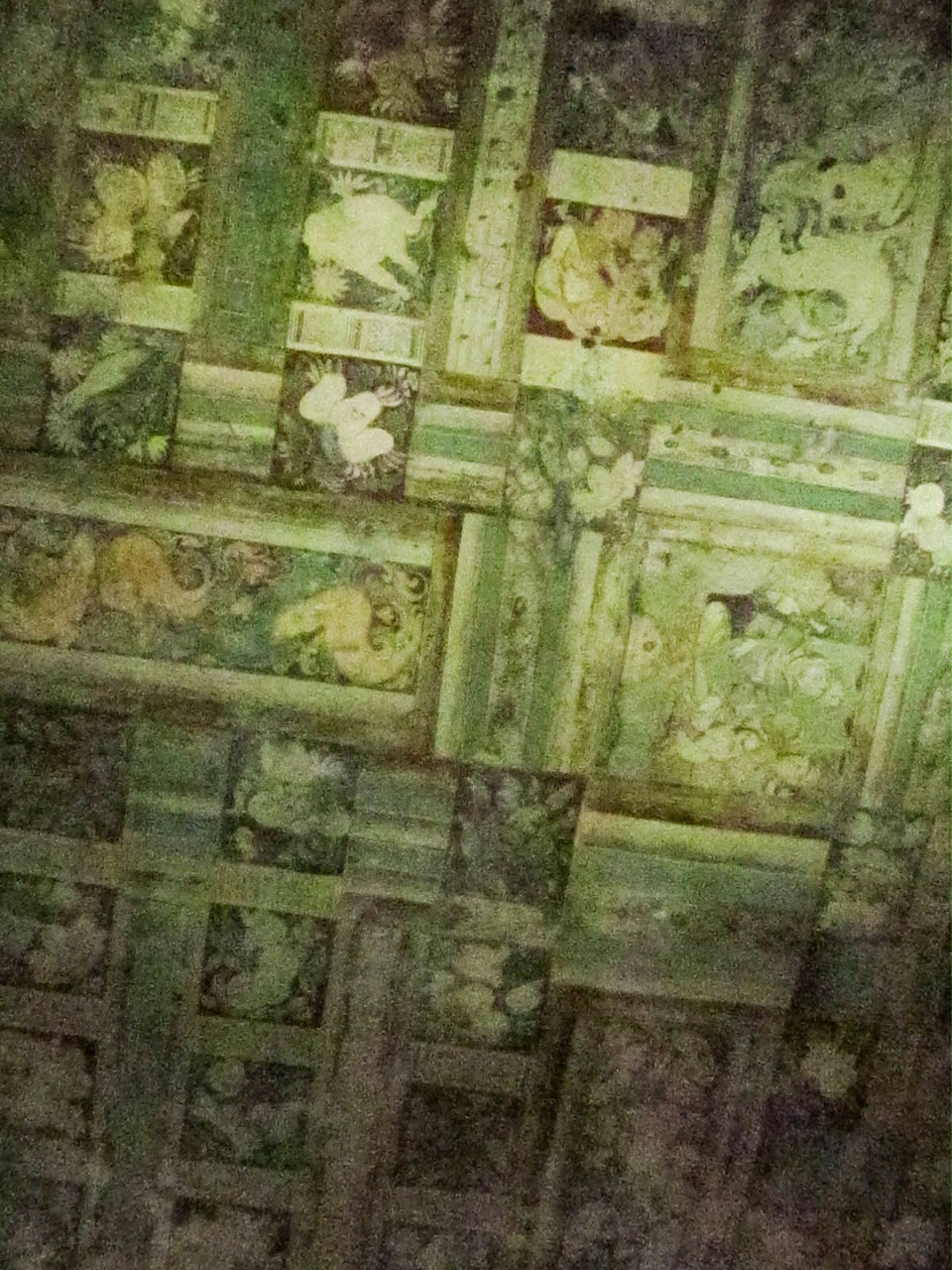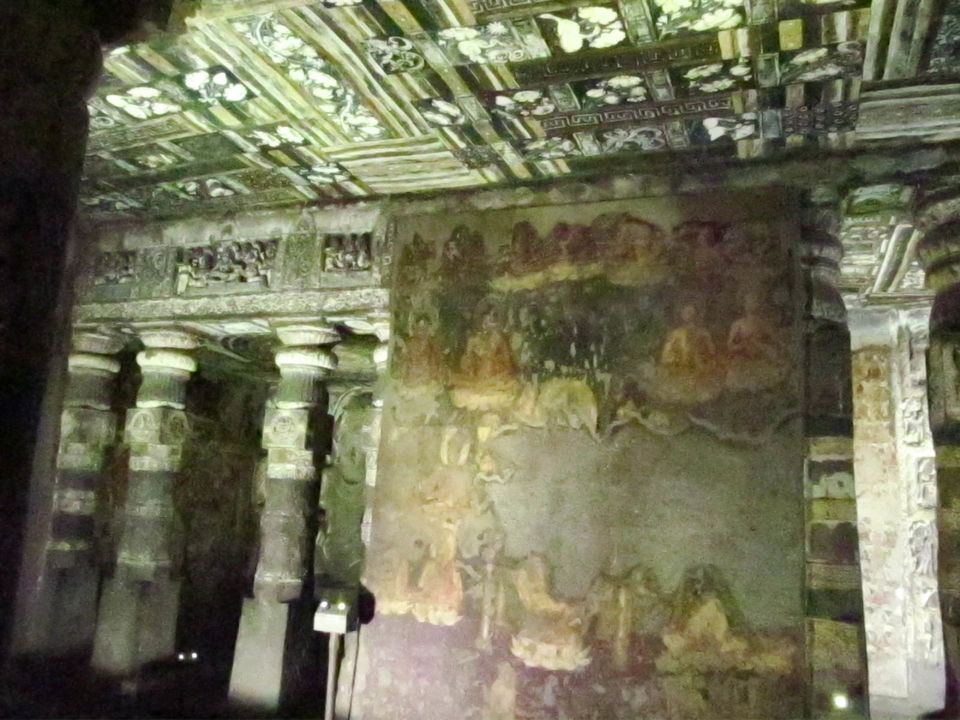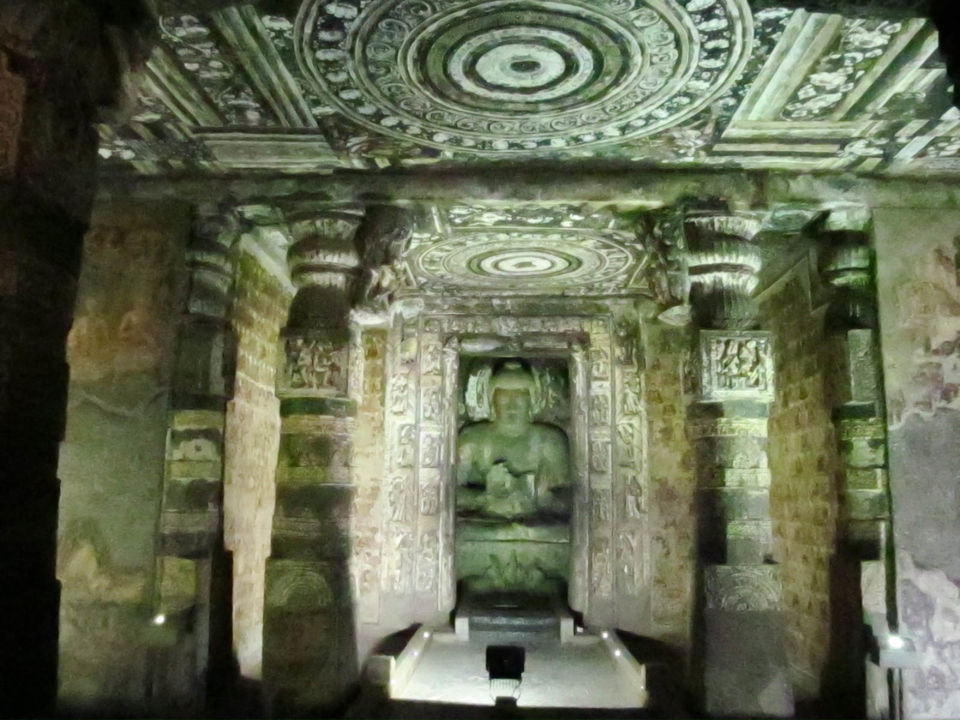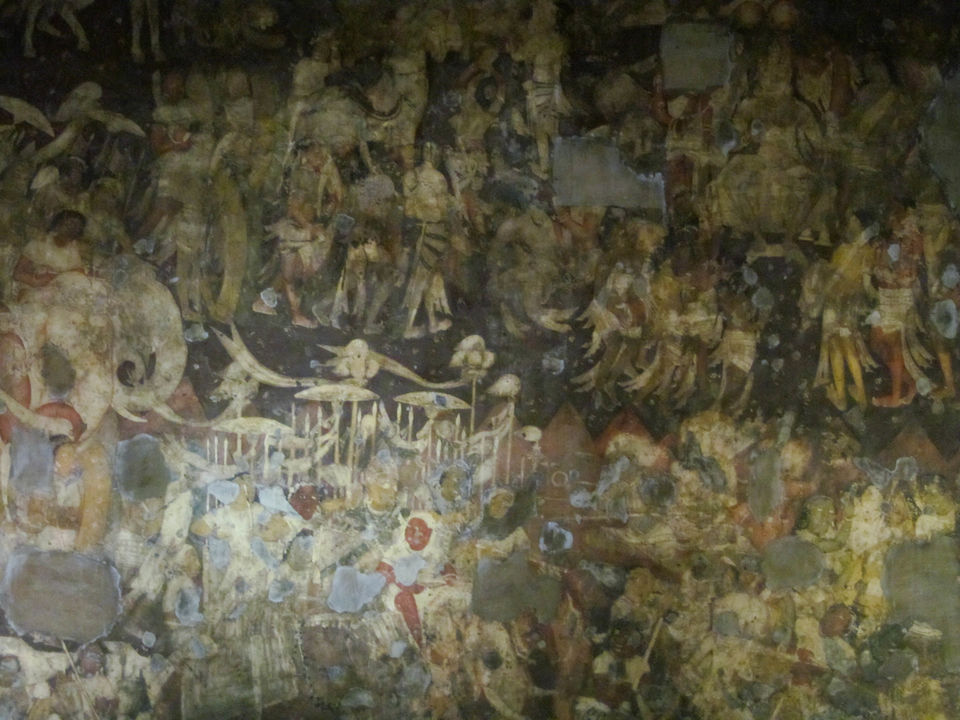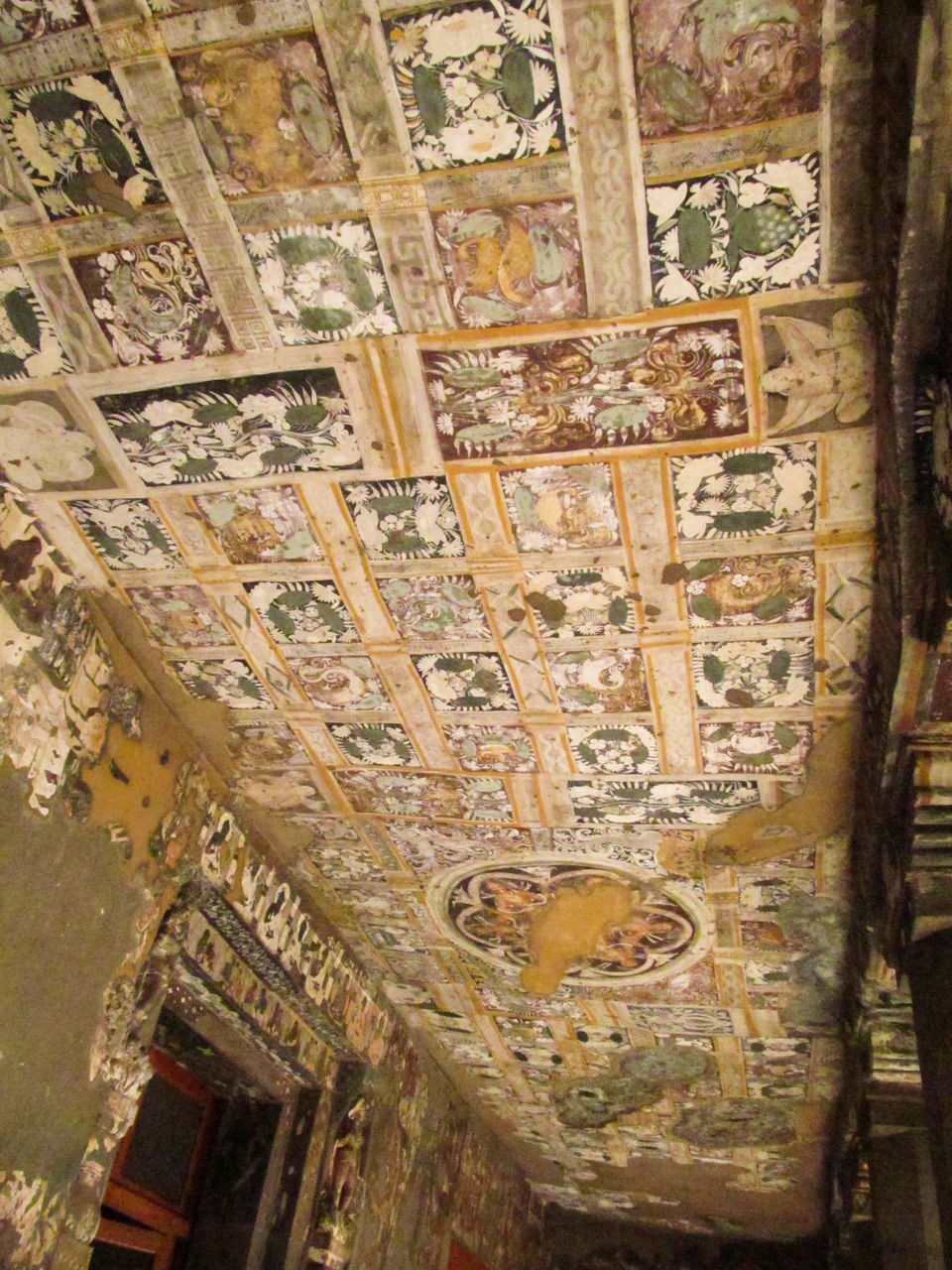 One of the cave gave a glimpse of its construction. It was left incomplete. The solidified lava of the past tectonic activity can be seen in one corner. It may take you back to million of years back when eruption had happened. Pillars were carved with small cubicles, otherwise the entire flooring was still covered with uncut rocks. The rocks when carefully examined one can find the basalt and other semi precious stones being embedded which were result of the pressure and heat of volcano activity. To add more information here, the region has treasure of precious stones which are flowed by river from the high hills. These crystal were created due to volcanic activity at the region million of years ago. Amethyst was quite conveniently available at the souvenir shops. It was amazing to see those gems and understand the geology. The caves has all postures of Buddha with giant sculptures. The huge halls with all sculptures of buddha will take you back. High ceilings, huge rooms and engraved walls all under one roof seems out of this world. All rock cut sculptures standing in peace and maybe we were disturbing the peace. The monks had surely achieved the enlightenment from here. This heritage site deserves a applause for its excellence, standing through centuries inspiring thousands.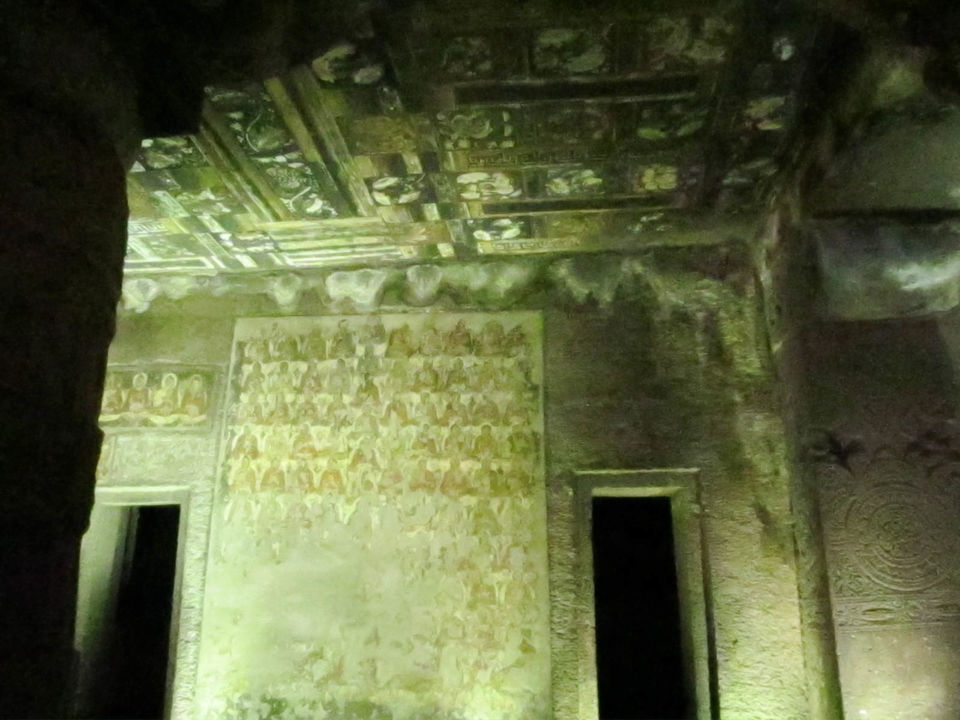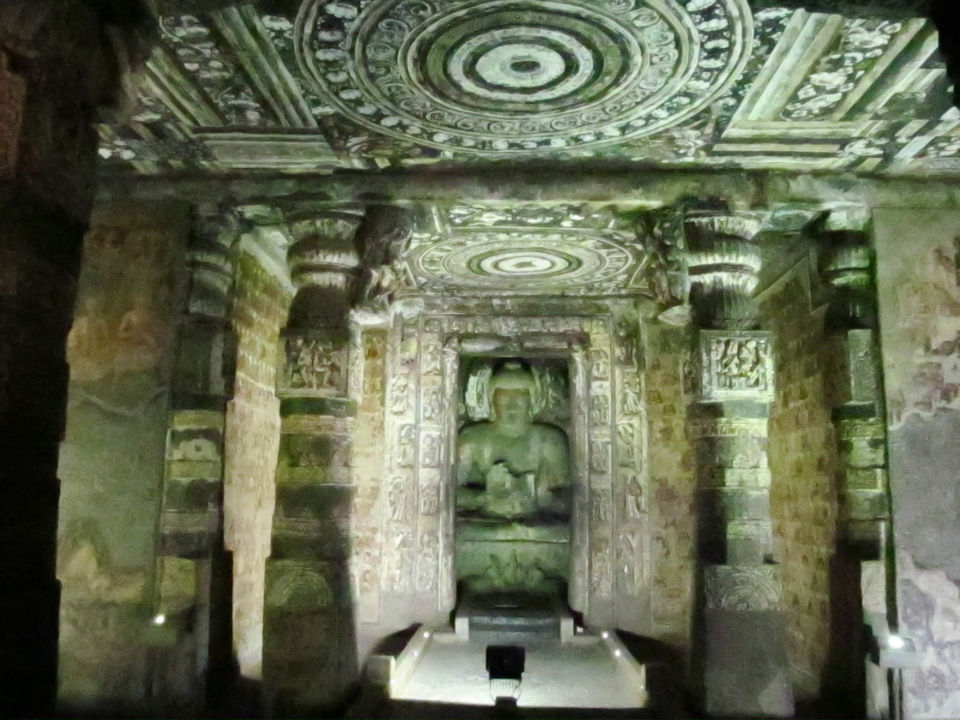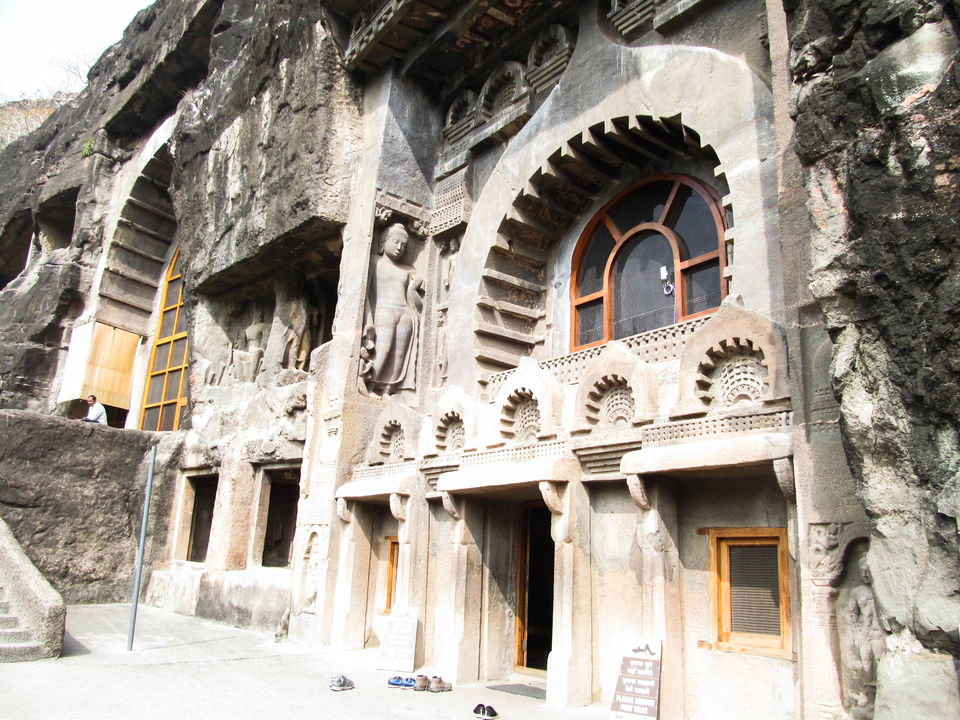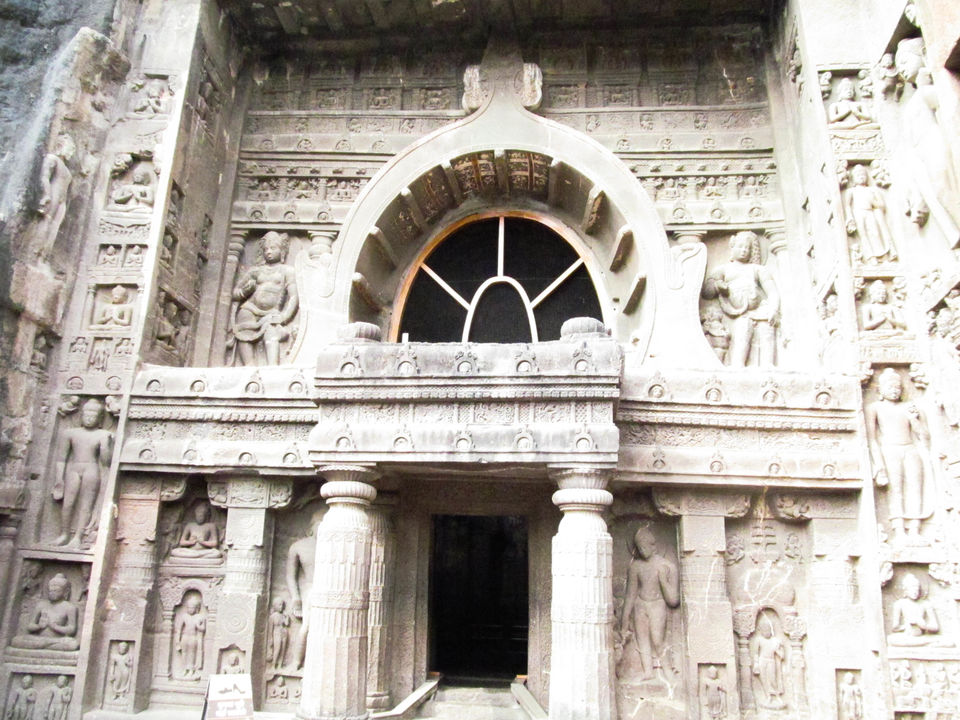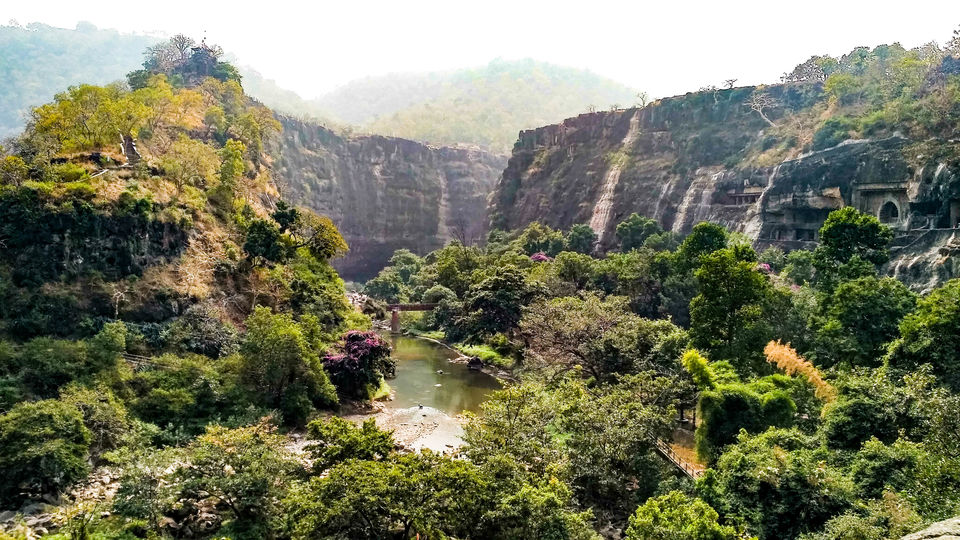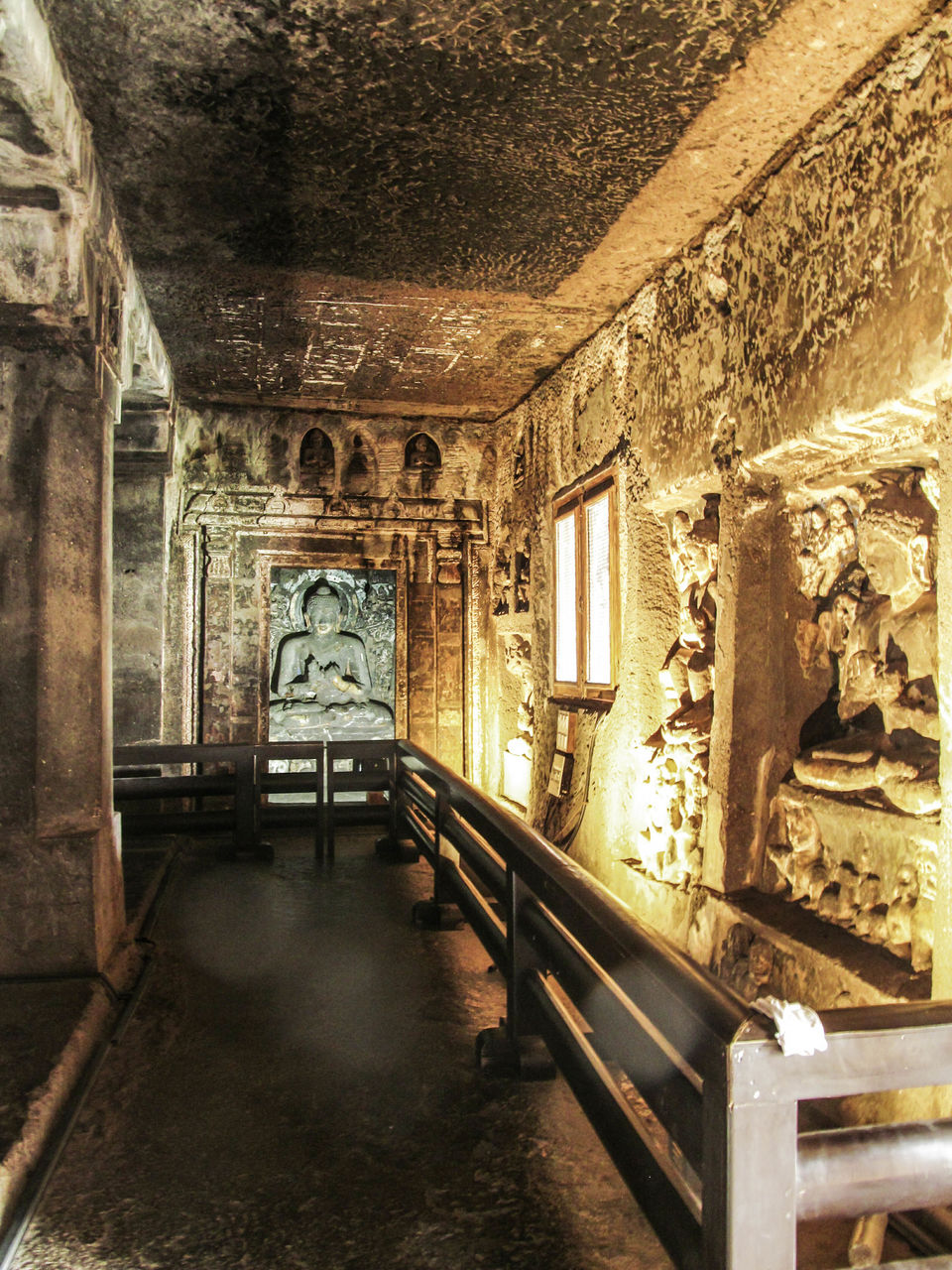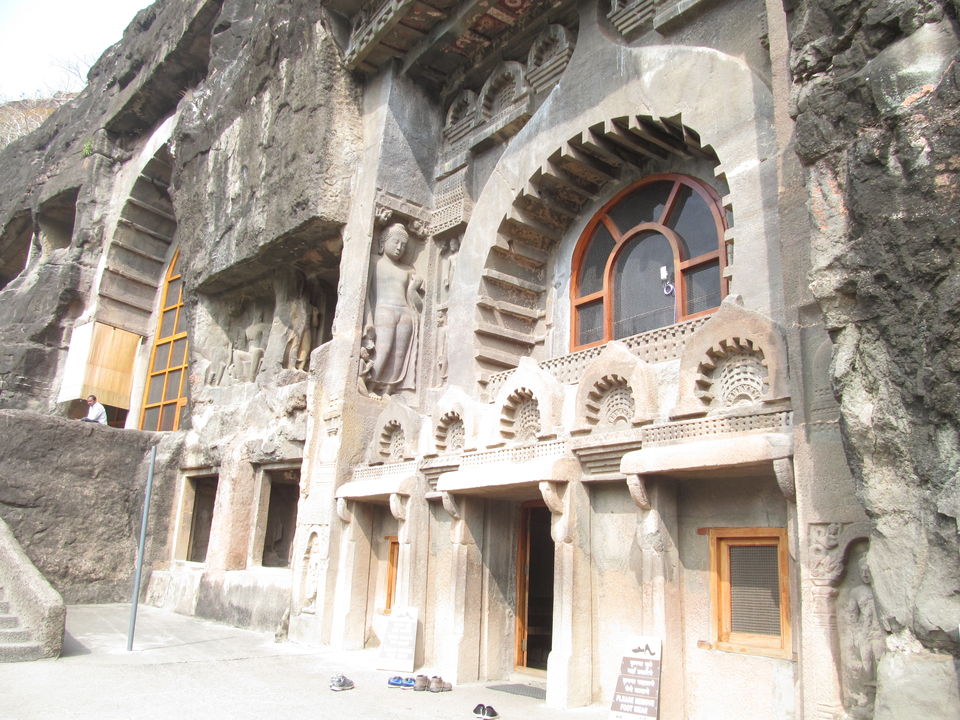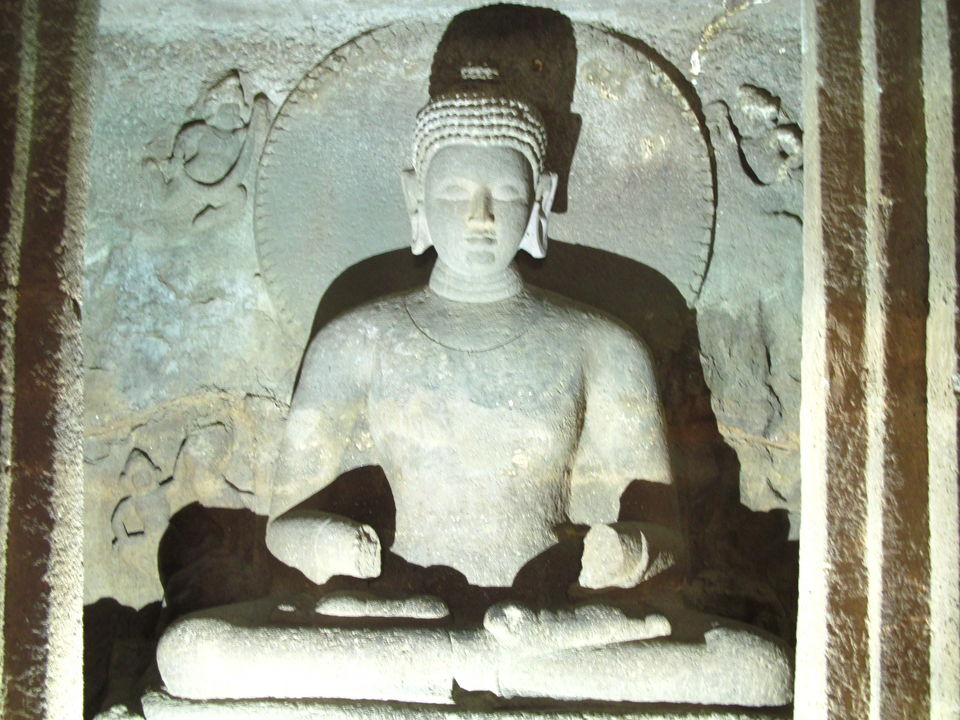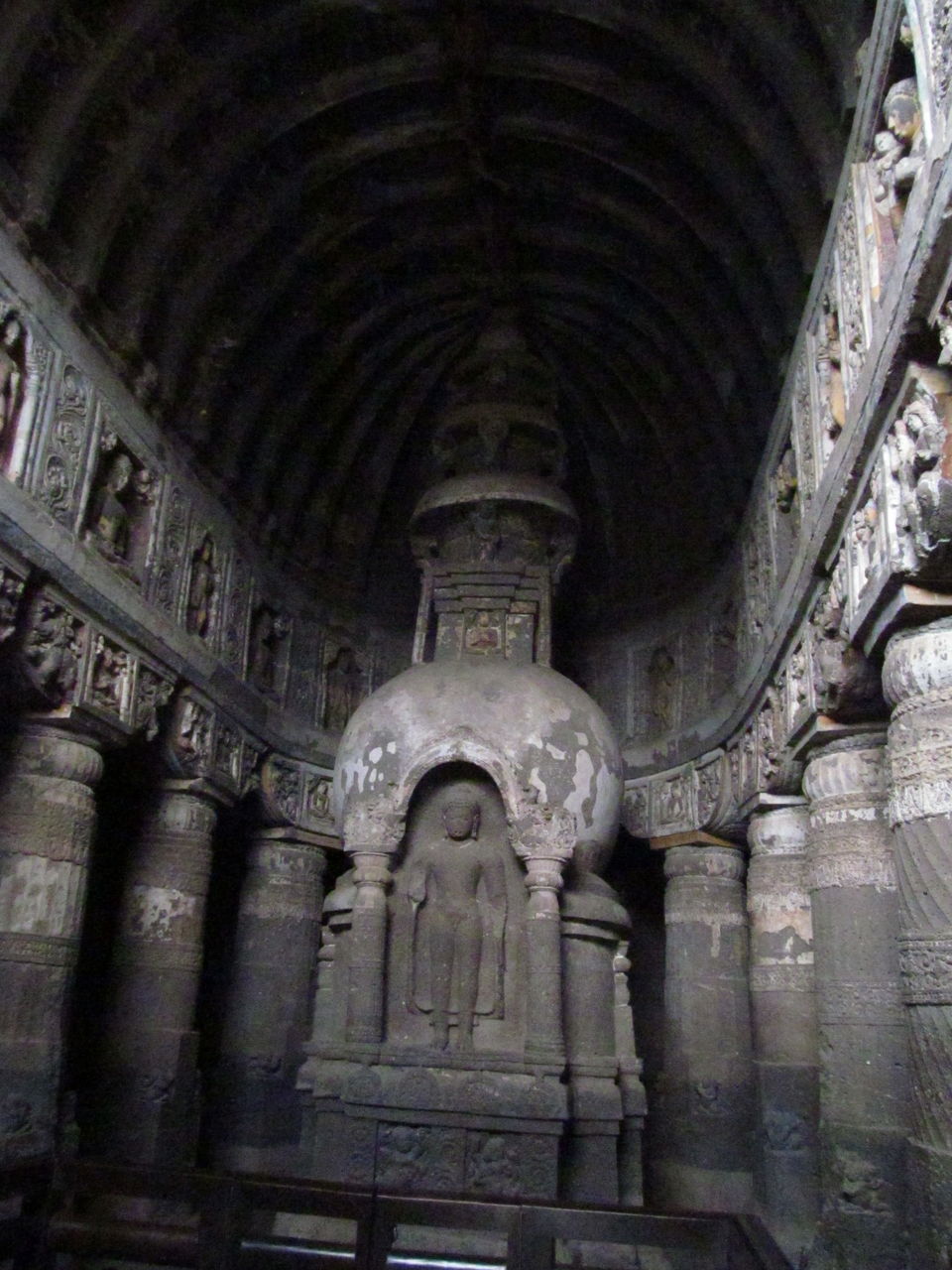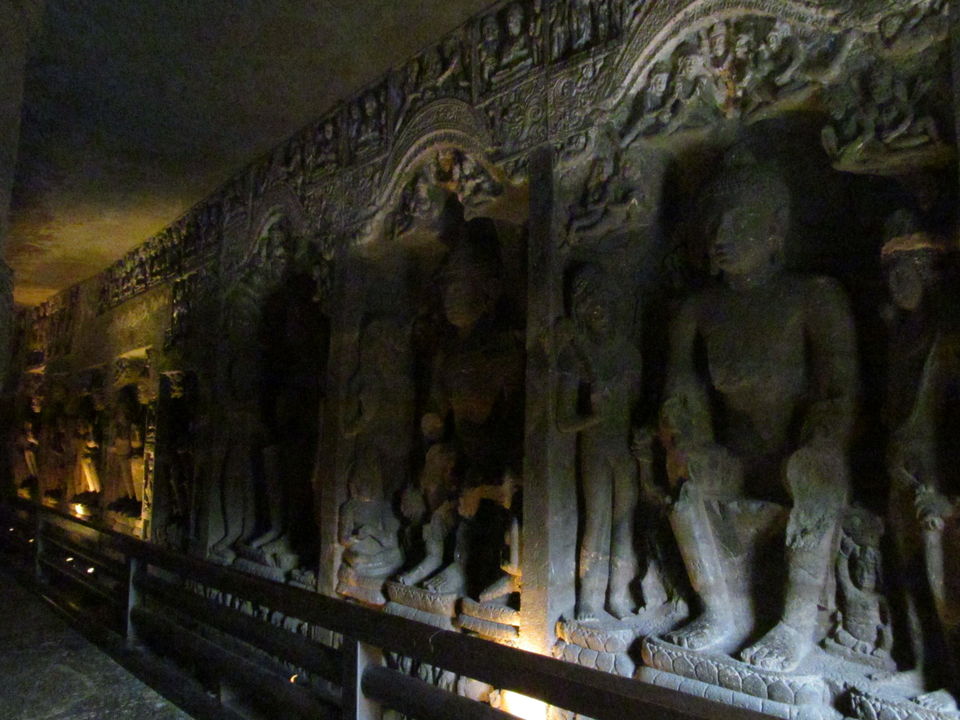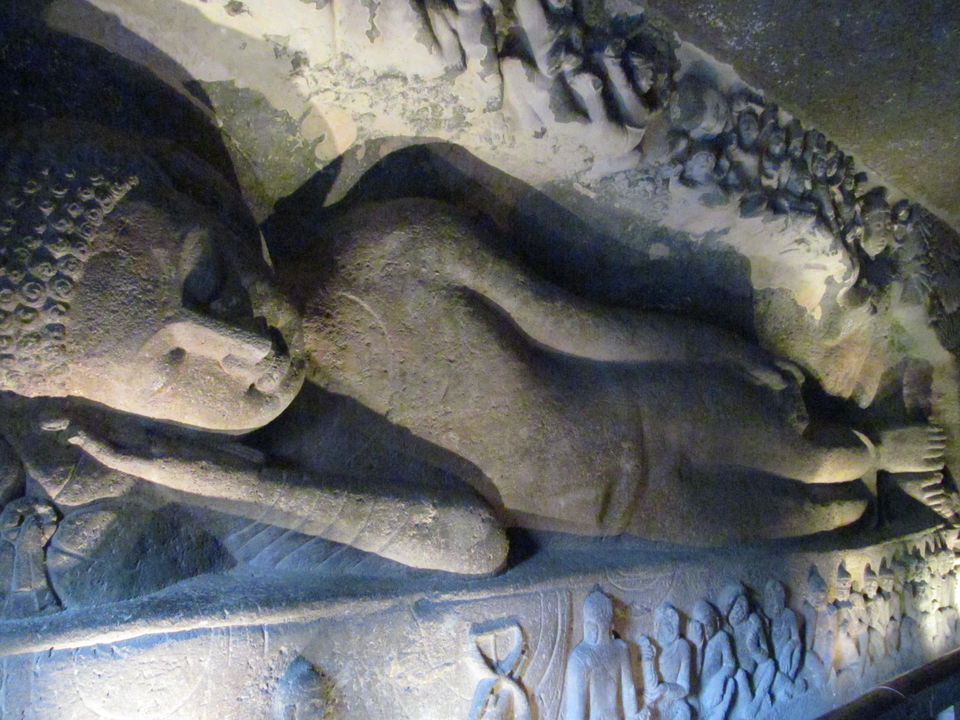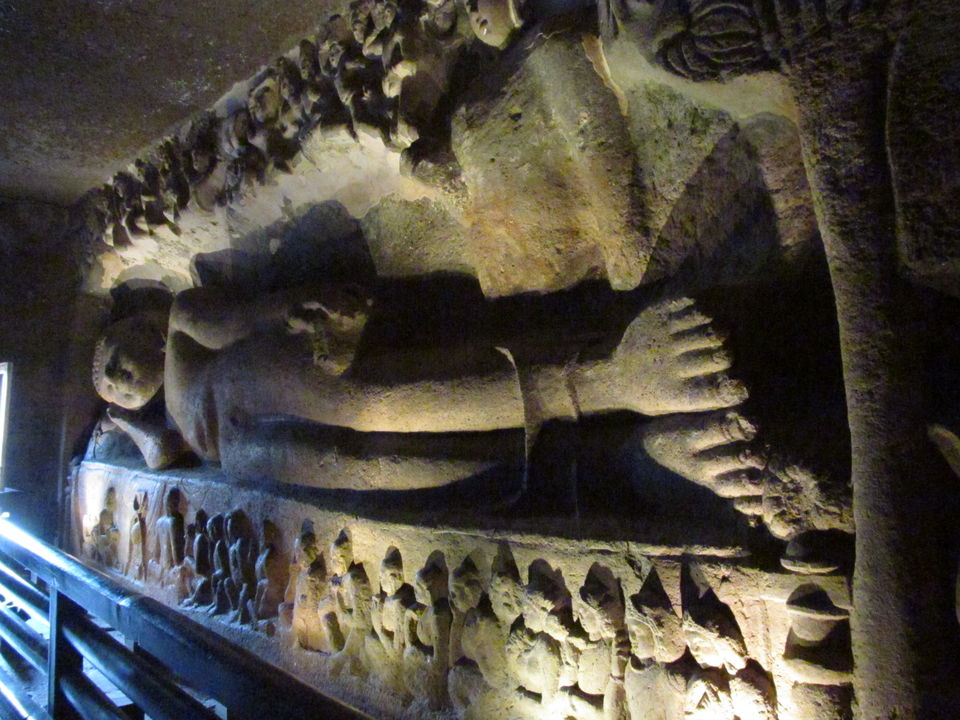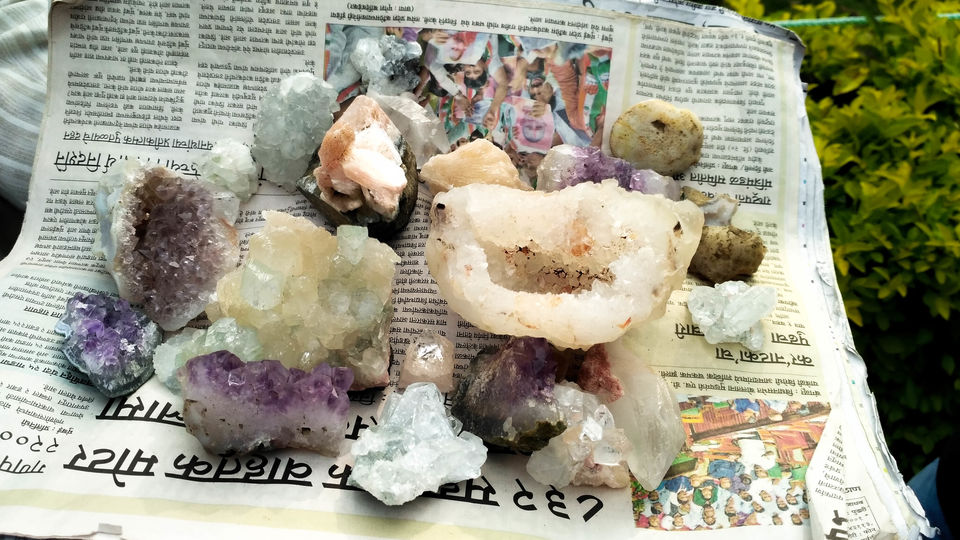 Concluding our travel to medieval era, I wasn't ready yet to leave Ajanta caves. The awestruck feeling was still gripping me strongly to stay back.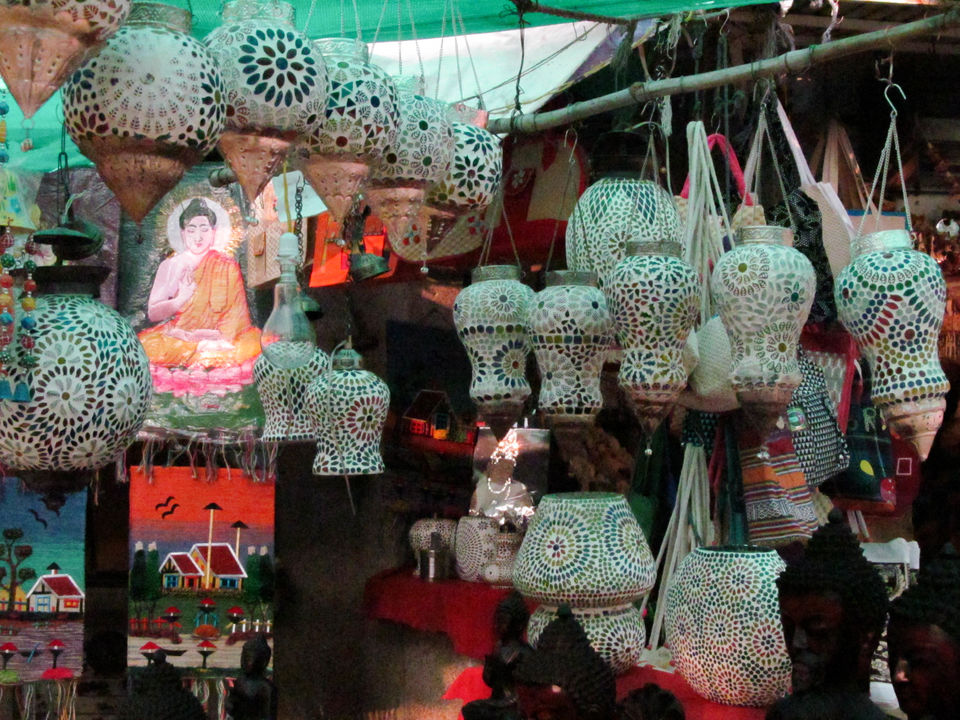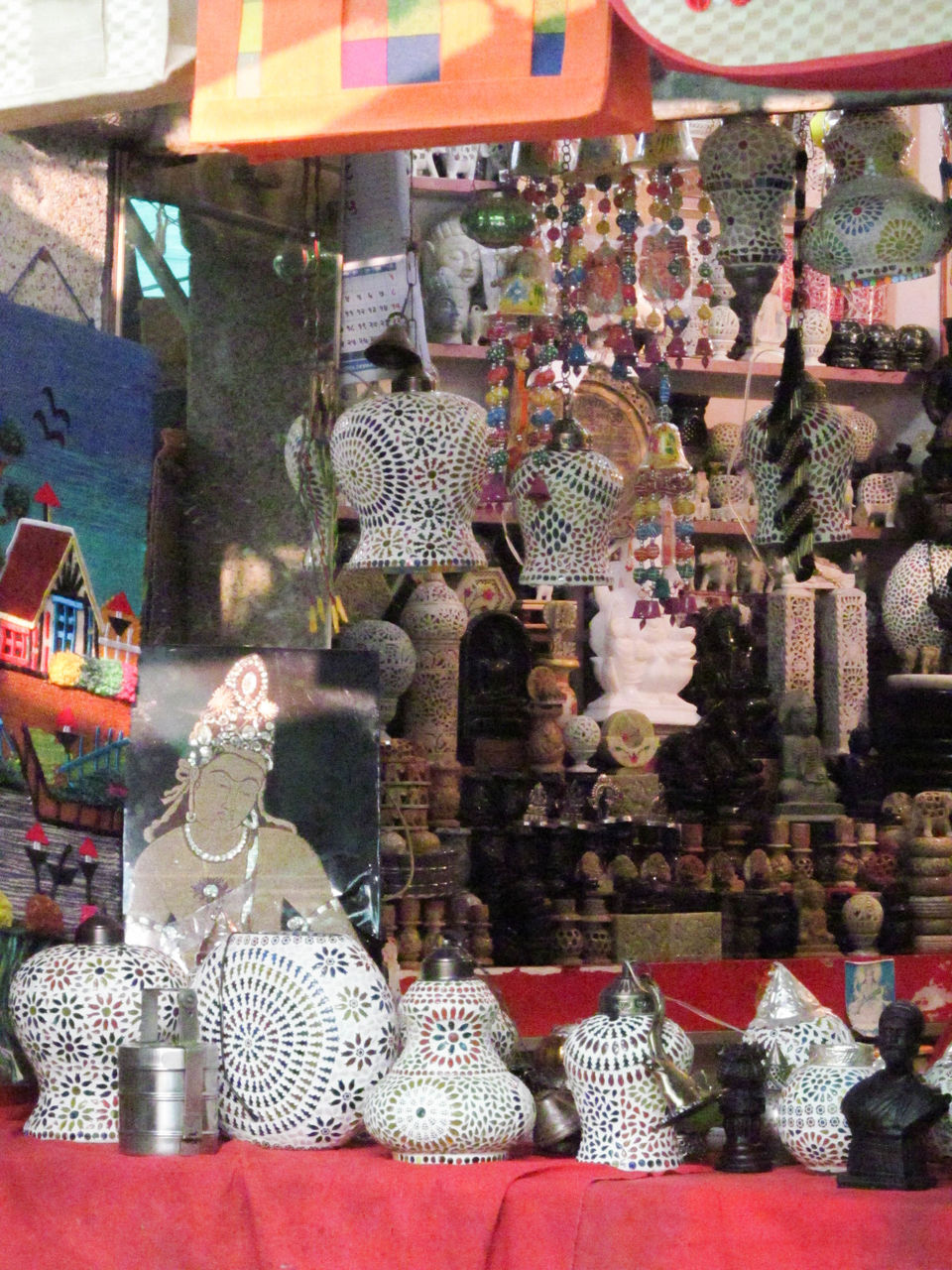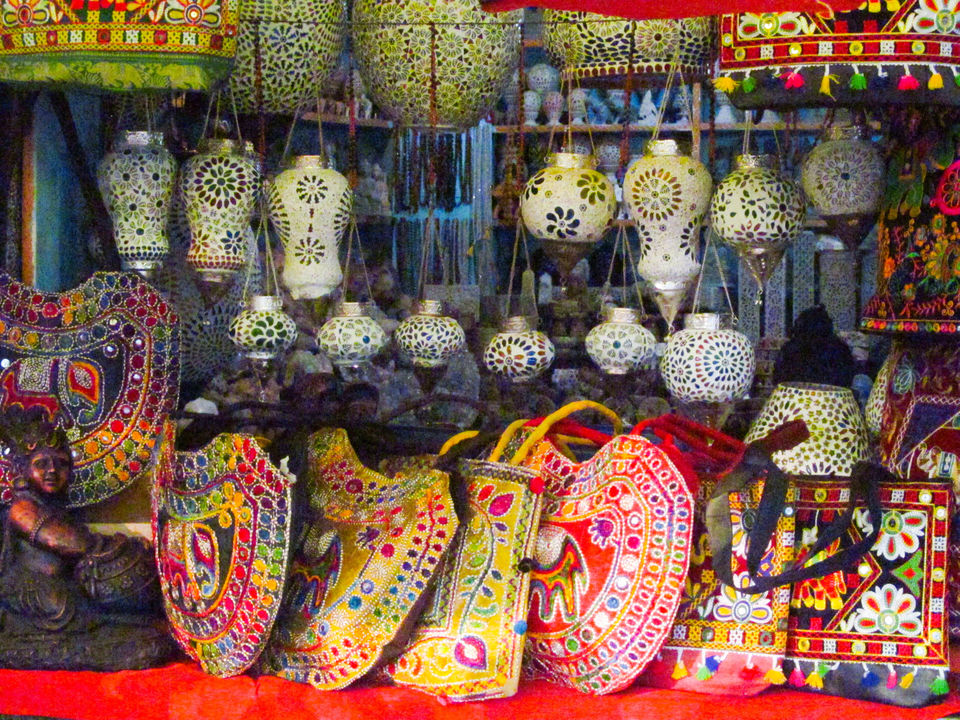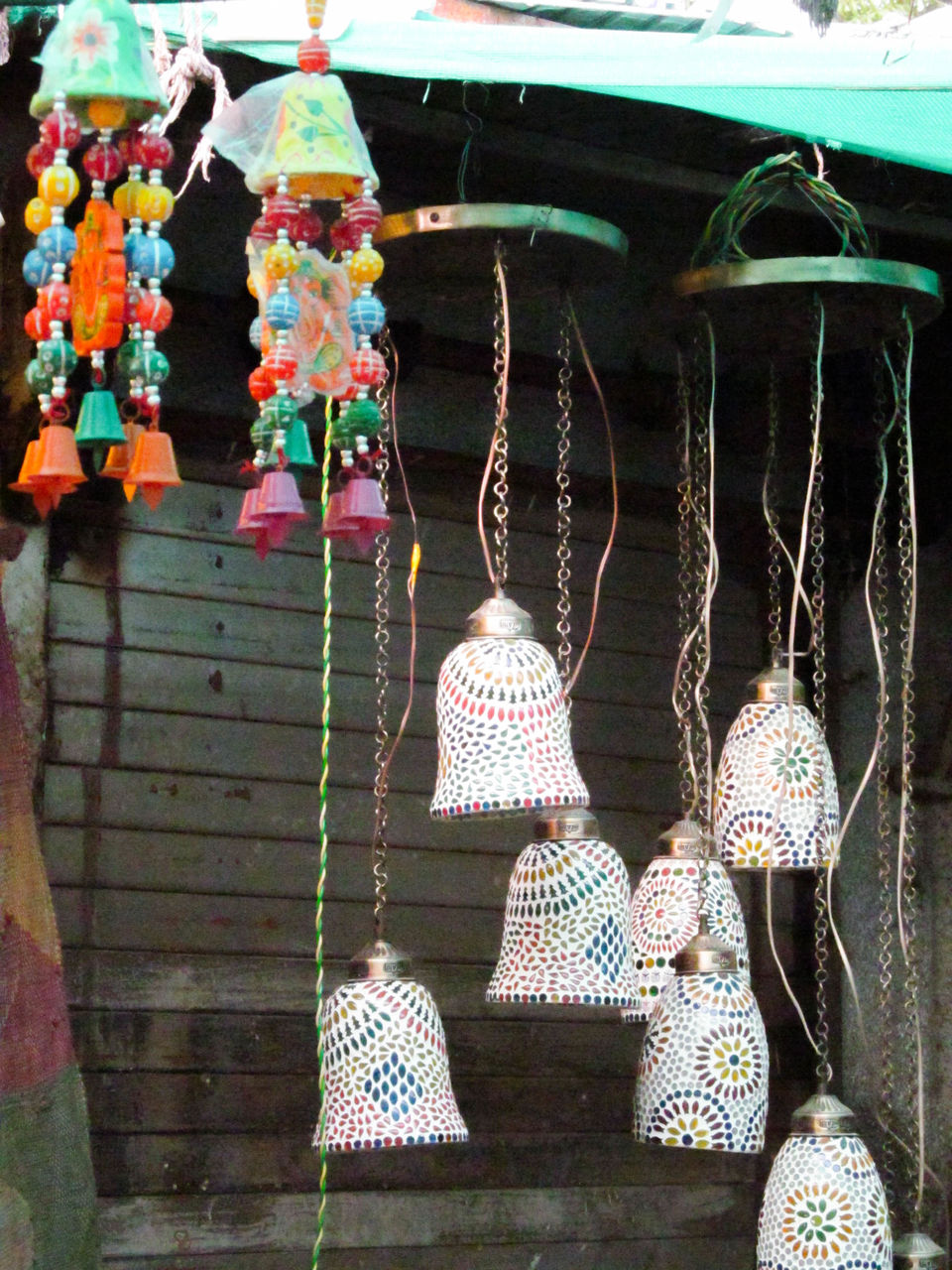 P.s: The place is visited by tourists and researchers alongwith pilgrims from around the world. This place should be in your bucket list. It has a dedicated research center and center for its conservation nearby. When I visited in 2020, roads for Ajanta was quite in bad condition and maybe repaired now.
Beware of locals who try to sell the souvenirs in high prices and try to lure you to buy them. Negotiate and bargain to get good prices of the crystals and others items. They start from Rs 30. The facilities for washroom, eatery, hotels and transport are good. Please carry your own water and some snacks while walking through the caves as it takes time to enjoy them. Shoes are not allowed inside. Guides are available for proper information. And lastly don't miss the waterfall hidden in the corner which will be the bonus. However, to reach there you have to climb quite a height. The trip can be completed in one day but for complete immersion go for two days.
Here is the surprise shots..