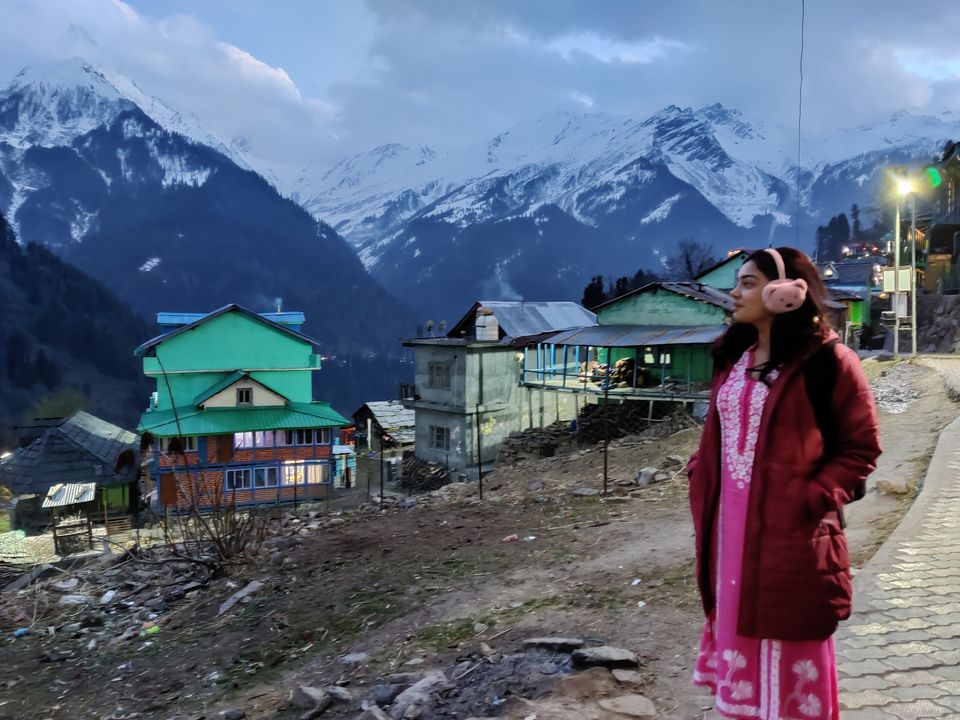 Have you ever gone to a place and fallen in love at the first sight?
For me, Tosh was such a village. The evening light had just touched the sky and a light shade of cyan held the village together. I crossed the bridge that led to this picturesque village, and I was undone.
Situated at 2,400 meters (7,900 ft) in elevation, this vibrant village is truly a gem of Himachal Pradesh. My eyes reflected the colorful houses and the smell of freshly steamed momos entered my nostrils as I began to hike up this quaint hamlet.
I took a right turn and let the narrow streets guide me. The villagers were awfully quiet, not sure if that was a regular thing or it was just one of those evenings. I had a particular café in mind that I had to get to, as suggested by the people who had been here before.
Pink Floyd, they said would be a treat to indulge in. So, I just came here, to this village, with no expectations and I guess the most memorable experiences begin with no set plans.
So, yes, Pink Floyd. I began to walk towards it. I used no digital maps, but asked the villagers to guide me. Call it luck or just mere coincidence, a certain café intrigued me on the way.
Shalom Café was a hippie little place right at the beginning of Tosh. Its inviting vibe was accentuated by colorful flags, dream catchers and other quirky décor.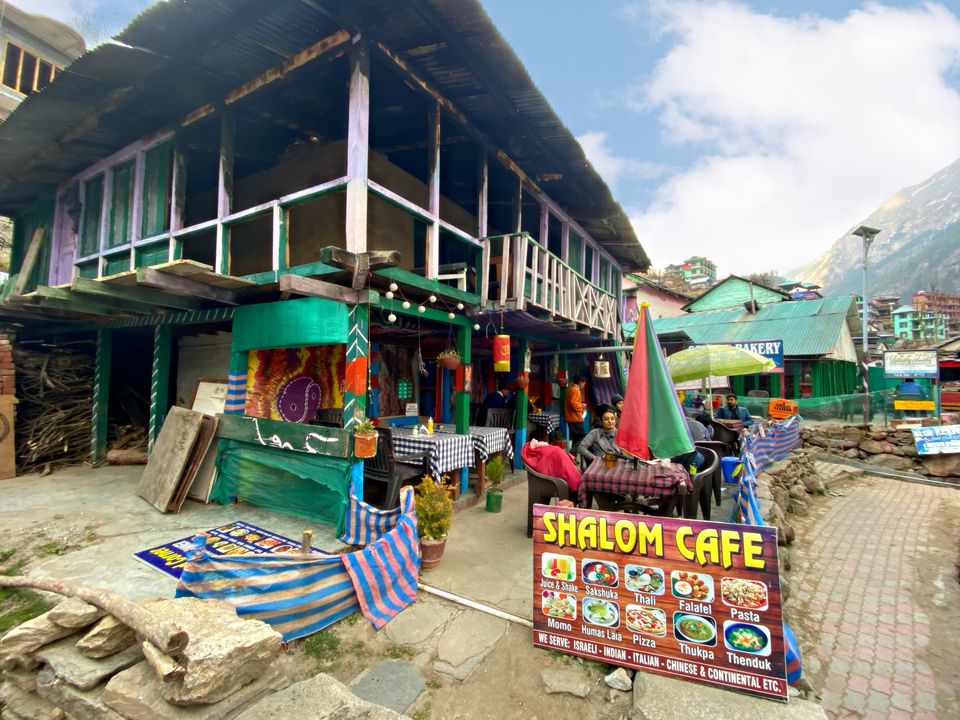 Things to eat: thupka, momos, desserts
What was more special about this café was the neighboring house. It had murals that you wouldn't be able to take your eyes off. Also, the people who lived in that house looked so happy that I mirrored their smiles without realizing it.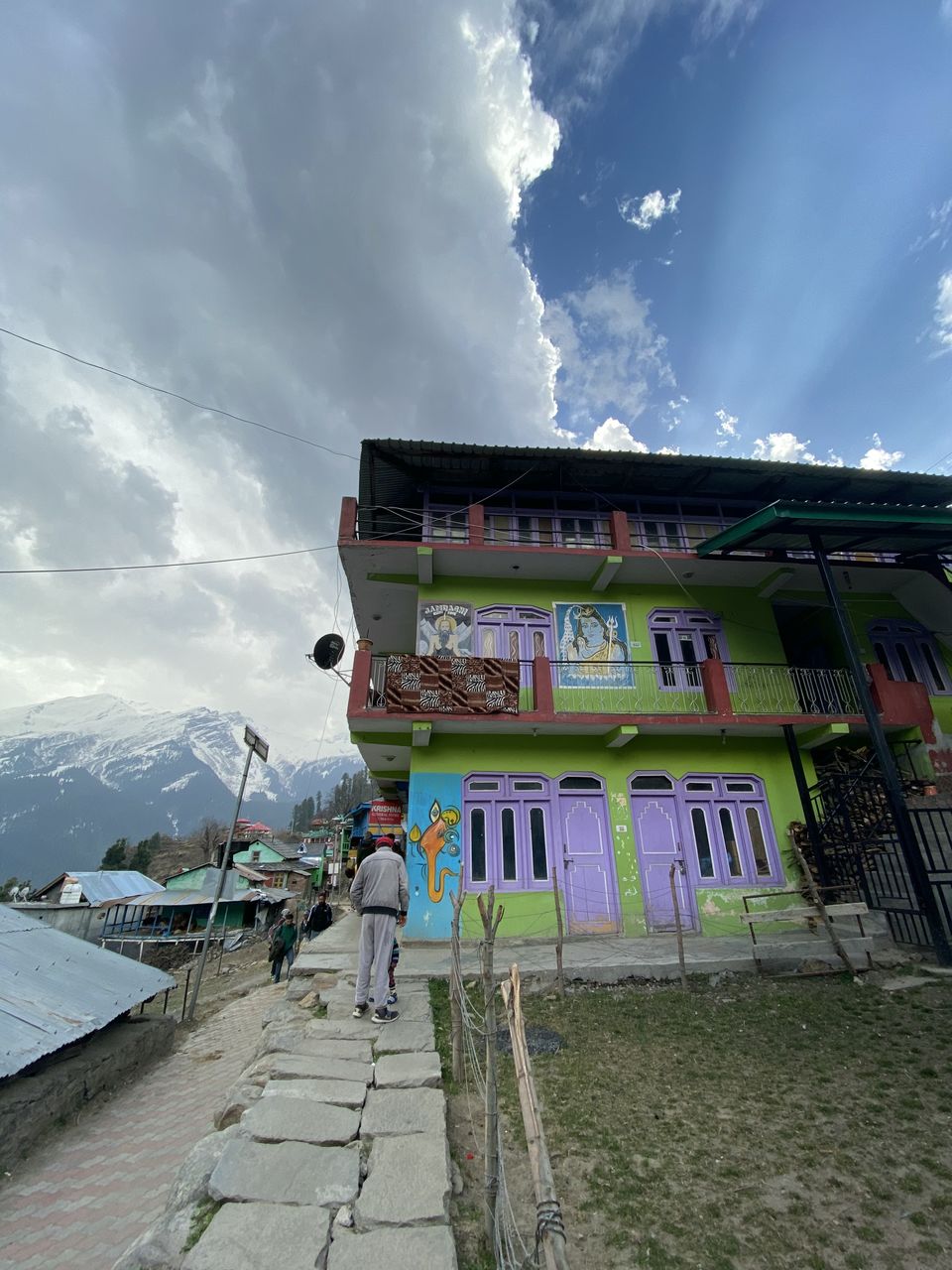 Walking around the village
After I completed my hearty meal, I began to hike up the narrow stairs that led to the center of the village. A neat wooden temple stood right there with an open space for prayers and gatherings. I found a few naughty kids in colorful clothes playing with a dog and sticks. They laughed and tried to pursue me to play with them.
Vibrant houses surrounded the center with dozens of wooden logs collected for the snowy winters that enveloped this city during the winters. I always used to think about what people in villages spend their ample time on.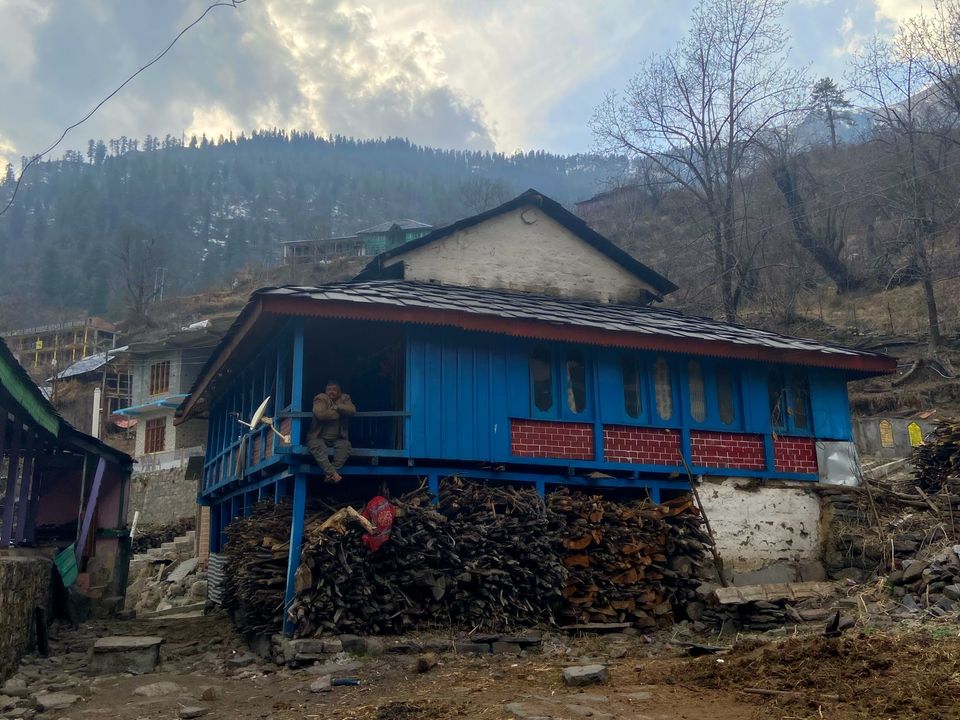 On a balcony of a blue house, I saw an old man just looking blankly in the open space. That's when I knew, life was slow here, and the people truly embraced the fifth element of the universe, the void.
I kept slowly moving towards the Pink Floyd cafe, again and again turning around and looking at the snow-clad peaks.
A cafe with surreal views and great food!
Finally, after a thirty minutes of ascending, I could see the big banner that read "Pink Floyd" and I kept walking towards it. A small steep slope leads to the cafe. I was a flight of stairs away from the cafe when I turned around to see the whole village of Tosh neatly placed under the cyan sky.
It was getting cold, I zipped my puffed jacket and entered the cafe. Huge clear windows, colorful rugs, and different types of cozy seating were what this popular cafe was composed of.
In a far corner, the fireplace kept the whole space warm. I felt engulfed in a hug as a took my place on the first table. It had a view of the whole cafe as well as the pleasant sky outside.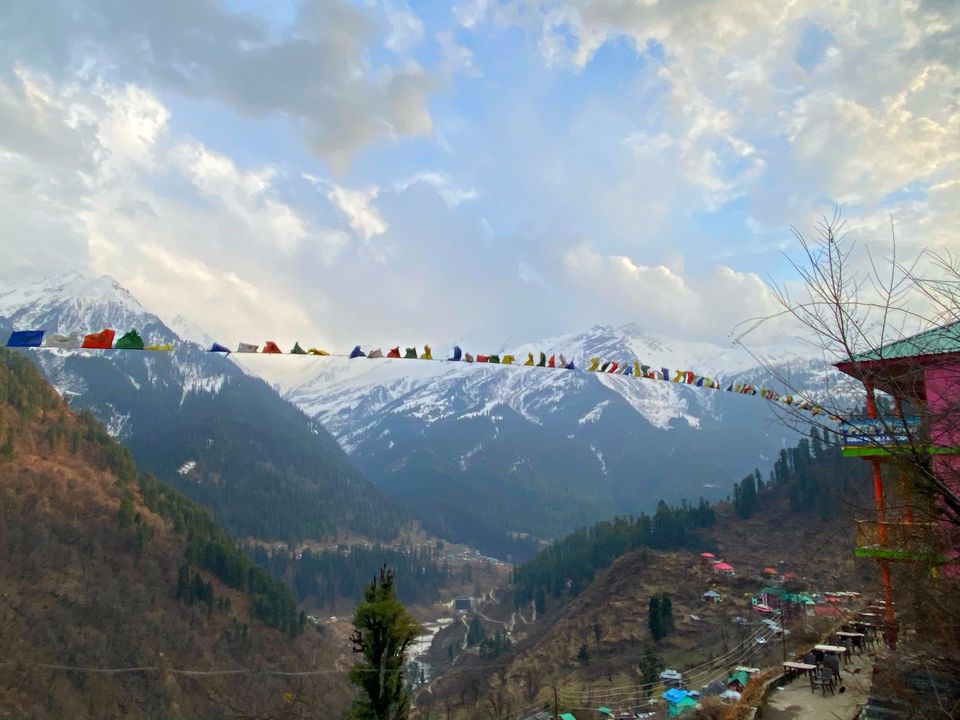 Things to eat: brownies, mousse cake
A few hours passed by and I exchanged a few laughs with the man who served us. There, the silence didn't feel awkward or loud. It was the quietest evenings I had spent in Himachal.
Our car was waiting and I had more places to move on to the next day, so unfortunately it was time to leave from this poem of a city called Tosh.
While I enjoyed my cup of hot coffee in the pleasant cold outside, the sky dispersed into several shades of blue and green. I started going down the steps and at each turn, I paused and looked at the sky, each time a new shade added to the mesmerizing canvas of the sky.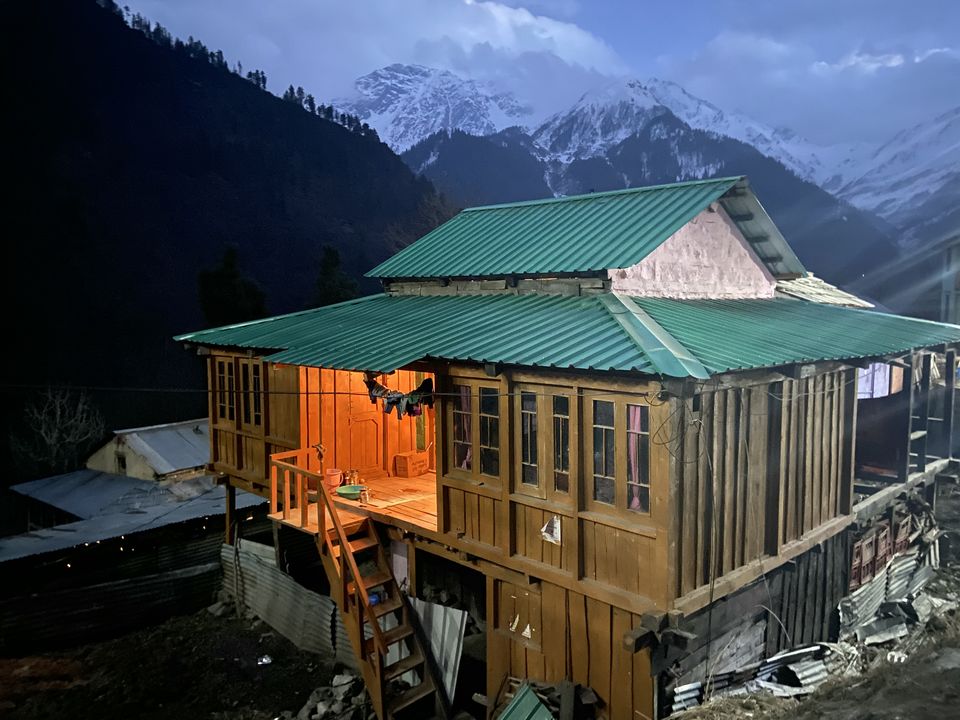 At an intersection, the above house caught my eyes that had the perfect setting of my dream house. So many stories lived in them and so many I could imagine by just looking at this abode.
Long, narrow gutters guided us. I also asked a group of 3 siblings who were going towards their house to show us the way. While the growing darkness of the sky worried me, the whole way these kids were having fun while they followed each other like a train (a game they were playing).
We almost took a wrong turn, that would lead us to the opposite side of where we were heading, but the kids showed us the right way. I then finally reached the Shalom cafe and then swiftly back to the bridge where Tosh began.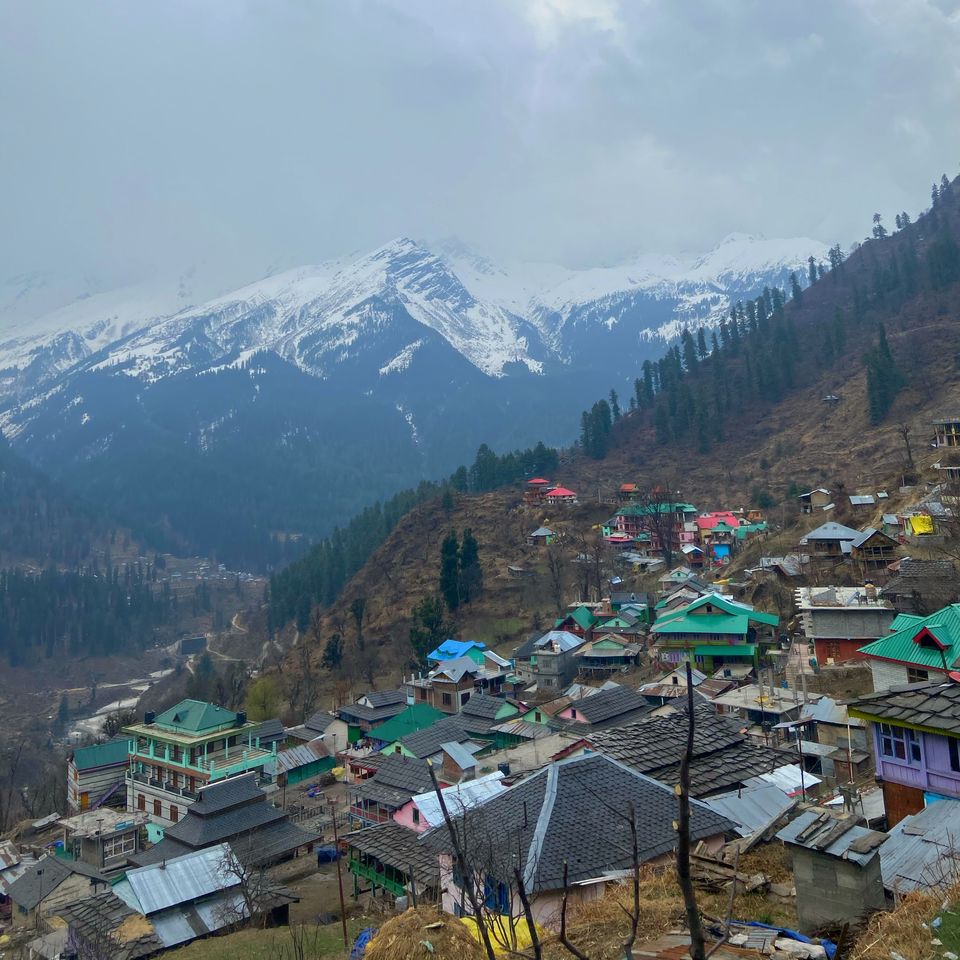 I again turned around to look at this village, now enveloped in a pitch black sky. Then thanked the village and villagers for being so kind. As a cluster of stars became the only guiding light for my eyes, I walked back to the car. I left the village behind, and as souvenirs I was taking back this one peaceful evening with the carefree touch of childhood and sunset so stunning, it drenched my heart in all shades of blue!
How To Reach Tosh
1. Start your journey from Kasol
2. Take a bus till Barshaini, and hike up to reach the starting point, a small bridge where the village begins.
3. Rent a private car that directly takes you to the starting of the village, then hike up.
Where to stay
1. Pink Floyd (economical + best view)
2. Pinki Didi's Cafe (expensive + 360° view)
3. Whoopers Hostel
4. Nomads Hostel