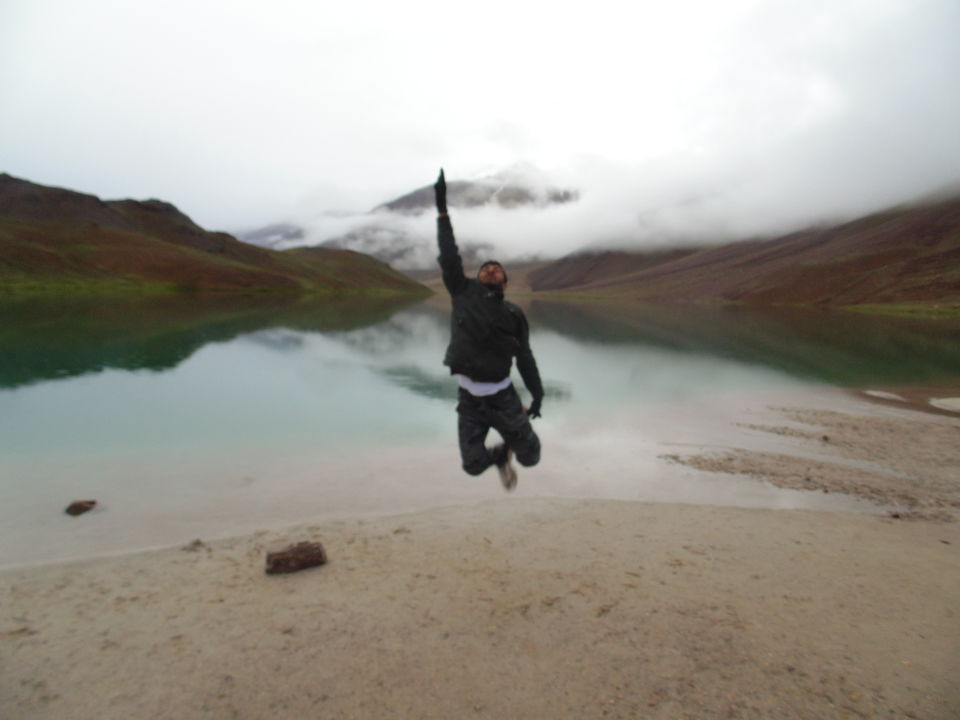 Hello everyone,
This is my first blog on Tripoto. I have been a regular trekker from the past 5 years. I did my first trek in 2012 to Nagtibba and since then I have not looked back, covering various treks and other adventure activities in different parts of India. This time I along with two of my friends planned a bike trip from Manali to Kaza but fortunately or unfortunately it couldn't be completed due to the unreal demands of the bike rental owner. So, we on the spot changed our plans from the bike trip to trek to Chandra Taal. I have tried to write down my experience of the same. I hope you like it.
Day 1-
We started our journey on 25th June 2017. One can go to Chandra Taal by two ways, either from Manali or from Shimla. The buses are easily available for both Shimla as well as Manali from ISBT Kashmiri Gate. Also, one can book buses from HRTC online website as well as from Redbus or Paytm. However, I would recommend going by HRTC as sometimes private buses get cancelled.
We took the Manali route. It is a long journey of 15-16 hours from Delhi. So, I would recommend taking a comfortable Volvo for a smooth ride.
We reached Manali by 2 pm on the next day. We had already booked a hotel at Vashisht which is 3km from the Bus stand. We chilled in Vashisht on that day exploring the famous Vashisht temple where hot spring is there.
We booked a cab from Manali on per seat basis to Batal. The best way to explore Manali and nearby areas including Spiti valley is by bike, but the rentals here are not that good. So, a personal vehicle is highly recommended.
Things to do-
1. If you wish to go to Rohtang pass or Spiti or Leh, then get a permit online in advance.
2. The rentals are costly as well as have various conditions such as they rent bike minimum for 4 days and minimum 3 bikes and other conditions varying from person to person.
3. The best way for a budget trip is to take an HRTC bus to BATAL and do trekking from Batal. The bus leaves early in the morning around 5-6 am.
4. If you miss your bus, then go to Hotel Kiran near SBI bank. You can get a seat in a cab. All other options will be costlier.
One must visit place is old Manali. It is 2-3 km walk from the mall road and calm and peaceful place to hang out with friends. There are awesome riverside cafes where you can enjoy your soup or drink.
Cafe 1947
On day 3, we started early morning to Batal. Batal is good 120 km from Manali. It is advised to leave Manali by 6 in the morning because there is heavy jam at Rohtang pass crossing. Once you cross the checkpoint, there is a smooth and scenic ride for the next 30 km. After that, the treacherous, as well as adventurous ride, started which lasted for 4 hours. Literally, there is no road and the car moves entirely on a kutcha road which is made worse by the nallahs. So, amateur riders are not at all advised and even experienced rider should consider wearing all the guards. Raincoat is a must as the weather is quite unpredictable.
A glimpse of the kind of road
After we reached Batal, we had our lunch at the Chandra Taal Dhaba run by Batal Chacha and Chachi. The food was delicious. The camp for Chandra Taal is around 8 km from here. We started our trekking at around 5. We were lucky that we got another cab ride which was going to the camping site itself. It was a joyous ride in an open jeep. We reached the camp and stayed there at the Tanzing camp. The guy is good and provided good service. The per head cost for stay as well as dinner and breakfast was Rs 1000.
Our Tent
We started trekking to Chandra Taal early in the morning at around 5 am. At this time of the season, there is sufficient light at 5:30 in the morning, so no torches were required. We reached the lake in an hour or so. Finally, we were on our destination. The journey to it was hard and tiresome but it was worth it. The calm and serene view of the lake made us forget all our tiredness. We stayed there for a good half an hour, clicked some photographs and then returned to the camp.
Lake Chandra Taal
After having a breakfast of bread toast and a cup of tea we were on our way again by 8:30 and walked all the way down to Batal and had some light food at Batal chacha again. We took a ride back to Manali in a local traveller bus. It was a whole family which was going from Spiti to Keylong on a marriage ceremony. The driver agreed to drop us in the midway from where we could get the other bus. We interacted with the local people and they were very cool singing and dancing all the way on the local songs which we didn't understand a word. They also offered us food and local beer(desi) called Chung. I didn't like the food but beer was awesome.