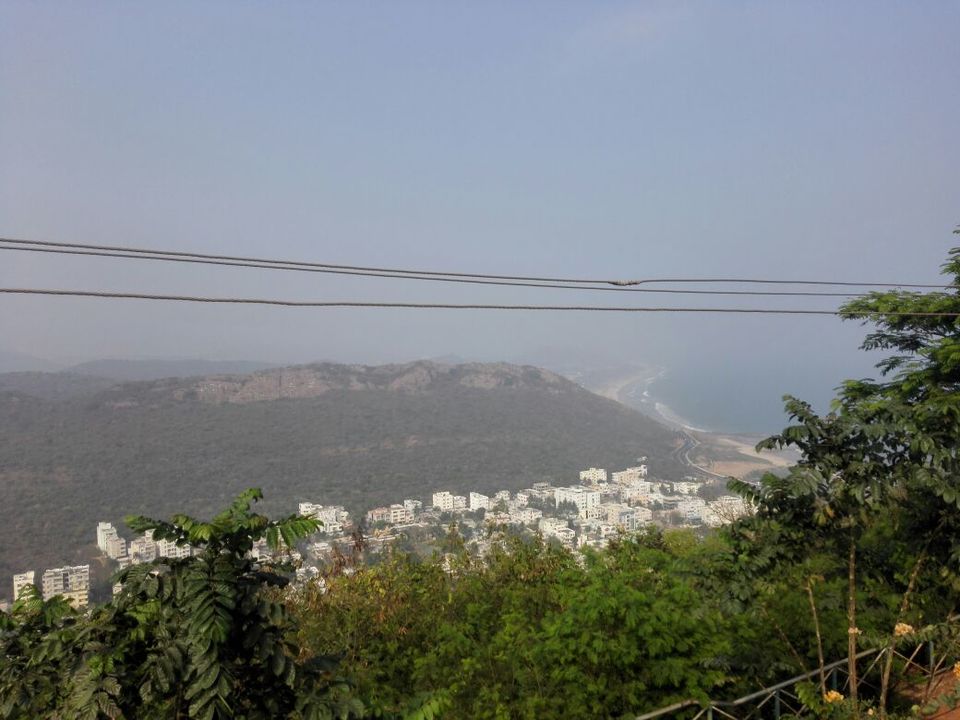 So, Vizag it is!!!
After a hefty discussion with my girlfriend, we finally narrowed our options down to the financial capital of Andhra Pradesh also referred to as the Port City and the headquarters of the eastern naval command of the Indian Army.
I always dreamt of visiting this enticing place so as soon as my wanderlust girlfriend proposed for a "To Hell with IT" break, I almost immediately seconded her and we were ready to explore this gem of a place.
We travelled in the month of Feb so the weather was quite pleasant, the sun was neither too scorching nor it was a time when rain can really dampen your spirits. There is a direct connectivity from Hyderabad to Vizag via bus, train and flight. We preferred flight because we did not wanted to spend too much time travelling and then be fatigued. We booked our ticket 1 month in advance so we got a pretty good deal as far as flight tickets expenses are concerned (and not to forget, that moment when you fly over the vast blue infinitely expanded waters, it struck your eye in awe).
Day 1
We reached Vizag at around 8 in the morning amidst an exceptionally pleasant weather, considering it was raining fire in Hyderabad. Being a tropical place, there was some amount of dampness in the air but not enough to make you sweat. So, I recommend to travel Vizag, November – Feb starting is a good time. We straightaway reached our hotel which was situated at Dabagardens Main road. It is relatively an urban location so there was lots of shops where you can pick up stuffs for your needs.
Tip for travelers – If you can ride a motorbike, Vizag would be an unforgettable experience to explore.
We booked an Activa for 350 Rs. per day and started zooming around. Our first destination was RK beach. The roads in Vizag are pretty good with less traffic so we reached there comfortably. The road adjacent to the RK beach was amazing so we had an awesome time riding the bike alongside the coast. However, RK beach was nowhere what we expected. It was littered with garbage everywhere (the cons of a beach near to the main city). We managed to find ourselves a place near to the shore on the rocks where we sat for some time and breezed our faces. After clicking some pictures, we headed towards the INS Kursura museum which was situated on the RK beach itself. It was an actual submarine, now decommissioned and converted into a museum. We took a tour inside the submarine and witnessed its complex machinery. Our tour guide very enthusiastically explained the functioning in Hindi to all the tourists. It was a proud moment witnessing something so historical and we saluted the bravehearts who spend their lives living inside that deep into the ocean. We then stopped for lunch at a small beachside restaurant and then continued towards Rishikonda beach. Rishikonda beach was better compared to RK beach with fewer crowd and cleaner waters. The road towards Rishikonda beach was excellent and we stopped at few places to click pictures. On reaching there, we drenched ourselves in the tidy waters and had a fun and frolic time. There were some water activities going on like banana ride, Speed boat, etc. My girlfriend took a Speed boat ride by paying 350/- Rs. We strolled on the beach for some time and had a look at few of the beachside shops. There was nothing extraordinary to buy so we left from there and came back from there to our hotel to end our day.
Day 2
Day 2 started with a trip to Yarada beach which was too far away from our hotel. Yarada beach is one of the best beaches of Vizag. It is pristine and the tides are also enjoyable. The way to Yarada is a bit hilly and remote though and you need to drive carefully and sensibly to reach there. We did not find enough tourists on the way so we were a bit hesitant in making our way towards the beach. On reaching there, we found few tourists bathing in the gushing waters. The tides here are a bit violent as compared to other beaches in Vizag so be careful, however there are coast guards who would ensure the safety of the tourists.
Tip for travelers specially girls – Avoid wearing short or raunchy clothes here as there are lot of onlookers giving dirty looks. So, be careful from the safety point of view. Also, try to get back from here before 6 as it could be a bit unsafe (or at least what we felt!).
We stayed here for an hour and since the tides were not very apt for swimming, we avoided taking a bath and just sat on the beach for some time. After that, we came back to RK beach for evening snack at Tea Trails. It was a nice experience with relaxing ambience and nice view of the sea. Even the food was delicious here. We came back to our hotel and our day came to an end.
Day 3
Day 3 started with our trip towards kailasagiri. It is a hilltop park situated opposite Rishikonda beach. We took a cable car to reach on the top of the park and saw one of the most magnificient view of Vizag. The Rishikonda beach and the sea waters kissing the shores deemed heavenly from the top. It was a view to behold and we stayed there just gazing at the vast expense of clear blue waters. We took a tour of the park and clicked pictures here and there. There was a statue of Lord Shiva and Parvati at the end where we clicked few pictures. We came back from Kailasagiri and then again went to Rishikonda beach for some swim as the tides were apt there for swimming. We came back to our hotel as it was already late and then we went back once more towards RK beach for a last sunset at Vizag. We ate dinner on one of the countless restaurants overlooking the beach and our trip ended with a late night stroll on the beach accompanied with an ice cream.
We took an early morning flight back to Hyderabad and concluded our wonderful and laidback trip to Vizag.
Summary – Vizag is a beautiful place and a must visit for a bucket list in the country. It offers you more than just beaches and when I say that, I mean it. Explore Vizag on a bike as enjoy the path it offers. For Vizag I would say that the journey is more beautiful than the destination.
Hasta La Vista 