When in doubt, travel to Jaipur. I say this because Jaipur has left me spellbound. Jaipur has fed my shopaholic desires, it has fulfilled me spiritually and it has successfully pleased my eyes with its historical places. Here I give you a glimpse into my 2 day tour of Jaipur, Rajasthan (India).
Day 1:
Amer Fort -> Hawa Mahal -> Jantar Mantar -> Tripolia Bazaar
I initially planned for Nahargarh fort and even had it as my destination while using Ola Cab services but thankfully Google informed me that the fort was closed. It is closed on all days except Tuesday.
So I decided to choose Amer fort instead. I didn't opt for daily tours since I wanted to explore Jaipur on my own. Also, if you want to save money, take your own car, you can even take it to the top where parking area is available. But yes, you should be an experienced driver.
You need around 1 hour and 30 minutes for the fort and then you can head to the Hawa Mahal. Use a shared auto, it will charge Rs. 50 per person. You can fulfill all your shopping desires on this road where Hawa Mahal is located. Jantar Mantar is at a walking distance.
For lunch, choose Midtown Multicuisine Restaurant. Do not forget to order "Gatta masala".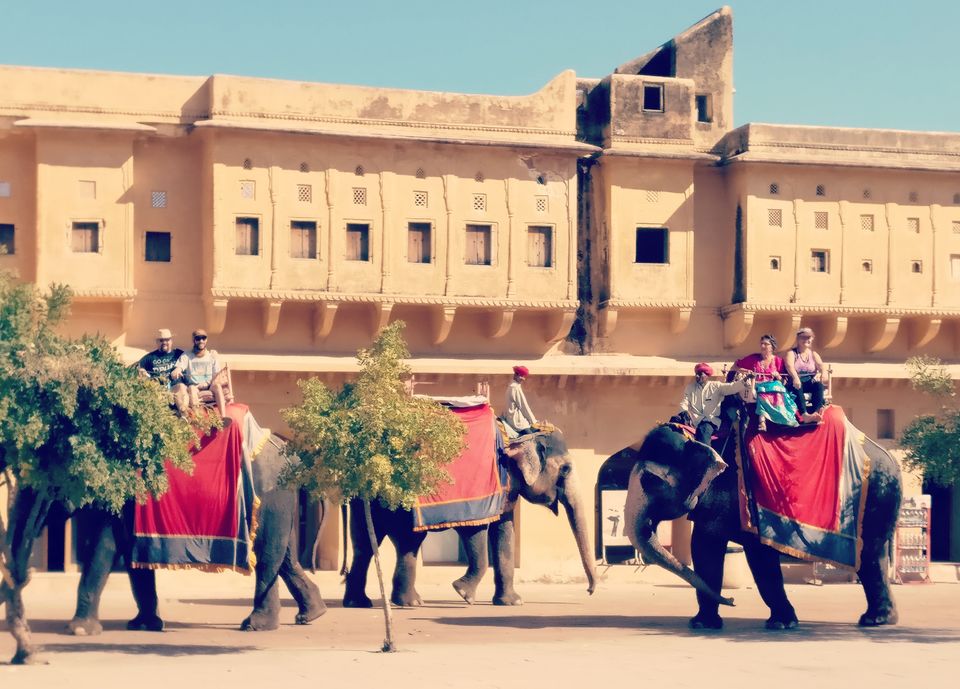 Day 2:
Moti Doongri Ganesh Temple -> Albert Hall Museum -> Dolls Museum -> Tapri -The Tea House
I started my day spiritually. Head to the Moti Doongri Ganesh Temple and do not forget to tie a thread while asking God to grant you a wish. Whether it gets fulfilled or not, the best part is that you do not have to re-visit in case your wish does come true :P
The famous Albert Hall Museum is located just 1.5 kms away from the temple. Choose an auto/rickshaw depending on your convenience. Let me tell you everyone knows about this museum and no one knows about the Dolls museum. On your way to the Albert Hall Museum, keep an eye on the opposite side of the road and you will be able to locate Dolls House or else there is "Google Maps" (a true blessing). I insist that you visit Dolls museum, no one goes there anymore. It is very small but I think you will love it. I am putting up a picture of the same and I leave it to you to decide.