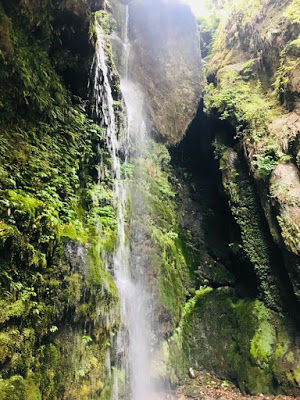 As a kid, I used to look up in the sky and ask for wings to fly up to the mountains and wish they will call me one day to make me feel alive and on top of this world and Today , here I am standing at the top of the mountains and appreciating the majestic panoramic view of mesmerizing Himalayas and believing in a quote that Yes " Dreams do come true". Undoubtedly, I was living my dream standing amidst the mountains, wandering into the mystified and beautiful landscapes, walking into the woods, besides the Tirthan river.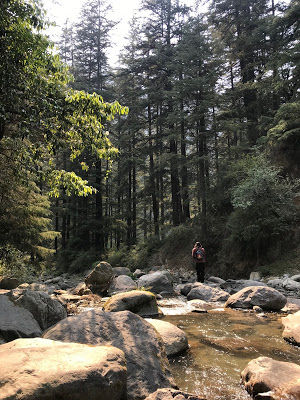 It was the moment when after hoping around the world, my eyes were gazed looking at Tirthan Valley and it gave me the feeling that my dream has been sketched and nature is my artist putting everything alive right in front of me in more wondrous ways than ever. I witnessed things what ancients would have called miracles, but unfortunately they are not miracles, It was a product of my dream and this only happens when you crave badly for it. Undoubtedly I was just a molecule around those tall sheltering trees but I am reliving the best days of my life.
There were beautiful clouds below and above me, and there were mighty mountain peaks emerging from those clouds all around. The peaks shining in blue sky among the white clouds looked like glittering diamonds. The view of the large lush green meadow surrounded by mountains under blue sky circling the horizon has put me in a state of tranquility. As the sun started drowning in the horizon, the sky had began to boast of its mystical colours. The beautiful mix of pink, orange and red looked like creating a perfect twilight saga. And there I opened my both arm and took a deep breath to entwine myself with the nature.
Raising myself towards the moon made me to sense the flood of memories which I wanted to long unleash. The cool breeze around the valley lifted me up. I closed my eyes and breathed deep as if I wanted to let myself know that I was finally there. I was in joyous mood for I was living my dream. The feelings kept rolling up and down within me while I was waiting to unleash the memories that I was storing within me.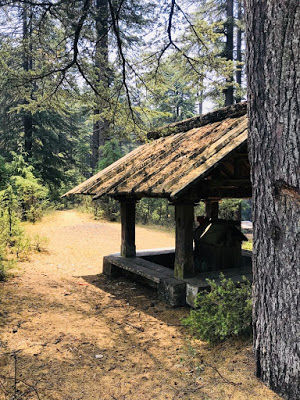 It's not a usual feeling when you wake up to a breath of fresh air gushing through your face after tiring overnight journey in the bus from Delhi. But that was the moment when I left all the fuss behind and entered a different world altogether. What I see is that how tiny place I occupy in this world, and this Tirthan valley jaunt is widely turning me into a storyteller.
To enter the Tirthan Valley one deboards the bus at the Aut tunnel. Here on, one might want to worry about the world that one leaves behind or one might want to miss the pizzas that fattened the tummy, or maybe one might want to search for networks in their phones, but it's not for long before one forgets all this. Sooner one finds oneself in the orchards of trees, apricots, almonds, streams of fresh water along the way, and fields lush with the cereals and vegetables that have touched sky high prices in the city where one comes from. The entire route is quite panoramic, with Tirthan river and Beas river flowing along the road. There also comes a point where both the rivers meet each other, and the magical views is a must do when coming to Tirthan valley.
One can do a Tirthan Valley home stay, like at the Mudhouse experiential hostels at Jibhi that I stayed at, a popular mode of accommodation in this beautiful valley. It is like an experience where most of us aspire to have a home in the hills, along a beach, in a remote village, a small cottage with a lawn and a kitchen garden to feast on, an open space for our pets to run around. The homestays in the Tirthan valley offer that very experience of unwinding in a lovely setting as guests to warm, friendly people, who have opened their traditional as well as modern homes to guests. They are scattered in various parts of the Tirthan Valley and they are a great way to mingle into the culture of a region, explore nature in its raw form, and a great option for an extended budget stay.
So this valley definitely assures one to be rich and a free bird for the next few days.
If one really stands for the crazy ventures on the trip one is onto, here in the Tirthan Valley one can try fishing here, which requires taking a permit which costs 100 INR, a fishing rod that one can rent for 500 INR, and tons of patience, most importantly. It took me approximately 4 hours and still was unable to catch any trout. Here, I started from upstream and walked all the way downstream searching for fishes. It took me a lot of energy and patience, but nevertheless, I'll have another experience to share in my bucket list. Jumping over the rocks, standing still amidst water and watching for the fishes patiently, is worth an experience I gained at Tirthan.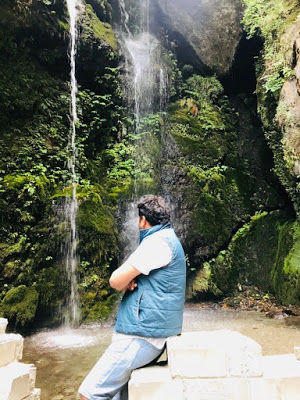 The visit to the waterfall is a must do for all coming to this valley. It's half a km walk as one feels majestic gazing at the panoramal sceneries, feeling the air gushes crossing the body, hear the chants of the animals and birds around, and moistened one's skin in the water vapours erupting from the waterfall. This waterfall is definitely one of the many highlights of the trip to Tirthan Valley. The magical walk is steep at places though one is bound to be rewarded with the hidden jewel.
Exploring the Tirthan Valley further, there is Jalori Pass comprising of a drive and a trek. The drive to Jalori pass crosses the quaint villages of Jibhi & Ghyagi. Though only 10 km from Tirthan the drive easily takes around 2 hours as there is a steep incline towards the pass. From here one can either venture into the depths of one of the biggest oak jungles towards Serlosar Lake or trek to the highs of Raghavpur Garh.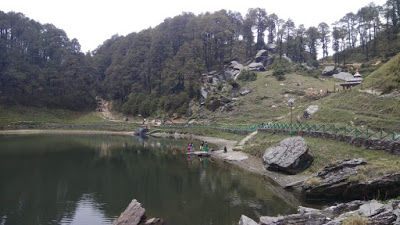 I ventured towards the Serlosar lake from Jalori Paas, the most amazing adventure is the 5 km trek to this beautiful lake. Serolsar lake is also a pilgrim site for the people local people as they pray over there, located at about 3,050m. This lake offers tranquility and has been known for being the seat of local goddess Budhi Nagin. Pilgrims walk around the lake, pouring an unbroken line of ghee. This is one of the good camping ground with small caves to explore. The area is surrounded by dense forests interspersed with meadows of wild flowers and tall pine trees.
The next I experienced was the trek to Balo temple which started from the Bahu Village, another 10 kms from Jibhi. Bus services are easily available to Bahu village. The 2 km trek is an amateur level trek, and provides a beautiful sight of the meadows. There are no directions and signs to reach the Balo temple in particular. There is just one deviation in the whole way from where one just has to move onto the right direction.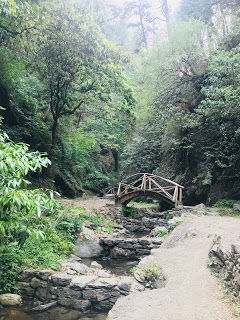 For me to sum up, I would clearly stand right to the remark that the Tirthan valley is one of the most beautiful virgin valleys of Himachal & an amazing destination by the side of the amazing Tirthan river. Treks, bird watching , waterfalls, and a host of other adventure activities are a lot refreshing here.
Mankind has legs, and so he can wander. Being a wanderer, I have come to few quick realisations that whenever I'm somewhere I've never been before, learning goes on all throughout the day, each and every day. Also, it is something like wandering was the only thing that I ever believed in, and the only thing that ever believed in me. While crossing the ways, I've become a strong believer of the fact that my spirit gets nourished in faraway places. Sometimes I wonder if it's a biological need, or perhaps maybe a biological flaw, that compels me to seek the excitement and challenge that comes of being in a place where nobody knows me. I learn the best and most, by happily experiencing, touching, sharing, tasting, believing and wandering into the unknown. I do not remember the exact time and date when the travel bug did bite me, but all I can recall are the days when after school I used to be glued to the black and white television screen to watch the places and dreamt of vi...
"Rome is not like any other city. It's a big museum, a living room that shall be crossed on one's toes." - aptly remarked by Alberto Sordi. Rome, when one comes to talk of it, there's so much about this city. It may be a cliché, but there's no better advice for visitors to the Eternal City than the old adage, "When in Rome, do as the Romans do." This is where la dolce vita originated, after all. London? Paris? Berlin? Zurich? Maybe Brussels, center of the young union? They all strive to outdo one another culturally, architecturally, politically, fiscally. But Rome, it should be said, has not bothered to join the race for status. Rome doesn't compete. Rome just watches all the fussing and striving, completely unfazed, exuding an air like: 'Hey- do whatever you want, but I'm still Rome'. I am inspired by the regal self-assurance of this town, so grounded and rounded, so amused and monumental, knowing that she is held securely in the palm of history. Of course, after m...
I felt my lungs inflate with the on rush of ascetic scenery, lush green lands, the mystifying air, lofty mountains, luxuriant vegetation, native people; and a thought ran within me which said this is what it is to be fortunate and delighted at the same time when I began to discover the parts of me through wayfaring. This has been proven to me time and again that the clearest way into the Universe is definitely by travelling on foot, discovering the locals, nature and everything that comes across the way. The best remedy for those who are afraid or unhappy is to step out of their comfort zone and walk out, somewhere where they can be quite alone with the nature, because only then does one feel that all is as it should be and that nature has remedies and wishes to see people happy, amidst the simple offerings of nature. As longs as this has come to reside within me, and it certainly always will, I know that there will always be comfort for all of my joys and trouble, alike, whatever t...