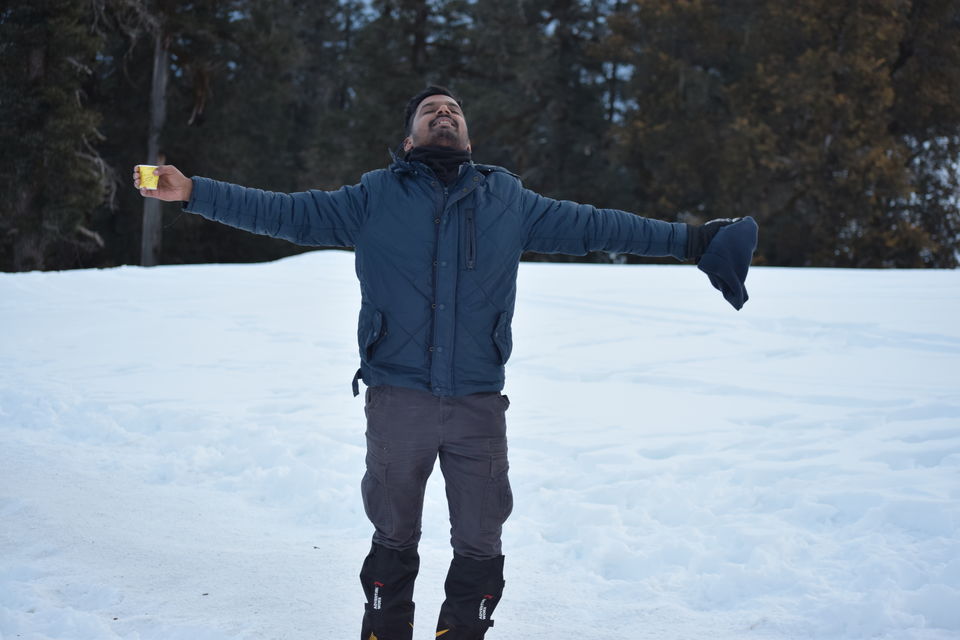 6 o'clock in the morning, standing outside the tent served with a glass full of hot black tea with all the mountains in front of you full of snow, what else you need from life. This used to be everyday morning scenes at this beautiful place.
After doing my basic research on beginner Himalayan treks I found that Kedarkantha is one of the best choices in terms of a winter trek. Although its crowded with people these days. It still comes out to be the best in the lot. As I was doing my first high altitude trek and that too solo was the biggest challenge for me. So I didn't think much before going to India hikes who are pioneer in Himalayan treks and are known for their experience and safety. Although they are very particular in terms of fitness.
Somehow managed to clear their cutoff fitness score. I managed to reach Dehradun for my much awaited Himalayan trek. I met fellow trekkers here and started out journey to Kotagaon which was our base for the 6 day trek.
The journey from Dehradun to Kotagaon is breathtaking as told by out trek co-ordinator. We started around 7 in the morning at 4 degrees and believe me it was one of the best mornings of my entire life. Sunrise at Mussoorie was amazing with prateek kuhad songs in the background.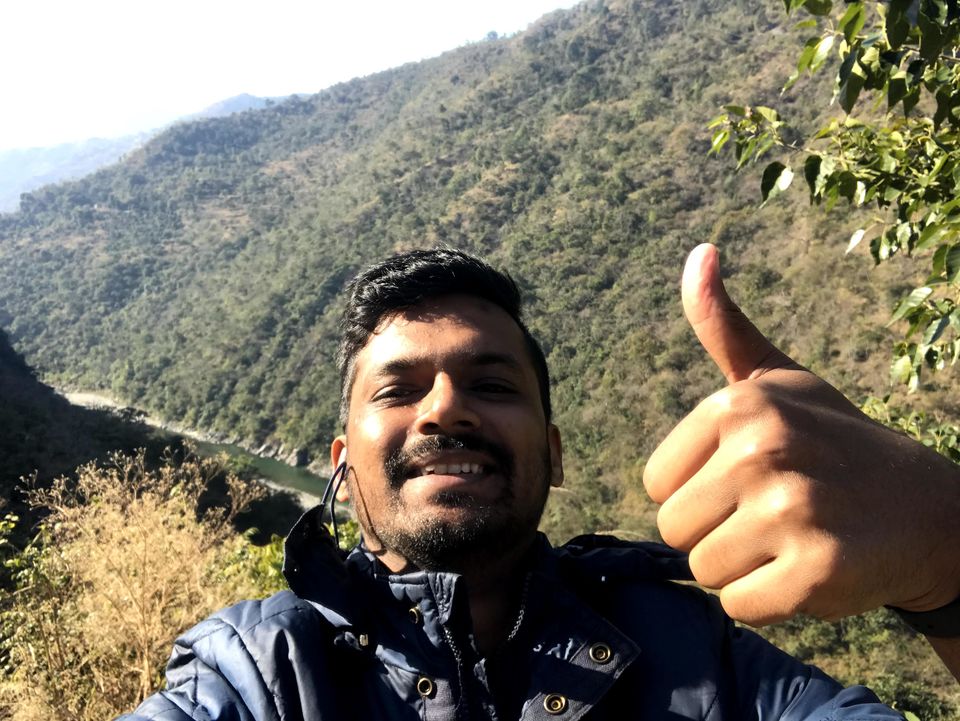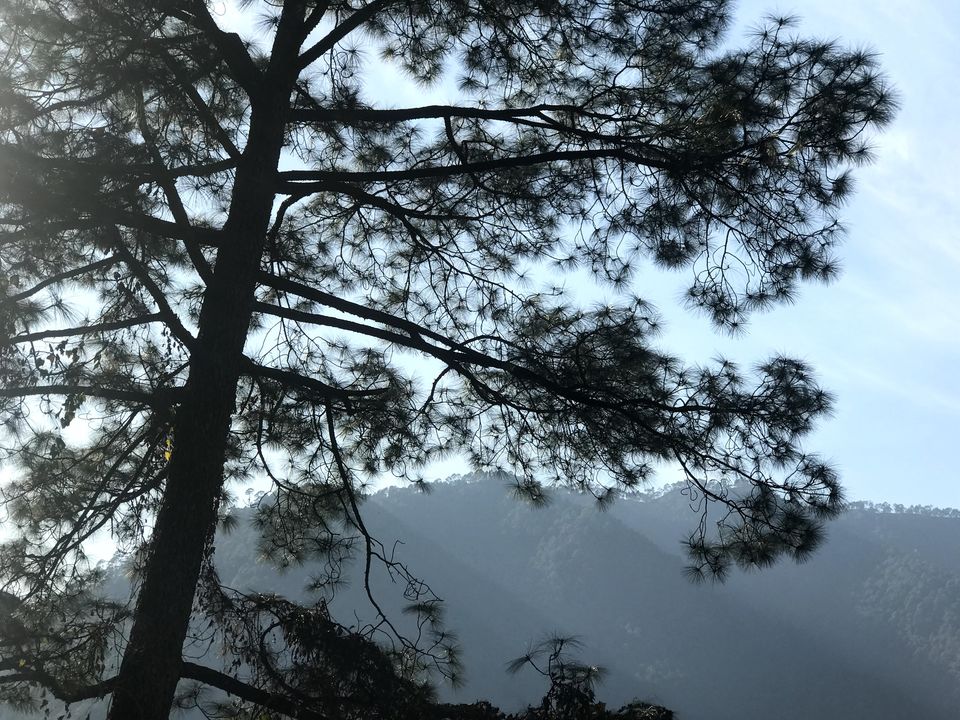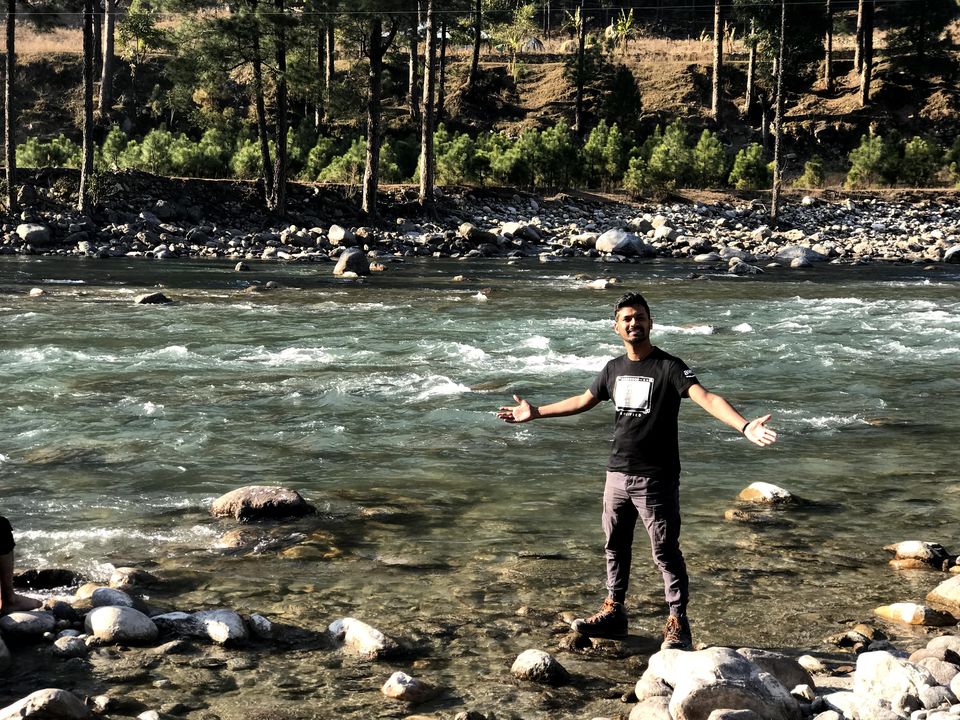 Stopped at a small restaurant near Mussoorie for breakfast and it was a treat to have aloo parathas loaded with butter. We reached Kotagaon by 5 in the evening and just few minutes after reaching there we started to feel the heat of this trek as the temperature started dipping and breath was inconsistent.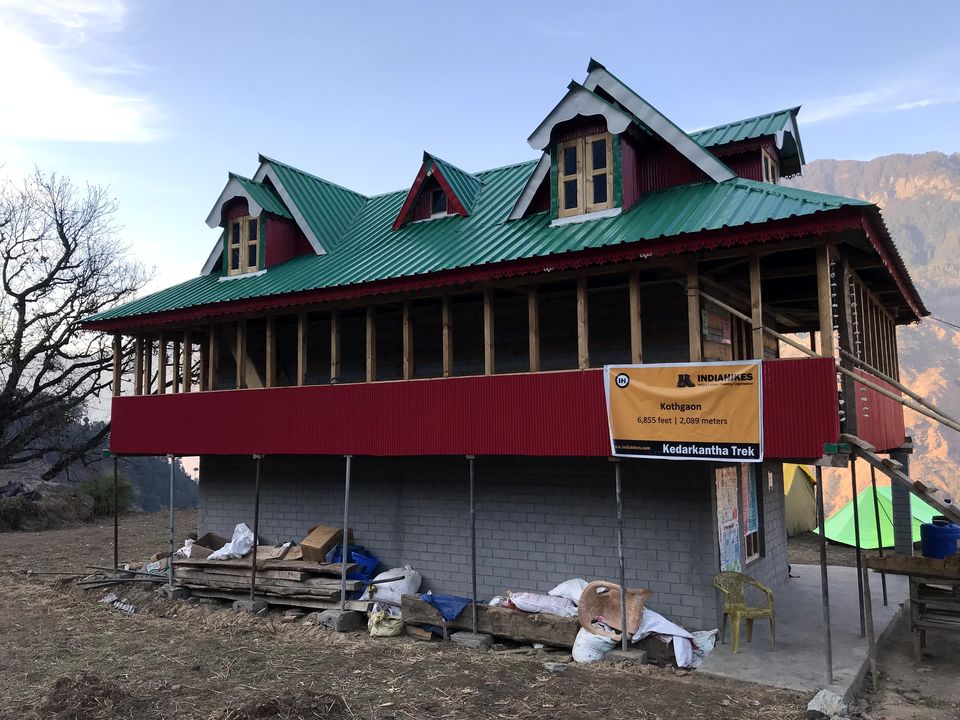 We met Ravi at Kotagaon who was our first instructor for the trek. He helped us understand the trek route and precautions to be taken to avoid AMS. We were allotted 12 bed cozy wooden room where we slept for the night before the big day.
We woke up to the orange coloured Himalayan range in front of our homestay. Got our gears and rentals and started our way to camp 1. Today's trek was supposed to be moderate with climb of 6 km. It was half kilometres of walk on normal road followed by steep trail. All of us were slowly getting to know each other. Ravi told us about various varieties of trees and flowers on the way to Dhaba which was our mid halt point.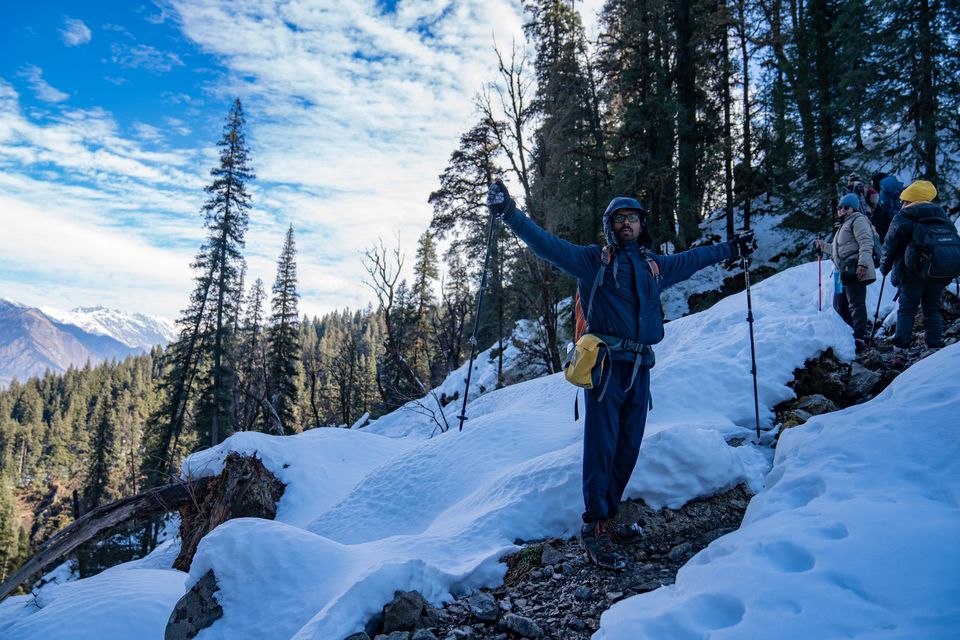 In all these treks one thing is for sure, you will find small food joints in between so that your tummy is full while doing all the hard work. We managed to reach this small joint in good 2 hours and stopped for some delicious Omelette.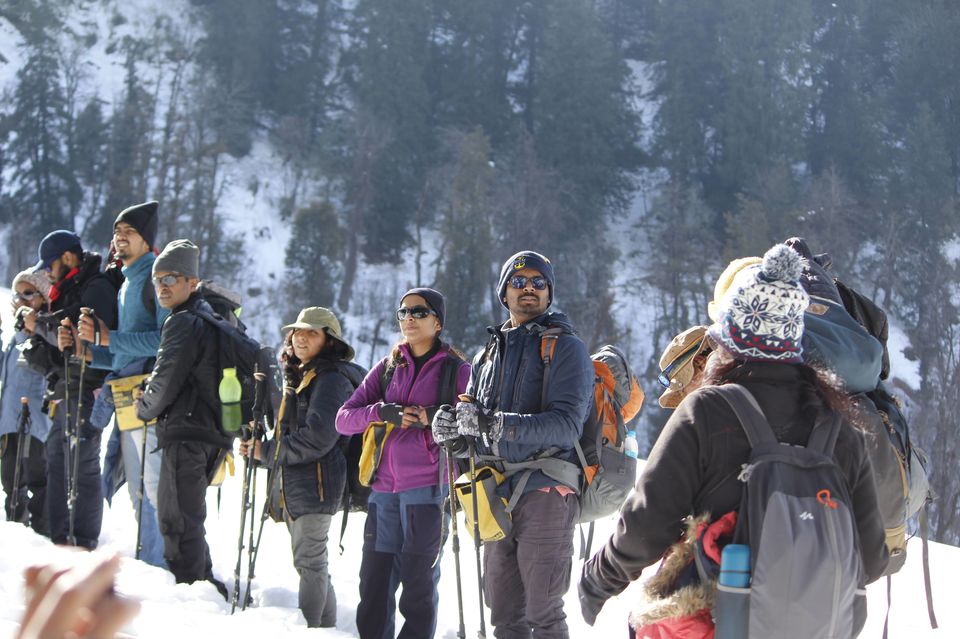 Keep drinking water was all that we learnt for all blogs and trek leaders. So, we all made sure to follow that during our trek. We reached our first camp around 3 in the afternoon and it was at a place completely remote from anyone. To be honest I had a place in mind where we may have people around but ohh man this place was completely remote and you can't even see a single human being all around. But I would say this was one of the best camp site I saw on the entire trek as it was surrounded by pine trees at back and hills at the back.
We clicked pictures and mingled up with each other over our evening snack sessions and slept for the day.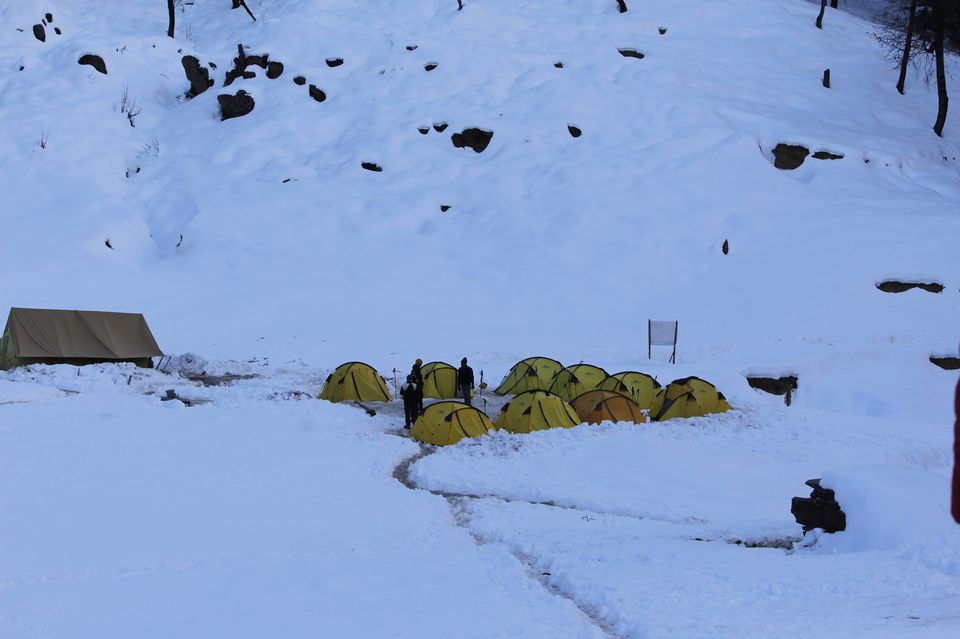 Day 3 was a moderate day as it was just 2.5 km trek as we were heading to Kedarkantha base camp (Udari). We woke up to this amazing view with our regular black tea in our hands.
We did our morning warmups with Tushar sir and packed up for the 3 hour climb. It was clear sunny day and this stretch was full of snow and we had all the time to enjoy this beautiful place. We as a group were quite good while trekking as said by our trek leaders. We managed to reach our camp for next two nights which was beautiful Kedarkantha base camp by 2 in the afternoon. This place could accommodate 2 teams and was surrounded by snow and mountains. It was a mesmerising 180 degree view from all of the camps as our team got the front area. We were told by everyone that this will be the place where things can go wrong as it is at 11500 ft and which falls in High altitude.

Later in the evening, we went to a small cliff near the campsite for the pictures and indulged ourselves in some snow fight in those chilly conditions. Usual ghost stories continued later in the night in common tent. This was 31st december and I can't remember a single year in life when I slept at 9 on new year's eve. But as next day was summit day we opted to take some rest. We had heavy dinner and slept for the day for the next big day.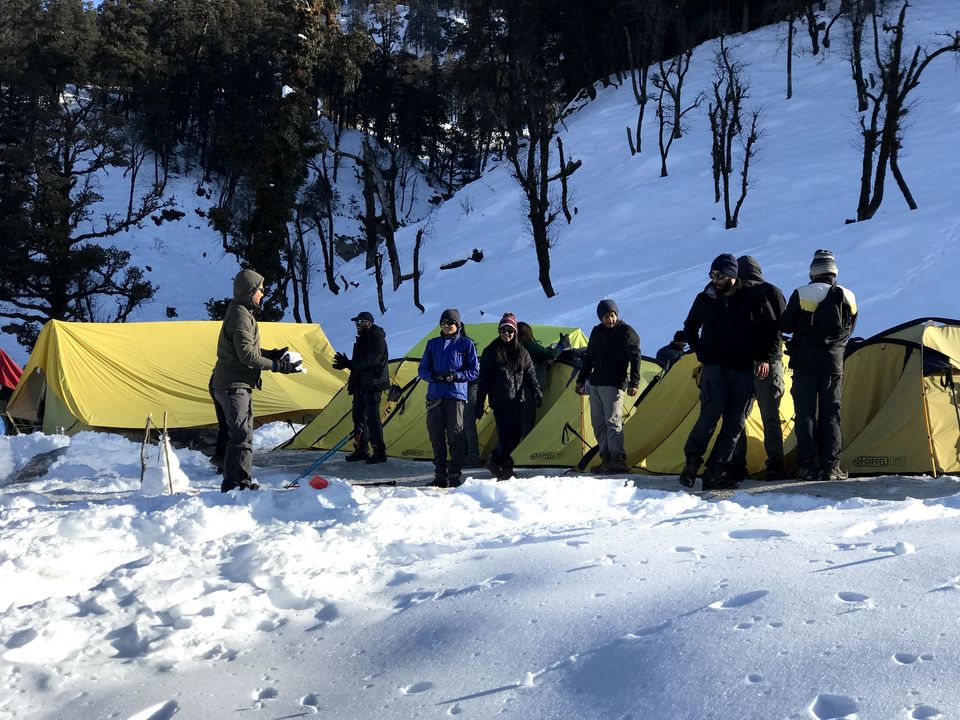 Summit day is the most exciting day of any Himalayan trek. Usually people start early in the morning max by 4am for this trek to witness the sunrise and the wind and other conditions are in favour of you. But India hikes choose to start a bit late to avoid the crowded trails and that's why we started at 5 am and our target was 10.30 am. Yes that's true it was almost 6 hours of continuous stretch. But literally you won't even realise walking for hours in the mountains with such surroundings.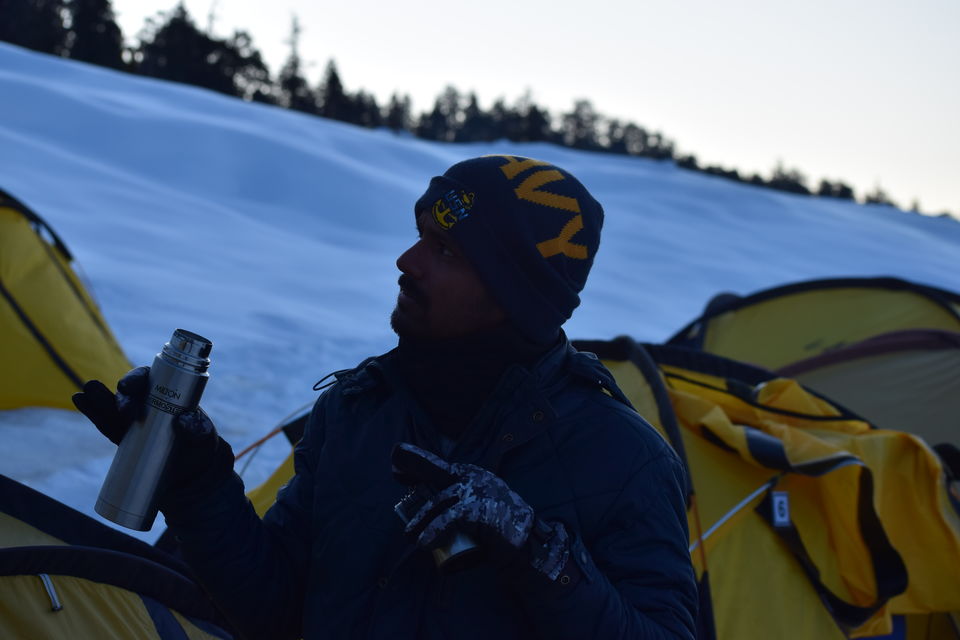 We started sharp 5am from our basecamp with all our gaiters and micro spikes on. It was full dark till 6.30 am. But that feeling was really amazing. Slowly slowly the sun started coming and the rays on the mountains were a treat to watch at that time. The pine trees just adds to these picturesque views. By 8 we reached our mid stop for the day which was a dhaba just before the final stretch. Got our morning tea and enjoyed overlooking the beautiful site this place was at. This was by far the best tea with view I had in my life.
Next one hour of steep trek I would say was the most difficult as it was testing us physically and mentally as well. Reason being the sharp chilli wind and the hight of the peak. Our trek leader Sachin was continuously motivating us and thats what was going in our mind - If we have came this far, we will do this.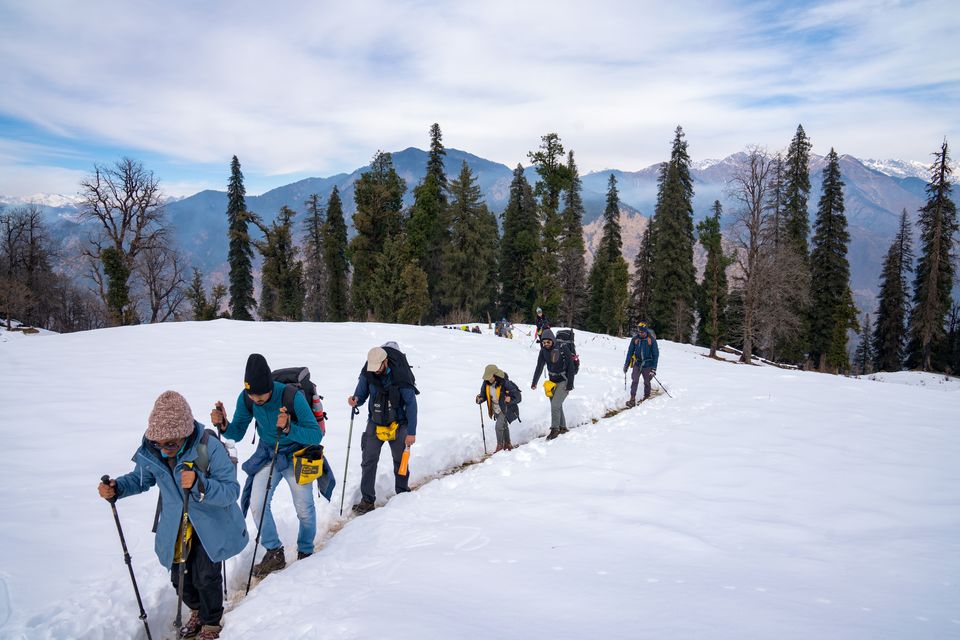 The only good thing about this stretch was you turn back every 5 minutes and you see the views you have never seen in your life. We reached the peak on time, it was windy and chilly and few people were struggling to cope up with these conditions.
I knew this is going to be short stay at peak and I don't want to miss out on the me time. I looked at a cliff empty and instead of capturing lot of photos I sat there and looked at those huge mountains around.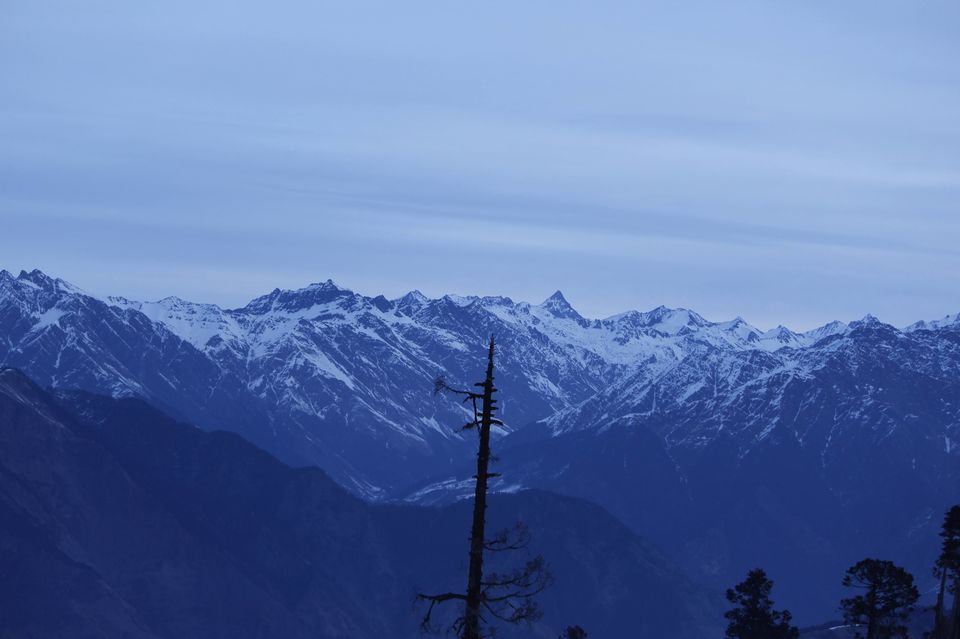 This was the best time of my life and most courageous task I had accomplished. I knew I made it and it was simply worth it. I still can't describe that feeling in words. I recorded a small 2 minute vlog with my limited battery and tried to express what it was like to be there.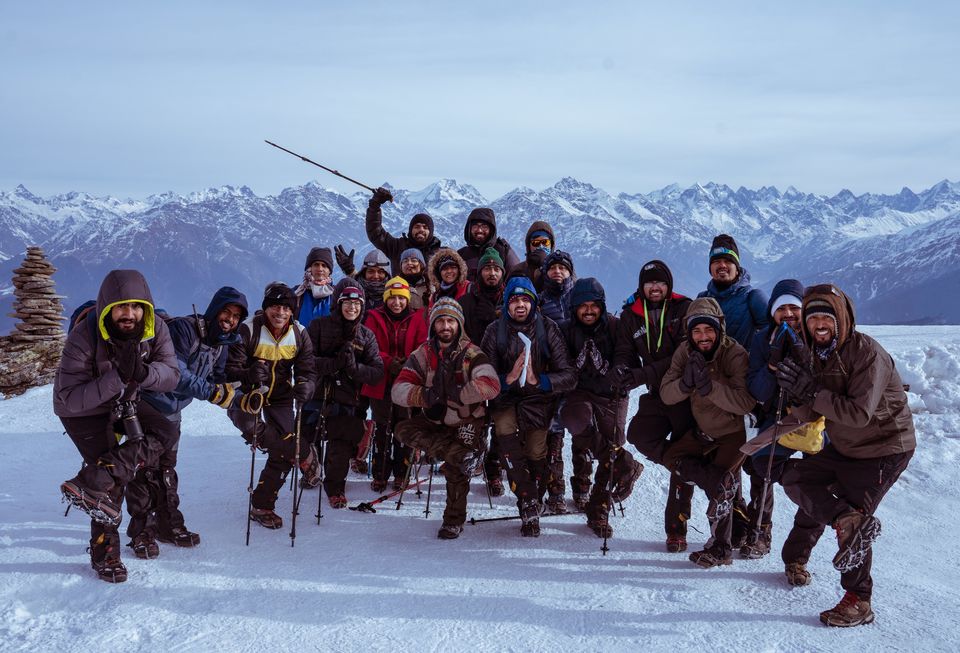 We took few group pics and started to decent down which was quite fun actually because of the rides. All that took hours to climb was just minutes to go down. We reached our base camp and had a healthy lunch. This was an accomplishment for the entire team and something to celebrate. We gathered in our common tent and started reciting about how great day we had. It was a mixed feeling as we knew tomorrow we are going back to Sankri (the final day).
We woke up early in the morning, had our usual morning lemon tea and started back for a long trek down for the day. We had to cover the entire 8 km today. As others were busy packing their stuff, I had sometime outside my camp. I put on my earphones and played my favourite song and went for a small walk around our site.
We reached our base site in the afternoon after capturing lot of pictures and having maggie on our way back. We saw cars and buses and human :D after a week and this was a different feeling. Our phones were still not working. We were welcomed with piping hot plates of Rajma chawal and it was a treat meal to enjoy with a lovely weather.
This definitely called for a celebration and there was a cafe opened in Sankri just 2 days before our summit. We all went out for dinner to this cafe and danced on the camp fire setup.
Next morning we packed our stuff and started back to Dehradun. For me it was still an ongoing trip as I had planned for a 2 day stay at Rishikesh. I was also accompanied by 2 of my trek mates as they also had similar plans.
We reached Dehradun next evening, said bye bye to our trek mates and concluded our trek here.