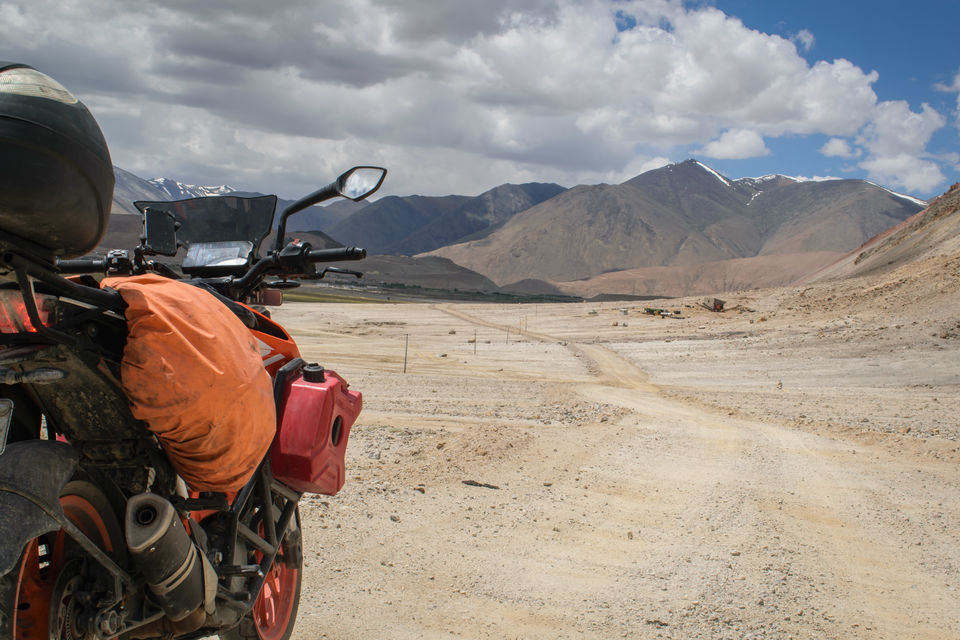 Prologue
How many times have we heard this: 'Is saal to pakka Ladakh jana hai?' (I'll definitely visit Ladakh this year). Even among the victorious ones who do, most have had been planning it for years. They would tell stories of all the plans made that never saw the beginning of the tunnel, of disappointments until finally making it. However, there is no such romanticism or agony attached to my story here. This was my second trip to Ladakh, having made the first one in 2012 through a travel agency. One similarity between both the trips is I never planned either of them and yet, somehow ended up visiting Ladakh. Probably, that says a lot about me as a person.
This was my first motorcycle trip beyond the confines of south India, and I am thankful to a friend of mine, without whom I would have spent a good part of July just cussing at random autowalas on Bangalore roads, rather than exploring the majestic Himalayas.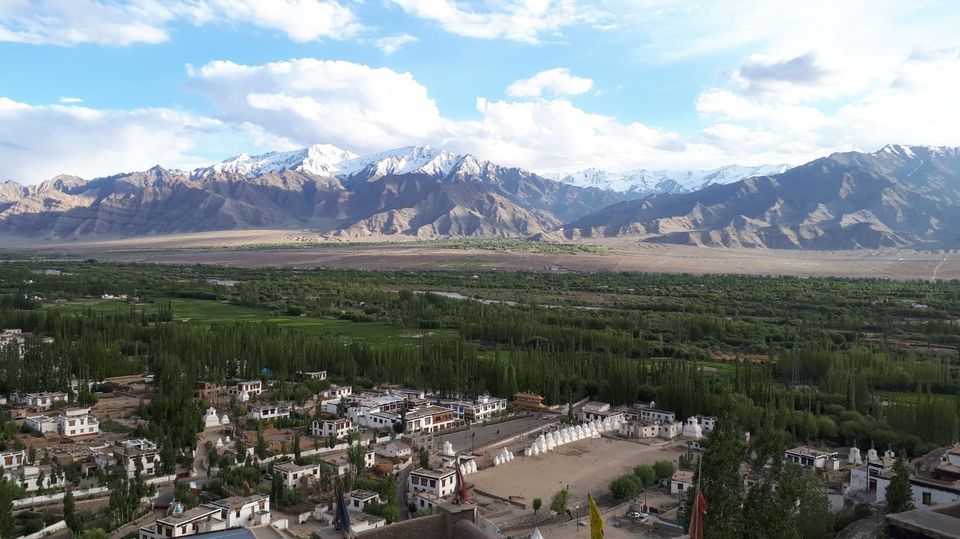 I'll be writing only about my travel experience in this post. There is another post dedicated to the preparation, especially for a motorcycle ride.

Mom, I am off to Delhi!
Well, I hadn't exactly informed my parents I would be traveling to Ladakh, and moreover on a death machine. I started my trip on June 28 from Bangalore, aboard the Rajdhani express with my motorcycle resting in the luggage car. Honestly, it wasn't easy booking the motorcycle into the luggage because of how packed the Rajdhani is. It is the primary means for transporting goods between Bangalore and Delhi, so the preference is given to the commodities over passenger luggage. However, after an hr of melodrama from my end, explaining to the authorities how my entire trip would be affected if they didn't allow my motorcycle onboard, the Duke finally got in.
First Leg: Delhi to Srinagar
In Delhi, I grouped up with my friend and 3 other guys. One of them is a friend of hers, who himself was traveling with two of his friends from Germany... Phew! That turned out more complicated to explain than I had imagined.

The Germans, on their 1st ever trip to India, had surprisingly adjusted well to the Delhi heat wave. All 5 of us were supposed to start & end the trip together, as per the plan. However, like most plans, this didn't work out either but more on that later. Our day in Delhi was spent primarily preparing for the trip as my fellow travelers picked up their rental motorcycles and engaged in last minute shopping. We had planned to take the Srinagar route and exit Ladakh via Manali, thus completing the full circuit.

En-route Leh, we halted at Chandigarh, Jammu, Kishtwar and Kargil. Why Kishtwar? It's because the Jammu-Srinagar highway was closed for tourists due to Amarnath Yatra. Not that we were aware of it in prior, but no trip is ever complete without some last second surprises. We got lucky anyway as the route from Jammu to Srinagar via Kishtwar is scenic, a treat for any biker. The roads are similar to what we would find in Ladakh eventually, however the landscapes are jaw-droppingly beautiful, with lush green mountains capped by snow forming the backdrop.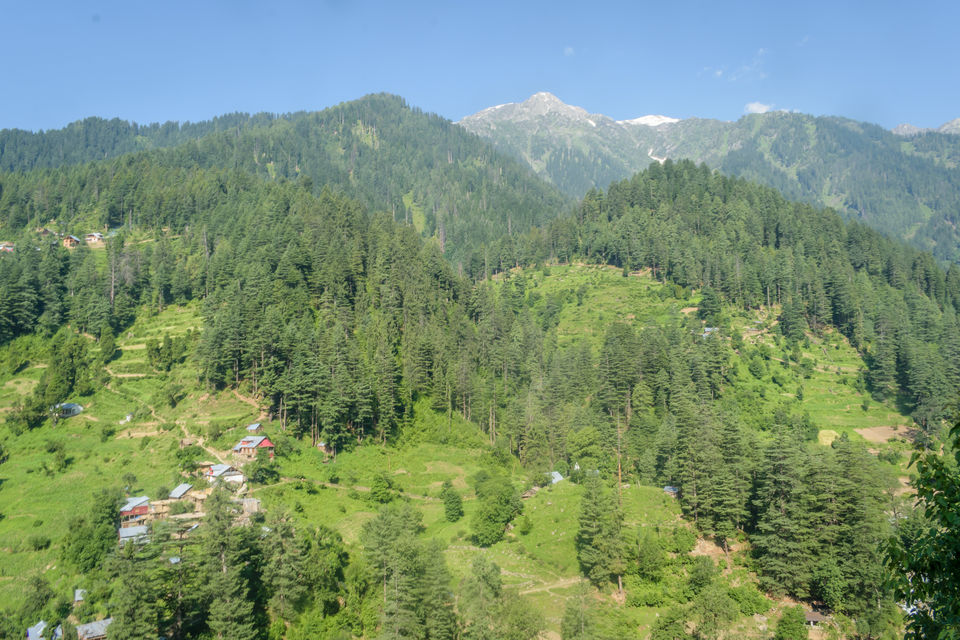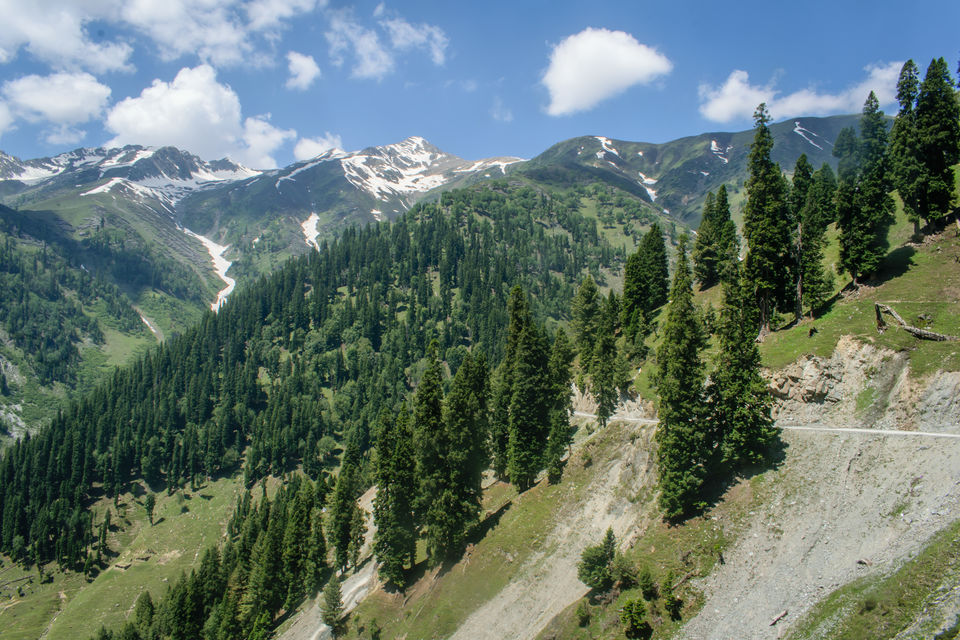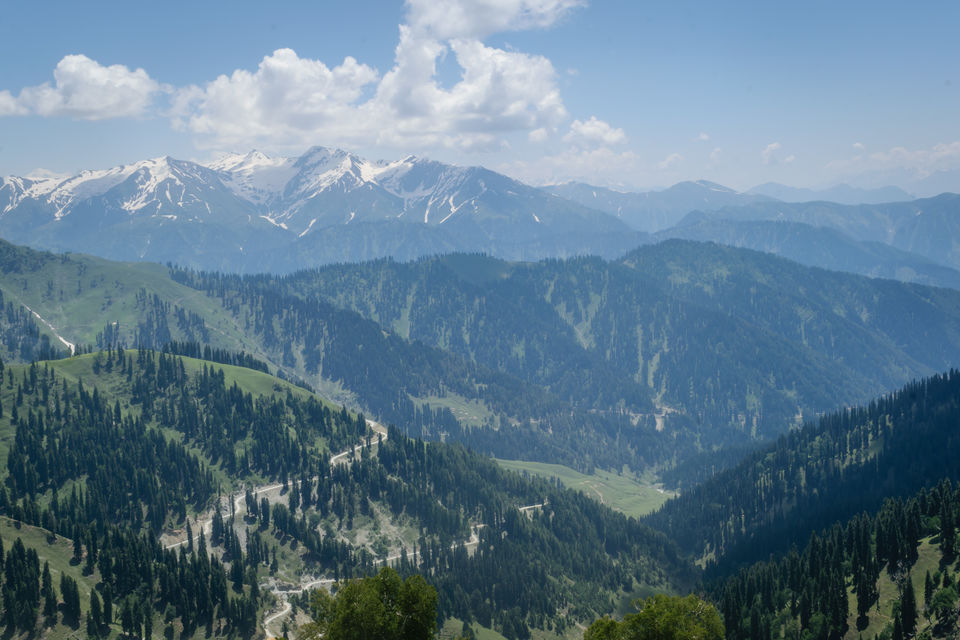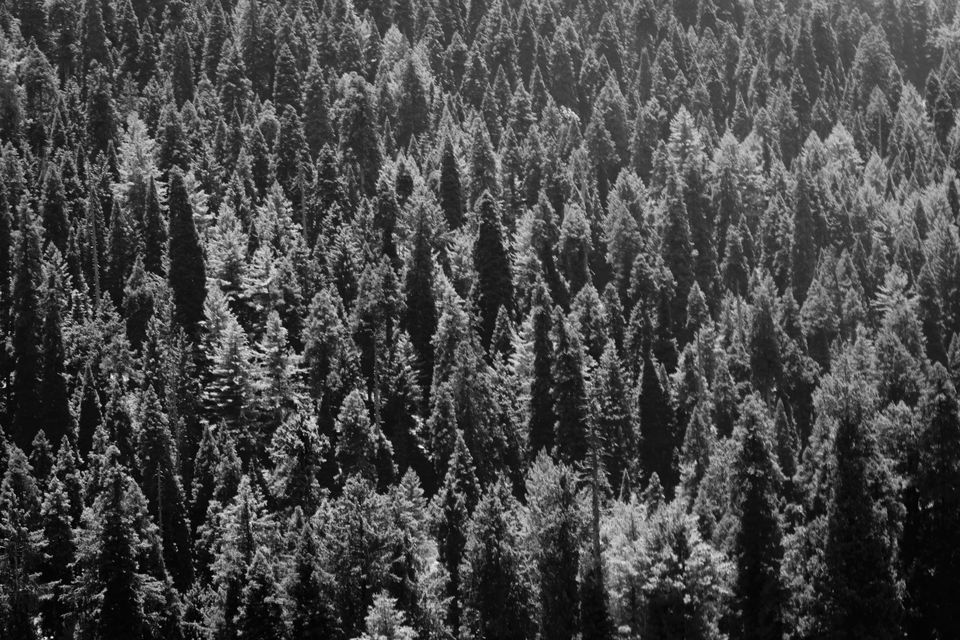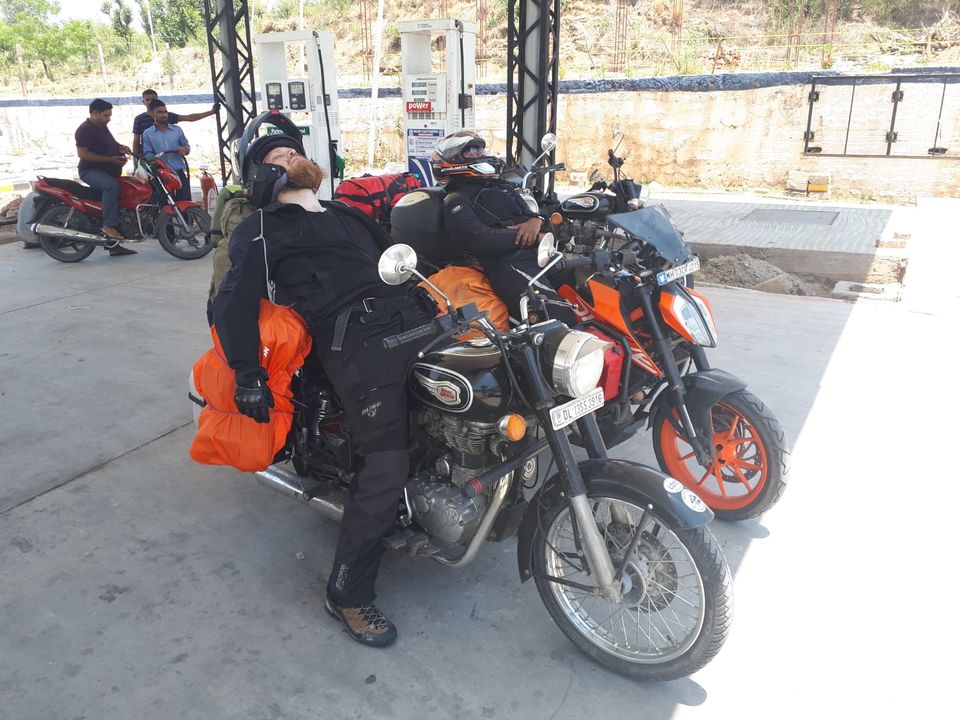 We reached Srinagar on Day 4 of our trip. Gulmarg was part of the itinerary as well, but the road conditions between Kishtwar and Srinagar hit us by surprise and took most of our day time. This meant we had to stay content with just a Shikara ride around the Dal lake at sunset.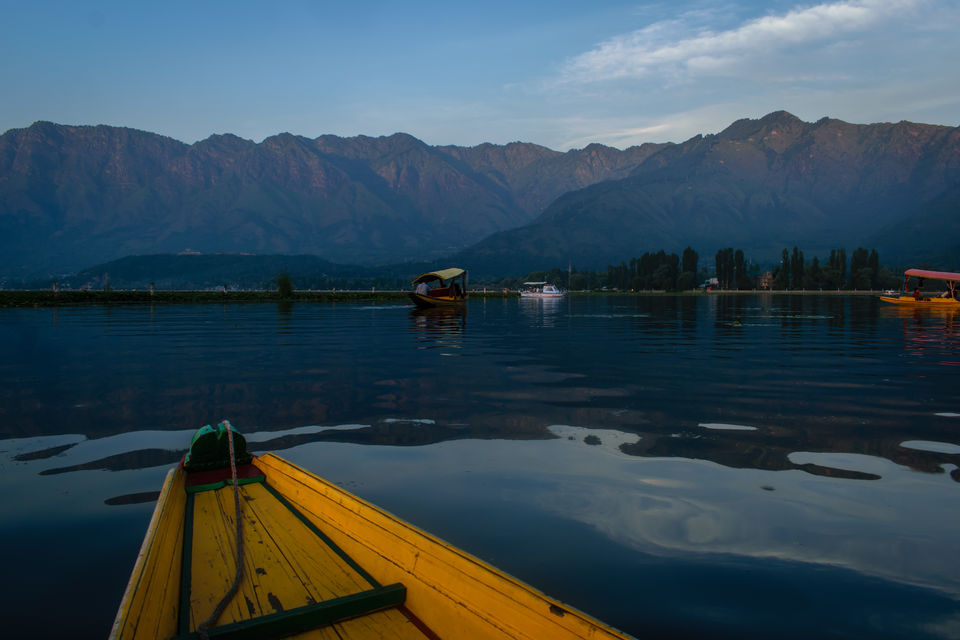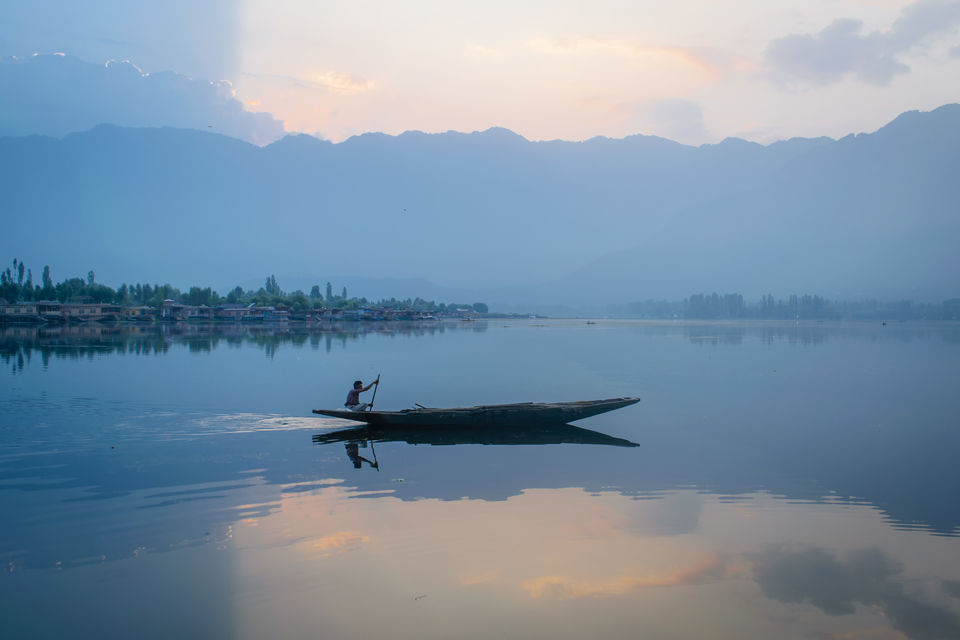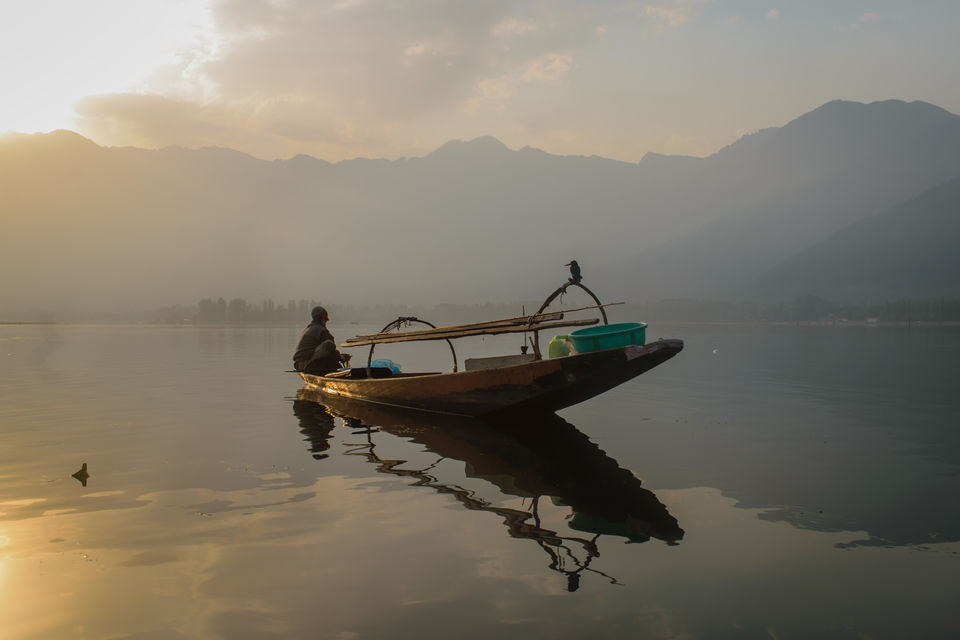 Srinagar to Leh
We left for Kargil the next morning. On the way, we did stop at Sonmarg. Having been there earlier in 2008, I had a faint memory of this place. But it only took half hour of an Horse ride for my memory tape to rewind. The moment you drop your foot on the soil of Sonmarg, you are flocked by horse men trying to convince you to rent their horses. Usually in such situations, I tend to rely on my legs to get the job done. However, here I chose to listen to my heart rather than the brain. Most of these horsemen don't have any secondary income source, with the tourist season only lasting about 6 months in a year. I didn't mind paying 600Rs for the ride, considering that was barely 1% of my entire trip cost.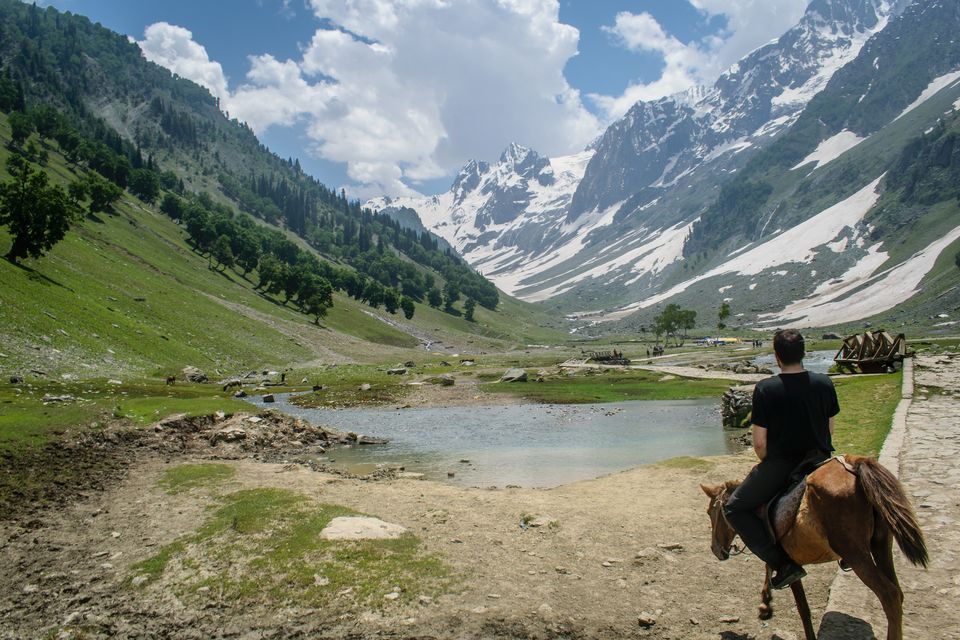 I wish we could have stayed at Sonmarg overnight, because mother nature had showered this place with bounties and in a copious amount. Surrounded by the snow clad majestic mountains on one side and the alpine enveloped ones on the other, you are practically standing in heaven. And the golden rays of sun bouncing off the white snow atop the mountains is a picture worth painting.
After having spent most of our afternoon at Sonmarg, we revved again towards Kargil. A steady climb started as I saw the Amarnath Yatra camps set up below at Baltal. Soon, we hit our first high altitude pass- Zoji La. The landscape takes a turn in colour as the lush green is slowly replaced by the barren brown. That is when I realized we were entering Ladakh. Well, that and also a board saying 'Welcome to Ladakh'.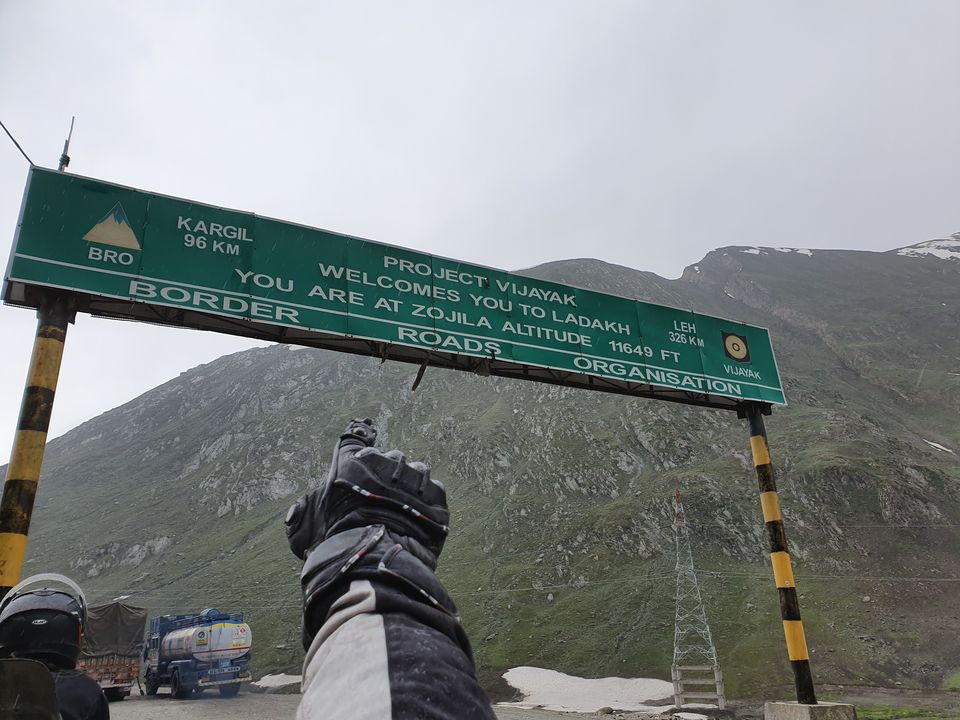 On the way, it started to rain. Not the first time I was riding in the rain, but when droplets of water, that had been flowing over snow only a couple of minutes ago, hit your face at 80kmph, you tend to surrender. To add to that, I couldn't feel my fingers as they were encapsulated by the freezing rainwater . Hence came a halt for tea. My fellow travelers followed my lead and soon all of us were engaged in 'Chai pe Charcha'. As the rain receded, we hopped back on our saddles.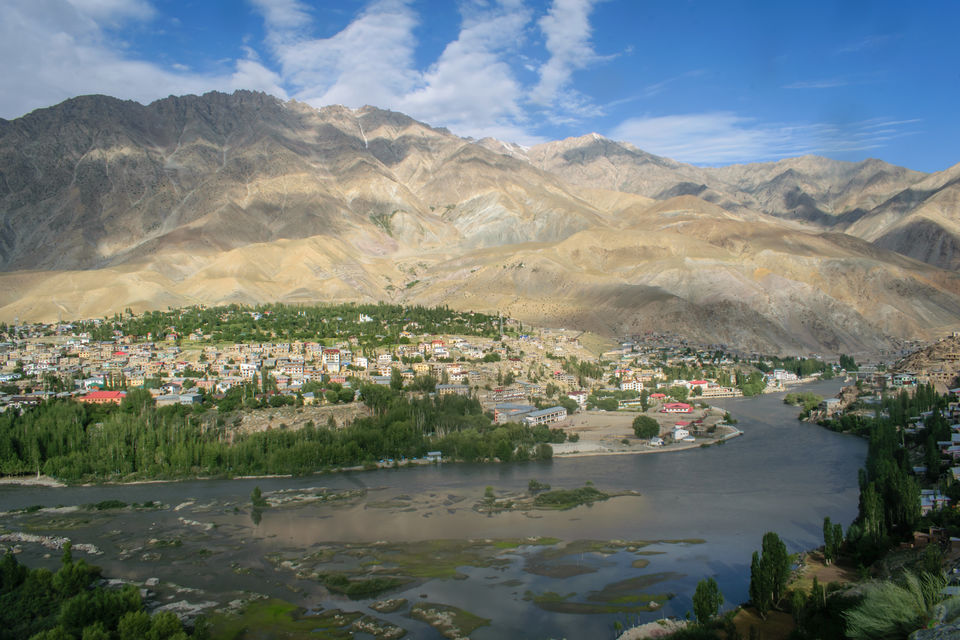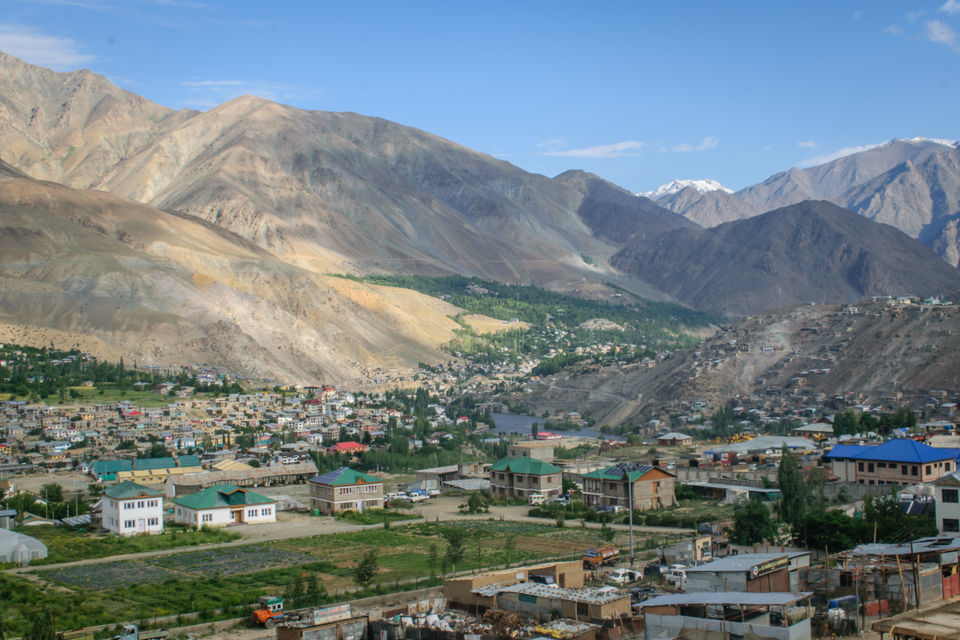 Next morning, the day had finally dawned for which all 5 of us had set out on this trip. We started riding towards Leh, but only after a minor hiccup early morning, when we realized our motorcycles needed a welding job. The Top-rack on my Duke had cracked, while the Royal Enfields weren't too lucky either.
En-route Leh are the 2 high altitude passes: Namika La and Fotu La. Fotu La has unarguably the best roads in Ladakh, where I was belting my Duke without a sweat, although partly it was also because of how cold it was. Fotu La lead us to Lamayuru, called the Moonland of Ladakh. Another place where I felt it was worth staying overnight. I could imagine how splendid it would be to see those brown pieces of rock covered in the golden glows of the setting sun, but it was all left only to the imagination as we took a minor halt at the Lamayuru monastry before rolling forward.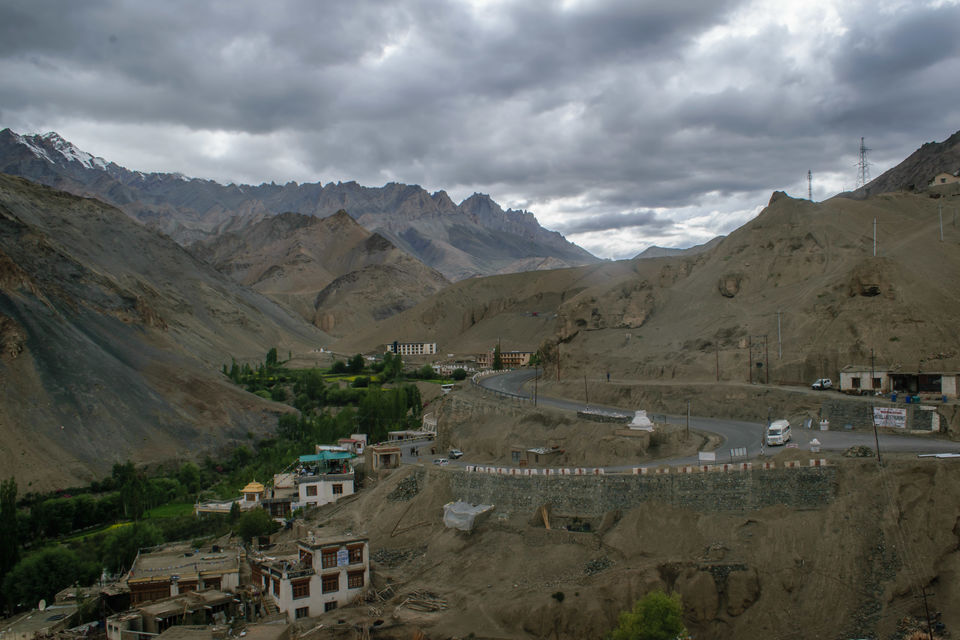 The roads continued to be butter smooth up until Leh. We stopped for a break at Magnetic Hill, unfortunately though we couldn't witness the Optical phenomenon for which it is famous for. We reached Leh eventually after the sun had already set, bringing one epic day of ride to an end.
The next day was spent in local sightseeing and getting the permits. It was supposed to be our deserved rest day before starting the second leg of our journey. The extra day also allowed us to get acclimatized to the altitude. Having been to Ladakh and couple other high altitude regions before, it didn't take long for me to adjust but the Germans suffered. One of them specifically more, as he had to endure severe headache and vomiting in the morning (It is always advisable to start taking AMS tablet, usually Diamox, 2 days in advance). Rest of the day however went smooth. The Royal Enfields received service as my Duke could only watch haplessly, with no KTM service centers within a 400km radius. We called it a day at about 11pm, after spending hours shopping and haggling with the shop-owners, looking forward to the next week and hoping no more hiccups to hit us. Only, we were about to receive a huge jolt.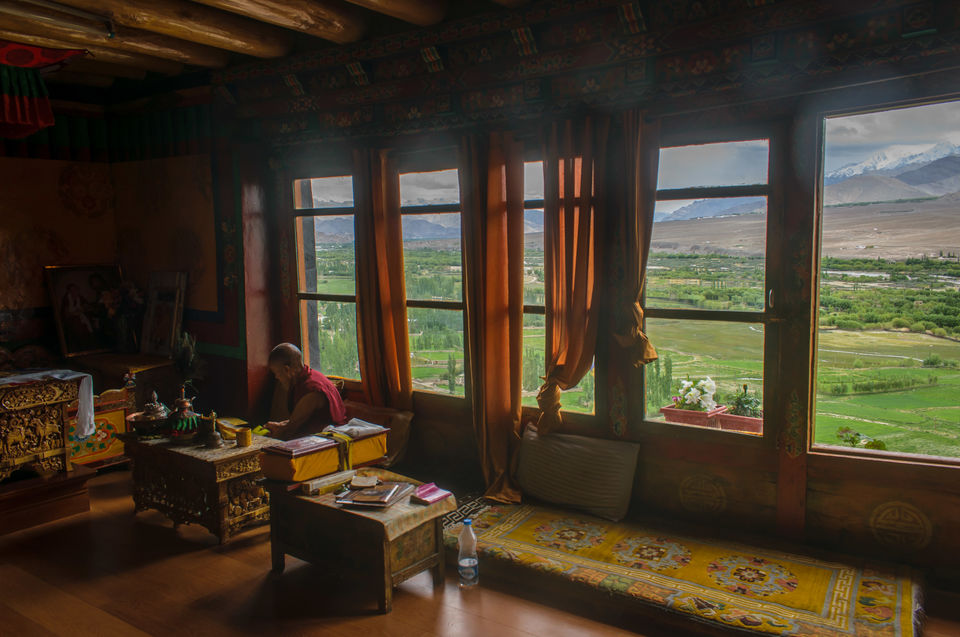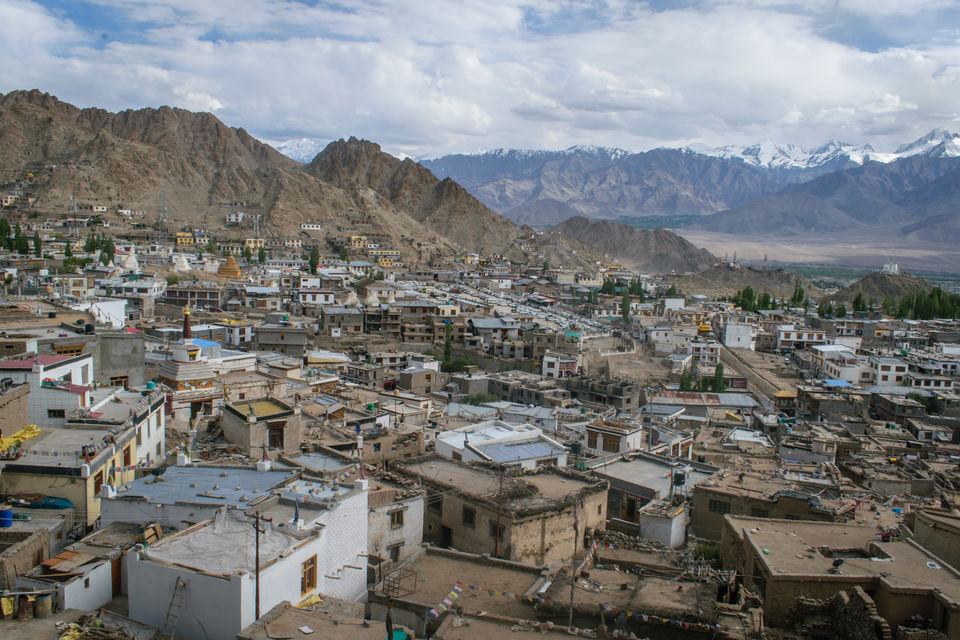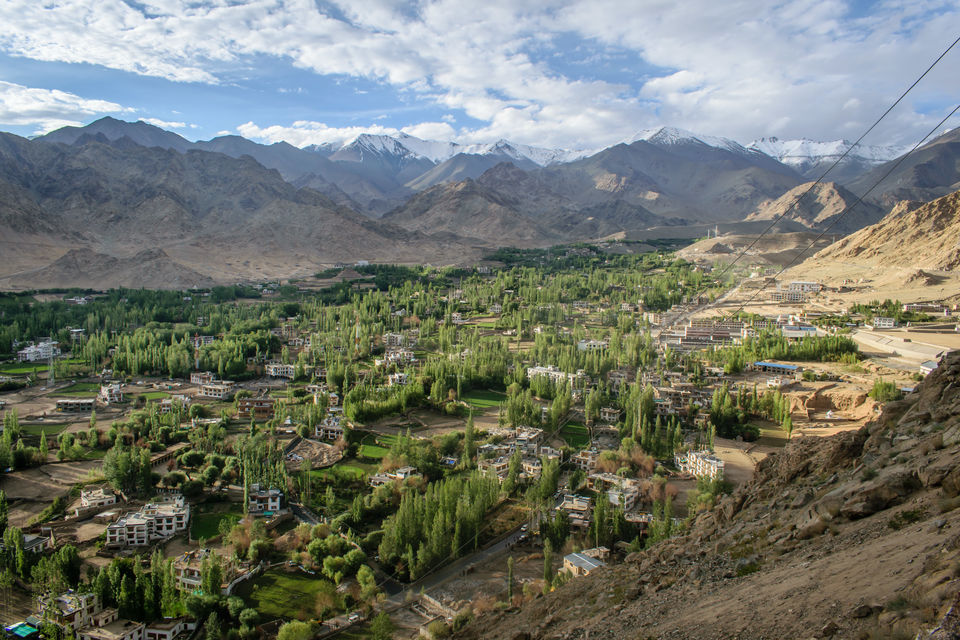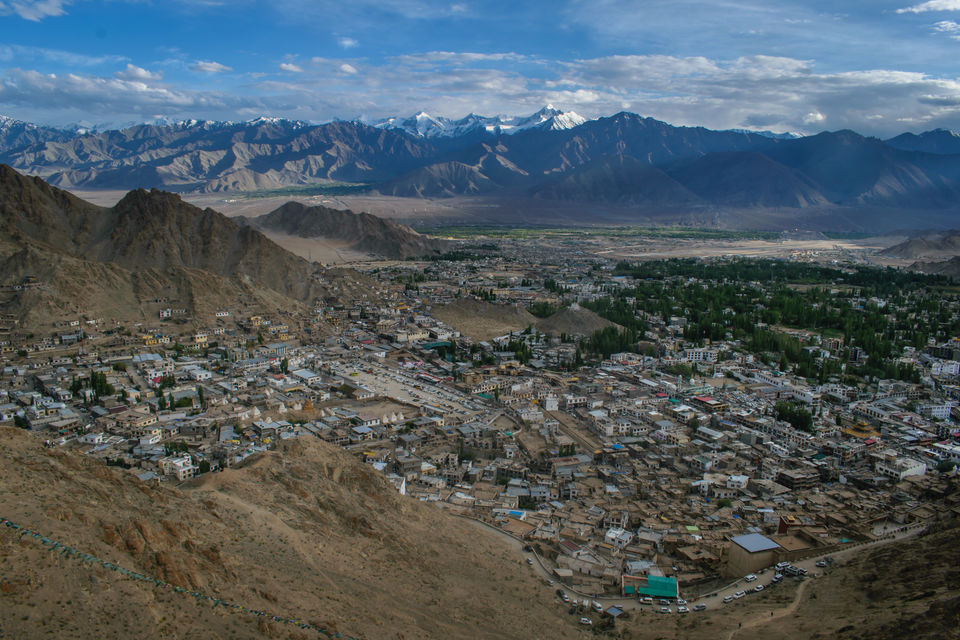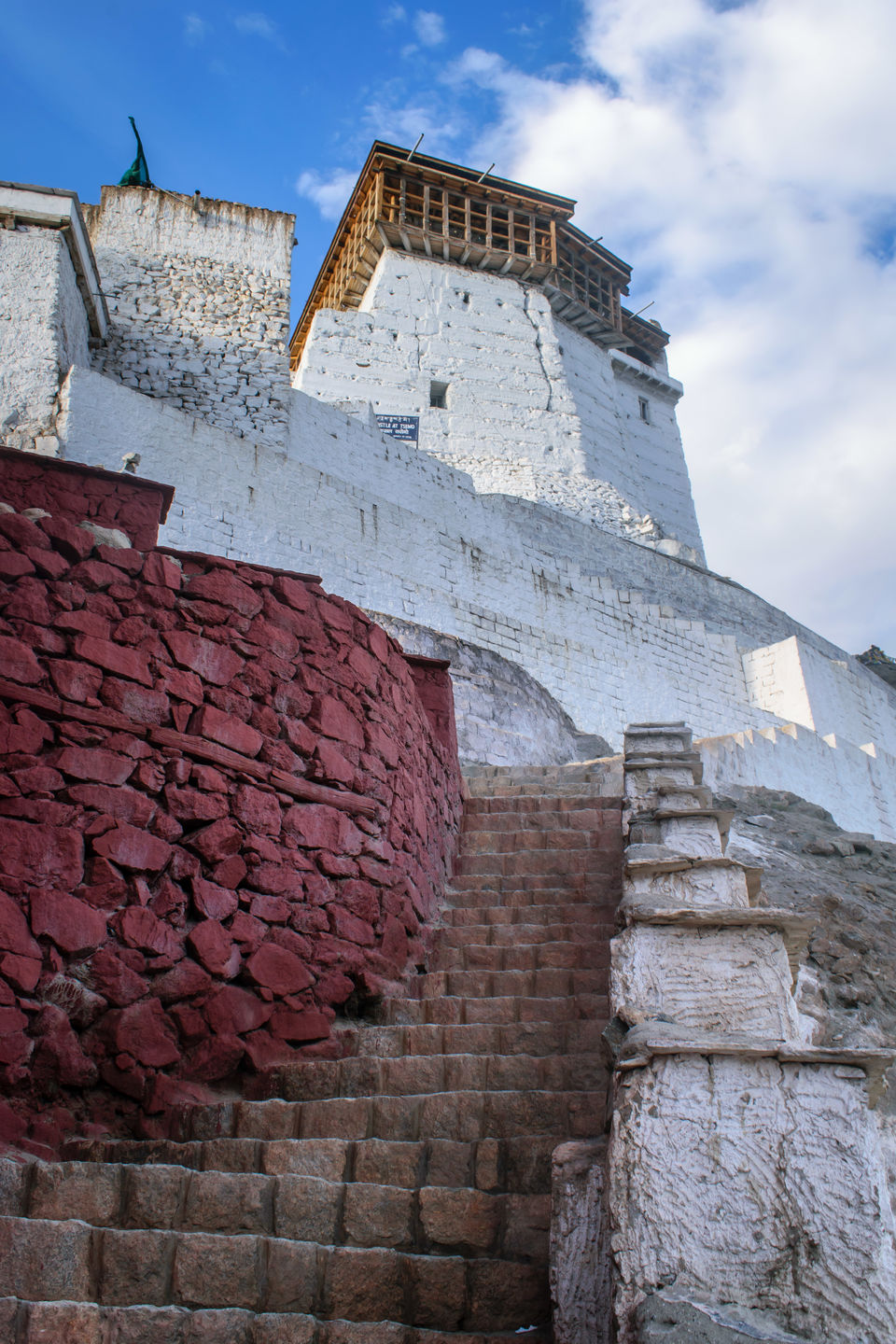 Second Leg: Leh to Tso Moriri

I am not sure how many people are aware of this, but motorcycles rented from outside of Ladakh aren't allowed beyond Leh, by the local travel union. Their logic: It would take away the opportunity for the local population to earn money if tourists rent vehicles from outside. On a moral scale, fair enough I would say. From a legal perspective, not so much. However, my fellow travelers who had rented their motorcycles in Delhi had devised a plan to beat this. They rented 'White-plate' motorcycles and had a fake sale agreement which said they had 'bought' the motorcycles from the Delhi based rental company. However, the RC was still in the name of the original owner and not just for one motorcycle.
We left Leh around 8am towards Nubra valley, with our accommodation booked in Hunder. That is pretty much the standard route followed by almost everyone who visits Ladakh. En-route is the famous Khardung La, which apparently is the highest motorcycle road on our little planet. That however is inaccurate, but we continue to believe it anyway. On the way, there are 2 check posts. One of them is the police post where you need to submit a copy of your permit. Before that is the travel union check post, whose job is to keep a tab on non-local rented vehicles. We are supposed to show our driving license and motorcycle RC. Considering I was on my own motorcycle, I was cleared within a minute. My fellow travelers however fell into the pit. The goons, aka the travel union authorities were smart and it took them seconds to realize the motorcycles were rented. The Germans played the card of 'Damsels in distress'. The other guy forgot he isn't a Delhite and ended up using the 'Janta hai mera baap kaun hai' rhetorical. The authorities wouldn't budge and asked them to return to Leh and rent local motorcycles. Meanwhile I was taking a sunbath on my Duke. Two hours passed and we finally concluded that I would continue the ascent towards Khardung La while the rest return to Leh. We assumed we would eventually meet in Hunder at the end of the day. Mother nature had some other plans for us though.
Checklist:
1. Reach Khardung La top without a puncture - Check
2. Take a customary photo in front of the 'Highest motorable road in the world' board - Check
3. Climb up the Khardung La gompa and roll down along the snow - Check
4. Have the national meal of Ladakh: Maggi and Chai - Check
5. Engage in 'Chai pe charcha' with random strangers - Check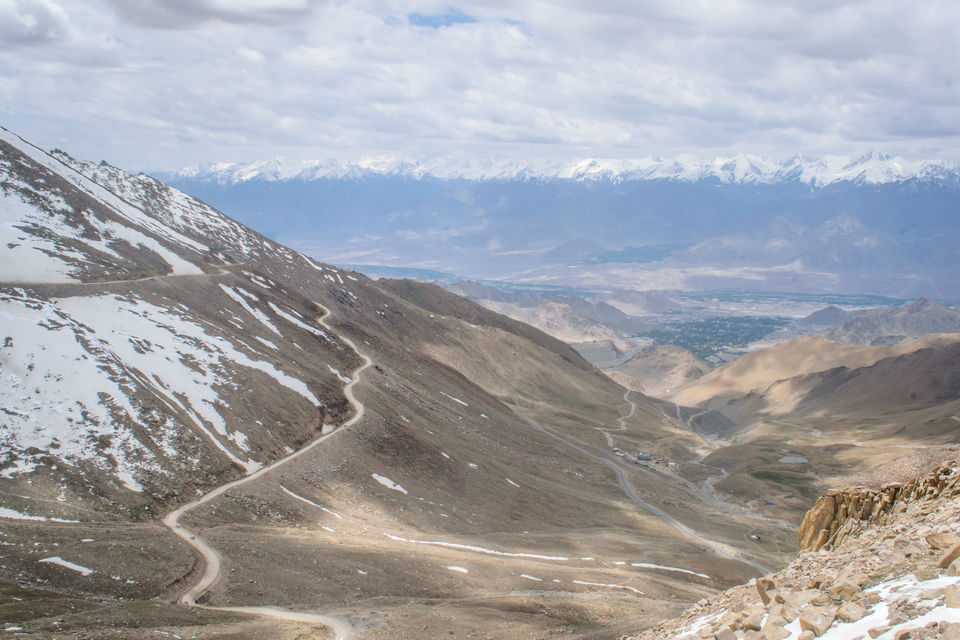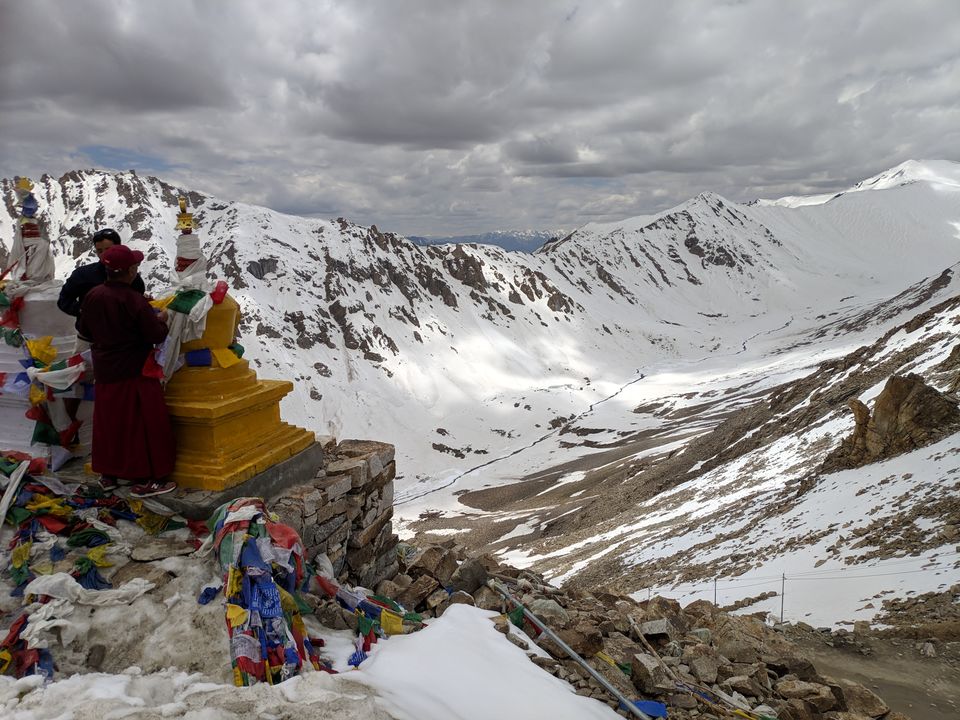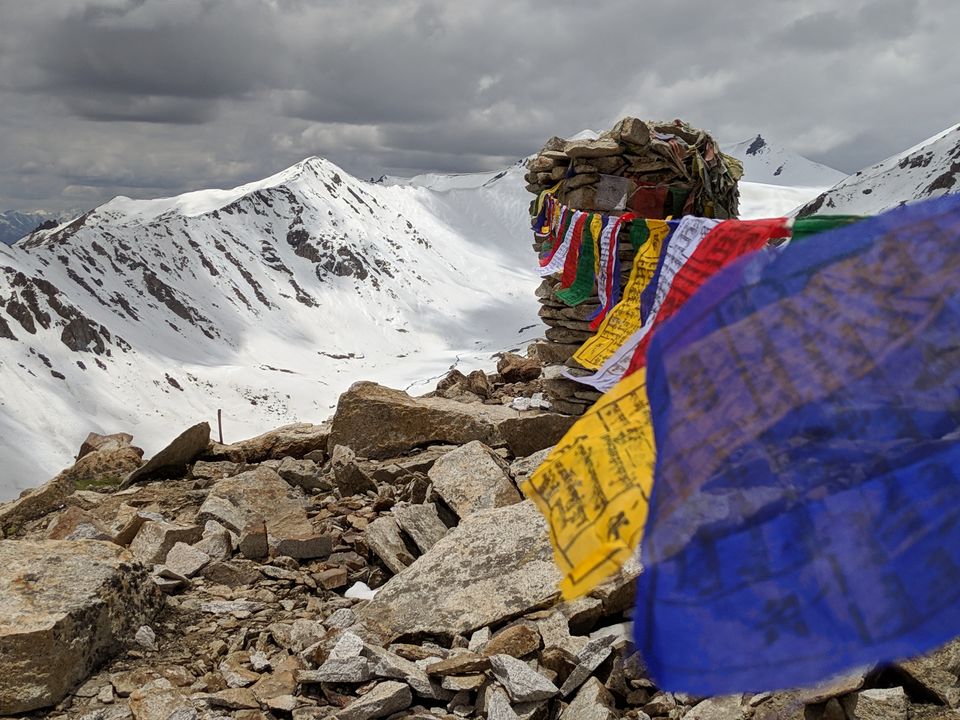 Now was the time for the descent. However, looking at the long line of stranded tourist vehicles, it was clear to me there was a landslide. Couple of enquiries later I learnt there were 5 landslides within a 5km distance. Being a Sunday, the army officials were chilling in their camps and were another 2 hours away from even reaching the spot. And it would take another 3 hours post that to clear up the road, provided we were lucky. Getting stranded in Bangalore traffic for 15 min at a gentle height of 900m is easy, however at Khardung La for 5 hours at a height of approximately 5500m was a different ball game altogether. I saw a dozen people getting sick due to lack of enough oxygen and being admitted to the 'Oxygen-center'. After some time, even the Oxygen-center ran out of oxygen. The authorities there advised people to return to Leh. Being the adamant idiots that we were, I and a couple of bikers decided against it. 5 hours and 5 cups of chai later, the lady luck finally sang. The road was cleared and our adamance was rewarded. If I have to be honest, another hour and I might have had to be admitted as well. I could feel a buzz running through my body, my head assumed the role of the heart as it kept beating against the skull, making it clear that the oxygen level in my blood was plummeting. Fortunately, in that another hour, I had already returned to a far less hostile 3500m of ground level. With another 50km to kill until Hunder and the sun setting its sights on the horizon, I decided to spice up the remaining ride. My inner Rossi awakened as I started belting around the curves. With the mountain on one side and the cliff on the other, I was practically racing against time, or rather death. In about another hour, the first image of the Sand dunes hit my eyes and I didn't need GPS to tell where I was. After an eventful day, I had made it. As for my fellow travelers, I thought I may not see them again. I did however, but only for a couple of hours the next day.
Next morning, I set out towards Turtuk as per the plan. We were informed at the beginning of the trip that it is the last village before LOC. Wrong information, it isn't. After reaching Turtuk, I was informed by an army official that the LOC was another 10km away at Thang, the last village before POK begins. Signboards reading 'The Enemy is watching you' were enough to confirm I was indeed riding towards the LOC.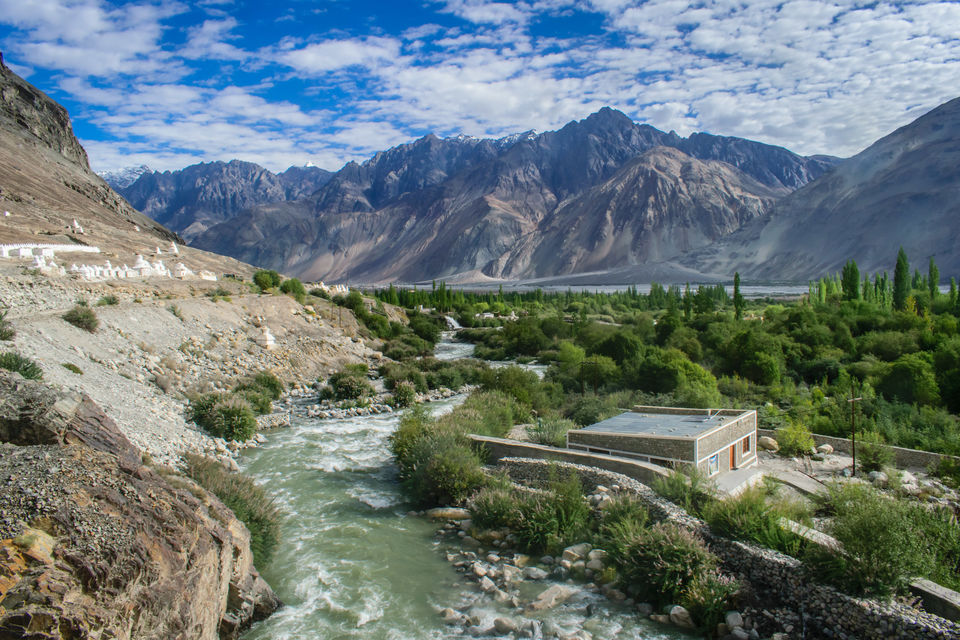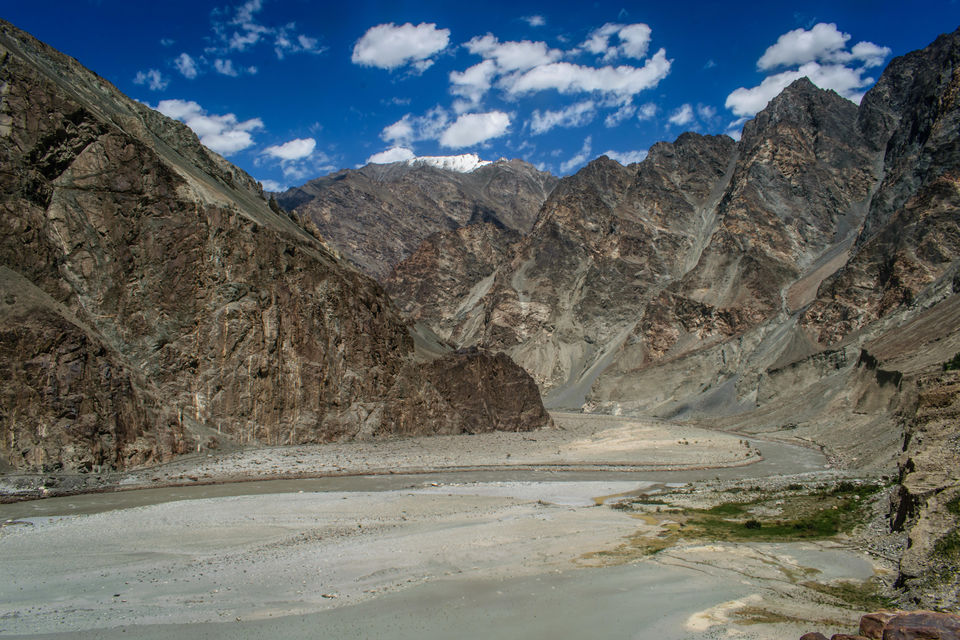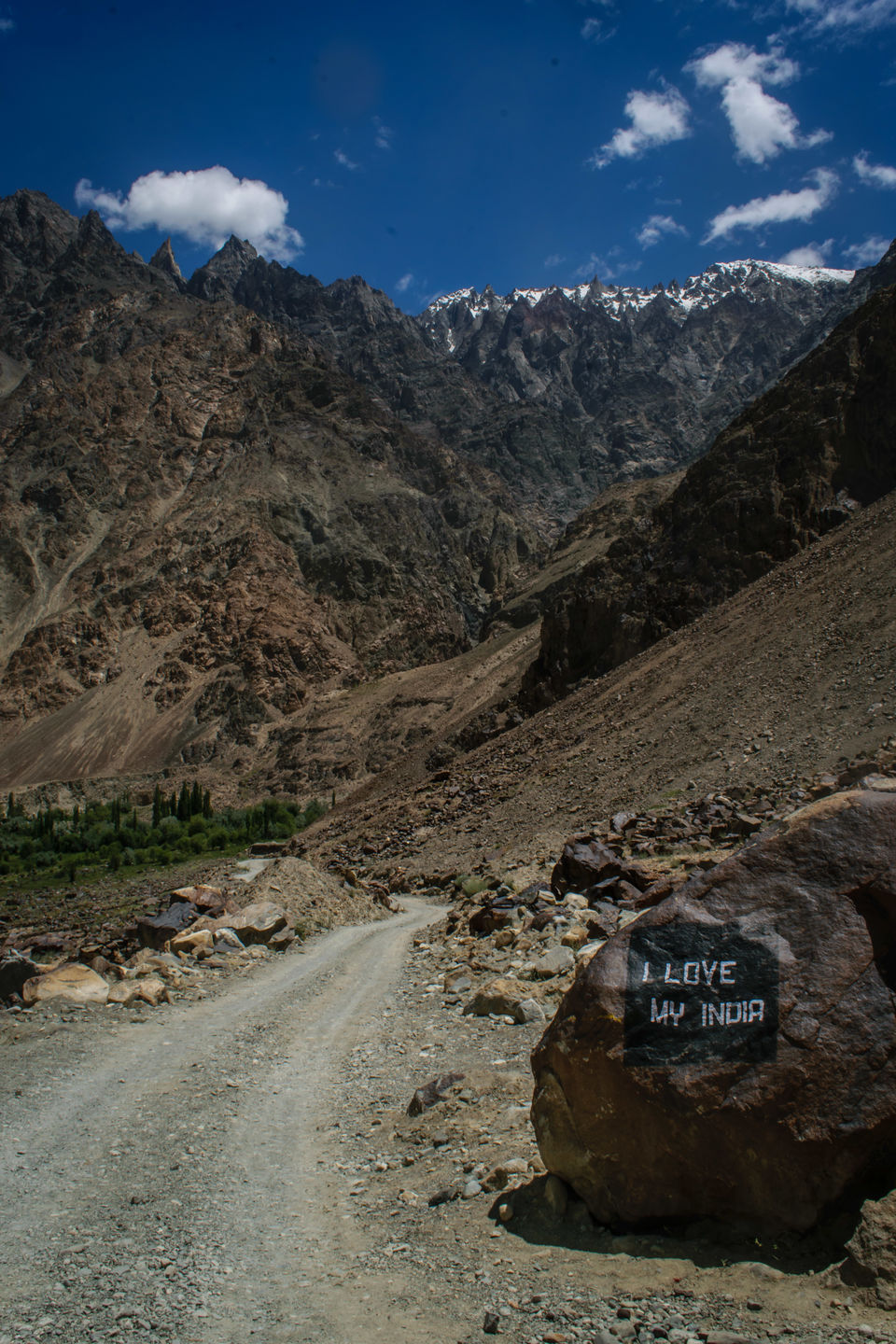 Having seen the LOC, and the enemy bunkers and confirming that they were definitely watching us, I started the ride back to Hunder. For the first time, I realized the gravity of the statement 'Siachen me hamare jawan ladh rahe hai' as I saw both, Siachen and the jawans.
I was in the Nubra valley and any trip to Ladakh is incomplete without a visit to the sand dunes. Hunder is famous for the Bactrian or the double-humped camel. Back in 2012, I had already ridden the camel and yet I barely remembered anything. This time around however, it was time for some photography so I could capture the memories forever.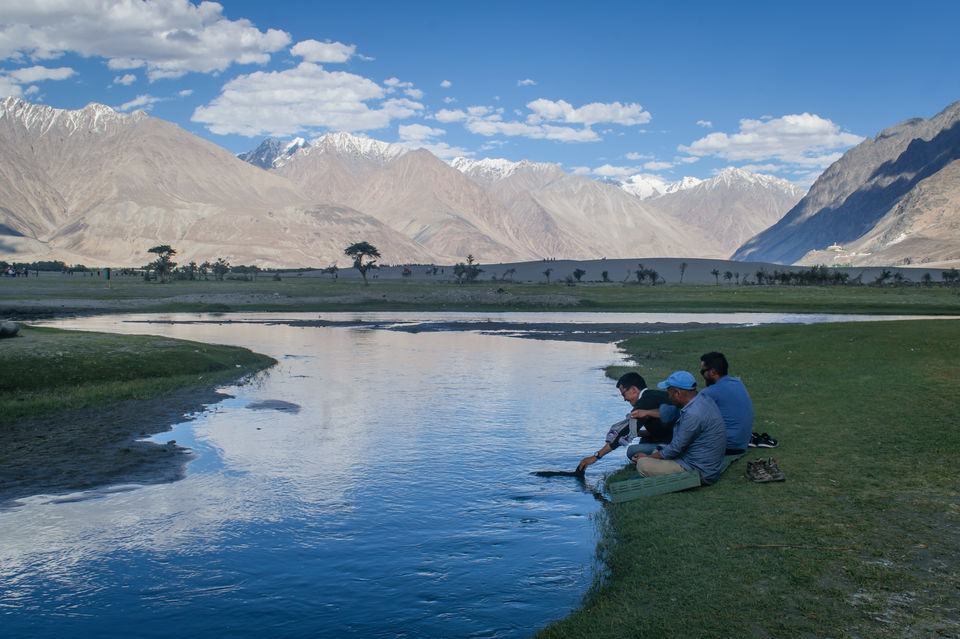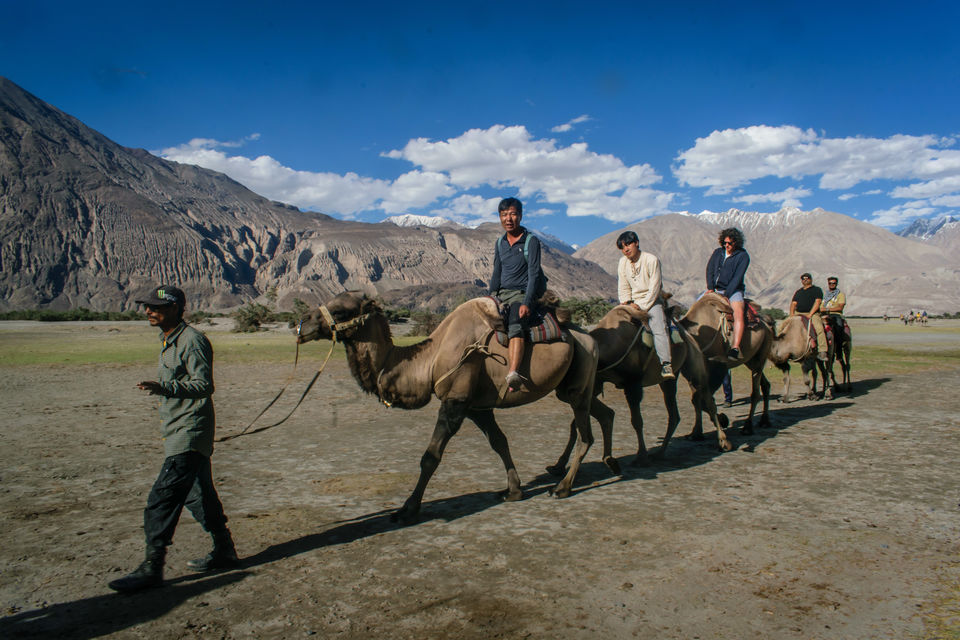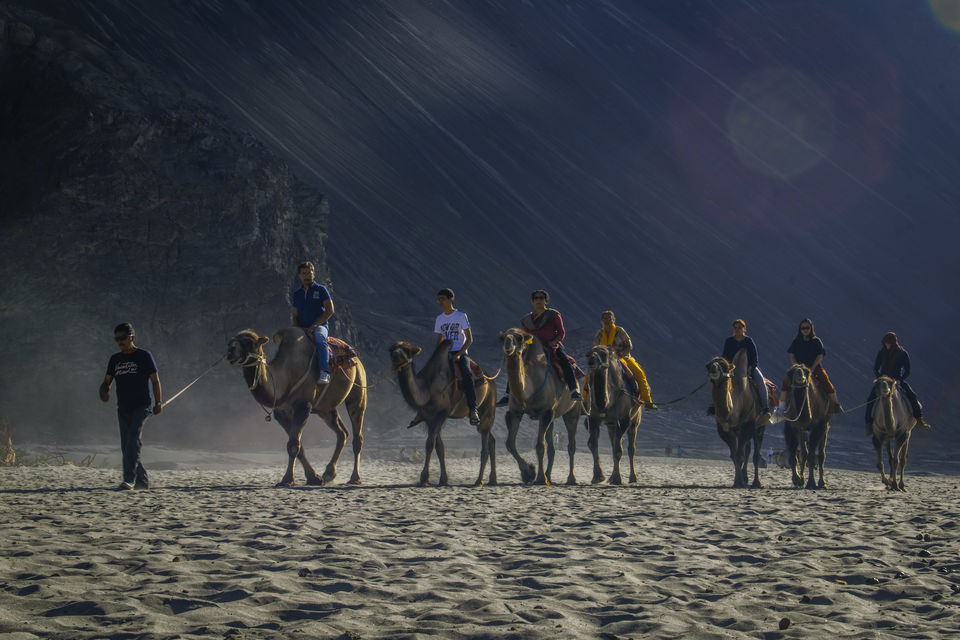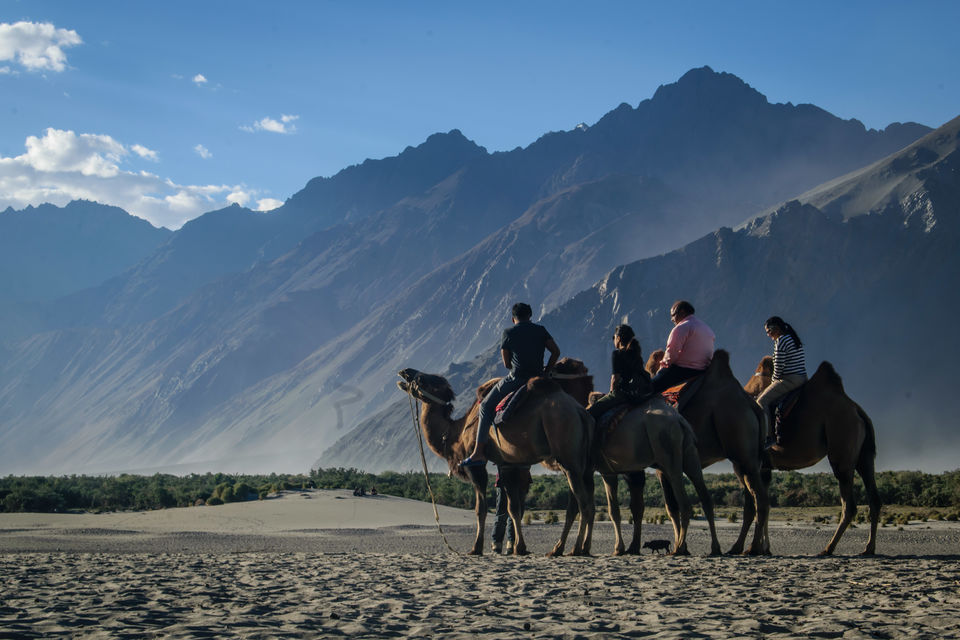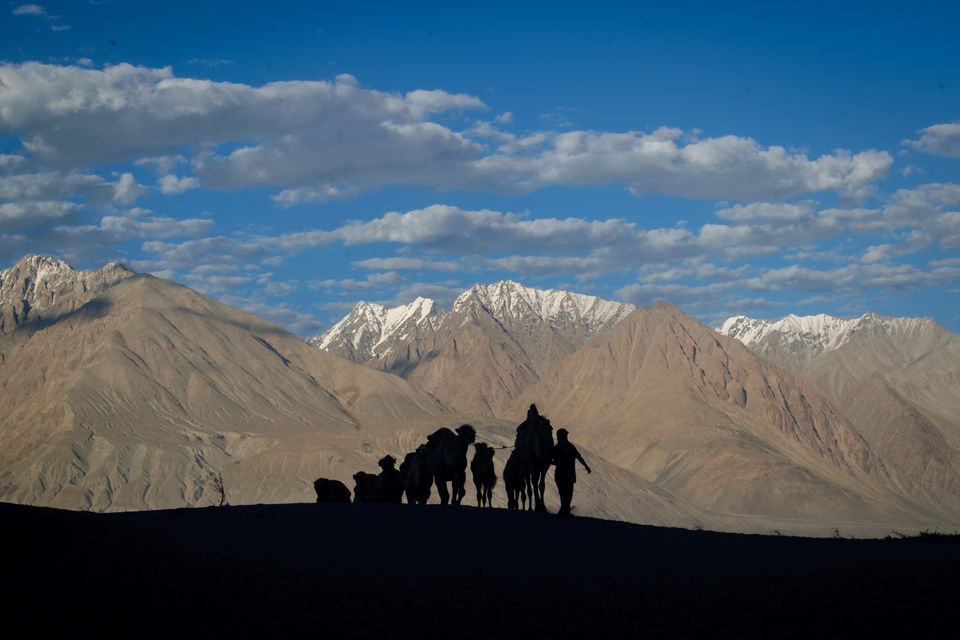 At night, I regrouped again with my friends. By this point in time, they definitely had become much more than just fellow travelers to me. The nightmares hadn't ended for them as one of them fell while riding towards Khardung La, in a river crossing, and ended up with a broken arm. One of the motorcycles they rented from Leh, a RE Himalayan, gave up on them and had to be dumped at a mechanic shop. Not to mention, they stayed an extra night in Leh because the landslides in Khardung La the earlier day meant no one was being allowed to cross Leh. We spent the night chatting and playing games. I didn't care I had to leave the next morning, knowing this would be the last all of us were going to be together.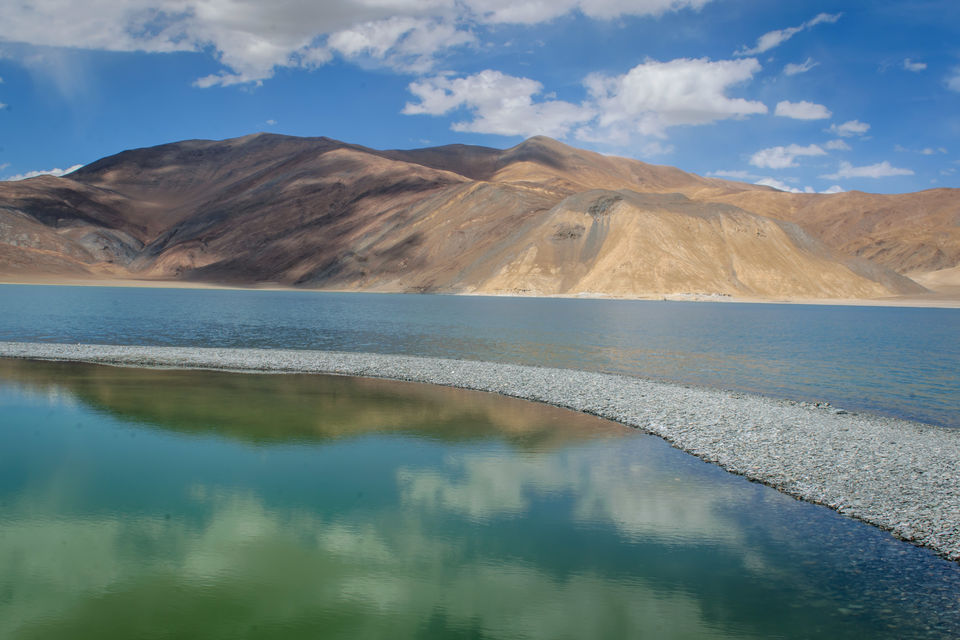 Kareena kapoor on-board a scooter is approaching Amir khan, stops, removes her helmet and starts walking. There is a beautiful blue lake in the background surrounded by some barren hills painted by the shadows of the clouds floating above. That pretty much is the first time most of us saw the Pangong Tso, albeit only on a screen. I saw it again, this time with my own during my first trip to Ladakh. But like most things from the past, I had forgotten it as my mind gave way to newer memories. However on my second visit, I was certain I would soak in enough of it and lock it inside my mind.
Another landslide, couple of nervous river crossings and some of the most beautiful kilometers of my life later, I had arrived at Pangong. When that blue reflecting from the near standstill water reaches you from between the hills, the effort of riding all the way seems worth it. I am going to allow the images speak for themselves.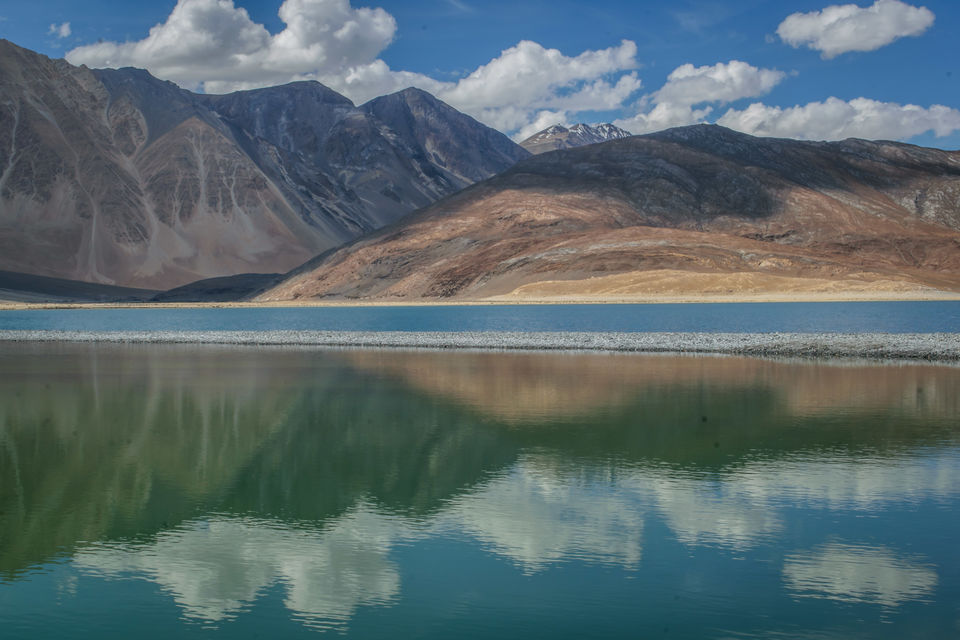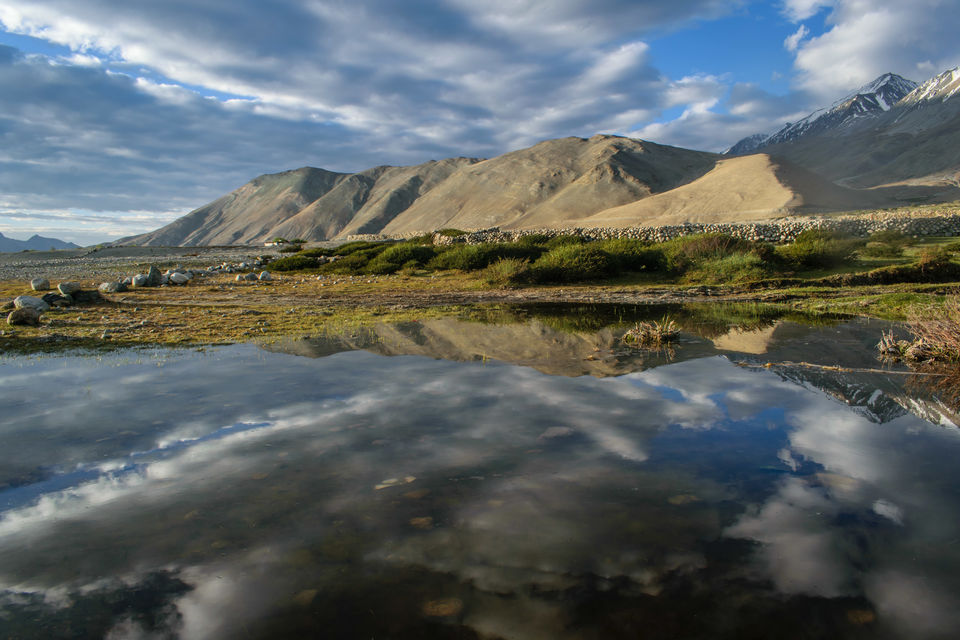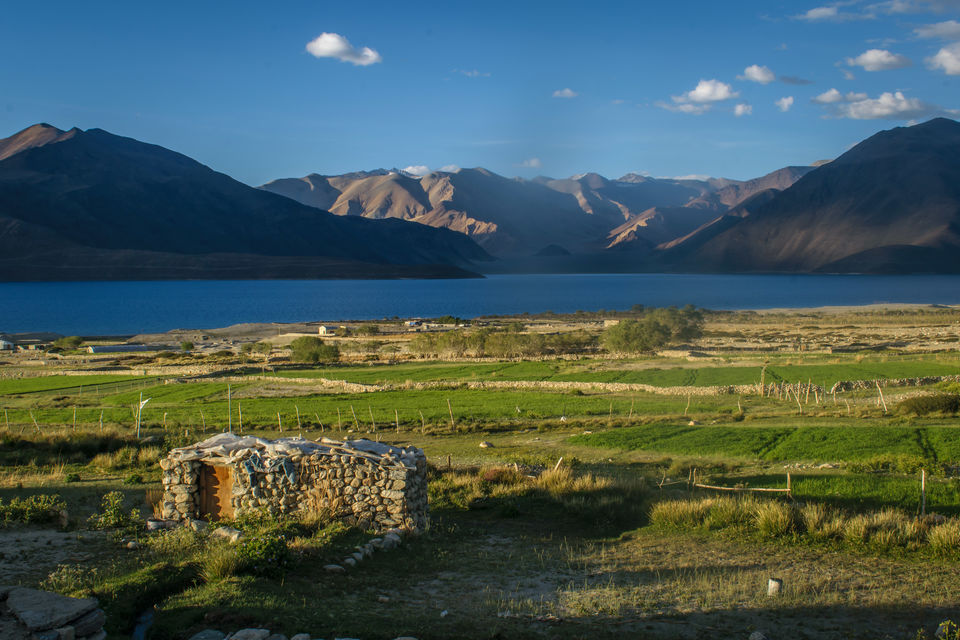 I stayed overnight in a homestay at a small village named Man, around 10kms from the primary tourist spot at Pangong. It allows to have a respite from the constant flux of tourists at Pangong. The plan was to ride towards Moriri Tso via Chushul the next day. Although it was the least temperature I had experienced throughout the trip until then, the homestay was cozy enough to soften the experience. Also, they served the best food I had throughout the trip. Just a suggestion, if any of you ever travel to Pangong and stay overnight, especially as a solo traveler or a small group, stay in the homestays. They are cheap, comfortable, the food is great and belong to the locals, unlike the luxury tents that are primarily operated as a business. I paid INR 1000 including dinner & breakfast and have no complaints whatsoever.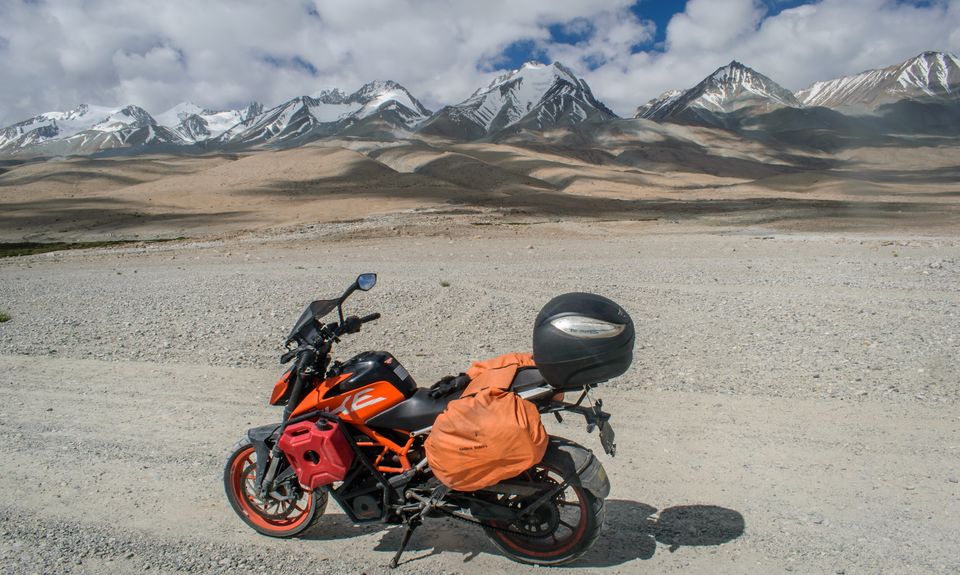 The next day was the most eventful day of the trip. Had I been aware of the road conditions, I might not have traveled along the route. There were practically no roads for most of the 200kms between Pangong and Korzok and no human existence for long stretches. Fear and absence of roads were the only the constants until I had reached Nyoma. The most worrying moment for me was when I was stuck in a river crossing. With water so deep that my knees and half the Duke's engine were in water, I looked around hoping for help. All I saw were sand & stones. Putting all my trust in the Austrian engineering, I twisted the throttle as I let go of the clutch lever. The Duke roared and twisted as the stones underneath the flowing water just wouldn't stick to the tyres, but it managed to escape.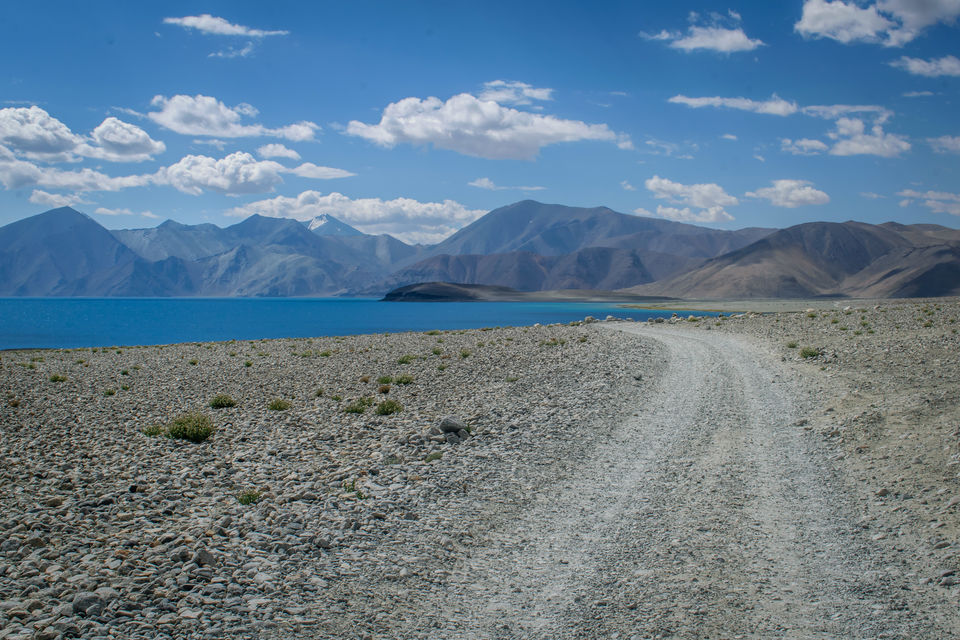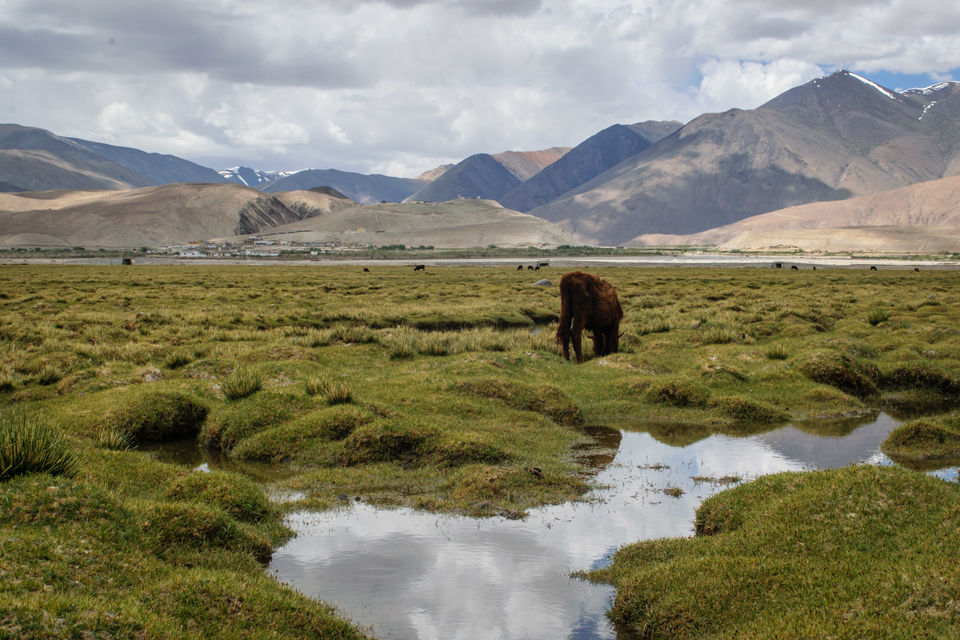 Couple of hours later, of cussing myself for setting out solo, I finally saw glimpses of something that resembled Pangong. I had done my homework on this as I knew this emeral coloured beauty was Tso Kyagar. A perfect entree & built up to the main course, Tso Moriri. Only a couple of kms to endure, I said to myself.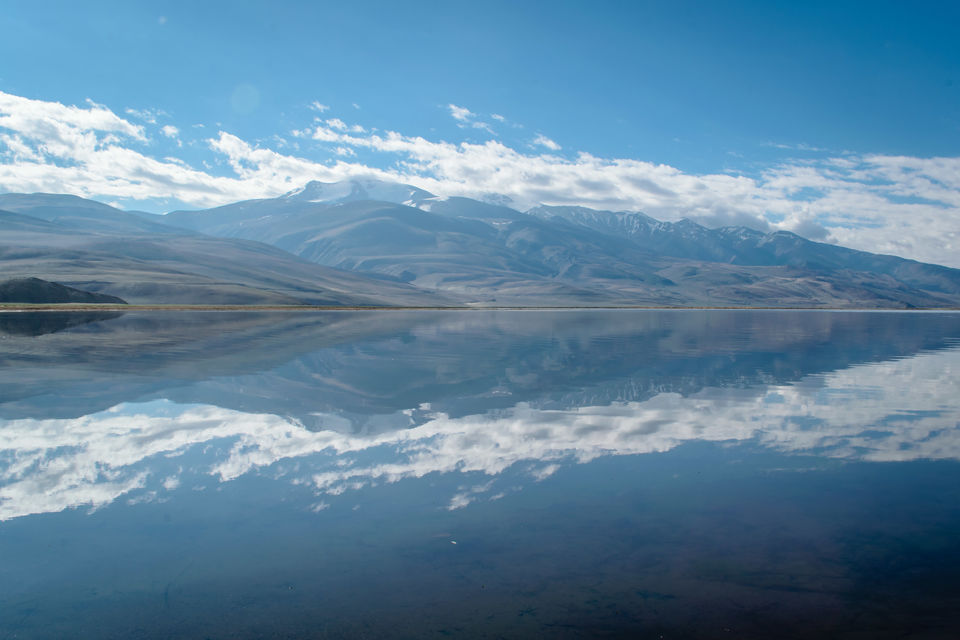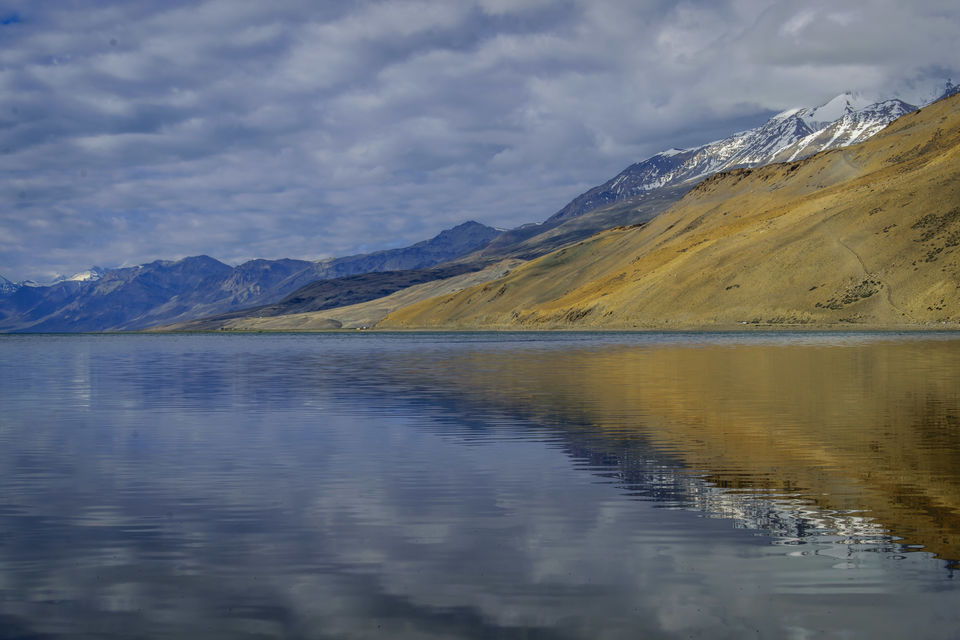 Tso Moriri is not frequented by too many tourists considering the distance from Leh and the road conditions. This adds to the beauty, that it already is. Mighty mountains, snow capped peaks, lush green fields and the deep blue water stretching to the horizon, Tso Moriri offers it all. What truly stunned me was the magical feeling it offers, the sense of untouched purity. Please, don't be stupid and not spend an entire day at Korzok. It is every bit worth it as I regret now, while writing this.
Final Leg: Delhi via Manali
After enjoying the sunrise at Moriri Tso, I finally started the final leg of the trip. Final, because this was my last day in Ladakh. The theme of no roads continued until I reached the Leh-Manali highway. For the first time since I had left Kargil, I had seen proper tarmac. The feeling was amazing, only to be broken to pieces once I crossed Pang. The route to Sarchu was bad but by then, I had almost gotten used to the broken roads. However, something unexpected happened. The other half of my motorcycle's top rack decided to match the road conditions as it cracked, leaving the motorcycle top box literally hanging on for its dear non-living life. Couple of unsuccessful attempts to tie it to the pillion seat later, I saw one Punjab number plate car approaching. Dimag me batti jali and I waved at the driver to stop. I explained the situation and requested him to help me get the box to Manali, where I would collect it from him. The idea was to courier it back home from Manali. He fortunately agreed, as the plan actually went as per the plan. I stayed overnight at Sarchu, as I barely had much energy left to ride any further. It was the end of my Ladakh adventure as Himachal Pradesh awaited the next day.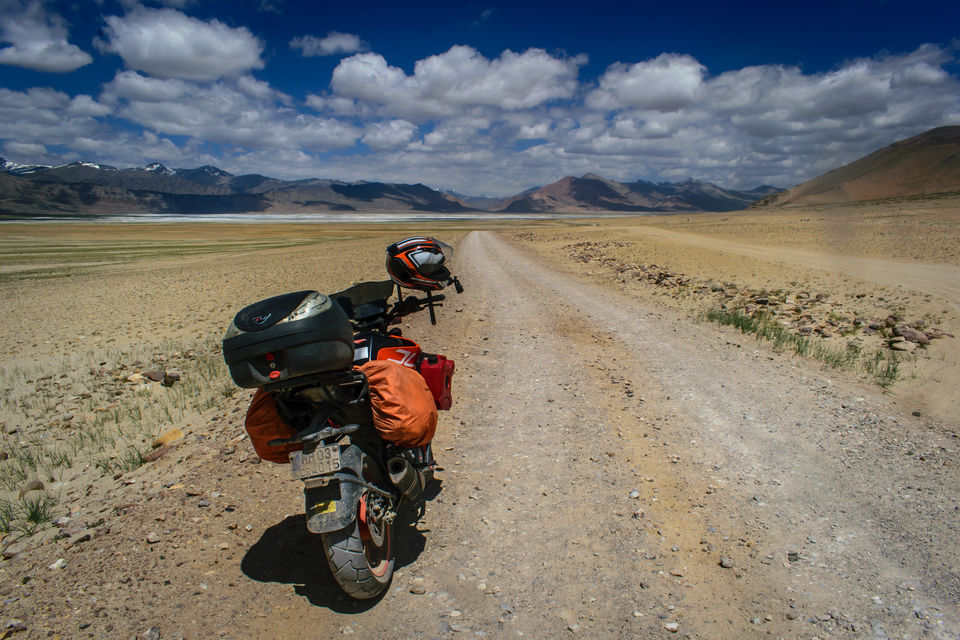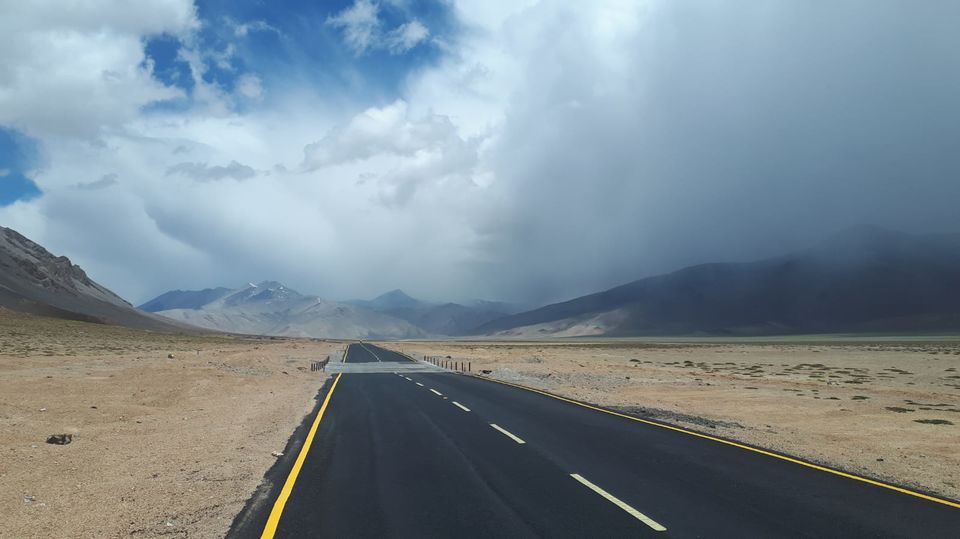 Day 13 of the trip was dedicated to water crossings, the worst possible ones. Barely 10kms beyond Sarchu, I found myself going against the tide, surrounded by nothing but water and rocks. To make matters worse was the oncoming traffic. Eventually it had to happen, I dropped my motorcycle. Five other bikers immediately stopped and leaped to help me lift that orange bulk. My worst worries blew away with the exhaust smoke as the Duke roared the moment I pressed the electric start button and I was off. Aside some Bangaloresque traffic at Rohtang la, the rest of the ride went smooth as I finally reached Manali.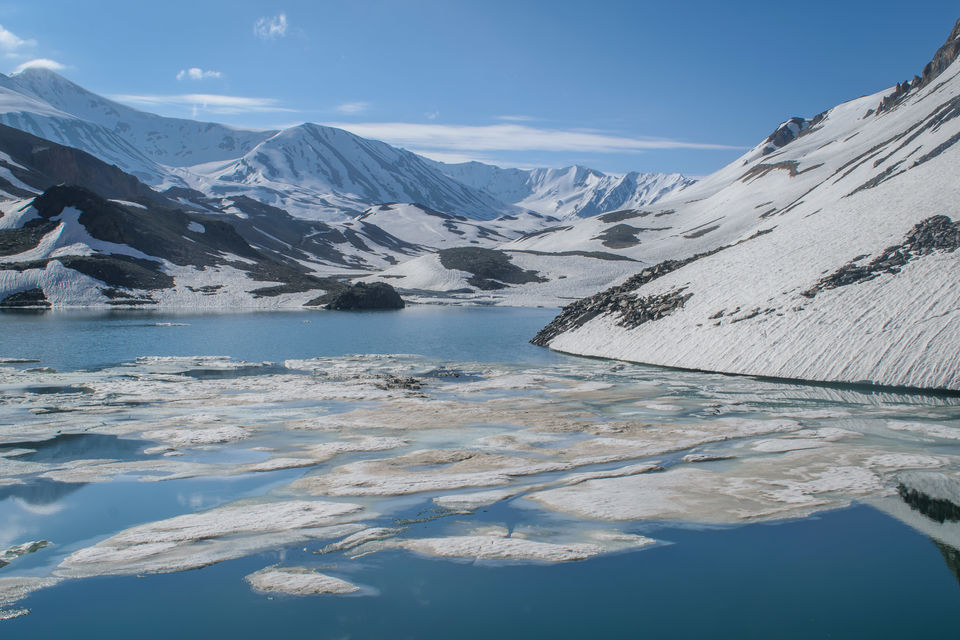 The next 2 days were spent just riding leisurely back towards Delhi. I halted at Mandi and Chandigarh for a day each. Riding back from Ladakh, I saw the landscape go from barren brown hills to the winding roads surrounded by snow of Manali, to the pine trees of Mandi to the paddy fields of Punjab, all in a mere 500km. I doubt any other country would offer such a diversity. During those last 3 days, all I could think of was how I was supposed to return to the usual mundane Bangalore life.
On 15th July, I and my Duke, boarded the Duronto express from Delhi, as my mind was still stuck in Ladakh, amidst the flowing memories of the mesmerizing landscapes. I have already promised myself, I would visit Ladakh again, hoping I wouldn't be boarding that train the next time alone.