The Yucatan Penninsula of Mexico has many Mayan Ruins. Many of them still lie undiscovered, hidden in the lush tropical jungle that covers this area. The ones that have been discovered and restored are carefully protected to preserve them. Here, the visitors can just view and enjoy them only from a distance. Only at a handful of sites, you can really get up close and interact with these structures – and when I mean to interact, i mean climb them ???? Coba is a Mayan Ruin site, 40 minutes North of Tulum, where you are allowed to do exactly that – climb the tallest Mayan Pyramid in the Yucatan!
About Coba
Coba was once a thriving Mayan city with up to 50,000 inhabitants during it's peak. Most of the construction here happened between 500 – 900 AD. Now the village surrounding the site have little over 1000 people. It is located just 40~45 minutes North of Tulum.
Visiting the site
The site is vast and structures are spread out. We hired bikes from the hut right after the entrance (50 MXN per bike) to minimise the effort and time required for the visit. The bikes are numbered and there are designated parking spaces near each structure. You can also hire services of a Bike Taxi if you are too tired to cycle. But the road is flat and an easy ride.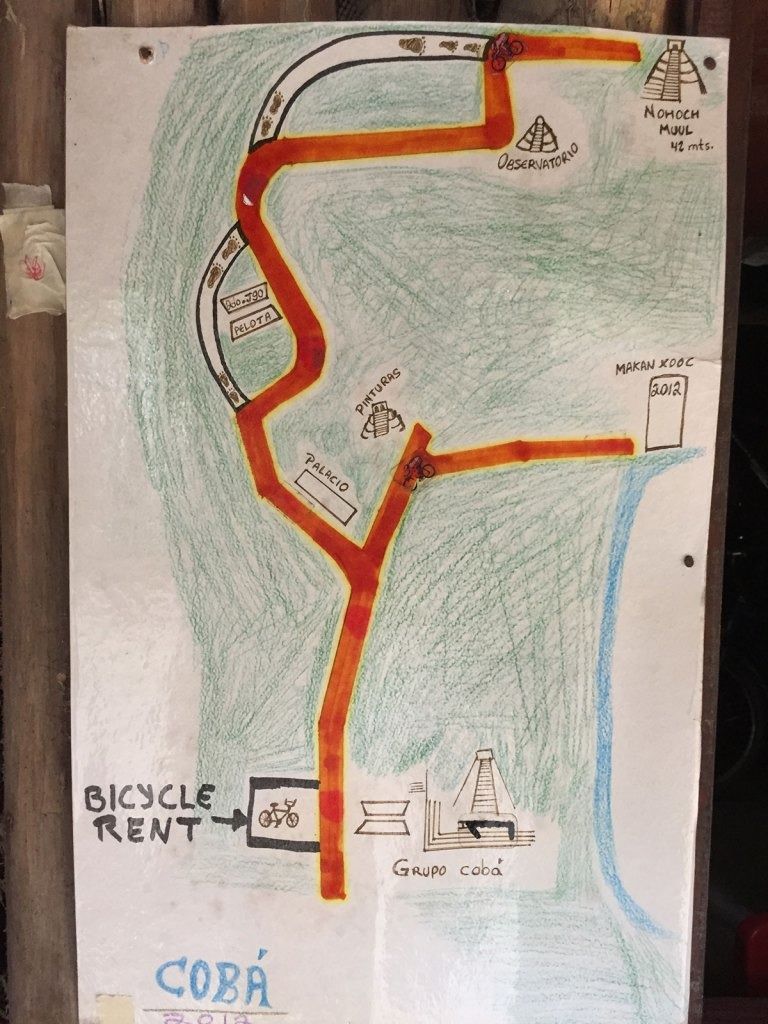 The first structures you'll come across are located right next to the Bicycle rental – Grupo Coba. A massive Pyramid called La Iglesia or The Church is the most prominent structure. You have to wait for the climb, this one is protected.
Cycling on, you reach the next set of ruins – The Ball court. The Mayan Ball game was played here. A ball from rubber was used for this game, and contestants tried to keep it in play using their hips, with the objective of putting them through the hoops on either side of the court.
The next major building was the Observatory. This had a circular base, as opposed to the rectangular base of the Pyramids. This was to keep track of the celestial bodies like Sun, Moon and Stars and synchronise the calendars.
Finally, we arrived at Nohoch Muul Pyramid. This was the last stop. Nohoch Mull apparently means large mound. One look at it and we were like, "Are we REALLY going to climb that ? The mound is REALLY tall!" And it is. At 42m or 130ft, it is the tallest Pyramid in the Yucatan Penninsula.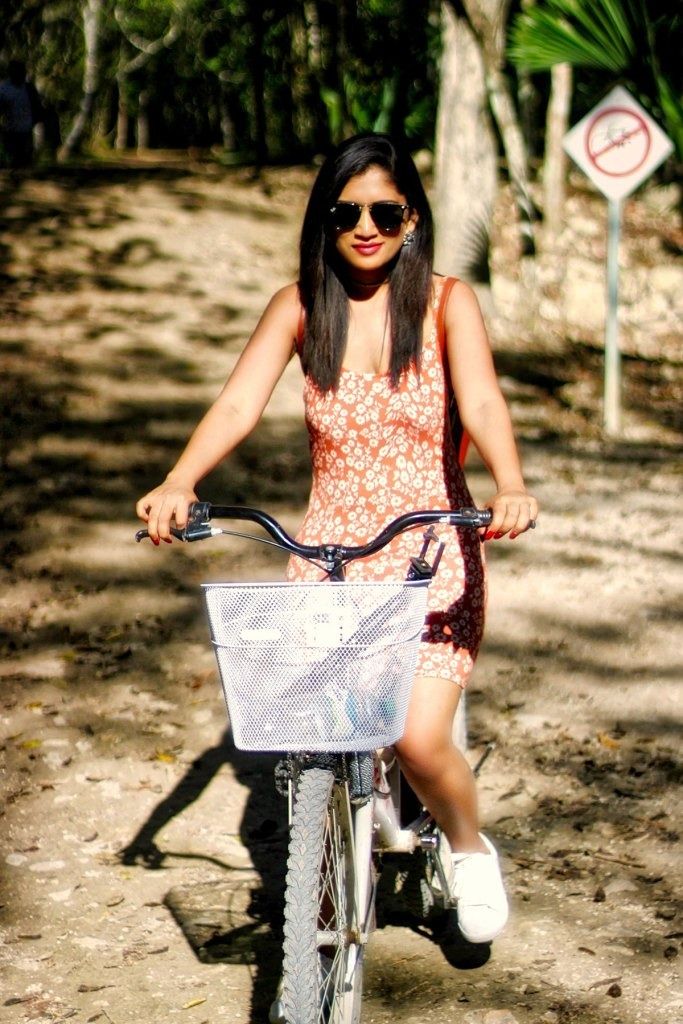 Climbing the Mayan Pyramid
However, going up was easier than we thought. There is a big rope anchored in the middle, which was used for support. The stones were loose in some places, so we had to watch every step we took, as we climbed higher and higher. Once you reach the top, you are greeted by one of the most beautiful vistas.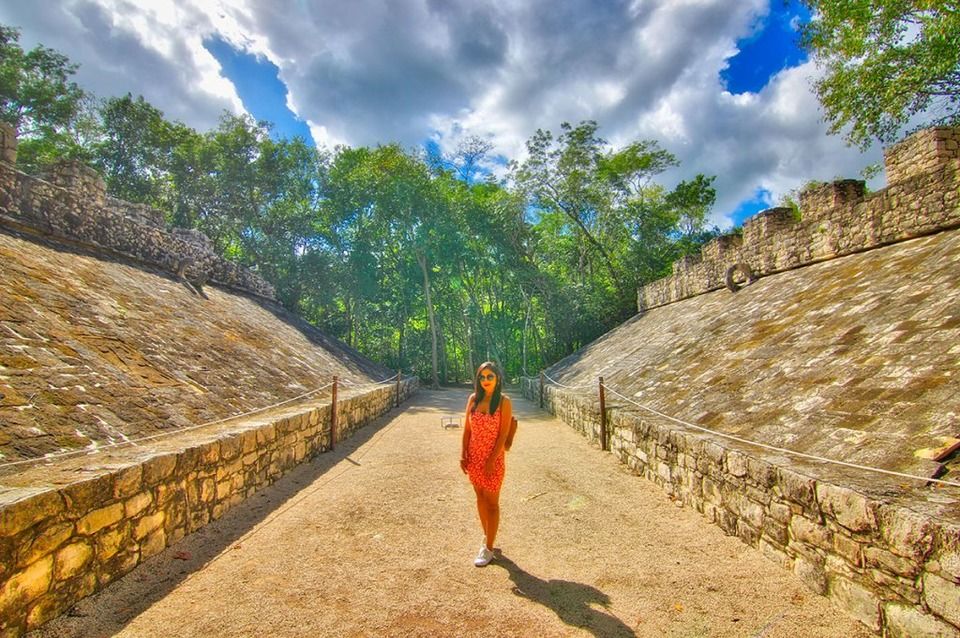 Now came the difficult part – Climbing down. It turned out to be far more difficult than climbing up. We had to go down one step at a time – sitting down at each step and crawling downward.
A Cenote is a natural sinkhole found in Yucatan, formed when the limestone ground collapses to expose the groundwater below the surface. There are over 7000 such Cenotes in the Yucatan Penninsula. For the Ancient Mayans, it was a mysterious and sacred place, associated with the underworld. Certain cenotes were used for Human sacrifices, while most of them served as a source of freshwater for the region devoid of any major rivers or lakes!
Just few minutes away from the Coba site, there are 3 beautiful cenotes, perfect for a refreshing swim after a tiring day of sightseeing. They are Choo-Ha, Tamcach-Ha and Multun-Ha. Interesting names! I'll refer them as Cenotes C, T & M for ease, please bear with me ???? Cenotes C & T are located in same property while M is located slightly further away in a different property. They can be found on Google Maps, near Coba. By the way, visiting a Cenote is not free ! They are preserved and maintained by the owners of the property in which they are located, so they charge a small fee. At the entrance of Cenotes C & T, you can make the payment and get the tickets. Visiting one cenote is 55 MXN per person, but you get a discount of 10 MXN if you purchase all three together. We didn't know which Cenote was which, so bought the combo ticket.
Cenote Choo-Ha
This was our first Cenote experience. There were shower/change rooms with curtains outside and a place to rent life-vests (@ 35 MXN pp). We showered, changed to swimwear and entered the cenote. Viewing from the outside, the entrance is just a hole in the ground with winding wooden stairs leading you downward into darkness!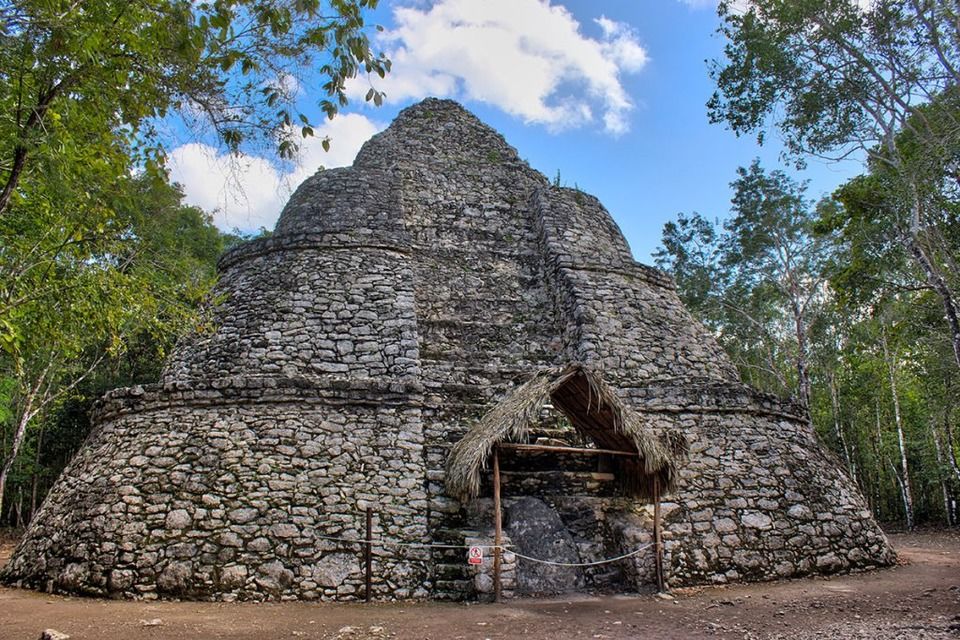 When you exit the stairs you enter this big chamber! There are two pools, one on the right which was large and occupied by a few people, and a small one on the left which was empty when we came.
After exiting Cenote C, we got back in the car and drove a few hundred meters to the next Cenote in the property. This one seemed more crowded as there were lot of vans and cars parked outside. Once inside, we knew why! This Cenote was in the shape of a giant, deep well, with stairs taking you all the way down to the water level! At 5m & 10m height from the water level, the stairs had diving platforms. Both adults and kids were having the time of their lives running up, diving and repeating. Rahul decided to jump from 5m board. And trust me it is higher than it looks!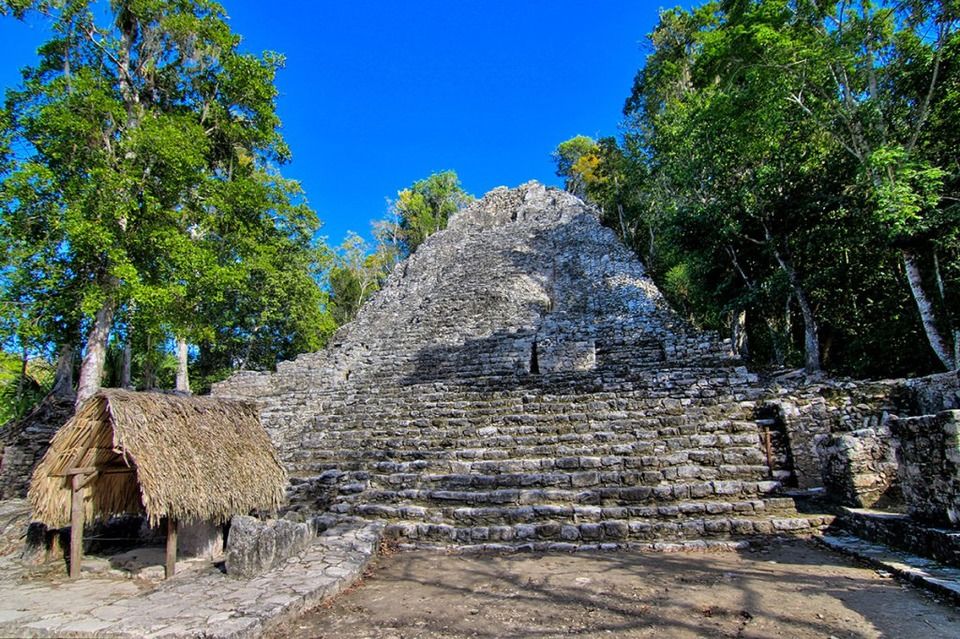 Swimming in a Cave!
The last stop was Cenote M, located in a property a km away from the ticket booth on the same road we came from Coba. This one was also crowded, primarily because it was well lit, deep and clear, enabling people to have a good snorkeling experience there. However, we were so exhausted after the first two cenotes, so just clicked a few pics and left.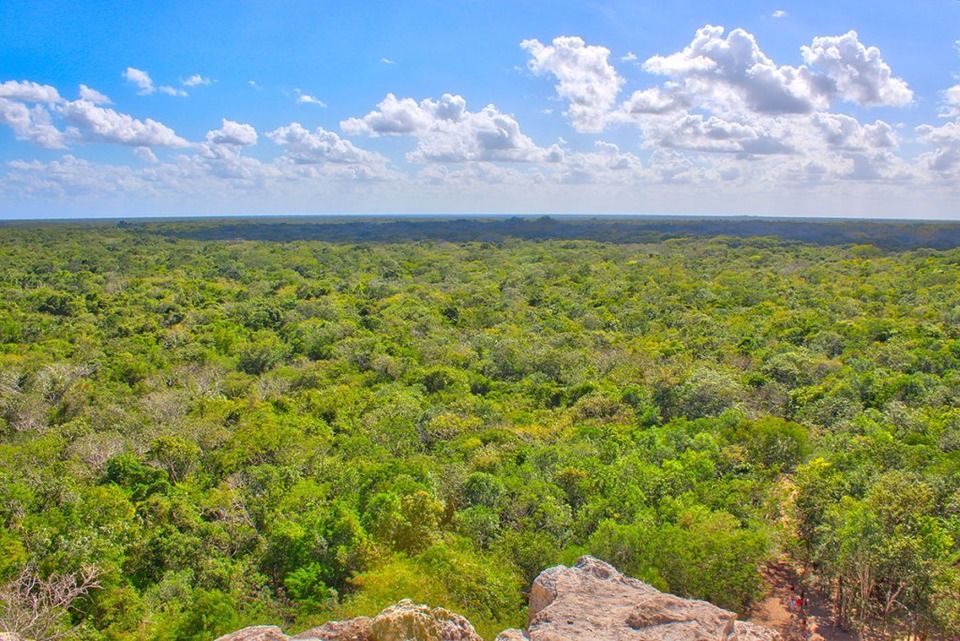 Carry lots of water – There is only one shop at the very end that sells food and drinks, that too at a premium. Best is to carry a bottle or two in a day pack.
Wear proper shoes – As you saw, climbing up and down the pyramid is tricky due to the huge stones. To minimise the chances of slipping and hurting yourself, wear proper shoes and avoid sandals or slippers.
Arrive early in morning or just after lunch – As with any monument, best way to visit is in the morning. But incase you can't make it, try visiting after lunch. The heat keeps most people away.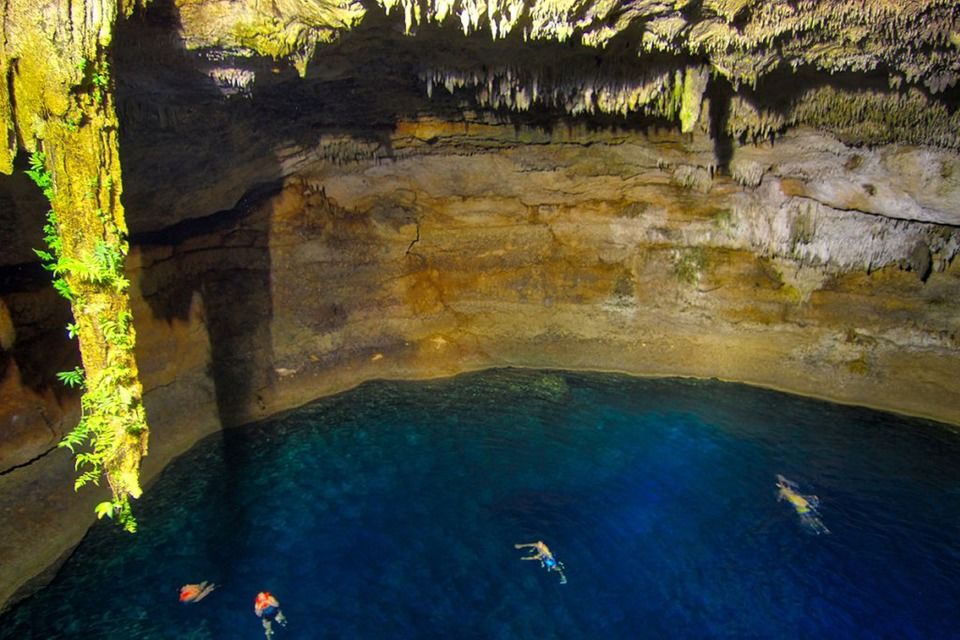 Bring bath towels, soap and swimwear – If planning to swim in a Cenote, you have to take a shower first and rinse off all the synthetic chemicals on you body – Hair gel/Make Up etc – as the cenotes are delicate. While showers, restrooms and changing rooms are available before going down, there are no other amenities. So bring your own.
Research Cenotes to Swim – Do a bit of research on what kind of Cenotes you prefer to visit. Cenote C is perfect for non-swimmers to take a dip and enjoy the cool waters and avoiding the crowd. Cenote T is perfect for people who like to jump from high platforms into water. Finally Cenote M is perfect for those who want to snorkel in a cave.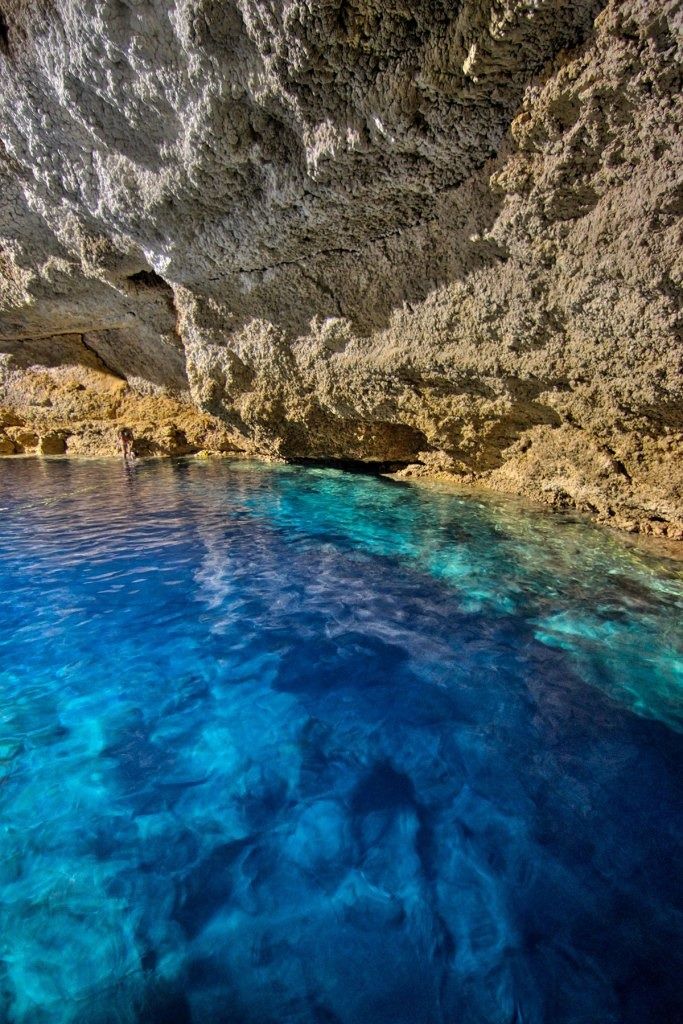 Reaching Coba
Best way to reach Coba is to be a part of a Tour group that starts from the major tourist centres. The other options is self drive. The Coba village is just 45 minutes north of Tulum. After visiting Coba if you wish to get to the Cenotes, you have to go outside of the town for a few Kms. The entrances are well marked or you can navigate there via Google Maps.
Staying in Coba
Coba is a small town and best visited while being based out of the nearby towns. We continued onwards to Chichen Itza, our next destination, after swimming at Cenotes, and stayed there. About that in next post. Stay tuned ????
This post was originally published on Unbounded Explorers.