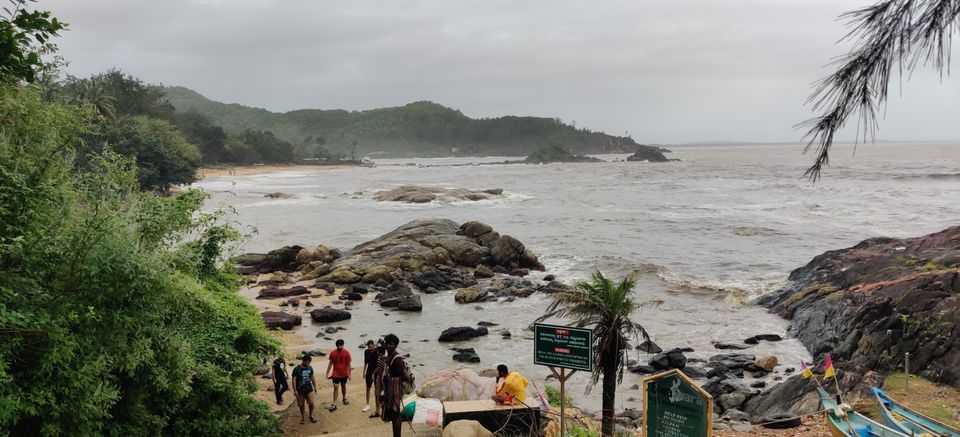 This trip was one of a kind, worth remembering for lifetime.
We have started on this trip with the name of god,
early morning from Bangalore.
We started in the monsoon season in September , the rain kept visiting us but the condition surrounding road, full of water,was asking us to return back, although the pedestrians kept encouraging us that the things aren't very bad and we can proceed to visit the gems of Uttar Kannada.
As we booked a resort at Kumta the
route we took was :
Bangalore Tumakuru Sira Hiriyur Chitraadurga Devengere Haveri Sirsi Kumta.
The route to this beautiful place is no less calming and soothing than the destination itself..The western ghats are at the peak of its beauty during monsoons.
We stopped at a small road side hotel for some light food, it was good.
The journey was full of fresh and pure shades of green,and a soothing breeze full of oxygen all the time ,the road were clean and washed with pitter patter raindrops.
We stayed at Blue ocean sand resort which was okay to stay in Monsoon.The best part of this resort was that the sea beach was just at the back of resort.
We went in monsoon and region was flooded before and hence sea food was not available as no boats were going for fishing. Otherwise this resort is known for good seafood.
It took around 10 to 12 hours to reach by car.
As we reached it was already onset of dusk round the corner.
We freshened up and were ready to enjoy the kumta beach side of our resort.
It was a roaring thundering sound of beach that welcomed us.The family with us were very excited as it was first time for the kids to see such a clean and nice beach. They were happy and enjoyed the wave splashes. Me and my husband we both preferred to have a walk on the beach side, sing along with wave and appreciate travelling together to such a nice place.We enjoyed then had food in the resort itself and rested to open our eyes to a beautiful lively morning.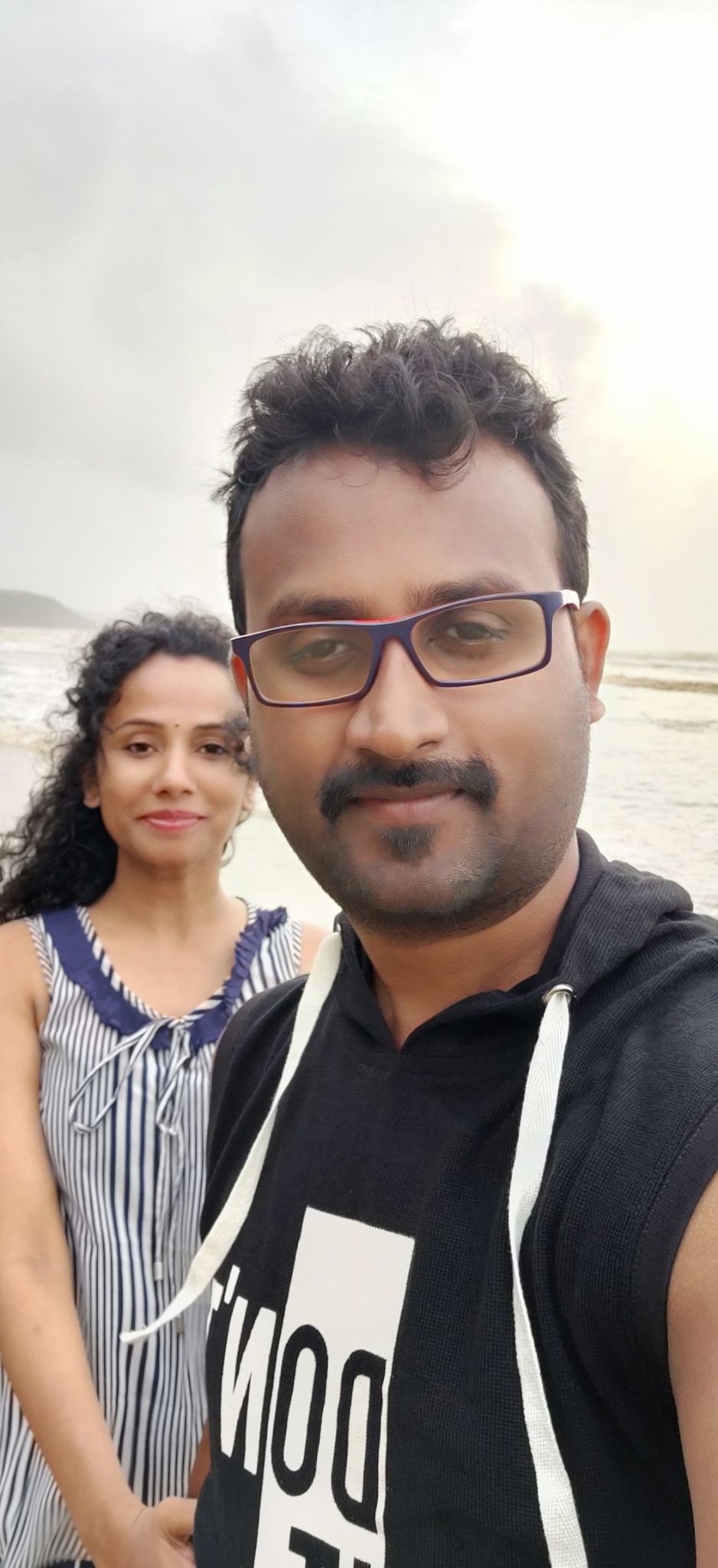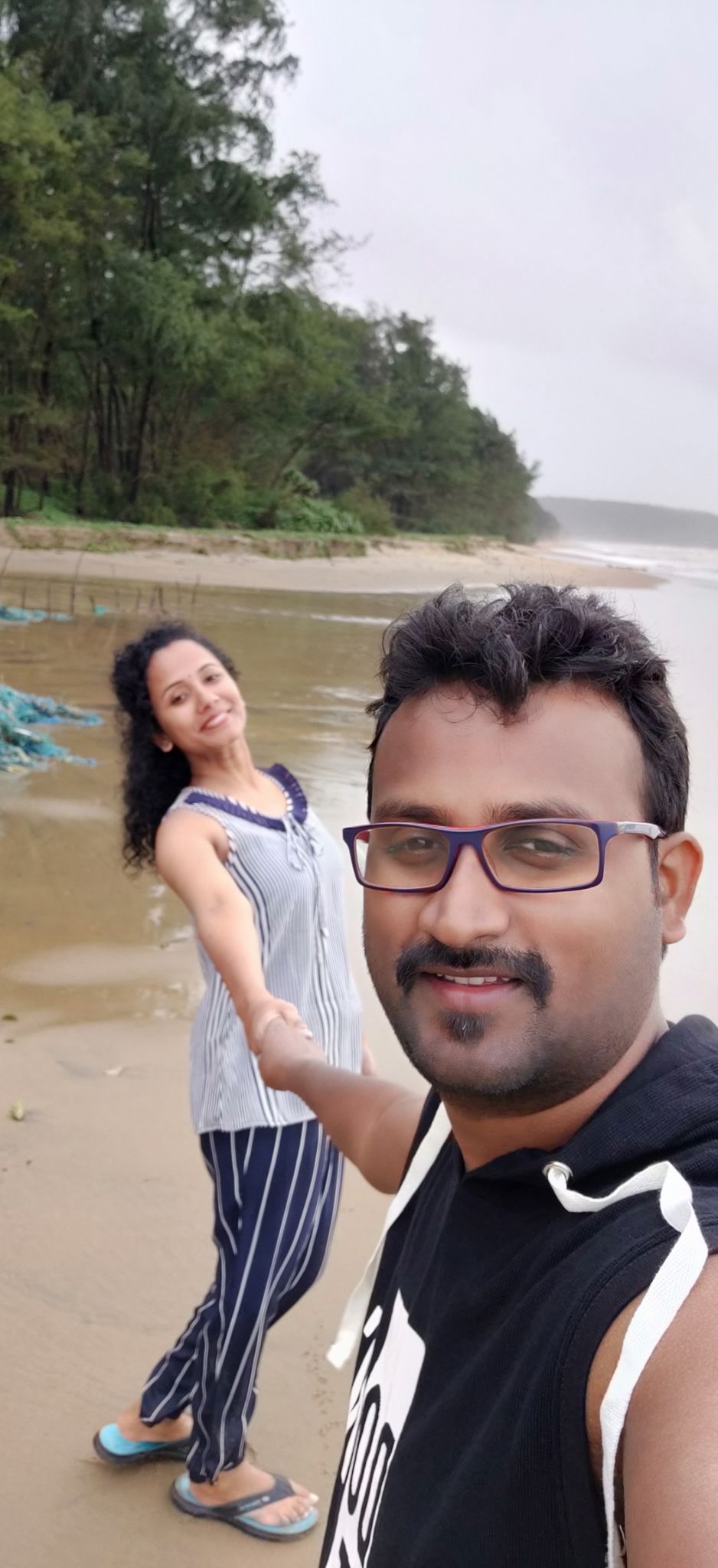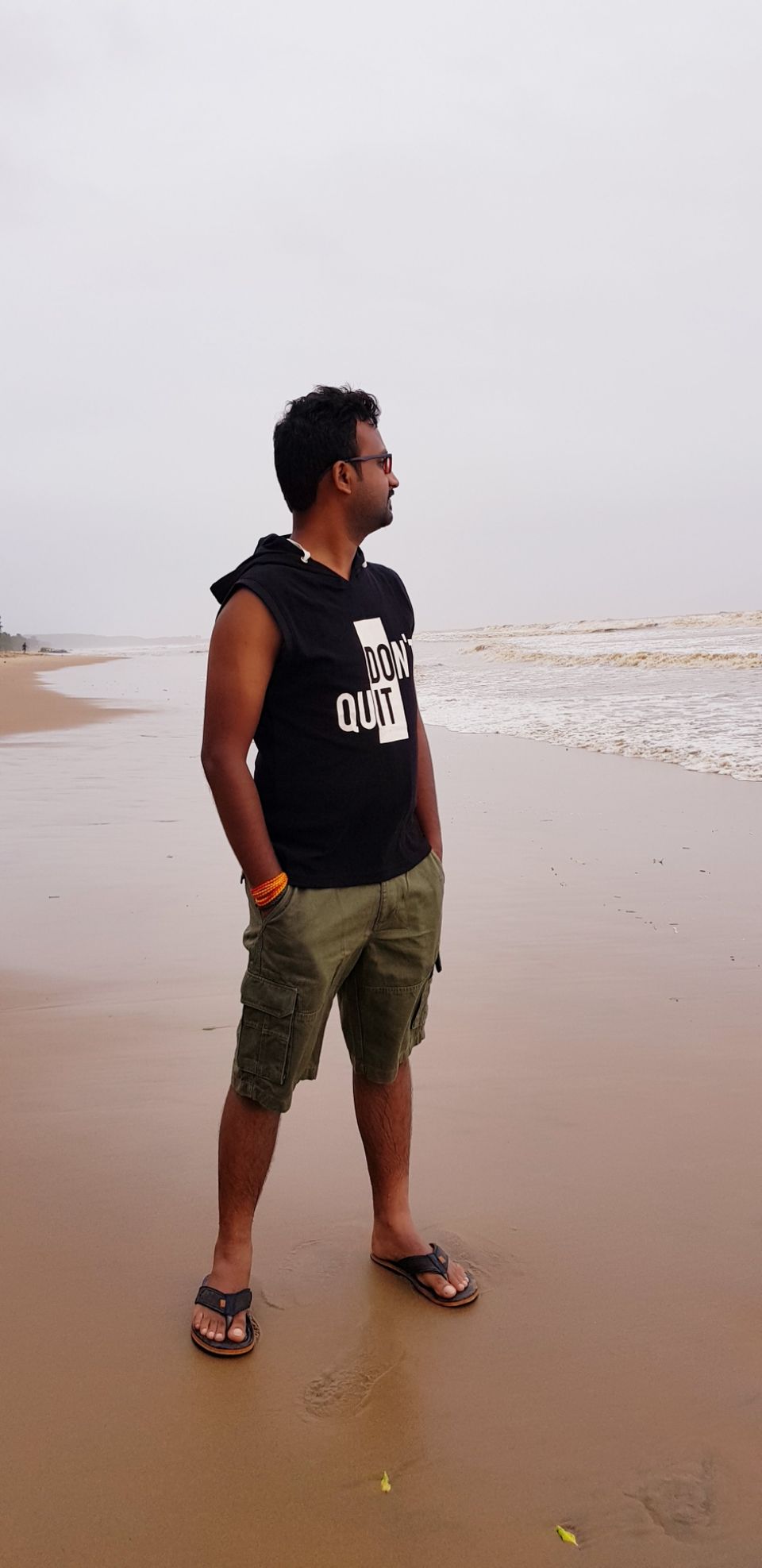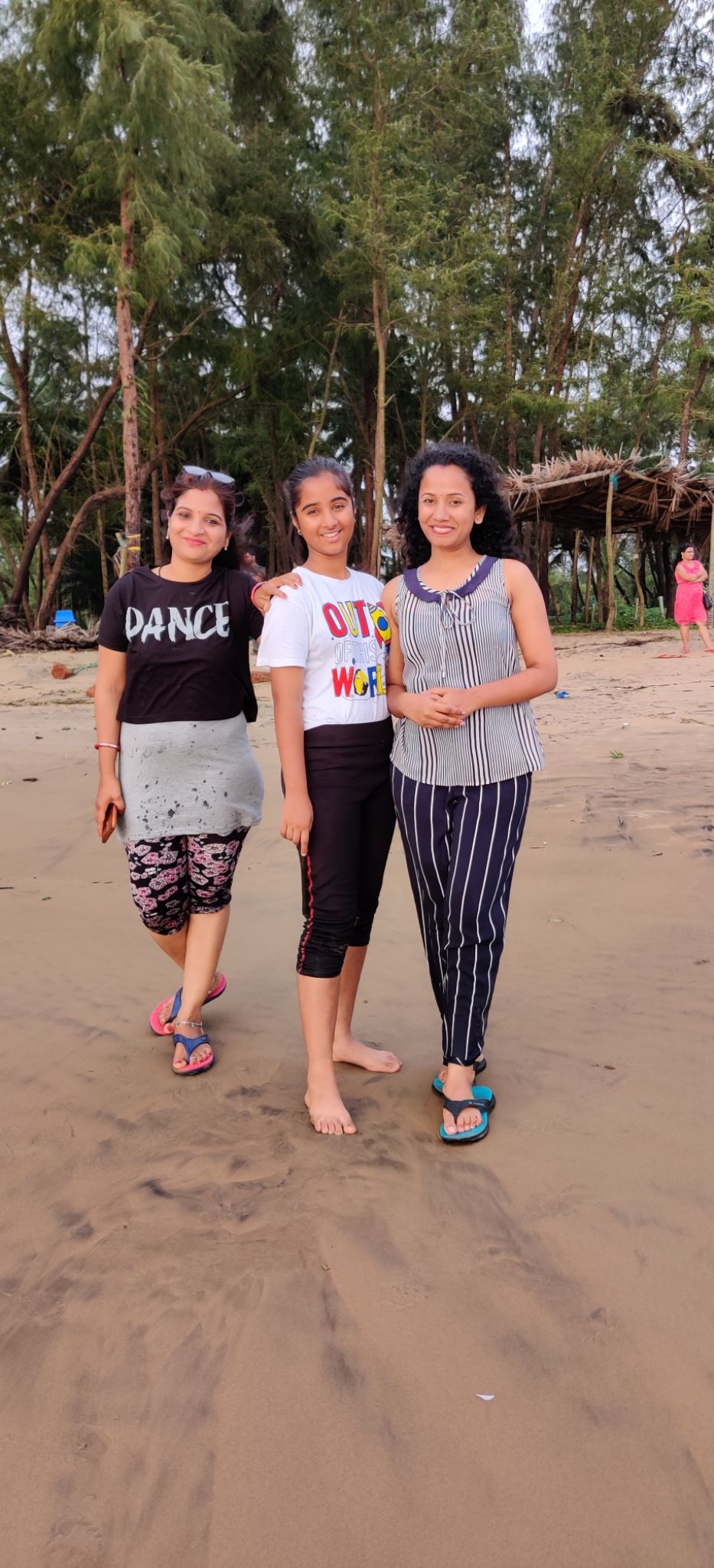 We were ready to explore Gokarna on day 2.
As we were roaming on the hilly terrains of Gokarna the atmosphere full of lush green trees and verdant grass along with vast sea playing peekaboo from hills and vegetation had kept us exhilarated..we were so at bliss with the cool wind .. we just went down to backwaters first and took few pictures and were already excited to visit the beaches. The first in our list were Paradise and Half Moon beaches.. you can reach there either through trek or ferry..as we had family with kids with us so trekking wasn't an option and due to heavy winds ferry were not at work.
So this is how we could not visit these two gems of Gokarna but yes Om beach kKudle beach and Gokarna beach did not disappoint us at all.
We visited Om beach first... it is surrounded by thick green mangroove vegetation we couldn't stop but click good pictures and breathe in the pure air and breathe out all worries. There were some stairs to walk down to Om beach we came down and enjoyed the splashes of waves while sitting on the rocks , we had a hearty walk along the beach side. There were lots of tree with its branches giving us perfect picturesque
backdrop for snaps.
After playing and appreciating the waves in the beach we checked out one of our foodies bucket list that is Namaste Cafe just by the beach side.
The heavy rain started pouring and we got into the cafe and enjoyed the view with delicious food that was really yummy.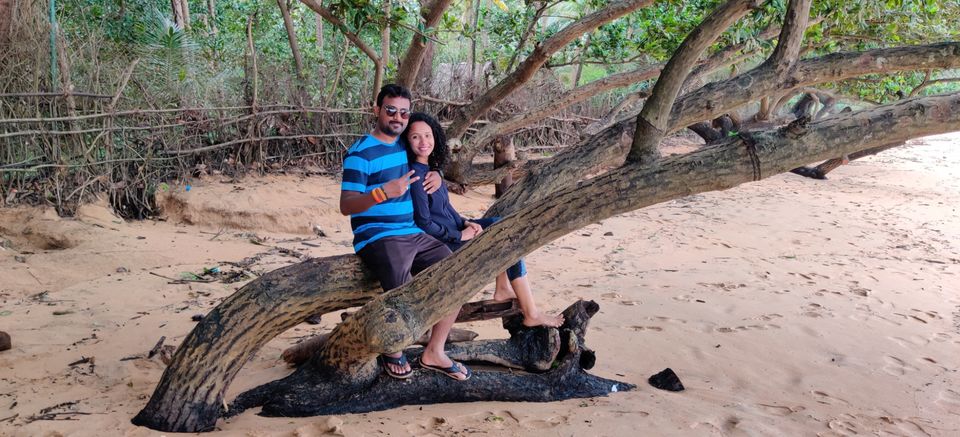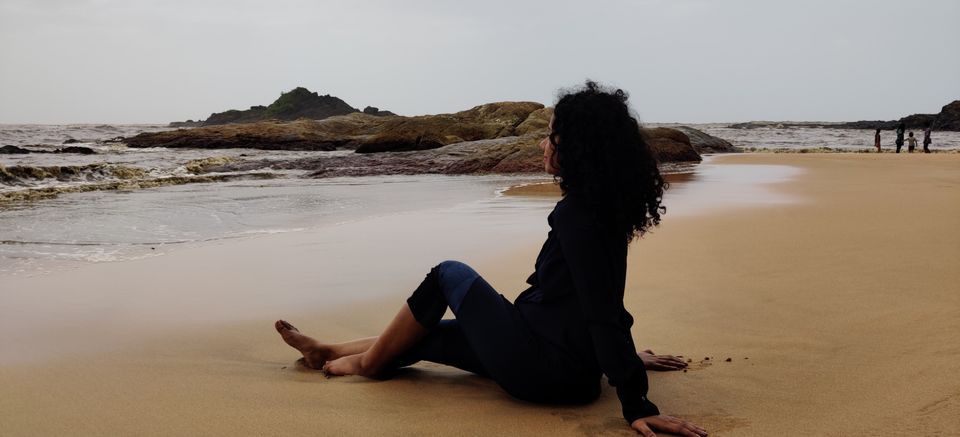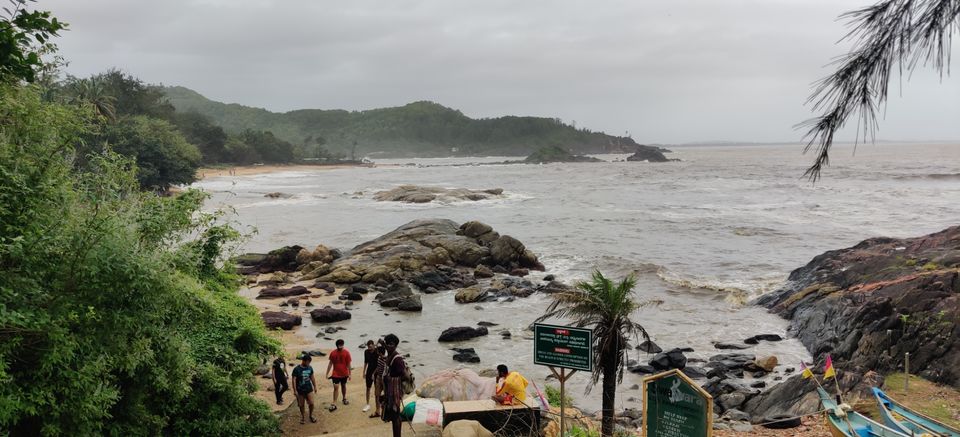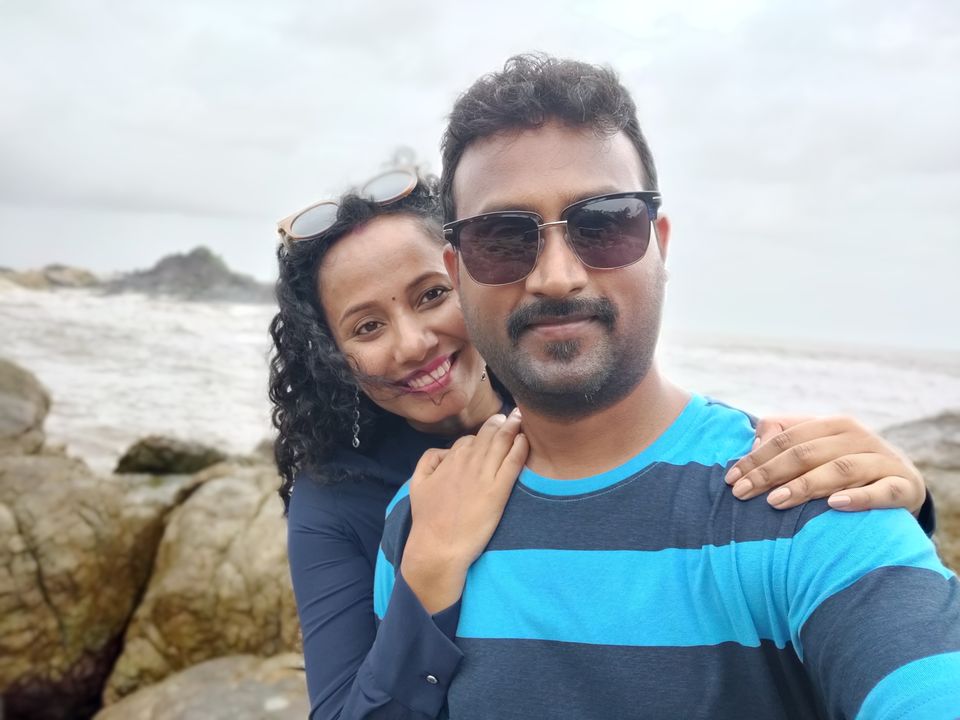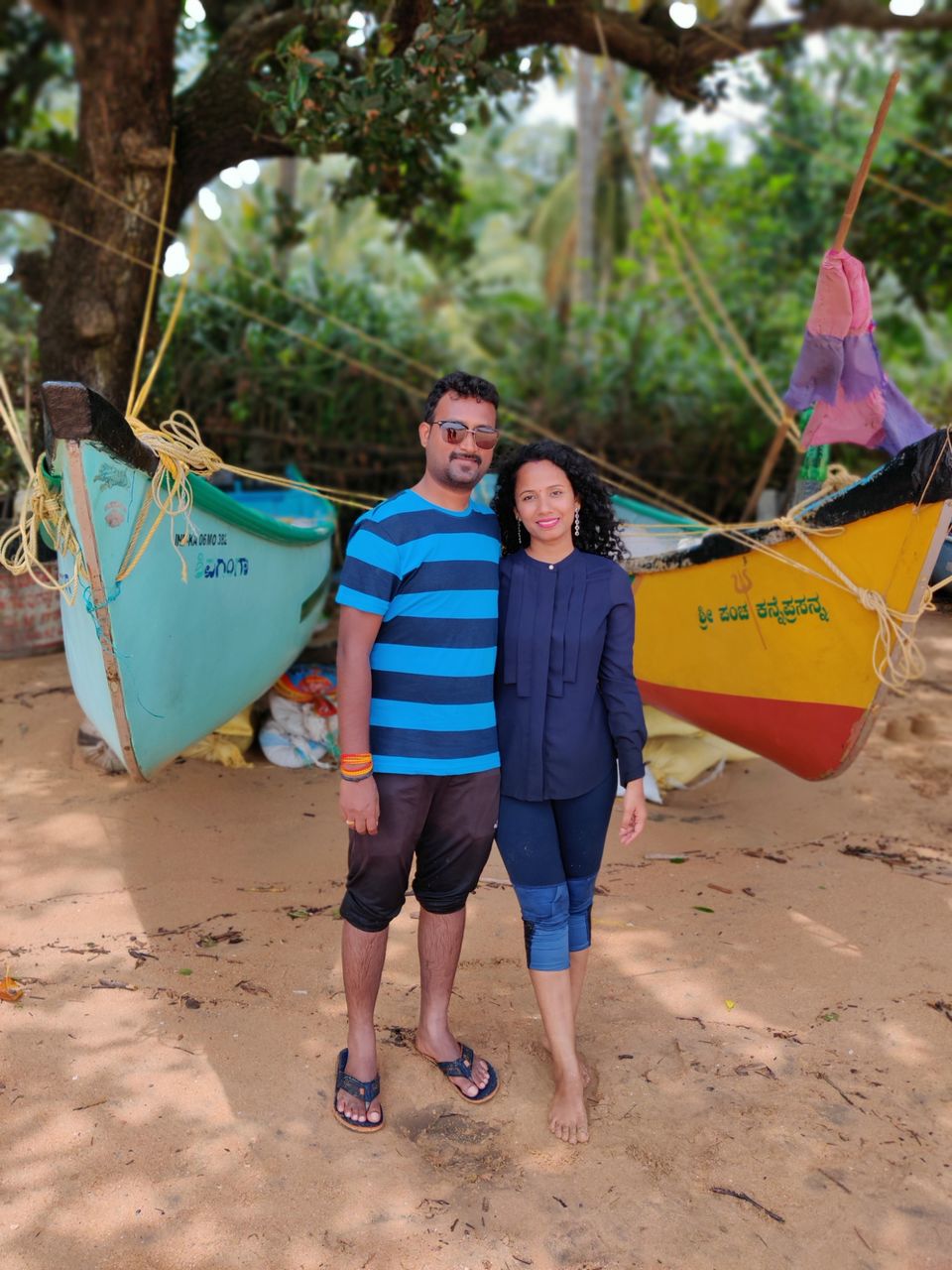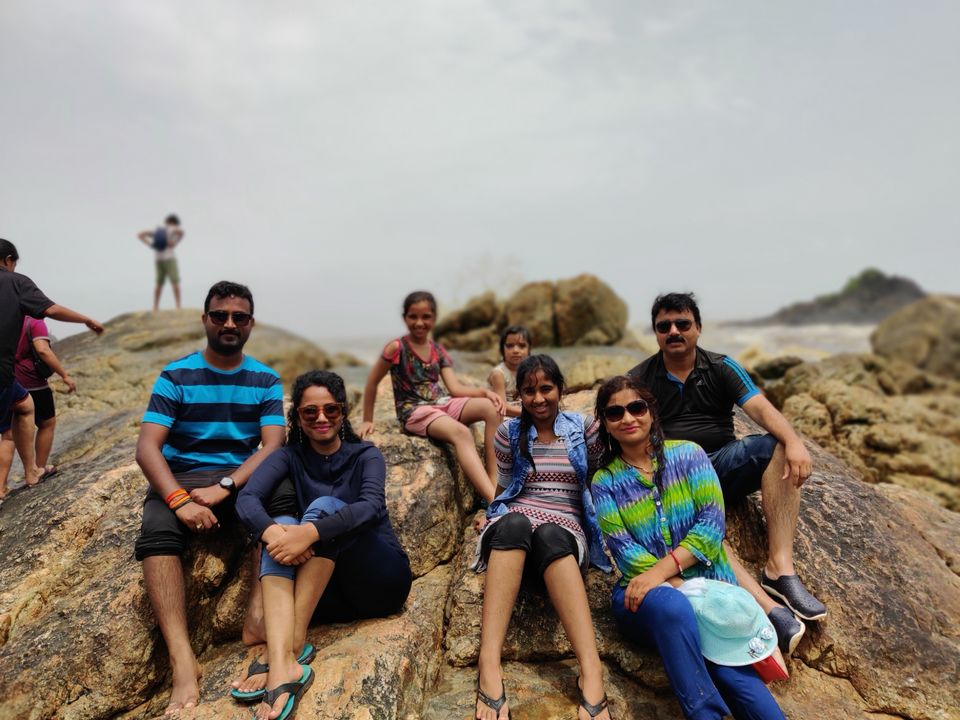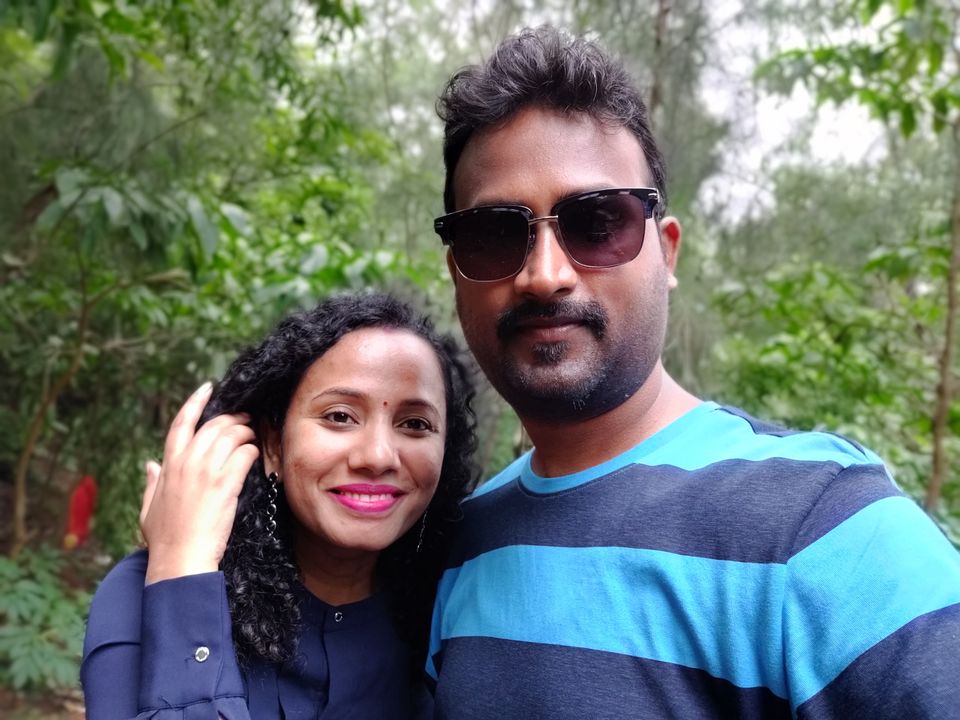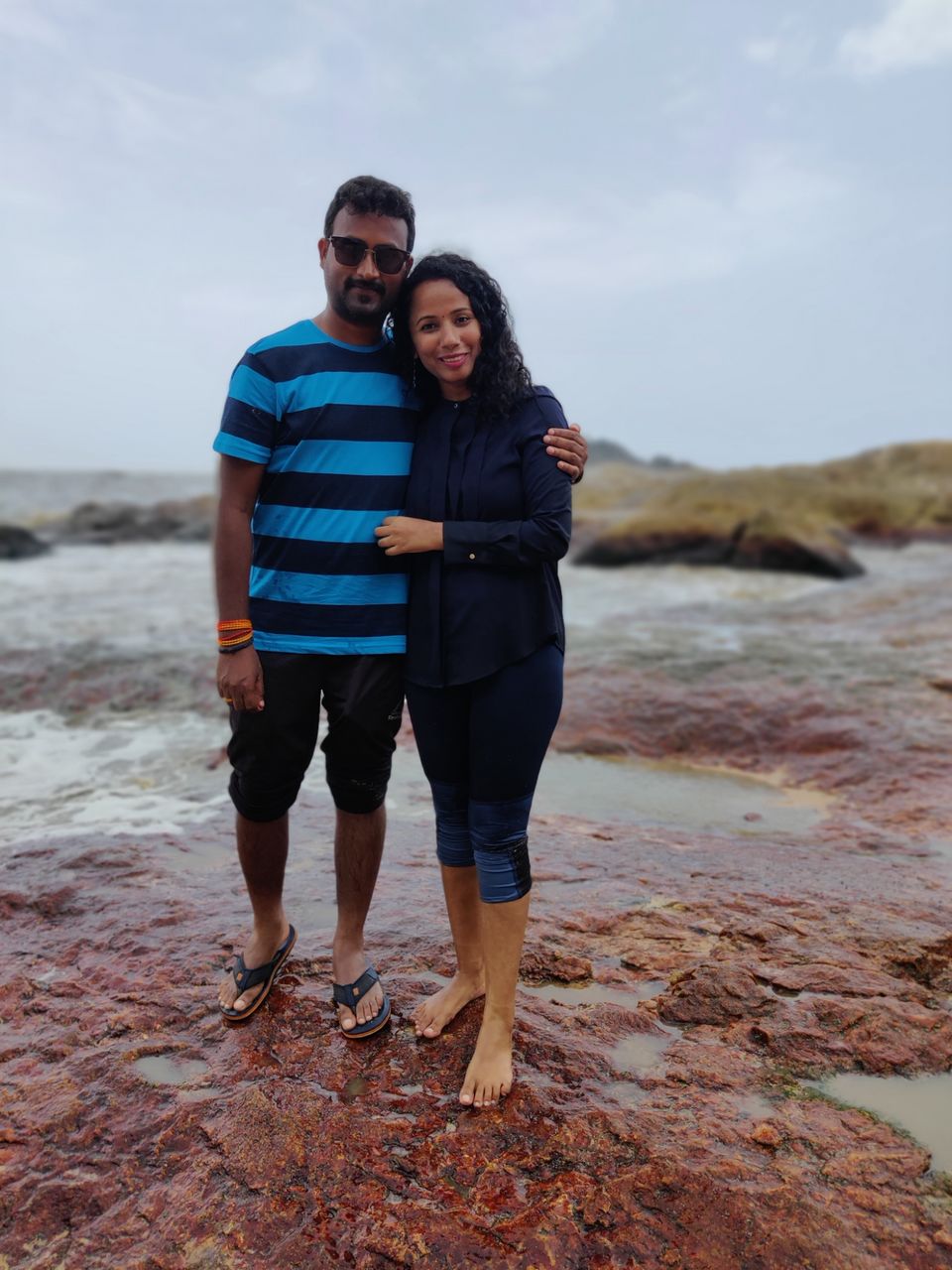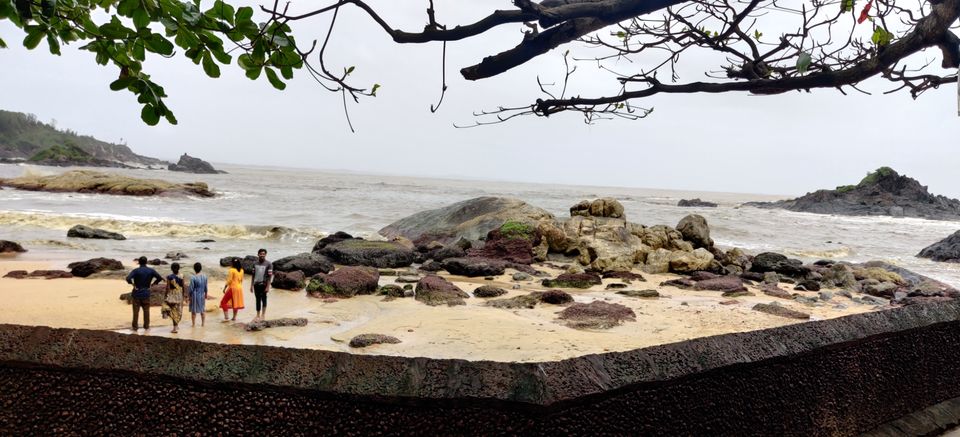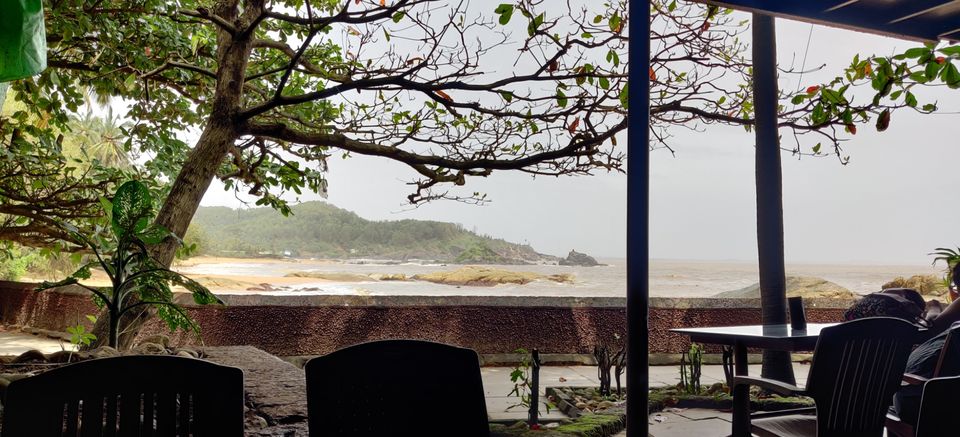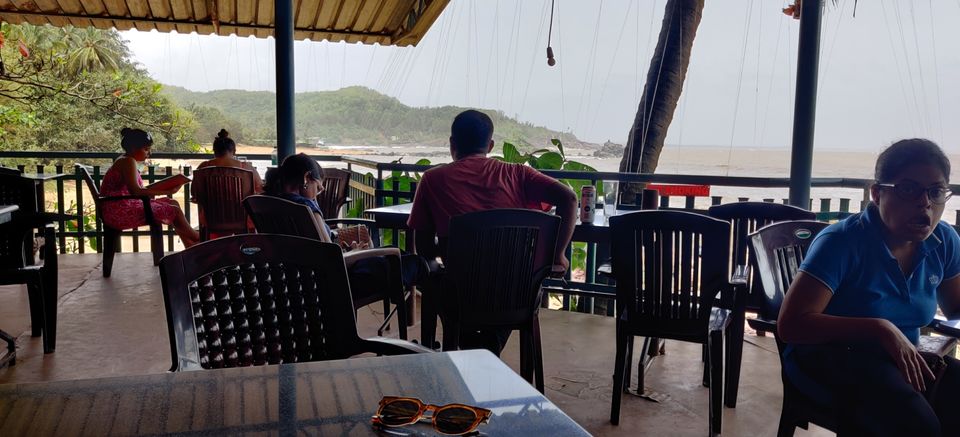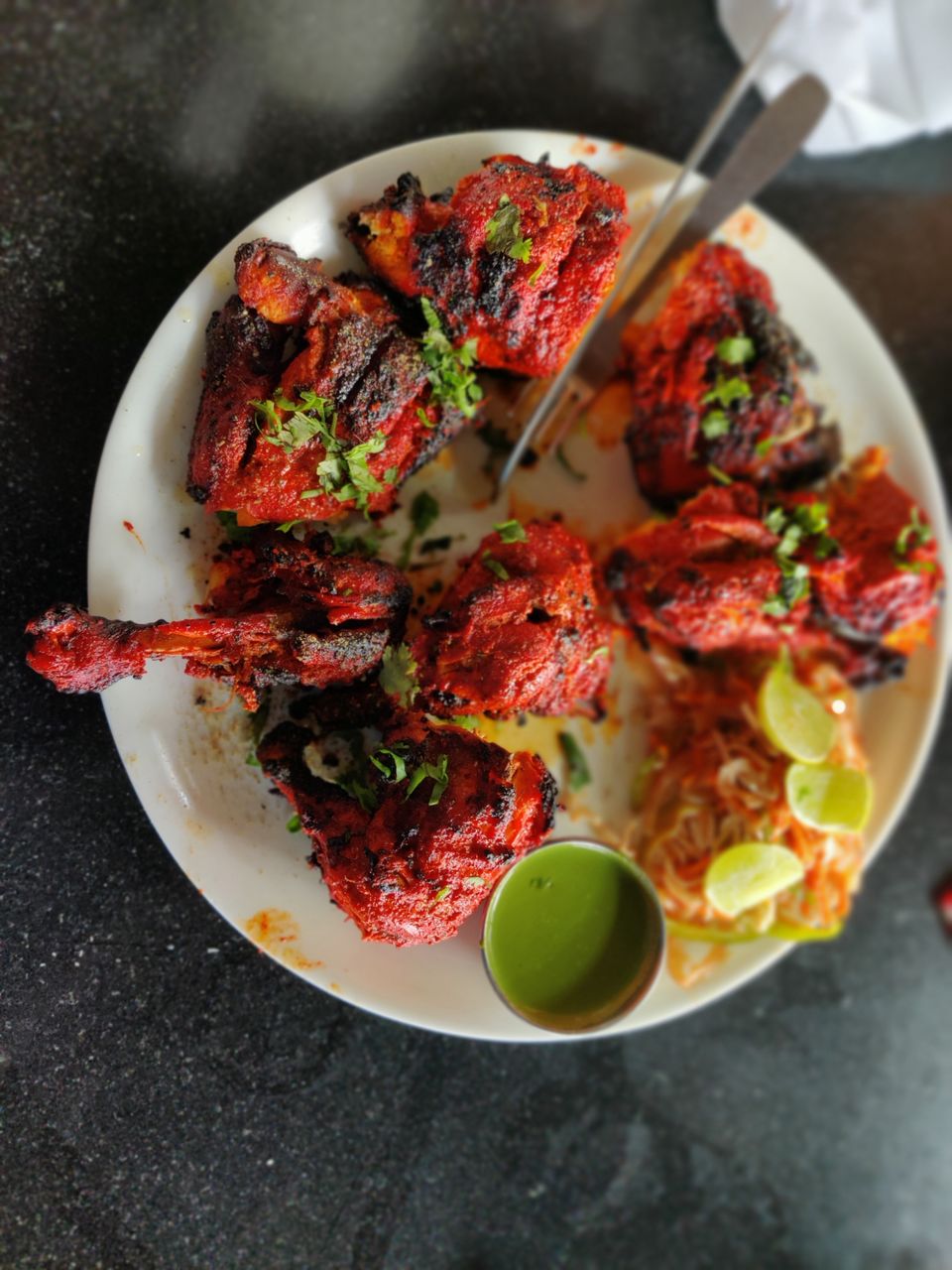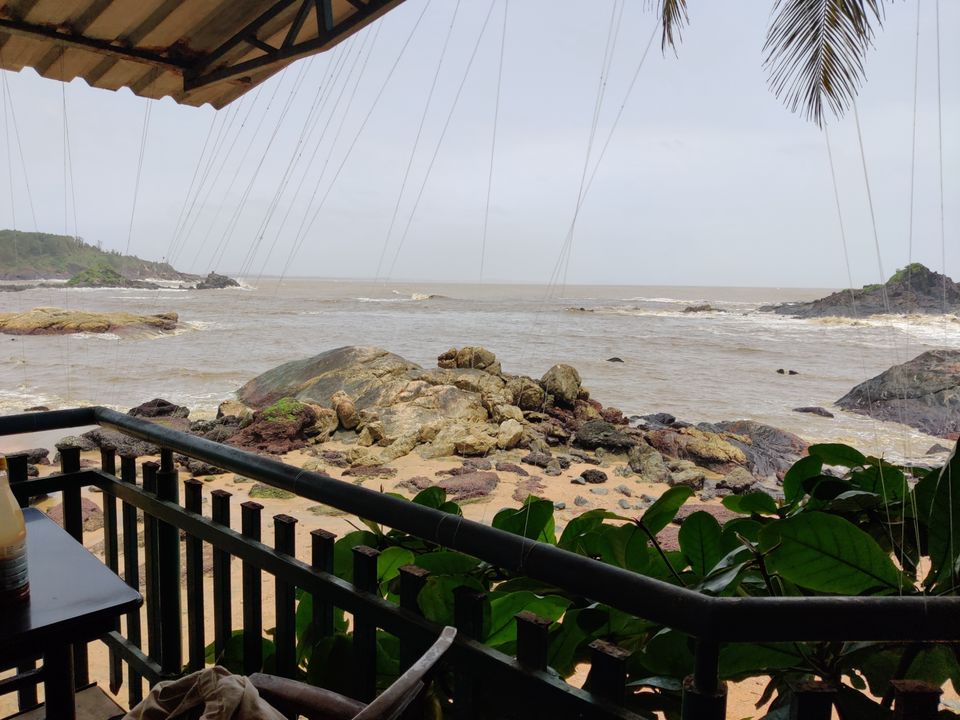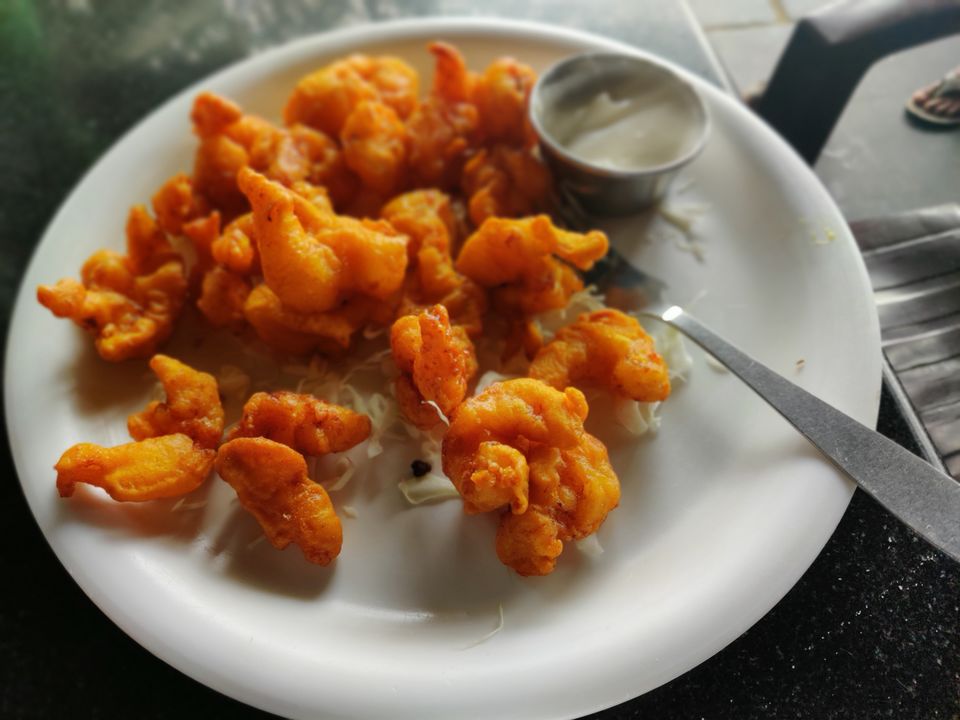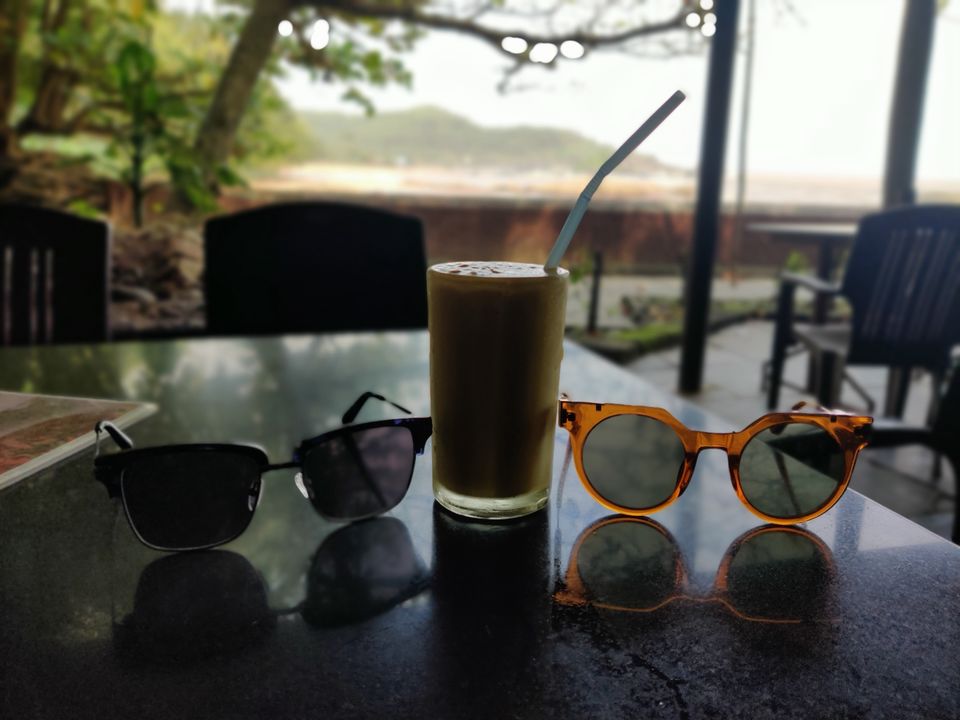 After Om beach we headed towards Kudle beach we came down the route to this beach, there were views of landslides yes you heard it right as we went in monsoon season this wasn't a rare sight. The beach was flooded and hence we did not go further down.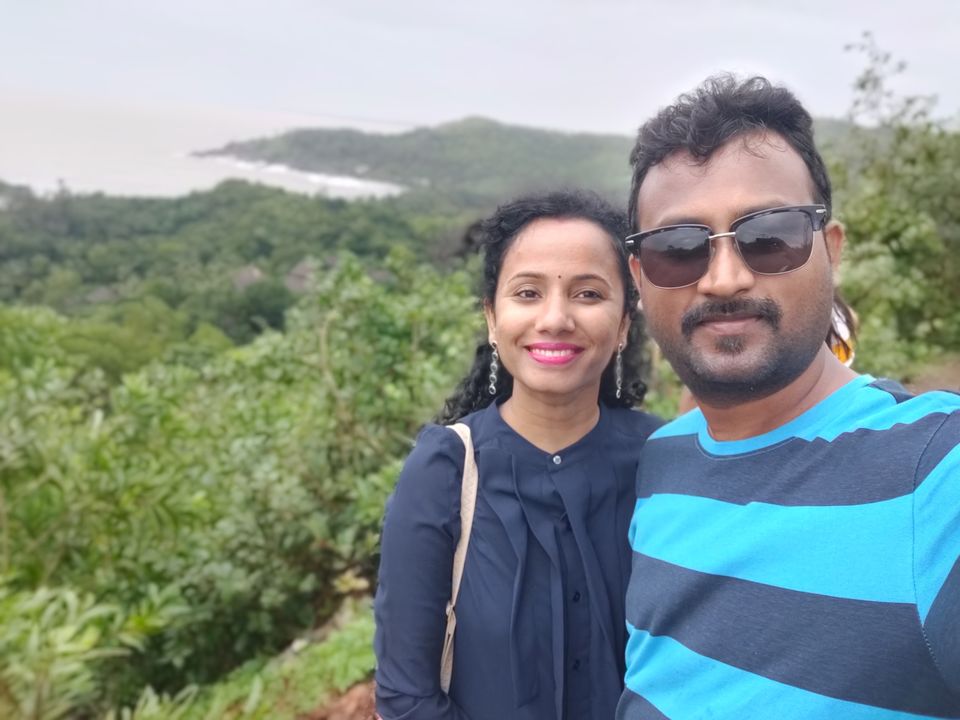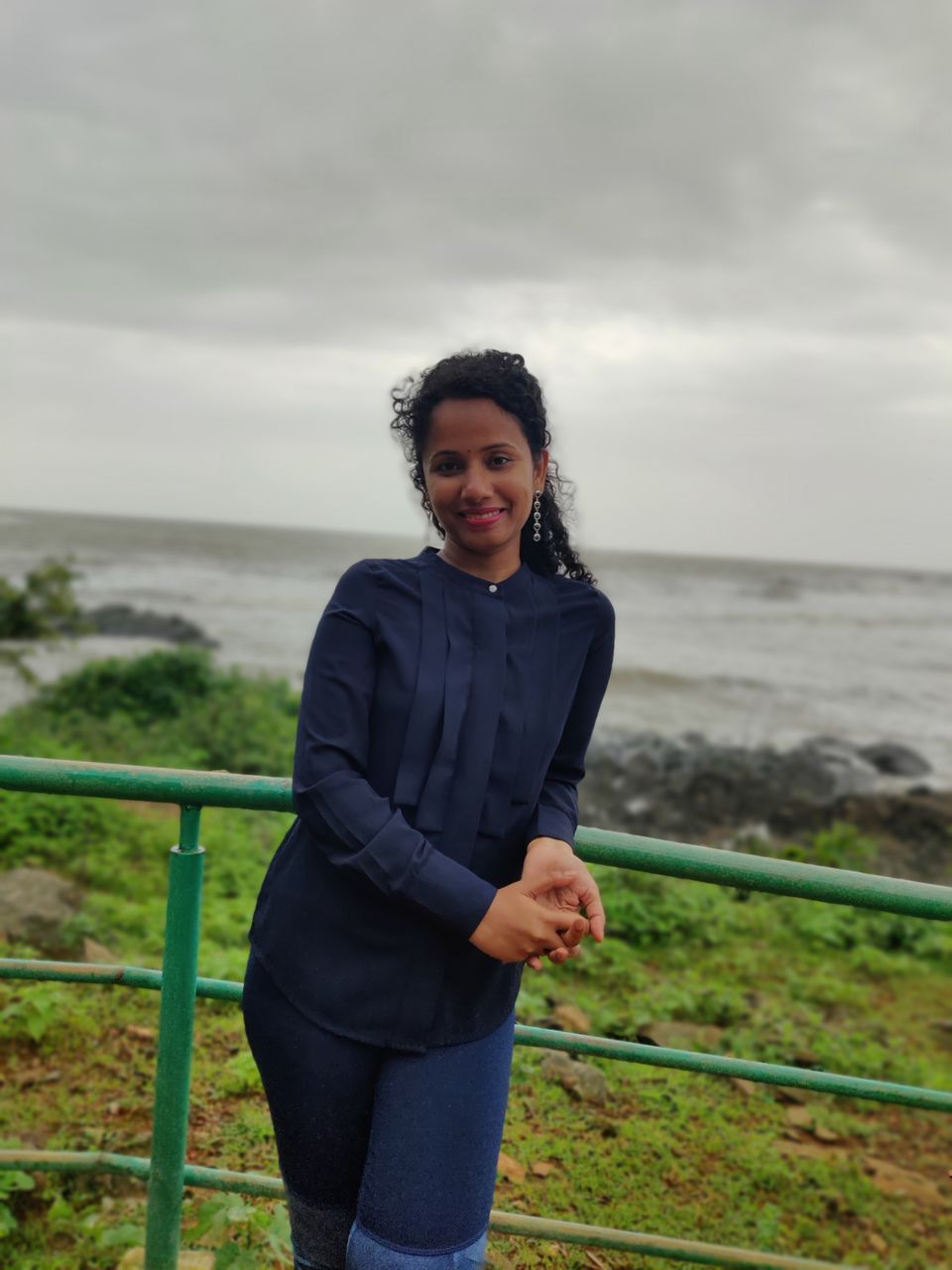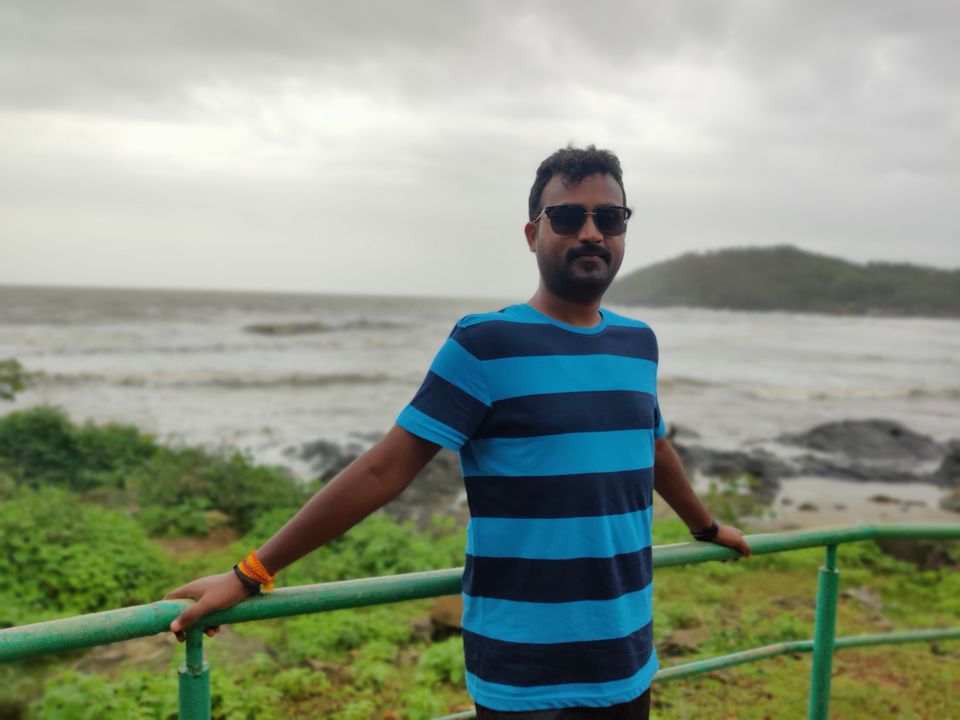 And we proceeded for Mahabaleshwar temple the temple has some rules for ladies, the indian attire should be there and for gents they should not wear any kurta or shirt but just pyjamas or pants. The Shivalinga is called Atmalinga and darshan is different than rest of the Shiva temples, go there to experience what am quoting here. After the lord Shiva darshanam we proceeded towards Gokarna beach that was beautiful and full of crowd. This was the last destination in Gokarna.
We spent some quality time on this beach and started back for our resort. We reached and after food rested for a new next day.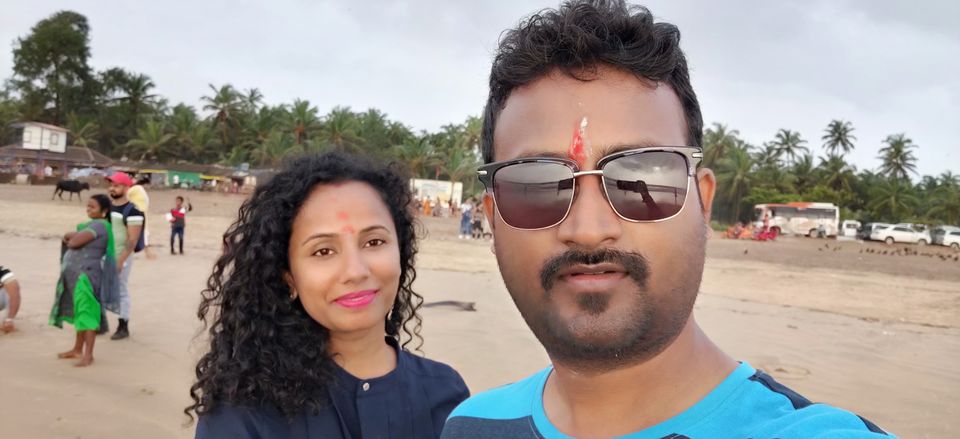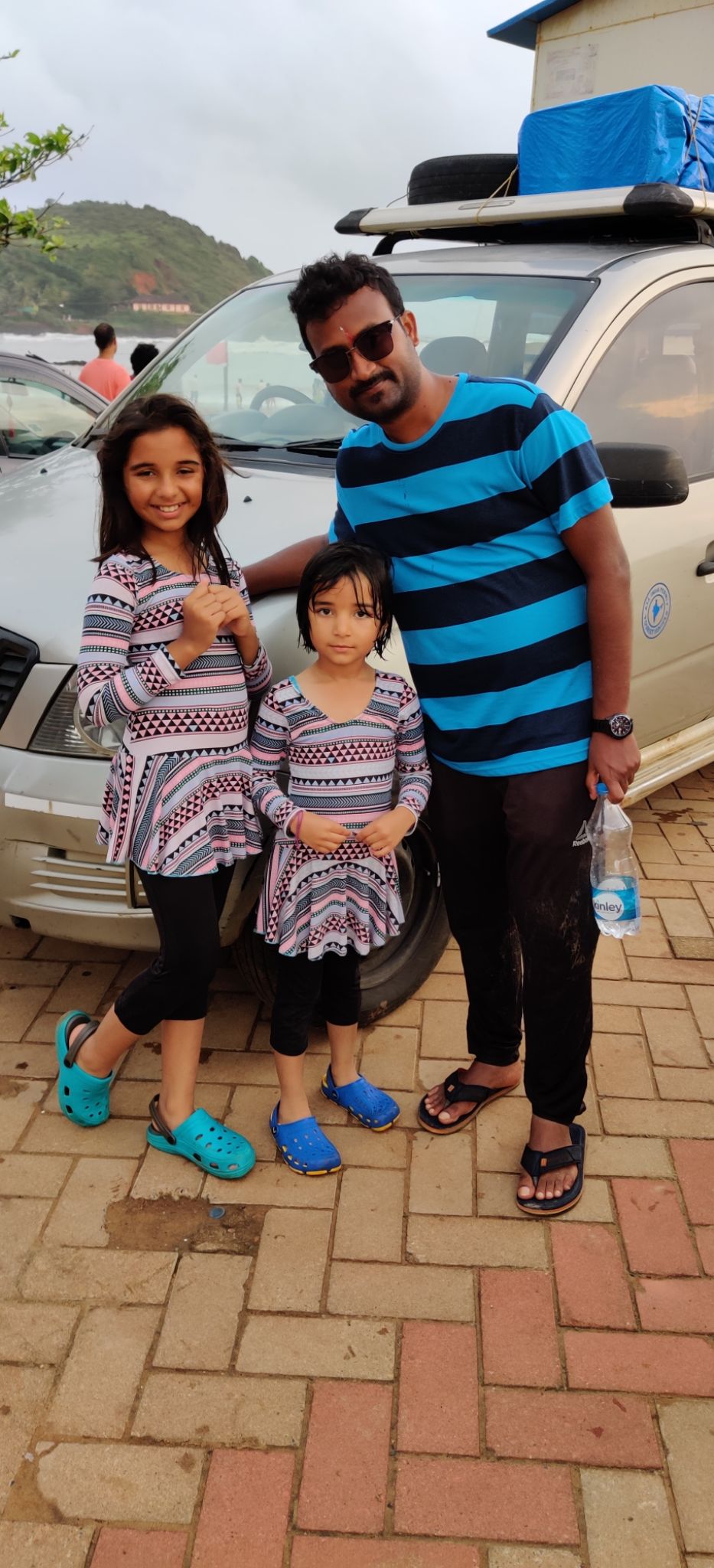 We checked out from our resort and headed for Murudeshwar. As we reached the Shiva temple the glorious world's second tallest statue of Shiva held us spellbound.It was sheer bliss to watch Gopura and Shiva statue on the wide Arabian sea surrounding it.
We visited temple and Gopura and had prasad at the Gopura. Lord Shiva statue was too good to darshan, the full setup of Shiva on the beach side of Arabian sea is worth visiting again and again you can't get enough out of endlessly looking at it.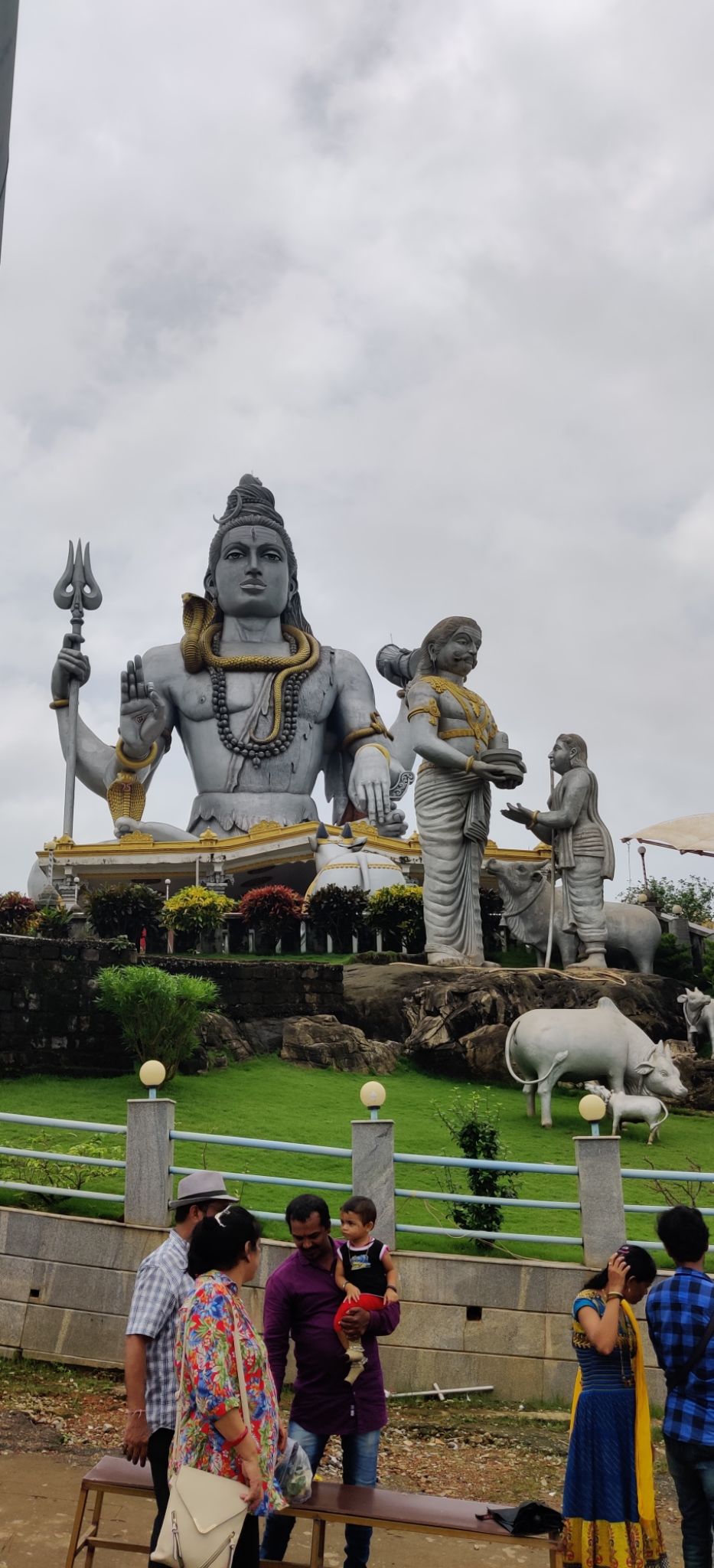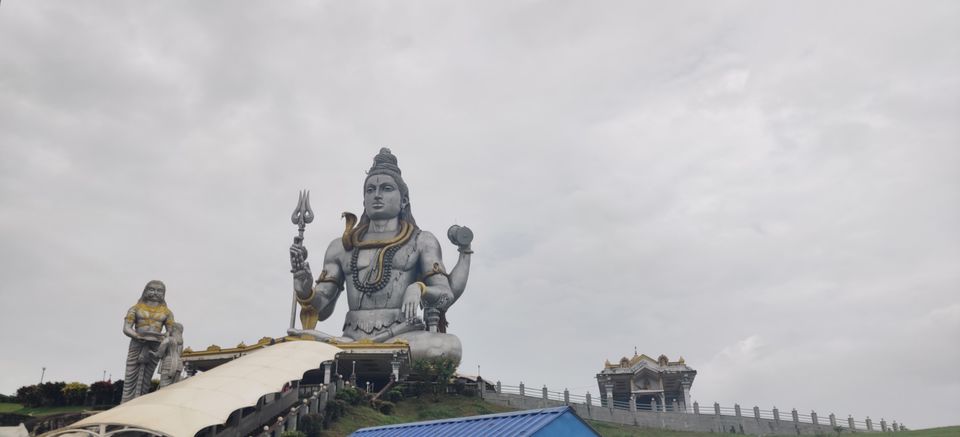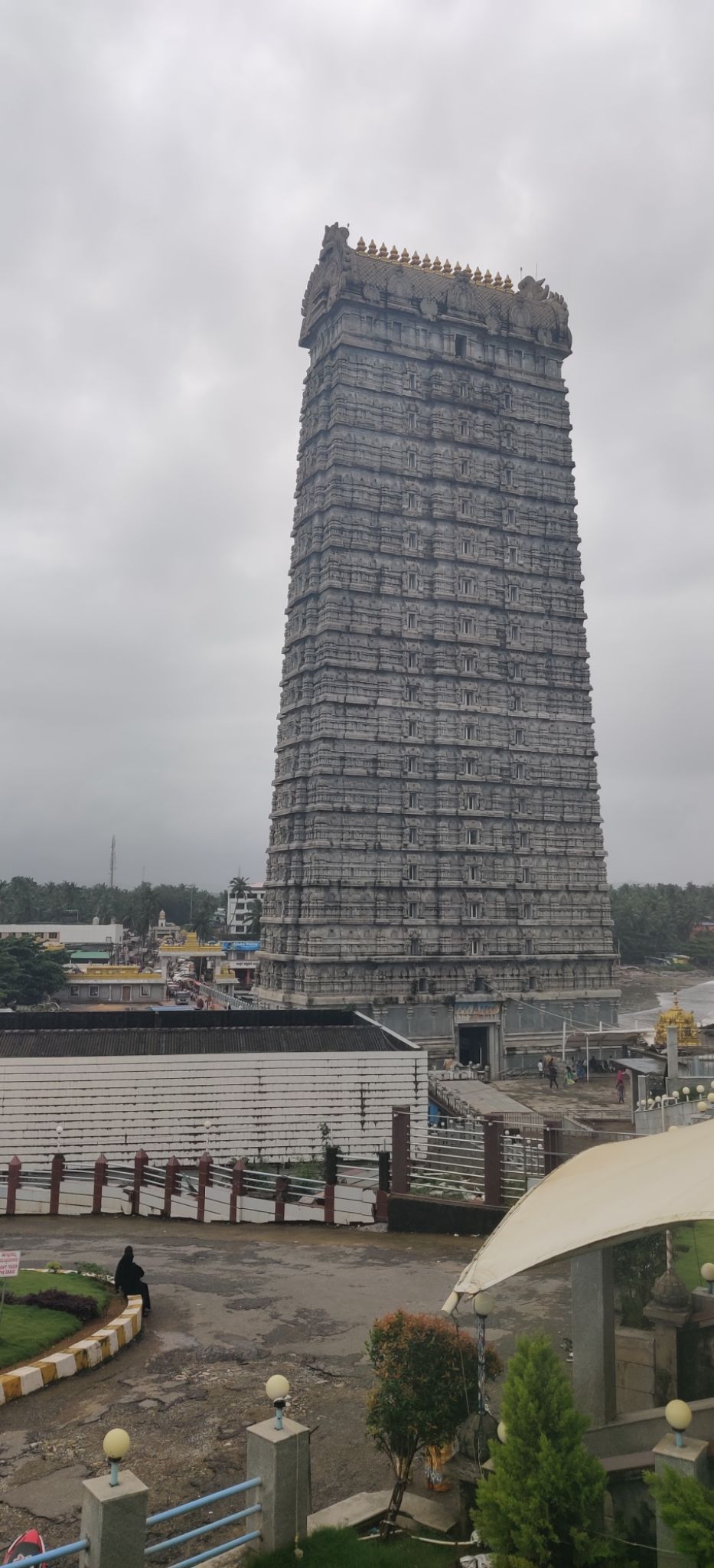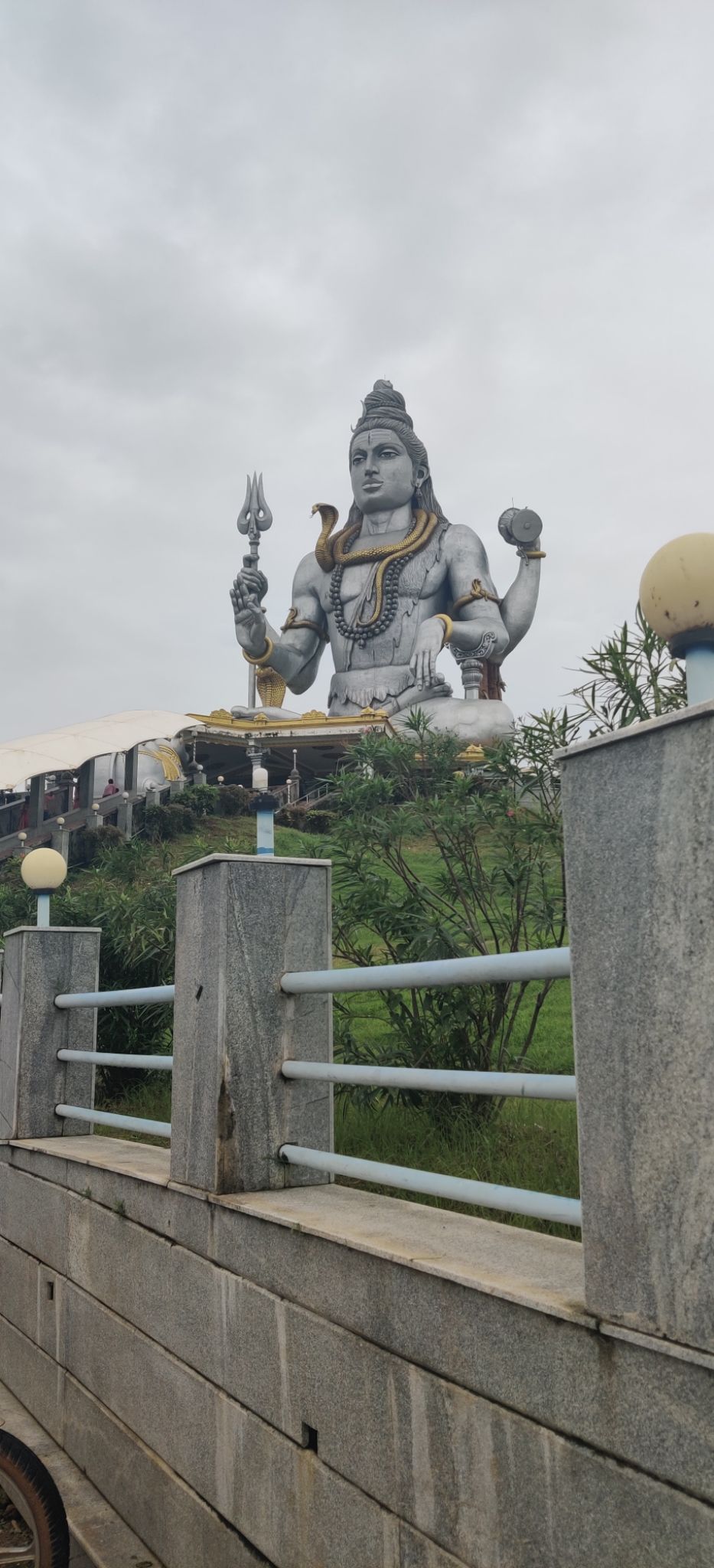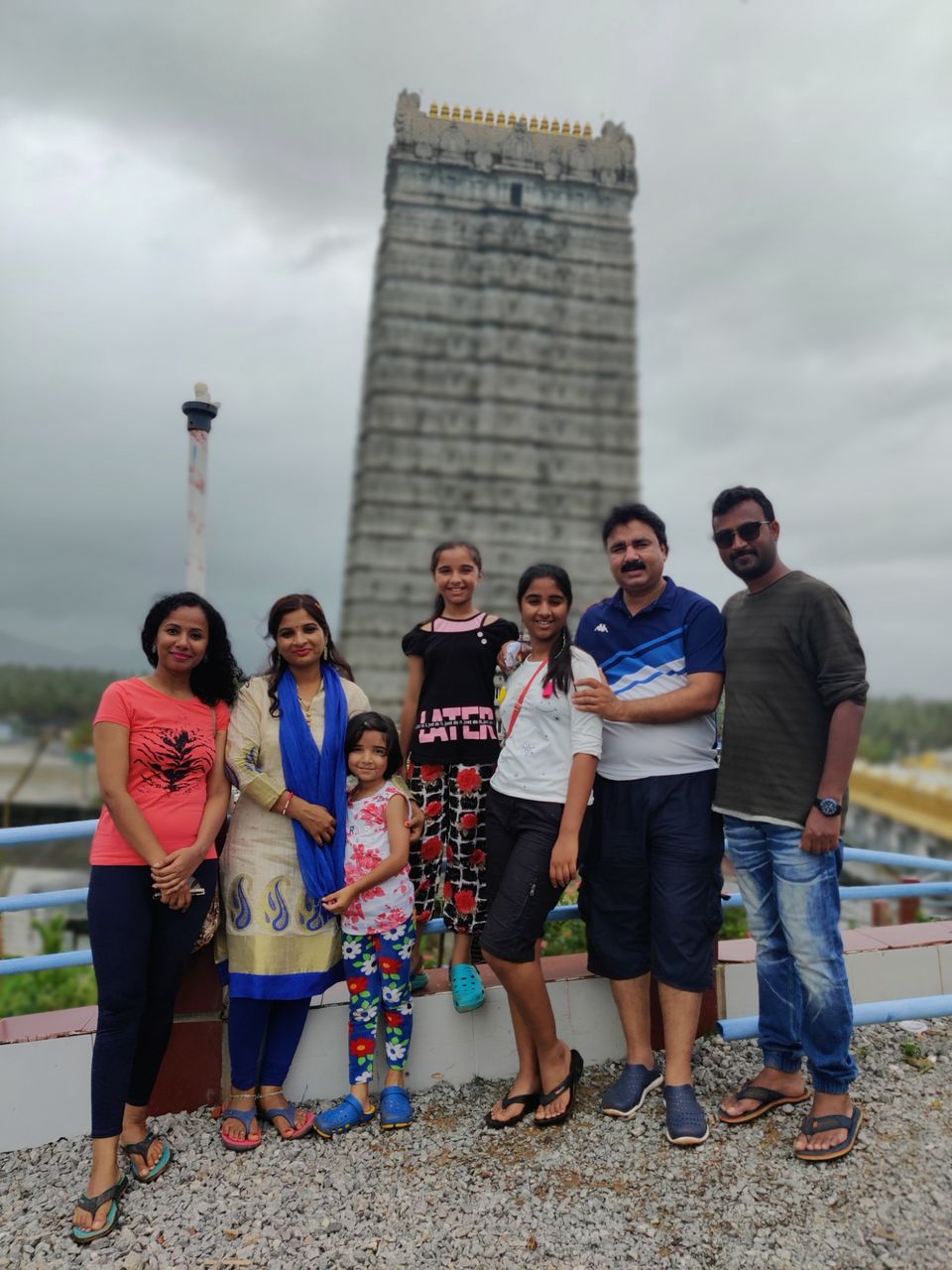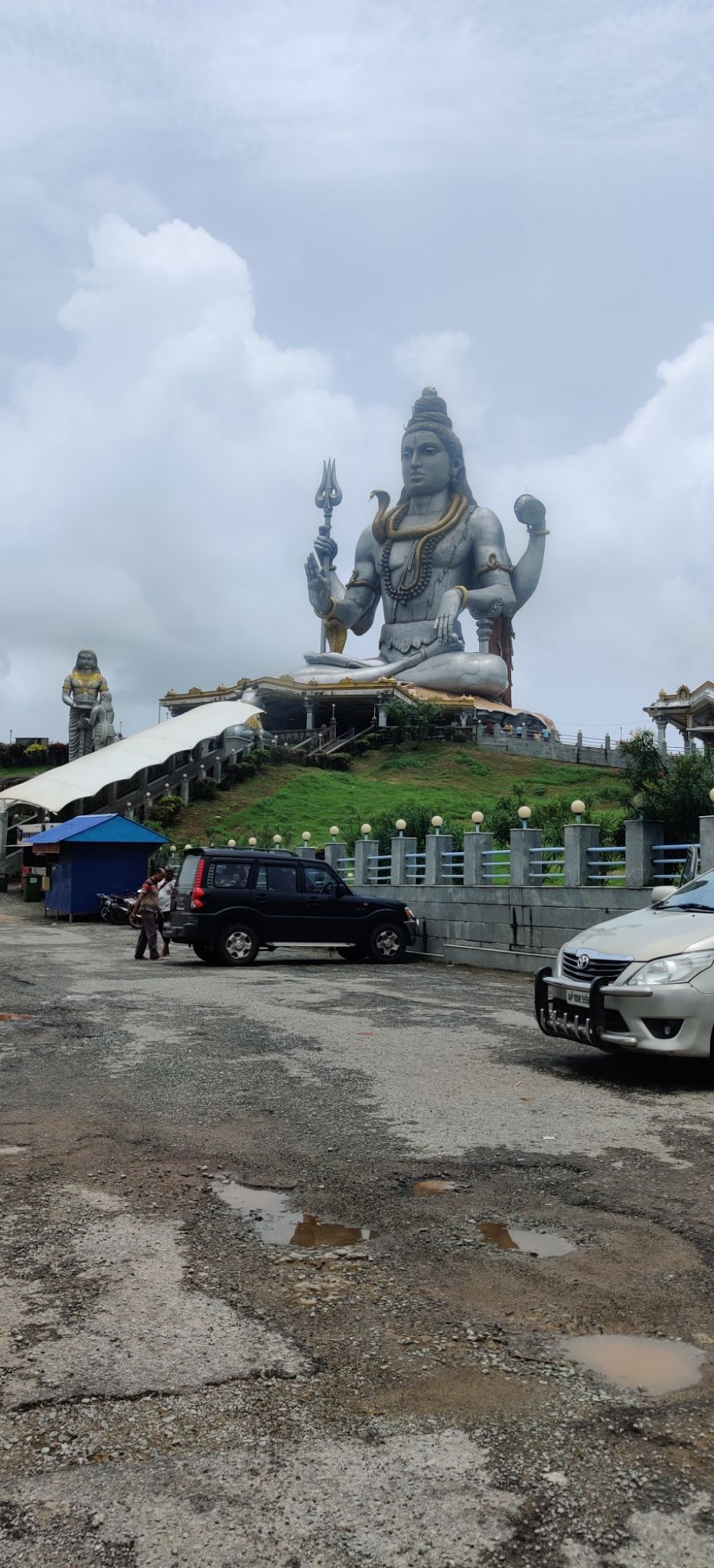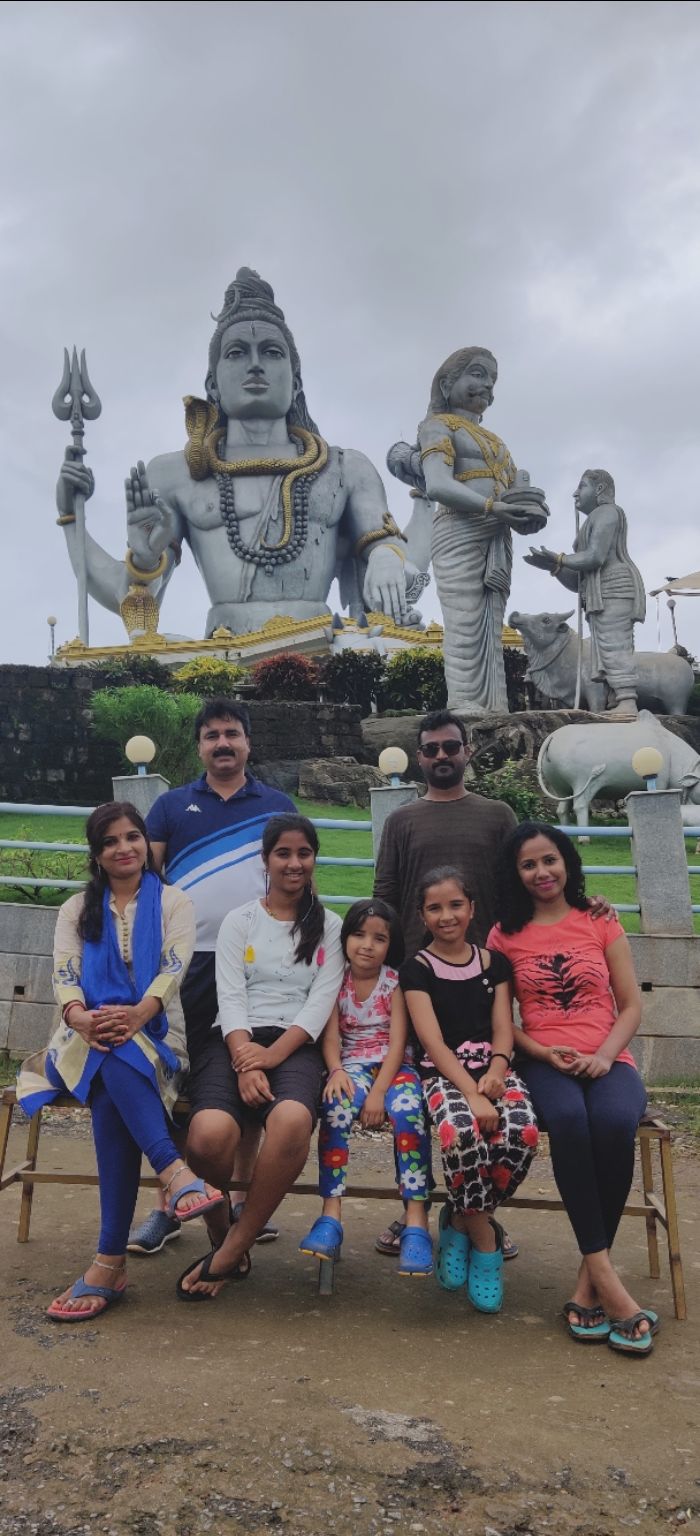 We spent around 3 hours and headed for shimoga to have a monsoon look of gigantic Jog waterfall.
As we proceeded on the route it was complete bliss to have the clean pristine green vegetation all around.Enroute to Jog waterfall we could see many waterfalls throughout the route.There are two points from where we could watch Jog waterfall and we visited both of them through the first point you can watch the outlet of waterfall the topmost end of it,you can walk on the stairs and look at all the streams and later on other spot you can watch all four streams in its full view Roar Raja Rocket Lady.
During monsoon Gauri Shankar waterfall is also in its full fledged form just next to Jog falls.
In no time heavy downpour started and the falls continued to play peekaboo with us.It was an invigorating and breathtaking sight to have the gigantic waterfall fully covered in fog and then reappearing to say hello to us in its prime time of appealing and dazzling beauty.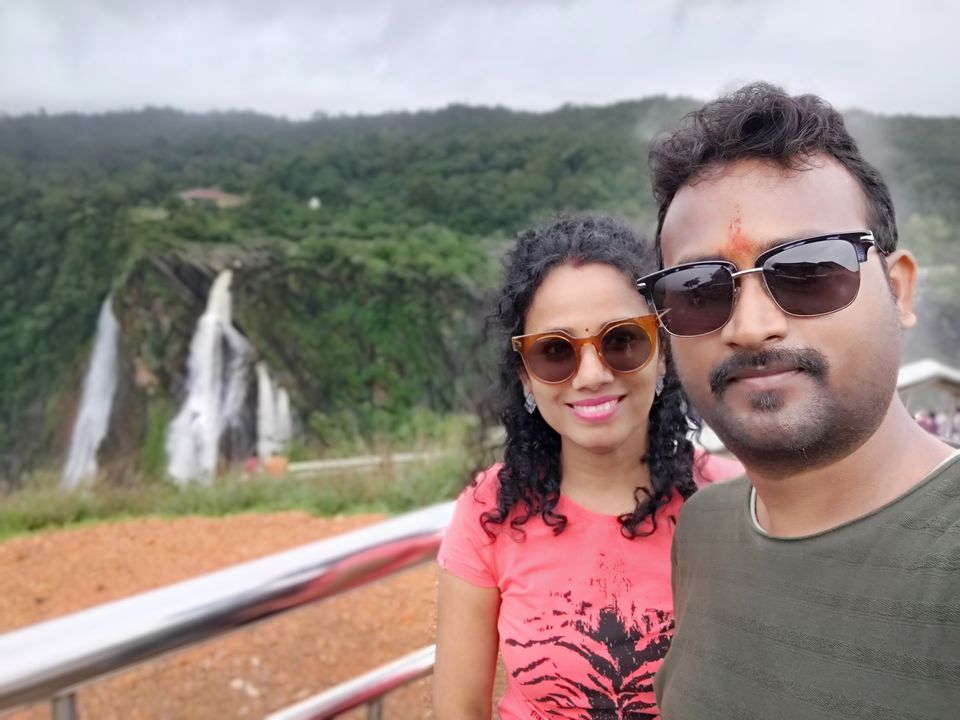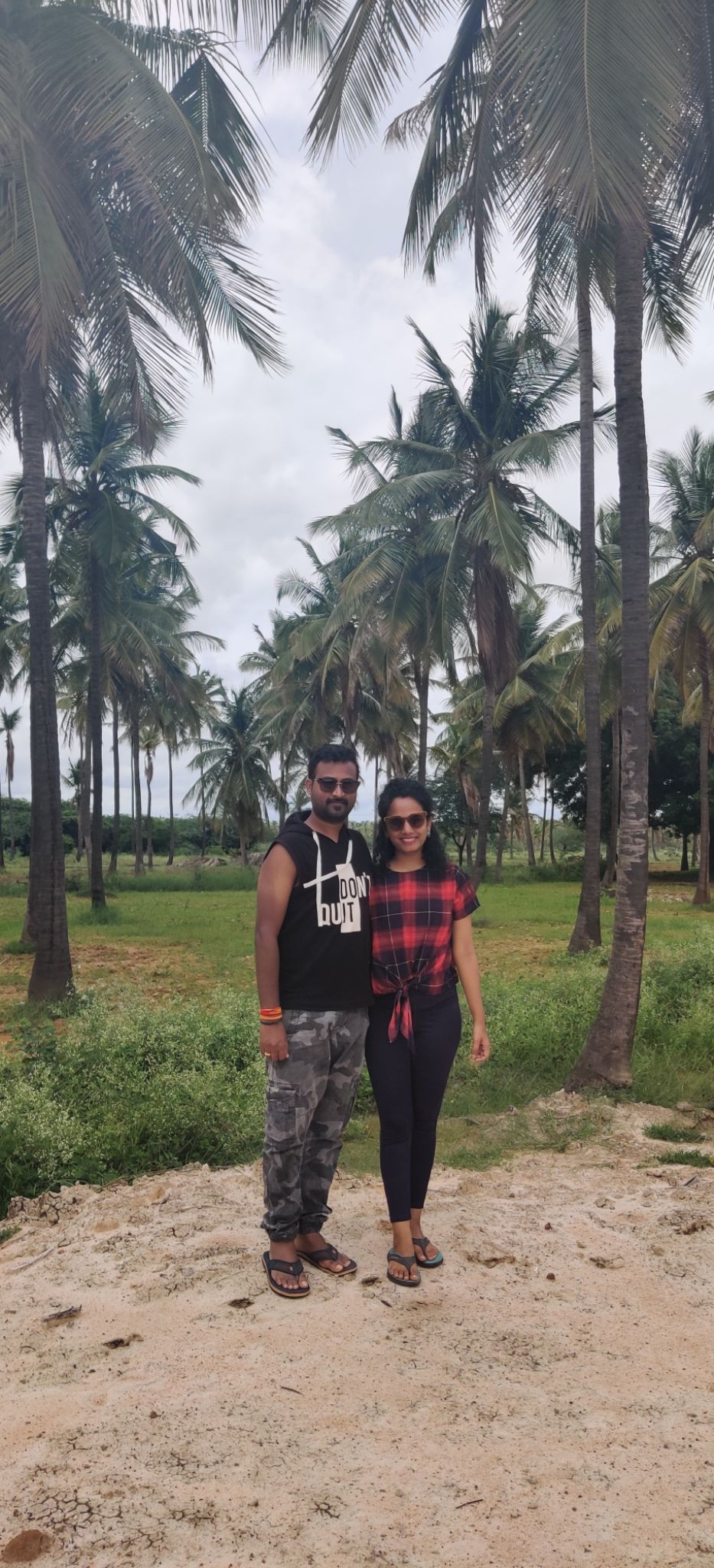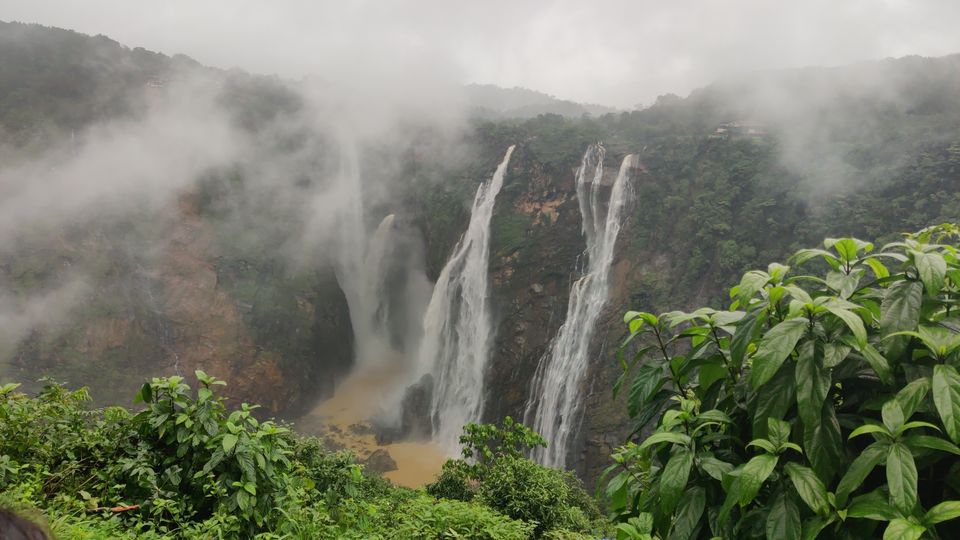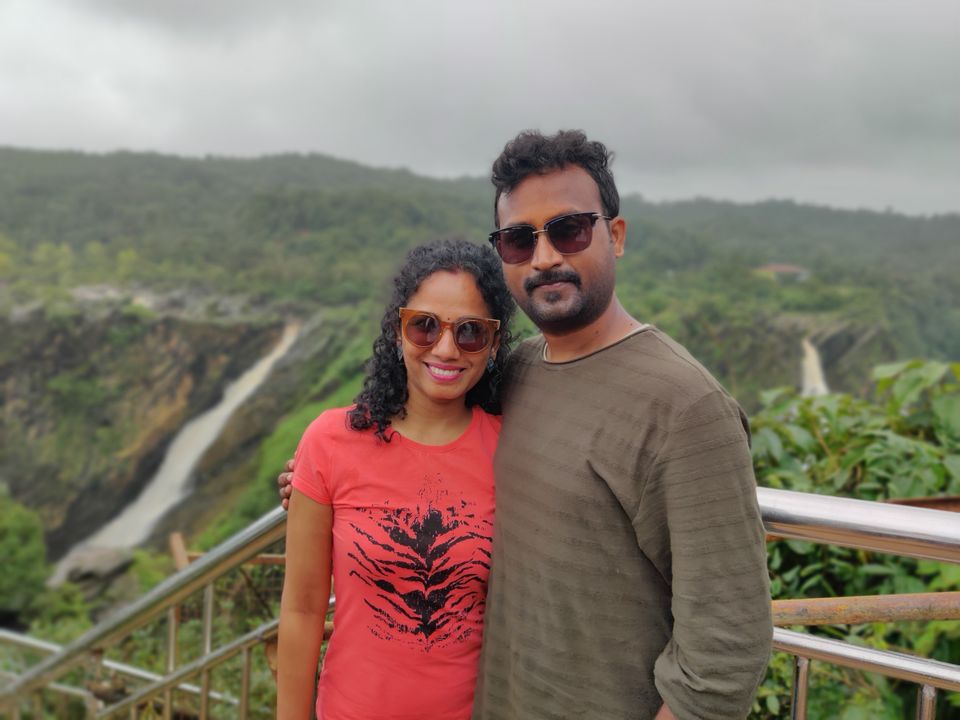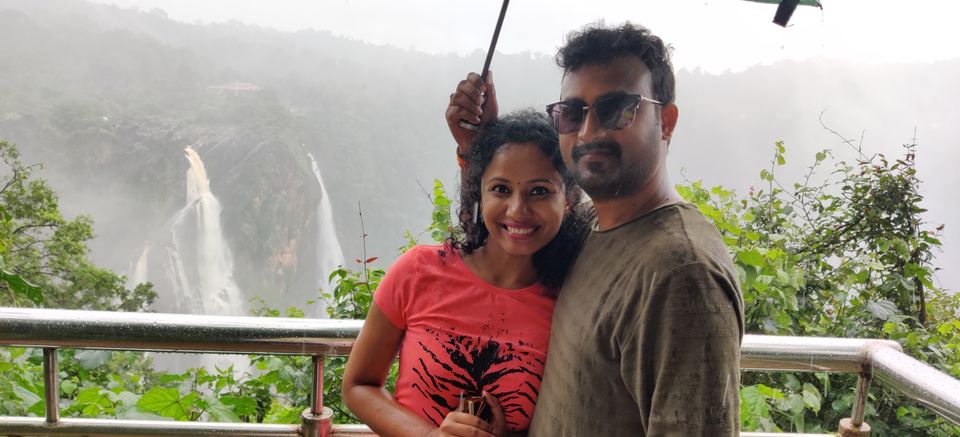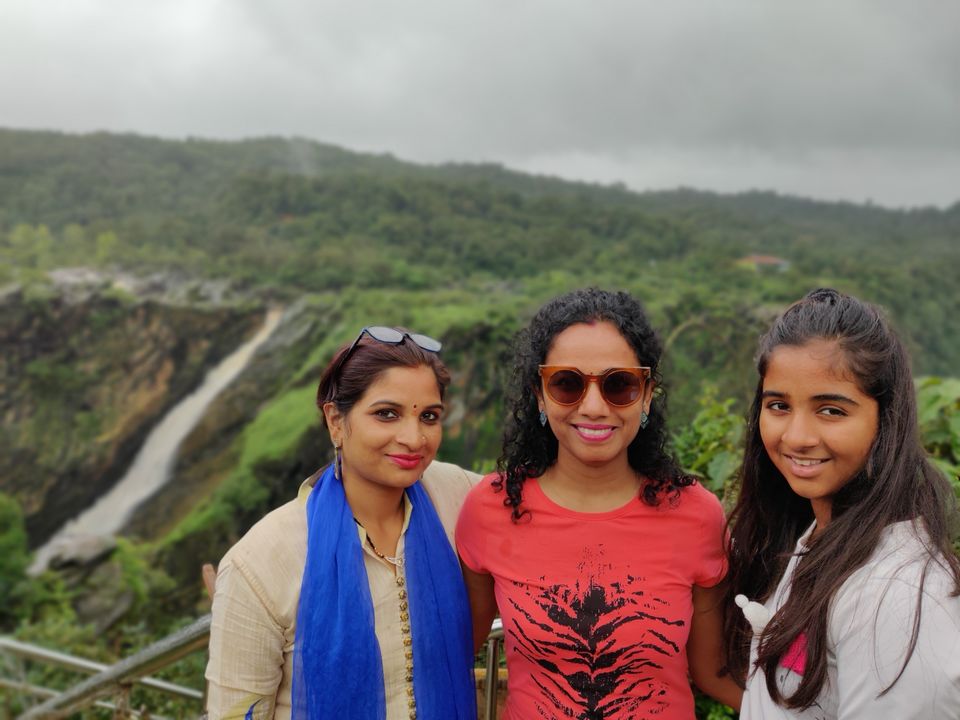 We felt so good and with best memories we all started a journey back to Bangalore. We stopped and had food in Shubham hotel on Tilaknagar chauraha and stayed in a nearby lodge and next day started journey to Bangalore and reached around 4 in the evening to home.
Route: Murudeshwar Honnavar Shivamogga Arsikere Tiptur Tumakuru Bangalore.
Do go and discover the beauty of Uttar Kannada. Happy Travelling!!