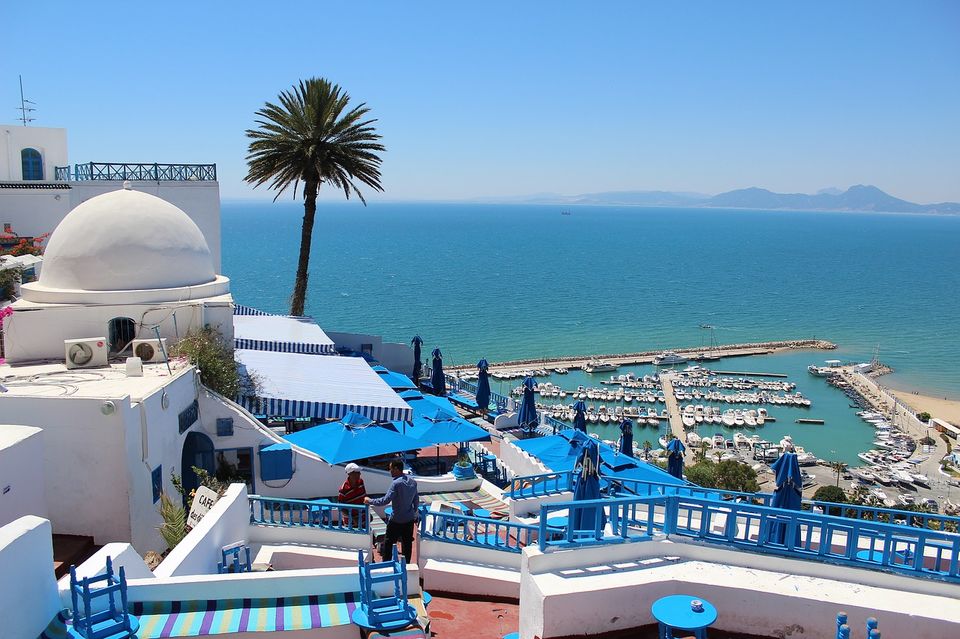 Miles upon miles of inviting Mediterranean coast, surreal salt flats, remnants of the Roman empire, narrow alleys of colourful towns, quaint fishermen villages, Maghreban architectural gems, busy bazaars emanating medieval vibes and rolling sand dunes of the neverending Sahara. Tunisia is the meeting point of Africa, Europe and the Arab world. Each culture has left a significant mark on this North African country. And fortunately, Tunisia gives visa-free entry to Indian citizens making it easier to enjoy and explore this multicultural country.
Why go to Tunisia
There was a time when gladiators fought with valour for glory and honour. These spectacles took place in packed amphitheatres of which very few remain in the world. El Jem is a prime example of a Roman amphitheatre. You can walk in the arena where once lionhearts roared and fought. Grab a seat in the upper tiers and envision the thrill and excitement of the spectators watching the spectacle. El Jem will surely bring back scenes of courageous fights.
For many, Tunisia is a sun-sand-and-sea destination. And, the island of Djerba is a Mecca for these sun and sand lovers. Relax on the picture-perfect sandy white beaches; photograph the whitewashed domed houses; understand the Djerban culture which is distinct from mainland Tunisian culture; shop in the old town district of Houmt Souk and visit the centuries-old pottery town of Guellala.
We owe much to the forgotten Phoenicians. What you are reading right now is possible thanks to them. They were the ones who invented the modern alphabet. They were also the first seafarers and inventors of purple dye and glass vessels as well. Carthage was an important Phoenician city and its UNESCO-listed ruins speak of its past glory. Tophet, Punic graves, Basilica of Douimès, Quarter Magon and the National Archaeological Museum are some of the Carthage highlights.
Imagine the blue-washed buildings of Chefchaouen, Morocco. Now, think of the whitewashed houses of Santorini, Greece. Sidi Bou Said is an artistic amalgamation of the two. Visit Palace Dar Nejma Ezzahra; learn about the Mediterranean and Arabic music at Centre de Musiques Arabes et Méditerranéennes; shop for handmade items at D'Art Lella Salha & Des Metiers, an outdoor marketplace and dine on local delights while watching a stunning sunset at Cafe des Delices.
This part of Tunisia is nature's true artwork. The rolling dunes of golden sand the very definition of barren beauty. The dancing lines on these sand dunes represent nature's poetic verses. The Sahara stretches as far as the eye can see and even beyond. Hop on a camel to explore the beauty of the golden nothingness or ride dune buggies to feel the adrenalin. Sit atop a sand mountain and see the sun poignantly set over the Sahara.
After Mecca, Medina and Jerusalem, Kairouan is the fourth holiest city of Islam. Its heady mix of Islamic and Arab architecture is recognized by UNESCO as well. Visit the 1,400-year-old Great Mosque; marvel at the magnificent mausoleum and madrasa of the Barber's Mosque; check out the timeless shops of Souk quarter and finally lose yourself in the mazy alleys of Kairouan's medina (old town), one of Africa's best preserved old towns.
Visa
Indian citizens don't require a visa for Tunisia if visiting for tourism purposes. They can stay in Tunisia for up to three months.
When to go
The best time to visit Tunisia is from April to June and September to October with average temperatures of 20 and 23 Celsius respectively.
Getting there
By air: Round-trip flights from New Delhi to Tunis–Carthage International Airport, Tunisia cost around ₹37,129.
Getting around
Major Tunisian attractions like Djerba, Monastir, Sfax and Tozeur have good air connectivity with Tunis. Public transportation is quite good and you can take an SNTRI bus or SNCFT train to travel to other parts of Tunisia. There are ferries between Sfax and Kerkennah Islands, and El Jorf and Djerba Island. The roads are in good condition and you can rent self-drive cars at the airport.
Costs
Average daily cost of travelling in Tunisia is approximately ₹5,000 per person per day including accommodation, meals, attraction tickets and transportation.
Accommodation
Maison Leila, Midoun (₹1,921 for double); Dar Khereddine, Tunis (₹2,801 for double); Hotel Continental, Kairouan (₹4,082 for double). For more options, check here.
Have you travelled to Tunisia or any other North African country? Write your own travelogue and share it with millions of other travellers. And subscribe to Tripoto Youtube Channel for stunning videos.