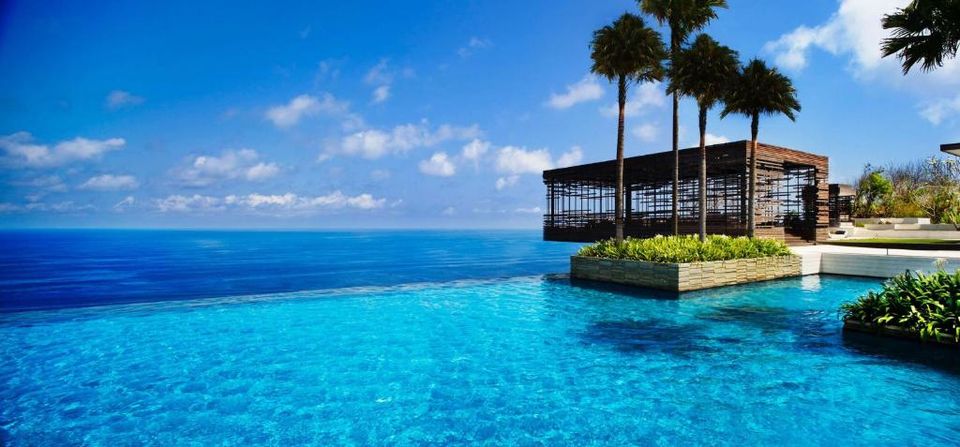 Feeling the romantic breeze, enjoying amazing cocktails overlooking the tranquil ocean, indulging in soul-calming massage therapies, or simply enjoying a glass of white wine in a Jacuzzi with your loved one – whatever might be your definition of an ultra-luxe romantic honeymoon, it's awaiting your arrival at the famed island of Gods, Bali.
Bali is a well-liked destination for honeymooners, sprouted with exotic panoramas, healthy vegan cafes, smiling faces, and top-notch hospitality that truly adds to the icing on the cake. Here's a list of the 10 best luxury resorts in Bali for couples that will make your romantic honeymoon a thousand times better!
1. COMO UMA CANGGU (Canggu, Bali)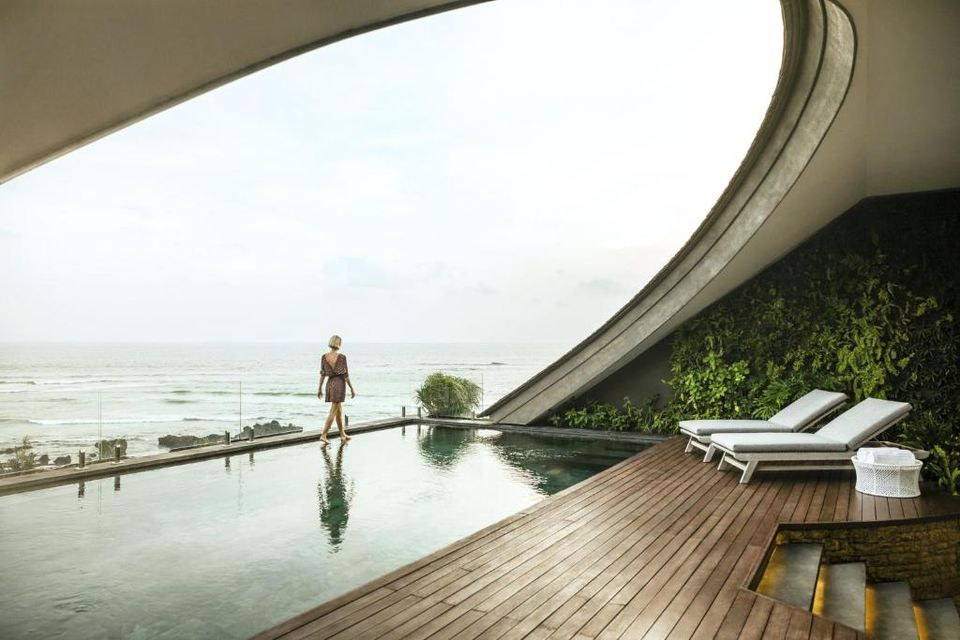 COMO UMA Canggu is a honeymooner's haven, featuring seaside suites & penthouses, tropical breeziness merged with modern sophistication, well-curated wellness rituals, a fully equipped gym, and a sumptuous café, and more. This resort, indeed, is one of the most luxurious resorts in Bali for honeymooners without a doubt.
You can book this property here.
2. Alila Villas Uluwatu (Uluwatu, Bali)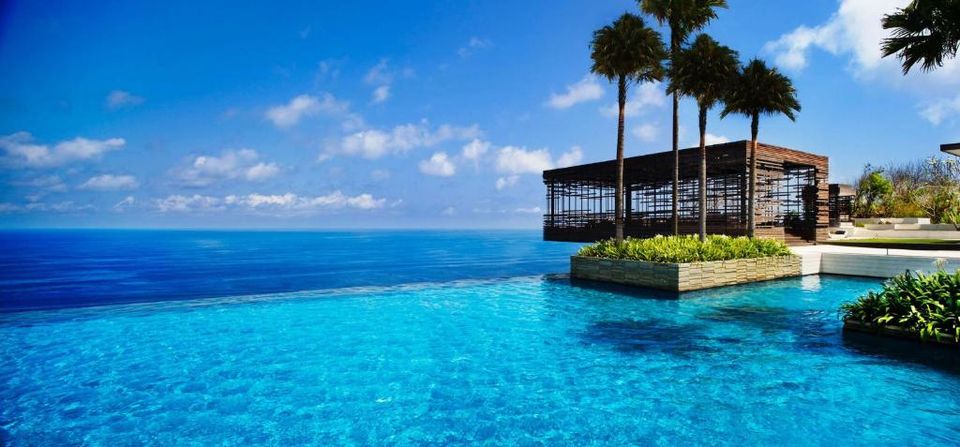 Ranked among one of the best luxury resorts in Bali for honeymooners, Alila Villas Uluwatu never fails to top the charts with its amazingly serene atmosphere, impeccable interiors, soul-stirring views from the private cliff-side villas overlooking the Indian Ocean, and unrivalled hospitality with dedicated butlers. So, what are you waiting for? It's a sign you should plan your perfect honeymoon in Bali with the Alila Villas Uluwatu.
You can book this property here.
3. Four Seasons Resort Bali (Sayan, Bali)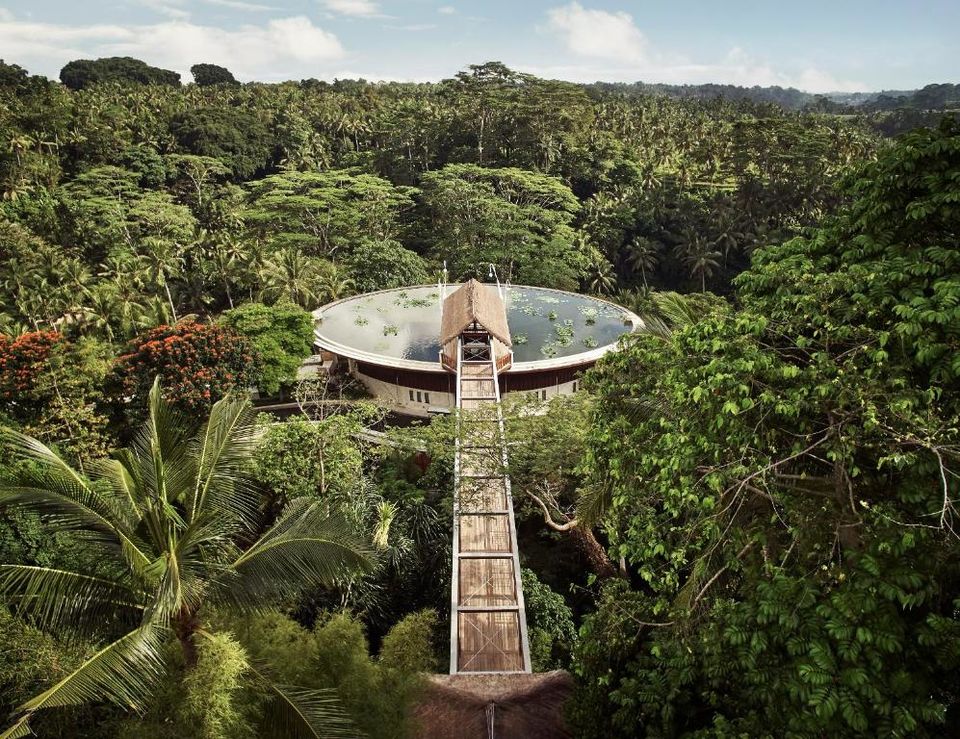 Designed in one of the most off-beaten yet beautifully exotic locations in Bali, Four Seasons Resort Bali features spellbinding riverside romance vibes, tastefully designed interiors, soul-calming spa treatments, and private plunge pools overlooking the lush greenery. Besides all that, to elevate your honeymoon experience, you can plan a romantic dinner under the stars and savor some of the best Indonesian flavors at Ayung Terrace until the evening metamorphoses into nights.
You can book this property here.
4. COMO Shambhala Estate (Payangan, Bali)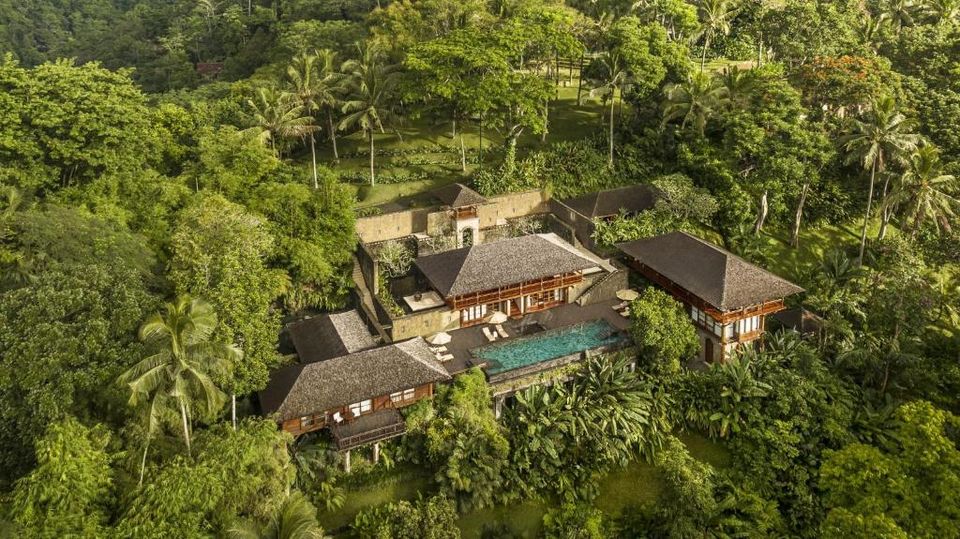 A haven for wellness seekers & honeymooners, COMO Shambhala Estate features well-curated wellness therapies & sensual spa treatments for couples, backed with organic diets and more. It's a romantic sanctuary for couples seeking to relax & ignite their romance with a slice of peace and wellness experience.
You can book this property here.
You may also like to read: Top 14 Things To Do In Bali - Bali Travel Guide
5. W Bali Seminyak (Seminyak, Bali)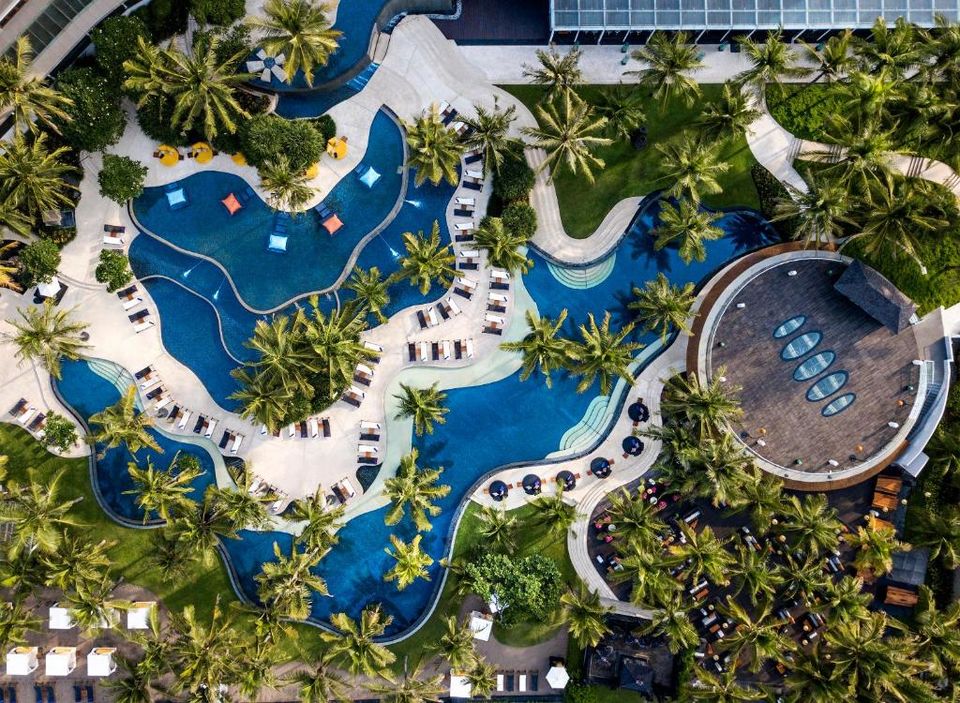 A sensually romantic Instagram destination on its own, W Bali Seminyak is all about fancy floating breakfast, terrazzo bathtubs, tastefully designed cabanas, enticing cocktails and chic interiors. A haven for honeymooners / wanna-be influencers - this resort truly lives up to its hype, making it a paradise for couples craving photogenic luxury with a slice of romance & jaw-dropping panoramas.
You can book this property here.
6. Viceroy Bali (Ubud, Bali)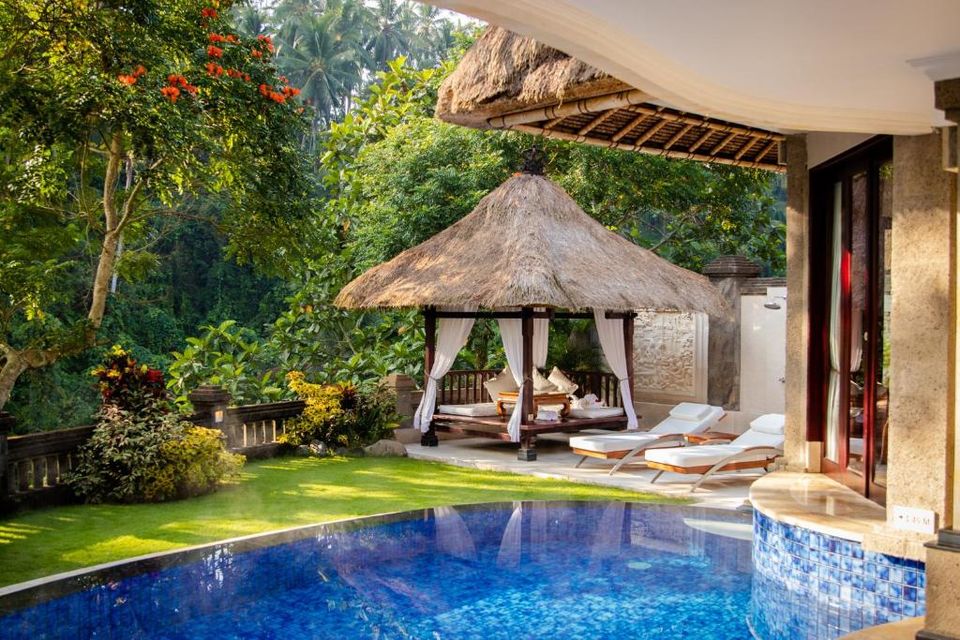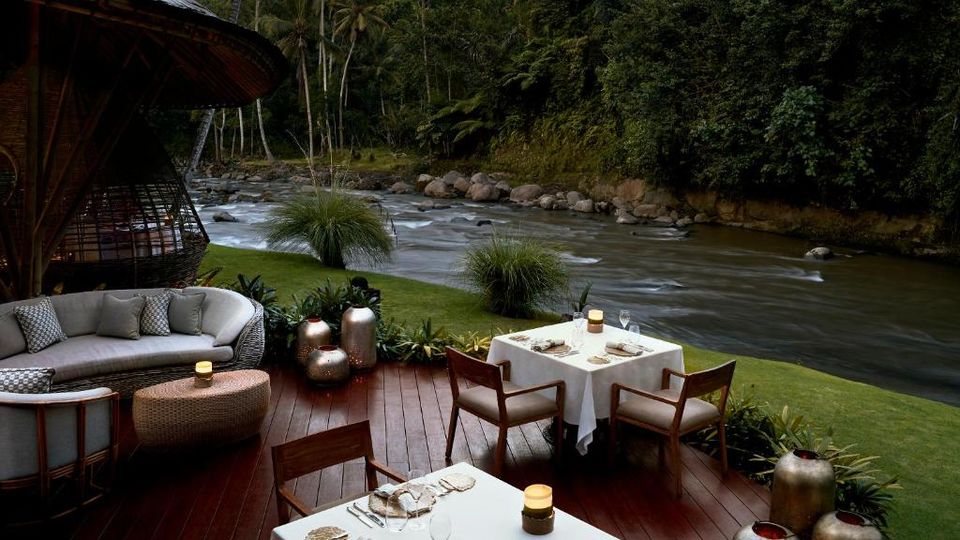 A true work of art defining the warp & weft of luxury at its best - Mandapa (A Ritz Carlton Reserve) is every honeymooner's dream. This 5-star property features cliffside tranquility, premium suites & villas with outdoor swimming pools, dedicated butler service, and sophisticated interiors that are bound to leave you awestruck. So why wait? Make your honeymoon one of a kind with the best of the best & one of the most highly-rated luxury resorts in Bali, Mandapa - a Ritz Carlton Reserve.
You can book this property here.
8. Padma Resort Ubud (Payangan, Bali)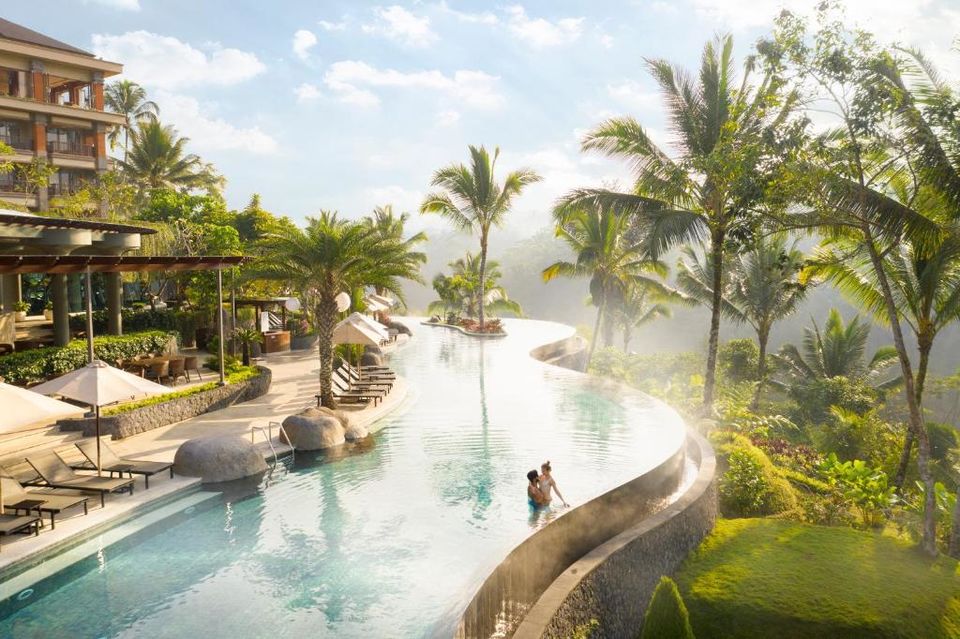 The Padma Resort Ubud is a hilltop retreat surrounded by breathtaking scenery, nestled in a lush river valley, miles away from the maddening cacophony of modern towns. The Padma Resort Ubud has also flawlessly managed to keep the Balinese traditions alive and blends beautifully in a holistic way with the surroundings.
You can book this property here.
9. The Mulia (Nusa Dua, Bali)
If you're looking for a honeymoon where you can spend every moment in the comfort of your contemporary cocoon and never have to lift a finger -The Mulia could be a perfect fit for you. This sophisticated luxury resort features best-in-class infinity pools, sensual spa treatments, a hydrotherapy circuit, enticing brunch scenes, and more.
You can book this property here.
10. The Seminyak Beach Resort & Spa (Seminyak, Bali)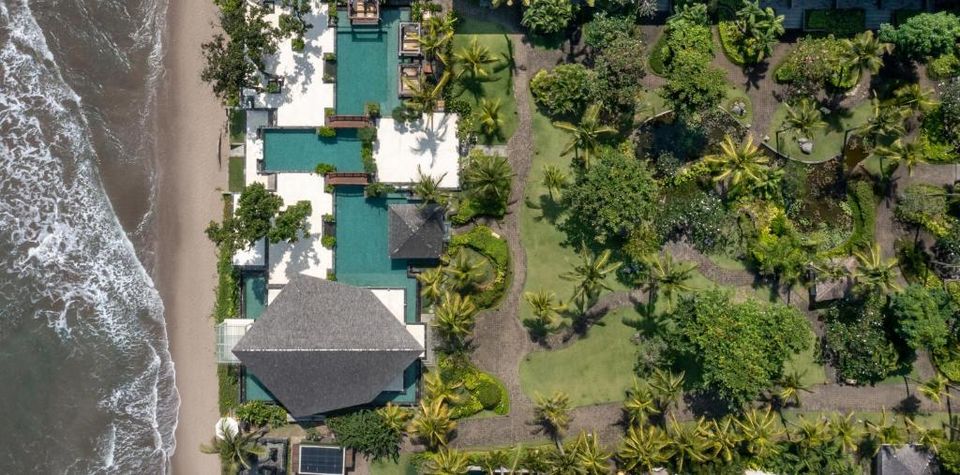 The Seminyak Beach Resort & Spa, located on Bali's west coast and a member of Small Luxury Hotels of the World, has a sophisticated vibe and plenty of perks. From the chic interiors to their degustation menu, everything is extremely well-thought-out.
You can book this property here.
So, of all the above-listed luxury resorts in Bali, which one are you going to pick for celebrating your honeymoon? Do let us know in the comments below.
If you enjoyed reading my article, you'd probably enjoy watching my travel adventures more on YouTube & Instagram. Catch you there!
Think we missed out on something? Tell us about it in the comments below. Or write about it here on Tripoto.