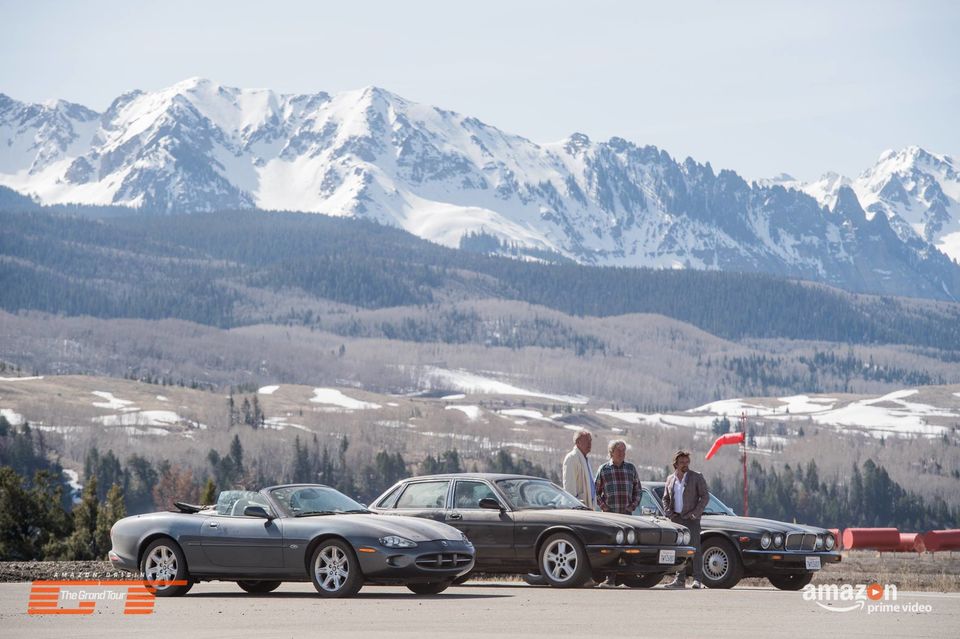 What is The Grand Tour?
Imagine three middle-aged boys trash some of the craziest cars in the world. Picture doing that with the backdrop of some of the most exotic locations around the world. Because that is exactly what happens on one of the best shows we've seen on Amazon Prime Video. Presenters Jeremy Clarkson, Richard Hammond and James May have graced our screens with the most fun show on the internet, The Grand Tour. The show is all about travelling, adventure and well, obviously, cars! Season 1 was launched on 18 November 2016 and gave us intense #fungoals. It was launched in Indian on 14th December with four episodes of The Grand Tour. Racing an old Golf GTI against the BMW I3 in Dubai, testing a lightweight sports car in the stunning landscapes of Morocco, driving buggies in the night in Namibia, making cars out of wood, meat and bricks in Whitby, a seaside town in Northern England, are just some of the gems we saw in season 1. And now, they are back with a season 2 and I honestly can't keep calm!
What can be better than living your childhood fantasies, vicariously, through three middle-aged, over the top men?
Why you should watch it?
A few early images from the second series have been revealed, including a picture which appears to show Richard Hammond doing doughnuts in a military vehicle, as well as a picture of the presenters stuck in deep mud on a rural road in Mozambique! And if that hasn't got you as excited as me, here are six reasons why you absolutely can't miss this show's season two:
→ The second season will see presenters, Jeremy Clarkson, Richard Hammond and James May travel through more locations than ever, attempting to avoid mishaps and injury along the way.
→ In this season, the trio's travels will take you to five different continents, tearing up the tracks in Croatia, Mozambique, Dubai, Spain, Switzerland, Colorado and New York.
→ Some of the cars that can be expected in the second season are Lancia Rally 037, McLaren 720S, Bugatti Chiron, Jaguar XJR and Rimac Concept One.
→ Season 1 was really popular, with it being watched in more than 240 countries and territories. So season 2 will also follow the travelling adventures of Jeremy, Richard and James, despite the various calamities and injuries that occur along the way. They will be covering even more incredible and stunning locations and getting into more trouble than imaginable!
→ Talking about injuries, during the shooting of this season, the presenters really did suffer a lot. Richard Hammond suffered a horrific car crash in Switzerland where his car crashed and burst into flames during filming. And then again, while filming in Mozambique, his motorbike crashed. Thankfully, he wasn't hurt too gravely. It's not been an easy ride!
→ There are going to be 13 insane episodes showcasing some of the best cars, some of the most exotic locations and some of the most insane stunts imaginable.
Doesn't that sound like the most exciting show in the history of travel shows? Oh what I would give to be a part of such a Grand Tour! But right now, I am equally happy to settle in my couch, grab some popcorn and let the fun begin!
When and where can you watch this awesome show?
It airs on Amazon Prime Video on Friday, 8 December 2017. New episodes will be released weekly with every one episode available on demand thereafter. There haven't been many details revealed yet, but the first episode will feature Baywatch star, David Hasselhoff and English singer-songwriter, Ricky Wilson accompanied by Richard Hammond.
How can you stream it?
All you gotta do to watch The Grand Tour is, sign up for Amazon Prime Video and enjoy the best show on the internet right now! For those wanting to catch up on season 1, sign up and you can watch all the 13 glorious episodes right here!

I just can't wait for the madness to begin again and this is one Friday evening plan that won't need any planning!
In association with Amazon Prime Video.
Frequent searches leading to this page:-
Dubai tour packages from Delhi, Dubai tour package from India, Dubai tour package from Mumbai, Dubai tour packages from Ahmadabad, the grand tour season 4 release date, the grand tour episodes