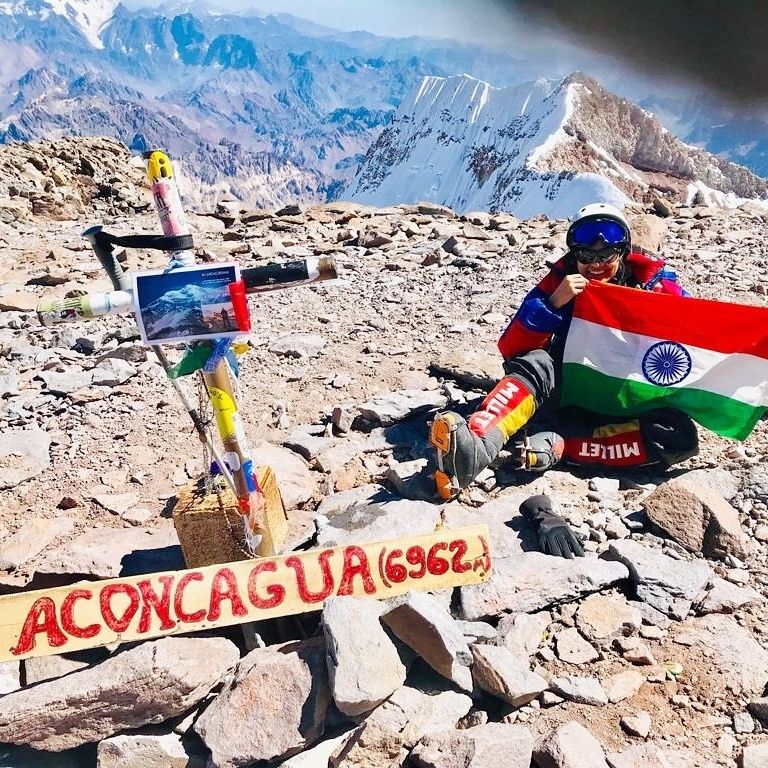 We had been stuck at camp 2 ( 5800 mts) for two days due to bad weather . At 3:00 pm in the afternoon, I was lying in my sleeping bag hearing the wind howling outside almost as if it were trying to blow my tent off the mountain. My phone and battery bank were long dead and I had no book to read since I didn't want to carry 100 gms more in my back pack at that altitude.
It was too cold to step outside time seemed to have stopped moving.
That's when my thoughts turned to the question that has been playing on my mind again ,why do we climb? I could have easily spent these holidays on a beach and gone back to work relaxed and refreshed :)
Every time I return home from an expedition, my mom asks me in excitement if I have had fun.
Fun ?? If this were fun, everyone would be doing it. Smiling pictures taken at high altitudes are very deceptive. There is so much struggle behind that smile, it's unbelievable :)
Bone chilling temperatures of -30 to - 40 degrees, cold winds at 120 kms/ hour, no bed to lie on, no proper food for days , no toilets , wrapped up in uncomfortable clothes and equipment, fighting with your body to adjust to 60% lesser oxygen, dealing with massive headaches and nose bleeds. Your life is at threat and you hang on by a thin thread.
It's not fun at all! Then why do we climb ?
Climbing teaches me discipline in everything I do. It is a way to test my limits, to see how far i can go and experience the pleasure of overcoming excruciating pain and winning against it It's a mind game that helps me discover the resilience deep inside me. A sport that takes away all the complicated stresses of life and makes me focus on the most basic necessities of life such as water, food and breathing :)
Climbing also gives me the time to ponder over so many things that take a back seat while i'm at sea level - relationships, People who matter most, the mere existence of my life, Some really deep and unwinding thoughts .
Climbing is fun only after the peak is scaled and you return triumphant. The respect and the glory lives forever. You become a storyteller and everyone is interested in hearing about "the Zen" you discovered up there in the mountains.
Climbing has changed my life, it has toughened me and has made me humble at the same time. I smile more and worry less. The glass is always full and every problem has a solution.
Mt. ACONCAGUA ( 6962 mts) in South America was my third of the Seven Summits. It is the highest peak in all of America and second highest in the series of the Seven Summits.
Mt Kilimanjaro in Africa and Mt ELBRUS in Europe being the first two summited last year.
I cannot wait to undertake the biggest journey of my life this April. The Journey to the highest peak of the world. Mt. Everest.