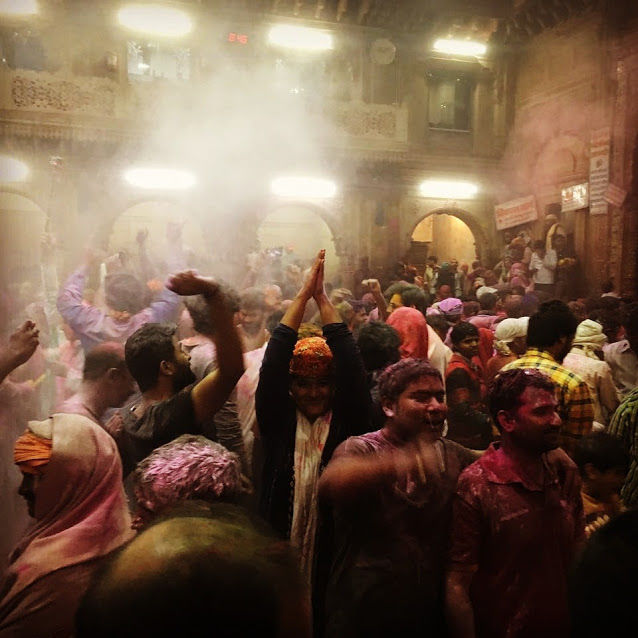 Friends/relatives/cousins/colleagues: What plans for holi?
Me: Vrindavan (Super excited)
Friends: Crazy
Relatives: Dimaag kharab he (Are you out of your mind)
Cousins: Dude stay safe, we still have option to celebrate in city or a pool party may be.
Colleagues: Don't even think about it, Vrindavan is an impossible place to visit during Holi specially for girls
Me: Doubtful
But can you ever stop a hardcore backpacker to dive into this craziness of this awesome world famous place and a paradise for photographers.
Myth 1: Don't go alone, stay in group
Yes staying in a group will always make you feel safe but solo travelers /photographers can easily have fun and join the families there. People will only rape you with colors.
Literally you do not require anyone to play holi, just step outside and you will be attacked from all sides but only with colors.
Myth 2: The crazy local crowd
Yes the locals are crazily devoted to lord Krishna commonly known as Radhe. They are lost enough to just see their god and play holi with him in the temple. So you need to have dedication to penetrate that kinda crowd and get inside the temple. Trust me every second of struggle is worth it.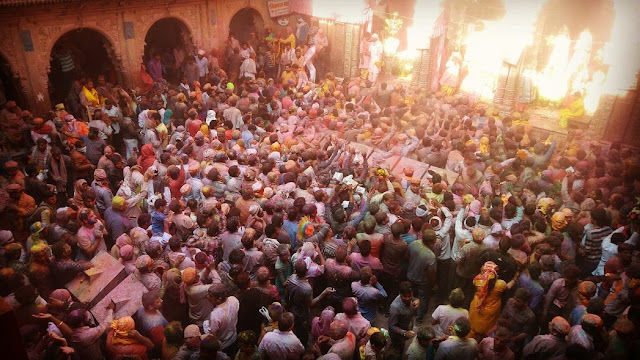 Myth 3: Holi in Vrindavan - Never
Holi to Vrindavan vaale khelte he yaar (The real Holi is celebrated only by the people of Vrindavan).
I don't think once getting back from Vrindavan you can ever enjoy Holi anywhere else.
That's all I can say :D
Myth 4: I can never use my camera in that crazy crowd and colors everywhere
Its very easy to cover your camera by a polythene or bu a camera cover. If you can manage to stand a crowded bus with your belongings , you can easily use your camera and you will even get enough space to stand at safe location away from crowd and use your photography skills even inside the temple.
Myth 5: Don't take your car, people might damage it
Cars are safely parked everywhere and I didn't see any of them getting a dent or a broken glass or window. Its like any other city. Paid parking is available as well.
Myth 6: Color will damage my skin or last more than a week
Vrindavan people love playing dry holi. There wont be any usage of water and its more of pink color powder everywhere or gulaal in different colors. Powder dry color is very very easy to take out in just one bath.
We played holi for three days in a row - nothing happened to any of our skin.
Coming to Hacks:
Hack 1: Carry swimming goggles or sports goggles which will protect your eyes
You will get a color powder attack from anywhere and any second. Color will definitely hit your eyes and even your mouth if you are talking.
Hack 2: If travelling in group - Guys stay away from your girlfriends
Girls get attacked by colors more since its in the mythology - Krishna playing with all females of the village. People follow it religiously.
If you are tagging along with your female friends - you will get color bombarded same number of times.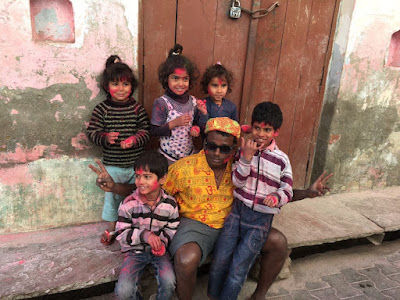 Hack 3: It is easier to go by Car if staying in nearby cities
As a backpacker I would never encourage car or comfort but it was a lot easier for us to get out on time and commute in our car. Else there is no way you can get yourself cleaned up and start back home. Colors are everywhere.
Hack 4: Photography inside Bake Bihari Temple
They do not allow photography when curtain hiding the God is open. Once curtain closes you can go up and ask the scurity to let you in. They will let you in for like 20-30min. Finish your photography in that time and for guys with a female friend, its easier to convince the security to let you in.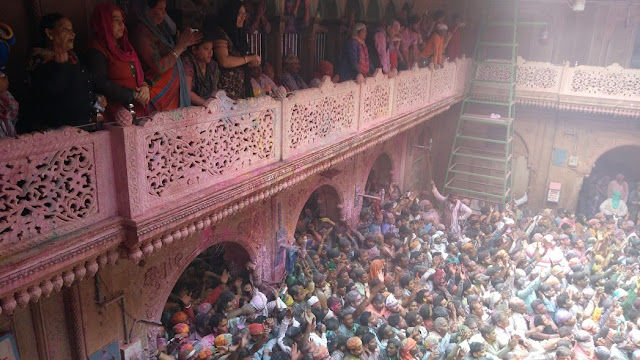 Hack 5: Photography outside on the main lane to Bake Bihari Ji Temple
Just find your own comfort place, you will easily get it. There are line of residences whom you can request to allow you to the terrace and take photos.
Hack 6: Do not play holi on the main Holi day
You can go to Vrindavan one or two days before the main Holi and still enjoy the colors and people. The street, the temple everything will be exactly same except on the main holi day it gets worse, thats when all the advises to stay careful come into picture.
If you are still eager to celebrate holi on the main day, take a diverted route to the temple through the inside small streets which is much much much shorter route than the main lane to Bake Bihari Temple.
On the main lane it took us 2 hours but luckily one auto guy directed us to one small street going to the temple which comes just before the left everyone takes for main lane. It took us hardly 15min to reach the temple.
Hack 7: Do not shout at locals for throwing colors at you
Yes it is going to get irritating at a point, continuous color attack, or may be you are all clean and suddenly someone comes and colors you but please do not shout at them or ask them to stop coloring you, even though you ask politely - no matter what you are going to be a colorful victim. The local guys get highly offended if you deny the colors by shouting at them.
Solution: Smile and welcome the colors :) you are in Vrindavan during Holi. If you are a short tempered person and don't want the colors, do not even think about entering the city.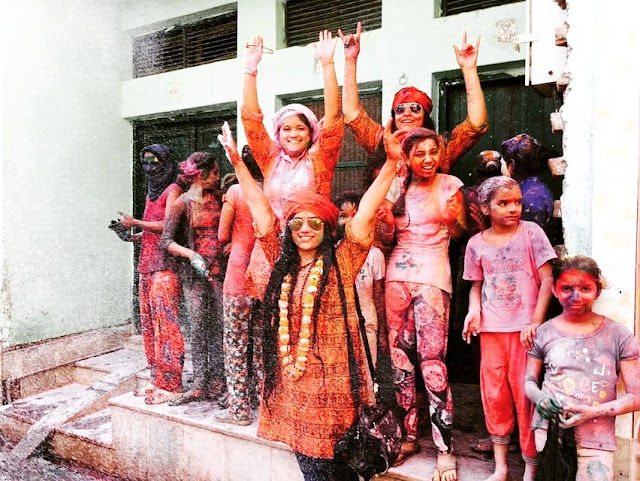 Accommodation:
Ranges from 300/- to 3000/-
Since people come here from all over the world, it is a fact that might not find accommodation easily but there are hell lot of options to stay.
If you are planning to arrange accommodation after goiong there do not even think about getting one in the main Temple lane. Everything is full there. You might have to search a little here and there outside areas.
Food:
30/- to 200/-
It is a vegetarian religious city. Forget non veg for the time you are in Vrindavan. No alcohol also.
Variety of street food and vegetarian Indian thali is available everywhere. Good food wont be a problem.
Do try the Lassi(Sweet yogurt) there, amazing (yes i am drooling only thinking about it).
Of Course do not miss to visit beautiful temples in the city - Isckon, Prem Mandir....
After visiting Prem Mandir I do not get the Orthodox Indian families preaching Lord Krishna and Radha for their love but always involved in caste, creed and considering love marriages/relationships as some sort of sin. Strange World.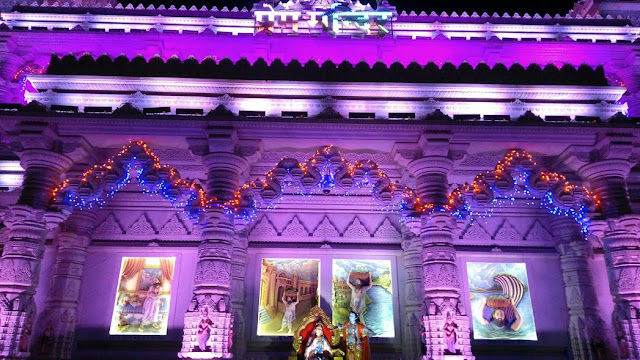 We managed to witness the Holika Dahan on the four way near main lane to Bake Bihari Ji Temple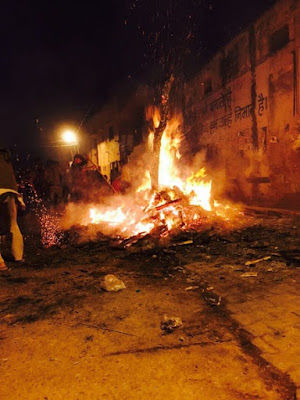 Please go ahead and celebrate the festival of colors in Vrindavan. You will never regret it :)
Pictures Courtesy: Aravind Vinodh - balvin25@gmail.com