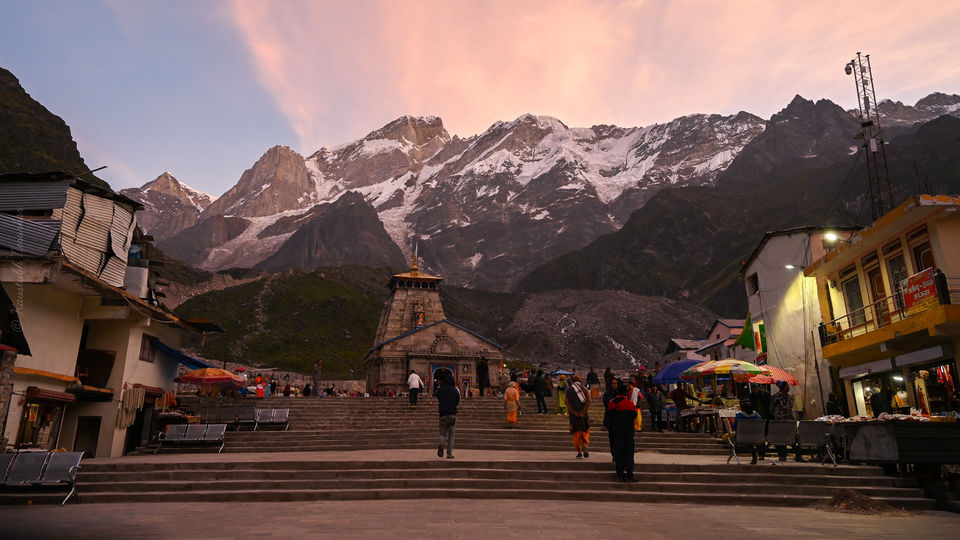 Well, this is a brief of the trip:
Day 1 (12th Sept):

Mumbai-Delhi Flight (02:20AM-04:35AM)
12017 New Delhi-Dehradun Shatabdi Express to Haridwar (06:35AM-11:25AM)
Haridwar-Rishikesh Bus from Haridwar Bus Depot (11:50AM-01:30PM)
Rishikesh-Srinagar Bus from Rishikesh bus depot (02:00PM-06:20PM)
Srinagar-Rudraprayg Bus (06:35PM-08:00PM)
Stay in Rudraprayag.
Day 2 (13th Sept):
Rudraprayag-Sonprayag Tempo Traveller (05:15AM-09:00AM)
Sonprayag-Gaurikund Maxx Cab (09:30AM-09:45AM)
Gaurikund-Kedarnath Temple Trek (10:00AM-06:30PM)
Stay at Kedarnath hotel
Day 3 (14th Sept):
Kedarnath-Gaurikund Trek (09:15AM-01:00PM)
Gaurikund-Sonprayag Maxx Cab (01:10PM-01:20PM)
Sonprayag-Srinagar Bus (01:15PM-09:50PM)
Stay at Gurudwara
Day 4 (15th Sept):
Srinagar-Rishikesh Bus (05:50AM-11:25AM)
Stay at Rishikesh.
Day 5 (16th Sept):
Rishikesh-New Delhi (07:35AM-02:35PM)
New Delhi-Mumbai Flight (09:00PM-11:05PM)
Home Sweet Home!!
YouTube Video: https://youtu.be/bTtbKH1vMrs
>The actual story!!
I am a software developer by weekday and photographer by weekend kind of person. 30th August 2019 marked the last day of my previous company and my joining date was 19th September in the next firm. First two weeks were busy thanks to Ganesh festival around. But then the urge to travel somewhere kicked in and without any proper plan in place... there was actually no where to go.
11th September 2019
I was causally looking at a place called "Kedarkantha" for a trek in November. I realized that the Kedarnath was not so much far from the place where I was planning a trek to. Something within me told me to go to YouTube and search for the song "Qaafirana" from movie "Kedarnath" and after I saw that song, I was like I am going here.
Ok but when? "Tomorrow.."
And how? "umm..I don't know.."
Do my mom dad know? "NO.."
As I told my ambitious idea of travelling to Kedarnath at home, in the very next minute and like most of the families would do, I got a NO followed by a lecture about why it was a bad idea. There was a big misunderstanding too as they thought I was talking about Amarnath and with recent situations in Kashmir because of article 370, they clearly said a no to me. But I stayed firm on my idea and showed them videos of the entire trek. Slowly their no turned into a Yes with usual "tuze sunana nahi hai na humara..toh ja..bolke kuch fayda nahi".
Yes they were completely true in terms of thinking what might go wrong with their kid planning a sudden trip for very next day without knowing a thing about the entire travel from his home to Kedarnath. But with the past history of having gone on numerous self planned trips with friends, they were sure that I will pull it off.
In the very next hour, I researched everything I could about the trek and possible routes starting from Delhi or Dehradun. Seeing the prices of the flights to Dehradun, I sticked to the Delhi plan and got myself Spicejet ticket for just ₹2677. Yeah pretty cheap for a flight that was departing on the next day at 2AM from Mumbai. The current time while booking was 12PM of 11th September. Talking with other friends of friends, I came to know about a train from Delhi to Dehradun via Haridwar and that was the next ticket I booked for the next day travel. The train was scheduled to leave from New Delhi at 6:45AM. Everything was in order so far.
I pulled out my Quechua 60L bag. Stuffed in thermals, a jacket, a beanie, poncho, thermos, dryfruits and borrowed my friend's mirrorless camera so as to save weight and get my backpack in flight cabin. I had only taken one extra t-shirt and two pair of inner wear and that's it. I wish Quechua would have sponsored this trip as I was going to survive next 5 days on one pair of (againnn) Quechua hiking shirt and (one last time) Quechua hiking pant and trust me, they were awesome throughout the journey.
Quechua Backpack 60L: Link

Quechua Full Sleeve Hiking Shirt: Link
Quechua Hiking Pant: Link
I left home around 8PM so as to reach Mumbai International Airport early and enjoy the lounge food thanks to free access by Credit Card. My bag was nearly on verge of being thrown into check-in bags as it was more than 8Kgs, just a bit actually. But I managed to convince them to allow me to take it in cabin.
-Day 1: 12th September 2019-
The flight left Mumbai on time and landed too, on time at Delhi at around 4.15AM. I couldn't sleep in the flight because just when I was about to sleep (I guess we were flying above Jaipur), I saw lightning playing its own silent beats in the sky and that completely blew away my sleep. What followed was attempts to capture at least one good shot of the same. Take a look at it below: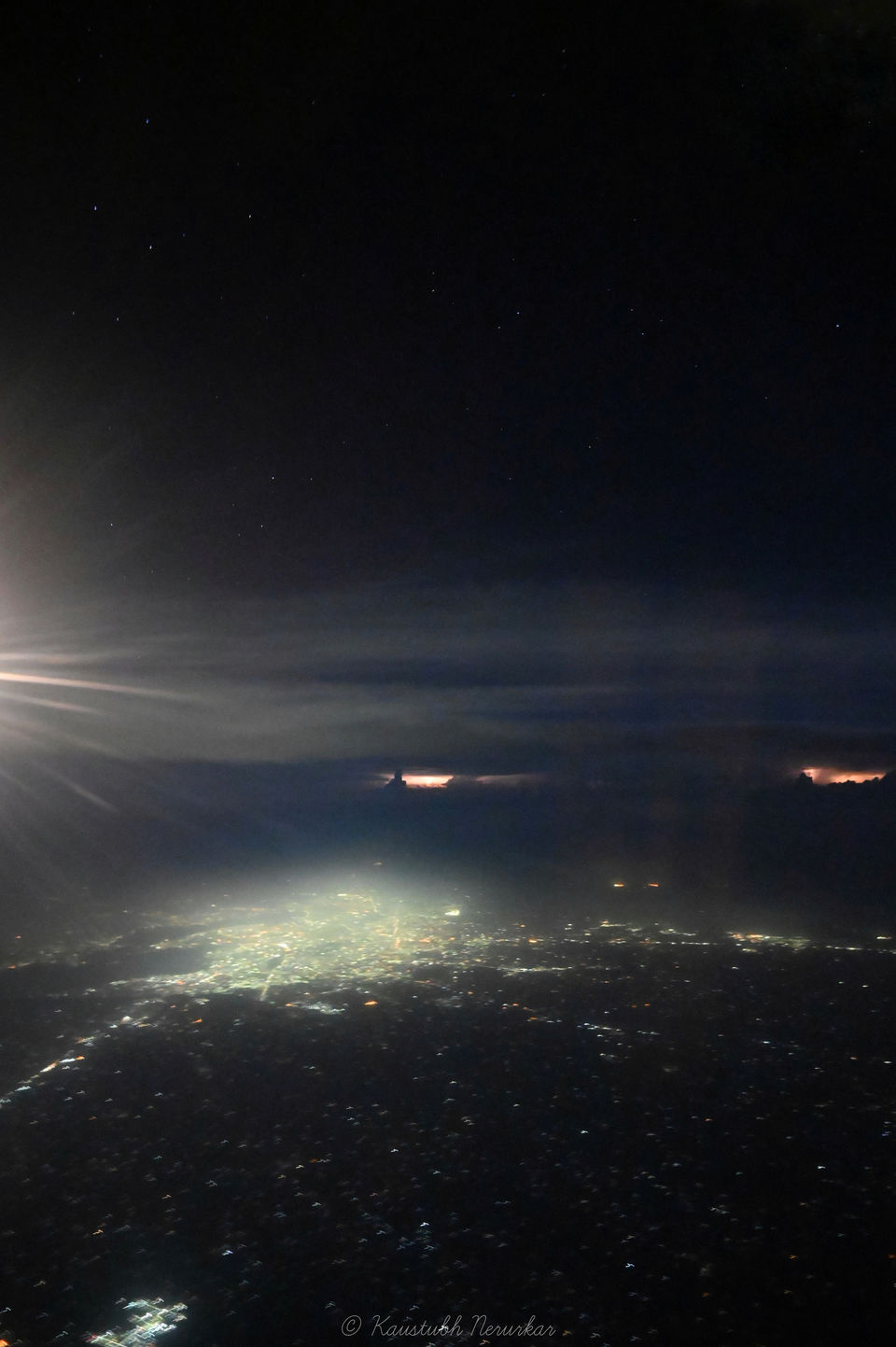 As I landed in Delhi at T-3 Terminal at 4.15AM, I literally had to rush though the flight between the usual Indian queue of "I will get out of flight first before others for no reason" crowd to catch the very first metro of the day which was arriving at Indira Gandhi Metro Station just outside T-3 at 4:45AM. Thanks to Paytm, I saved precious time of buying a metro token(₹60) and I guess I was the only one who actually used e-token at that time as all others were in line to get the token.
I got down at New Delhi Metro Station and the New Delhi Railway station was barely 5 mins walk from there. I got refreshed at the AC Waiting room near Platform 16 which charges about ₹10 per person per hour and you need to provide your PNR number.
The Train Journey:
12017 Delhi-Dehradun Shatabdi was my next mode of commute from PF 16 and that saved me lot of walking time because this is the very first platform that you reach while coming from Metro and Waiting room is right above this one. The train was bang on time in terms of departing from Delhi and like every Shatabdi in India, I was flooded with food. Trust me veg cutlet has an advantage over egg omelette in case of quality of the breakfast served to you. But don't be so reliant on this and have proper food at Delhi Station. To list down all the items served to you, they go like this
1. 1L water bottle
2. Packaged lemonade
3. Breakfast has veg and non veg option. Cutlet or egg omelette is the only difference between these two. Both these options will have two brown bed slices, small Amul butter sachet, mixed fruit jam sachet and sauce sachet. The French fries which they provide hidden beneath the cutlet or omelette will be enough for you to feel hatred towards fries for quite a while as they get soggy and aren't even salty. Plus you get cooked mutter as well.
Bus search in Haridwar:
Train reached Haridwar on time at 11:30AM. Now the fight was to get a bus to Rishikesh. In Haridwar bus depot, which is just outside the railway station, it's very tricky to spot which bus goes where as buses come inside from one gate, barely stop for 5 mins and leave in this U shaped road around the depot. So you will have to keep watching the boards placed in front ongoing buses. Best part is, these buses have no particular color patterns to distinguish between a state transport or a private bus. I got into a bus heading to Rishikesh. Costed me about ₹40. During the journey, I also observed a tempo Traveller which had Ganesha idol being taken for Visarjan and that scene felt very good seeing the festival being celebrated even so far. I reached after 2 hours for a road distance worth of 1 hour max, thanks of traffic at 2 or 3 places.
Journey from Rishikesh onwards:
Now any State transport bus would drop at the same bus depot in Rishikesh which is really really picturesque. There is GMO(Garhwal Mandal Organization) bus stand right next to it and another private bus stand right next to GMO which has more frequent buses to other places.
I had set myself a target of reaching to Rudraprayag on the same day. As it was 2PM and all the buses to Rudraprayg (which is 6hrs away) had already left in morning, what I could only get was a bus going to Srinagar. Yes, you heard that right. There is a Srinagar in Uttarakhand too. I started at 2PM from Rishikesh and finally reached at 6.20PM with the hopes of getting atleast some mode of transport to go to Rudraprayag but the chance were slim. Luckily right where the current bus ended its journey in Srinagar, there was another bus for Rudraprayag, just about to leave. I thanked god and hopped onto this one. Finally I had reached Rudrapryag at 8PM after such staggering amount of travel in one day. I quickly got a room as well in "Badrinath Kedarnath Yatra Niwas" for ₹400. It was a really good clean room with double beds for a single person. Off season helps a lot :P. After surviving on dry fruits, laddus, a Maaza and water for the entire day, I finally treated myself with a home cooked dinner in a small restaurant called Mandakini right in front of the Niwas. Food was really good. It was finally the end of day for me!!
-Day 2: 13th September 2019-
The hike Day:
I had already inquired with the locals the previous day about the mode of commute and timings to reach Sonprayag. At 5AM, my next journey started in a Tempo Traveller. Rudraprayag to Sonprayag route is scenic till Gupt Kashi with river accompanying the road and make sure to seat on the left side to enjoy the views. From Gupt Kashi onwards till Sonprayag, it is one of the worst roads I have ever seen in my life after Ladakh as over here the vehicles get stuck thanks to mud and sludge formed by road widening work and landslides. It took us 4 hours to cover 75Kms to Sonprayag. After feasting on Parathas and energizing myself with Glucose Biscuits, I was prepared for the strenuous 17Kms trek to the top. From Sonprayag you have to take a maxi cab to go to Gaurikund which is the base of the trek and that's the only mode of commute allowed. You cannot take any other vehicle to Gaurikund. They charge ₹20 for a seat.
Considering I had significant trekking experience in Sahyadris in Maharashtra, I was at least optimistic about reaching in daytime to the top. But after all, Himalyas are Himalayas and I was going to be tested like I have never been before. My hike started at 10AM (Ideally start at 5AM by staying at Sonprayag). The sun was perfectly covered under clouds so as to not sap much energy out of me. Hardly 1.5Kms must have passed and I stared feeling the gravity of the hike. I had to take a break. I put entire electrol powder within my thermos, filled it with the amazing tap water service provided by Uttarakhand government along the route and quickly gulped few sips. After waiting for few mins, I started again. I felt much better now as my body was starting to get acclimatized.
Always remember one simple rule when you hike: Take it slow, take short controlled breaths, rest if needed and keep having few sips of water after regular intervals.
Following the same mantra, I reached Rambara, a place where you witness the 2013 destruction up close. Over here, you need to cross a river bridge and start the hike on the mountain on the other side. Your real struggle starts from here onwards as so far you have gained quite some altitude and now the hike has becomes much more steeper. I literally halted after every turn of the zig zag shaped hike path. I knew my 8kg bag was the real culprit but honestly there was nothing in it as extra to keep in the Cloak rooms available at Sonprayag. The drinking water from tap which was at regular temperature at the base, has turned freezing cold now.
Lunch and next journey!
Around 2:30PM, I finally decided to have lunch which was again laddus and dry fruits from my bag as I badly wanted to reduce the weight as much as I can. There was no network coverage so far after I had left Bhimbali (7kms from Gaurikund base).
Talking about the major locations during this hike, you first reach Jungal Chatti which is 3kms from base, Bhimbali which is 7kms from base, Linchauli which is 11kms from base and finally Kedarnath base which is just 1kms from Temple. All of these places have staying rooms and medical facility available and you aren't charged for availing the medical facility. You can grab a few electrol powder packets too over here.
After lunch, as I started my hike again, I witnessed the might Himalayas peeking through clouds for the very first time and the view was stunning: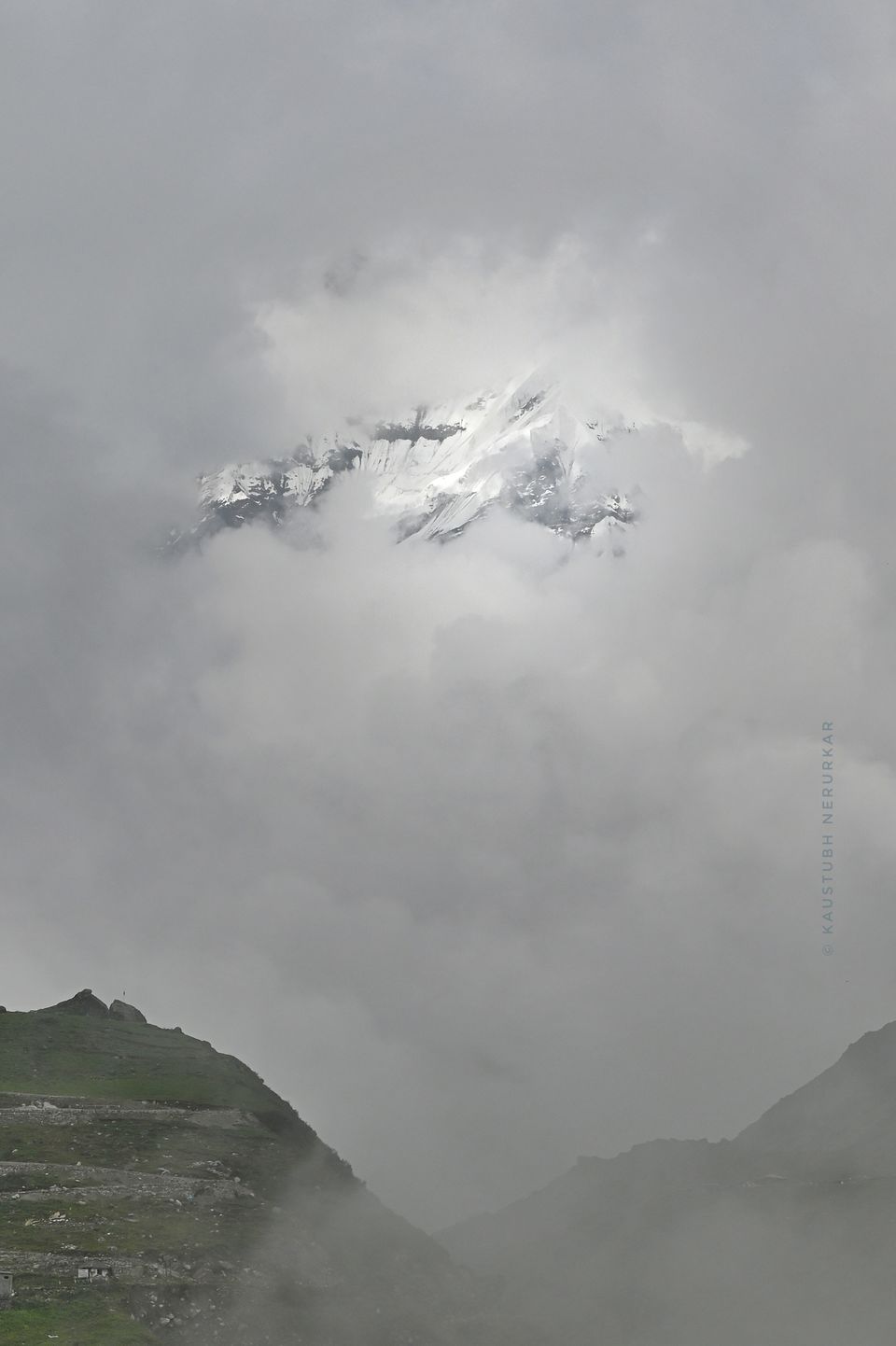 The clouds had started covering the valley and the mountain which I had crossed earlier now looked like this: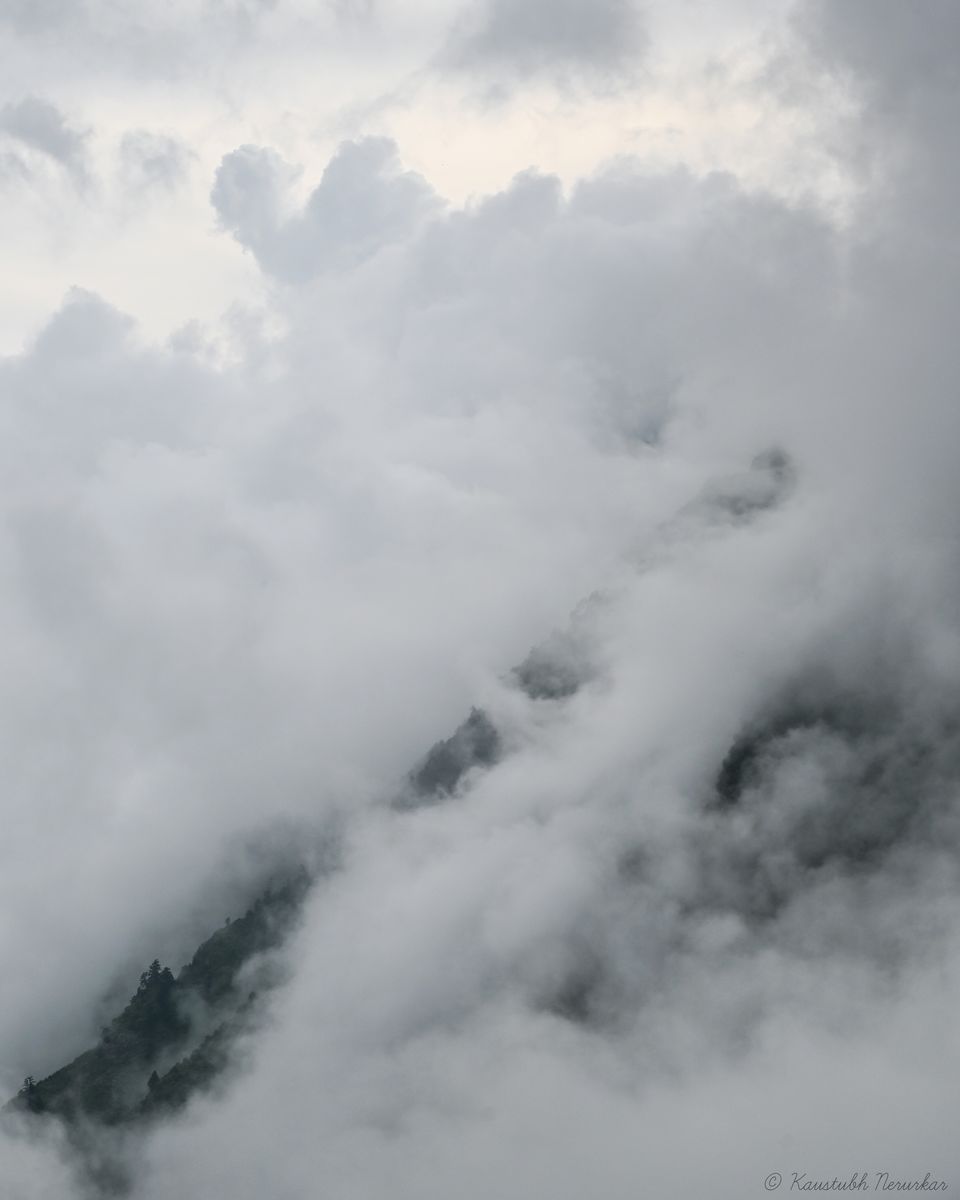 I had finally reached Kedarnath temple area at 6:15PM. Cold was starting to kick in as so far my body was constantly in warm state because of hike. I managed to get a room for ₹300 right at about 100mts from Temple and I just dropped on the bed. The altitude and exhaustion had started playing its effects on me. I couldn't even drink more than 3 sips of the tea. After engulfing myself into blanket and taking a short nap, I heard the evening aarti bells and against my will, dragged myself out and went to attend the daily aarti which takes place at 7PM. Hearing the sound of aarti faintly being echoed among those mountains made me feel much better. I got a chance twice to visit the Kedarnath after the aarti and I came back to room.
I just wasn't able to eat anything. I was feeling feverish and pukish. Somehow I managed to drink the soup served by the hotel owner (that small glass of soup costed ₹50) and I went off to sleep.
-Day 3: 14th September 2019-
I woke up around 5AM and realized that I have a bad headache. I again went back to sleep and finally at around 5:45AM, took myself out to take pictures of the first light of day. It was one of the best views I had seen after so long time in the company of such divine place. Take a look at these photos: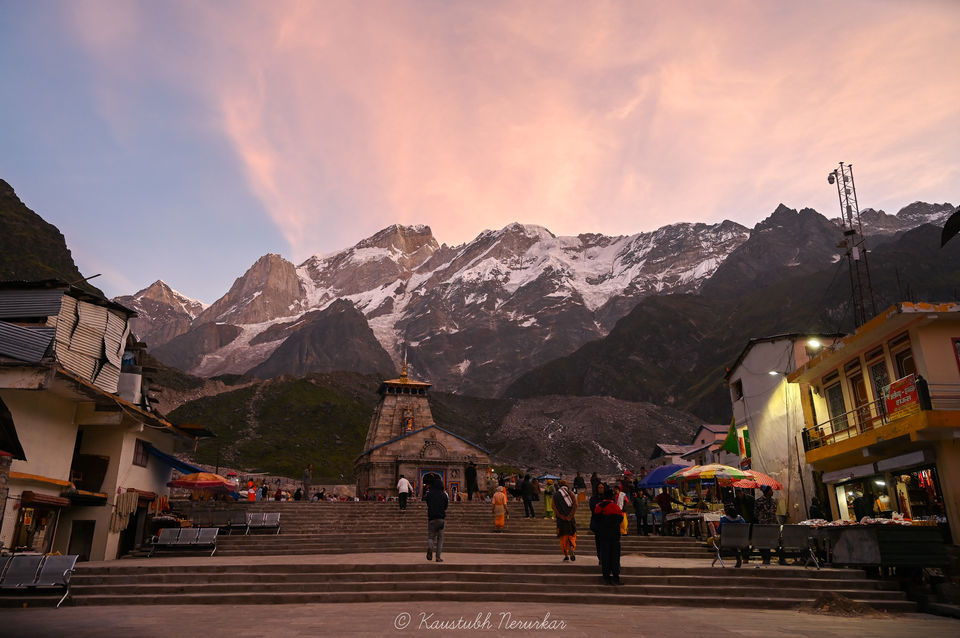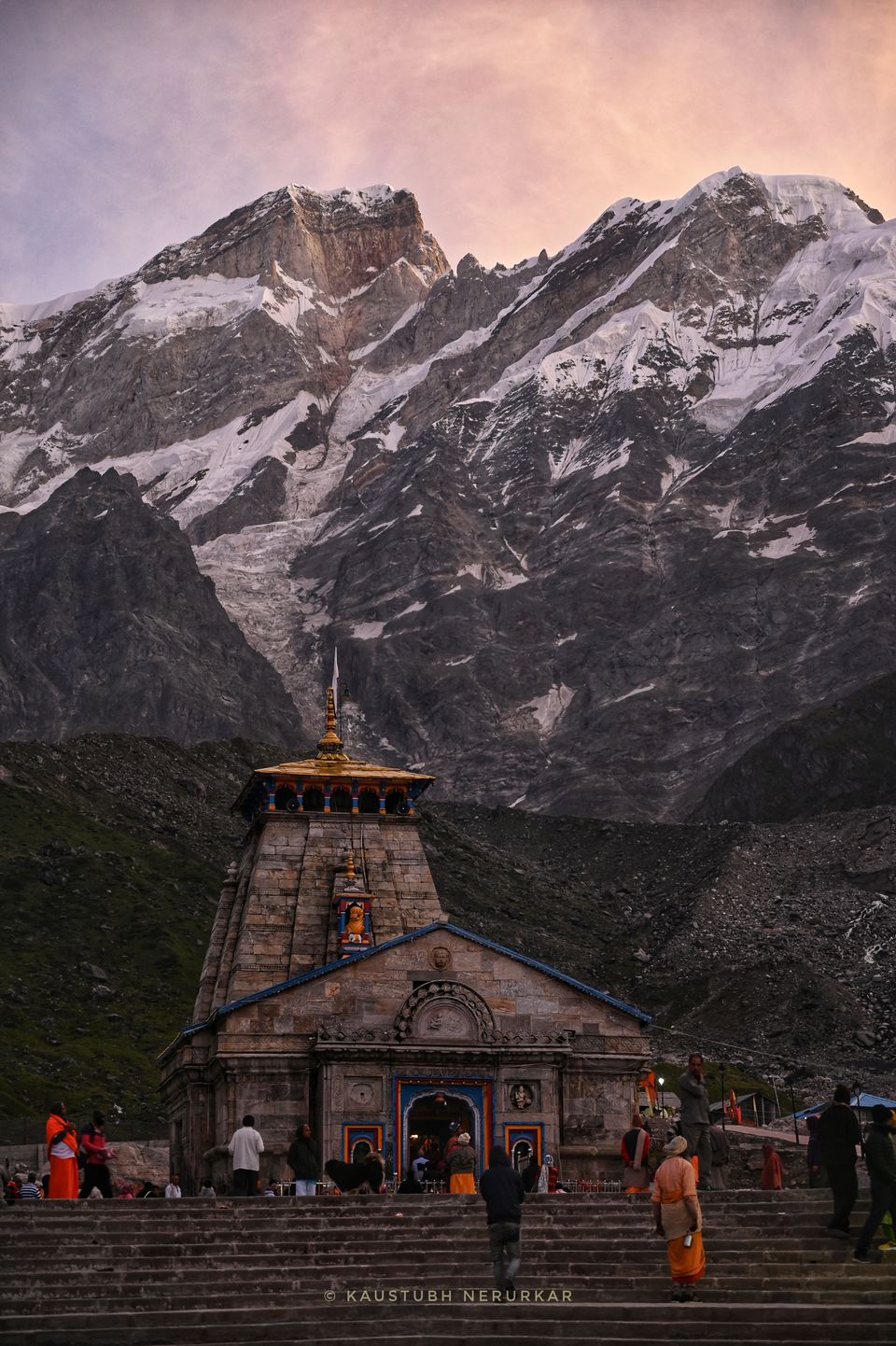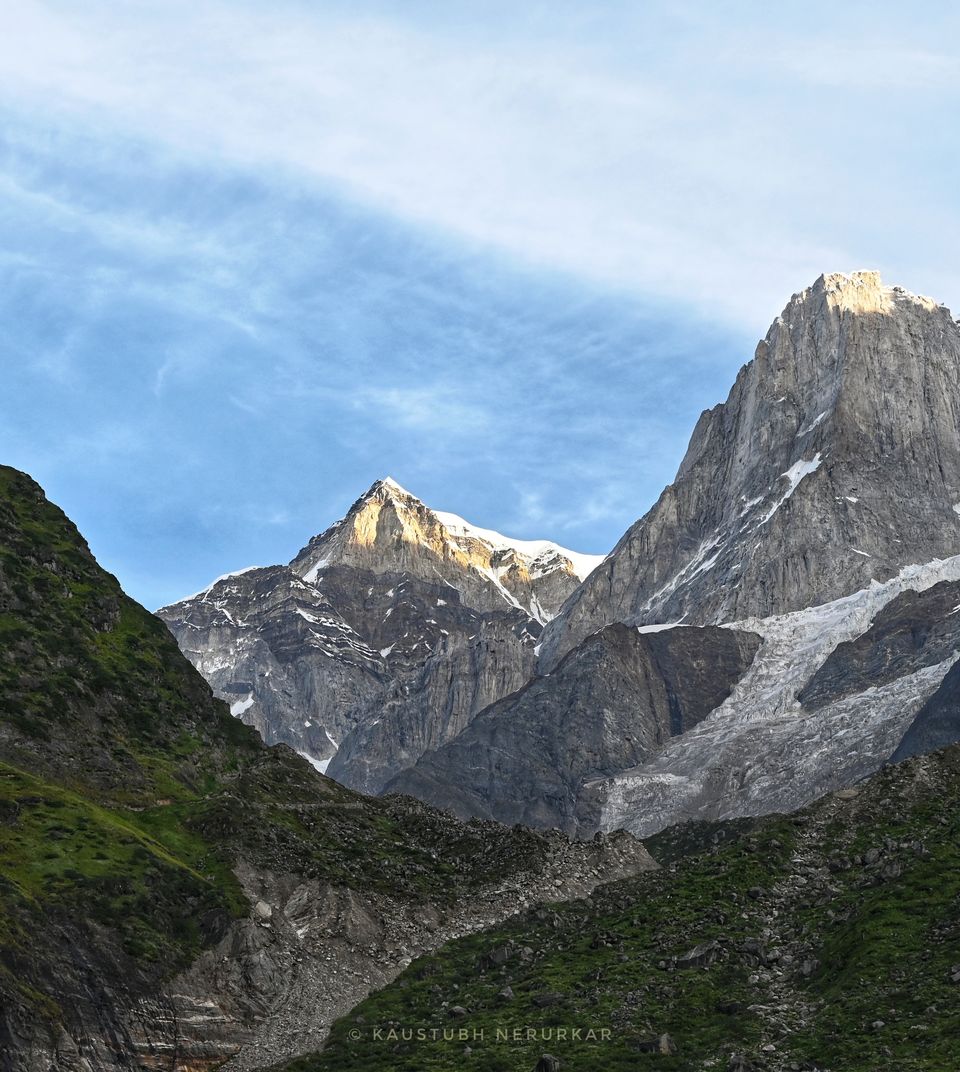 I hiked to the Shankaracharya Gufa on the other side of Mountain as well. The views from that place was phenomenal. Seeing the sunlight slowly make its way through valley was the most surreal experience of my life.
I wanted to go to Vasuki Taal as well which is 6-7hrs trek one way from Kedarnath but considering the date boundaries of my job and my already non acclimatized state, I had to drop the idea.
Time had come to say bye to this heavenly place. I badly wanted to take a helicopter to go down but they charge ₹4.2k for one person and there was a waiting list. Today was a very clear day with white patches of clouds here and there. Take a look at this shot: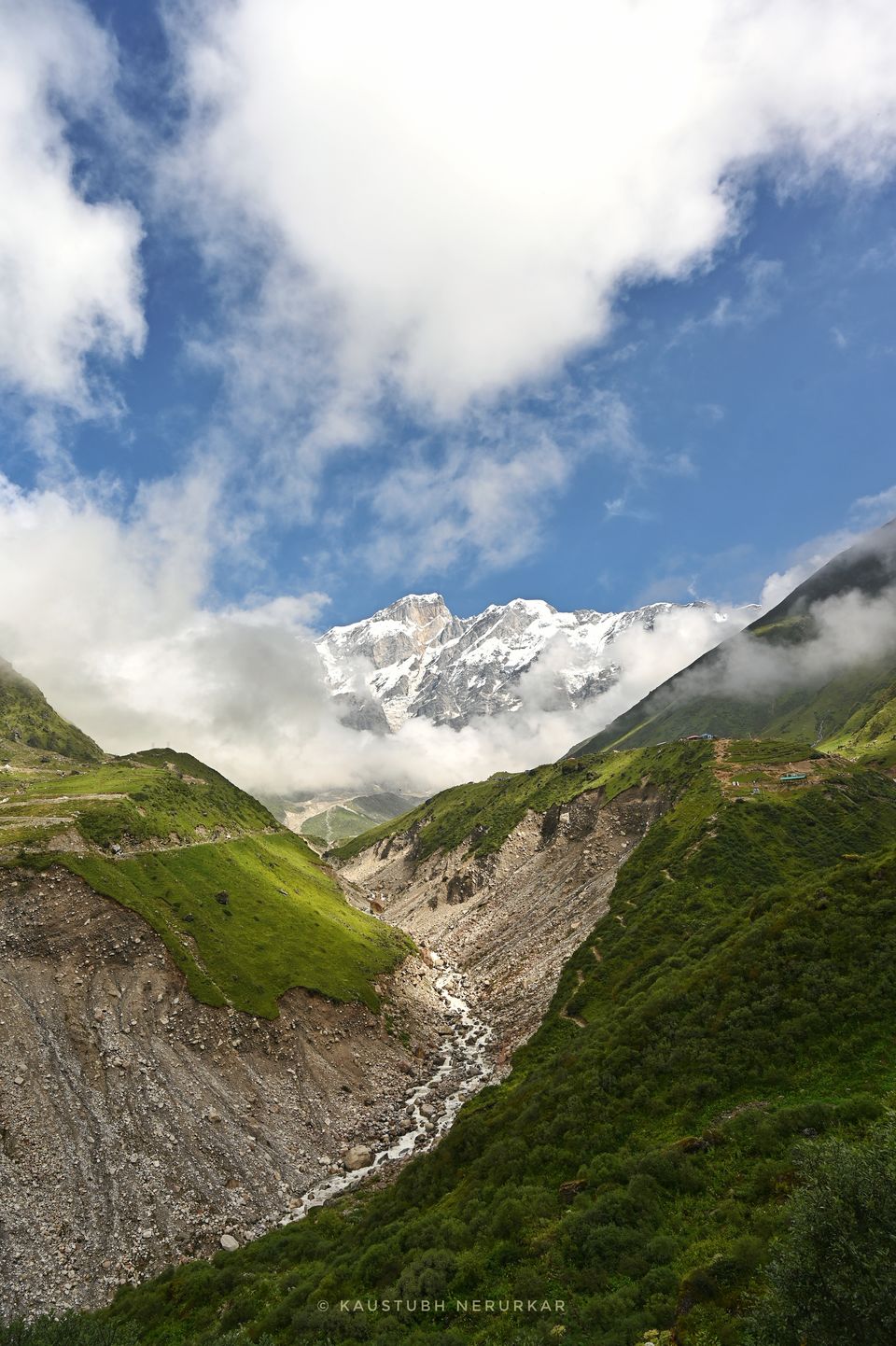 While hiking down, I was taking all the off roads which were like a short cut, not at all exposed to valley but without any proper walking base like that of hike path. I only took about 4hrs to come down after starting at 9.15AM from Kedarnath and took halt only thrice.
Srinagar..in Uttarakhand though!
After reaching Sonprayag via Maxi Cab, I got a bus going to Srinagar via Rudrapayag. I decided to go till Srinagar knowing that its going to be late by the time I reach. A local female professor who was travelling with me from Rishikesh to Srinagar while coming had told me about a Gurudwara in Srinagar which I should look out for a stay. I had that at the back of my mind and that was the place where I ultimately rested for the day after reaching around at 9:15PM. I had survived the day on Milky bars, remaining laddus and dry fruits as the bus didn't take any halts.
The Gurudwara Hemkunt Sahib doesn't charge you at all if you are travelling solo or are comfortable to sleep on a shared area which has multiple beds in open but covered area. After getting refreshed, I enjoyed the langar for the dinner and was off to sleep. I had already inquired about a bus which generally leaves around 5AM in the morning to Rishikesh.
-Day 4: 15th September 2019-
When I got up at 4,15AM in the morning, I was astonished to see so many people up and helping to prepare the langar for today. I had the best tea in last 4 days and departed for the bus stand. The bus stand was actually nothing but an area at the side of road where a bus is standing with driver shouting 'Rishikesh', 'Rishikesh', 'Rishikesh' after every 5-10mins. I had already seen the road on the map and reserved myself a left window seat which ultimately gave me this beautiful shots of Ganges: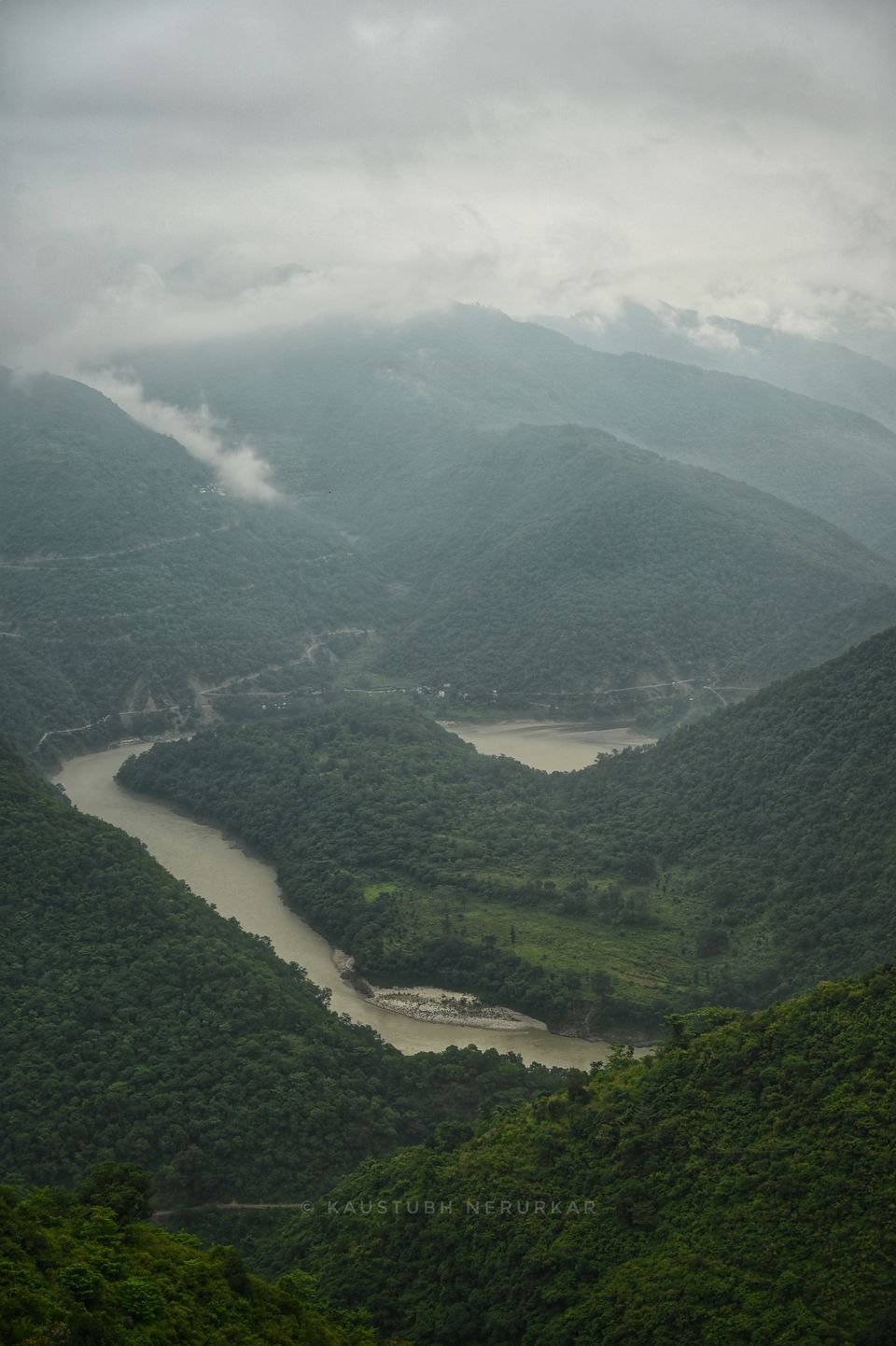 I missed the opportunity to book same day late night Vistara flight back to Mumbai which was available for 2.9k only so I had no other option but to stay in Rishikesh where I reached at 11:30AM, after 6.5hrs. From Rishikesh bus depot, I had to take a shared rick to Ram Jhula then walk nearly 1.5kms to finally reach this amazing place called 'Skyard Rishikesh' which is like a hostel with bunker beds. I paid only ₹260 for one bunker bed in AC dorm. I took care of my next day travel bookings like my Flight back to Mumbai from Delhi (₹3.3k) at 9PM and 7:30AM bus from Rishikesh to Delhi (₹776). Later, I went out for a stroll nearby and visited 'Little Buddha Cafe' which was hardly 2-3 mins from the stay location. This place has a beautiful view of the Ganges and you can enjoy various cousins over here. It's slightly on the expensive side and you will meet lot of foreigners over here. I spent the evening experinceing the evening Ganga Aarti at a temple near Laxman Jhula.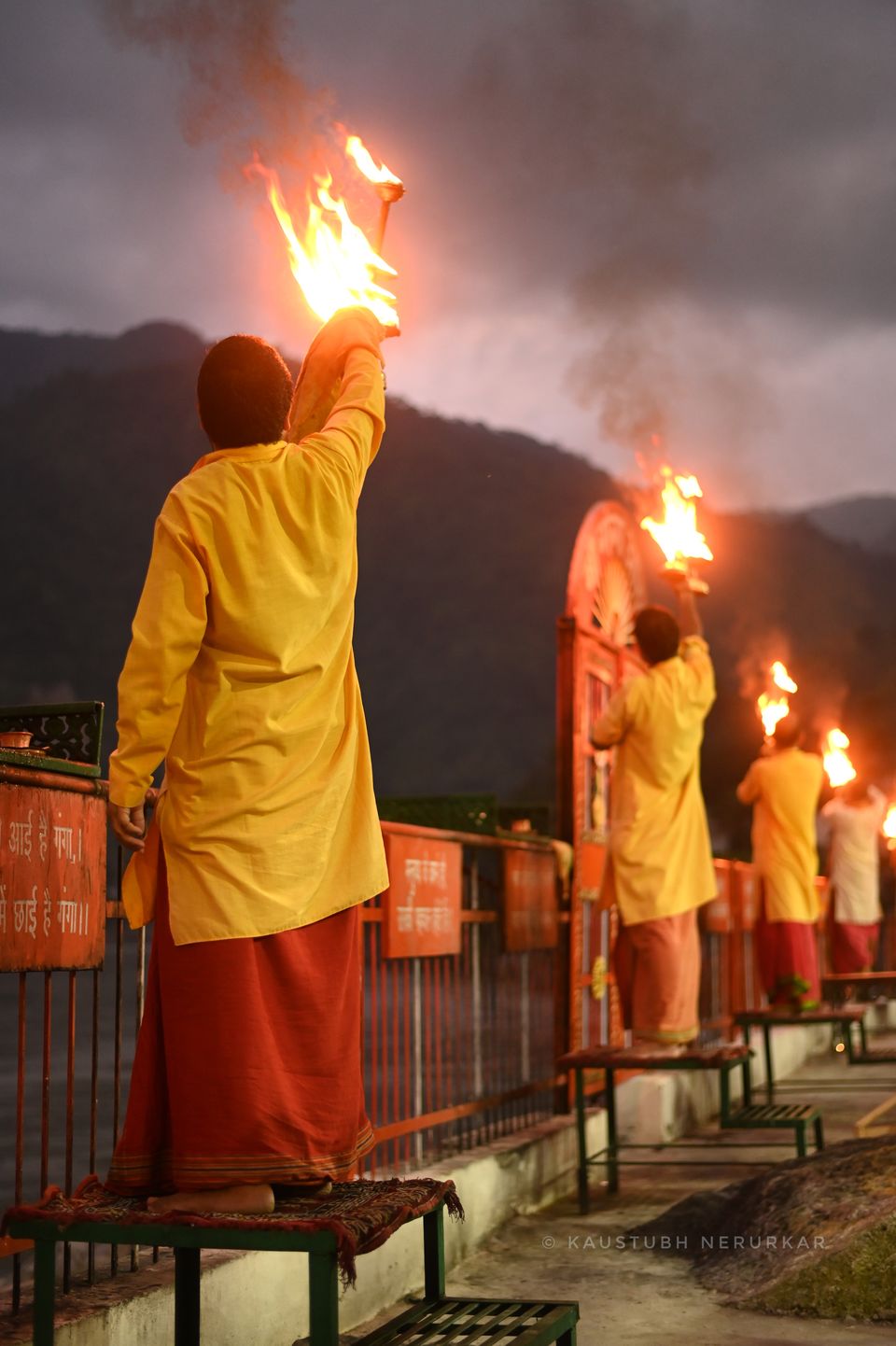 If you planning on to take a few souvenirs home, then you will find lot of shops near Laxman Jhula. I ended my day with dinner at Skyard terrace with view of Ganges and interacted with few foreigners. It was very nice interaction and everyone had different motive to come to this place with many having spiritual aspect in common.
-Day 5: 16th September 2019-
For the first time in entire trip, rain decided to show up and I finally had to use the poncho while going to Rishikesh Bus stand at around 6AM. Now talking about the rickshaw stand at Laxman Jhula, the thing is that for a single person, from Laxman Jhula to Rishikesh bus depot(5KMs), rickshawalas will charge ₹250 if they don't get any other person to share the fare with you. So just walk a few meters towards the main highway and you will reach another rickshaw stand where you have better chances of getting either shared auto or at least a bus. I got two more people and managed to pay only ₹50 as my share thanks to initial bargaining done by them. There are stalls at the bus depot and nearby to have breakfast or a tea and the morning scenes with mountains in the backdrop at this bus depot will leave its nostalgia forever.
The UPSRTC bus to Delhi left on time at 7:30AM and thanks to it being a Volvo, I finally had the smoothest ride after past few bumpy days. The bus journey ended at ISBT Kashmere Gate at 2.15PM and as there was still plenty of time for my flight which was at 9:00PM, I decided to first visit Chandni Chowk and feast on Chhole Kulche. I took Violet Metro Line just outside the bus depot and got down at 'Lal Quila' from where Chandni Chowk is hardly walking distance. I had tough time walking though the road leading to this place as there was renovation work going on. You can also visit Parathawala Galli in Chandni Chowk too appease your hunger with variety of Parathas.
Then I again got into Violet Line Metro at got down "Central Secretariat" and visited the Rashtrapati Bhavan. Finally I called it off with my Delhi Darshan trip and got into Yellow line at the same "Central Secretariat" station (this station has interchange of metro line) and finally my metro rides too, ended at New Delhi Metro Station.
The New Delhi Metro station has baggage check-in facility available at the Metro Station itself. Air India and Vistara have their counters as far as I remember. This saves you from the hassle of carrying you luggage all the way to the airport. The airport express metro line(Orange line) dropped me at 'IGI Airport Station' as I had Air India and it flies from T-3 Terminal which is mainly the International terminal. If you have domestic terminal flight then you can get down at "Delhi Aerocity" station and take the feeder buses available at the station which will drop you to the terminal.
As I had one more lounge access left on my card, I visited 'Plaza Premium Lounge' in 'Lounges-B' section which has entrance from the ground floor. I found this lounge lot better in terms of occupancy and ambiance as compared to same lounge in first floor under section 'Lounges-A'. There was no delay in the flight schedule and for the first time I actually flew in a plane which had international seating space of 3-3-3 meaning 3 seats on left and right side and 3 in middle. The flight was headed for Newark in USA after a halt in Mumbai. Wish I would have been allowed to continue :P
So finally, here are some of the things I learnt from this trip:
1. Always carry one small foldable bag with you so that if you have to push your huge backpack in common storage space of bus or at the top of cab or tempo traveller, you still have a small bag with essentials like food, water and medications if any.
2. Don't think much about "What If and How". I know its not everyone's game to just get up and go on an completely unplanned trip very next day that too so far, but yeah if you can plan one with days in advance, and if can pull it off, trust me that the confidence and self belief that you will get will stay with you for a very very long time. I always wanted to have one such trip. And after having done it, I can firmly say that sometimes things are only difficult till you do it. All it takes is that one step. During most of the time of this trip, I didn't knew what my next day is going to be like but I knew my end goal and had the strong willingness to reach there so I always spent my last half hour of each day thinking about different travel information I got from locals, seeing maps and I used to make rough plan. Rest automatically fell in place.
3. It challenged me to know myself much better and challenged my comfort zones every day in ways like never before and it will for you as well, in some way, have meaningful and lasting impact if you happen to taken one such solo trip because seriously guys, life begins when you leave your comfort zones.
If you want to connect with me, then do visit my Instagram page and drop a Message. If you like my work then please do Follow back on Instagram and YouTube.
Instagram Link: https://www.instagram.com/kaustubhnerurkar/
YouTube Video: https://youtu.be/bTtbKH1vMrs
Hope you have your solo travel stories to tell the world very soon :)