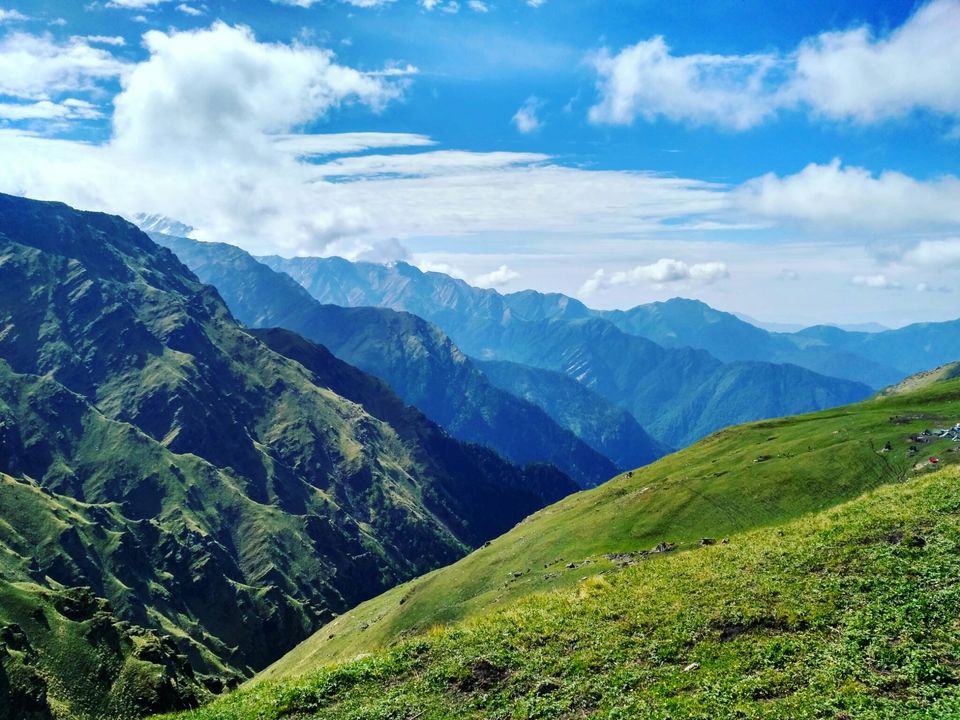 Trekking is the answer for those who cares what the question is.
It wasn't my first trek to the Himalayas but it was my first in Uttrakhand. I thought I was all prepared for this trek as I had done a trek to Bhrigu lake in Himachal Pradesh the previous year but I was mistaken as I did not anticipate the bitchy(excuse my language) weather. The rainfall made it tougher to trek, fun to talk about when I returned and look at the awestruck and gawking faces of my friends & parents; along with a new slippery and cold experience.
From our base camp in Gwaldam to the most beautiful campsite at Bedini Bugyal to the highest campsite in Pathar Nachuni and to our last campsite in Minfar, it was all magnificent leaving me to goggle at those beautiful mountains and valleys while I kept clicking pictures with my phone and also managing not to topple down the valley wearing a poncho (which made me look like a death eater) to my beautiful but unfortunate death.
I opted to go for this trek through YHAI(Youth hostels association of India) because my father in his twenties went to his Sar Pass trek through the same association so it was obviously old, reliable and also because it was the cheapest. Along with me came few of my friends and for most of them trekking and sleeping in tents was new.
Our journey began on a sweltering night of the 22nd of May from Gujarat and we reached Delhi the next day. Our Ranikhet express left the dry and hot capital of India at 10pm and delivered us to the pleasant Kathgodam(see picture-1) at 7am.
After taking auto rickshaws from Kathgodam to Haldwani, we had a quick breakfast and pooping session after which we started our long and exhausting journey of 8 hours to reach the base camp in Gwaldam. We chose the government bus transport as it is cheaper than hiring a taxi: Haldwani to Almoda and then Almoda to Gwaldam. As soon as we reached Gwaldam, I realized it wasn't exactly a tourist flocking location. We asked around the locals for our base camp and they showed us the way; it was a 1km walk to our base camp and we walked a bit energized as we came across a serene and beautiful(I am gonna find synonyms for that) view(see picture-2 & 3).
We finally reached base camp and after completing the 'check-in' formalities we dumped our rucksacks in our dormitory (females were assigned dormitory while tents were assigned to males) and after a quick shower (I was the first one to run to the bathroom), I headed to the terrace/balcony to enjoy the view and boy oh boy! I wasn't disappointed(see picture-4).
We were given some tea and later after dinner we had a non-campfire campfire (let me explain now: I came up with this term to use instead of the term which the camp leaders used to refer to as a campfire to have a sort of gathering every night after dinner where people would perform and those who are back from their trek would be given certificates along with a chorus of congratulations but there would be no real campfire). After the non-campfire campfire, we were given bournvita which really helps with the sleep(I don't really think so but that is what all the camp leaders said). At 10pm, it was lights off time though it was way past 11pm when people retired to sleep.
Phew! Done with the 1st day of one of the most magnificent trekking expedition of my adventurous life(I like to think it is adventurous but who am I kidding!).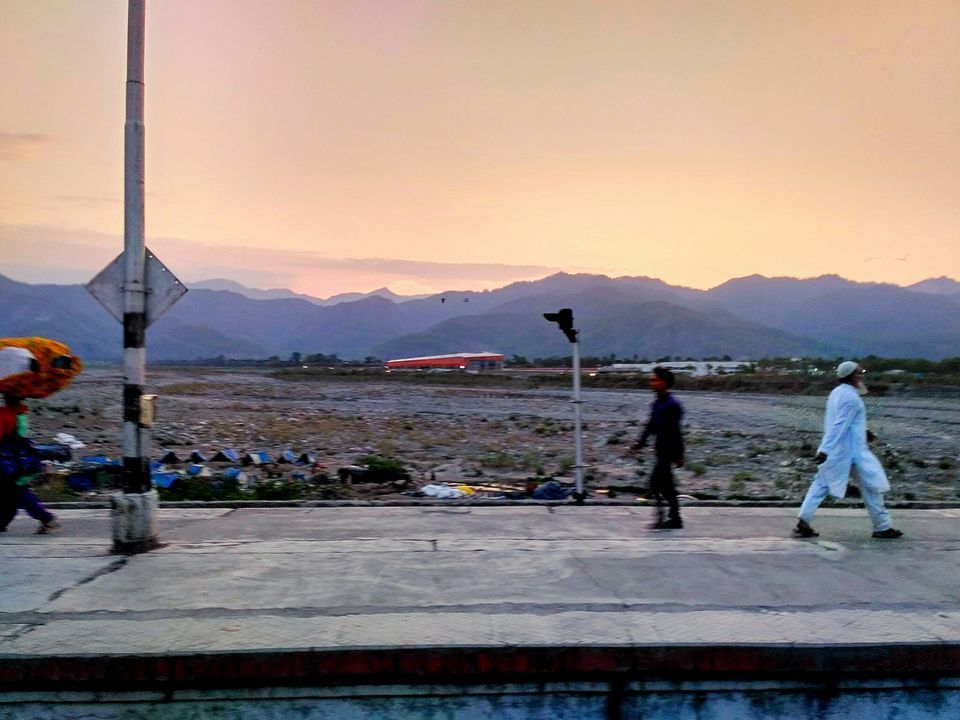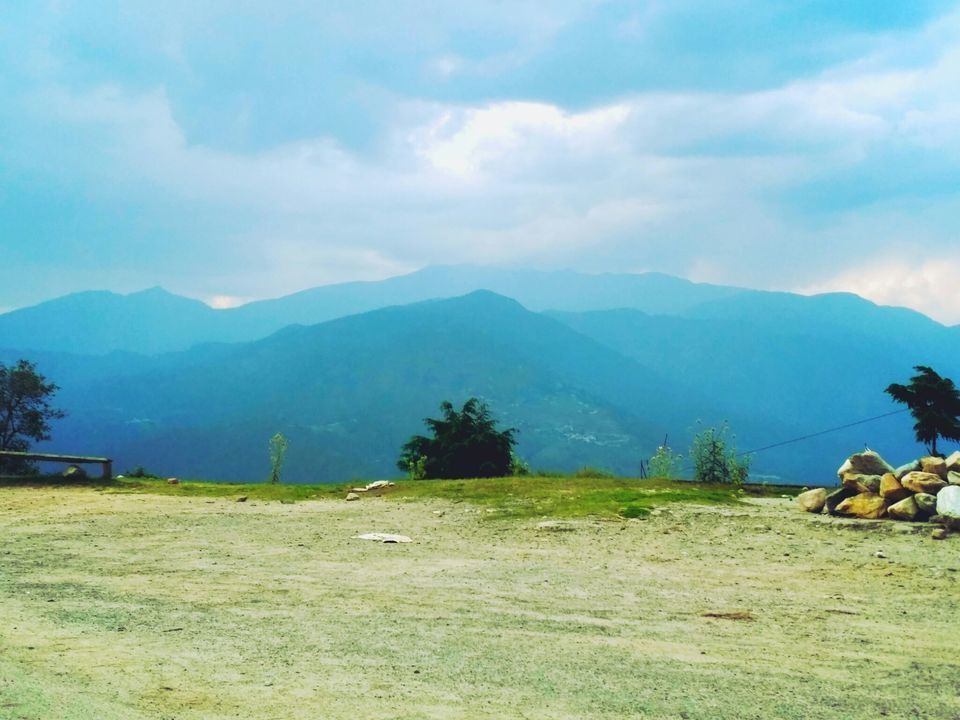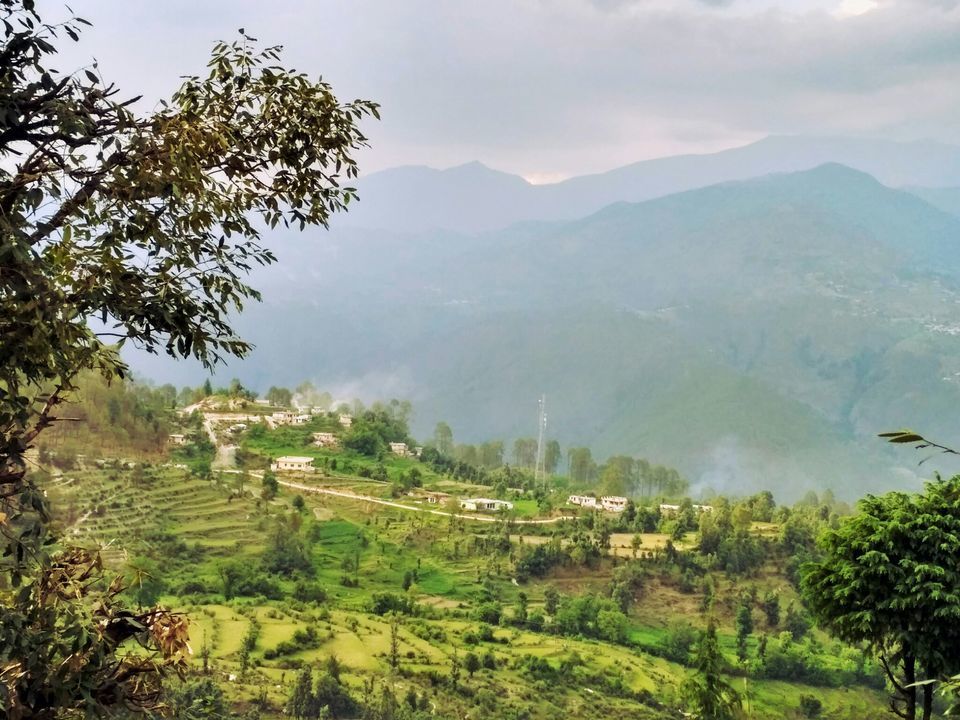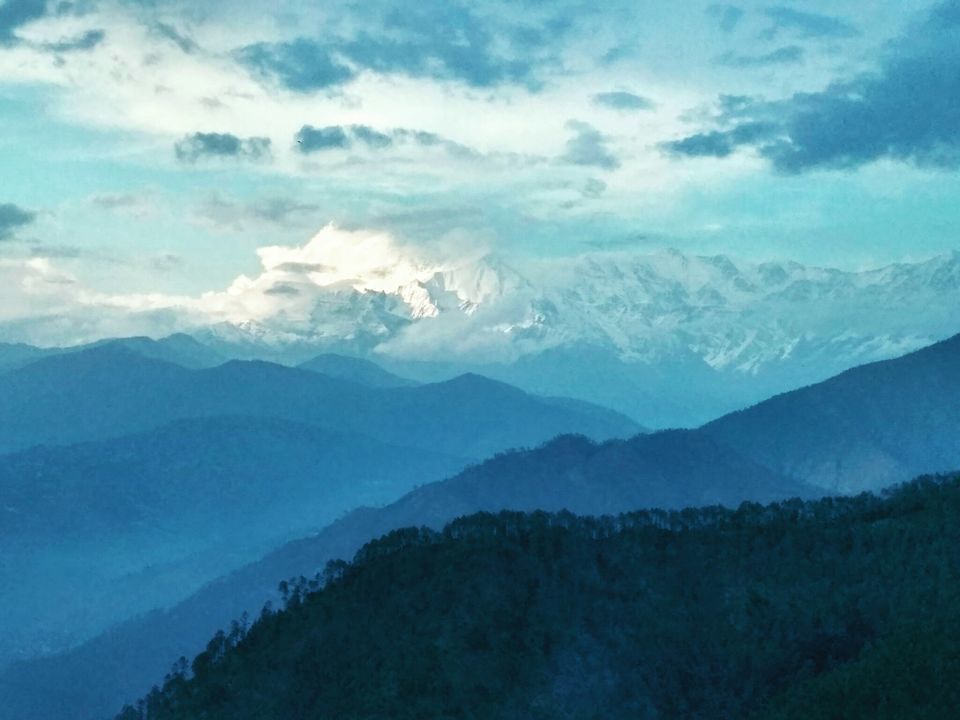 I was to wake my friends at 5:45am so I woke up early and after a quick shower I stirred them awake. It was really cold and we all headed for the morning tea to warm ourselves. After the refreshing tea we were to go for the morning jogging and exercise session. It was a 1km jog from our base camp to a clearing in the jungle where we did some exercise and yoga surrounded by tall trees while breathing fresh air and simultaneously trying to stretch our arms and legs as much as we could. It was tiring for me as I do not exercise nor play any sports and I am as lazy as one could possibly be. After the exercise session I walked around the tall trees to get a good view of the surroundings and as always the mountains did not disappoint me as they stood steady with all their green glory. It was refreshing, even more so than the morning tea or the yoga session.
As I looked back I realized that all other fellow campers were trotting back to the base camp, so along with a couple of my friends I took the shorter but steeper route back to the base camp. After a quick breakfast we were to leave for the acclimatization walk with a backpack which contained a heavy blanket, a water bottle and a poncho/raincoat/barsati. The blanket was supposed to be carried so that we get used to the weight for our higher and strenuous trek, the water bottle to stay hydrated(staying hydrated is extremely necessary as the harder you are working, the more bodily fluids you are losing through respiration and perspiration. If you are not adequately replacing those fluids, you will eventually become dehydrated) and the barsati so as to not get drenched in rainfall in case there was any. An acclimatization walk is important as it helps our body to get attuned with high altitude. One cannot simply trek up to the highest camp as the body needs to get used to the sudden change of altitude.
After a special set of clapping session as a symbolic representation of luck and encouragement for the batch that was leaving the base camp for their higher camp, we also left for our first trek. It took us 2-3 hours to reach the destination which was a large clearing area on top of a mountain where there was small temple of a local deity. It was dazzling as the blue sky was partly filled with slowly moving fluffy white clouds and all around there were different sized mountains looking superb. I walked around and clicked some pictures while breathing in the fresh air and energising myself by absorbing the beauty around me instead of sitting with my friends.
When all of the campers of BB24(our batch was called BB24; BB standing for Bedini Bugyal) reached the top, we formed a circle as the camp leader suggested and introduced ourselves after the camp leader was done giving us certain tips along with the DO's and the DON'T's. It was amazing listening to all of the fellow campers and observing them; all from different states and most of them in their twenties, here to quench their need for wanderlust away from social obligations and mundane city life.
After the introductory session was over we started trekking downhill and in the next ten minutes it started to rain so we had to immediately cover ourselves with barsati. While we took the short break to wear barsati and refill our bottles with water from the small stream that flowed rapidly down the slope, we were also given some mango flavored energy drink. After that short break we continued down the mountain and within an hour reached our base camp. We dumped our backpacks in the dormitory and had delicious rajma chawal for lunch after which we were free to roam around the camp or visit the market. We chose to walk to the market in the rains, all eight of us wearing barsati and looking quite hilarious while clicking pictures along the way. We had some delicious mountain maggi(it tastes different at the higher altitude-a good different) at the market and some tea after which we strolled back to our campsite.
I wasn't feeling well (I didn't know then that it was because of dehydration) so it was a terrible evening for me. I had to rush to the bathroom to puke twice during the post dinner gathering and even after that I didn't feel good and I went to bed early.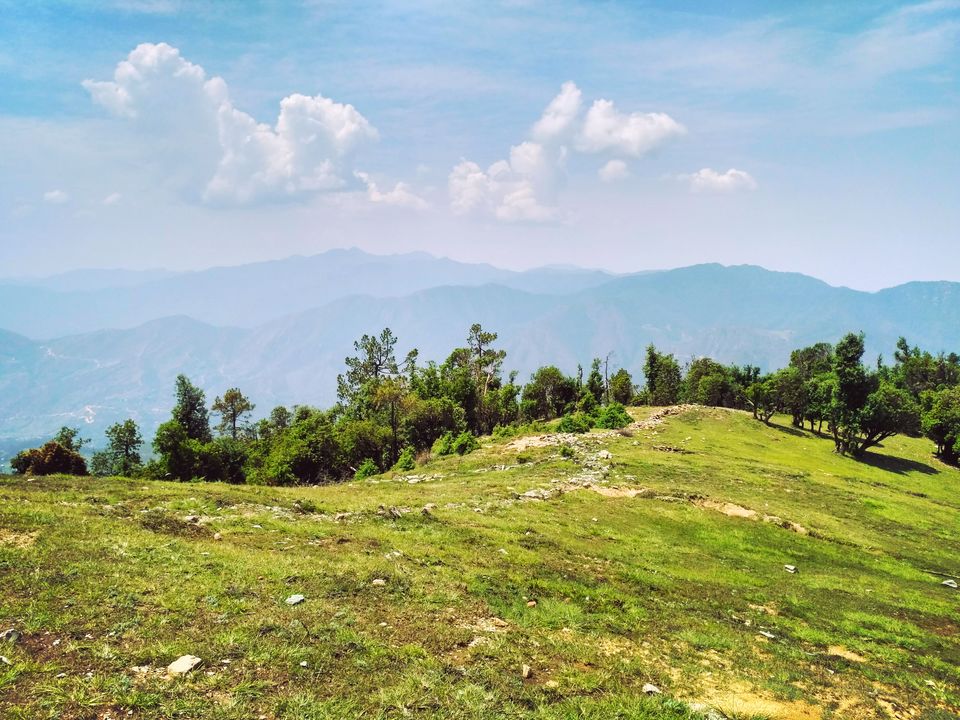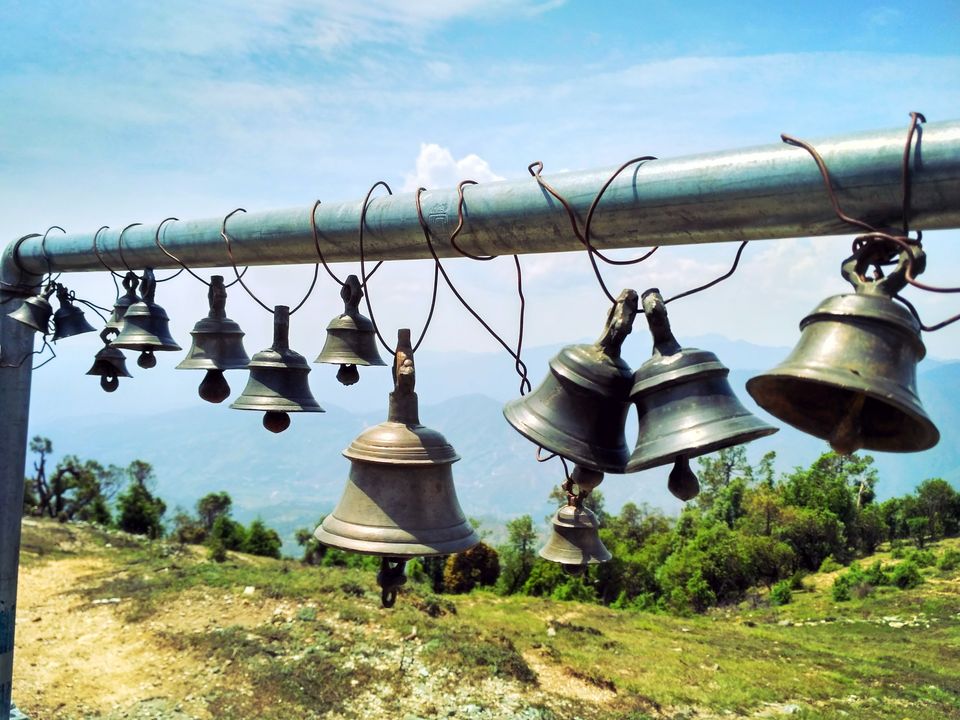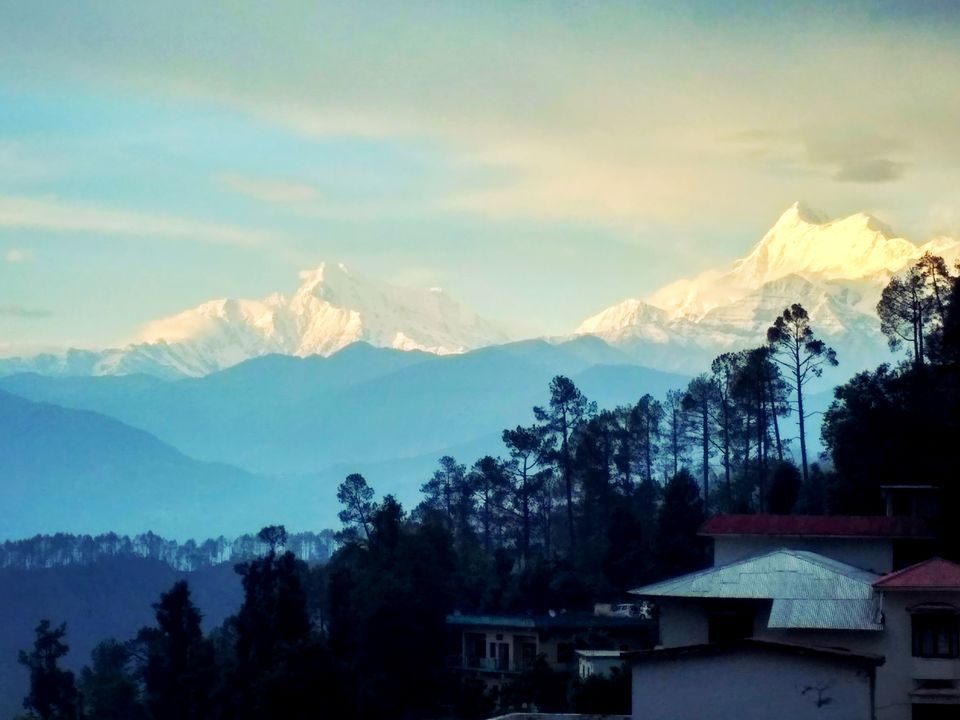 I wake up the next morning feeling queasy and extremely weak. So I skipped the morning tea and the exercise session and joined others for breakfast when they returned. It was raining (Zeus is a drama king) and hence our rock climbing & rappelling got postponed and then cancelled. We were instead taken to the market for shopping as most of us did not expect the temperature to go so low or the rain to fall so often and did not have enough warm clothes or a good poncho. After the shopping session which lasted for about 2 hours, we went on a small trek. After climbing for 3 hours, we took a lunch break (we carried our packed lunch with us) and soon enough we were on our way back. I chose to trek down the hill alone as I wanted some peace and also because when I am sick I tend to go cranky on fellow humans. After reaching the base camp, we had some evening tea after which a friend of mine slipped while climbing down the stairs and she was rushed to the doctor within the next 30 minutes. We were all worried and when she returned we were told that she won't be able to join us for higher camp. One friend down and then there was me still queasy thinking how horrible it would be if I remained sick; so along with a friend, I went to the camp director to ask for help. He just smiled, told me that it is quite common and it is just dehydration. He assured me that I'll be fine, gave me 3 packets of ORS and I was to consume at least half a packet overnight. I did as he told me and eventually fell asleep at around 3am.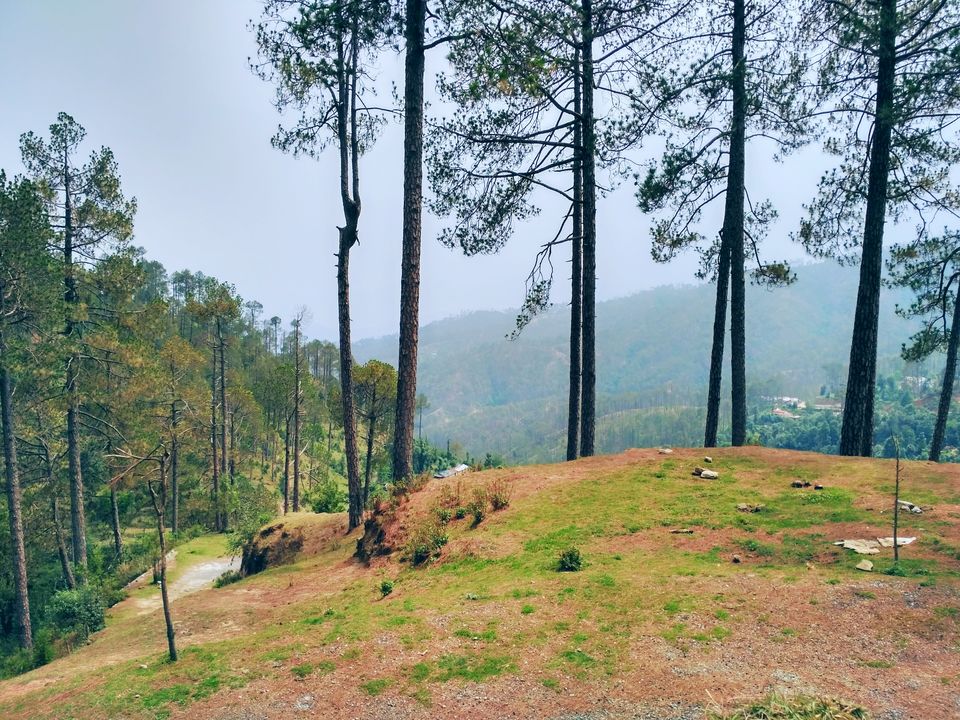 I woke up early feeling fabulous. The camp director was right and I was glad as all the queasiness had gone and I was ready (being ready would be an understatement; I was all pumped up; I was as excited as a chocoholic in a Hershey factory). So after a quick shower, a mug of hot tea(which took me 20 minutes to finish) and a hearty breakfast, we all lined up with our newly packed rucksacks(we only had to carry stuff which was basic). I am going to list down the things which one should carry to the higher camp.
The rucksack should contain:
A poncho (an absolute necessity if you don't want to get drenched, get hypothermia and die)
A really good fur jacket (preferably water-proof)
A warm sweater (jacket won't be enough)
A pair of thermals (yes! It is necessary)
A pair of hand gloves (preferably water-proof)
Few pairs of socks (1 super warm pair)
1full sleeve t-shirt
1track pant (don't pack jeans- they are heavy and don't dry easily not to mention uncomfortable)
Undergarments (the number depends on you)
A woollen skull cap
A tiffin box (with spoon)
A water bottle (preferably a light weight)
A tooth brush
A tooth paste (can share one among friends)
Paper soap
A hand sanitizer
Cold cream
Sunscreen lotion
Vaseline
A torch/flashlight
Medicines (though YHAI has a good enough reserve; it is just wise to carry them with you because what if you fall sick while trekking?)
Few cubes of camphor (it helps if you have got breathing issues as it energizes the heart, stabilises the breathing pattern as well as blood circulation)(how to use it: just roll it in a handkerchief or cotton and smell it when you are having breathing issues)
Trekking shoes (you will be wearing them though)
Some other not-so-necessary things include a face wash (you will need to have balls of fire to wash your face with that freezing water), a rain cover for rucksack (not that necessary as poncho is large enough to cover a human and the human's rucksack), power bank (only carry it if your phone is your camera as there won't be any reception up at the higher altitude anyways), earphones (wouldn't you rather listen to the sound of silence? or birds?), slippers (you will slip if it rains), shaving kit or makeup kit (just don't! Be your ugly self because it is more beautiful) etcetera.
Hah! Where was I? Yes! So we lined up and the camp director gave us some instructions after which we were given walking sticks (we had to pay 10 bucks) along with a small bag containing biscuits, a mango flavored energy drink and a bar of chocolate. Now it was our time to leave for the higher camp; the new batch waved us off with the special set of clapping session as we marched up the stairs and settled ourselves into the jeep. We had to start our trek for Didna village from Kulling which was at a distance of 55kms from Gwaldam. So after 3 hours (including a stop at Lohajung village where we had some spicy maggi) of winding roads and warming our posteriors we finally got off at Kulling village. When all the campers of BB24 reached the small and welcoming village of Kulling, we finally started trekking. The trek was downhill for 3kms and then ascending for 2.5kms. It was an easy trek with the trail starting from in between the village stone houses, small vegetation patches with wild weed growing along the dusty path which led us into the jungle. After an hour or so, we heard gurgling of water and in the next few minutes we could see a stream flowing rapidly down the mountain through the twines and branches of the magnificent trees. The stream finally came into the view and some of our fellow campers had already settled themselves on the scattered stone slabs stuffing themselves with food(everybody was carrying packed lunch). We found ourselves some stone slab closest to the stream and engaged ourselves in the chilling game of 'who can keep their feet under water for the longest time period?' As a good human being I would say, you shouldn't engage in such a game where you won't be able to feel your feet for several minutes but as an adventurous person I would suggest you to go for it.
After that we had a quick lunch, refilled our bottle from the stream, strapped our rucksack on our hunching backs and when we were just about to start the ascending, a local man offered us some sort of blood red colored juice which we willingly drank. It was delicious and after paying him, we began our ascending trek. The rucksack felt heavier with each step we took, the temperature decreased as we ascended uphill and our breathing pattern changed as the altitude increased. And of course it had to rain and we had to wear ponchos which made all of us look like tired death eaters. After 3 hours of trekking uphill, we heard some shouts from our fellow campers saying that the campsite was finally visible and it was just twenty minutes away. Our speed as fast as a sloth's, we finally reached the campsite where our camp leader received us with a welcoming smile and a firm handshake. Our campsite wasn't a plain area with tents instead it was a small two storeyed lodging house with 7-8 rooms. We dumped our bags into our assigned rooms, freshened ourselves and headed out with a smile plastered on our faces just to rush back into our rooms to grab our thick fur jackets as it was really cold out there. An uncle from the kitchen staff was waving his way across the campers telling us to have the welcome drink and so we did. The camp leader told us we were free to explore the village till 6pm so all of us headed to walk around the village. It was a small village on top of a mountain surrounded by taller mountains and rain clouds. We walked around in twos and threes greeting those few locals (they have the warmest smile) who came along the way. We returned back to the campsite by 6pm and had the most delicious soup which made us feel all warm. Far beyond we could see Zeus throwing his lightning bolts and it was a bit scary but enthralling nonetheless.
At 7pm we were given our dinner and the rain still hadn't stopped. Most of the campers were warming themselves or already asleep in their rooms, only a few of us were out talking absolute nonsense till we were given bournvita after which we headed to our rooms. Everyone slept like pandas and I shivered the whole night even with 2 layers of clothing, a sleeping bag and a blanket but I had a smile on my tired face till I entered into my Dreamland. Isn't that enough?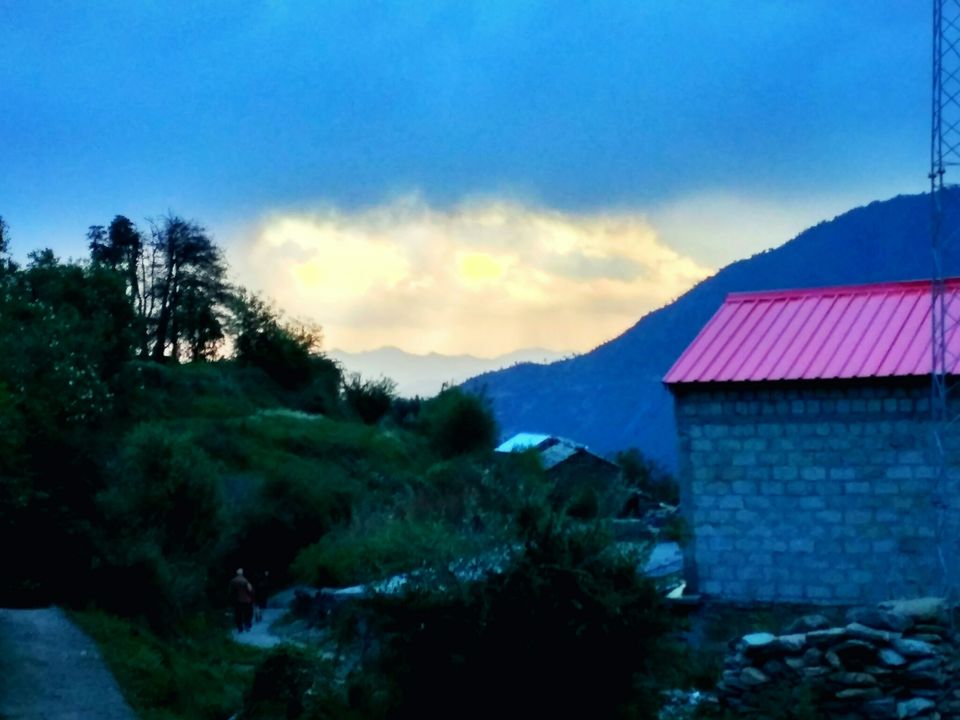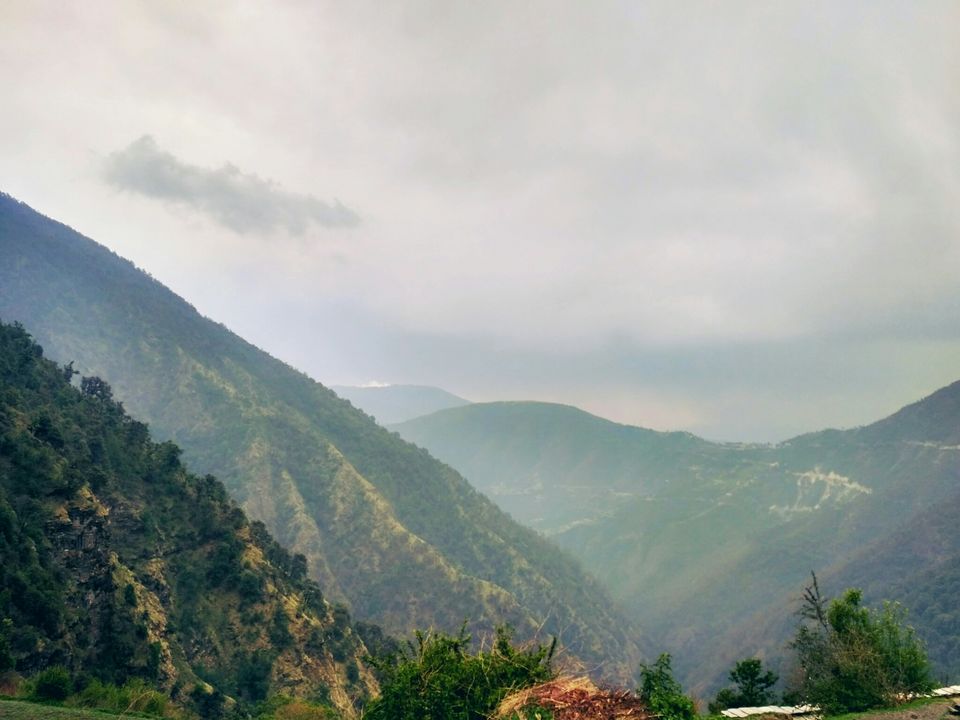 It was dark when I woke up. And cold. I could hear girls from the next room complaining about the cold water in the bathroom (at least we had a bathroom). I sat up to see that this morning I wasn't the one to wake up first among my friends and that one of my friend was already up and ready to hike. I gathered up my courage to face the cold water and after freshening up, I changed my stinking socks (a trekker's socks and shoes smell like horse crap in monsoon and believe me when I say that as I have smelled both). When all of us were ready, we headed out to drink the much needed hot tea and breakfast (maggi!), after which our camp leader briefed us about our much awaited 12kms long trek to Bedini Bugyal.
Bedini Bugyal is one of the most beautiful alpine meadow, situated at an elevation of 11,004ft in the Chamoli district of Uttarakhand. The trek passes through lush green meadows, long tree lines, enchanting valleys, hushed hamlets, towering green trees(including conifers and oak) clinging to the slopes of the hills and steep climbs, along with intimidating mountain ranges.
After the briefing, we swung our rucksacks on our respective backs and marched forward following our guide. It took us hardly 15 minutes to leave behind the beautiful village of Didna and we slogged ahead as the trail was steeper than we anticipated. As we hiked through the jungle, we found some really weird plants, scattered pieces of animal skin, few oddly colored earthworms and heard some weird sound which suspiciously sounded as if the monkeys were hooting but it was probably a bird as we didn't encounter any monkeys. After what felt like 4kms of walking (which included a lot of unnecessary breaks), we hopefully asked our guide about the amount of distance covered and guess what? We had successfully covered only 2kms. Wuhu! We took a short break (Yes! Again) after which along with a friend of mine, I started hiking forward at a steady pace with only 30 seconds break when needed. (Tip: a good way to trek/hike uphill is to maintain a steady pace-neither fast nor slow)
Eventually my breathing got steadier and my legs didn't feel as heavy as before. Good thing! My body was getting used to the strain and fresh air. After a couple of hours, we reached a vast clearing area surrounded by trees and found our fellow campers (who were ahead of us) sitting on the grassy land - some resting, some taking pictures and videos near a small hut/shop (from where we can get hot tea, omelet and maggi). We had completed 4.5kms of trekking.
We dumped our rucksacks on the grassy land, stretched ourselves and started socializing with the fellow campers. After a long break of 20 minutes during which I consumed some Glucone-D and a chocolate bar (it really helps with the energy level), we marched forward to Ali Bugyal where we were to take our lunch break. Along with us came a local girl named Yamuna who was on her way to meet her relative. She was way better at hiking than any of us and she was carrying a heavy bag! She would climb a tree faster than I can say 'Sherbet Lemon'.
I have no idea how long it took us to reach Ali Bugyal but when we did we were mesmerized; not because we could see the gigantic towering mountain to which we were connected by a deep valley! No! It was because we couldn't see the supposed gigantic towering mountain in front of us as we were separated by the extremely fluffy white clouds and also the deep valley (not visible). We settled ourselves facing the clouds and had our lunch. After few minutes, we could see the mountain, not clearly but we could see that it really was bloody (excuse my language) huge. I sat there, absorbing it all, thinking how in the name of Merlin can something be so grand, intimidating, steady, ancient and at the same time beautiful! Well! Nature and its wonders!
We started trudging forward. After few minutes, the weather suddenly changed, the temperature dropped down and we were surrounded by clouds. Actually we were in the clouds, walking through them. It was cold. Really cold. We had to wear our thick camping jacket which till now was stuffed inside our rucksacks and it wasn't enough as it started to rain and we had to wear the poncho. Now raining while you are walking through the clouds may sound weird but it wasn't. It was just cold and humid, a combination that was new to me. Also our vision was compromised. We were hardly able to see 15ft ahead of us and after a few minutes there was only my friend and I. Our other friends were way behind us and we were not able to see anything ahead of us. We walked faster and finally we could see silhouettes of some of our campers. We caught up with them to realize that they had lost the people they had been following. Fantastic! All of us decided to walk faster and we shouted for people ahead of us. After few minutes, we heard someone shout for us from far ahead and we followed the sound of that person and eventually we could see silhouette of two people standing on top of the hill waving at us. We hiked to the top of the hill as fast as we could and found more people. We took a short break and marched forward for few long hours. The last 1km was downhill and as were walking through the clouds, we could hardly see anything. Then there came a place from where the small trail diverged into three smaller trails. We were three people lost in the clouds. We called for people ahead of us but we got no response. It was so silent that it was deafening. So each of us took one of the trail and decided to walk a bit further and see or hear someone and if we do we should call out to the other two. I followed the extremely muddy and slippery path till the end of the hill and I could see a campsite. Elated, I called for the other two and they walked as fast towards me as their feet allowed. They joined me and we hiked downhill and reached the campsite to just to realize that it wasn't ours so we asked some local people (who were feeding their mules) for our campsite and they showed us the way. We had to walk for 15 more minutes to reach our campsite and we finally did. We were welcomed by the camp leader who showed us to our respective tents. When everybody reached the campsite, we were all called outside where the camp leader introduced himself (he was a charmer), congratulated us and instructed us to not stay inside our tents no matter how cold or tired we felt as acclimatizing with the higher altitude was important.
We were served hot tea soon after that. Most of my friends were in the tent but I decided to try and socialize; so I went to the small of group of people who were all holding their mugs filled with tea and listening to the camp leader who was animatedly talking. I joined the group and was asked to introduce myself which I did. As the time passed, more and more people joined the group including my friends. It was fun to listen to everyone talk though most of the talking was done by the charming camp leader and a guy in black jacket.