Hello friends,
Mountains, lush green forests, wildlife, lakes, waterfalls and fresh air are the things that you miss the most when you are brought up in a concrete jungle. As a kid, living in Delhi NCR since birth, I have grown watching everything encapsulated into a giant technological bubble. On one hand in movies, I saw kids climbing trees and playing in dirt but those are the happiest kids. On the other hand, we had classes on rock climbing and we can play the games only when there is a coach around with a rulebook. Climbing a tree is not a big deal when you know how to do rock climbing. Or playing in the dirt just to prove "Daag acche hai" is not an achievement either. What have I possibly missed then? I have missed being close to Mother Nature. I have given up on all those moments that could have made me feel more connected to our planet. It is not like that I hate my life and the daily facilities that come with it. Not against technology and sky-high buildings. All I wanted was a little more time in the lap of nature where we all truly belong. So, every time I get a chance to seize the opportunity to interact with nature, I grab it expeditiously. This time as you all know that my semester exams were going on, I had to take that much-needed break. A break from the anxiety, the blather on the streets, the choking atmosphere and almost everything that make up my environment. Some wise man or woman said that "It does not matter what the destination is. The only thing that matter is just going far away from Delhi". I read this somewhere on the internet and I could resonate with this on a biological level, lol. Well, everybody I see is choking here and nobody wants to be here for the next few months. I can see people literally fleeing like migratory birds and my feed was filled with people exploring different travel destinations (none of which was Delhi honestly). So, following everyone's footsteps, I packed my bags and set off on a journey to get more close to nature. This time my travel destination was Sattal, Uttarakhand.

It was my first experience of visiting the mountains during winters and I was so exhilarated to experience something that I have not experienced before. Now, I really can't remember my childhood trips to snowy landscapes, so I am not counting them. In all my sanity and conscience, this was the first ever winter trip to the mountains. If I could sum up my trip experience in a single phrase then, I would call it "Never ever have I". Never ever have I stayed in a homestay before, so I am drinking to that. It was my first experience to be familiar with homestays. I sojourned at Ceedar Cottages, Sattal. Before I start taking you on a virtual tour of this homestay and the entire journey, I would strongly recommend you to get all comfortable with your coffee under your blanket. And experience this journey through my eyes and honestly, you would be packing your bags by the time this tour is over. Ceedar Cottages is a quaint and tranquil homestay located in the hills of Sattal, away from the scurry on the city roads. Before moving on to the details of the journey, I would really like you to clear your mind and not compare a homestay with a hotel or resort. Homestays are different than a hotel in a thousand different ways. This experience is completely divergent from a hotel or resort experience. At the end of this post, I will summarise all the points that differentiate a homestay from a hotel. Without further ado, let us get started on the journey.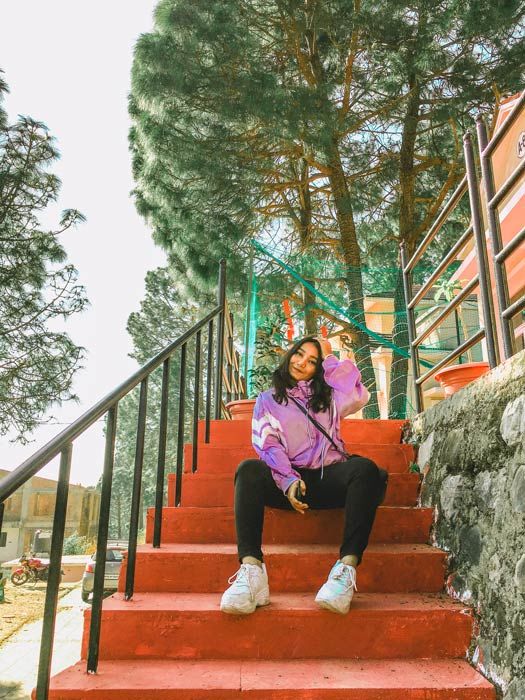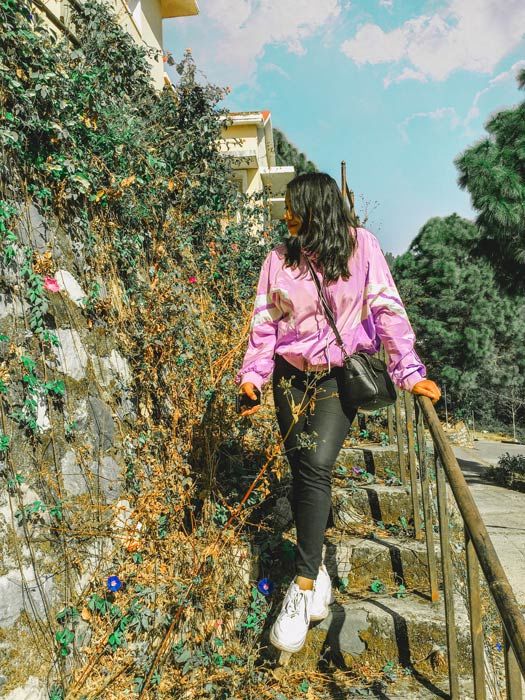 Good things come to those who wait and are patient. My mom, however, has a different approach altogether. She says good things come to those who wake up early and get things done. Well, I did not believe her until I started to travel. Usually, I travel either early in the morning or I prefer overnight journeys so that I can reach my destination before the city even wakes up. This time it was an early morning ride from New Delhi to Kathgodam Railways Station. Waking up when the stars are still shining is not something I am very fond of, but if I am travelling I would not mind it at all. Travelling by train is again a great experience because you can see fields, mountains, rivers and surreal landscapes. Something the metropolitan cities are void of. From the train ride itself, I could make it out that I am going to have a good time ahead. By the time I reached, Kathgodam my eyes were feeling contented with all the beauty around. I was excited to look forward to Ceedar Cottages and the spectacular view from the sun facing homestay. Without waiting much more, I headed to Sattal, home to the awe-inspiring seven interconnected freshwater lakes. I was filled with wonder when I saw Ceedar Cottages and the breathtaking view of the mountains from there. The best part of all this was that Ceedar Cottages was sun facing. Now imagine how magnificent the view would be during a sunrise. Doesn't it feel like the childhood days when we drew sun rising from behind the gigantic mountains? Can't wait to take you through the sunrise pictures. Keep reading we will come to that.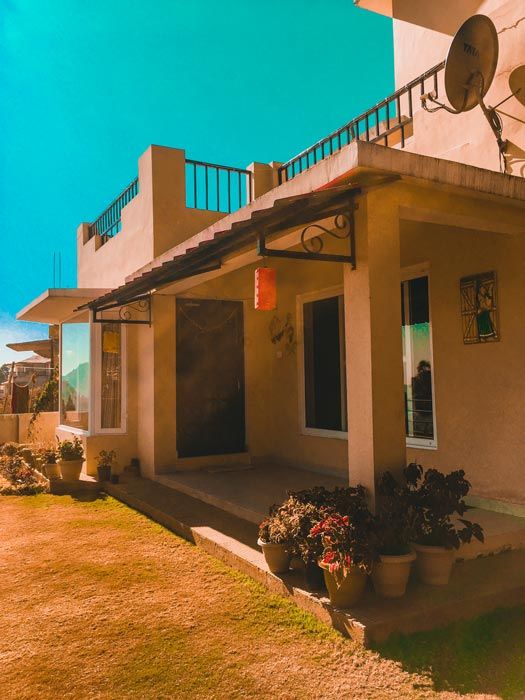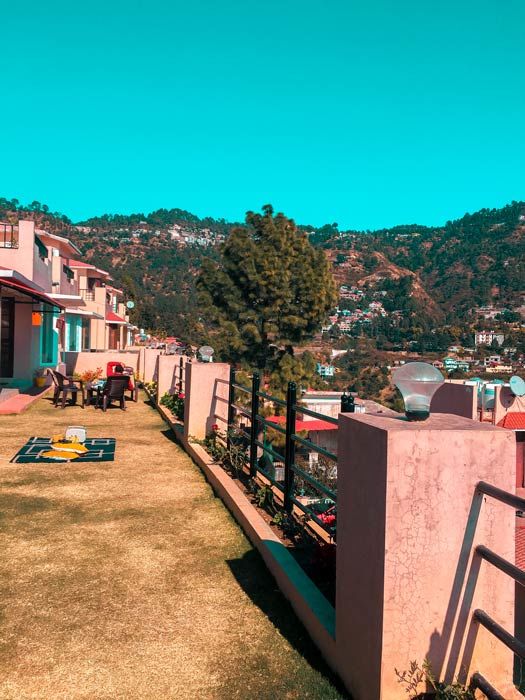 Now coming back to the picturesque homestay and the guaranteed amazing time that comes with it. When I reached there, I was welcomed warmly by the hosts with ear-to-ear smiles and definitely a hot cup of coffee. Even though it was all shiny and bright with the sunshine, I could feel the cold wind whooshing past my ears. So, yes the coffee did a great job as always. While having the coffee, I had an unfeigned conversation with the hosts who looked so gleeful in hosting me. We talked about the place, the food, the culture, the shopping streets, the untouched places that I can explore and so much more. This is something that you can expect while you are staying in a homestay. You can go to the hosts anytime you want and can ask them a thousand questions and they will be happy to answer that without judging you or feeling annoyed. By the time I finished my conversation with them, I had already made a note of the places that I would visit and what all things that I should look out for during my stay. On my way to my room, I came across the well equipped and decorated living room with a vintage vibe. On one side of the room, you can find a kitchen stocked up with all the delicious thing that you can grab and eat and on the other side of the room is a spectacular view of the mountain forests consisting of oak and pine trees.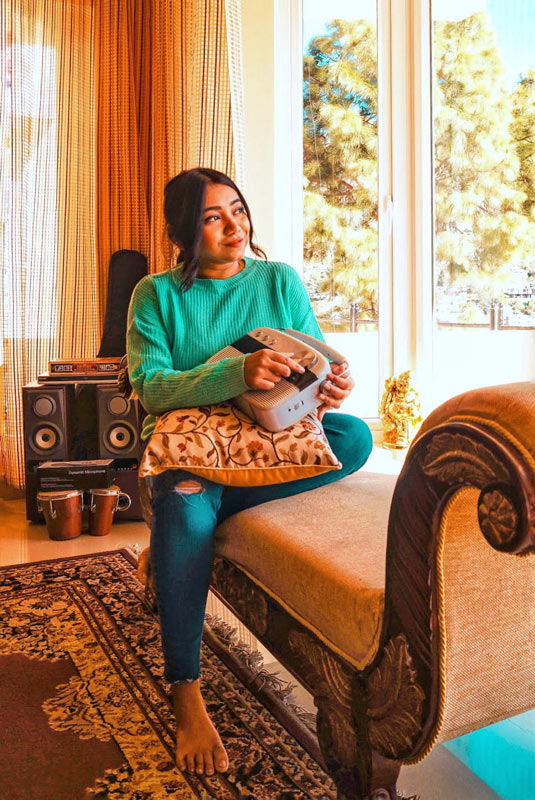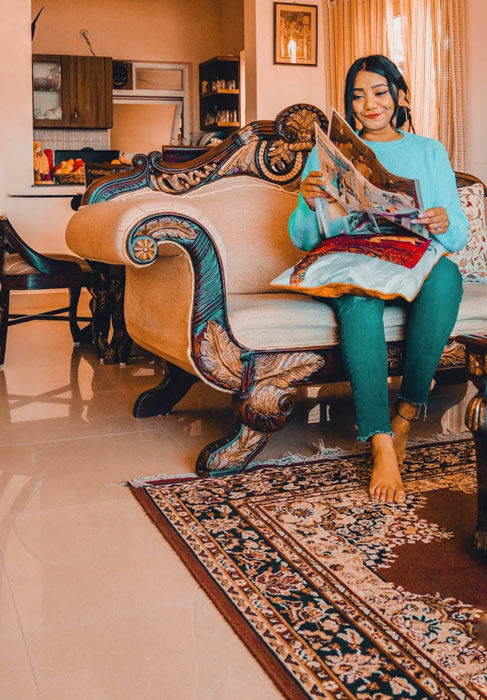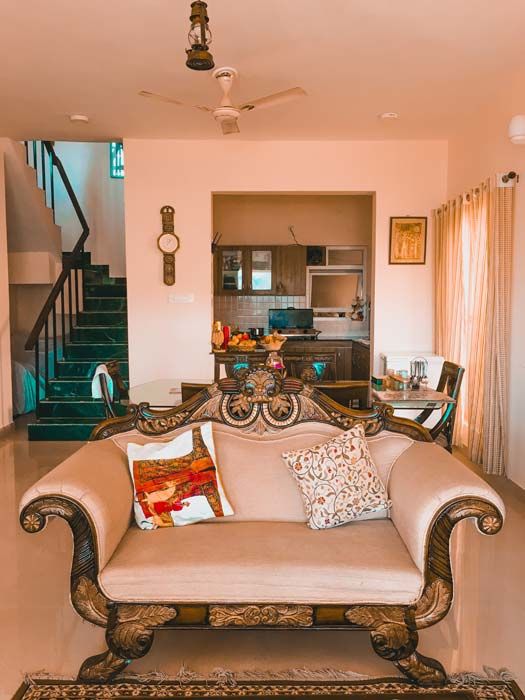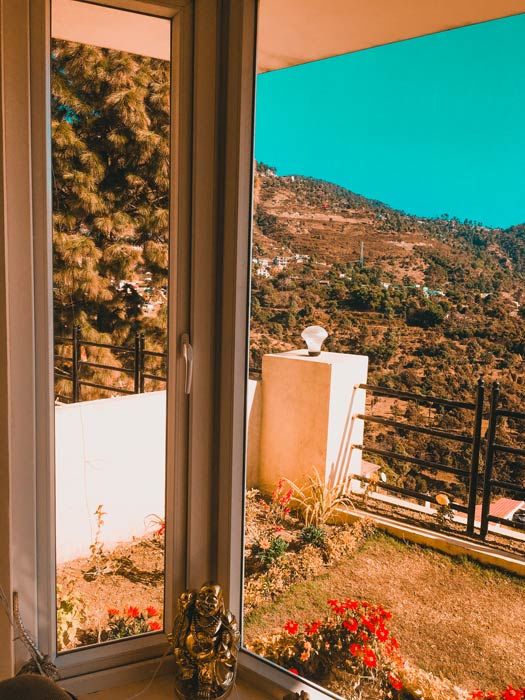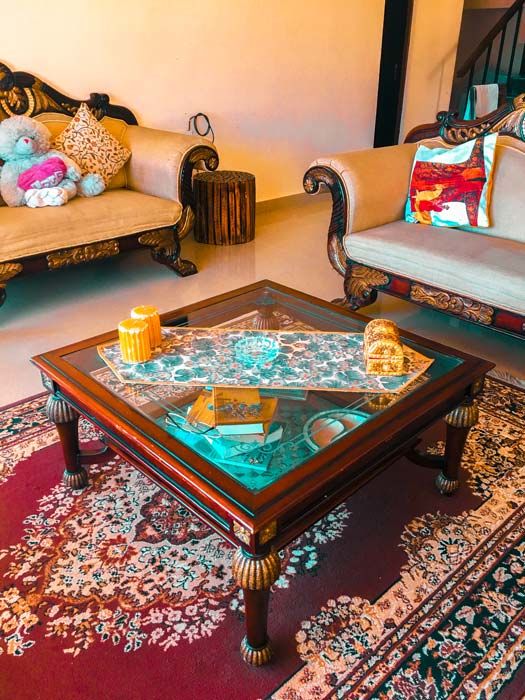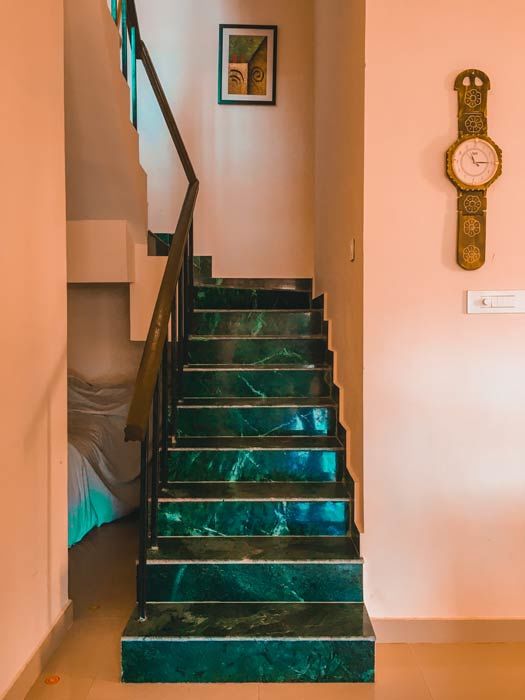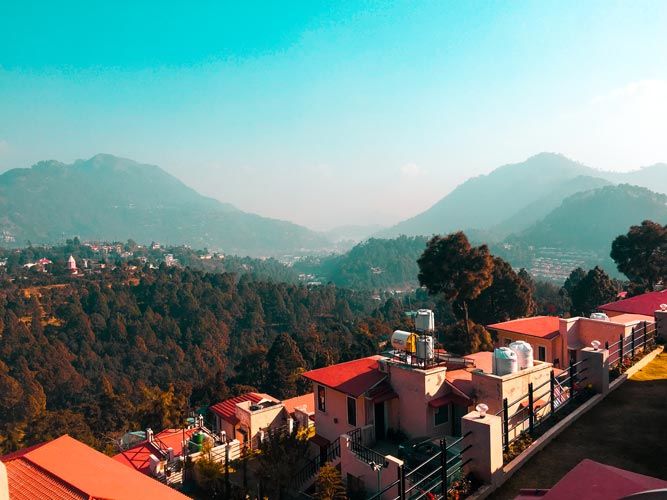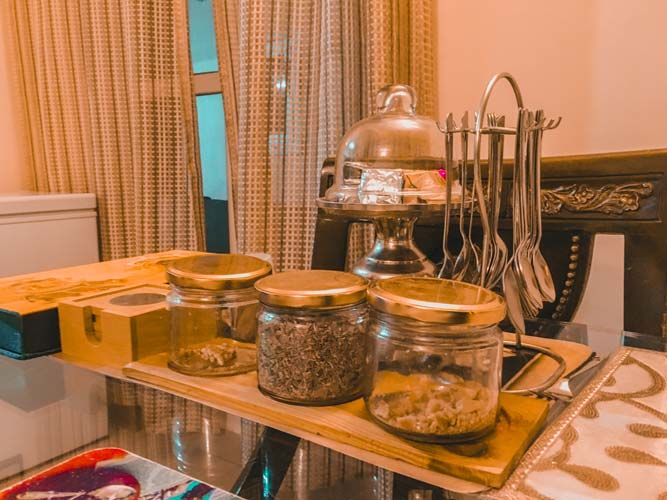 Soon after I went to my room, with an open terrace. Now, this was something that I wanted so much to have access to an uninterrupted view of the mountains and the sunrise. Coming back to my room, it had a double sized bed with the cosiest and warmest blankets (a necessity when you travel in winters), side tables with power plugs on both sides (this is necessary if you travel with your tech junk that needs to get charged, just like me), a TV with cable connection, coffee maker (thumbs up), a cupboard with extra blankets, two sofa chairs, a table and a room heater. The bathroom was also equipped with towels, daily bath necessities and you also have access to warm water 24x7. The room was fully lit and had a placid aura overall.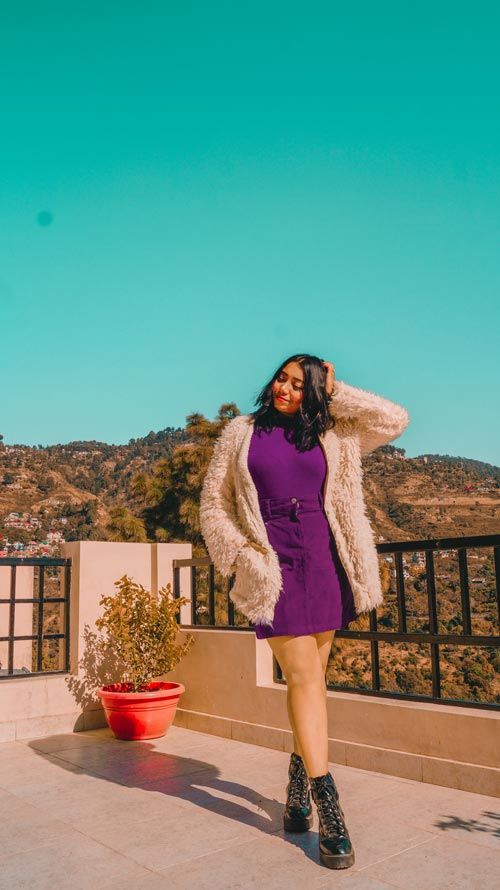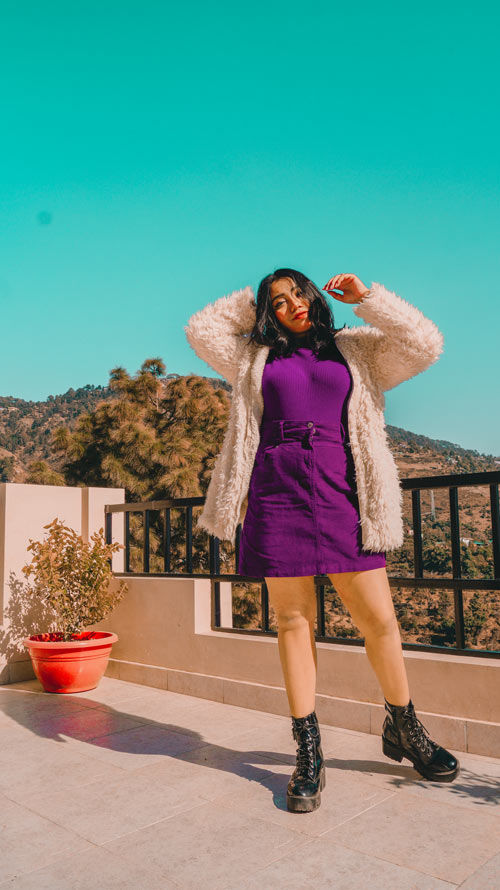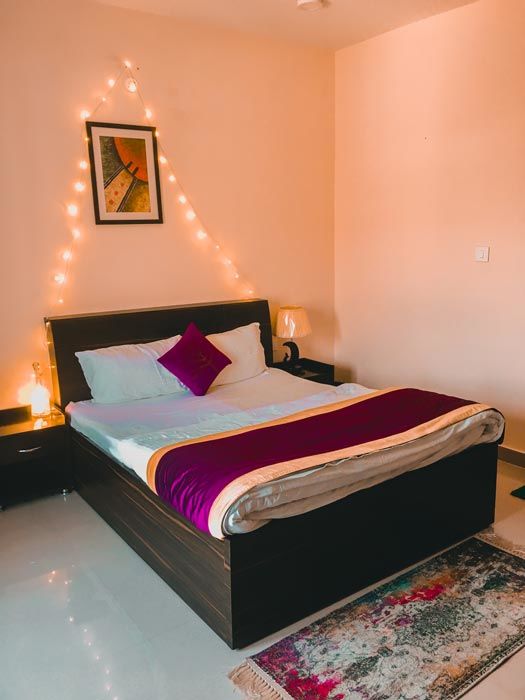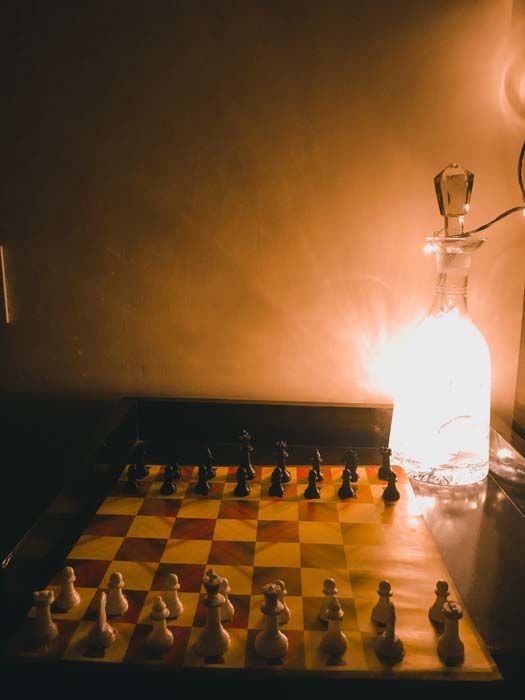 After resting a little bit, it was time for lunch and I could not wait more honestly. So, I straightaway went to the dining table, where hot and delicious food was waiting for me. Here comes the next thing that you can expect in a homestay. Freshly cooked homely food with no unnecessary spices. The food had a homely vibe and it was finger-licking good (if I have to describe it in a few words). After a heart full of lunch, I strolled around the homestay and could feel the sunshine on my face. Indeed it was a good time to spend on the lawn just outside the cottage. I sat down there watching the pretty and colourful garden and listened to some of the legendary songs in a Carvaan. One could definitely spend an entire day doing nothing, but sitting right there and enjoying all the blissful moments in the lap of nature. I could not tell but the day passed in a blink and it was time for the evening snacks and tea. When you are in a hilly area, you grow addicted to tea and coffee eventually. Something like that happened to me as well and trust me mountain tea is worth getting addicted too. Soon after, I enjoyed watching some TV shows and then it was time for the bonfire. The hosts called me and the other guests, for a bonfire with hot soup and everyone's favourite Masala Maggi. Interacting with other guests over a bonfire and getting to know them, is again an experience that only homestays can give you. Thereafter, I and the other guests had dinner together with the hosts and we chatted for so long. We shared our experiences, our travel stories and so much more. Well, it felt like that we know each other for so long. This is the hospitality that comes with a homestay. Needless to mention, it felt just like home to me. I went to sleep early that night because I wanted to view the charismatic sunrise the next day.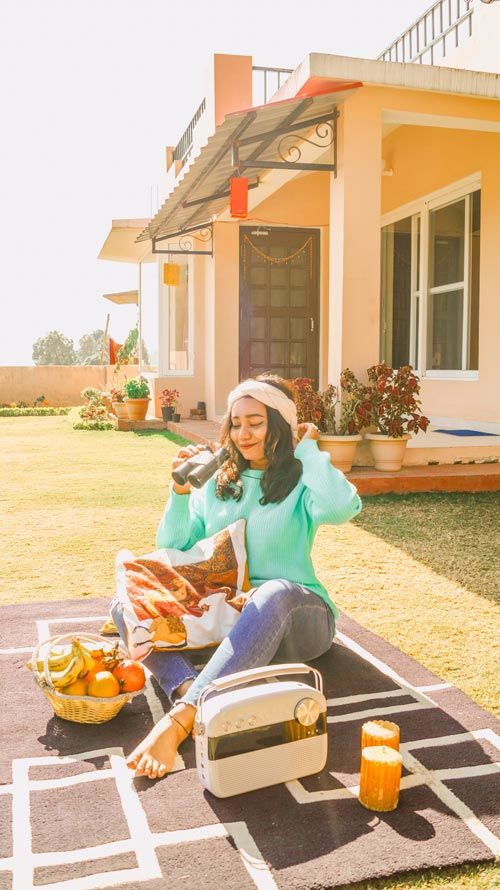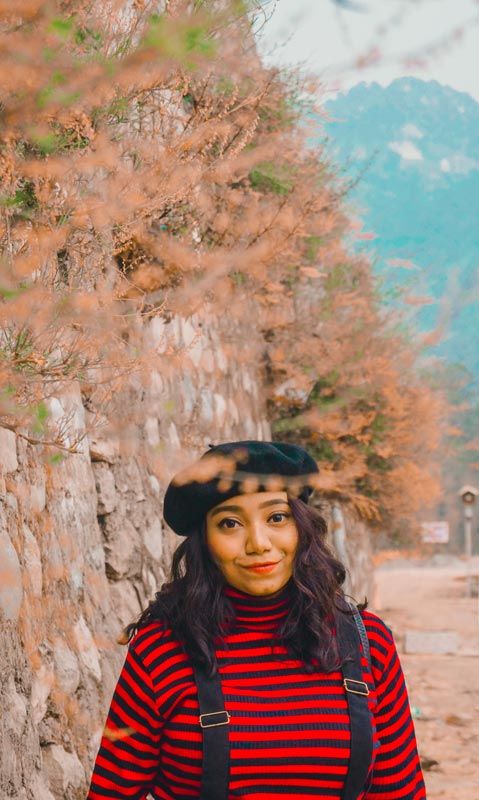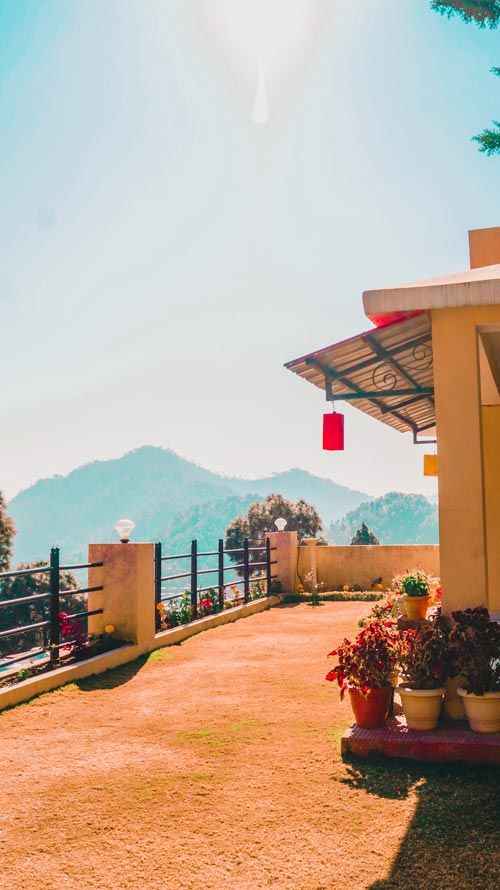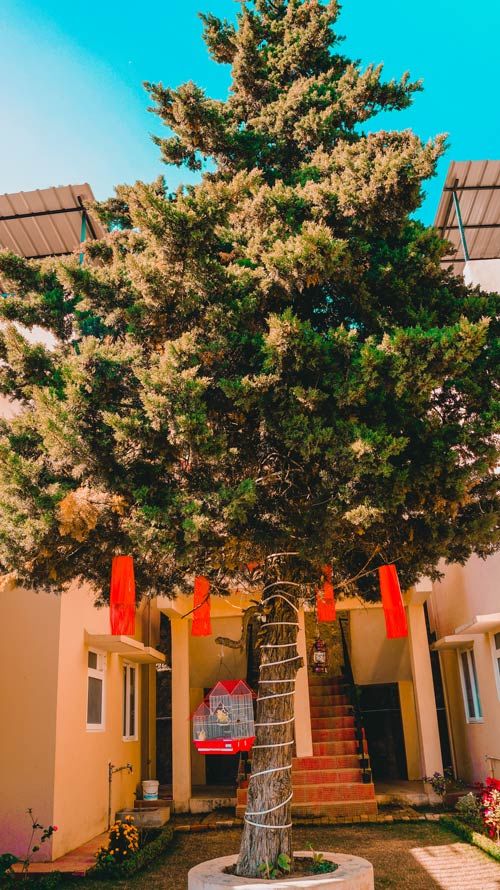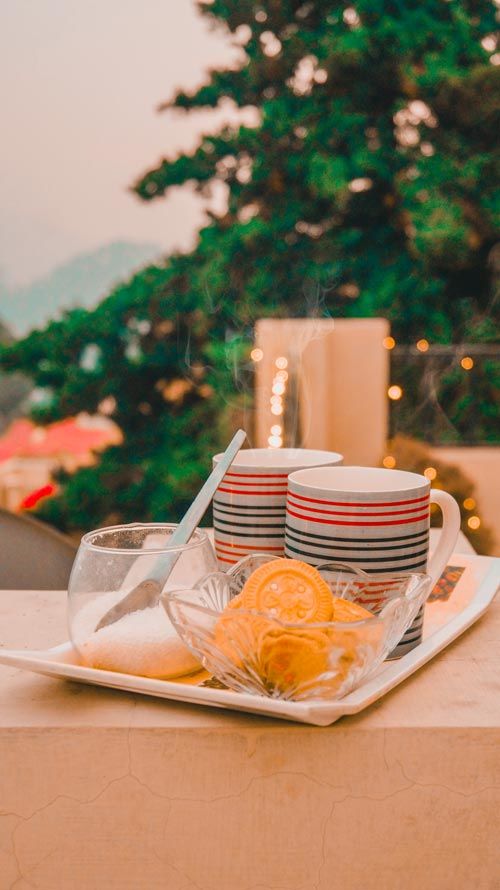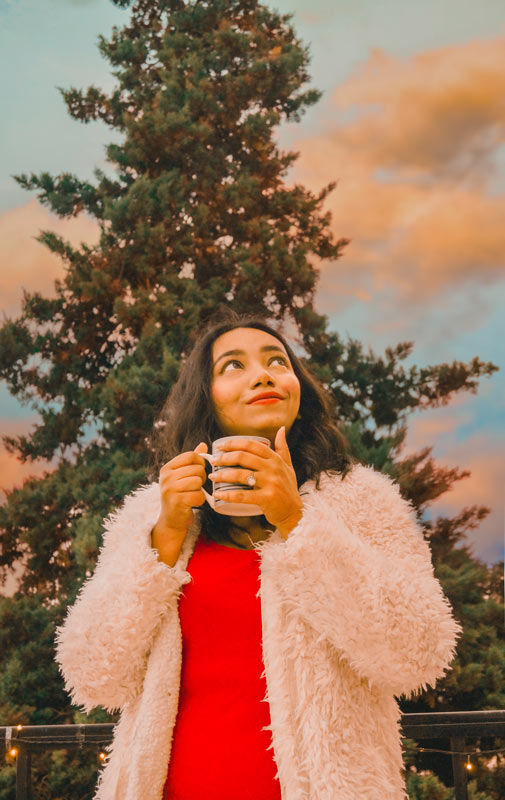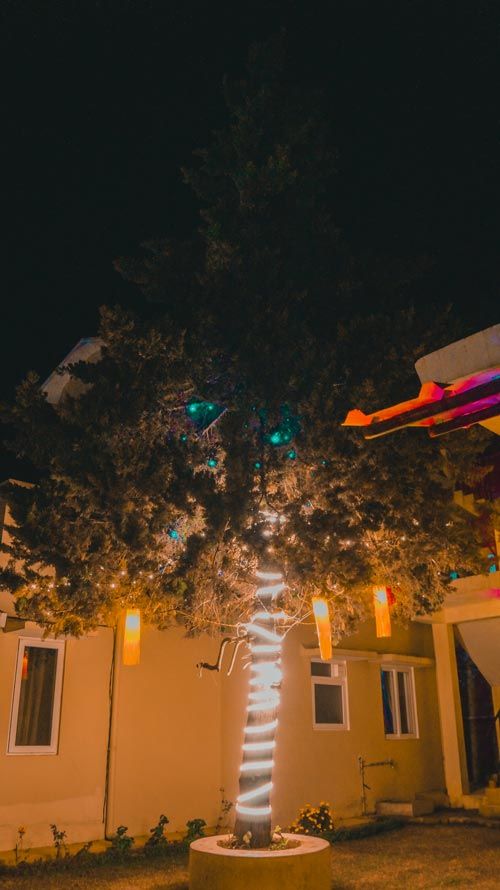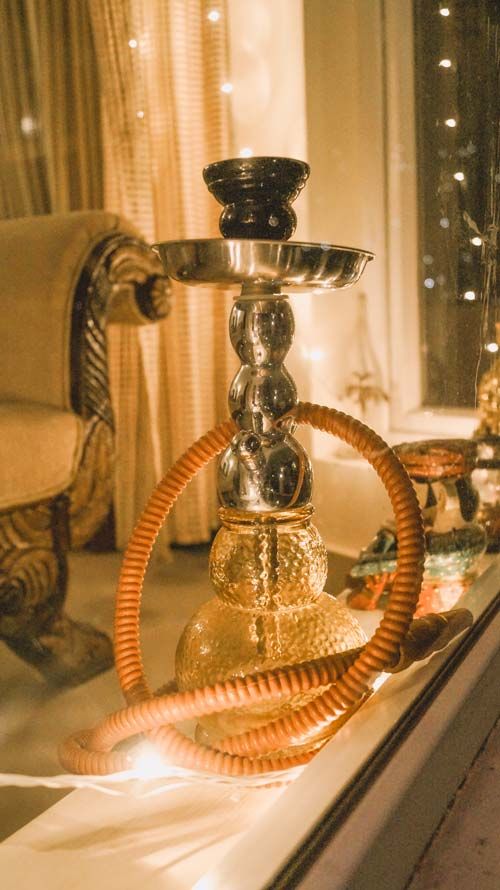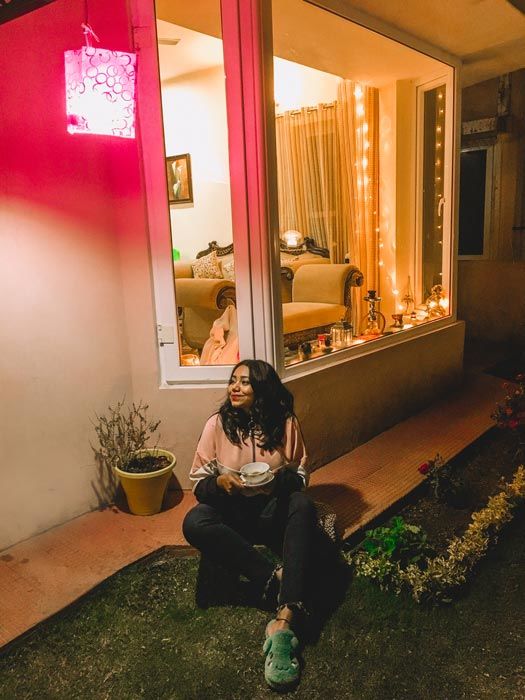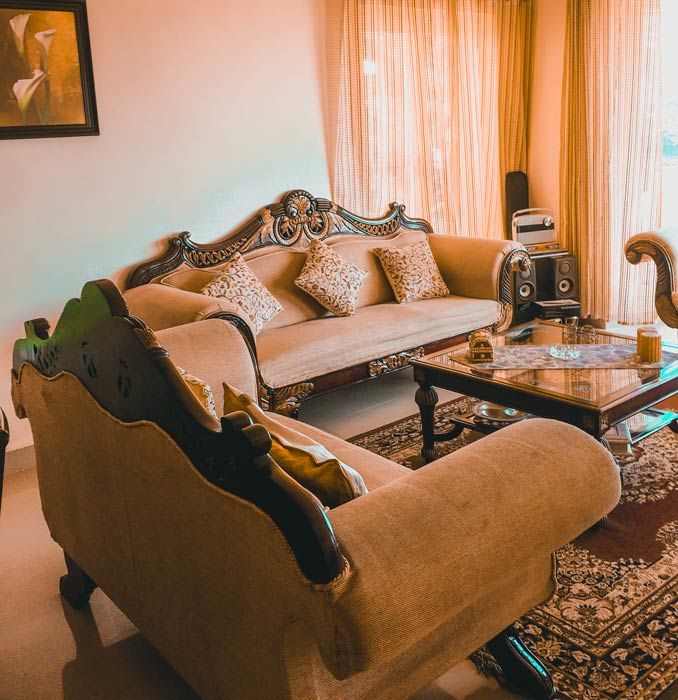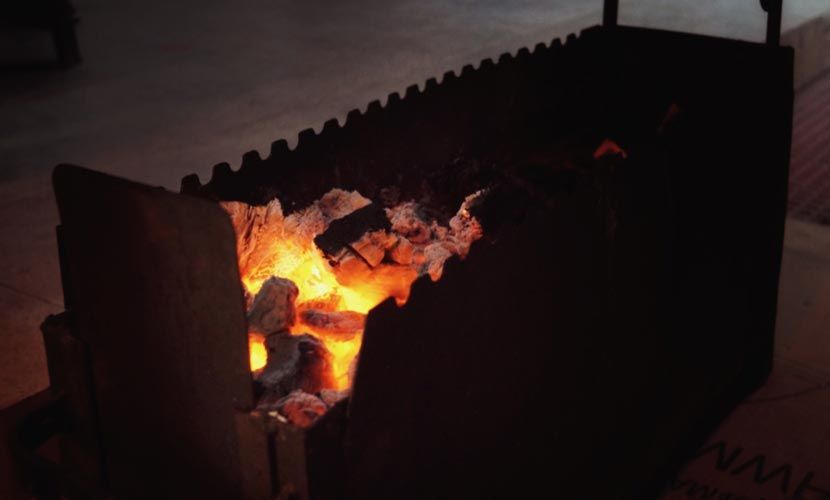 I woke up today at 5:30 AM which is again way too early for me. But yes, my mom was right, good things definitely come to early risers. If you would have seen the sun rising and the colours that the sky was filled with, you will give up anything to be at that spot. I mean, people literally trek all the way to the highest pinnacle, live in tents in cold just to see the sun rising and I had a similar experience from my room at Ceedar Cottages. Watching this astonishing phenomenon from my room will be an eternal memory for me. It feels like yesterday and this memory never gets old. The sight is still fresh and as beautiful as it gets. After having a fresh start to my day, it was breakfast time. Had my morning tea and for breakfast, I had my favourite omelette, toast and butter. Other options for breakfast were poha, cornflakes and fruits. One thing that I liked about Ceedar Cottages is that they are a homestay with services. This means if you don't want to cook your own food, then you can ask for cooking services and the hosts will happily arrange that for you. Additionally, the attendants are humble, honest, trained and before cooking any meal, they come to your room to ask for your choices.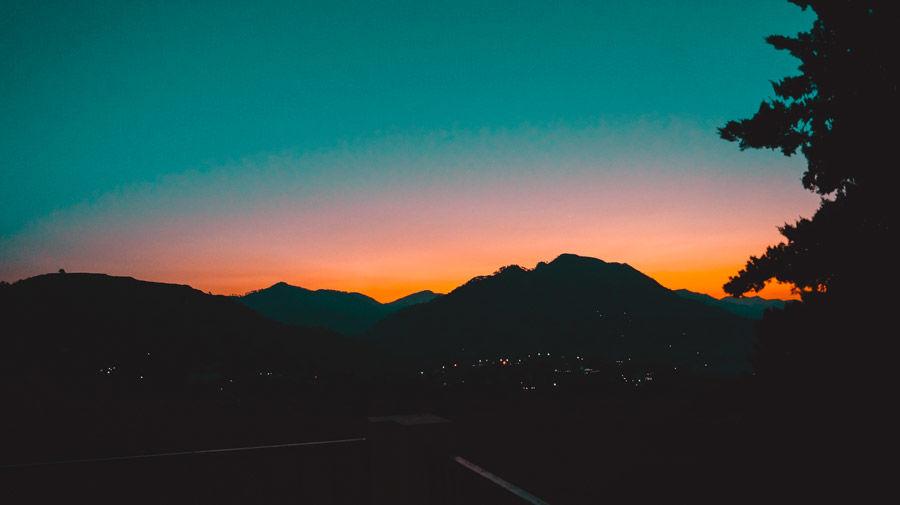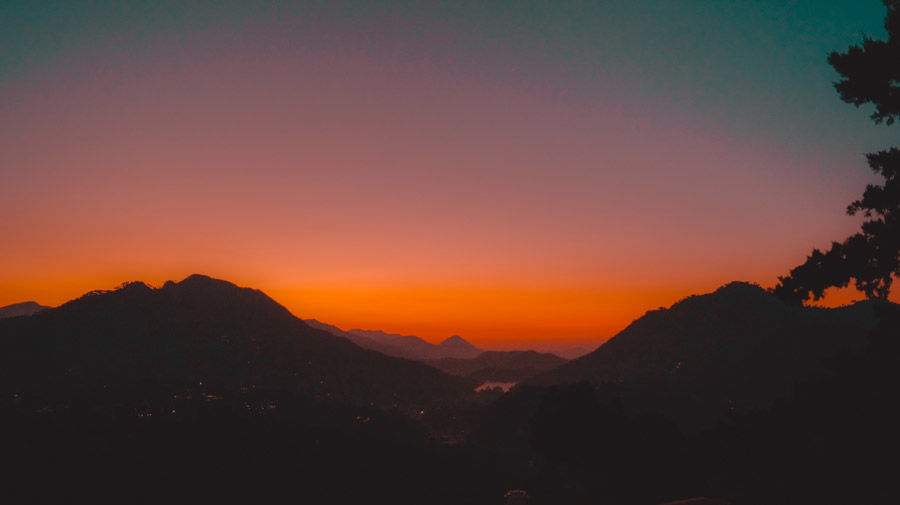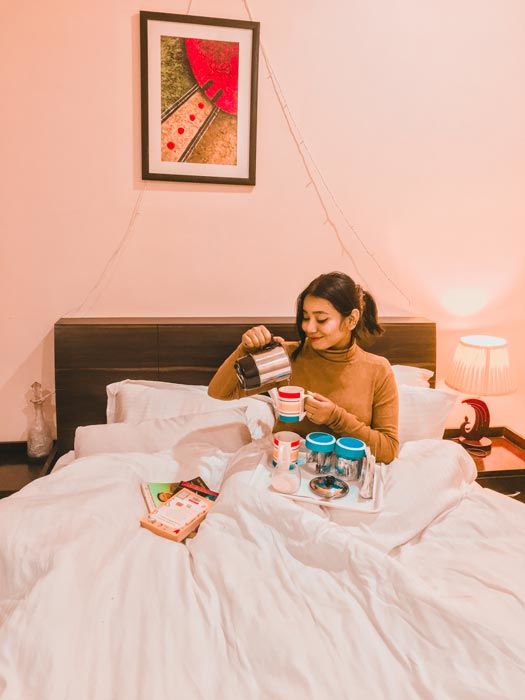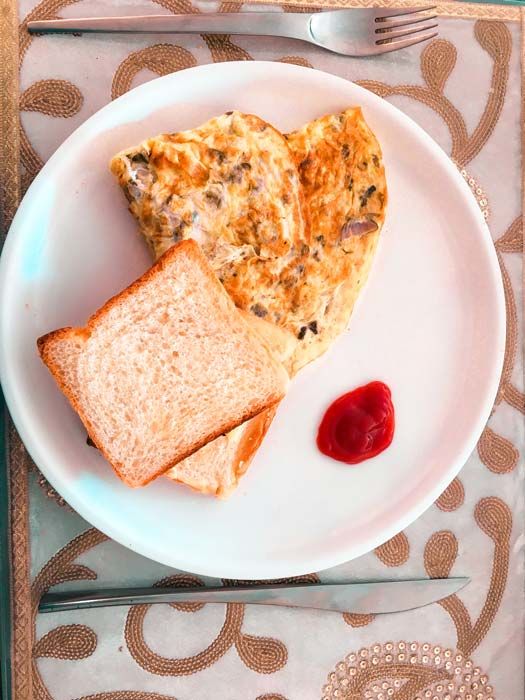 Sattal is located centrally and it's just an hour away from Nainital. So, how can you not visit Nainital while you stay at Ceedar Cottages. After my breakfast, I put on my vacay ensemble and headed to the Lake District of Uttarakhand. My eyes were amazed to see the pristine lake and aura was simply amazing. The Mall Road was bustling with tourists from far away lands. The market was filled up with a variety of shops including clothing and home decor items. And let me just tell you a secret, most of the items that I got from there is cheaper than what we get in here especially candles. So, next time, whenever you are in Nainital don't forget to look out for creatively made candles. Your journey to Nainital would be incomplete if you don't go for boating. Well, I cannot miss this wonderful opportunity. The lake was crystal clear and you could even see fish swimming past your boat. It was beautiful everywhere as long as your eyes can see. It felt like that you cannot see it all at once. After the boating, I strolled through the Mall Road and bought gifts and tokens for my friends and family.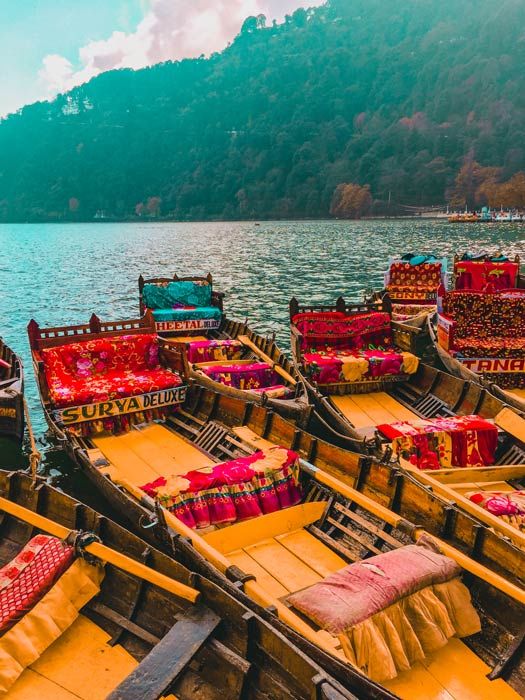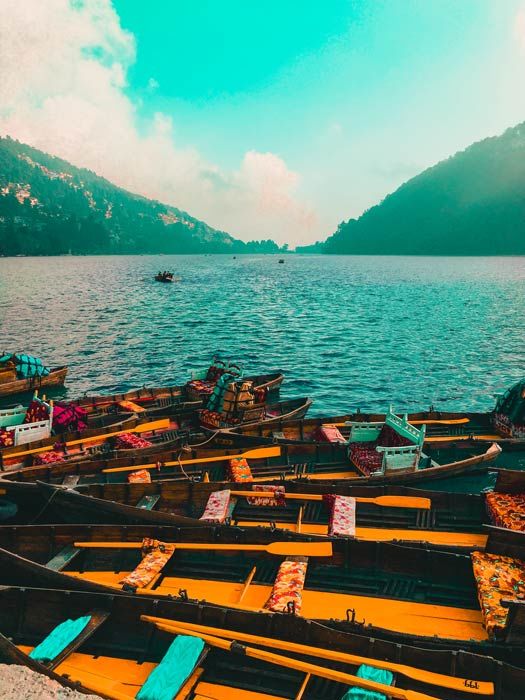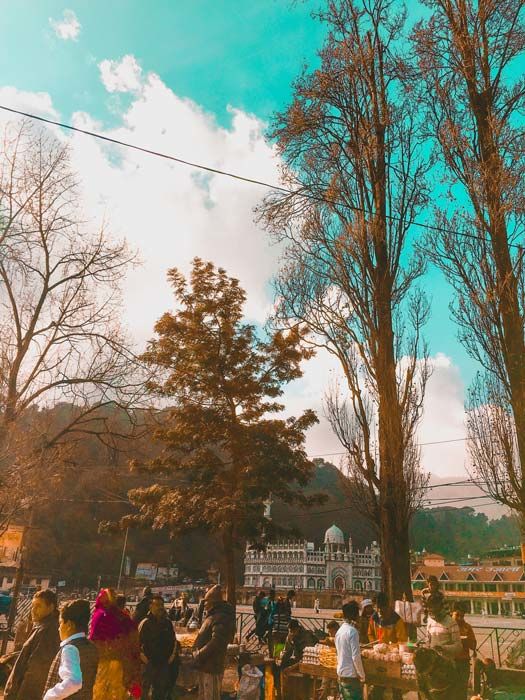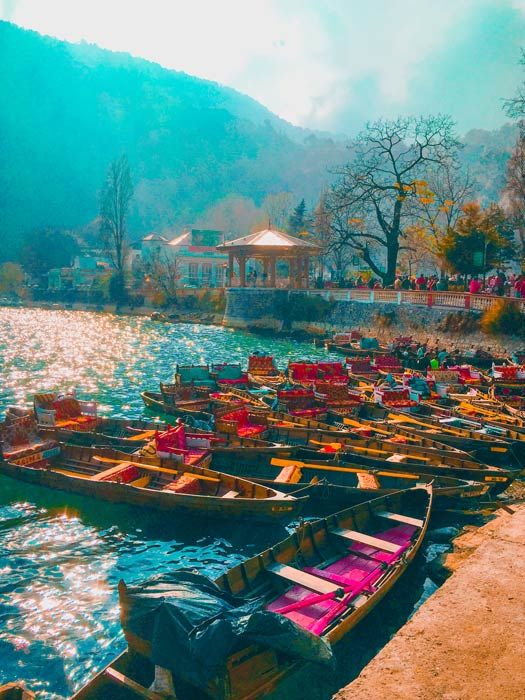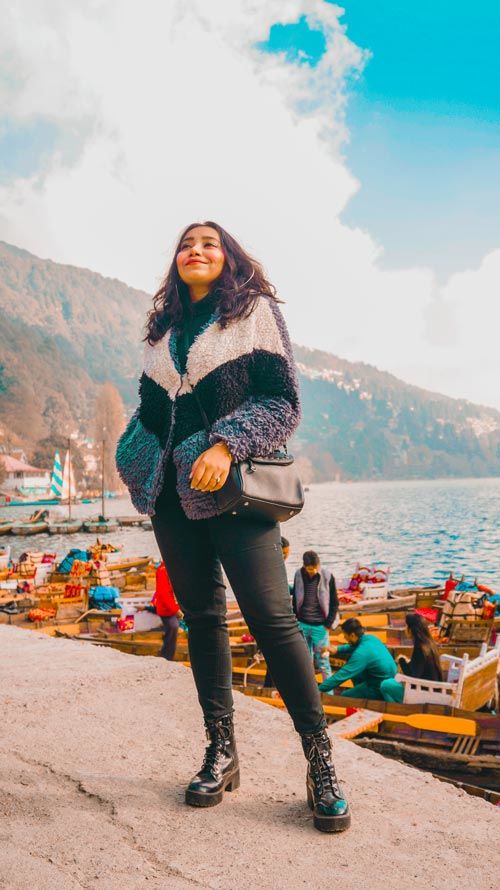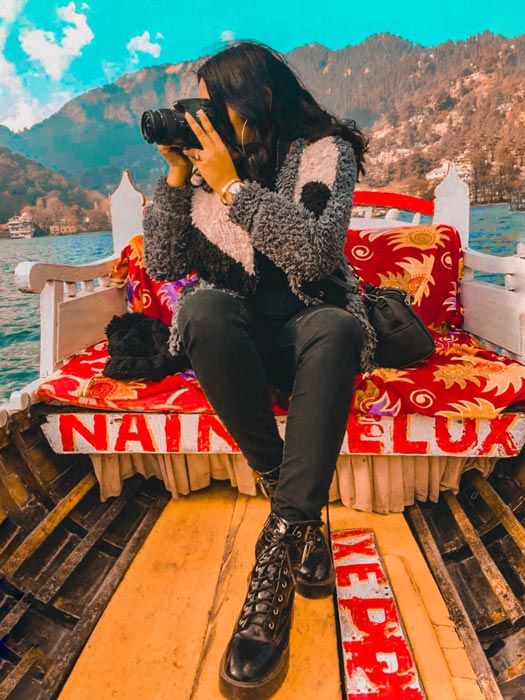 After an eventful day, I headed back to Sattal. On my back, I came across this cafe, named iHeart Cafe Himalayas. This Italian cafe is a famous attraction over there for all the right reasons. I remembered, the hosts talking how good the cafe is, the night before. Since the hosts know the place better, it was good to trust their honest opinions and hop into the cafe. And I do not regret a bit making this decision. I ordered a cappuccino and a chicken pizza. The lip-smacking pizza and the cappuccino were so fulfilling that I, unfortunately, did not have any room left for their lemon cakes. The cafe is very nicely done with wooden architecture and huge glass windows to soak up some sunshine. The ambience of the place was simply amazing and you can gaze at the scenic landscapes sitting at the corner of the cafe listening to some latest melodies.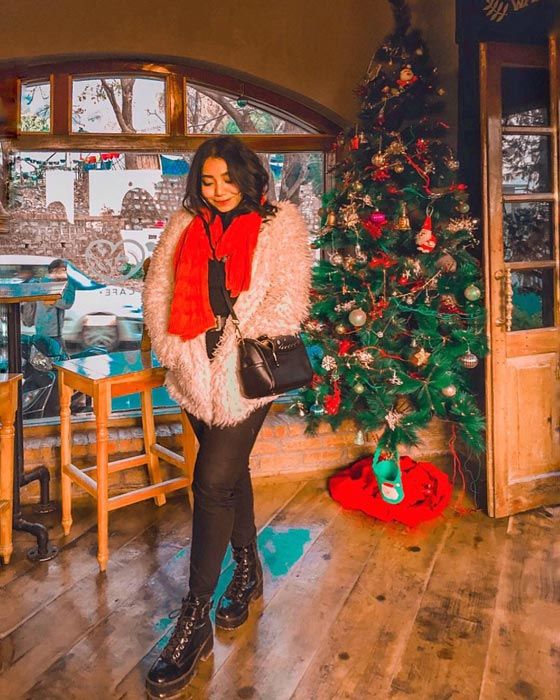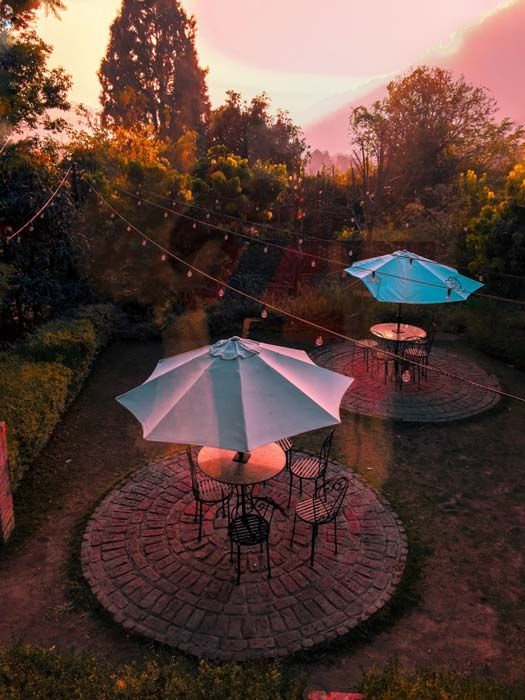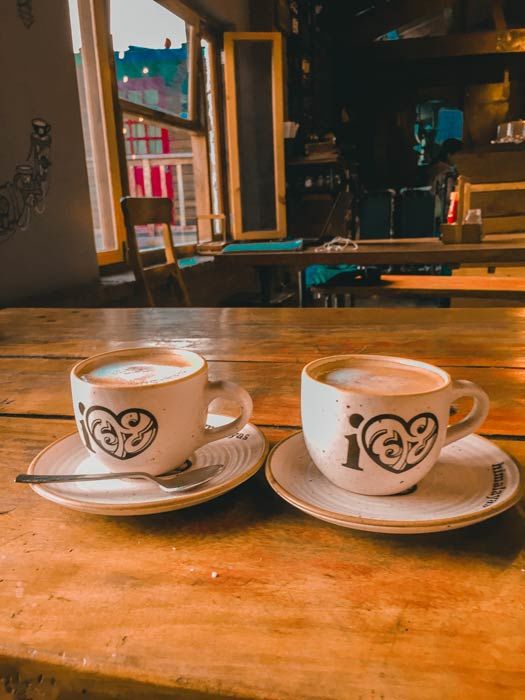 Before heading back to Ceedar Cottages, I took a detour to Sita Tal, one of the seven lakes of Sattal. Sattal combines seven freshwater lakes namely Ram Tal, Sita Tal, Lakshman Tal, Hanuman Tal, Bharat Tal, Garud Tal and Nal Damayanti Tal. You can almost see how these lakes are connected to each other. Well, it was almost dark by the time I reached Sita Tal, but it was surrounded by mountains making it a quite a mesmerising sight. After spending some time there and appreciating the flora and fauna, I headed back to Ceedar Cottages, where the hosts were already waiting for me. I sat down with them and told about all the things I saw, the places I visited and the food I ate. The hosts were too kind to listen to all my stories with a big smile on their face. We continued the conversation on the dinner table where they prepared butter chicken specially for me. My heart filled with more joy watching their hospitality and welcoming nature. At Ceedar Cottages, you can also indulge in some late night binge-eating activities as their kitchen is stocked with delicious munchies. Off to bed, I went, thinking about the next day and the adventures that are about to come.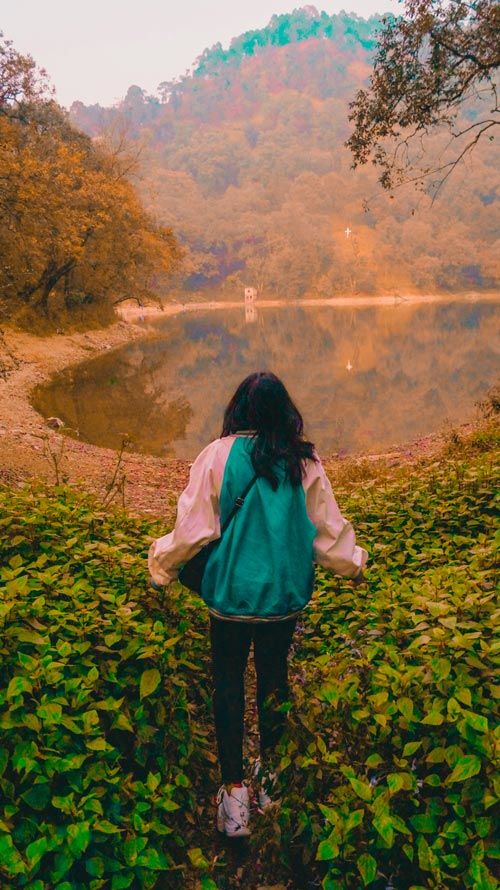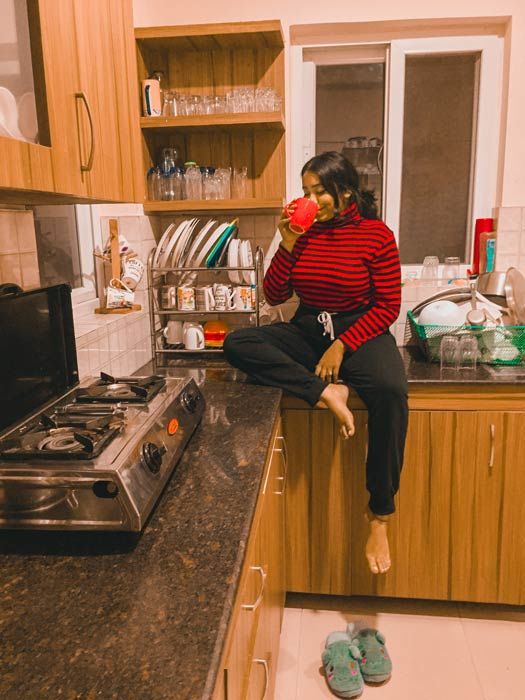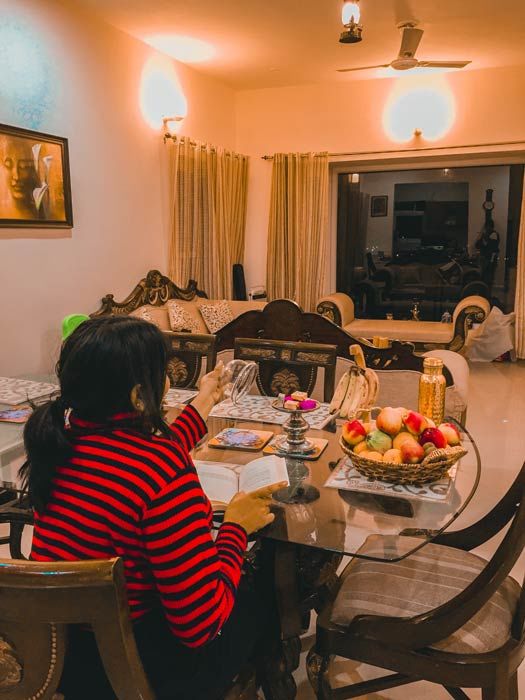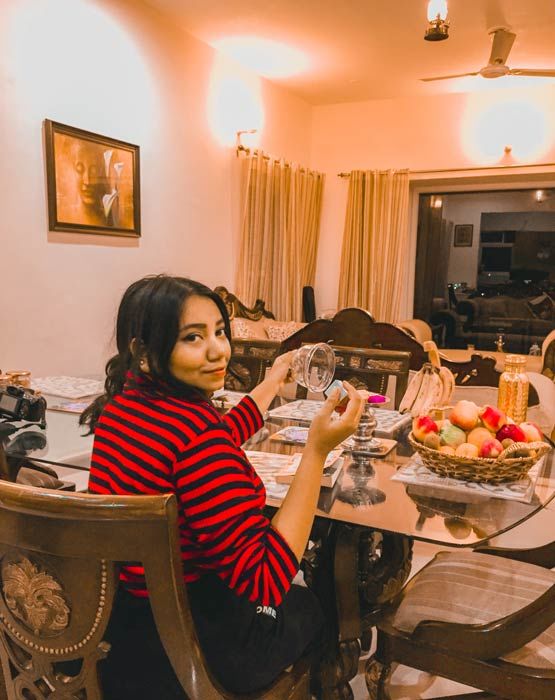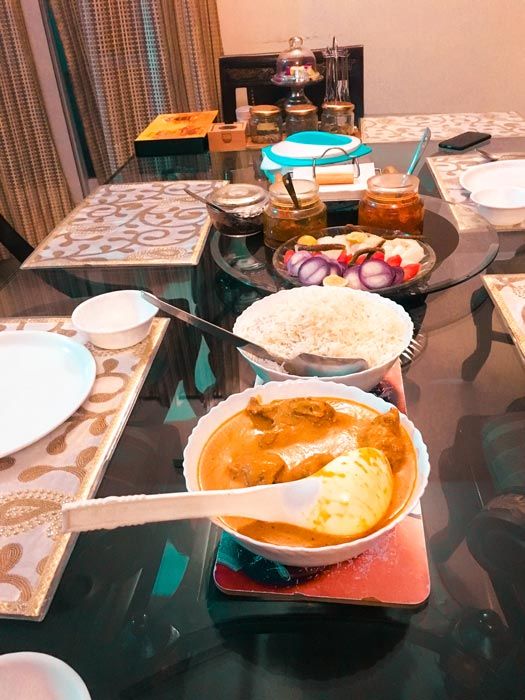 On the third and final day of my getaway, I again woke up to see the morning bliss. Yes, you got it right, the sunrise. When you see such a positive and strong thing before kick-starting your day, you are left with positive vibes and energy throughout the day. You must be thinking what was there left to explore on the third day. I had already covered up Nainital, right? Well, there you made the mistake. Sattal is as beautiful as Nainital. I would say even more but it is less commercialised than Nainital and hence, fewer people know about this place. But make this a point, after going through the pictures of the places that I visited, you are going to include Sattal in your travel bucket list without wasting any more second. Few people know that Sattal is a prominent spot for bird watchers. Many Himalayan birds, migrate to Sattal during winters and if you are lucky enough you can capture some of the rarest species in your camera. Since I stayed up in a homestay, I get to know and explore some of the untouched locations in Sattal. Now, this is one another bonus point of staying in a homestay. You get to know about these offbeat places and explore them with proper guidance. Since we did not know much about the place, the hosts were forwarding enough to send an attendant with me who drove me all the way to Sattal and helped me witness these natural hidden treasures.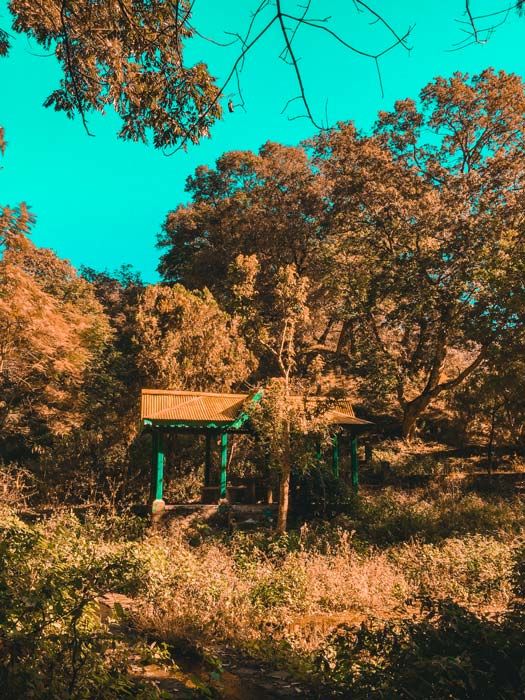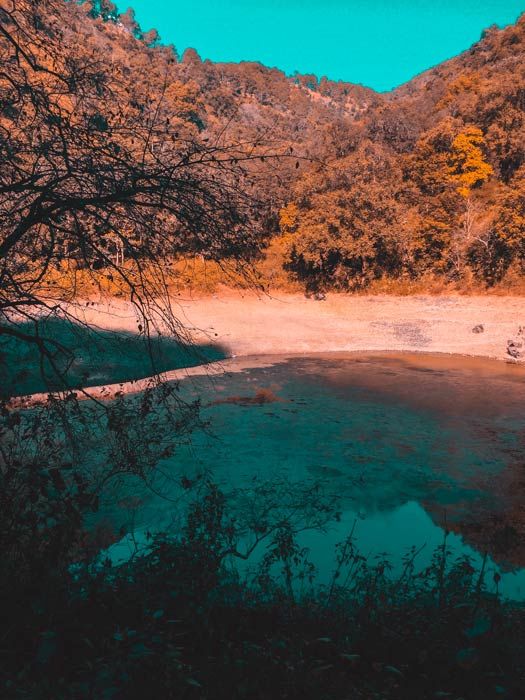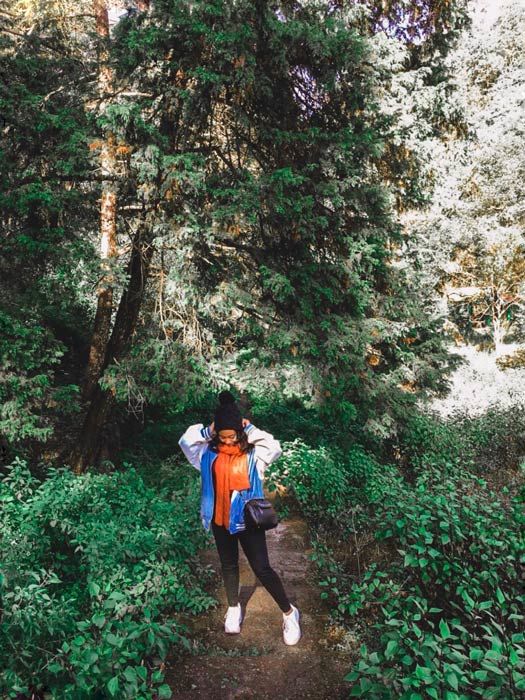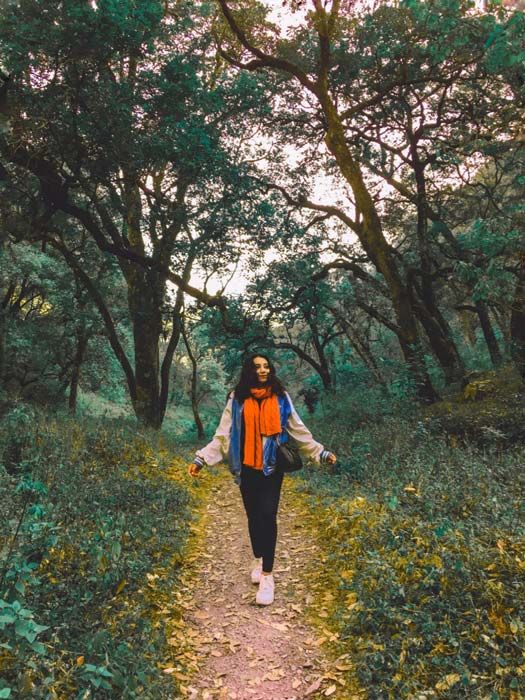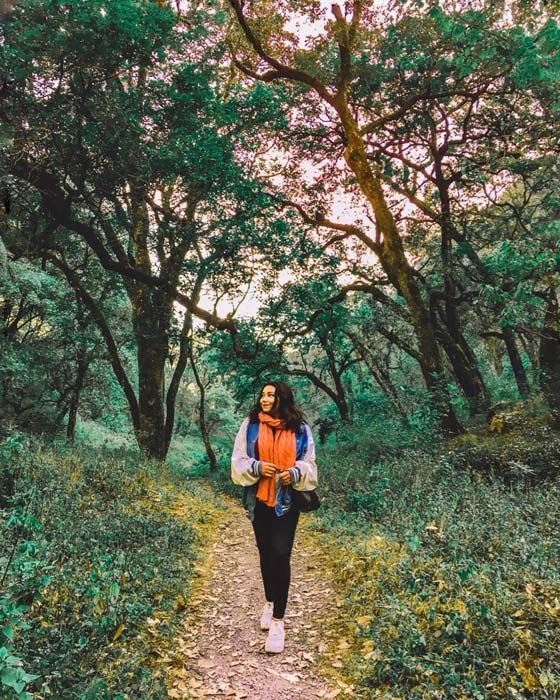 Firstly, I went for a quick trek into the dense pine and oak forests. It is almost 2 km trek to a waterfall, locally called as Subhash Dhaara. Now, you must be thinking, what's with a waterfall? It is not about the waterfall, it is about the journey that I made to get to it. I went through a dense forest with almost no network reception. I could see mountains and trees as far as my vision got, heard the chirping of the birds and smelled the fragrance of wetland. It was impossible to know if you encounter some animal in the way. It is literally walking into the natural habitat. It was a quiet place away from the tittle-tattle of the streets and I felt that all my senses are heightened and I could feel everything. The journey to reach the waterfall was exhilarating and adventurous every bit. Though the trek was not strenuous for people who trek a lot, for me it was one hell of a trek. So when I reached the waterfall, for me it was a sense of achievement. The sound of the water hitting the rocks and then flowing, trees dancing as the wind blowing and the picturesque landscape was just perfect.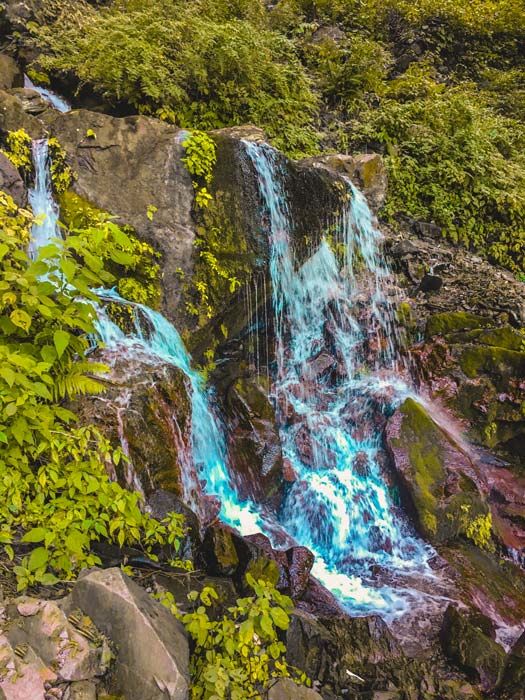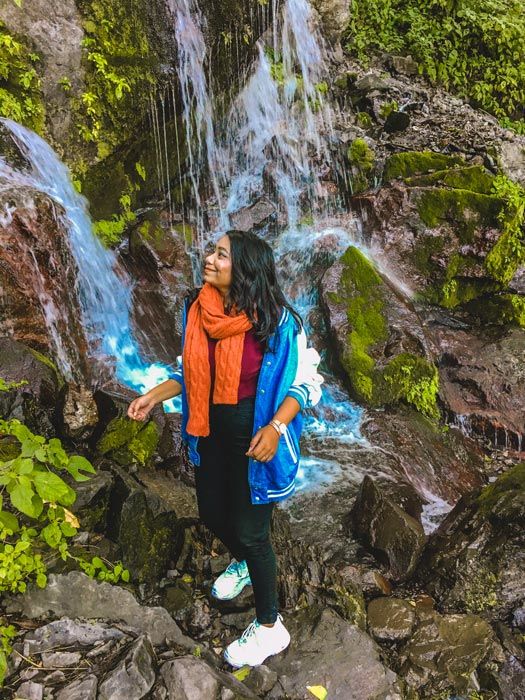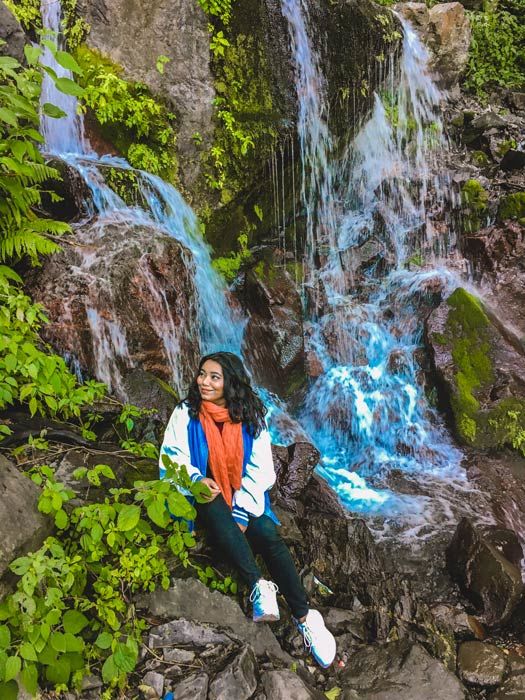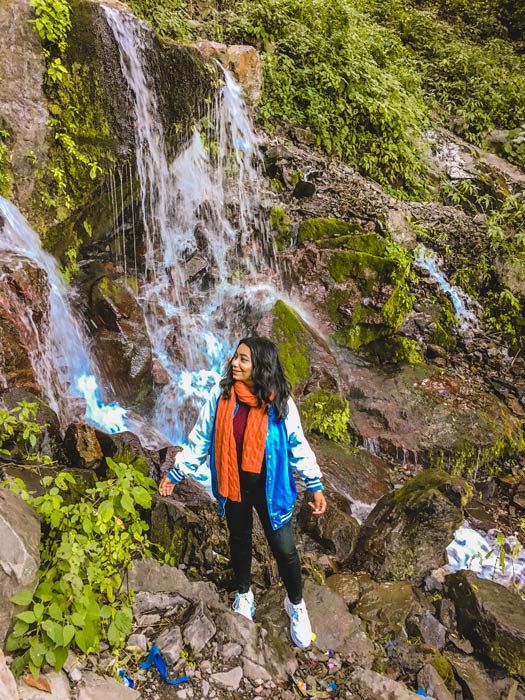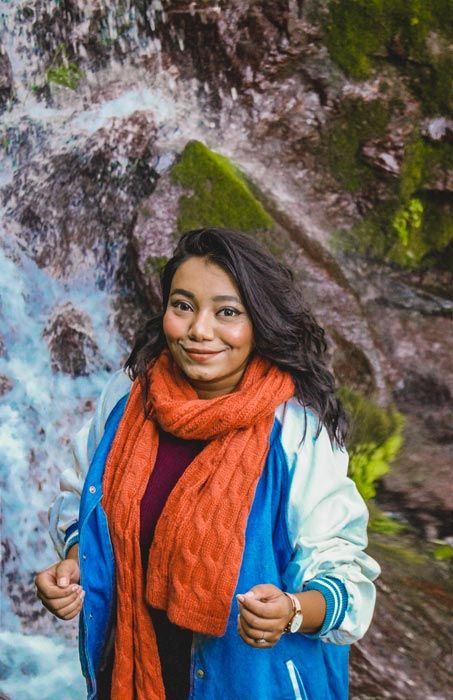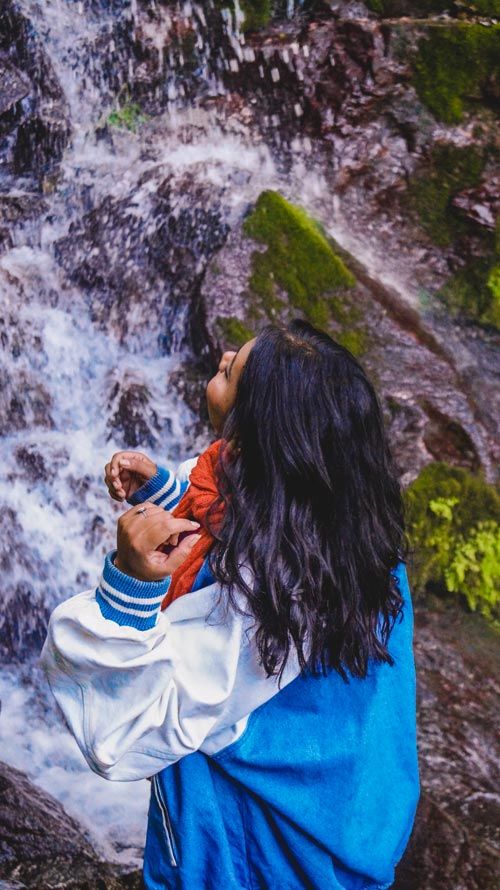 After spending some time in the wilderness, I headed back and my next stop was again boating in Sattal lake. I can never get tired of boating. I mean who would? So, if you happen to visit the lake district of Uttarakhand, make the most out of it. One thing that is good about Sattal lake is that you can even go for kayaking. One of the few experiences that should be cherished. After the trek, however, I was a little bit tired, so I skipped kayaking and hopped on to for yet another boating experience. The lake was surrounded on all sides by mountains and it had a certain quiet in there which elevated the sense of happiness in me. After I finished boating, I was literally dying of hunger and went straight to the local restaurants out there near to Sattal lake and had a fulfilling breakfast. There were also a few local shops and I could never miss an opportunity to buy some pretty stuff. So yes, I did splurge again. It was an action-packed day and yes I could not stop smiling.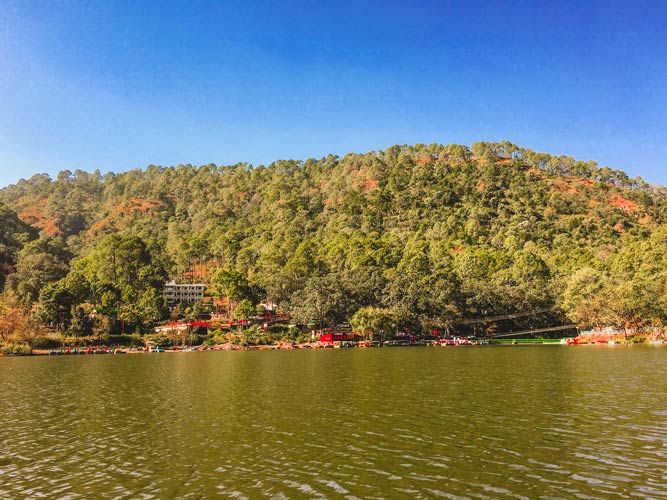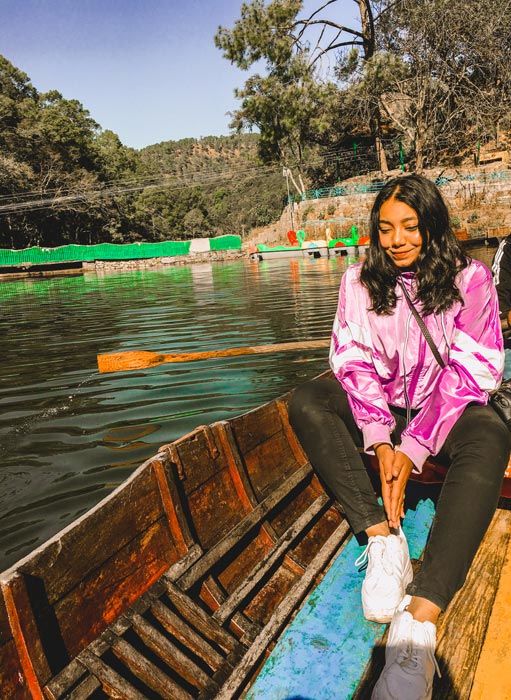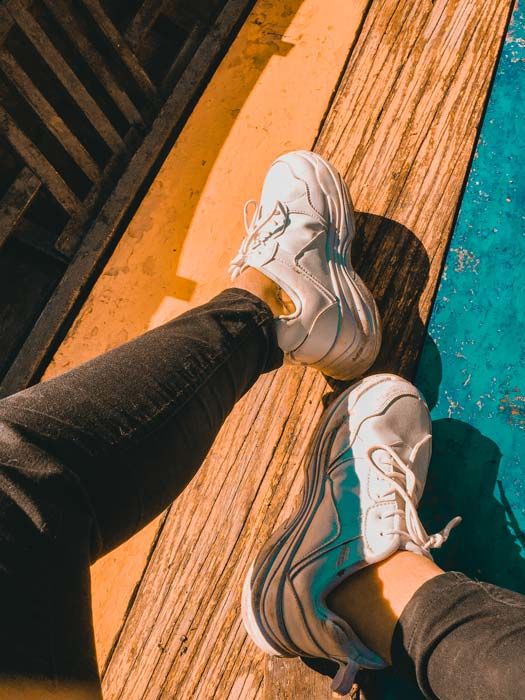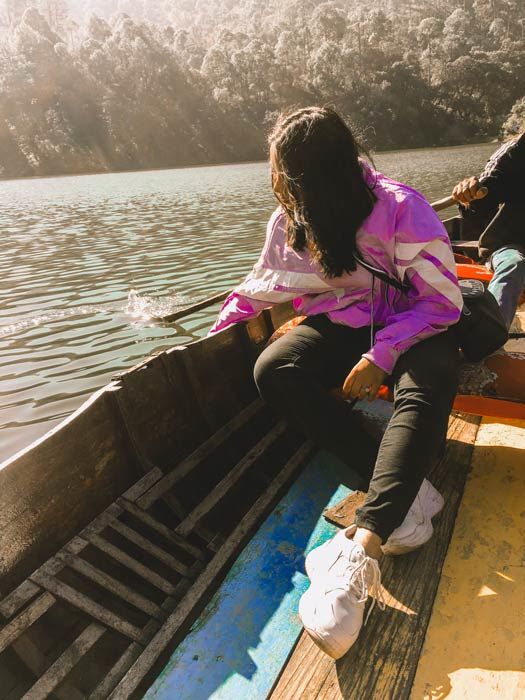 After all of this, it was time to head back to Ceedar Cottages again, but this time to bid adieu to this beautiful place, Dev Bhoomi. As I reached Ceedar Cottages, the hosts arranged a quick and very light lunch before I check out. I had my lunch and had another quick conversation with the hosts and the staff. Here are the pictures of the wonderful people, Mr Manoj Lamba and Mrs Anu Lamba who hosted me and made me feel just like at home when I was away from my house. I can never thank them enough. Also, a huge shout out to the courteous and equally welcoming staff of Ceedar Cottages. I left Ceedar Cottages with a truckload of memories and smiles, with the hope of meeting them again in the future. This is the magic of homestays. You meet people and they remain a part of your life forever. You go alone but come back with friends.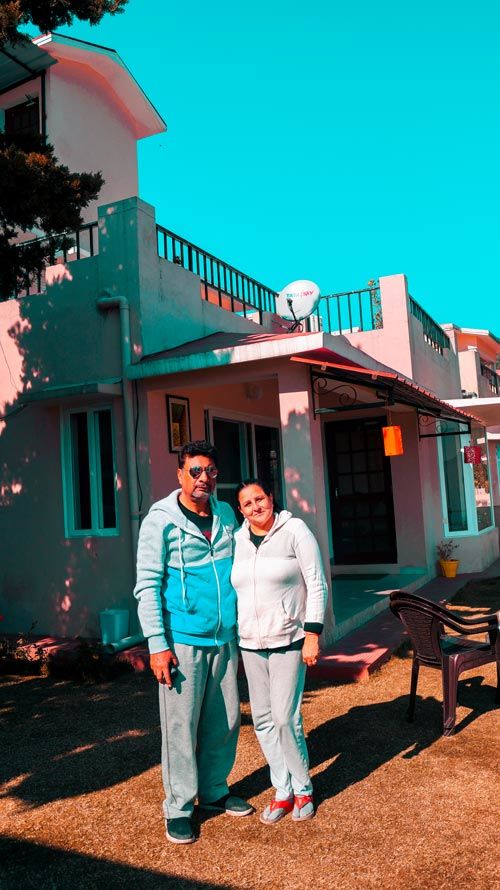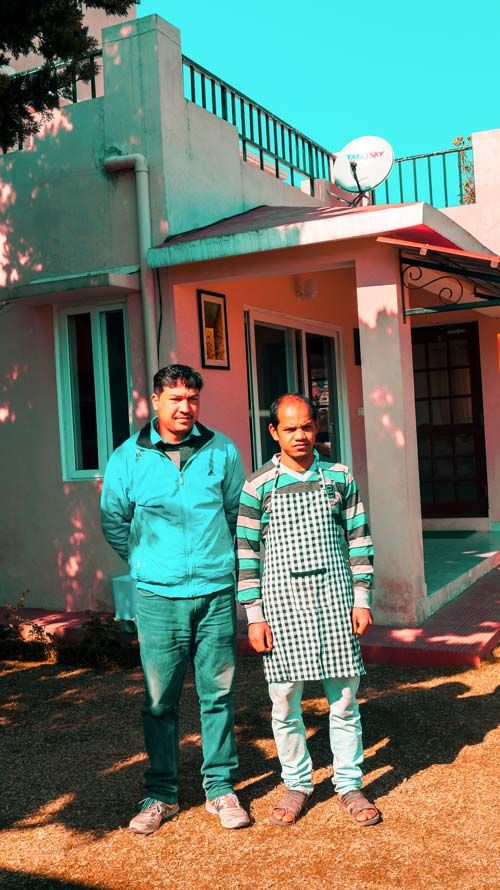 Before signing off, I have something for you which I promised earlier in the post. Things that make a homestay different from a hotel. Here you go on the things to expect:
1. A very warm welcome from the hosts, who will always be ready to hit a conversation with you. And they will be more than happy to hear to your stories, add to it and you can bond on the dinner table itself.
2. A healthy interaction with other guests over the dinner table or the bonfire. Who knows, you find a friend for life during your stay.
3. Unbiased opinion about the destination city with insights into the food, shopping streets, places to explore and the financial costs that come with it.
4. Food prepared at home without the unnecessary spices. You can even cook your own food as per your needs.
5. A list of untouched sites to look out for. In certain cases, they would be happy to arrange for a local attendant to show you these places.
6. A home away from home.
7. The hosts are always ready to go the extra mile to make the stay a pleasant and memorable experience for you.
8. Additionally, Ceedar Cottages has three types of homestay named Luxury homestays, Corporate Homestays and Premium Homestays that suits the needs and budget of every individual.