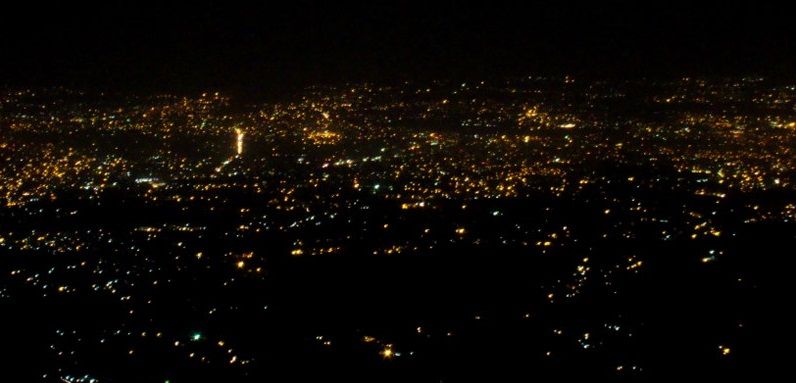 What comes to your mind when you first hear the name - Dehradun.
The capital city of Uttrakhand erstwhile known as Uttranchal, the world renowned pre-graduation educational hub or a place of brief stopover enroute to 'queen of hills' Mussoorie.
Well if anyone ask me about Dehradun the very first thing that comes to my mind is the calmness and how the city's climate always embraces and welcomes me with a swift feeling of serenity as I always come here from the hustle and bustle of Delhi(NCR) or the small cafes that it offers either you find it on the old Rajpur or in the core of the city, you will never come out with a feeling of disappointment and last but of course not the least, one of my very close friend Kanishka Thapa, the dude, who serve me as a guide too when I am in his city and also the delicious food that her mother always serve us whenever we are in the city.
But this time, I visited Dehradun recently not because I am missing all these things but because my visa was rejected by Spain embassy for a cruise of Royal Caribbean and with that my dream was shattered to be on a cruise. I was pissed like hell. Even now, I cannot describe that feeling in words how I felt at that moment but thanks to the Almighty that night passed away somehow and next morning my mind ask me what next and a sudden but pleasant answer was there i.e. A Road Trip to Dehradun, the city I love the most.
At that very moment, me and my friend quickly jump out of our bed and started packing. Within a span of half hour we hit the road and my heart & soul was feeling a little better after the tragedy I have faced last night. We left Delhi nearly at 11.00 am in the morning and reached Dehradun at 5.30 pm in the evening that includes a little breakfast on the way. We didn't stop anywhere and went straight to the old Rajpur road. Finally, I opened the window of my car that brings in the soothing air with a little feeling of coldness and you could not even imagine how it worked, I felt it like a healing therapy for my broken heart and now I do not have any regret or a feeling of wrath towards anyone. All of a sudden, my irritation, my anger, all goes out and my heart told me, Vivek, just let it go… just let it go.
RAJPUR ROAD AND NIGHT LIFE OF DEHRADUN
Well, if you go to old Rajpur road you can find a number of small cafes there and many people sitting there with a cup of tea or coffee in their hands while enjoying the climate and the surroundings. But my favorite is the Haathi Maggie shop or cafe marigold.I simply love sitting there with a cup of lemon ginger tea and introspects my own personality or enjoy my memories in my camera roll or other thousand things I want to think about. The place has such a positive vibes that you just put every negative thought that ever comes to your mind on a back burner and just enjoy the weather, the tea and finally your own positive and optimistic thoughts about you and others too.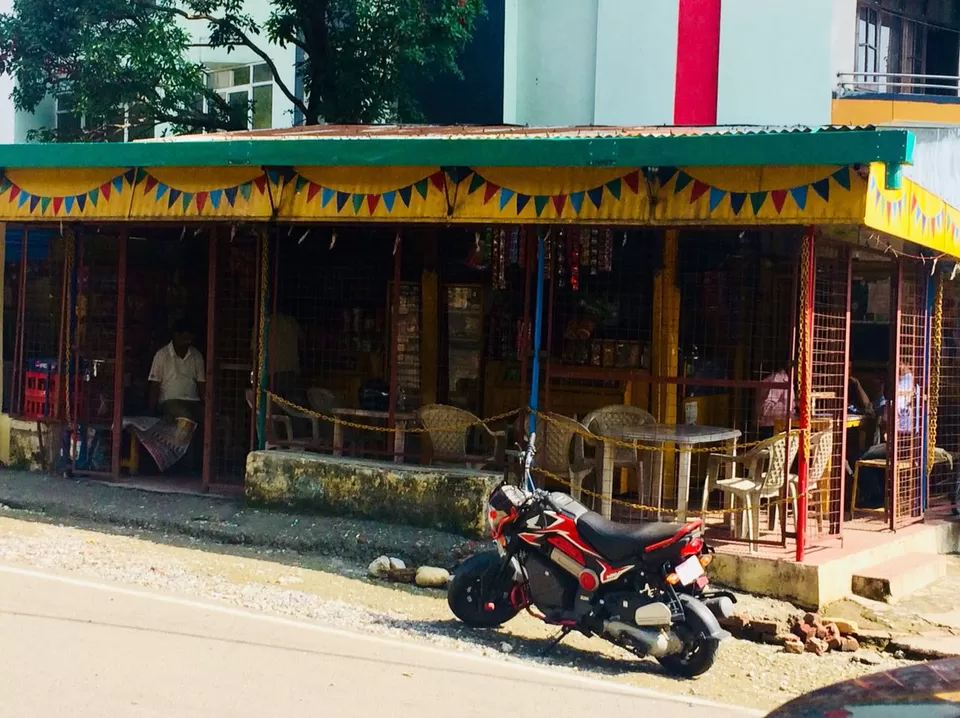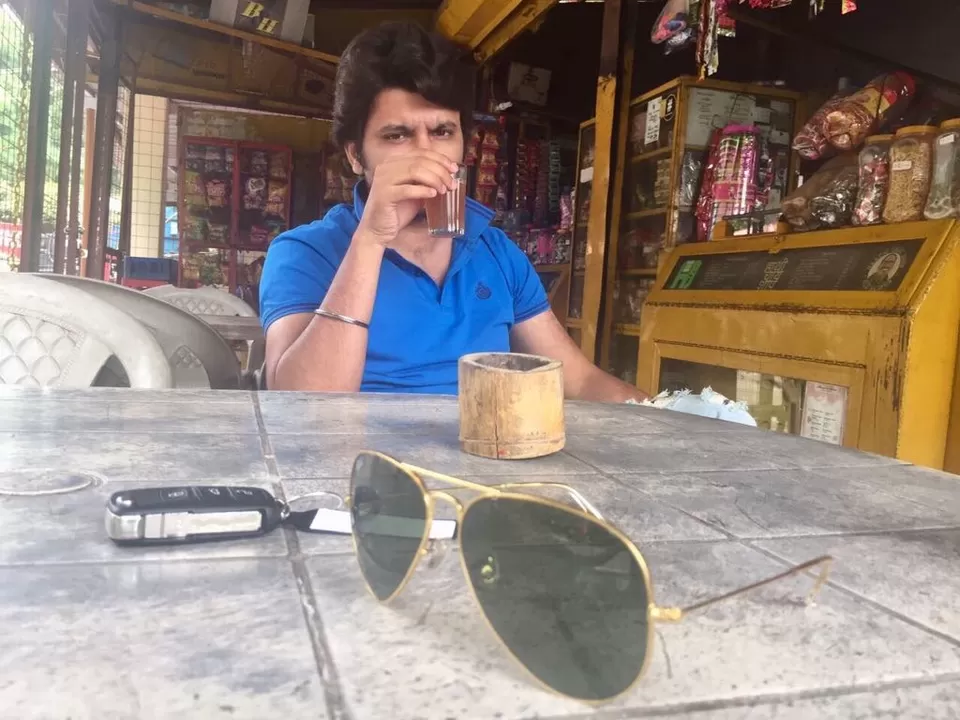 Remember, you may stop at a place for a while but the time don't, the clock always points to the coming night and its time to get groove with the doonites and enjoy the night life of Dehradun(CAUTION: don't compare it with the night life of
Mumbai, Delhi, Banglore etc…You are in Dehradun and feel it like a doonite.)
Time has come where I need to call my friend and invite him for few drinks and soul-pleasing dinner.
We headed straight towards Opal the lounge (Rajpur road) and ordered a bucket of beer and an appetizer name of which I don't remember exactly. The staff was quite decent and we people had a good time over there. You could feel the decent amount of efforts, their staff had put in to make it a place worthy.
As I don't want to spend my whole time at one place, I convinced my friends to go to some other place and I managed to take them to Bristal Pepper Taste The World (Rajpur road). But, guess what, our order still didn't changed but one thing that surely changed was the food quality and it taste hell better than the Opal food.
Finally, the night ends with few shots and the next thing I remember was that I was lying on Kanishka's bed.
GUCCHUPANI and MUSSOORIE
After a hell of night, I only had one thing in my mind and that was one strong black coffee and an access to a swimming pool which I had luckily, as my friend is the owner of a pool just nearby to the main site of Gucchupani and it is known by the name of Grandpa's water paradise. I spent a decent time in the pool and after that we headed to robber's cave (locally known a Gucchupani).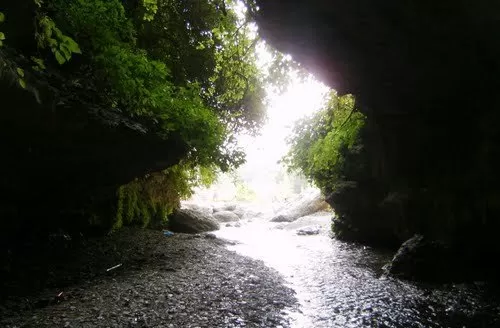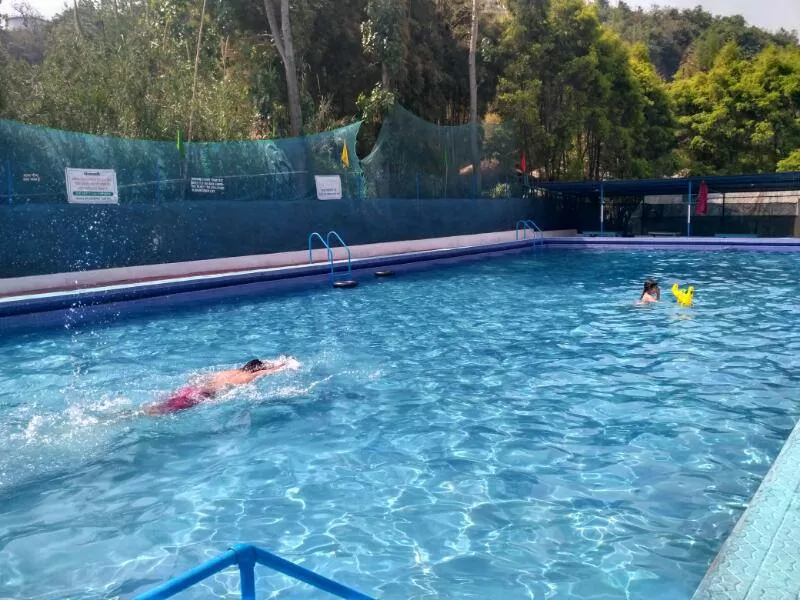 The theory behind the name goes as - In British era, robbers used to hide in these caves from the British police and hence known as Robber's Cave. You will find a lot of people enjoying here in the water and in small stream of waters that passes by. It turn out to be a famous picnic spot for doonites and the tourists who took a brief stop in Dehradun. Finally, had the lunch for which went to Kalsang AMA café (Rajpur road) and the food was as delicious as it can be.
If you are in Doon how you can afford to skip a visit to Mussoorie. I was really short of time as I had to leave for Delhi in the same night itself. So, we chose Landour, the place to visit in Mussoorie.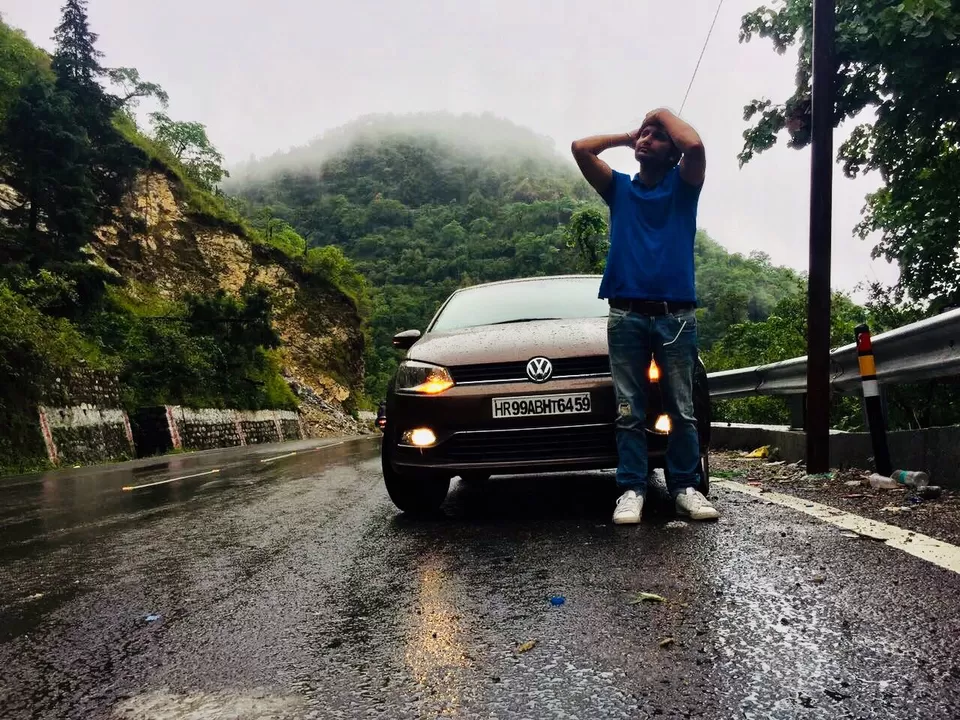 In Landour, you can find many cafes and the best weather Mussoorie offers if I can say so. We went to Cafe Ivy this time to try some new menu as I was really bored of chaar dukaan and its stuff. We ordered a bacon and a maggi with some really cool stuff to drink. The food was quite good but not better than the view this cafe.
And finally the time came where I had to say Good bye to Doon with a warm feeling of gratitude for giving me such a stupendous memories to nurture.
Yes, I know this is really a short and personal account of my journey and it don't cover the whole package that this city comprises of but never mind I will give a short list where you can head to enjoy the different aspect of the city.
Sahastradhara
Malsi deer park
Tibetan mindroling monastery
Santala devi temple
Lacchiawala
Etc……..
These are the most famous places apart from Gucchupani and you can also find a lot of places to eat some really mouthwatering food in Doon. If you are a non-vegetarian, you must try Doon-darbar in Paltan Bazaar and I bet you will love their food.
This is it from my side, do comment if you find this piece of writing interesting or something I can add on.
See you somewhere on the roads.
Danke ……
Frequent searches leading to this page:-
dehradun packages, dehradun tourist places, places to visit near dehradun, places near dehradun, dehradun sightseeing