Dehradun- the name lets you imagine the surrounding hills, greenery; unpredictable weather, view of the famous Queen of hills- Massouri & of course the roadside food stalls spread out across each Galli, Mohalla of Doon. If you are at Doon and looking for the local delicacies, then this article is for you!
Dehradun is best known for its multi cuisines from North Indian, Pahadi food to authentic Chinese & Tibetan delicacies. Maximum of the best eating joints in the town can be located along the Rajpur Road, Astley Hall, Dharampur, Chakrata Road &Mussouri Road. Here is a list of Dehradun's famous lip-smacking street foods and the places where you can enjoy them with your buddies & family.
The Buffet Snacks Shop @ Rajpur Road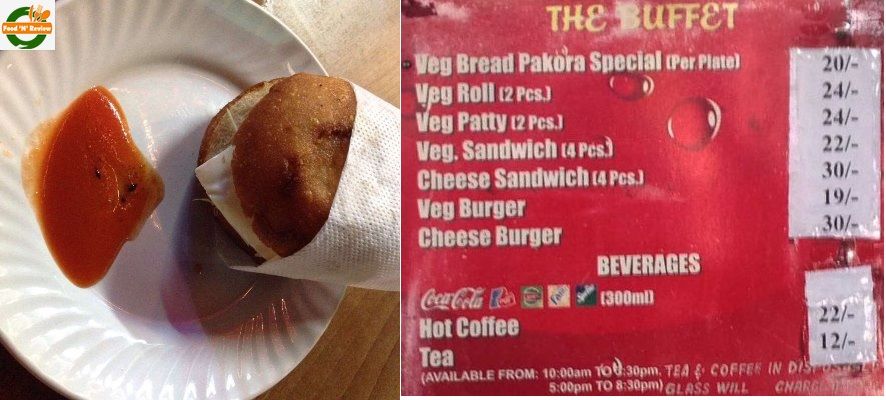 Spot the best Burgers & Bread Rolls across the city at The Buffet! Buffet Snacks Shop is a small fast food joint located in Rajpur Road opposite to Gandhi Park. It is one of the famous fast food corners where you can enjoy the perfect crispy burgers at the price as low as Rs 18. No, we are not joking! The most amazing thing is it can beat Mcdonald's burgers. Apart from Burgers, you can enjoy Bread rolls, all types of shakes & coffee at a very nominal price.
Why Buffet?
Of course for their Macdy level burgers (that are cheap too) & awesome shakes especially milkshakes & banana shakes.
Why not Buffet?
If you don't wanna deal with a huge rush out there!
K.C Momo's & Soup Bar @ Jakhan- Rajpur Road
KC Restaurant is famous for its piping hot & delicious Mutton Momos & variety of Soups. This small food joint is said to be the oldest fast food corner in Dehradun. Located few meters ahead of silver city, just in front of Survey of India back gate, Rajpur Road, the shop offers noodles, spring rolls, mutton & veg momos & all types of soups. Finding a seat would be difficult, though, yet you can make your order on sitting comfortably in your car.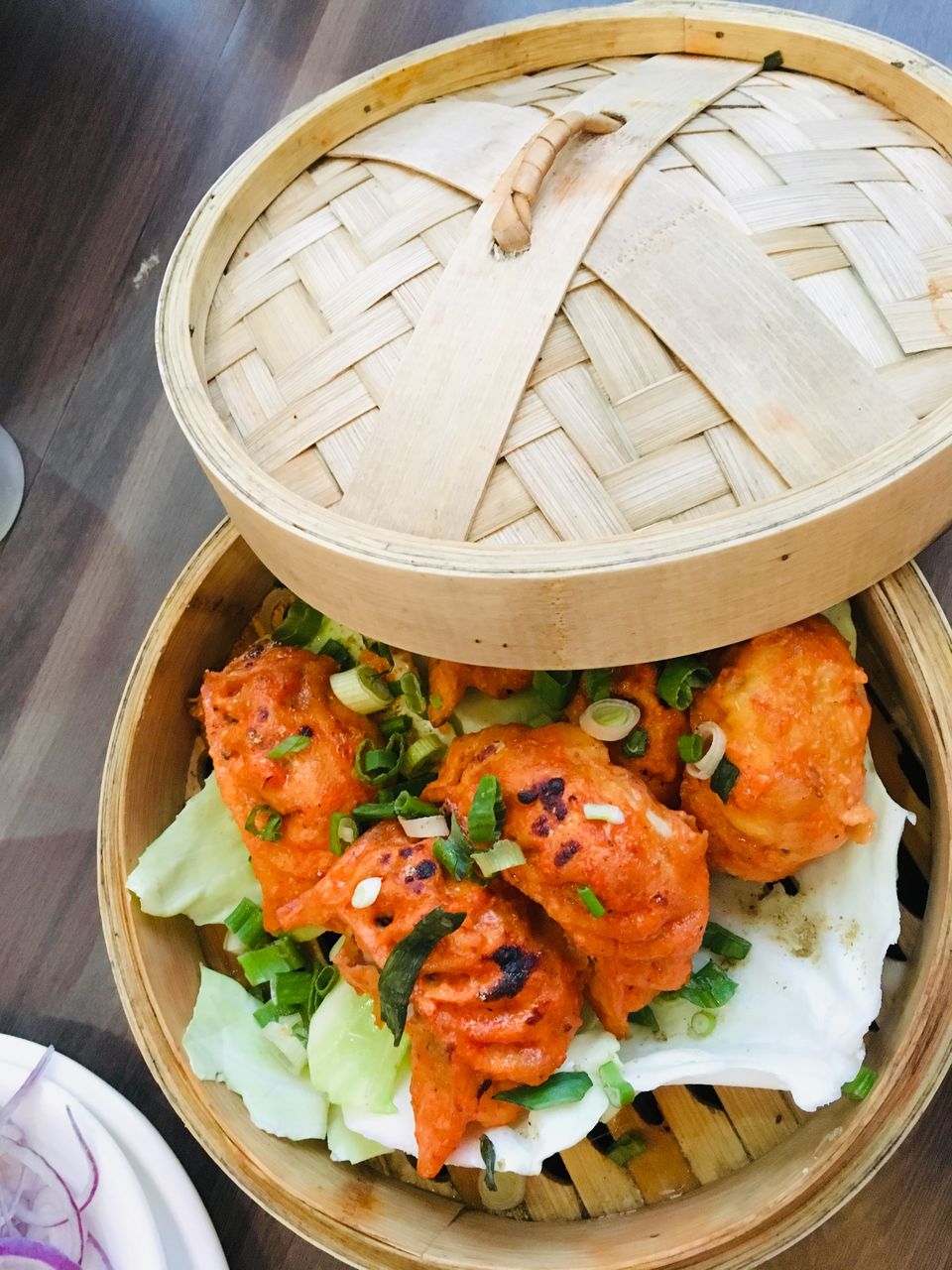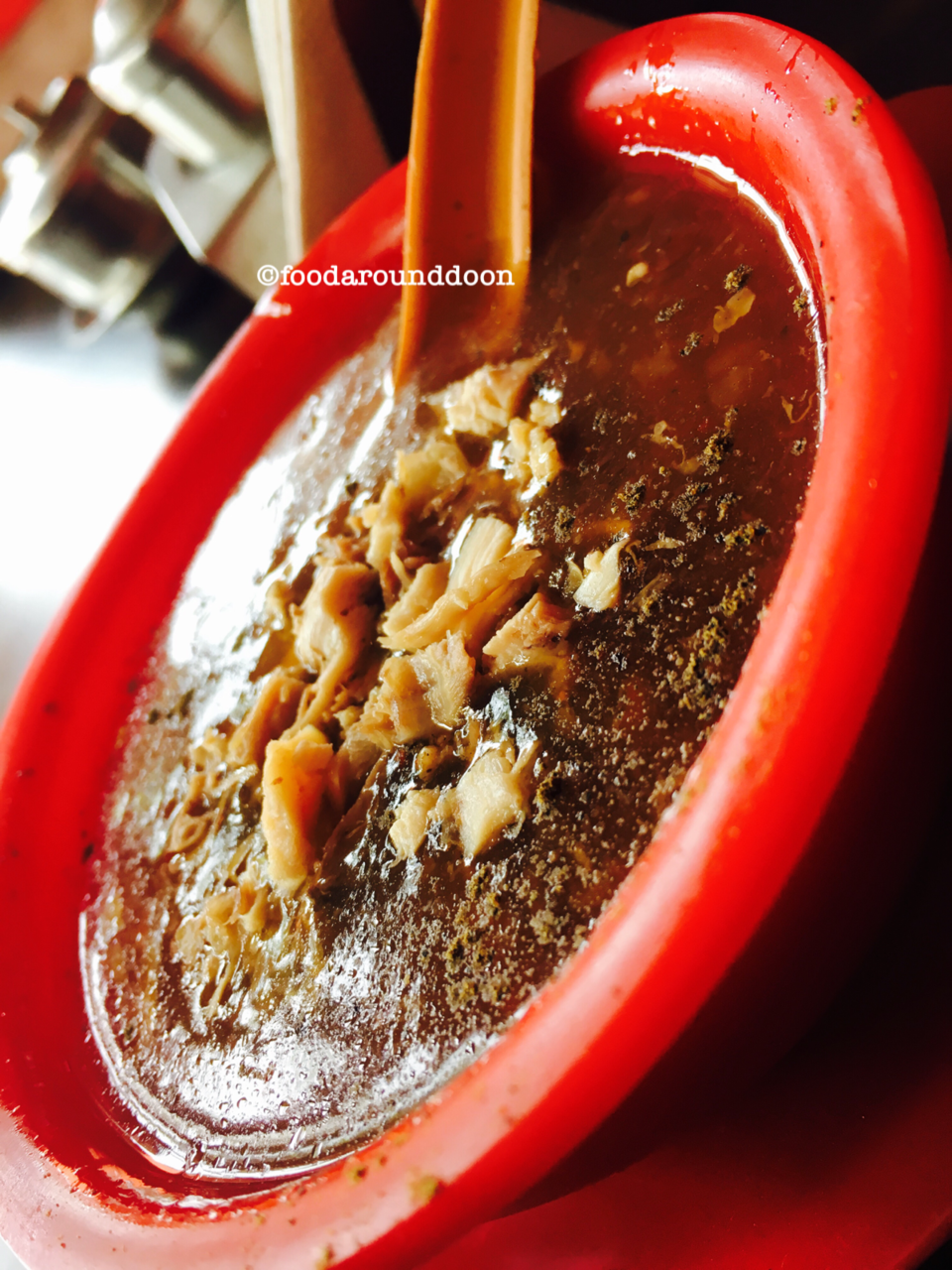 Why KC?
For their big chunks of momos with generous mutton filling inside & their hot tomato & chicken soups. Also for their nominal prices.
Why not KC?
If you are a hygiene freak, don't dine there. Instead, you can ask them to parcel your order.
Bun TikkiWala @ Dwarka Store Chowk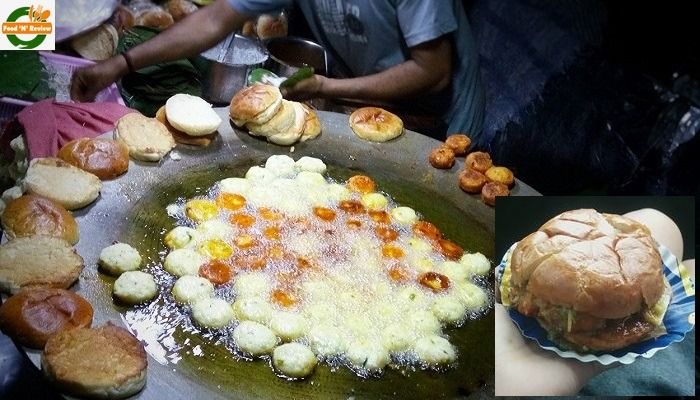 We Doonites prefer eating Bun Tikkis over Burgers and in Dehradun, you can locate many Bun Tikkis Stalls scattered across. And the most popular one is -A Bun Tikki wala at Dwarka Store Chowk. Yes its awkward to call him just a BunTikki wala since his identity is unknown. He get recognized with its stall location at Dwarka Store, EC Road. The crispy tikkis with chatni, dahi & onion is been put in two slices of Buns and you are ready to feel its explosive taste & aroma, price being just Rs 20.
ChetanPooriWala @ Hanuman Chowk
If you are craving for a full Saatvik Mata ke Bhandare wala khana then this place is for you! The shop is located at main Hanuman Chowk, Dehradun. At Chetan Puri Wala you will get a full meal plate that includes Chhole, Aalu, Kaddu ki Meethi Sabzi with Crispy just fried hot pooris. The awesome thing is that you have to pay for just a plate & can ask for sabzis unlimited times. You will just pay for more pooris. Also, you can get your pooris packed along with aalu sabji or Kadu sabji.
This poori wala has also been telecasted at NDTV Good times on the Rocky Mayur's Foodie Show. You'll definitely forget high profile restro's cuisines after having this pure Indian poori bhaaji!
Madrasi Dosa @ Chakarata Road
In Dehradun, you will find many famous restaurants that serve authentic South Indian cuisine like Dosa, Idlis, Bada, Uttapam etc. Madrasi Dosa is unique among all of them. Located at main Chakrata Road, (and one at Pared Ground too), this stall is famous for its authentic taste and reasonable price. Since its just a stall, you'll have to eat your food standing, but believe me the taste is worth to be enjoyed without your sitting comfort.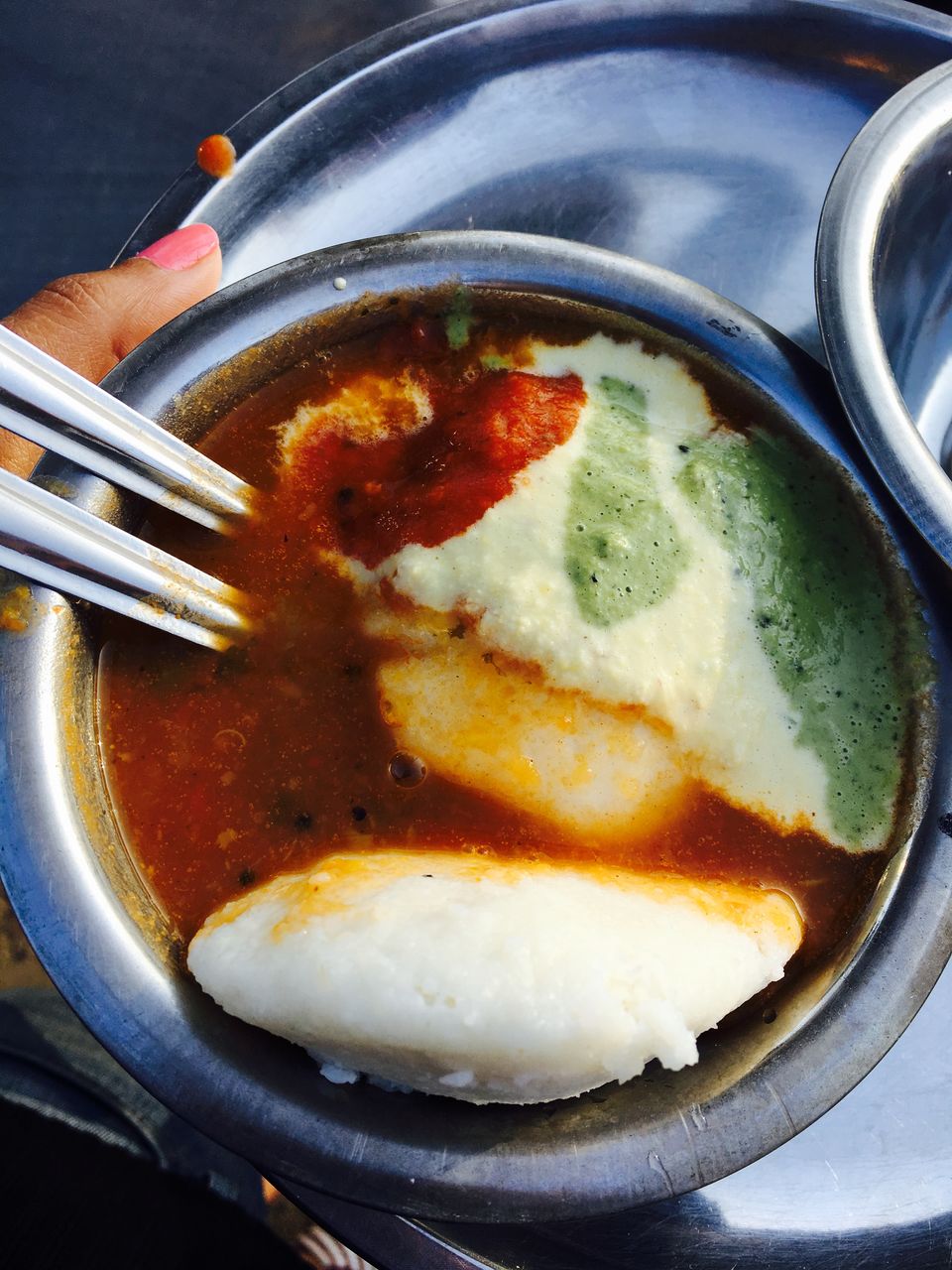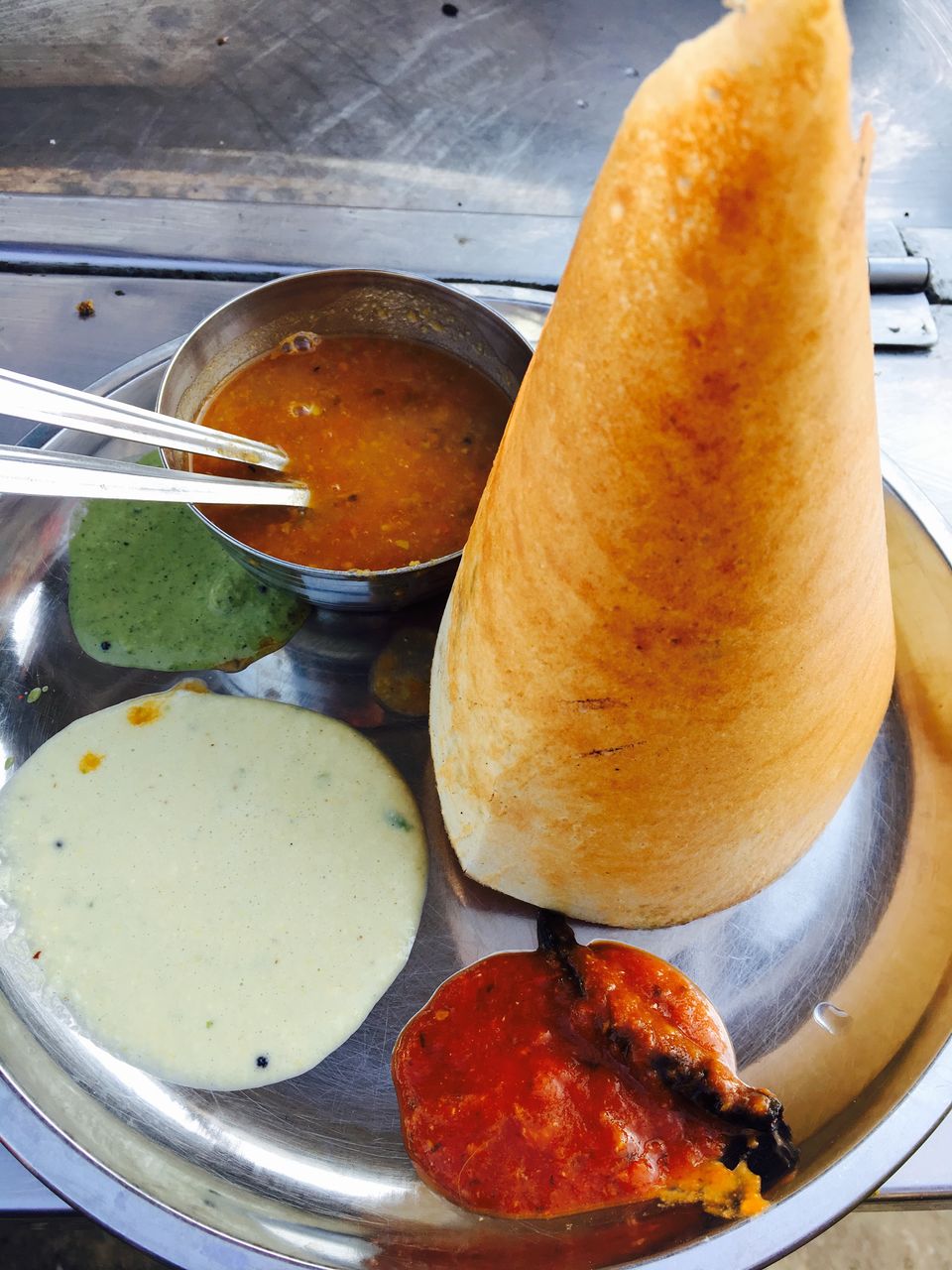 Bobby Fast Food Corner @ Gandhi Park
Bobby fast food corner is situated just beside the Gandhi Park, opposite to Orient Cinema. The food corner is famous for its freshly prepared chowmein, Chicken Momos and Soups. The stall commences in the evening 5'O clock opened till 11 at night. I can still feel the lip smacking taste of Chicken Soup topped with a big chunk of Amul Butter.
A must try street corner, if you are passing by Gandhi Park area!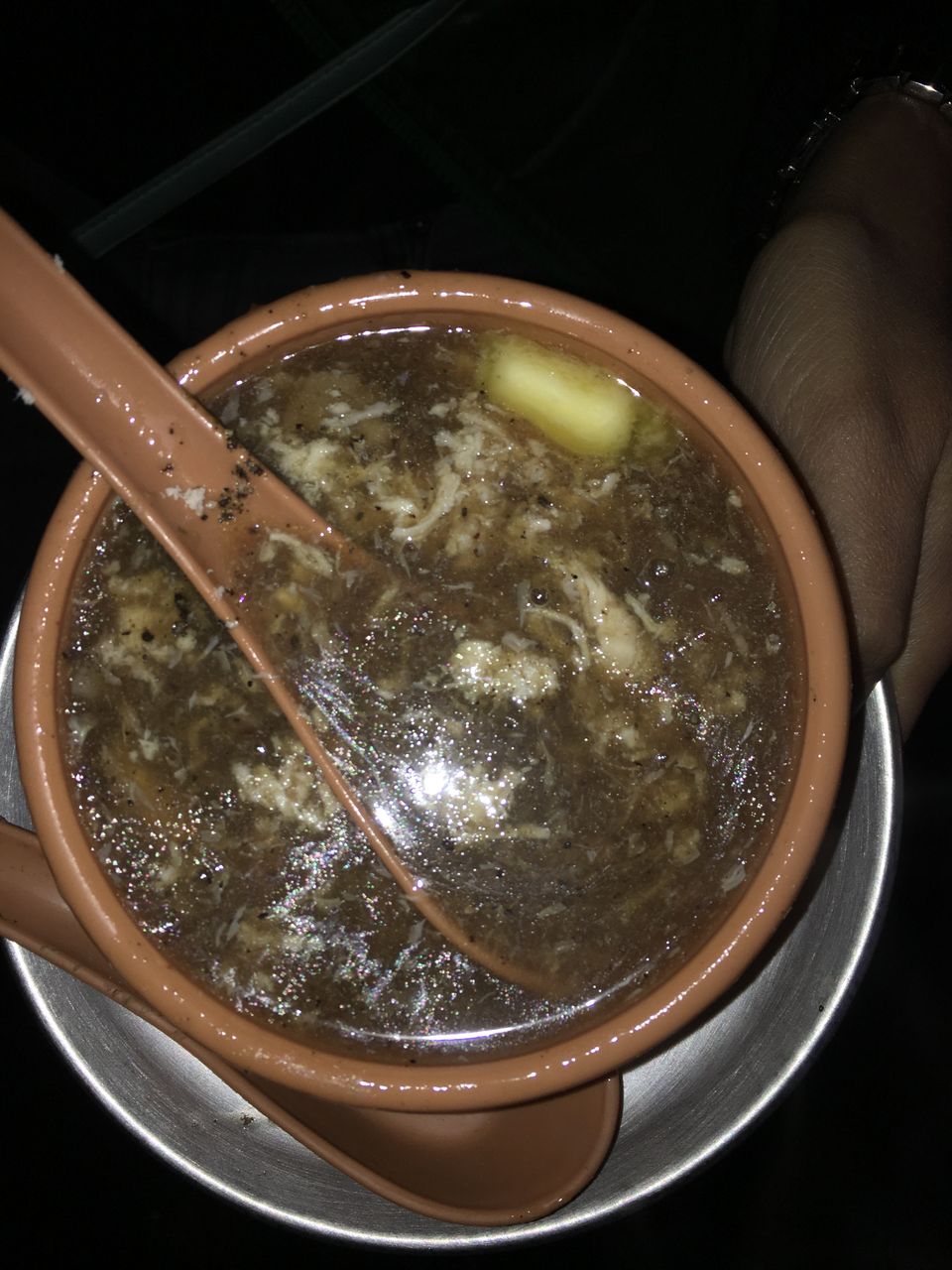 Maggi Points @ Mussoorie Road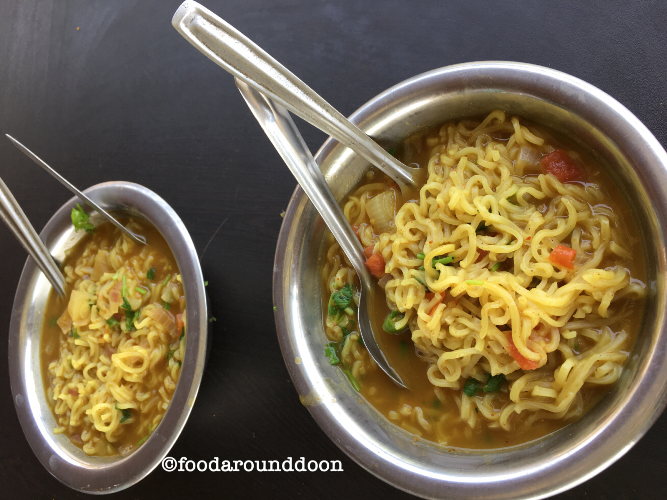 If you are at Doon and haven't been to Massuri then you will miss an auspicious thing of your trip! While going to Massuri , you'll locate some roadside hawker sheds popularly known as Maggi Point. These maggi points offer you a great view of hills & Dehradun city from the top. So what are you waiting for? Plan a trip to Massuri, Pause your journey to these Maggi stalls, take out your Camera, showcase your photographic skills while enjoying the piping hot & spicy Maggi at Maggi Points of Doon.
Kumar Sweets @ Clock Tower
If you are a sweets lover and looking for some popular sweet corners around the city then Kumar Sweets is a must try! They serve varieties of sweets from Rasmalai, Pan Sweet to Chocolate Barfi & Rosogulla, each one being so mouth-watering. My Recommendations- Paan wali mithai, Rasmalai & Faaluda Kulfi in summers!
Gaylord Ice Cream Parlour @ Paltan Bazaar
Gaylord Ice Cream Parlour is one of the best & famous ice cream parlours in Dehradun City located at the starting of Paltan Bazaar near Clock Tower. Here you'll spot best ice-cream cones at as low as Rs 10. It offers different flavours of ice cream like- Vanillas, Chocolate, Strawberry, Butterscotch, black forest special cold coffee with ice-cream etc. Though this small shop is famous for its soft cones, yet you'll find many other snacks like hot dogs, sandwiches, pastries & more.
So if you are a shopaholic then try our Paltan Bazaar! And don't forget to try Gaylord's ice-cream cone located just in the place!
Best Chinese Fast Food Stall @Kishan Nagar Chauk
Well, this is my personal favourite one! The stall is very famous for its Gravy Rolls, Momos, Kababs & Gravy Manchurian. Though it again has a lost identity, yet you can spot this place few steps ahead to main Kishan Nagar Chauk opposite to Bata. The shop starts from the evening and so the rush starts. You will have to definitely wait a long to receive your order, but its total worth. My recommendations- Gravy Roll, Gravy Manchurian with Noodles & Kababs.
Have I missed any? Please feel free to comment below. We will add it up!
This post was originally published on Rashmi Kanti's Blog.

Frequent searches leading to this page:-
famous street food in dehradun, famous food of uttarakhand, famous dishes of uttarakhand, dehradun street food, dehradun street food tour