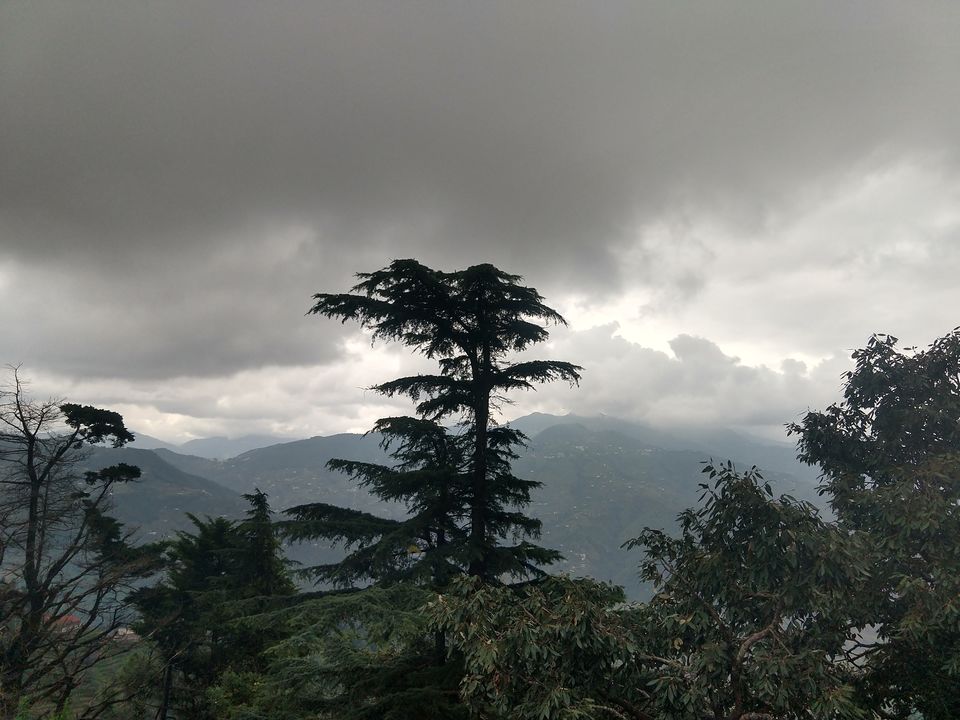 Mountains are magnetic. Especially when one has gone to them several times, an instant connection gets established looking at the majestic view of greenery. Mukteshwar is one such place, where an instant connection gets built. It's surreal!
One of the reasons of choosing Mukteshwar as a travel destination for myself was that despite being at a high altitude, it's well connected by rail route. If travelling from or near Delhi NCR, Delhi-Kathgodam Shatabdi can be booked in the nick of time (especially during off season), and Mukteshwar is a further 2 hour drive from the Kathgodam railway station (which is the terminus railway station for Kumaon region).
I boarded the train at NDLS on my first day, at 6:20 am. Admittedly, getting up at 5am when going on a vacation is brutal, but train journeys are comfortable and fast, compared to buses on hilly routes. Hence, the early waking up was compensated by saving almost half the travel time and reaching more relaxed!
I reached my destination station at 11: 30 am. Kathgodam is a small, clean and beautiful railway station, surrounded by green hills and misty clouds. It gave a perfect sneak peek into what awaits ahead.
Since I was travelling solo, when I got outside the railway station, I started looking for relatively cheaper options to get to Mukteshwar. Given it is not a very popular tourist destination (compared to Nainital/Almora), there is only one direct bus with a fixed timing in the morning. Other than that, one has to take a cab, which was the option I was left with. Luckily, after negotiating with a few drivers, I met one heading to Mukteshwar with another passenger to be dropped off on the way, hence he charged me INR 1,000, instead of a standard cab rate of INR 2,000. I sat in the cab, and my journey continued!
The way to Mukteshwar was beautiful, and the 1.5 - 2 hour ride did not feel taxing at all, given the view along the way was breathtaking. I had booked a hotel through Oyo a day before, which was in Kasiyalekh (6-7 kms before Mukteshwar). I generally prefer calm and less crowded places to stay, since the main motive of a trip to mountains for me is relaxation and least possible disturbance!
I reached my guest house/hotel (Golden ray) at around 1: 30 pm, and checked into my room to behold the site, as in the picture below. I was thrilled to realize that I would be staying in this room for the next 3 days!!!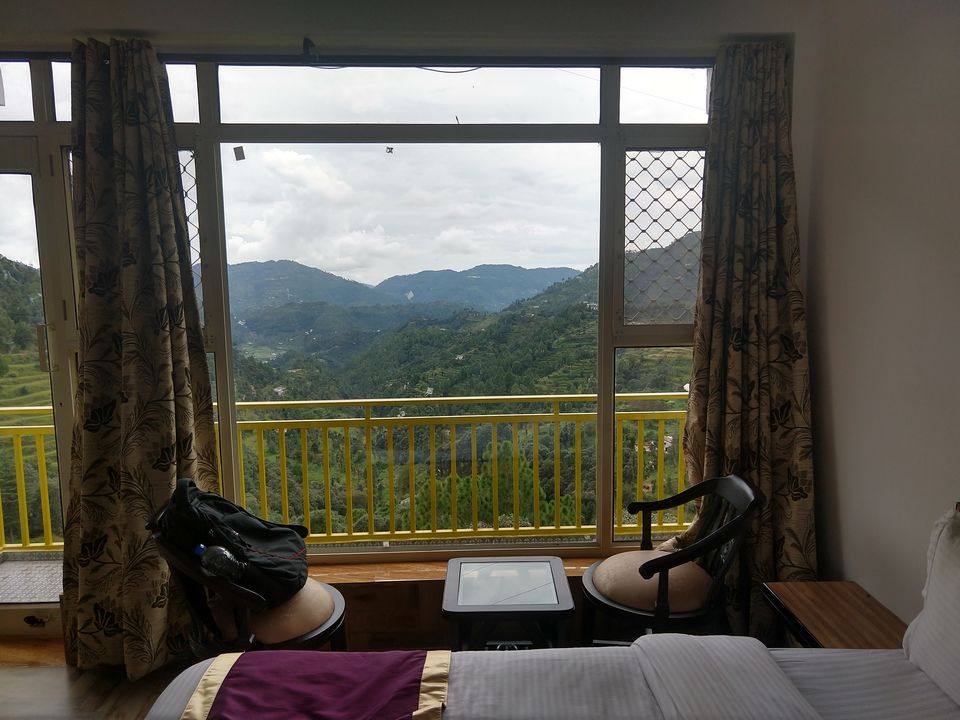 A point of caution- Please do not pre-pay for your booking if going through Oyo, most hotels and guest houses accept only those bookings which have a post-paid cash payment.
I ordered lunch and then dozed off till late evening. My plan wasn't to visit anywhere on the first day, hence I was in no rush to do anything. I woke up and went outside for a walk, but only till the lights of my hotel guided me. I would not recommend walking alone at night on hills- Not due to safety from crime, but due to potential attack from the animals in the area.
I ordered dinner, and it was then that I realized that I was the only person in the entire hotel, since the dining hall was empty except for me. I ordered some basic food, finished my meal and returned back to my room and sat in the balcony. It was very soothing to sit on the balcony in a cool weather, surrounded by hills in the darkness, and my favorite song playing on phone alongside. One of the best joys of the world is to learn to enjoy one's own company, and I believe I have started to do so. I came back inside the room after an hour and went to sleep .
Next morning was like a dream- Waking up to a view which made my day! I asked for tea in my room, while getting ready to go and see the Bhalu Gaad waterfalls nearby. By nearby, I mean around 4 kms, and I was planning to go and come back walking- The best way to explore a place!!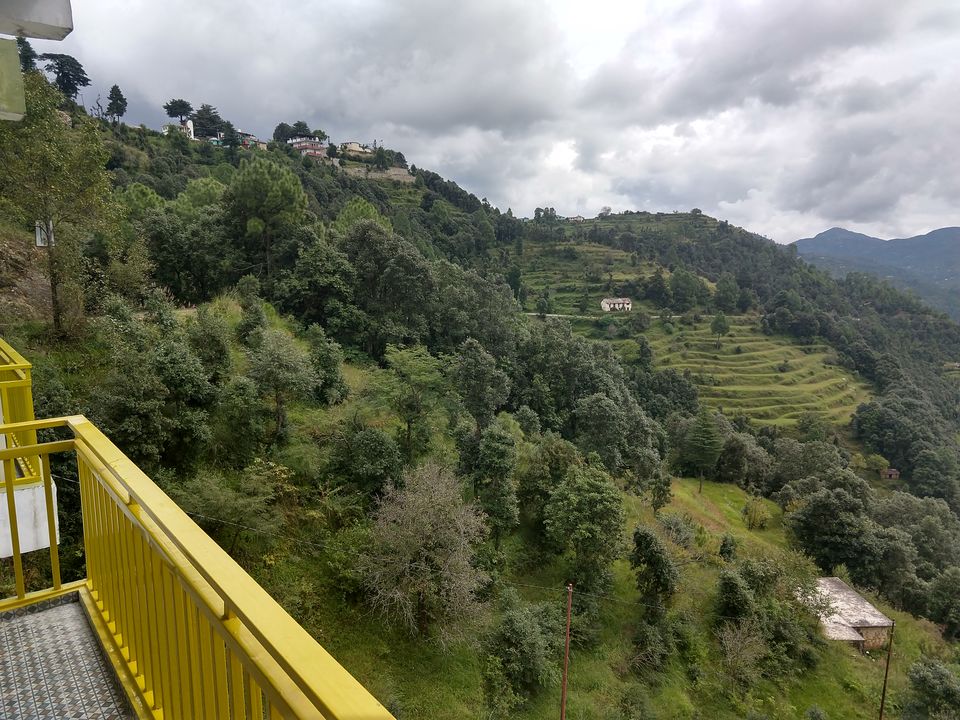 I finished my breakfast and started off with my laptop bag on my back- It contained few food items, water and some first aid, just in case I got lost somewhere. Also, I ensured my phone was charged to full. I started marching down the hill, and a local gentleman descending down on his bike (whose engine was turned off, given the descent) asked me if I needed a ride down hill. I smiled and declined politely, and he left with a smile.
Hilly roads are even more beautiful when walking. It always happens that when we are in a vehicle, driving on a hill, we wish we could get down at that one pointy cliff, or at that one amazing view-point, or that one apple tree we see by the side of road, but since we have to reach a particular (more famous) destination, we probably just click a photo or move past it without stopping. I decided to stop wherever I felt like stopping, with nothing/no-one else to bother me. The cool breeze, green valleys and increased acceleration due to downward slope made it a cake walk.
I reached the waterfall in an hour. As expected, there weren't any other tourists at the entrance. There is an approx. walking distance of 1 Km from the ticket counter to the main waterfall, and it comprises mostly of rocks and water, so anyone not up for hopping stones might want to skip it. Clicked some snaps on my way up-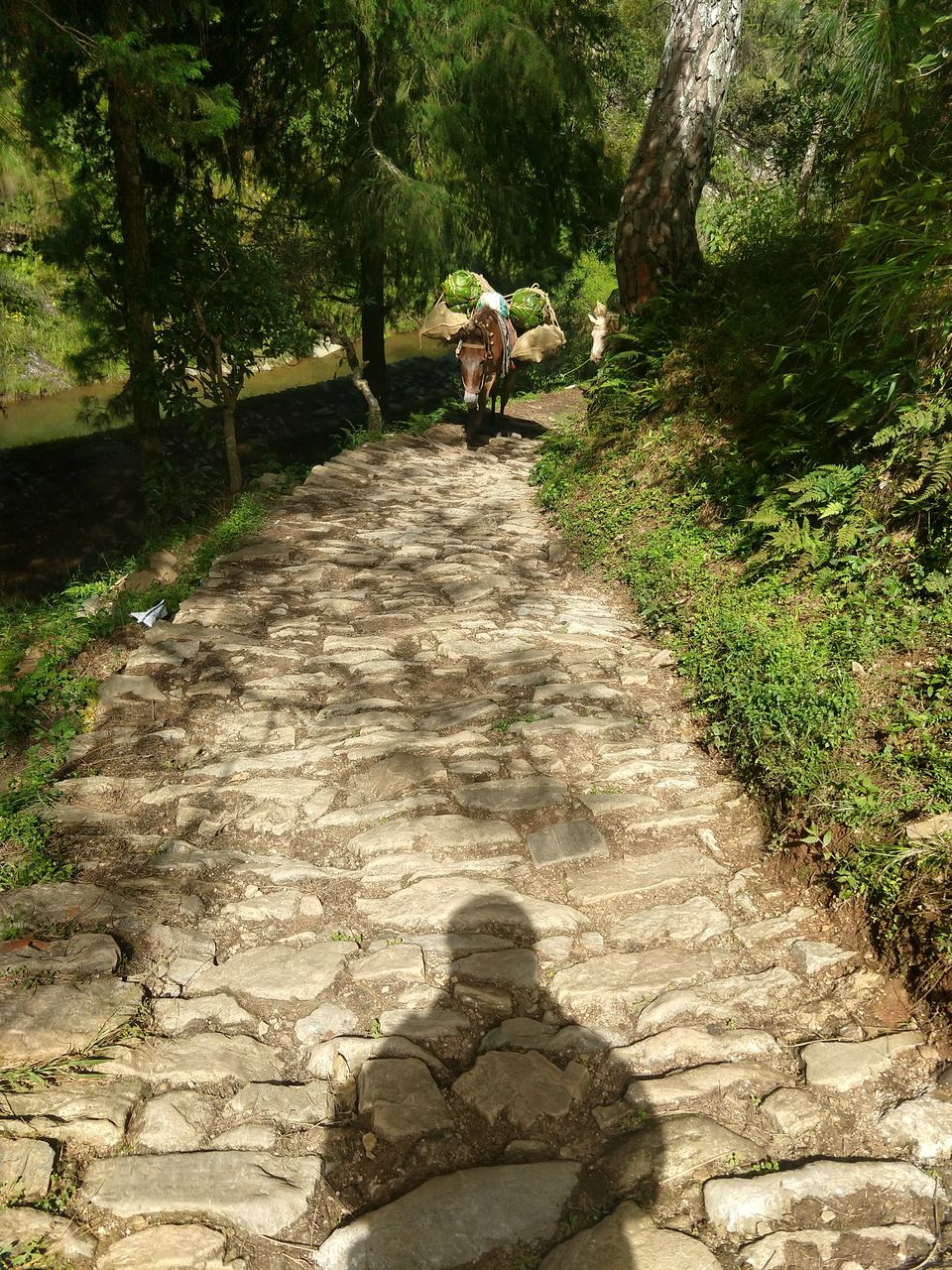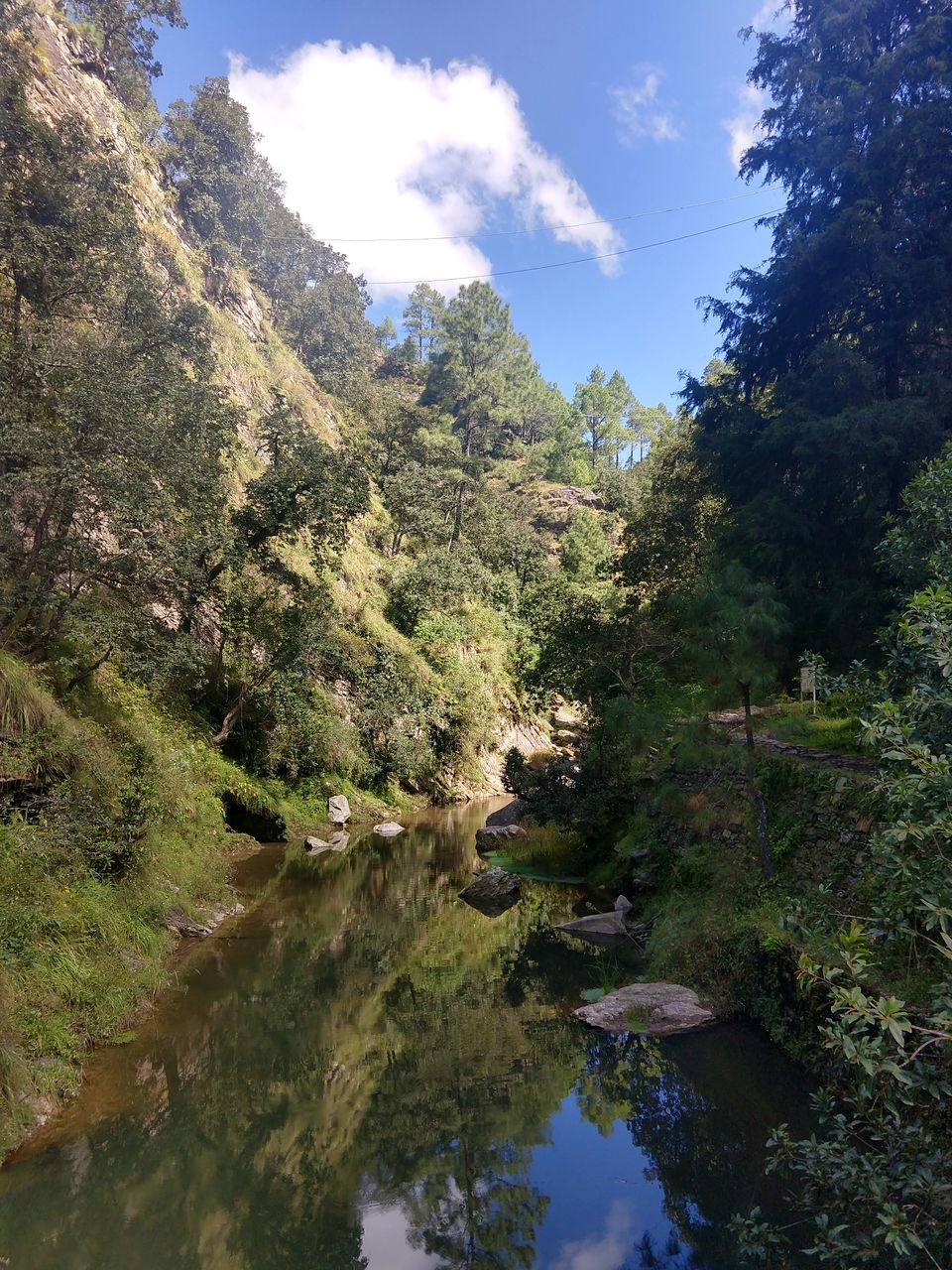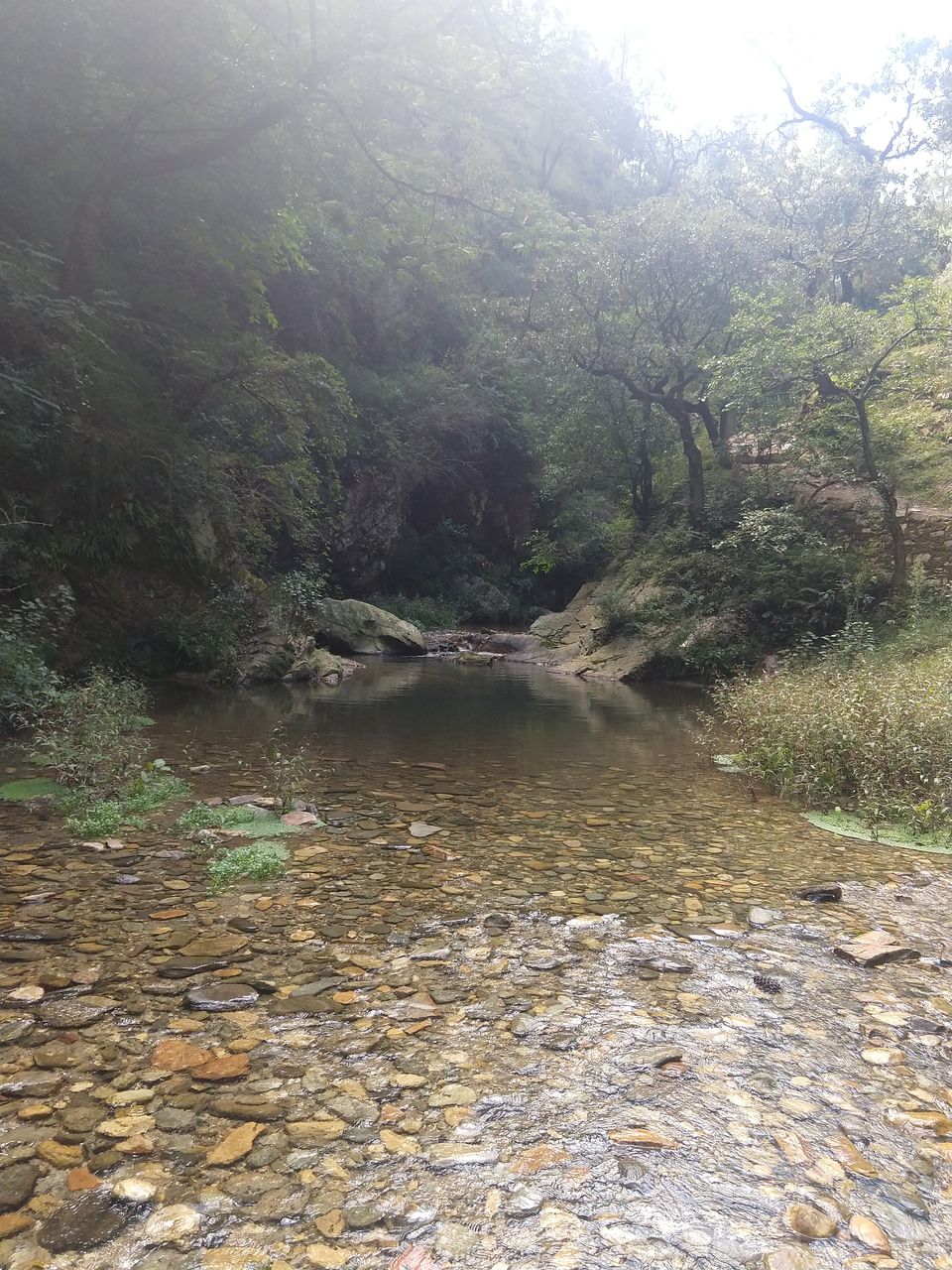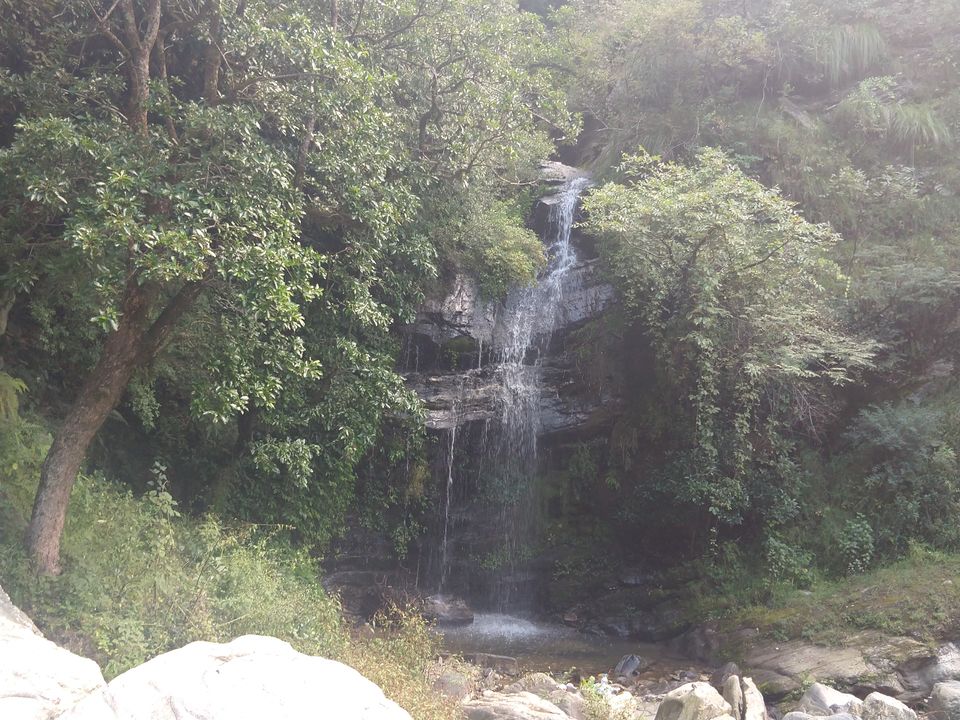 I reached the waterfall in another 30 minutes- It was a boisterous fall of water on the ground, making noise which was music to ears. I sat there calmly, looking at the fall and clicking a few snaps, when I finally spotted a couple coming. They were the first tourists I saw in the area since I had arrived, given the last week of September is completely off season there.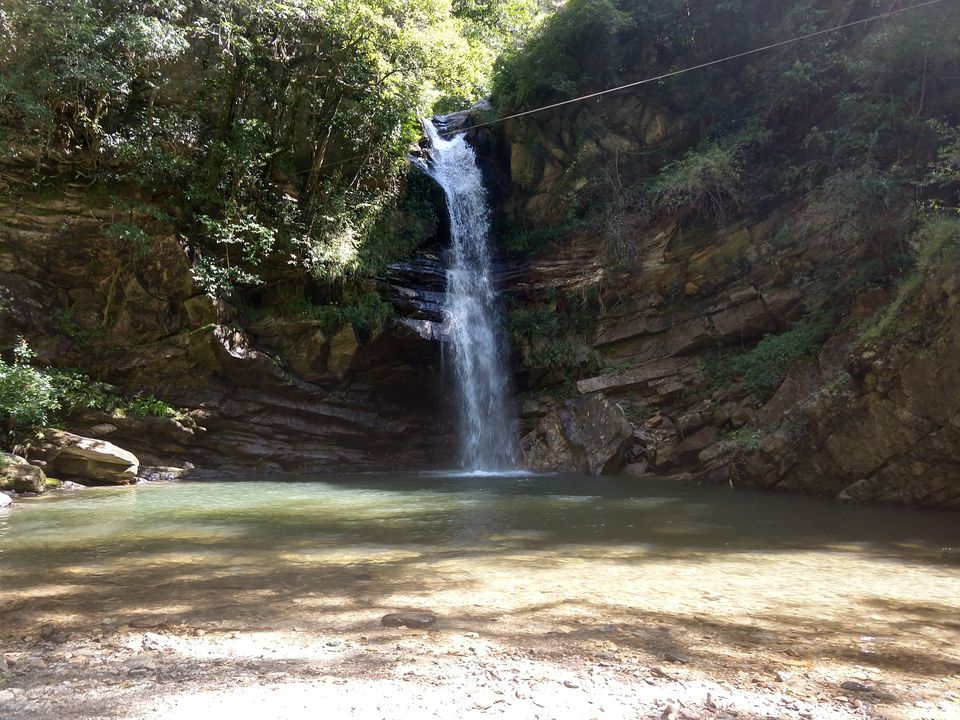 I spent around half an hour sitting and observing the falling water, before I got up to return. The way back took less time, despite upwards elevation, and I reached the entrance of waterfall in 20 minutes (given I wasn't clicking any pictures on my way back). I then started my upwards journey to the hotel. This time, I asked a person if there was any shortcut of going back walking, and he suggested a small path cut on one of the mountains, which would directly connect me with my place of stay. I took the diversion, and after around 10 minutes I realized that I was lost. I had been in this situation before, hence I remained calm and slowly traced my way back to the main road, and decided to walk the longer path to safely reach my destination.
Tried capturing some beautiful sights on my way back-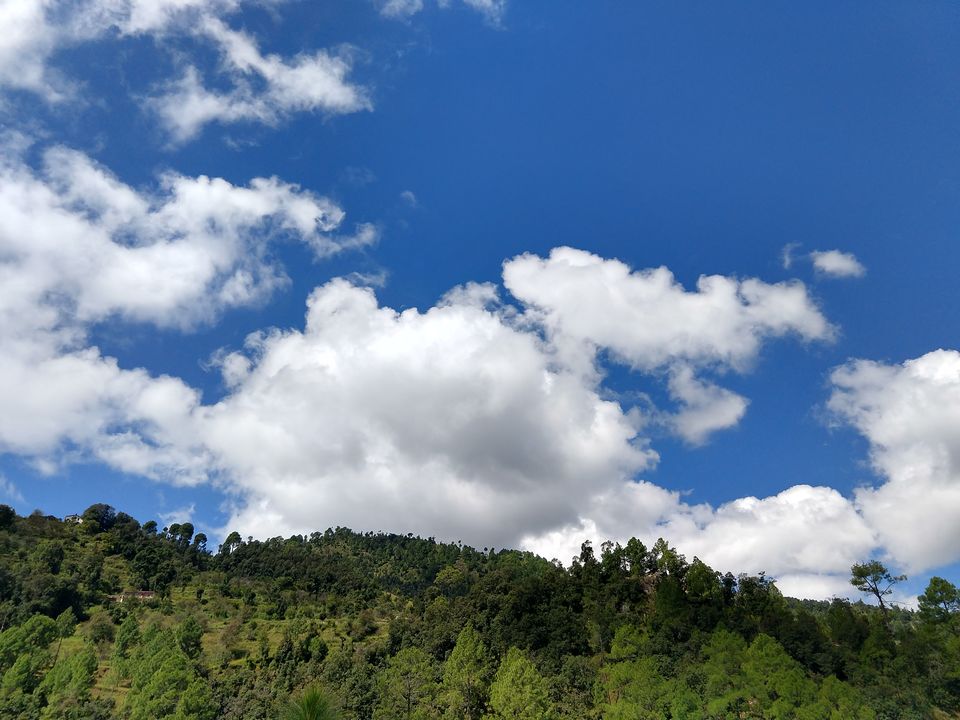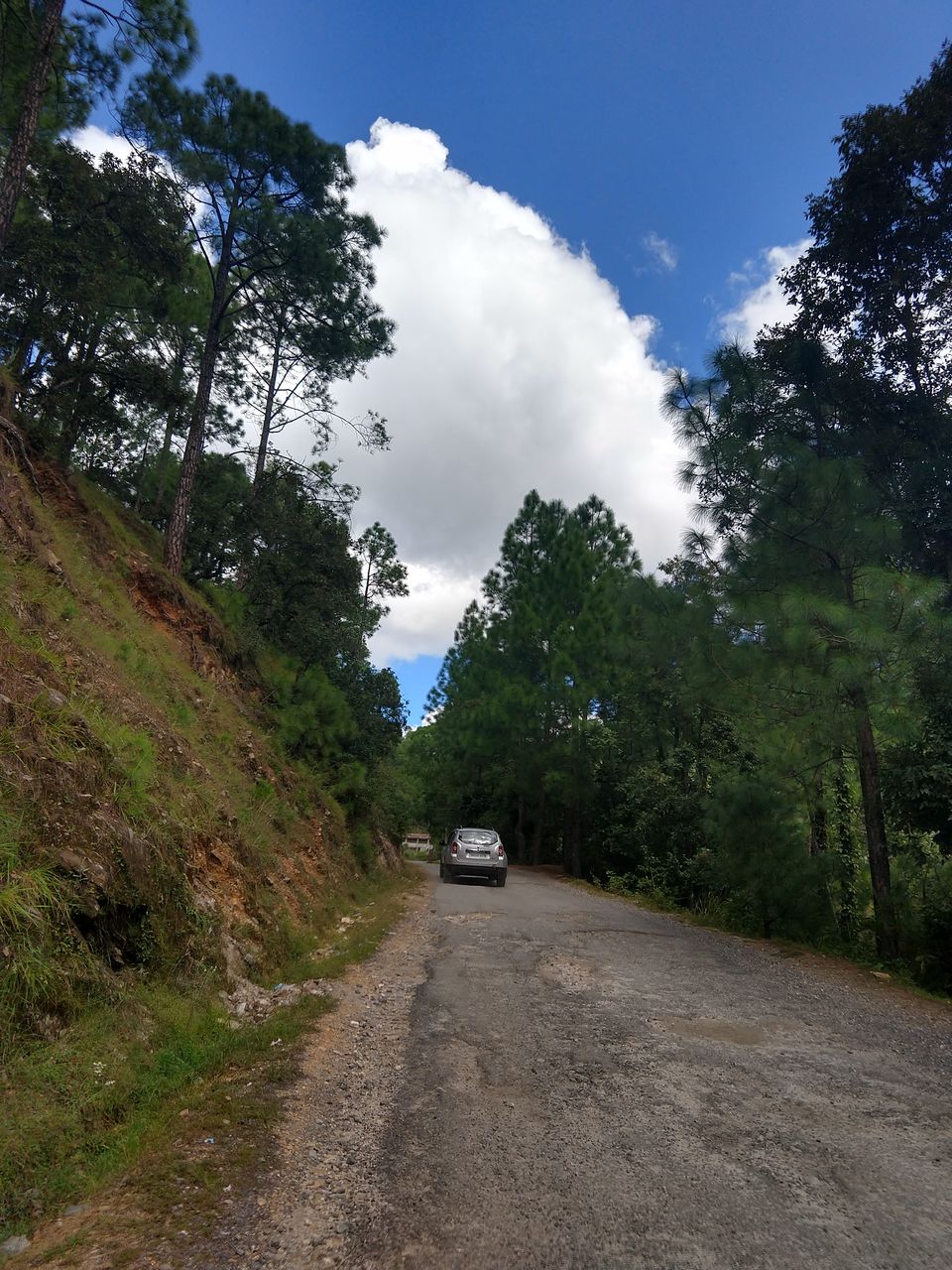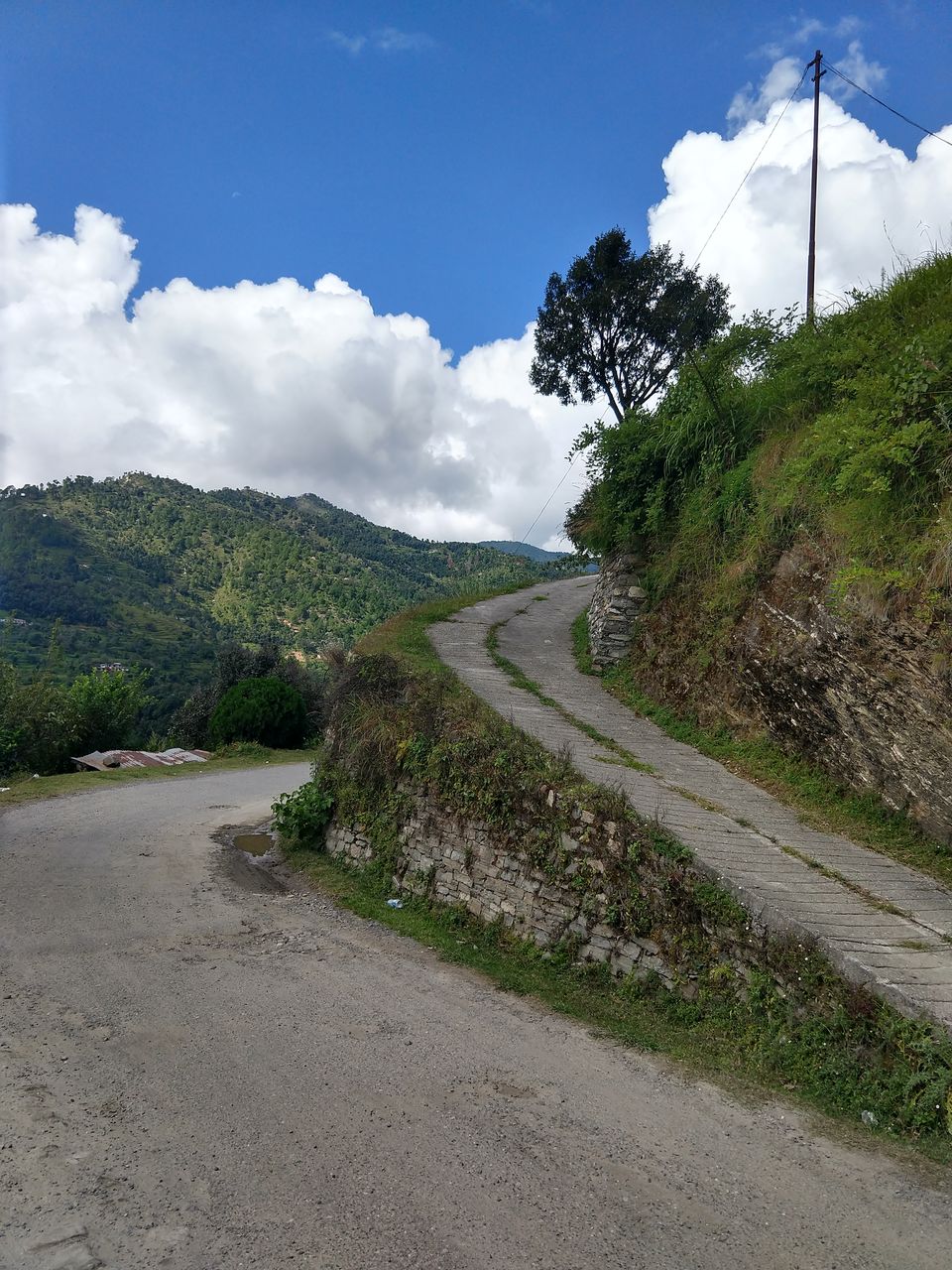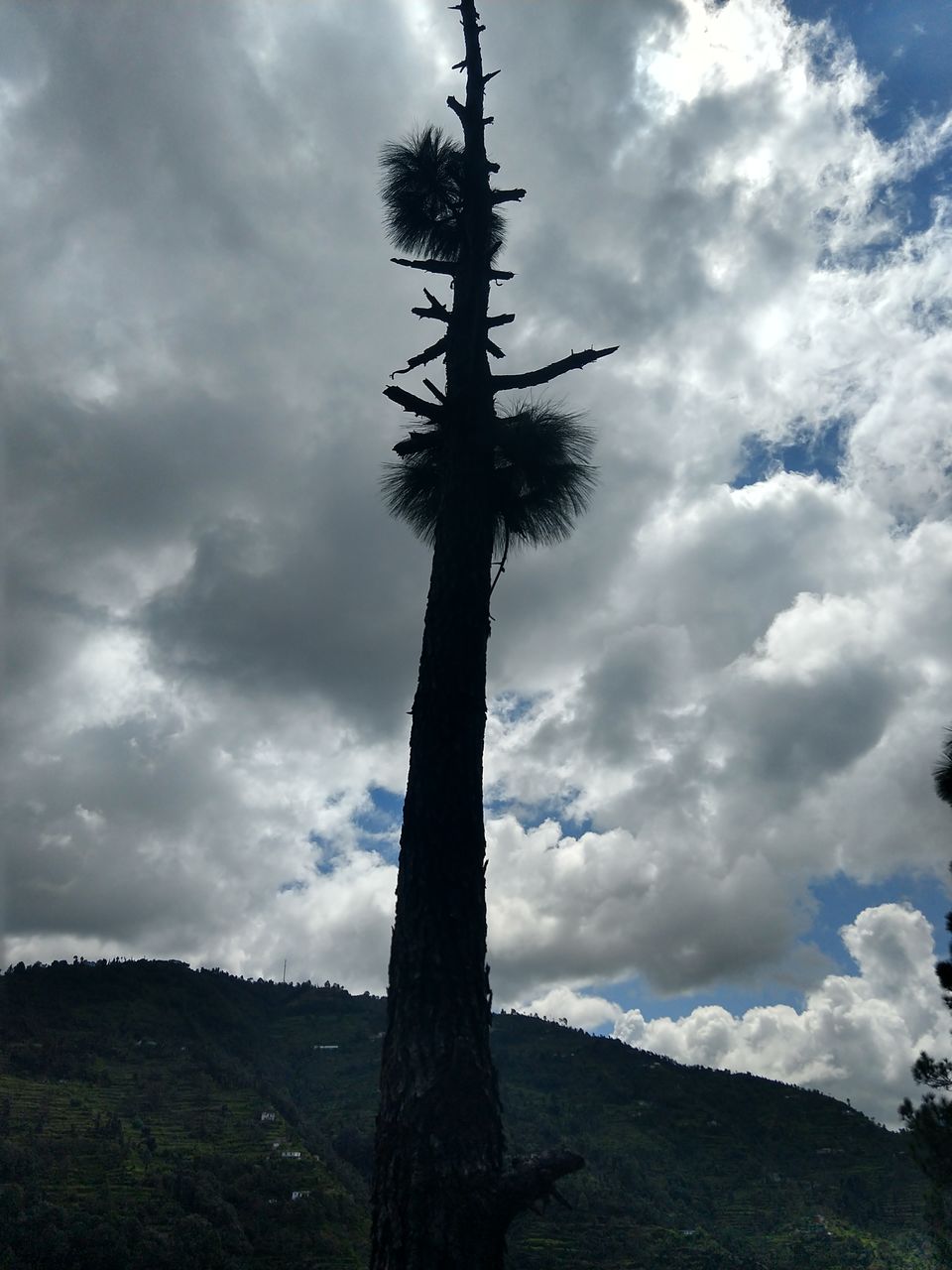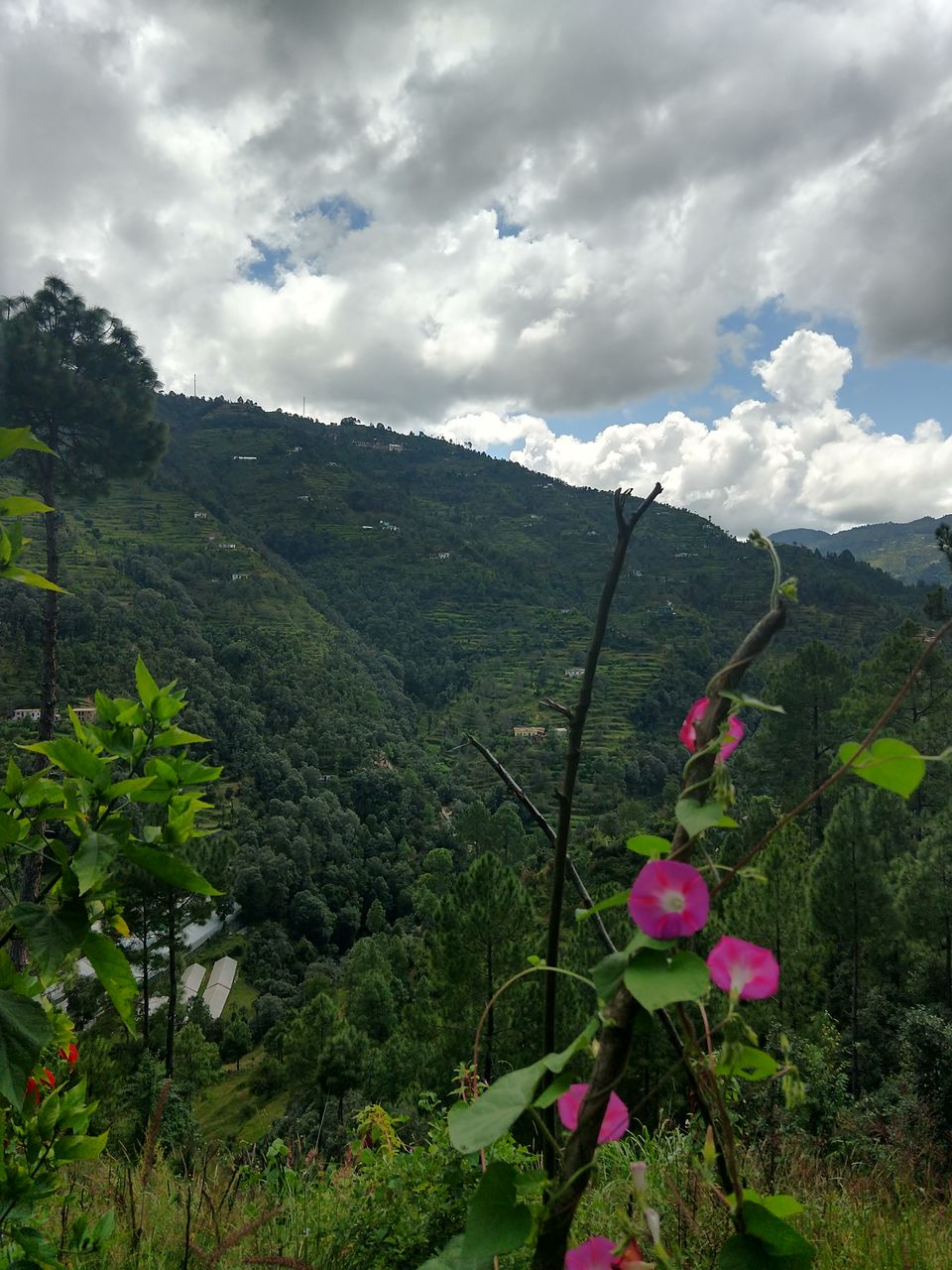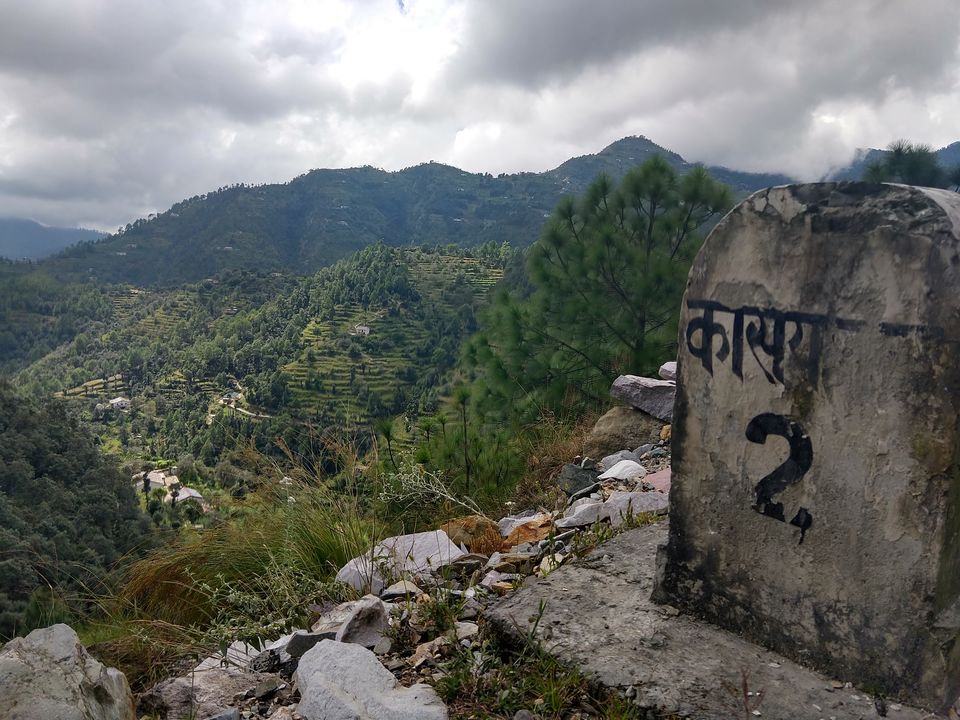 It took me 2 hours to bet back, given it was a hilly ascent. The mobile network was on and off, but I was glad I had a lot of songs saved on my phone, so I played them in the background to keep me going. It is very dangerous to use headphones while walking on hills, especially when alone, given the roads are narrow and vehicles like mini-trucks do not have visibility of the person walking right behind a sharp turn awaiting them.
I reached my hotel back by lunch time, and entered my room, tired and worn out. The weather was amazing with a strong wind blowing, so I opened my balcony door and room's main door to let the wind flow through my room- It was refreshing to sit on the bed and let the cool breeze hit me while sipping some tea. I had my lunch and took a nap. As it turned out, the nap lasted for 4 hours and I woke up in the evening to realize the sun was about to set. I was glad I didn't have any other plans for the day. I then read one of my books while listening to some music till dinner time. The terrace of the place I was staying at had some lights on, and I went up to plug in my earphones, listen to music and simultaneously digest my food while walking. I looked at some flickering lights on the hills around- It's fascinating that one could count the number of houses on any hill easily at night, by looking at these lights. I went back to bed in an hour.
On my third day, I finally decided to go to Mukteshwar- which was 6-7 kms from Kasiyalekh (the place I was staying). Mukteshwar has a couple of places to visit, but I decided to go to only one of them- Chauli Ki Jali. Also, this time, I decided not to be very adventurous and took a bus uphill, to avoid fatigue. There are very few options of public transport in the area, actually limited to a local bus that arrives at around 10:15 am at Kasiyalekh, which drops you at Mukteshwar in around an hour. The same bus comes back after 2 hours. However, since I had plans to walk back, taking the bus was out of picture.
I sat in the bus and luckily got a seat near the wind shield, so was able to enjoy the view for an hour, at just Rs. 1o :). The thing about hilly areas is- If you are not using public transport while staying there, you will end up spending thousands of bucks in hiring private taxis. Hence, it is advisable to try and cut some corners around transport expenses (unless, of course, money is not an issue at all!).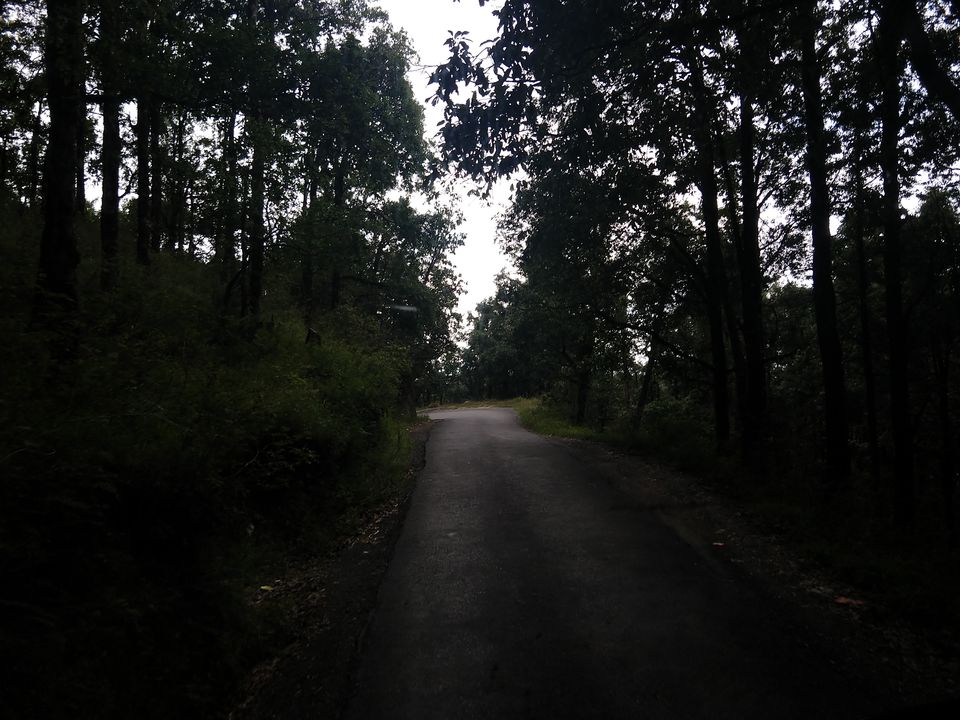 I got down at Mukteshwar, near a veterinary institute and an SBI bank. Interestingly, in the entire area around Mukteshwar (which is 15-20 hilly kms, easily) there is only one ATM, which is at this bank. Hence, it's better to carry all the anticipated expenses in form of cash before leaving Kathgodam.
It was around a 600 mts. walk to Chauli Ki Jali form where I got off, and the weather was really amazing, hinting a rain but not actually pouring it! I finally saw some tourists apart from me, and I then marched towards my second destination. The weather became kind of misty by the time I reached Chauli Ki Jali, and then the mist fade away slowly. The view was breathtaking, with stone cliffs seemingly hanging and protruding into the air at such height, hundreds of feet above the ground level, amidst the green hills and mist.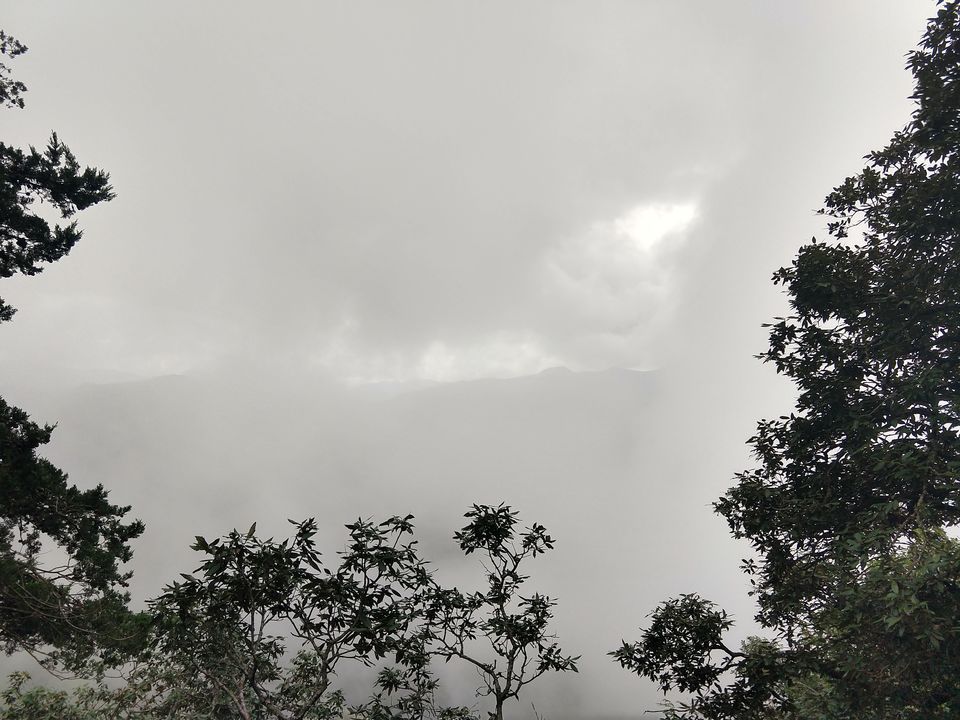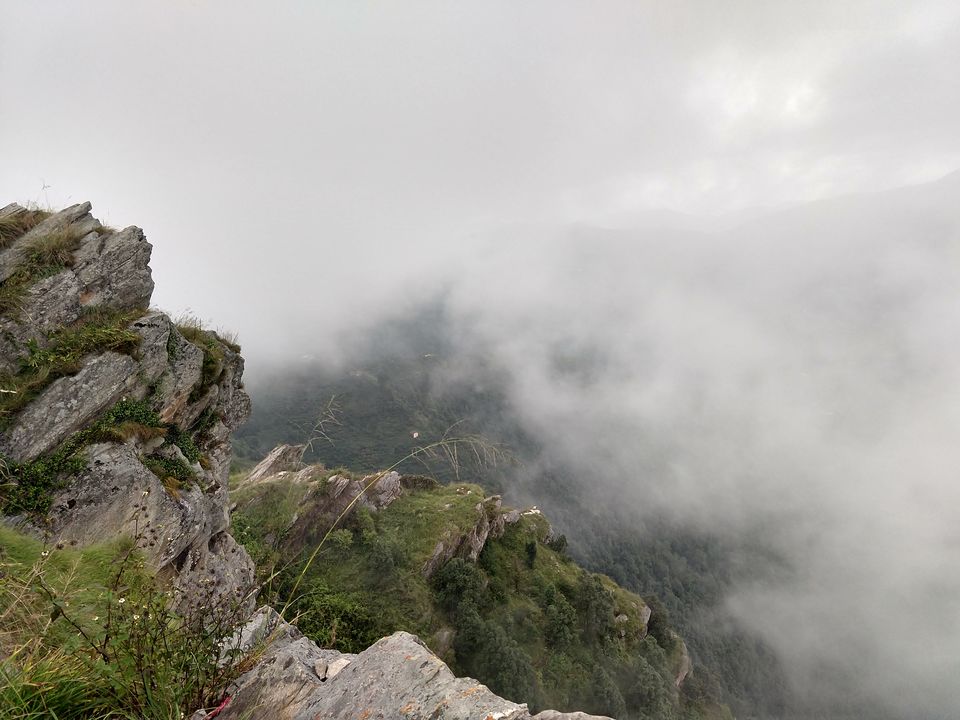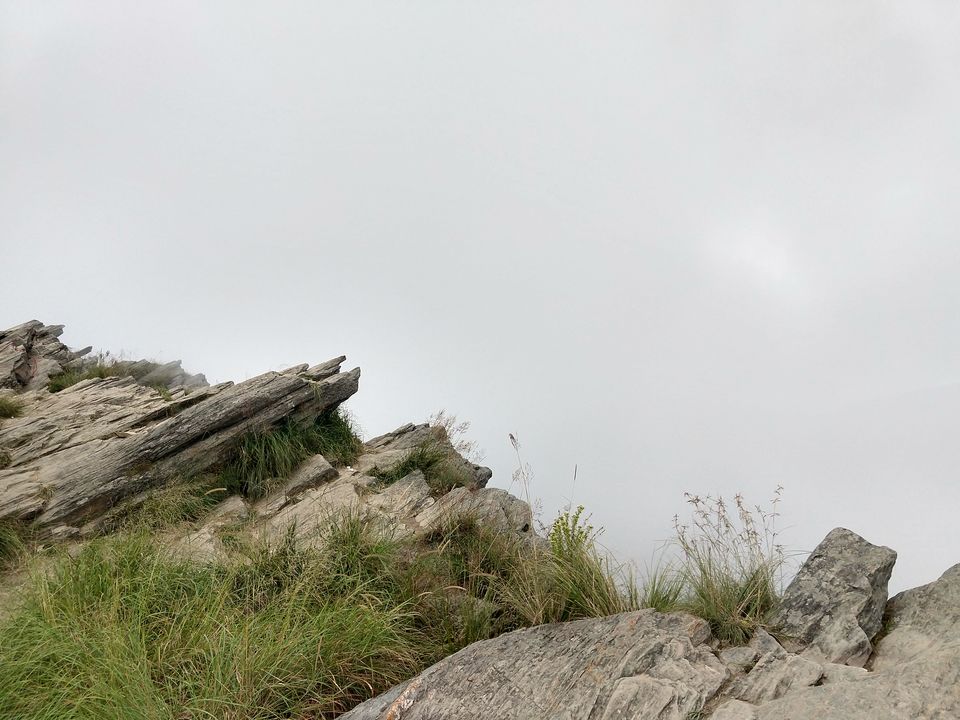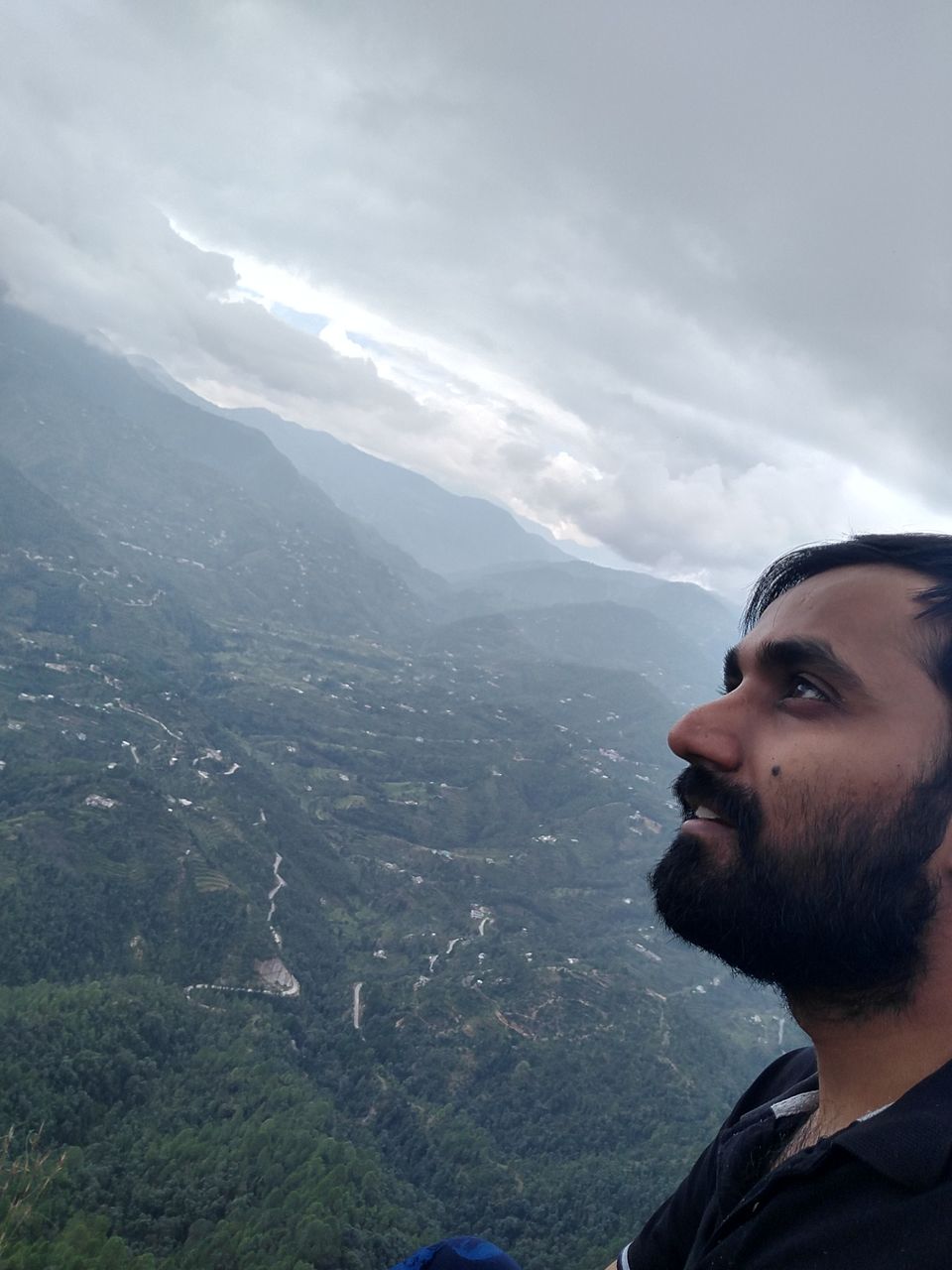 I sat on one of the cliffs and looked down to realize the height I was sitting at. It was both amazing as well as scary. I didn't dare to click any selfies sitting on the edge, hence retreated a little back and then did so. Apparently, there is also a suicide point at Chauli Ki Jali, which looks like this-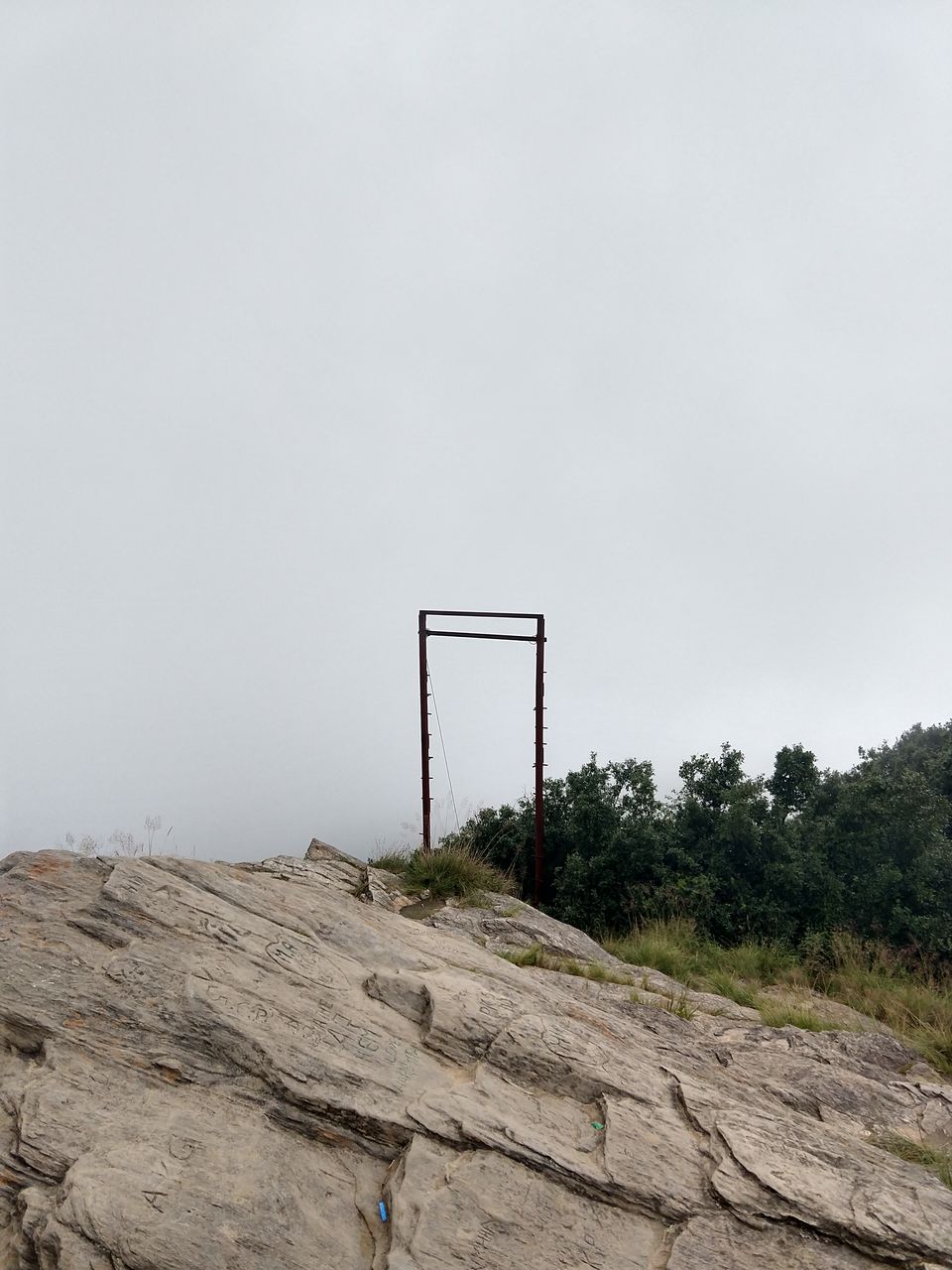 Not sure who committed suicide at such a wonderful place! A group of ladies there asked me to click some photographs for them. In return, I asked them if they would mind if I played some music on my phone, and they were fine with it. I started listening to 'Tera Zikr', and suddenly they all started staring at me. The lyrics of the song go like "Mere khone ke baad ek din, tum mujhe yaad karoge", roughly translating to "You will remember me one day, after you lose me", I guess they were scared I was the next to commit suicide there. I paused the song and plugged in my earphones to spare them any confusion.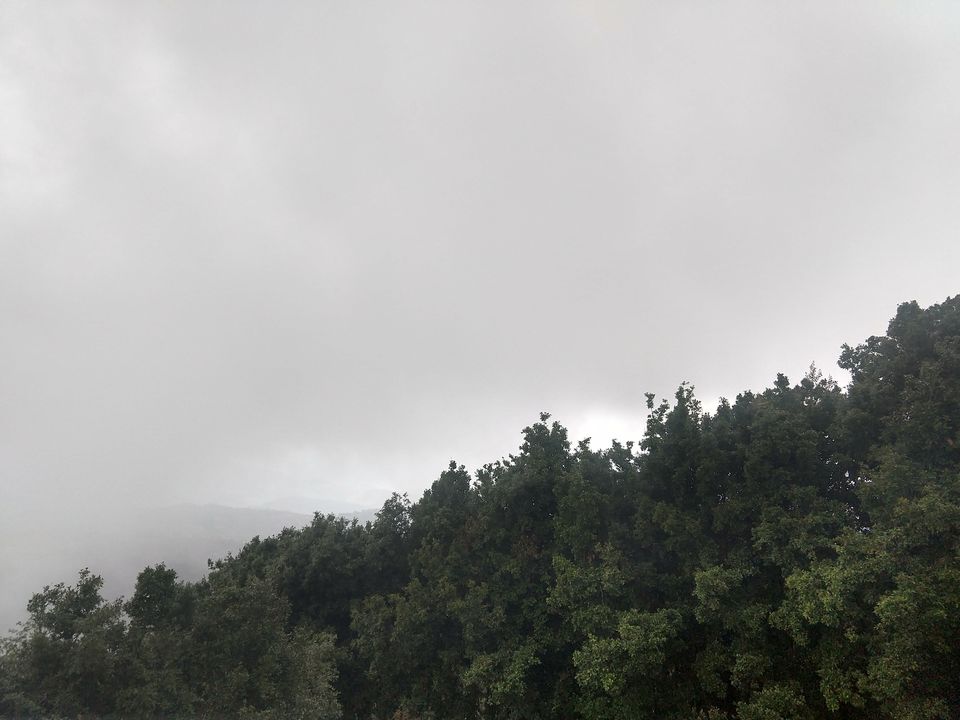 I sat there sipping some Coke (there was a small dhaba up there) for an hour, and then started my descent again. I planned walking down the whole path this time.
One very important thing to note- Google maps CANNOT BE TRUSTED on the hills. They aren't just a little off, they are way off (by kms). I planned to go to the TERI Himalayan Center (the place I had stayed last time I went to Mukteshwar), and the maps directed me to the middle of a jungle, seemingly going nowhere. Luckily for me, it was day time and I wasn't very far from the road, so I decided to get some local guidance.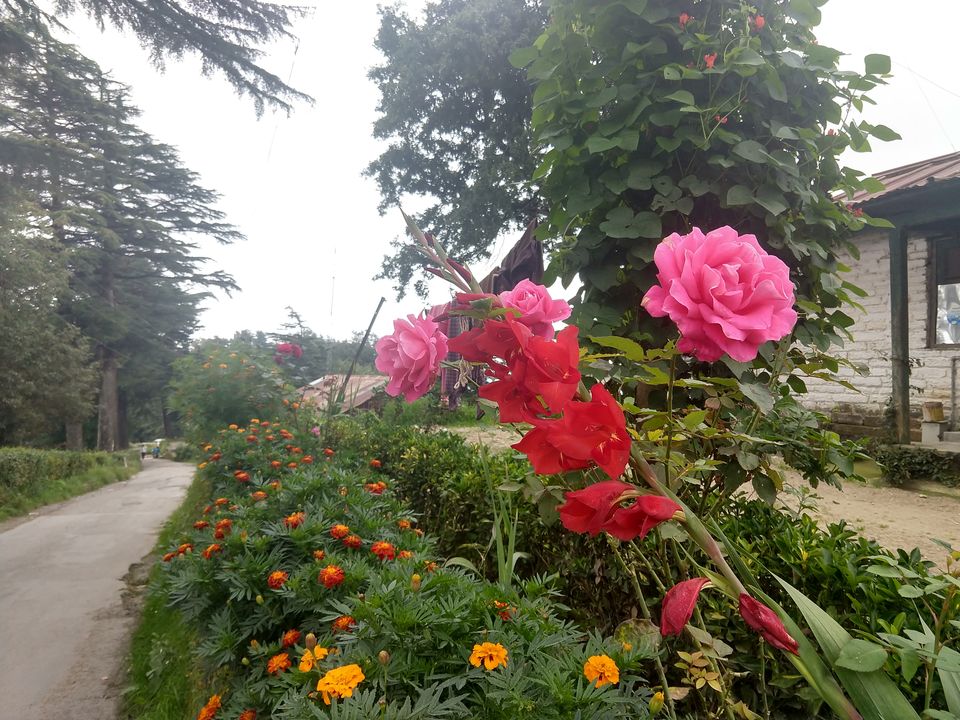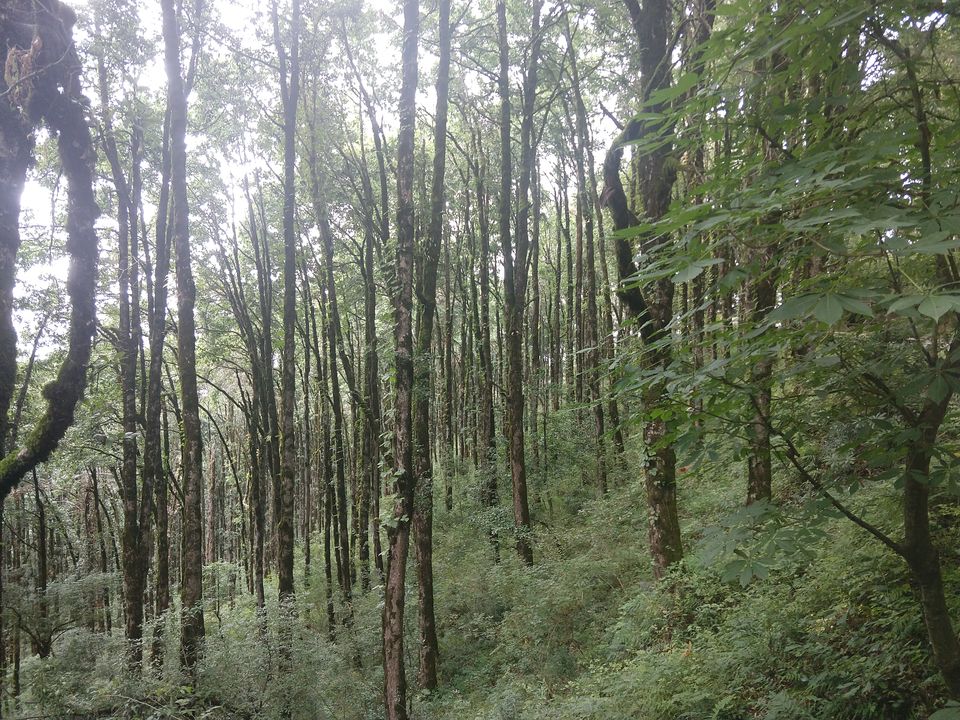 The way from Mukteshwar to Kasiyalekh was very refreshing. The roads had tall trees on both the sides, and a cool breeze coming and going once in a while, making it very easy to keep walking. I came across a Cafe- Chirping Tales, which seemed like a cool place to sit, relax, rest and have a snack before resuming the rest of my journey. The interiors were pretty cool with some English songs playing, but I preferred sitting outside and having a cheese maggi and a cold coffee. When I was getting my bill printed, I saw some delicious desserts and different types of jams kept near the counter. I tried a couple of them, and liked the plum jam and carrot cake the most, so got some packed to take back home.
I continued my descent and reached Bhatelia, a place around 2.5 kms before my hotel. I then inquired about the TERI Himalayan center from locals there, and they told me it was very near to where I was. So, I walked another 500-600 mts to reach the place. I met someone known there, had coffee, and then headed back to my place.
After an exciting yet tiring day and a long walk of 9 kms in total, I reached my hotel. The care-taker asked me how my day went, and why I didn't visit the famous temple in Mutkteshwar. I told him I couldn't go everywhere he had recommended, but had fun wherever I ended up going.
I had my dinner and listened to some music, read my book and dozed off early.
I had already asked my driver (the one who dropped me to the hotel from Kathgodam) to come and pick me up the next morning. Since he had to specially come for me this time, he charged INR 1,200. I made my payment at the hotel, bid adieu to the hotel staff and headed off to Kathgodam.
Since I did not want to take any chances (by getting delayed), I reached Kathgodam 3 hours early. While the railway station was very pretty and I enjoyed standing on the overhead bridge to enjoy the view for a while, I decided to find a cafe nearby to kill time.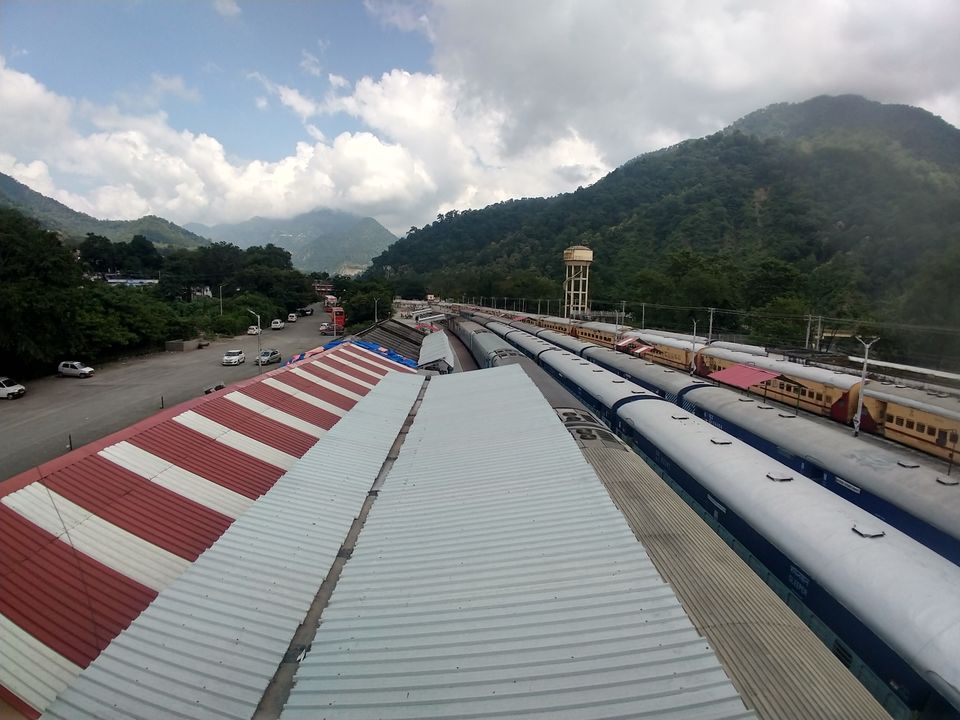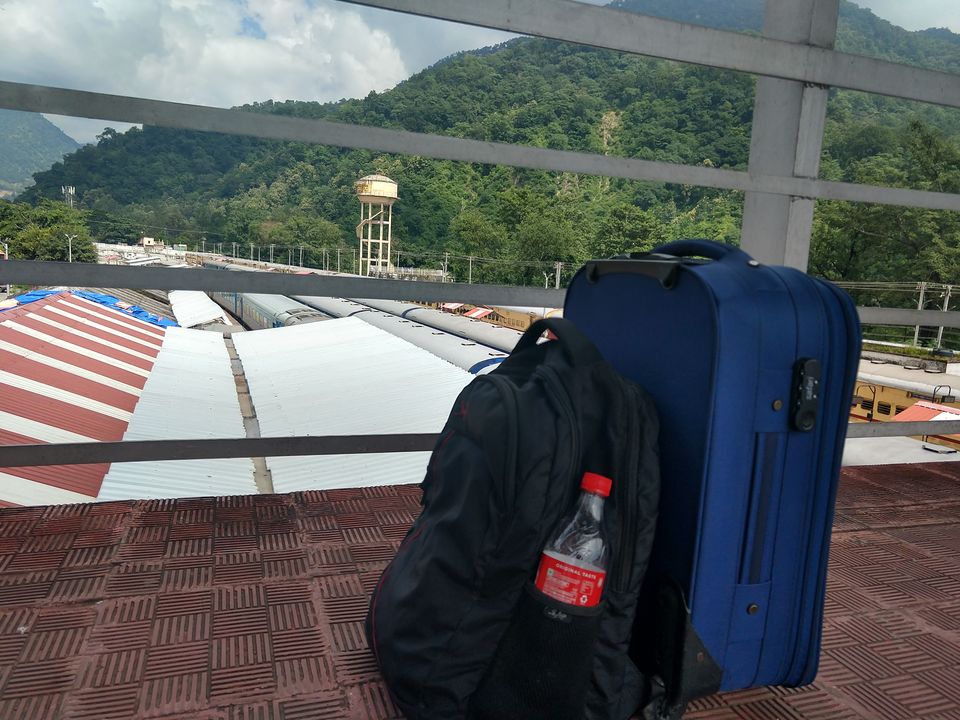 It was tough, but I finally located a small pizza place at a walking distance from the station. I sat there, had my pizza, watched some series' episodes on my laptop till it was time to board my train.
The journey finally came to an end, and it was a wonderful and relaxing experience for me. I realized enjoying one's own company and not caring about ticking off everything in a list makes a trip more memorable, and it was an incredible experience I would cherish for a long time. I wish replicating this in South India next time, maybe to use language barrier as a challenge! :)