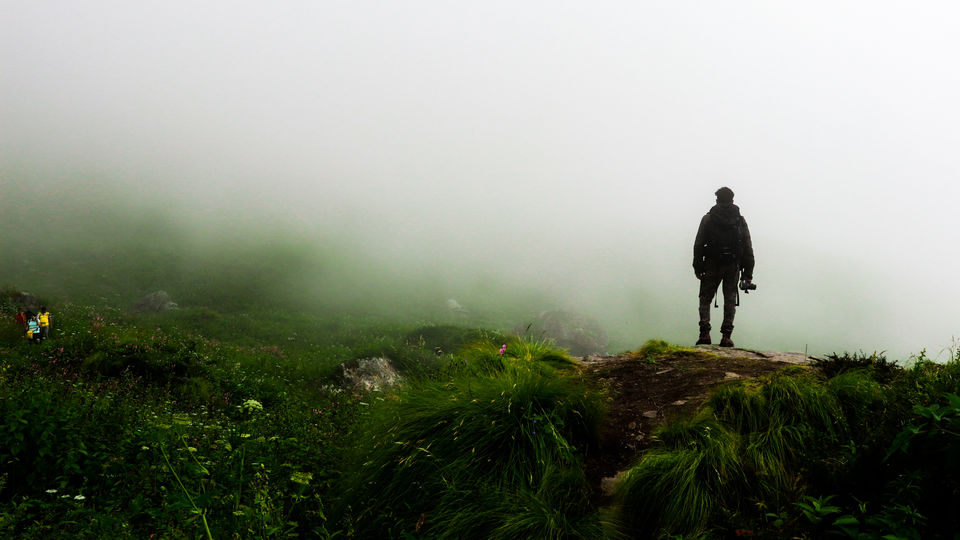 "What you people get after doing all this," says a (Daroga) police inspector.
I and a friend of mine started our journey from Dehradun at 8:00 pm. The destination is a place i had always wished to visit but till now didn't get any chance. Its a place that every traveller have in his bucket list,and most of them have visited it. It is VALLEY OF FLOWERS. A trek in the west Himalayas in the state of uttrakhand and is declared as world heritage site by UNESCO.
I was in a hurry as i completed my office work and rushed towards my home and we both started our journey, we have to reach rishikesh as soon as possible as there were 2 of our friends waiting for us to join. we reached rishikesh a bit late and without any delay all 4 of us continued our ride it was around 09;30 when we were in the outskirts of rishikesh approaching towards our primary target to reach joshimath by 2;00. it was such a pleasant weather on the way the all clear sky with moonlight guiding us the path, the cold fresh air is giving us the reason to travel to the end of this road it was all magic in the air, we were exactly on schedule, stopped for dinner around 11:30 somewhere near devprayag. The taste of simple daal roti sitting under clear sky was so pure and with that watching how the moon plays hide n seek with the clouds is just a moment to be paused, but as we already had taken a break and doesn't want to lack behind the schedule so we hurried up and we were back on the road. it was all going well according to the plan and had just traveled not more than 10 mins, all of a sudden we were stopped by the police at a check-post. we were asked to show our IDs and were questioned by the inspector in-charge on duty, we explained each and every thing to him and he was curious to know why we do all these type of riding as we were on bikes and have been travelling at night. we tried to make him understand about how much we love travelling but he still had different views on it, he allowed us to continue our ride only at one point that we have to pull off for now and should stay anywhere near, it was 12:45 am in the night and we reached srinagar standing in the middle of the road. Approaching to the hotels for a room but sadly didn't find any luck,we stuck in between wanted to carry on but majority from us are also in a favor to have some rest and continue it tomorrow but were not able to find any place, and just then the god helped us as if he also wanted us to have some rest. we saw a board directing us towards a gurudwara, we followed that path and lucky we found a room for a stay, we quickly entered in the room had some food and were so much tired that we didn't even took mins to fall for a sleep. That's how our 1st day was of this journey.
DAY 2
Next morning woke up at 6 had almost 5 hrs sleep, had langar at gurudwara got refreshed with the chai we had there,still remember that taste of it. A big salute to the community and these noble souls serving people all across the country with an aim "RECOGNISE THE WHOLE HUMAN RACE AS ONE".
We left for the journey ahead it was a feeling that can't be defined with words, the cold and sudden change in altitude showed us one of the beautiful sunrises that we have encountered till now, its the river alakananda flowing in deep below that has given some crazy shots to capture. we were on our schedule and were expecting to reach govindghat by 1 or 2 max. But an unexpected event took place near chamoli as we reach there we found a fresh landslide happened early morning on the very same day, the road was completely blocked. For an instance i saw our trip canceled right at that moment. But then we got our-self cooled and thought what could be done now, options were very clear either to go back cancel the trip which was eventually moved aside within seconds, none of us agreed to that we asked the locals about any old route to connect the other side of the road and luckily found a way that goes through a village that connects the other side of the road , the only issue left now is what is pretty risky, we have to leave our bikes there only and continue our journey with public tranport. we discussed and mutually decided to park our bikes at a parking and people from that place were also supporting us in this as one of them agreed to kept our helmets in his shop till we return back. With this postivity we continued our journey and from the village route we crossed the landslide area and jumped into a public vehicle that will take us to joshimath from there we have to hop into another passenger vehicle till the check point that is govindghat. The journey of this public vehicle was all new experience all together the views and with that the locals having their conversation in there own language and we were guessing about it. Eventually we reached govindghat but almost 3 hrs behind the schedule and this resulted our schedule getting more complex ed we took rooms and tried to get as much rest as we can ,Because next day is going to be very hectic for us.
The day was started with a drizzle we woke up at 5 to start our trek but got a bit late due to rain that turns out to be heavy after that little drizzle, we had a scheduled plan of our whole day, but eventually it didn't started at what we had decided ,we were almost 2 hrs late of our scheduled and we thought it will effect our whole plan.
The trek was a 13 kms big it was like 10 kms from govindghat till ghangaria and from there it was 3 kms to valley of flowers, another route was there for hemkhund sahib that was 5 kms from ghangaria but we didn't had much time so we decided to go for valeey of flowers, a 10 kms trek would take around 6 to 7 hrs and i had been to valley of flowers before, it took us around 7 hrs at that time also so we thought it will take the same this time also, biut what happend after that was remarkable , we were so amazed to see that we all had completed the 10 kms part of the trek in just 3:30 hrs.
Yes you heard it right almost half of the time what we were expecting we reached ghangaria at 10:30 and we got rewarded for this by knowing that the last entry time for visitors is 11, we were so lucky that we reached just on time.
And in between all this i met my dearest friend from college Bipin, well said by someone "world is a small place, all possibility is there to meet a known person at a very unknown place".
we started our further trek at around 11;00 am and it took around 2;30 hrs for further 3 kms and boy ohh boy it was so amazing so amazing to see the beauty, such a treat to watch. everything was so pure so magical it was like to stand still and just admire it, the path,the waterfalls, the weather, the natural barriers caused by water sourcing from waterfalls gives that extra excitement and the adrenaline rush all things were making us fall in love with the place and as we reach the exact place it can't be explained in words it was refreshing, a place where you just forget all your busy city life all your temporary issues and just live that present moment, soak all the positive vibes and with that attitude we spend a good 1 to 2 hrs and started returning back towards ghangaria it took around 2 hrs till there and around 5:30 we started coming down back to govindghat.
All of us were charged up after such an amazing time spend and wanted to reach back till joshimath as soon as possible on the very same day but soon we realized not everything goes with the plan,
one of the member of our group just got his ankle twisted and it decreased our speed its almost night and we were in the middle of the trek soon the light will be gone, so we decided to split in two groups 2 of us continued and will try to hold any vehicle so that it can take us ahead and the other 2 will come on a slow pace.
we completed our trek and somehow managed to hold a car that will take us ahead but the other two were still on the trek, they finally reached after almost 1 hr we all wanted to get to our bikes as soon as possible and were expecting that the landslide that happened was cleared by now but were informed that the route was still not cleared we were a bit shocked and at the same time were feeling quite lucky because at that time we realized that we were actually saved by the police officer that advised us not to drive at night and to stay at some place. had it been very difficult for us if we had continued our journey and had crossed that place were the landslide occurred and then we could have got stuck at that place. That time we realized why all these people always keep advising everyone not to drive at night especially in mountains. we some how managed to reach to the place where our bikes were parked and continued our journey back to dehradun on the next morning.
It was a memorable trip in every sense, be it the location after such a lengthy trek you witnessed some amazing nature, or be it the small incidents that occurred during the ride its all the memories that we made on each trip and above all these thing gave us one big lesson, its all in the hands of nature you never know what can happen next its better you do all the preparations and what is on your part and respect nature let the nature be kind enough with you.
KEEP TRAVELLING KEEP EXPLORING.