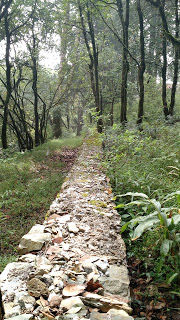 This was our second day of trip to Nainital. Continued from Day 1.
The clearest way into the Universe is through a forest wilderness. - John Muir
And this is exactly what we did! The idea of wandering in the wilderness excites hubby and me both. Avid nature lovers that we are! We had planned our second day in Nainital for trip to Kilbury and Pangot.
Located at ten kilometers from Nainital, Kilbury is a protected forest area spread over several acres of land. Kilbury sanctuary is home to numerous species of flora & fauna and also makes a great place for jungle trekking, bird watching and adventure.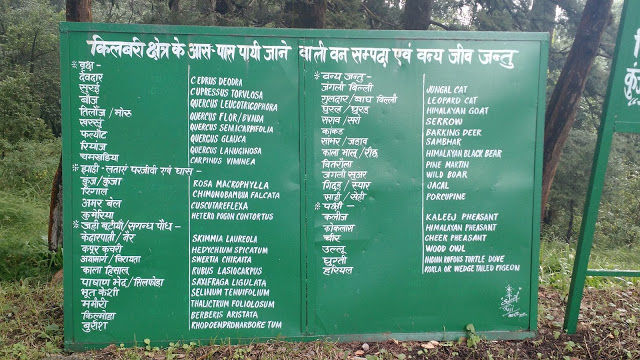 The day was cloudy, but that did not deter us from visiting the place. As our cab sped through the silent, unspoiled, unexplored roads, the cab driver narrated stories of wild animals often frequenting those routes. The thought of bumping into a wild animal in Kilbury, that too without a guide, scared us a bit but we carried on, leaving everything to our destiny.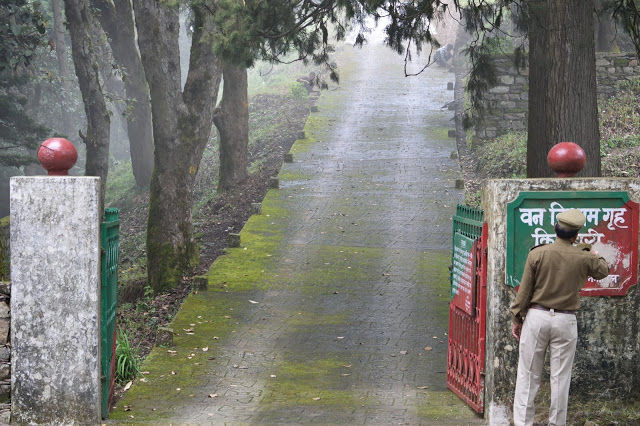 The long drive ended right in front of the Kilbury Forest Guest House which was under renovation then. The officials would not have let us enter the forest if our driver wouldn't have convinced them. The shuffling of plant pots, scraping the moss from slippery pathway, transporting gravel and all renovation work made the place too noisy, killing our hopes to spot any bird that day.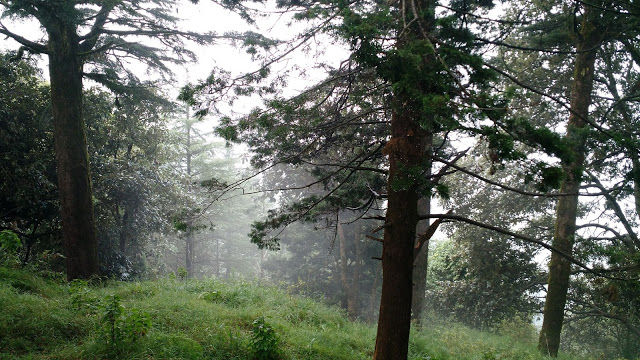 The Sun played hide and seek, making the forest cloudy sometimes and clear the other times. We made our way into the forest keeping close to the forest rest house. The uneven ground covered with green grass and heaps of leaves had made all pits and holes invisible. We took each step very carefully, trying to be as noiseless as we could be. We literally walked like a tiger crouching in the grass eyeing its prey. Well, that reminded me of the story which my friend Swalay had narrated the previous day. And here goes the short scary story- A particular specie of leopard, known as Guldaar in Uttarakhand, often stray into the tourist spots. Once when he was at lover's point, the jungle smelled strongly of burnt sack. He left the spot immediately sensing danger. News channels flashed later reportedly spotting a Guldaar in the same area near Lover's Point.
My friend Swalay's story was constantly at the back of my mind, which kept me alert all the time. The soothing weather did not comfort me, as my mind hovered over Guldaar and carnivores of its family.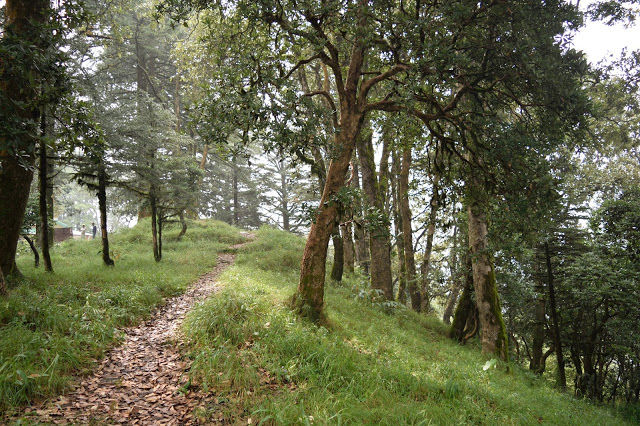 The forest land had downward slope, with no barriers or barbed wires in site. Seemed very less explored because we barely saw plastic pollution there. The rawness was enticing and we inched further, keeping an eye in all directions.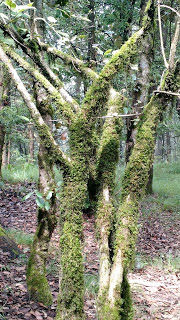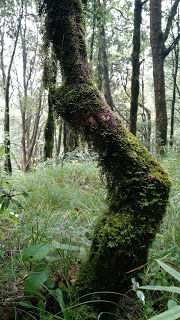 There were no birds in sight, disappointing us even more. Our purpose of visiting Kilbury seemed defeated, when suddenly a bird coo-ed. We squinted at the thick tree tops yet could see nothing.
This happened many times but we held on patiently. Well, bird watching needs patience and we better not lose it. We vigilantly looked around and our joys knew no bounds on spotting a Rufous-bellied woodpecker bird. I pointed out in the direction of the bird while husband took pictures. In no time, I played the spotter and he the shooter. We made a great team! (We always do) He clicked amazing pictures of the beautiful mountain birds. Since he clicked all pictures, I did not want to steal the credit. All pictures by him are with his name.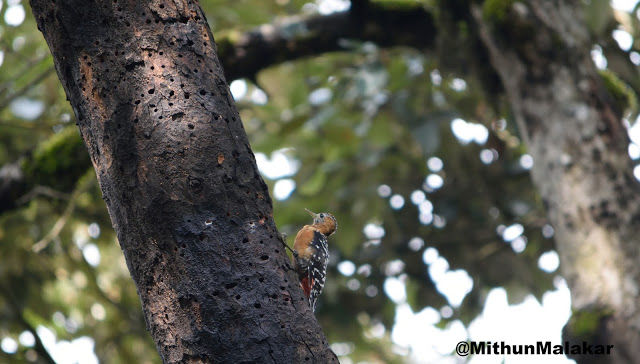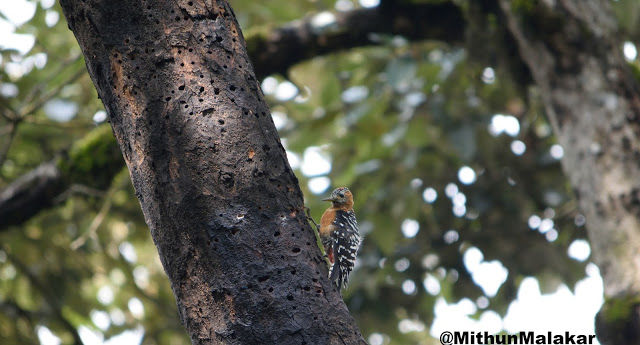 We also spotted a bird whose name I do not know. Perhaps a black throat-ed bush tit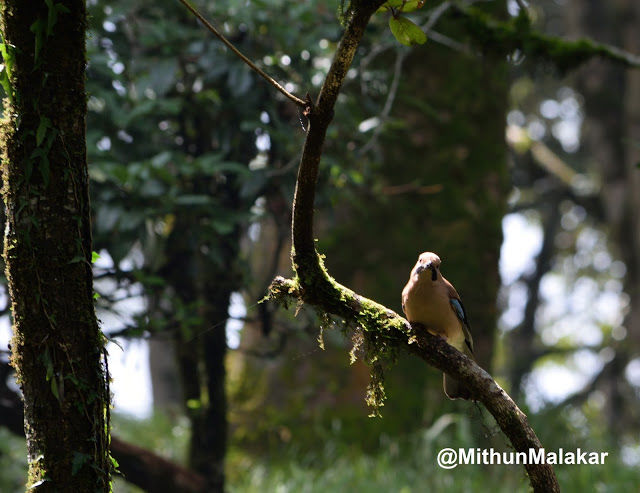 Amid the foggy trails, we observed nature blooming around us. Soaking in the pure air and looking at the greenery was sheer bliss. Husband clicked a bright bunch of jungle berries. Looked poisonous to me though.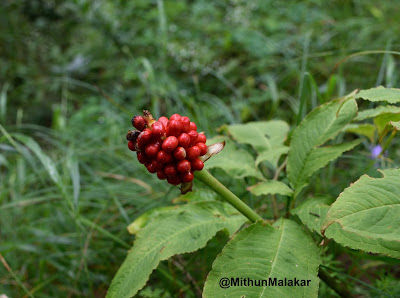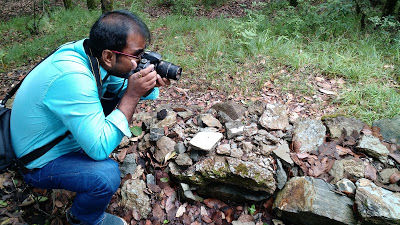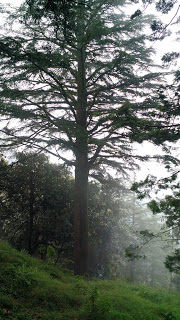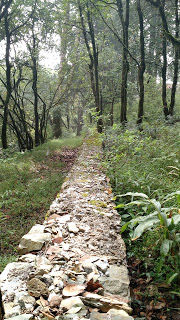 As we called it a day and walked back, I suddenly saw something black, moving rapidly. The first thought that came to my mind was a kid of the construction workers at the rest house. The black something I assumed was the kid's head. But it turned out to be something else! The black object was the tip of an animal's tail. "Holy shit!" I grasped as I got goosebumps all over my body. The tail with black tip at the end was vertically up in the air. After the tail, the body of the animal appeared. To me it seemed a hybrid of fox and mongoose. The brown animal hopped on its hind legs looking around vigilantly. Soon I realized it was a pair of them.
"Shit shit shit, what are those" I whispered in husband's ear who stood still , staring at them.
I looked down at the ground searching for a stick or stone in defense. I was very sure the animals would attack us and I was preparing myself for the action. My heart beat ten times faster. I was almost breathless with cold sweat running down my forehead. I was surprised to see husband standing calm and composed.
The first animal was followed by another and they hopped away, vanishing in the deep woods much to my relief. Woah! We later came to know those were called Jungle Cats.
We were not prepared for such surprise for sure. "Weren't you scared"? I asked him, to which he replied "I wanted to take their pictures, but they were too quick." Gosh! Too adventurous he is at times.
With a heart beating fast and an eventful day, we headed back to the rest house gate. Kilbury is superbly awesome place for every nature/adventure lover or photo enthusiasts.
Advisable for readers-
-Wear good quality sports shoes for the jungle terrain and also in case you need to run away from a wild beast. (hehe kidding)
-Wear earthen or light colored clothes. This camouflages you in the trees and does not scare the birds.
-Please maintain silence. You do not want to scare the birds away. Husband and I talked in hushed tone all the time in Kilbury!
-Have a whistle with you. It will be handy to alert the authority/guards in case of emergency as mobile phone don't get network in forests.
-Wear full sleeves clothes, to avoid mosquito or insect bites.
-No smoking please! Not good for the jungle or your lungs. You do not want to light up a sudden fire!