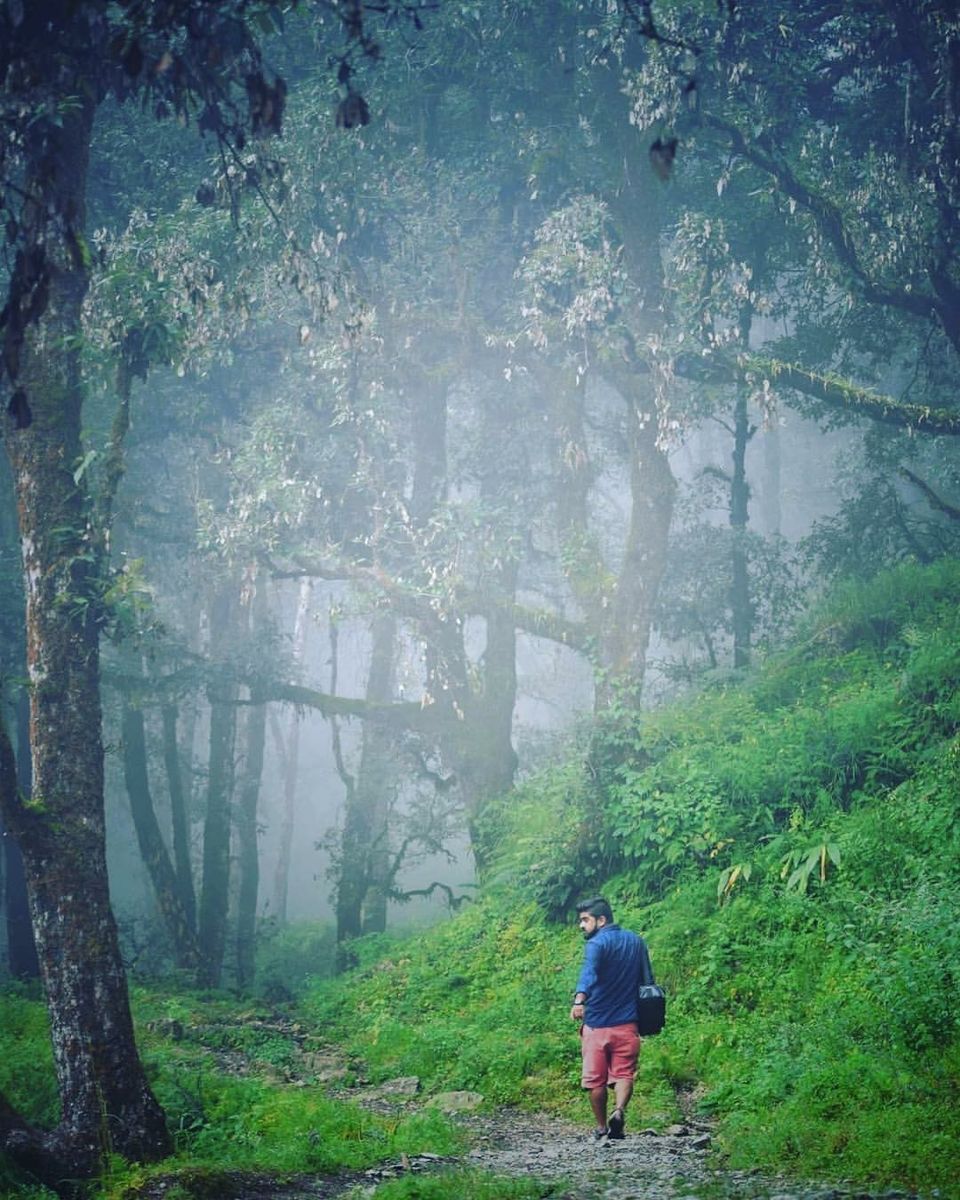 "A rainy day is the perfect time for a walk in the woods." - Rachel Carson
So here comes our first travel story from the picturesque Uttarakhand. It was monsoon and planning a trip to the hills is a bit tricky and at the same time rejuvenating. So I and my partner, Tridib decided to go to this lesser known hillstation called Pangot in the first week of September, 2016.
Without wasting much time, we packed our bags and hopped on to the bus towards Nainital. After an overnight journey by bus and half an hour drive from Nainital, we reached Pangot.
Pangot is a small hamlet situated around 15 kms from the mall road, Nainital. It is half an hour drive from mall road. Taxis and buses are available from Nainital. Pangot is known for its rich flora and fauna. It is known as the bird watcher's paradise. It houses over 250 species of birds. While passing through the forested area, one can enjoy the beautifully lined rhododendron, pine and oak trees and also hear the rhythmic chirping of birds. Pangot is one of the unexplored hill stations, not known by many, and is yet to be commercialized. One would not see many people there, only a countable number of houses and shops are there. There is only one grocery shop, a small restaurant, one small souvenir shop and a post office. And mind you, there will be no network, only BSNL works.
No Whatsapp messages & emails, Facebook, Twitter, Instagram all go silent...hinting a perfect escape from our regular mechanical life...
Kafal House -- the place where we stayed needs special mention because of its excellent hospitality, authentic pahadi food and of course, the spellbinding views.
With only few rooms, sans luxury, it's a great place to unwind in the lap of nature. We stayed there for a night. A narrow road filled with tall grasses leading to the lodge gives a countryside feel.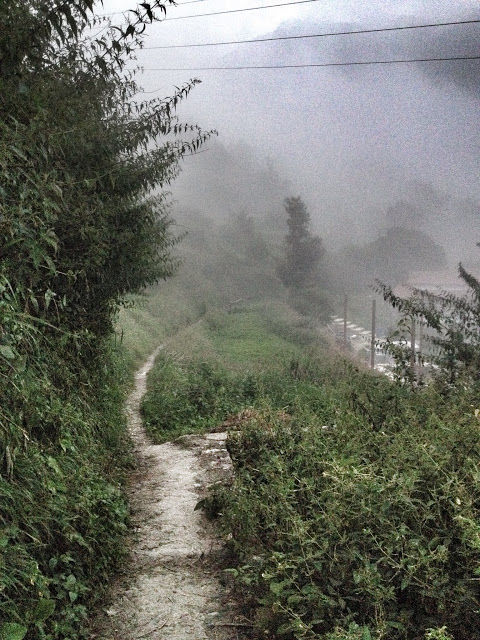 The rooms were not too big but were cozy and neat. There was no TV as the village was cut off from the main city. The best part of this place is that, one need not go for bird watching trails. One can spot different species of birds chirping in the verandah of the lodge. And the mesmerizing views from the lodge are hard to miss. One can sit in the porch and literally, feel the mist touching your face.
Day 1: So after having our breakfast, we set out for trekking. The caretaker of the lodge told us that we could choose our trekking trails as there were no specific trekking points. We took the concrete main road from Pangot to Kilbury bird sanctuary, which is now closed down. After walking for half an hour, we took the uphill road towards Kilbury forest is another 700 meters up from the main road. On the way, we met some forest rangers who were clearing the road which has been blocked by a fallen tree. They told us that there is rest house up in the hill and told us that Bird Sanctuary is closed down but one can go up and enjoy the view of forest there. The forest is covered with thick trees such as oaks, cypress, deodars etc and one can spot birds nearby too. It is around one hour trek of 13 kms. If you go down another 2 kms from the main road, you can see the mango shaped Naini Lake from there.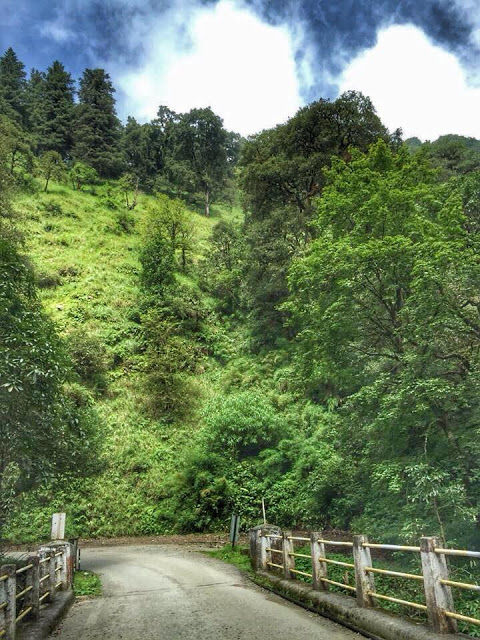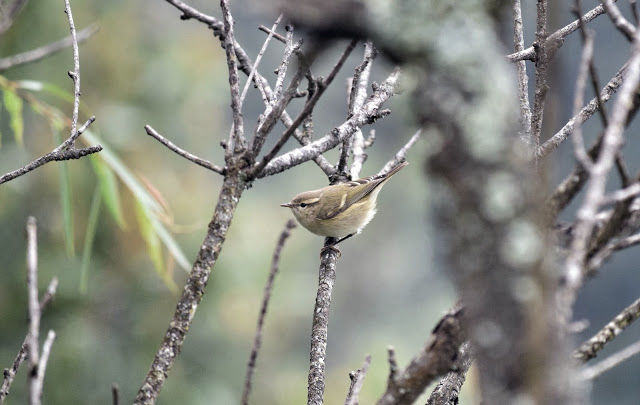 After having lunch and resting for few hours, we went out for an evening stroll. We meandered in the nearby area, shivering in the little shower of rain, checking for new trails and enjoying the nature's beauty. Since this peaceful village is not commercialized, it has very few beautiful cottages.
The nights at Pangot are cold. I would suggest light woollen clothes to carry while visiting Pangot. At night, we wandered in the nearby area of the lodge. Our lodge has connecting narrow trail to an another lodge named Jungle Lore lodge where one can see miniature birdhouses amidst the trees.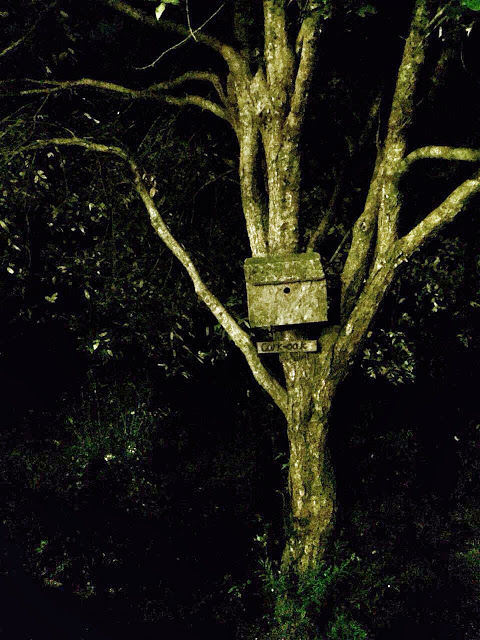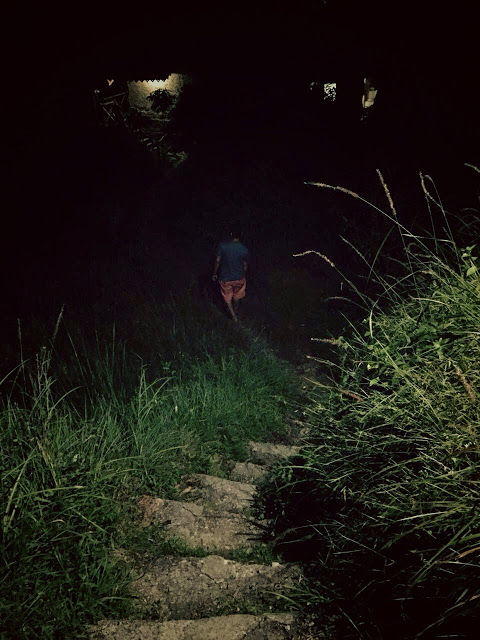 Day 2: Next morning, we decided to go for bird watching but only to be woken up by the sound of heavy rain. So to make up for our dampened heart, we decided to trek towards the jungle on the other side of where we were staying. This route leads to a narrow high low rocky road. The more we went inside, the more dense and dark become the jungle. The only sounds we could hear were of whistling of leaves accompanied by drizzling of rain. A passerby from the nearby village told us that there is a stream down the road. The narrow path became damper and damper as we moved forward and we could hear the sound of stream flowing by. The forest was dense and even after walking for more than half an hour, we could not find the watercourse but returned with a huge collection of photographs.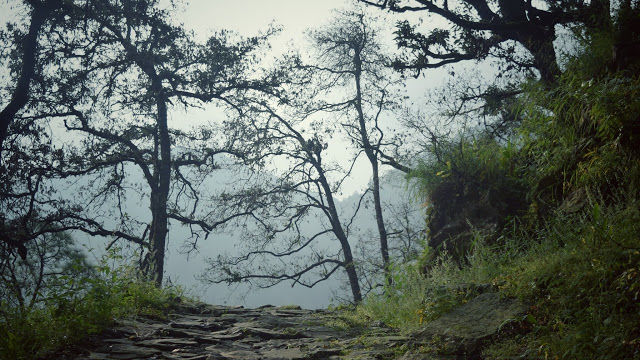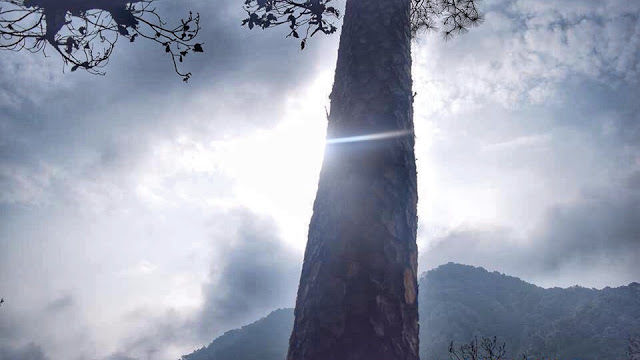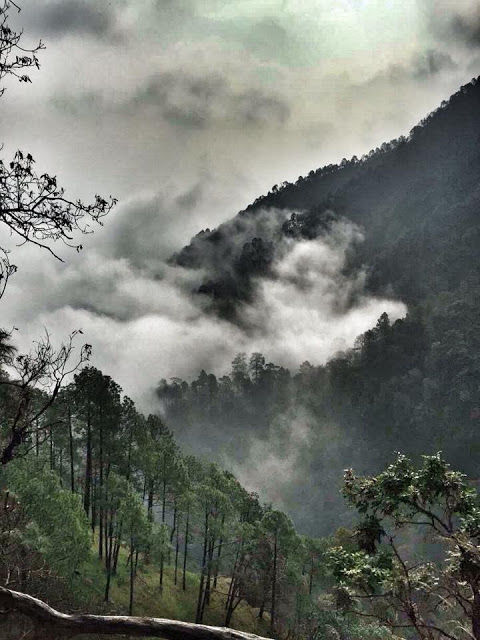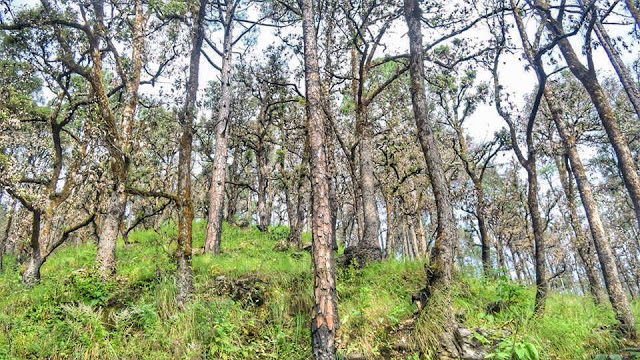 It was late in the morning, and we still had energy and time to explore this untouched heaven. We chose go to the nearby woods, where we almost got lost amongst the oak trees as there were no proper walking paths. We somehow reached the place from where we started as it started to rain cats and dogs. It rained continuously till the evening giving lustre to the trees and making nature more captivating. We left for Nainital while it was still raining and returned to Delhi with the promise to be back again.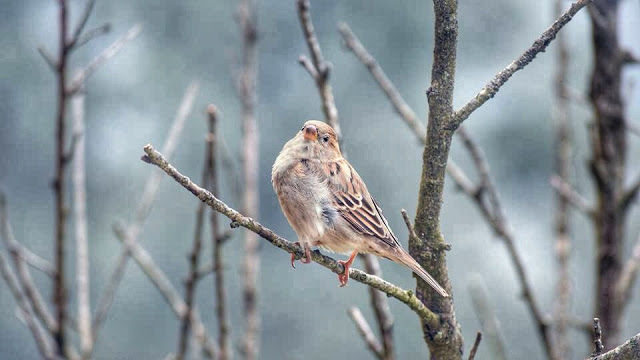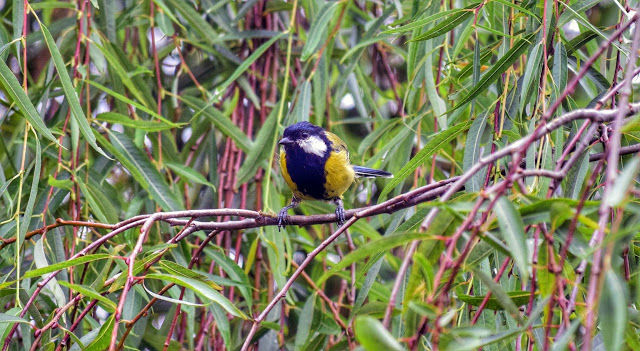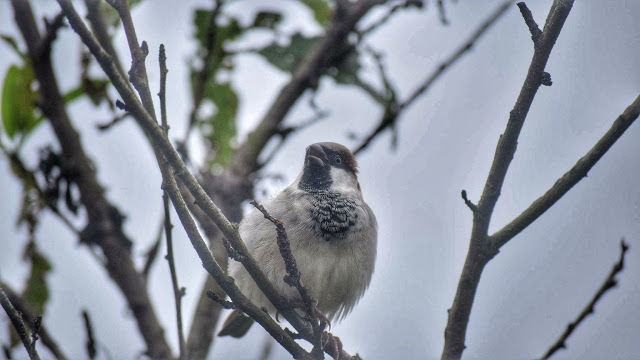 How we reached: We reached there by road. Both AC and Non AC buses are available from Delhi to Nainital. Whether one goes by road, train or air, Pangot is reachable only by road. So, one can hire a taxi from Nainital to Pangot.
Travel Cost: Approximately Rs .7000 for two for one night and two days. We stayed in Kafal House which cost us Rs. 4000 including three time meals.
Best time to visit: Well, there is no any best time to visit hills. It is a perfect weekend gateway from Delhi and nearby areas. One can visit this place all year around. One can spot snow in winters too.
And lastly, credits to Tridib for editing my story.